Sambal Goreng is a fiery and fresh chilli paste that you can use to add a little heat to any meal. Our vegan sambal is ready in under 15 minutes, and keeps up to 4 weeks in the fridge. It's also used in many Indonesian dishes too, like the warm veggie salad, Urab. Sambal isn't usually vegan as it contains shrimp, so we've created a vegan version for you!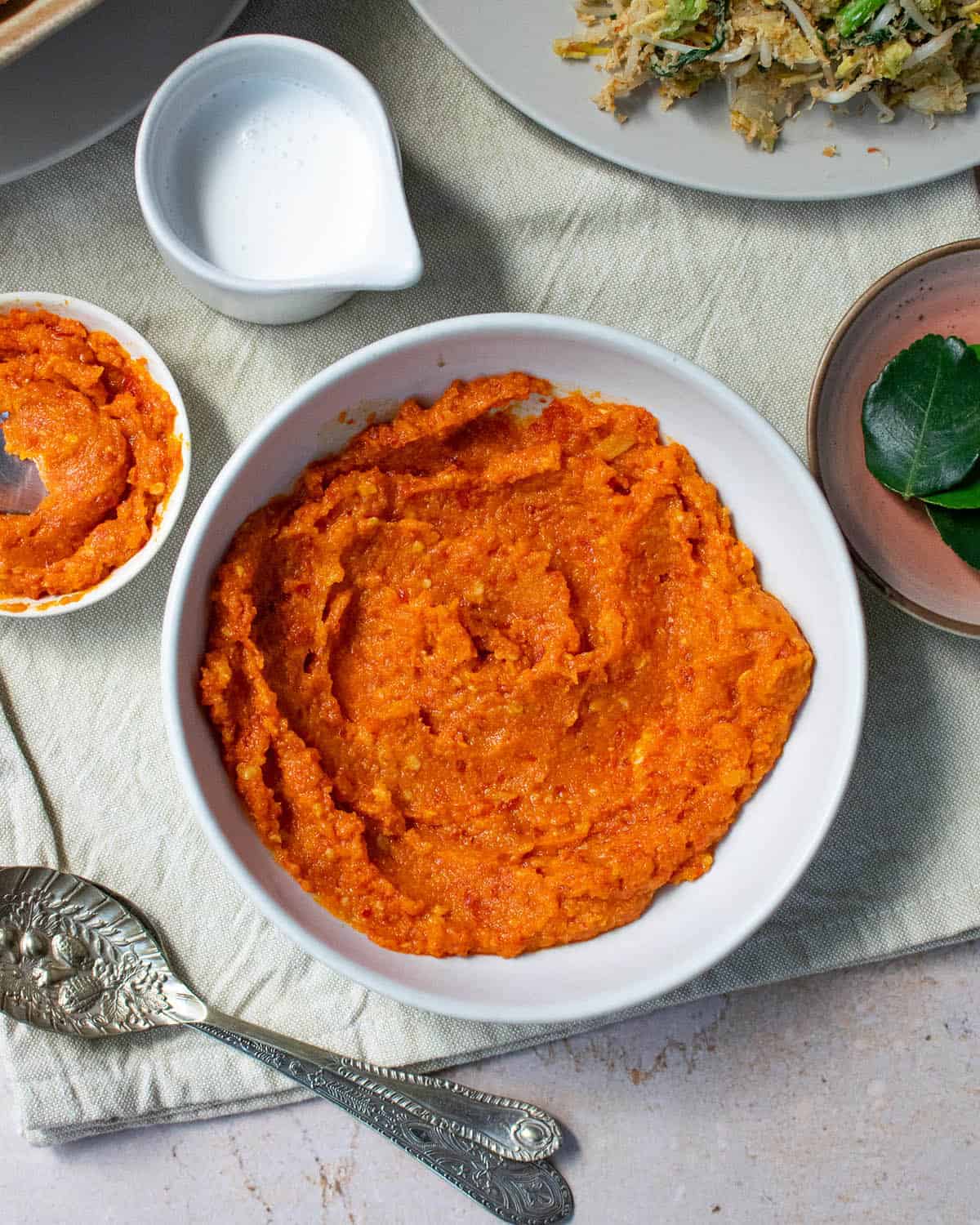 Jump to:
So, what is Sambal Goreng?
It's hard to explain to you just how much Sambal Goreng is loved in Indonesia. Put it this way. I met an Indonesian woman in Munduk (North Bali) who told me that she loved Sambal so much that she wanted to marry it. Instead of her boyfriend, who was sat right next to her!
Sambal Goreng is a fried Indonesian chilli paste. 'Sambal' is a chilli paste, and 'goreng' means fried. It's made by frying two types of fresh chillies along with the other fragrant ingredients to create the spicy, aromatic flavour. Traditionally, it contains shrimp paste. We've created our vegan Sambal by using miso to substitute the salty, umami flavour of the shrimp, minus the cruelty.
🌟 Why this recipe works
We've spent our time in Bali learning lots of traditional recipes, and Sambal Goreng is one of them. We've based our recipe on the traditional one and kept it as authentic as possible.
Traditionally, Sambal Goreng is nice and spicy, and ours is no exception! It's served alongside classic Indonesian and Balinese meals like Urab, Nasi Campur and curries.
We've kept our vegan Sambal recipe as simple as possible. It only has 7 ingredients, and is ready in under 15 minutes.
Once you've made the vegan sambal, it keeps in the fridge for up to 4 weeks. The oil and salt help to preserve it.
Sambal is often made with shrimp paste. Obviously, we didn't want to use shrimp! So we've used miso instead which provides a rich and savoury, fermented flavour.
The deep, rich, spicy flavour that sambal is known for, is created by combining two different types of chilli.
📋 Ingredient notes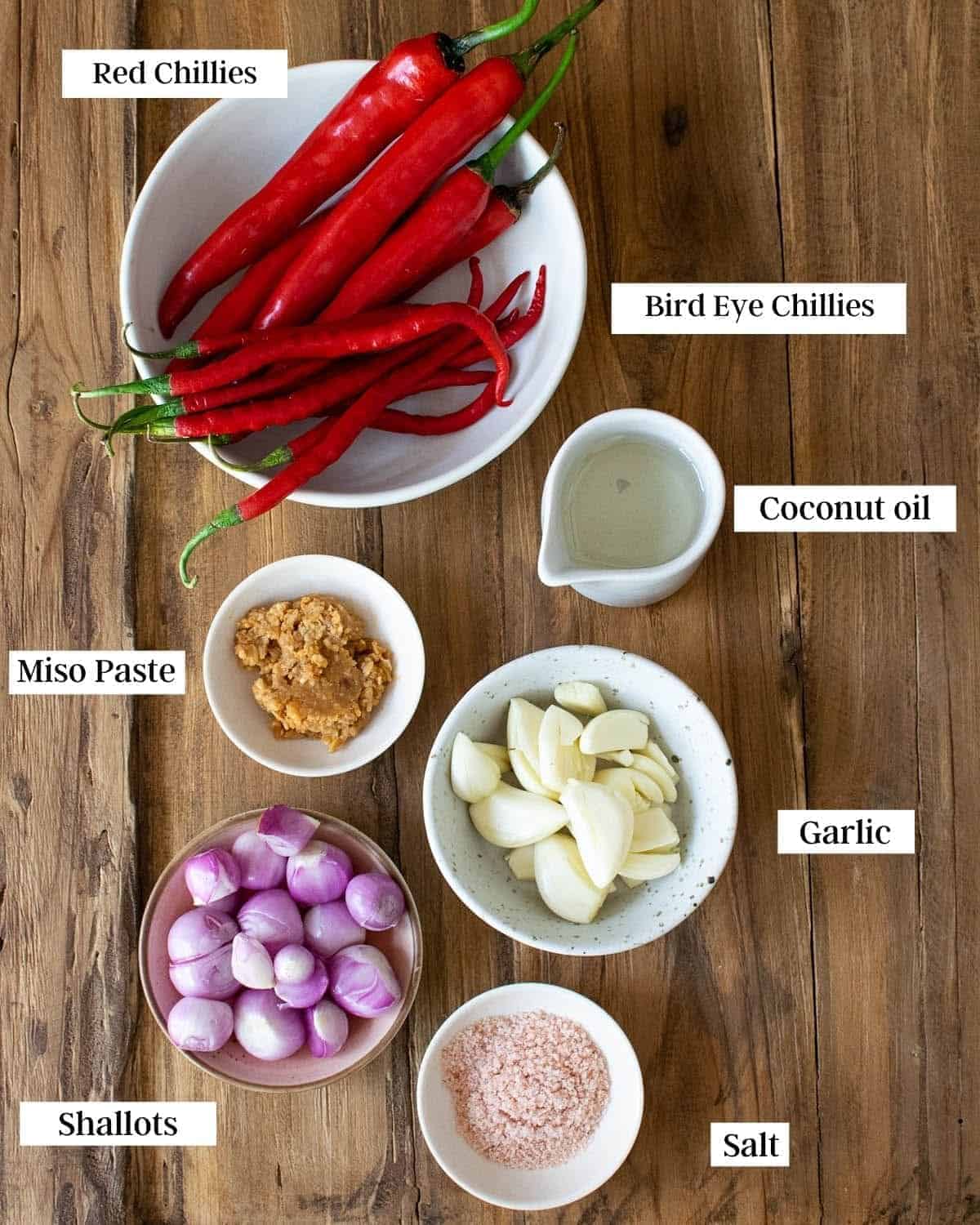 Chillies. Sambal Goreng uses two types of chillies. Bird eye chillies are pretty fiery, so they give it heat. Normal red chillies help to balance this and provide a deeper flavour.
Salt. This is used for both a delicious salty flavour, and to help preserve the paste for longer. We like to make enough vegan sambal to last so that we can add it to a delicious meal, quickly.
Oil. The oil conducts heat, which is important for frying. In this recipe, it also helps to preserve it for longer.
Miso paste. We've used miso paste to give our vegan Sambal the salty, umami flavour that would usually come from shrimp paste. We actually think that miso paste is nicer, because it has a rich, fermented taste.
🔪 Step-by-step instructions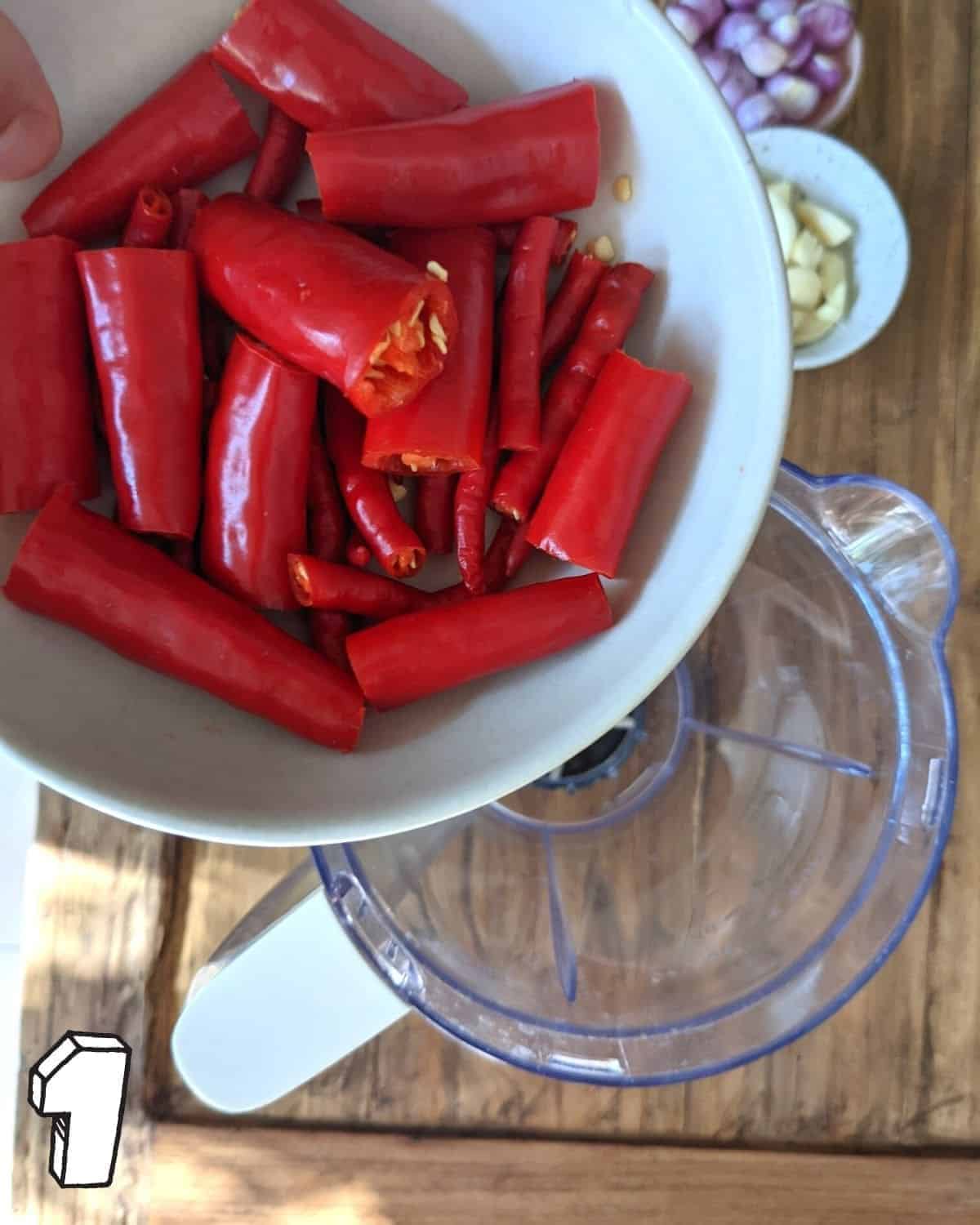 1. Begin by roughly chopping your fresh ingredients up small enough so that they are manageable for the blender. If you're going to use a pestle and mortar, then chop the ingredients as finely as you can.
2. Put all of your ingredients into the blender.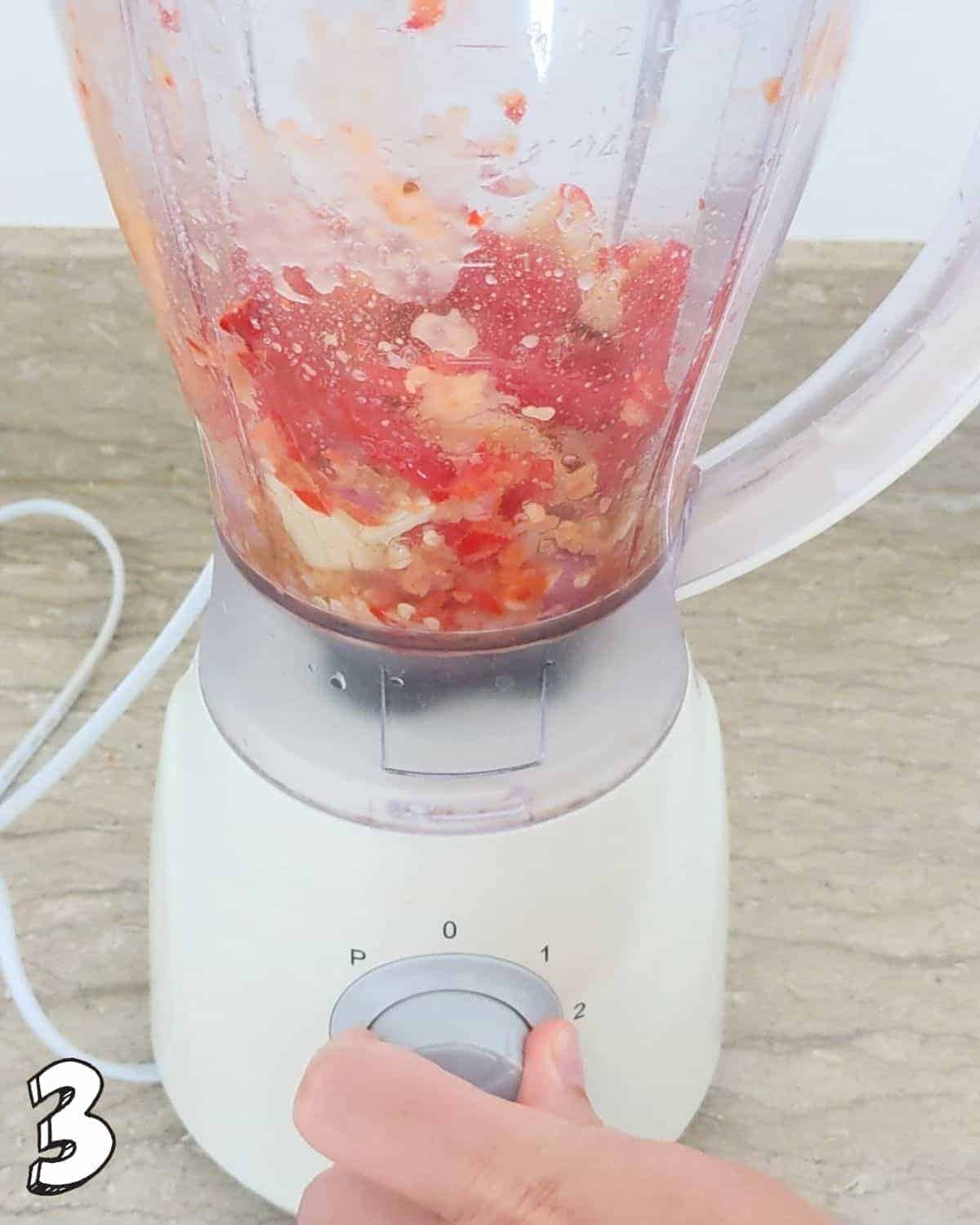 3. Blend until they form a smooth paste. If using a pestle and mortar, then use the pestle to crush them in the mortar until they form a paste.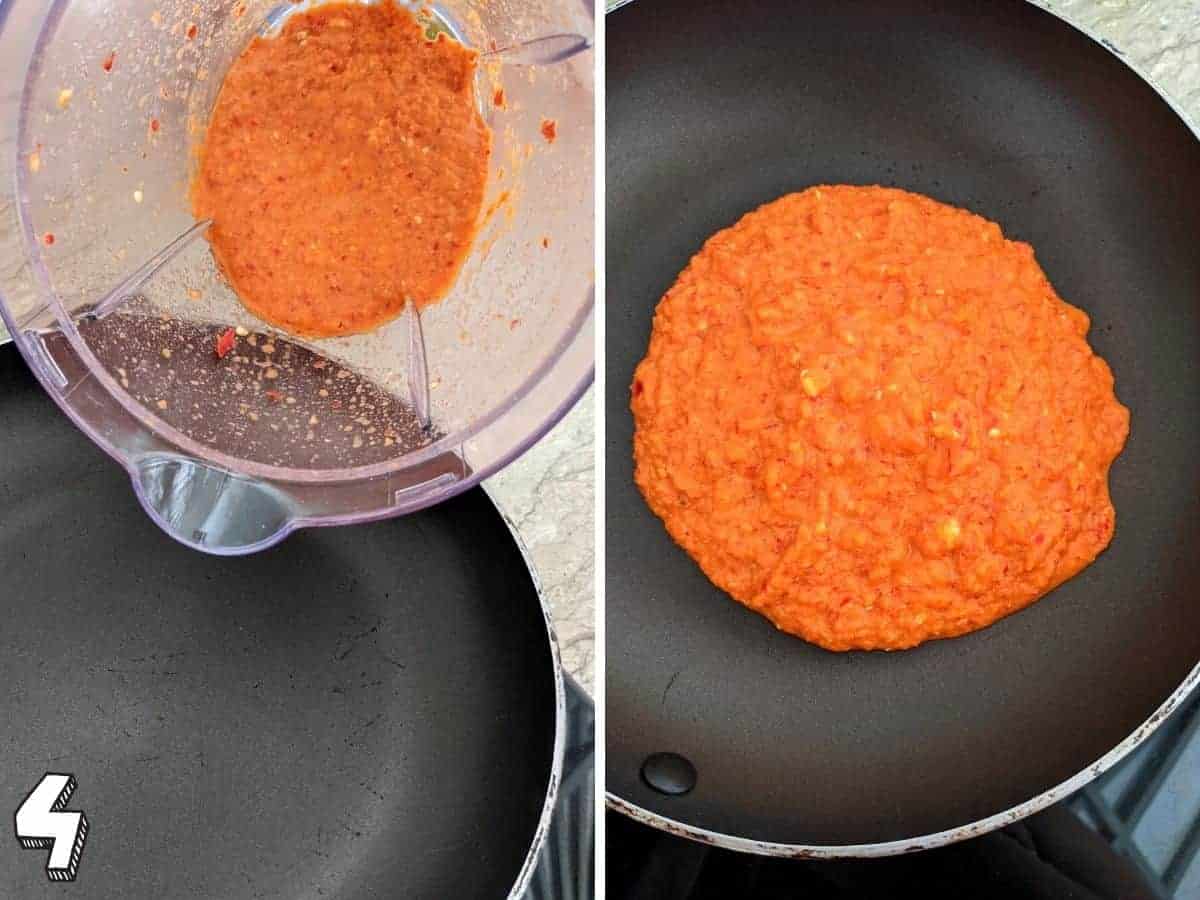 4. Once you've made the paste, heat it in a frying pan over a medium-high heat. Cook until the paste thickens, and the oil starts to separate.
👩‍🍳 Expert tips
We've specified shallots rather than onions because they offer a more subtle flavour than onions. We'd recommend that you use shallots, and don't swap them out.
Sambal Goreng is spicy! It's often served alongside classic Indonesian dishes like Nasi Campur. Each person at the table will add as much as they like to dictate how spicy their meal is.
Suggested serving size: one teaspoon is usually the right amount to be served with a Nasi Campur or other meal. This will add a hint of spice. Of course, if you like your food fiery then you can feel free to add a bit more! This vegan Sambal recipe makes enough for around 20 meals, depending on how much you use.
We've used white miso paste because we love the funky flavour. Red or brown miso paste would work just as well though.
You can make a variation of this recipe where no blending is needed. Instead, finely slice the fresh ingredients, and shallow fry them in a little oil until they are crispy. In this variation you still add the salt and miso paste, but you don't need the coconut oil as the ingredients are fried in oil instead.
💭 FAQs
Is Sambal vegan?
Not usually. Traditionally, sambal is made with shrimp paste and so it isn't vegan. You'll find that any pre-made sambal you find in the supermarket will probably have shrimp paste in it, too. This is vegan sambal which uses miso paste to replace the shrimp paste.
Can this be made ahead of time?
Yes, absolutely. It keeps well in the fridge for 4 weeks.
What is Sambal Goreng?
The word 'Goreng' translates to 'fried'. So a Sambal Goreng is a Sambal (chilli paste) that has been fried.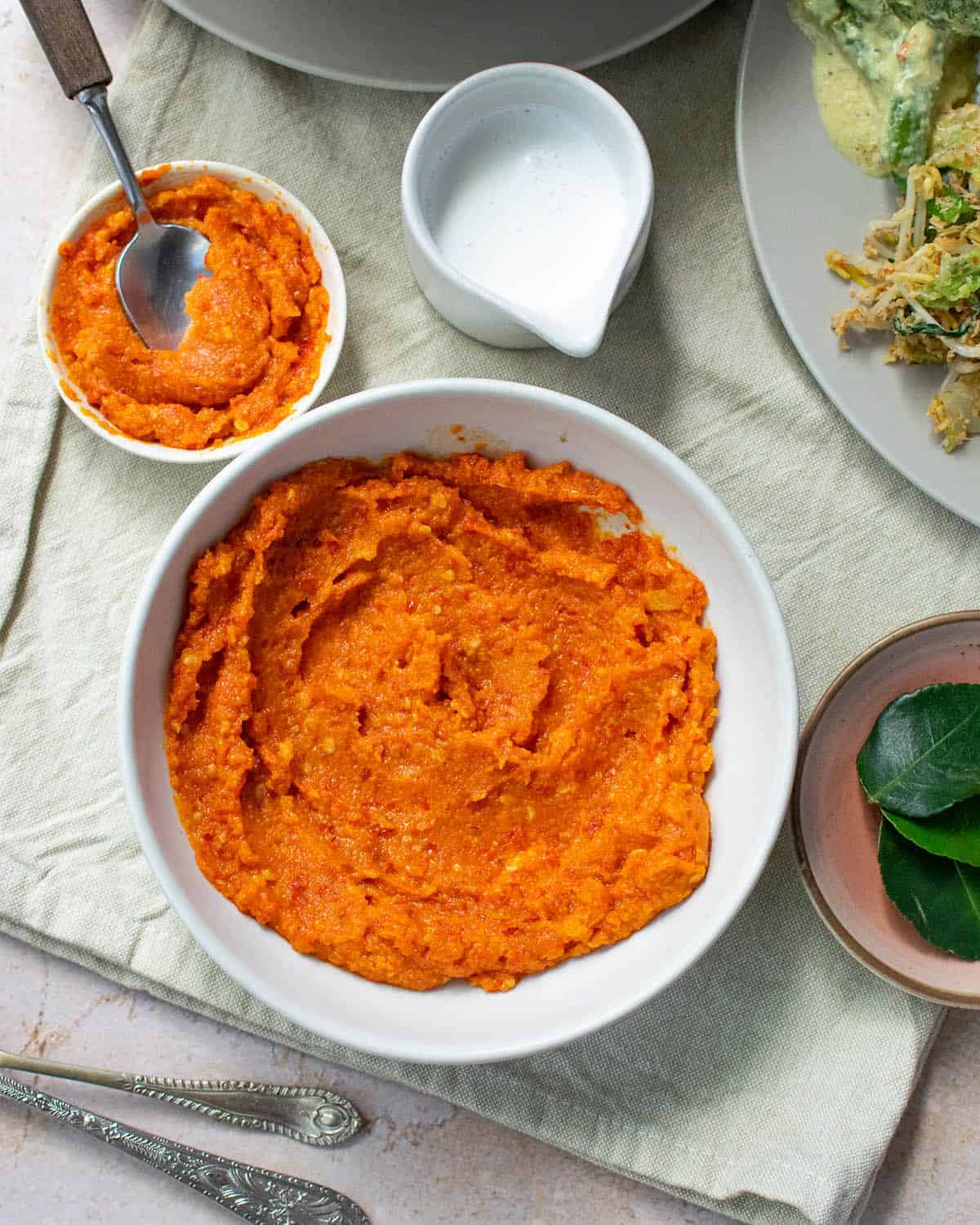 🍛 What to serve it with
Sambal is delicious served alongside Indonesian dishes to give them a little extra kick! Give your vegan Sambal a try with any one of these traditional meals:
🇮🇩 More Indonesian recipes
If this vegan Sambal has got you wondering what other Indonesian recipes you could try, you'll love these:
Did you make this recipe? Leave a review and a rating below, or tag us in your photos on Instagram! Alternatively, bookmark it in your browser or save to Pinterest for later.

If you love our content, please consider supporting it by buying us a coffee.
📖 Recipe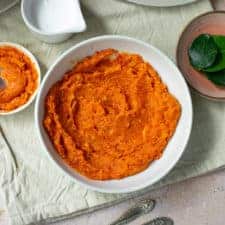 Easy Indonesian Sambal Goreng
Sambal Goreng is a fresh and spicy chilli paste that can be used to add a little heat to many meals. This vegan sambal is ready in under 15 minutes, and keeps up to 4 weeks in the fridge. Perfect when served with Nasi Campur, curries and stir fries.
Save
Saved!
Print
Pin
Rate
Ingredients
100

g

shallots

30

g

bird eye chillies

(about 8)

75

g

big red chillies

(about 5)

50

g

garlic

(10-15 cloves)

1

tablespoon

miso paste

2

tablespoon

coconut oil

1

teaspoon

salt

1

tablespoon

water
Instructions
Start by chopping all of the fresh ingredients into small pieces so that they're easier for the blender to mix. Alternatively, you can use a pestle and mortar. If using a pestle and mortar, slice the ingredients very small, to make it easier for you to pound into a paste.

Put all of the ingredients in a blender. Blend all of the ingredients. If using a pestle and mortar pound until a paste is formed - no need to use the water with this method.

Place a frying pan over a medium-high heat, pour the paste into the pan and fry for 2-3 minutes. The oil should start to separate and the paste should thicken slightly.
Notes
For a slight variation you can make the paste without blending. Instead of roughly chopping the fresh ingredients, slice them very finely and then shallow fry in a frying pan in oil. No need for the 2 tablespoons of oil or water in this option.
The finished paste will keep in the fridge for upto 4 weeks, in an airtight container.
This recipe uses white miso paste but red or brown miso paste can also be used.
This recipe serves around 20, when using one teaspoon per portion. If the serving size is bigger, it will make fewer portions.
Don't switch out the shallots for onions. Onions are much more overpowering than shallots.
Nutrition
Serving:
1
tablespoon
|
Calories:
23
kcal
|
Carbohydrates:
2
g
|
Protein:
1
g
|
Fat:
1
g
|
Saturated Fat:
1
g
|
Polyunsaturated Fat:
1
g
|
Monounsaturated Fat:
1
g
|
Sodium:
149
mg
|
Potassium:
46
mg
|
Fiber:
1
g
|
Sugar:
1
g
|
Vitamin A:
55
IU
|
Vitamin C:
10
mg
|
Calcium:
8
mg
|
Iron:
1
mg