Jackfruit chilli is a wonderfully rich and smokey one-pot dish that's a great meal for vegans, veggies and meat-eaters alike. Ready in around 60 minutes, you'll need just one pot and we bet you'll come back to it again and again, as it's an all-round people pleaser!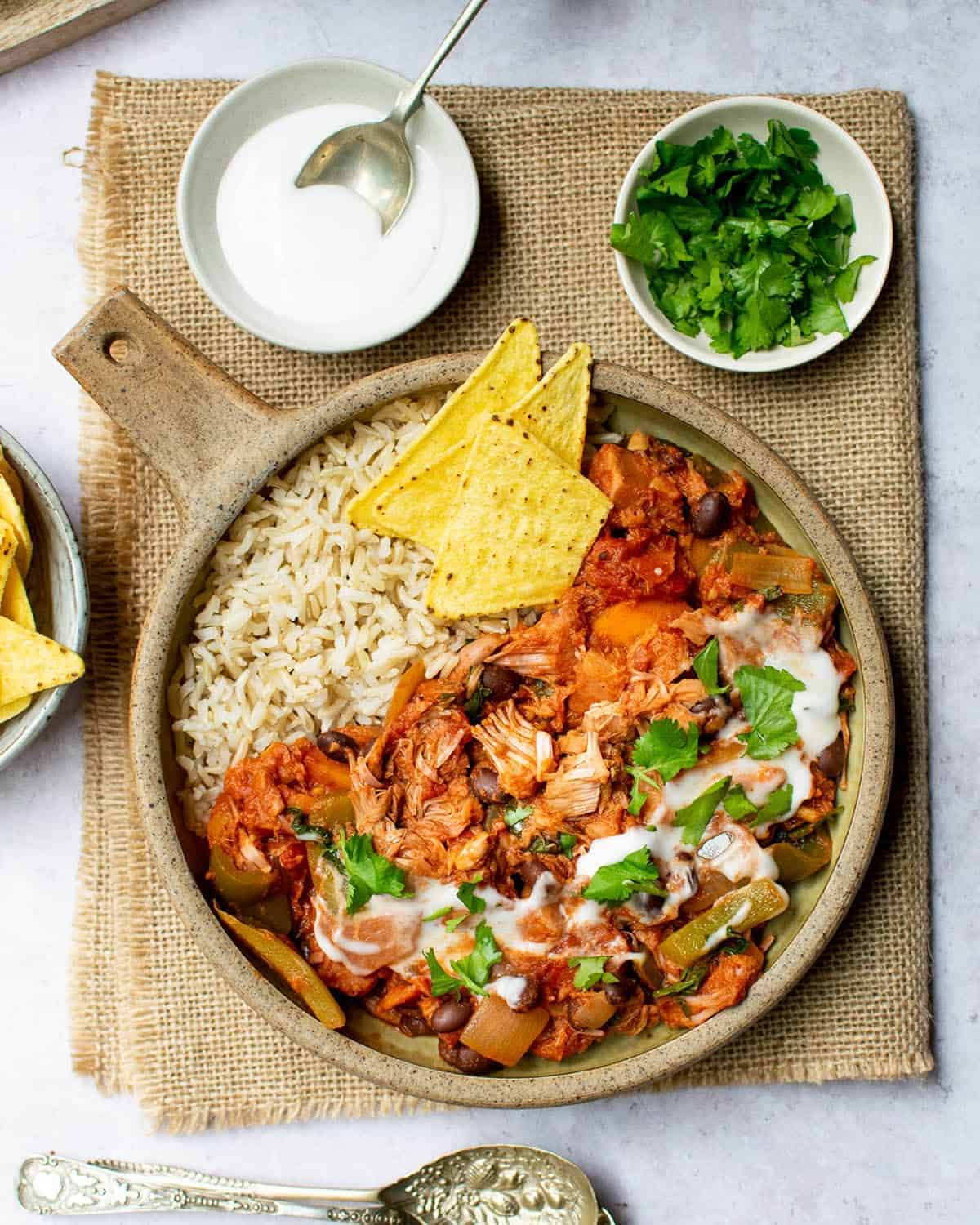 Jump to:
🌟 Why this recipe works
Tried and true – this jackfruit chilli recipe is tried and true. I've been making it since I was in college (at least) so it has stood the test of time with me!
Mild and versatile – whether you like your chilli spicy or mild, this chilli can be tailored to your taste. The overarching flavour of the recipe is a rich smokey one, which pairs well with mild, medium or hot chilli.
Whole foods – unlike many vegan chilli recipes, using jackfruit and black beans makes this a whole food recipe.
Cook it low and slow – in total this jackfruit chilli con carne recipe needs to be simmered for 45 minutes. This is what makes the jackfruit so succulent, tender and moreish.
🍽 Equipment & Products Needed
Most supermarkets (in the UK) now sell jackfruit and it is very affordable. We recommend checking your local supermarket, Asian supermarket or buying jackfruit online. You'll also need a large pan, stirring utensils, a knife for chopping and the all-important measuring spoons.
📋 Ingredient Notes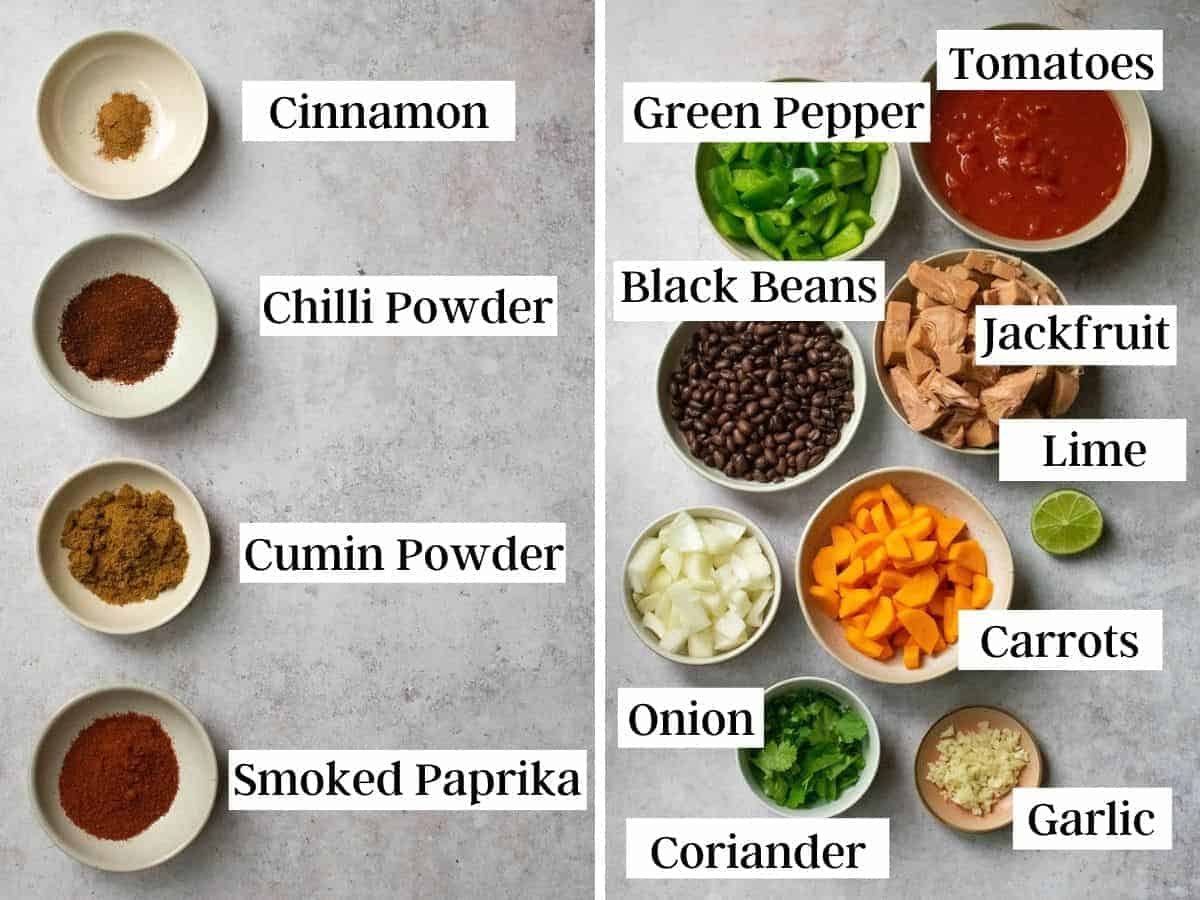 Jackfruit – the main ingredient! It wouldn't be jackfruit chilli without jackfruit! So, contrary to popular belief (or maybe it's just me?), jackfruit isn't rich in protein. For years, I thought it was. However, it is still a great meat alternative texture-wise and something that even wins over meat-eaters! If you love jackfruit, check out all of these jackfruit recipes.
Spice mix – the smoked paprika is key to the spice mix. The jackfruit chilli has a rich, smokey flavour, so the smoked paprika is indispensable! If you want to intensify the smokiness, add in a teaspoon of ancho chilli powder (if you have it), it is an amazing addition, but not commonly stocked in supermarkets. You can also use mild, medium or hot chilli powder, so choose the one that suits you best. In addition, don't underestimate the bay leaves, cumin and cinnamon. Altogether, they are an excellent mix of spices for a chilli.
Black beans – protein-rich beans make this meal complete. If you don't have black beans, try kidney beans, chickpeas or black-eyed beans.
Carrots – in our opinion, chilli needs carrots and green peppers! It's just the way we've always made it, so it's the way we always will make it in the future too. Alternatively, you can use celery and even mushrooms. However, we're not big fans of celery even though we know it is a powerhouse ingredient for dishes like chillies and stews.
🔪 Step-by-step instructions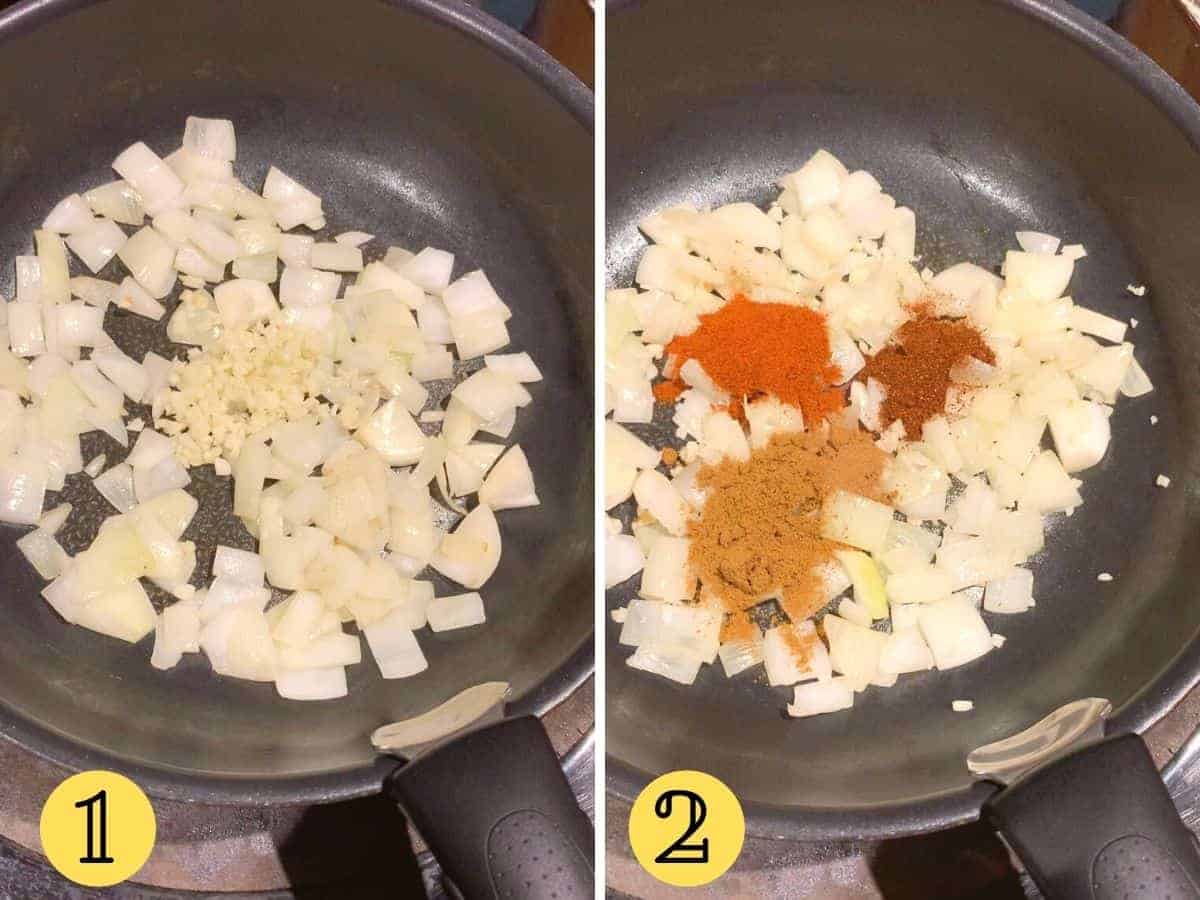 1. Pop a splash of oil in a large pan on a medium-high heat. Once hot, add onions until translucent then add garlic.
2. Next, sprinkle in the spices, the bay leaf, and the tomato puree, then stir well.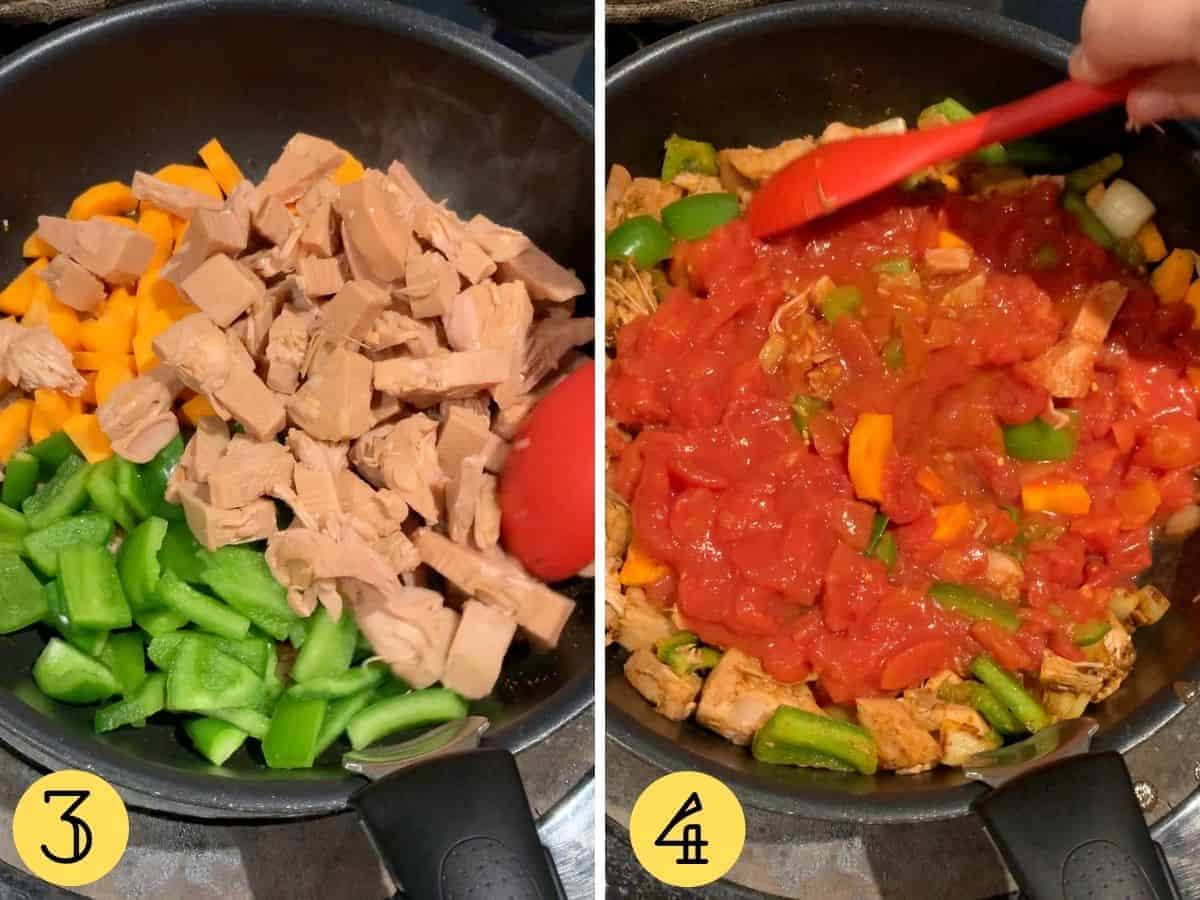 3. Add the carrot, green pepper and jackfruit. The jackfruit doesn't need to be broken up or prepared in any other way, other than to be drained.
4. Pour in the tinned tomatoes, stir well until combined then bring up to a simmer.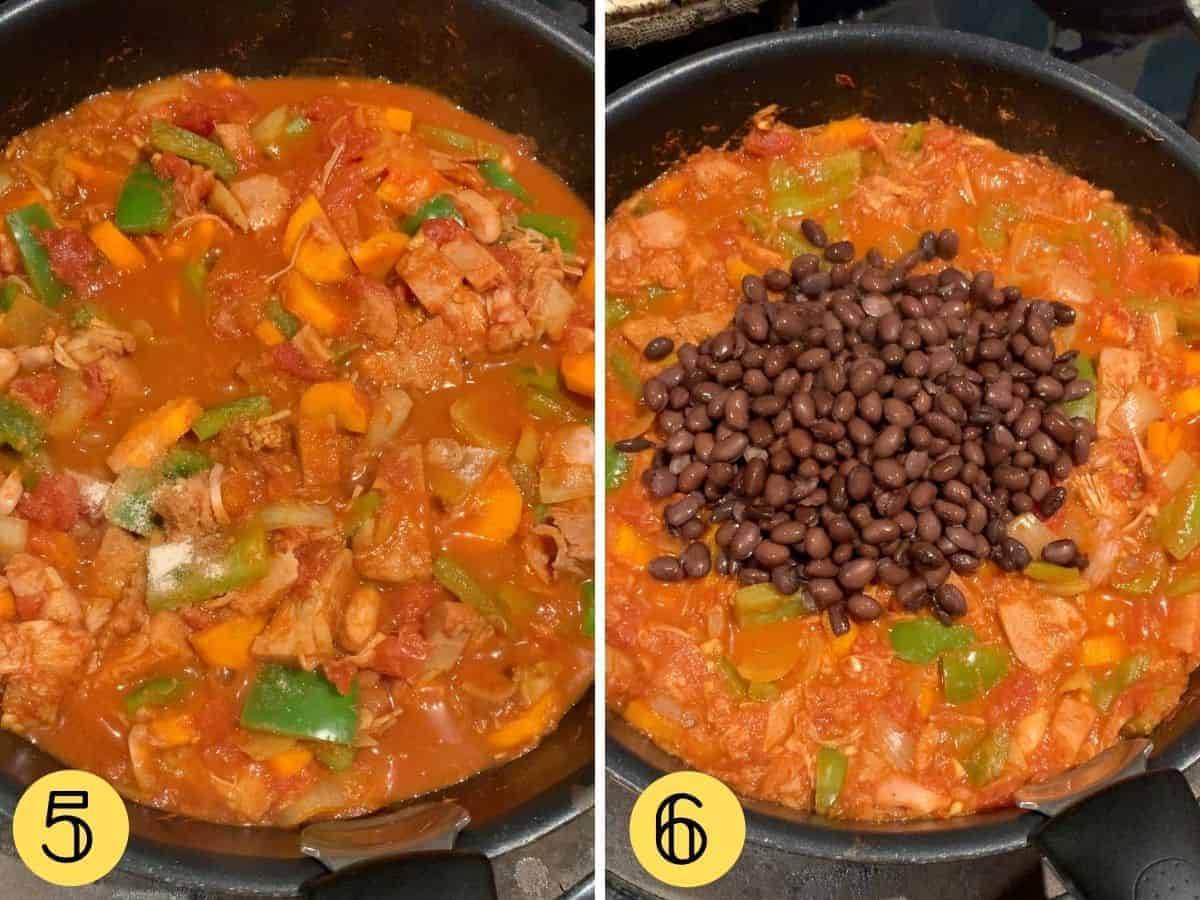 5. Leave it bubbling away for 30 minutes. After simmering, the jackfruit will start to soften and will easily pull apart. There's no need to actively break it apart as it will naturally cook down like this.
6. Pop in the drained black beans. Stir the beans through the jackfruit chilli and simmer for another 15 minutes.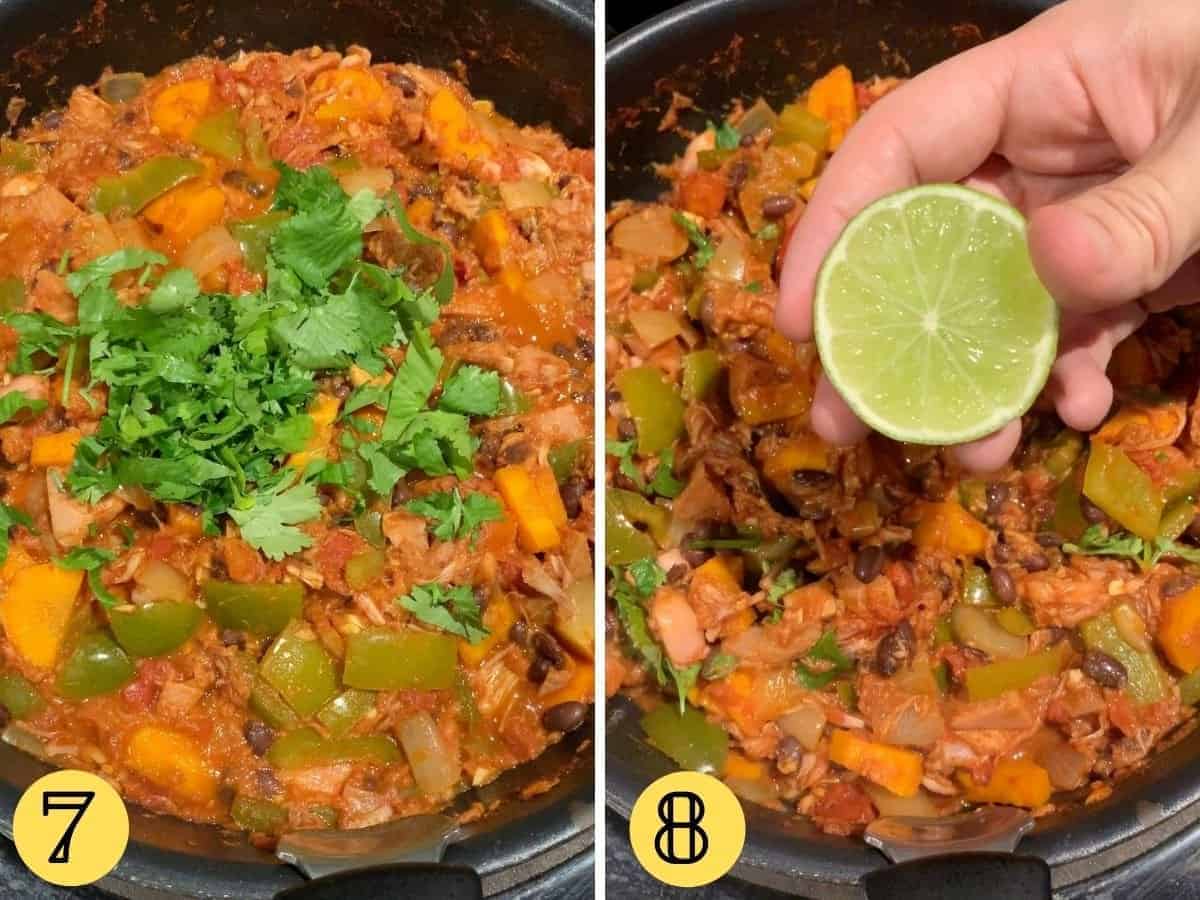 7. Stir through the fresh coriander.
8. Squeeze in the lime juice. Season with salt, remove the bay leaf then serve with rice, nachos and vegan sour cream.
👩‍🍳 Expert tips
Spice level – we've made the jackfruit chilli on the mild side. That way everyone can enjoy this meal! Don't be afraid to serve it with chilli flakes, hot sauce or even fresh chillies or jalapenos, for those who want it on the spicy side!
Low and slow – the best way to cook young jackfruit is low and slow. Cooking it this way allows it to soften. In addition, it creates a texture that's similar to pulled pork – some people have said they can't tell the difference between the two!
Jackfruit in brine – be careful not to accidentally buy jackfruit in syrup! That wouldn't be good. Specifically, you'll need young jackfruit in water or brine, not ripe jackfruit. Ripe jackfruit is more like mango in texture and taste.
Black beans – we use black beans in the chilli because we love them and they're such a great bean. They're widely available and full of protein. You could alternatively use chickpeas, kidney beans or black-eyed beans.
Make-ahead – it's true what people say. If you make chilli and put it in the fridge overnight and eat it the next day, the flavours deepen and it often becomes spicier too! Bear this in mind if you'd like to make jackfruit chilli ahead of time. It will keep for 2-3 days in the fridge.
Freezing – this dish freezes well. Be sure to portion it out, freeze and label it ready for a rainy day (when you can't be bothered to cook or want a quick and healthy dinner!). Defrost and reheat thoroughly for a great meal.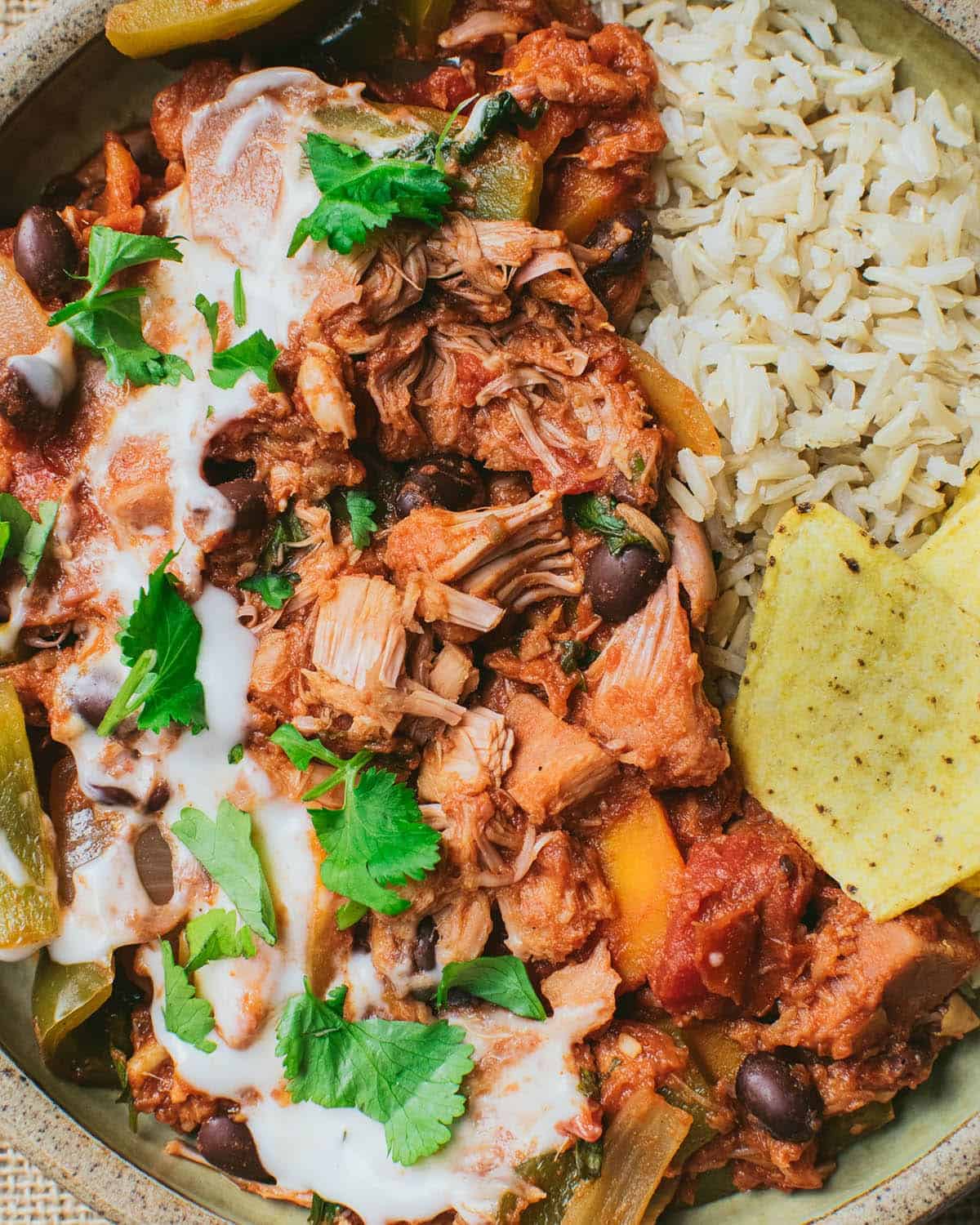 💭 FAQs
What is jackfruit chilli?
It's a great alternative to chilli con carne, made from whole foods! Jackfruit chilli con carne, if you will. Or should that be 'non' carne? Either way, it's a great vegan and vegetarian option that is based on the classic Mexican dish.
Can you use jackfruit in chilli?
Of course! Jackfruit is perfect in chilli. It's a great whole food alternative to mince and even pulled pork. It absorbs flavours well and cooks perfectly when simmered on low heat over a long time. The simmer time is 45 minutes in this recipe, but it could be cooked even lower and slower than this!
Can you freeze jackfruit chilli?
Yes, this recipe freezes well for up to 3 months. Don't forget that flavours degrade in the freezer if left in there for too long, so try not to forget about it!
🍛 What to serve with it:
Similar recipes to try
If you're interested in trying more vegan recipes, check out our list of the best vegan cookbooks for beginners.
Did you make this recipe? Leave a review and a rating below, or tag us in your photos on Instagram! Alternatively, bookmark it in your browser or save to Pinterest for later.

If you love our content, please consider supporting it by buying us a coffee.
📖 Recipe
Jackfruit Chilli
Jackfruit chilli is a brilliantly smokey and mild one-pot dish that really hits the spot!
Save
Saved!
Print
Pin
Rate
Ingredients
1

teaspoon

oil

or oil spray (optional)

1

onion

– chopped

3

cloves

garlic

– crushed

2

teaspoon

smoked paprika

1

teaspoon

chilli powder

2

teaspoon

cumin

⅛

teaspoon

cinnamon

1

bay leaf

1

tablespoon

tomato puree

300

g

carrots

– peeled and sliced

2

green peppers

– roughly chopped

500

g

jackfruit

– canned, drained weight

800

g

chopped tomatoes

– 2 tins

400

g

tin of black beans

– drained weight, 250g

1

tablespoon

lime juice

¼

cup

fresh coriander

chopped

1

teaspoon

salt
Instructions
Put a splash of oil in a large pan, and pop it over a medium-high heat. Once hot, add in the onions and cook until translucent, around 5 minutes, then add garlic for 30 seconds.

1 teaspoon oil,

3 cloves garlic,

1 onion

Next sprinkle in the spices, the bay leaf, and the tomato puree. Mix well for about 30 seconds.

2 teaspoon smoked paprika,

1 teaspoon chilli powder,

2 teaspoon cumin,

⅛ teaspoon cinnamon,

1 bay leaf,

1 tablespoon tomato puree

Then immediately add in the green pepper, carrot, and jackfruit.

300 g carrots,

2 green peppers,

500 g jackfruit

Pour in the tomatoes, stir well until combined then bring up to a simmer. Leave it to simmer for 30 minutes.

Add in the black beans. Stir everything really well, then leave to simmer uncovered for another 15 mins.

Squeeze in the lime juice, mix the fresh coriander in and remove the bay leaf. Season with salt. Serve and enjoy!

1 tablespoon lime juice,

¼ cup fresh coriander,

1 teaspoon salt
Notes
Make sure to buy young (AKA unripe) jackfruit in brine or water. Not in syrup and not ripe, as this type of jackfruit is meant for desserts.

This recipe is smokey and mild. Intensify the smokey flavour by adding a teaspoon of ancho chilli powder, if you have it.

As this chilli is mild, you can use hot chilli powder to make it spicier. Alternatively, use medium or mild chilli powder, and you can even serve it with extra chilli flakes or jalapenos for people that may like their meal spicy!

In place of black beans, try chickpeas or kidney beans.

This recipe freezes well and can be made ahead. It will keep in the fridge for 3 days.
Nutrition
Calories:
285
kcal
|
Carbohydrates:
63
g
|
Protein:
10
g
|
Fat:
3
g
|
Saturated Fat:
1
g
|
Polyunsaturated Fat:
1
g
|
Monounsaturated Fat:
1
g
|
Trans Fat:
1
g
|
Sodium:
1176
mg
|
Potassium:
1603
mg
|
Fiber:
13
g
|
Sugar:
35
g
|
Vitamin A:
13876
IU
|
Vitamin C:
95
mg
|
Calcium:
172
mg
|
Iron:
5
mg