Thai style noodles with gravy, or Rad Na noodles, is a simple, quick yet delicious stir fry! It will take 20 minutes to make, and it wouldn't be surprising if it became a weekly staple in your kitchen. It certainly is at Vegan Punks HQ!
We first stumbled across this Thai stir fry when we were in Thailand on 2017 on our backpacker honeymoon. However, we never thought to make it at home until 2 years later, after returning to Thailand for a holiday. Coincidentally, that was the holiday where we decided we wanted to live a bit differently, quit our jobs and earn independently of a 9 to 5 job (more on that in our About Us section though!).
We were on Koh Phangan and it was approaching the end of the rainy season, but it was still raining quite a lot (it tends to rain most places that we go, yes – even our wedding day!). I remember that we were staying at the Santhiya Resort alongside the Thong Nai Pan beach, and it was a really relaxing few days.
It turned out that the hotel had an entire vegan menu, including vegan rad na noodles, with plenty of veggies. We were in total vegan heaven! Now, whenever we make Thai noodles with gravy, it always reminds me of this holiday, sitting next to our pool in the boiling hot sunshine and eating them! Anyway, I've digressed into food related memories, I'll focus back on the recipe at hand...
This Rad Na recipe is:
Tasty
Filling
Hot
Quick
Delicious
If you like Thai style stir fries, you may also like to try these recipes:
We've also written a comprehensive guide to cooking vegan Thai food – check that out for more useful information!
What are Rad Na noodles?
Rad Na, or noodles with gravy, is a Thai stir fry that comprises noodles, veggies and a thick gravy sauce along with a good helping of white pepper. Usually it's made with non-vegan broth but we've used veggie stock to make sure it's plant based. It also uses cornflour (or cornstarch) to thicken the sauce. Alternatively, you could use vegan chicken stock, which we would highly recommend.
Top tip: when using cornflour (or cornstarch) make sure to dilute the powder with 2-3 tablespoons of water and mix well with a fork. That way it will combine well with the sauce in the wok. If you sprinkle the cornstarch directly into the wok, it will clump together and the sauce won't thicken much. We've learned from experience – don't make the same mistake as us!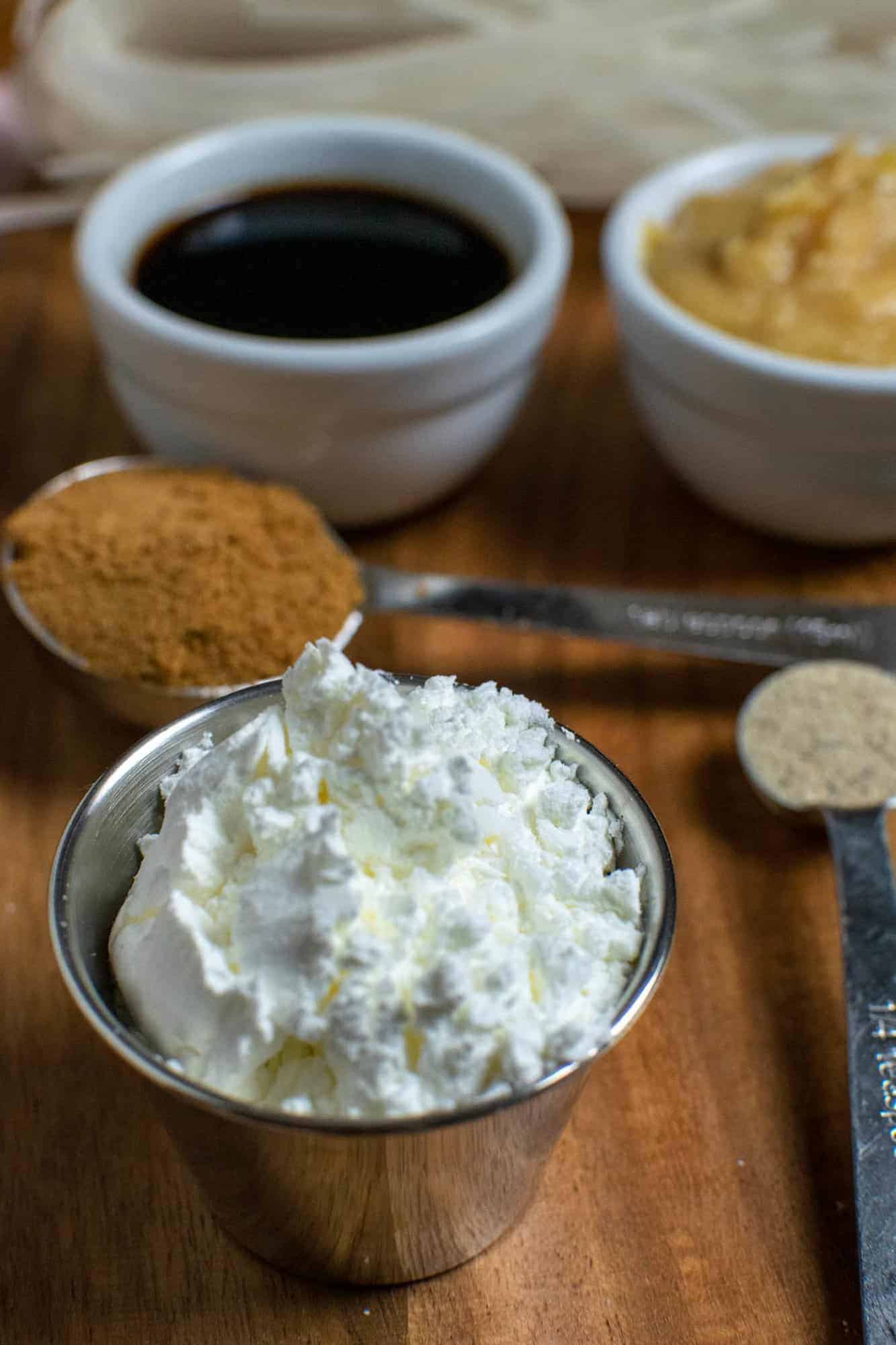 When it comes to vegetables, you can often use whatever you have on hand, however we particularly love mushrooms and pak choi in this dish! You could also add kale, which we have done in the past and loved it. It's traditional to use Chinese broccoli in this dish, but it's not easy to come by in our part of the world, so we stick to things we can get more easily.
How to make noodles with gravy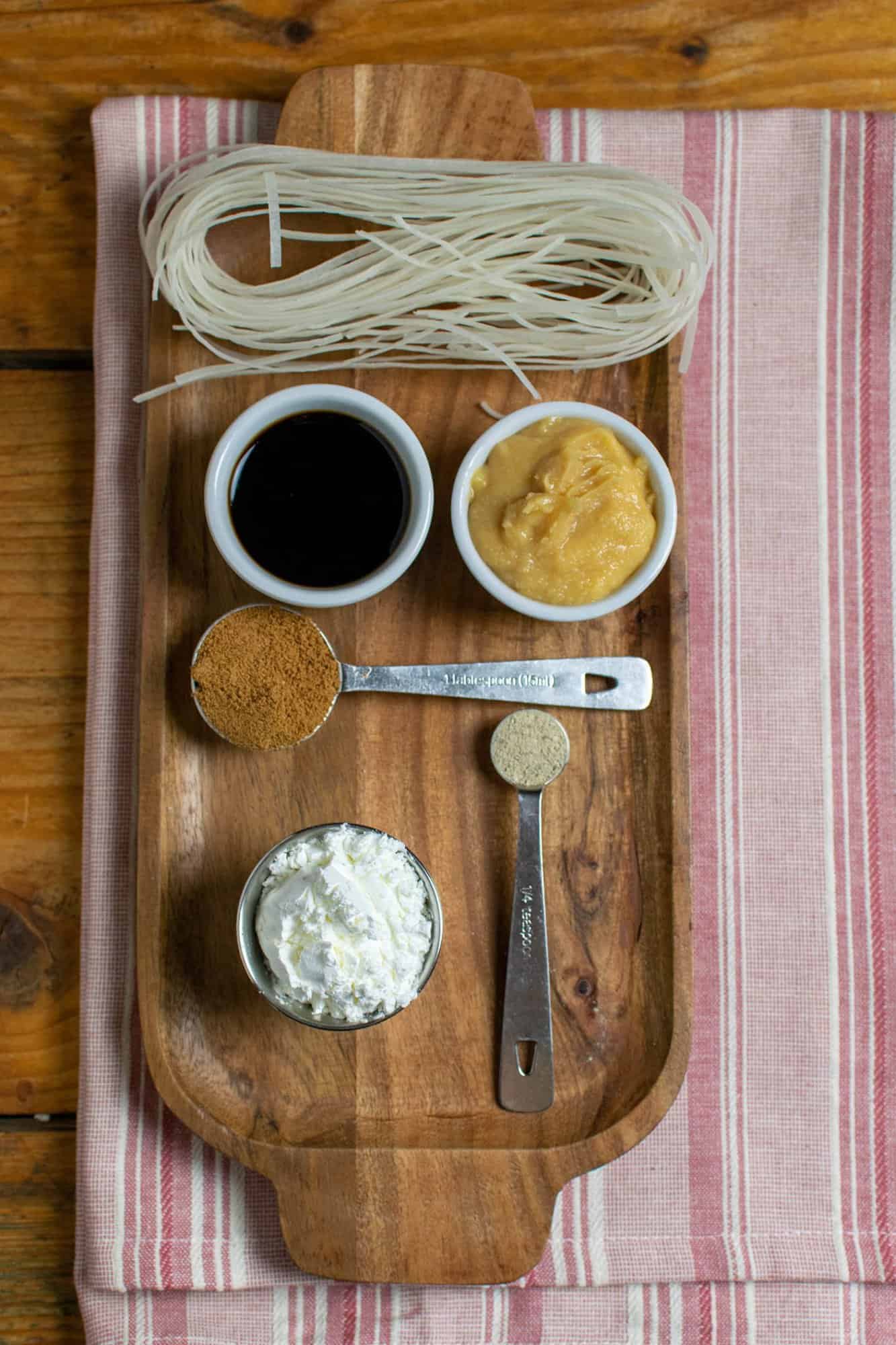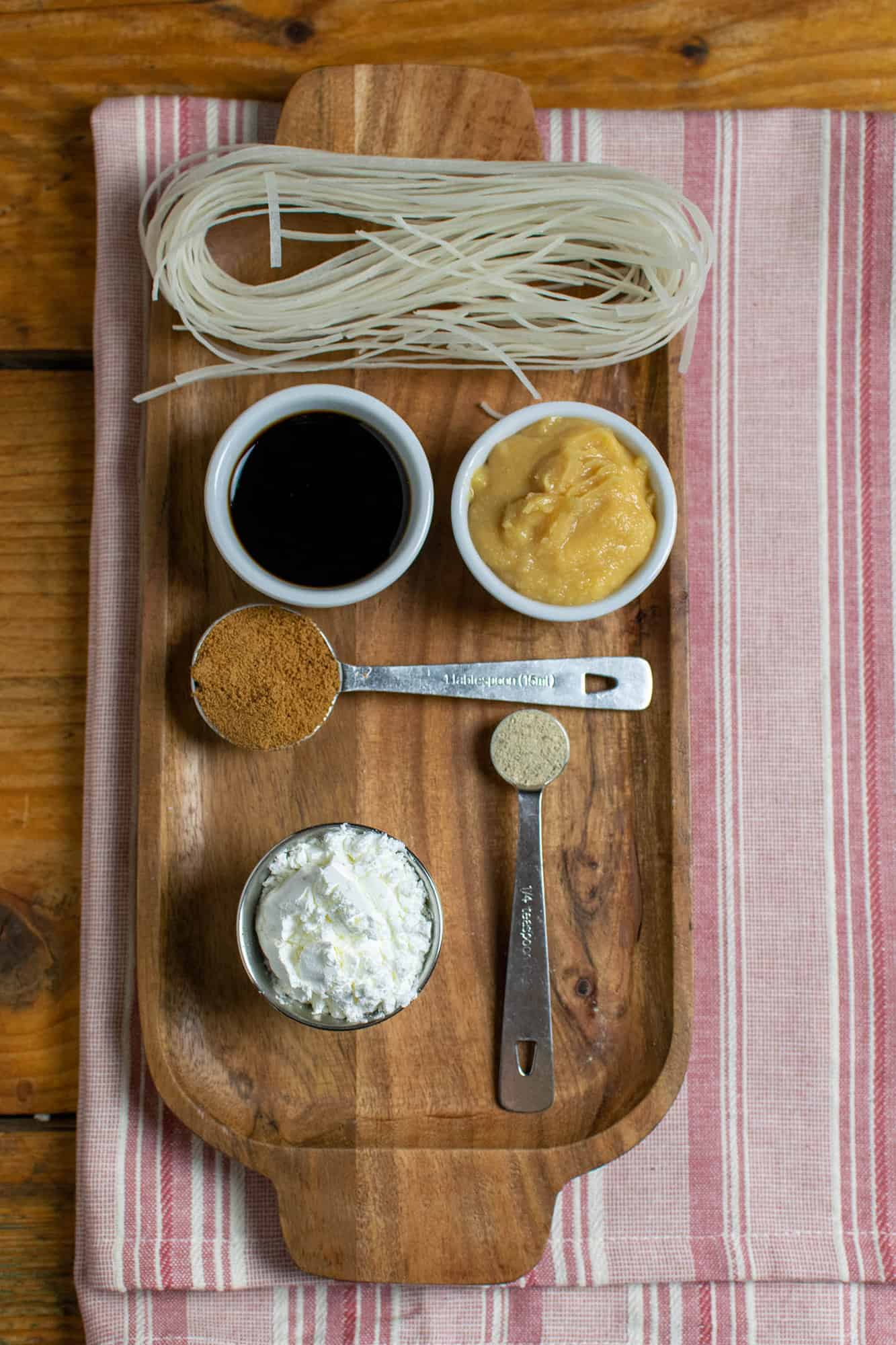 You just need 12 ingredients and about 20 minutes!
The fresh ingredients you will need are:
Mushrooms
Carrots
Pak Choi
Broccoli
Garlic
Chilli to garnish (optional)
However, as with a lot of stir fries, feel free to throw in the vegetables you have in the fridge!
The cupboard ingredients you will need are:
Stock – the vegan chicken stock that we use adds a herby 'chicken-y' flavour, that you just can't get from vegetable stock, so we would recommend trying it.
Cornflour (or cornstarch) – this acts as the thickening agent, otherwise the stir fry would be more like a soup, which we wouldn't want! In this recipe, the cornflour must be mixed with a quarter cup of water. This will stop the cornflour from clumping up in the pan.
White Pepper – this really is the key ingredient to the flavour of the stir fry. Without it, the flavours wouldn't balance out, and it would be just a bit 'meh'!
Soy Sauce – as with most Thai dishes, using soy sauce adds the umami flavour that plain old salt just can't do.
Yellow Bean Paste (or White Miso) – both made from fermented soy beans, they add a depth of flavour.
Flat Rice Noodles – sometimes called Pad Thai noodles, these are also key. Traditionally, wide flat noodles would be used. We looked in Asian supermarkets and online and just couldn't find the traditional wide noodles. If you can find flat wide noodles, sub out the thin rice noodles for them! Just be sure to stay away from vermicelli noodles for this one, it wouldn't be bad with them, it just isn't ideal.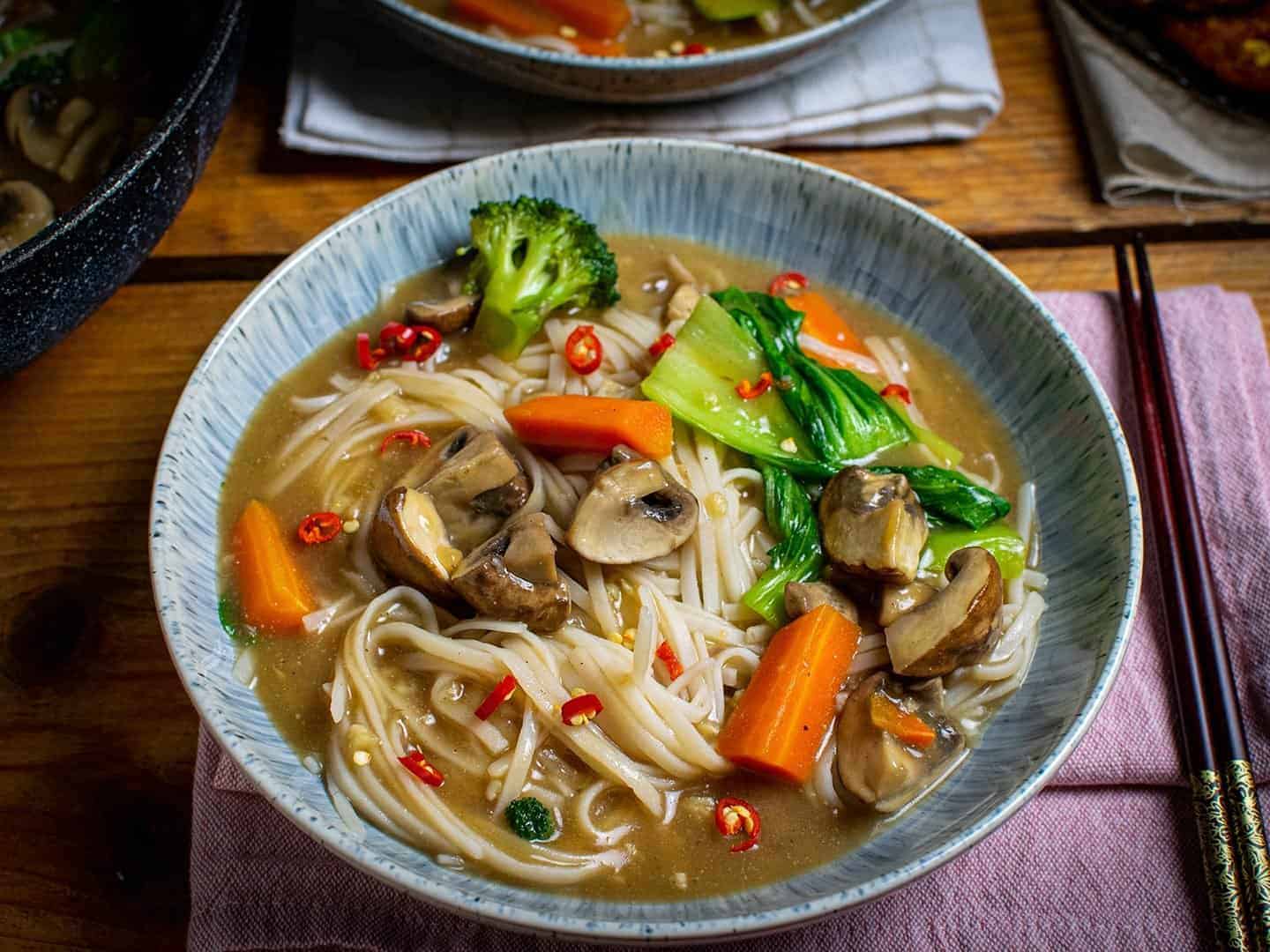 Thai noodles with gravy in just 8 steps!
Once the vegetables are chopped, it's just a case of throwing it all in the wok and cooking over a high heat. Start with the garlic and mushrooms, and gradually add the broccoli and carrots. Then add the stock, bean (or miso) paste and cornflour mixture. It should thicken up after a few minutes and with some stirring. After that, just add soy sauce, white pepper and pak choi in for about one minute to let it wilt, and serve with the cooked flat rice noodles.
Traditionally, noodles are soaked in hot water and then stir fried in a hot wok with dark soy sauce. Then the gravy would be poured over the noodles. However, soaking the noodles and serving the veggies in the Thai gravy on top seems quicker to us, and it doesn't sacrifice flavour.
We hope this video will help when making this recipe:
What is Thai gravy sauce?
Don't get Thai gravy sauce confused with the types of gravy that we know and love in the west! Thai gravy tends to be made from stock, soy sauce and cornflour. And I've never seen it sold in granulated form, like Bisto!
However, even though Thai gravy sauce tends to be a sauce for noodles, and western gravy tends to be served on roast dinners, there are still some similarities.
Western gravy tends to be an unappetising brown colour, as does Thai gravy.
They're both a delicious, silky, savoury sauce.
Both are sauces that will be suitable for children to try. A lot of Thai foods tend to be spicy, which generally aren't suitable for children, but this one isn't spicy at all. If serving for children, only add a little white pepper, in case it makes the dish too hot, rather than spicy.
How to make Rad Na noodles vegan
So, we've covered off the issue of what stock to use. Usually meat broth would be used but vegan chicken broth or veggie stock is just as good.
Usually made with animal protein, it simply isn't needed in this recipe. We've used mushrooms as the main protein in this dish, but you could use tofu, tempeh or your favourite plant-based meat replacement. That's about it. As an FYI, dairy isn't used much in Thai cooking at all, so it's not often that you will need to use a dairy replacement, and especially not in stir fries!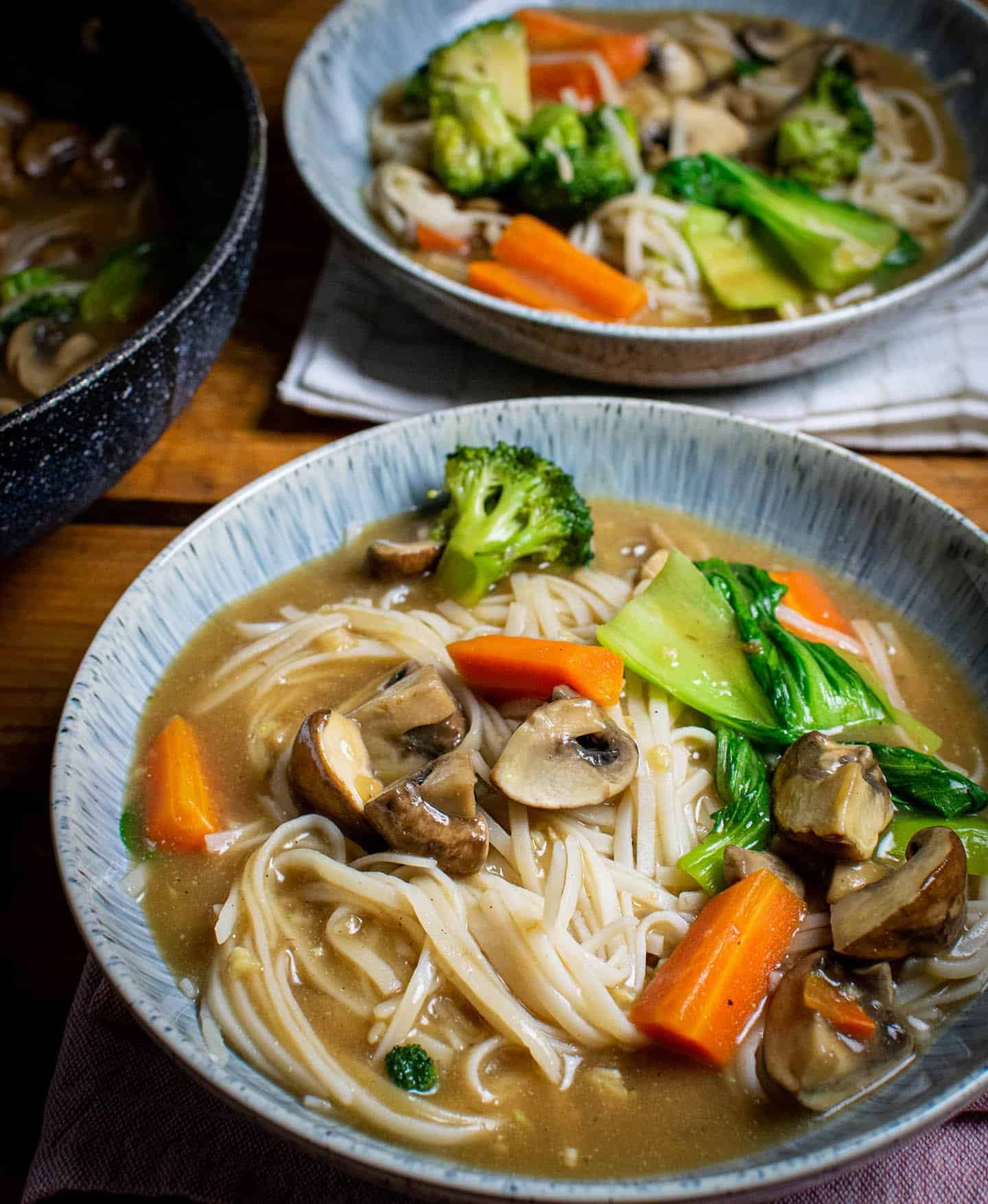 Where does this dish come from?
So, we've covered that noodles with gravy (or Rad Na) comes from Thailand, which is where we first tried it. However, there is another dish called Rat Na that was initially cooked in top restaurants in China.
The recipe became popular in the Chaoshan region. People from that area gradually started selling it to working people in Thailand. From there it became super popular in Thailand, where variations on the original recipe came about.
In the Chinese recipe, it wasn't extremely saucy but in Thailand more sauce was used, and it was served with a banana leaf on top. There's a random history of food fact for you!
Rad na, Rat Na or Lard Na?
Rad Na translates as 'topping' so basically the gravy sauce is the topping for the noodles. However, there are numerous names for this dish. Rat Na and Rad Na, is just a difference in pronunciation, as far as we can tell there's no right or wrong spelling with the translation. Rat Na or Rad Na are both generally accepted as the name of this recipe.

Lard Na, on the other hand, is a Lao-Chinese dish that is very similar to noodles with gravy sauce. Essentially, it's exactly the same as Rad Na noodles, only it's the version of the recipe that was made famous when Chinese people served it as street food in Laos. It's served with the same vegetables (Chinese broccoli, traditionally) and a protein.
Did you make this recipe? Leave a review and a rating below, or tag us in your photos on Instagram! Alternatively, bookmark it in your browser or save to Pinterest for later.

If you love our content, please consider supporting it by buying us a coffee.
📖 Recipe
Noodles with Gravy (Rad Na)
Thai style noodles with gravy, or Rad Na noodles, is a simple, quick yet delicious stir fry! It will take 20 minutes to make and you can mix up the veggies depending on what you have to hand. Enjoy!
Save
Saved!
Print
Pin
Rate
Ingredients
200

g

flat rice noodles ⁠

1

teaspoon

vegetable oil

3

cloves

garlic

– crushed

2

carrots

– sliced into chunks

500

g

mushrooms

– chopped into quarters⁠⁠

150

g

broccoli⁠

– chopped

150

g

pak choi

2

tablespoon

yellow bean paste

or white miso paste

850

ml

vegetable stock⁠

4

tablespoon

cornflour

& ¼ cup water mixed together⁠

¼

teaspoon

white pepper⁠

1 ½

tablespoon

light soy sauce⁠

Chopped red chilli to garnish

optional⁠
Instructions
Soaking the noodles in hot water for ten minutes.

200 g flat rice noodles ⁠

In a wok, heat the oil and then add the garlic over a medium heat for 30 seconds – careful it doesn't burn.

3 cloves garlic,

1 teaspoon vegetable oil

Add in the mushrooms, carrots and broccoli, then stir fry for a few minutes more.

2 carrots,

500 g mushrooms,

150 g broccoli⁠

Pour in the veggie stock and yellow bean paste (or white miso) once the mushrooms start to release liquid.

850 ml vegetable stock⁠,

2 tablespoon yellow bean paste

Stir in the cornflour and water mixture, and watch as the sauce thickens.

Pop in the soy sauce and white pepper and stir well, cook for a maximum of 5 minutes.

1 ½ tablespoon light soy sauce⁠,

¼ teaspoon white pepper⁠

Stir through the pak choi and wilt for one minute.⁠

Mix the noodles through the sauce and serve with chopped chilli (if using), or alternatively, chilli flakes work well too.

Chopped red chilli to garnish
Nutrition
Calories:
309
kcal
|
Carbohydrates:
64
g
|
Protein:
9
g
|
Fat:
2
g
|
Saturated Fat:
1
g
|
Polyunsaturated Fat:
1
g
|
Monounsaturated Fat:
1
g
|
Sodium:
1591
mg
|
Potassium:
765
mg
|
Fiber:
5
g
|
Sugar:
6
g
|
Vitamin A:
7012
IU
|
Vitamin C:
55
mg
|
Calcium:
90
mg
|
Iron:
2
mg