Our Thai cashew stir fry with tofu is a vegan spin on the classic "cashew chicken" or gai pad med mamuang himaphan. A protein packed, 20 minute stir fry with a kick!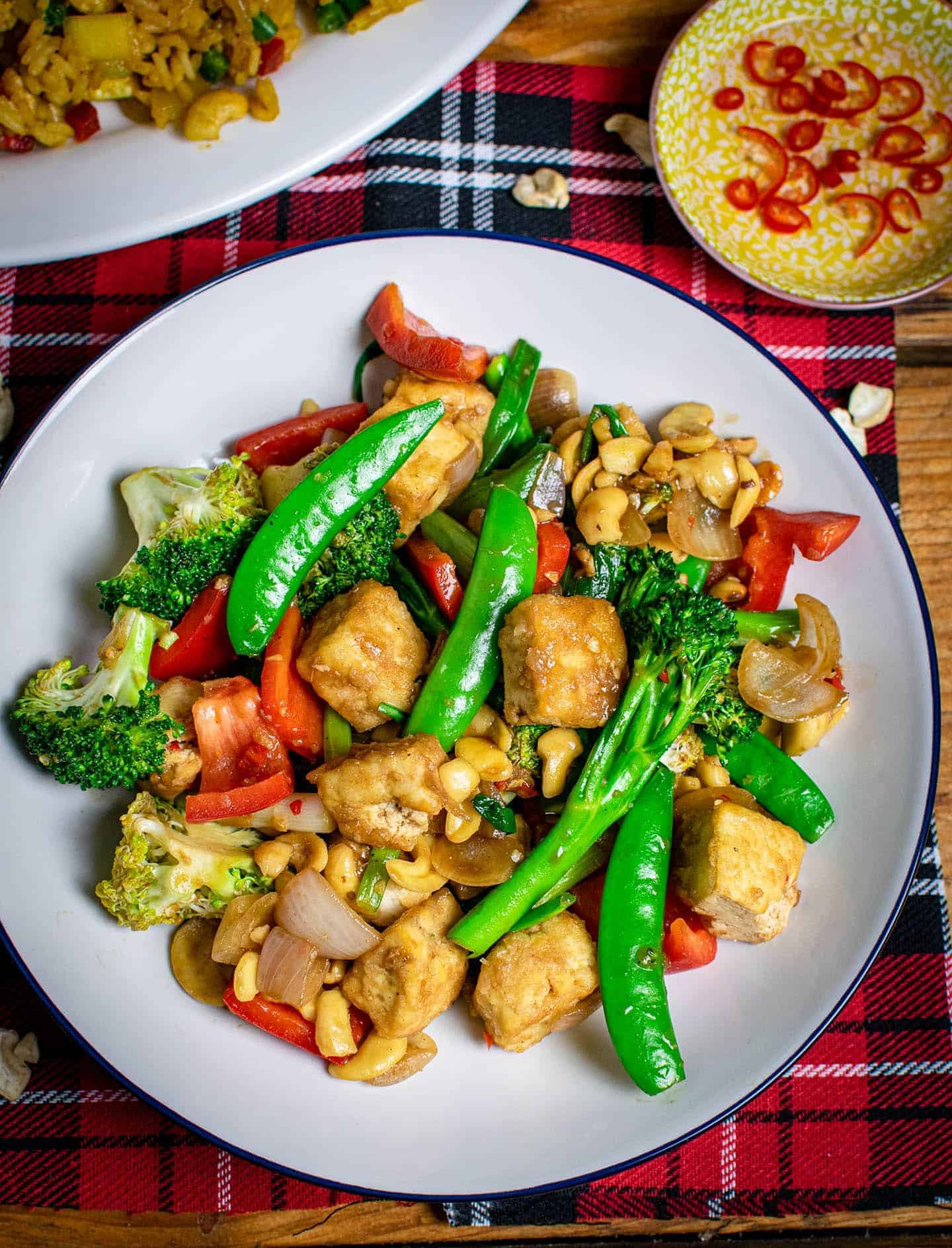 Jump to:
What is Thai cashew stir fry?
This recipe is based on Thai cashew chicken, a dish found all over Thailand. It's especially popular in Thai restaurants in the west. Obviously we won't be using chicken here, so we've switched it out for tofu. Tofu is a commonly used ingredient in Thai cooking. You could equally replace the chicken with a vegan chicken alternative – there are so many on the market now!
The Thai name for the original dish is 'gai pad med mamuang himaphan', which roughly translates as chicken fried with cashew nuts. So, we'll go with 'tau hu pad med mamuang himaphan' for our version – tofu fried with cashew nuts!
Apart from the chicken, our Thai cashew stir fry recipe is pretty authentic and traditional! The only other change you'll find here is that we use a vegetarian oyster sauce, rather than the shellfish derived original ingredient.
Vegetarian oyster sauce is typically made with mushrooms, but it's pretty similar in flavour – it's a thick, gloopy sauce that adds a rich, umami flavour. We'd definitely recommend investing in some for Thai and other asian cooking! You can use more soy sauce instead, but it won't have quite the same depth of flavour or consistency.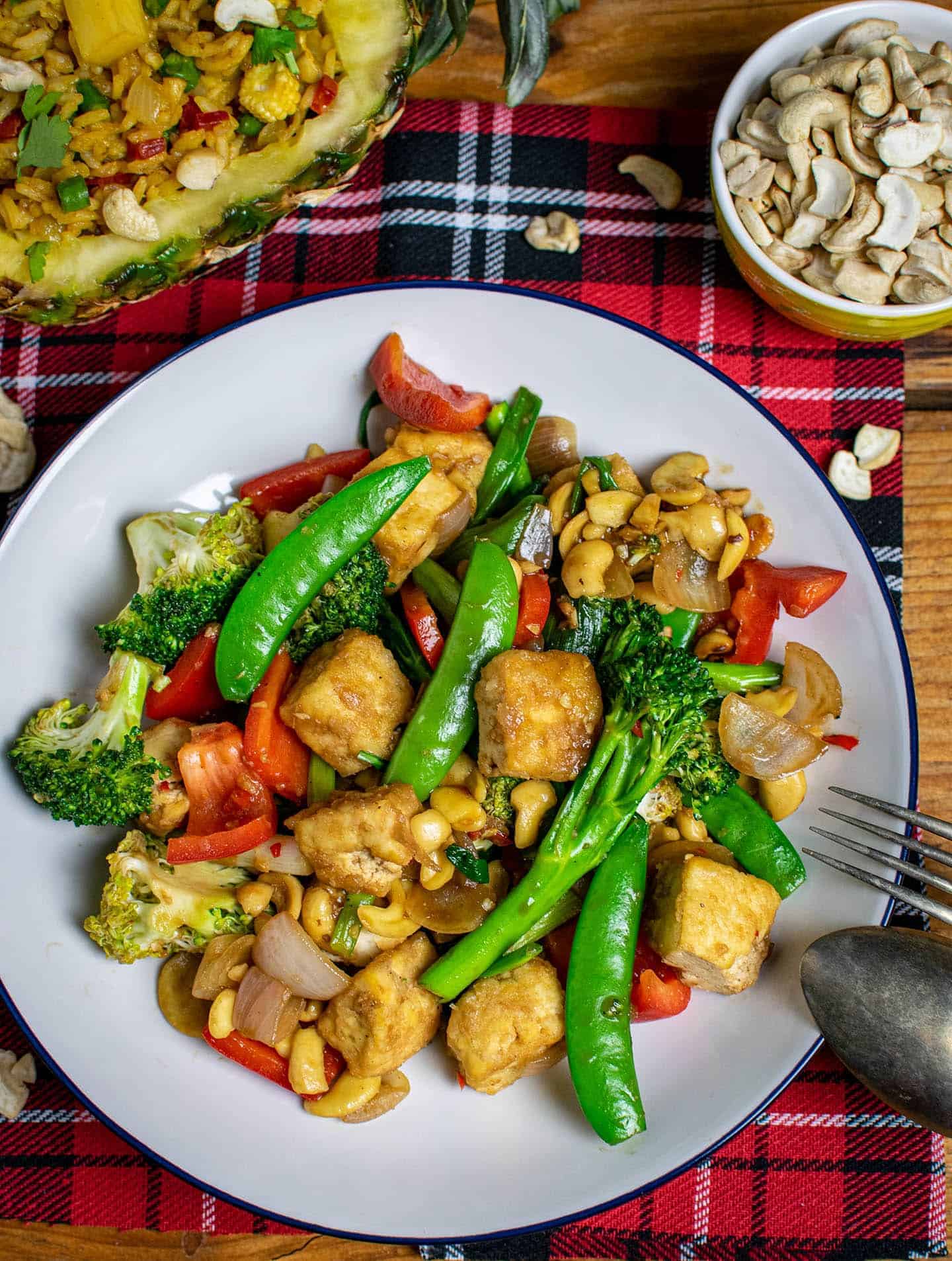 How to make a vegan Thai cashew chicken
It's really easy to make our Thai cashew stir fry with tofu! This one is a 15/15 – 15 minutes to make + using 15 ingredients and then you'll have a delicious dinner.
The sauce is a pretty classic Thai stir fry sauce – you'll find similar ingredients combined in different ways, and quantities, throughout various Thai dishes. We use light soy sauce, dark soy sauce, vegetarian oyster sauce, sugar, white pepper and some water. That's it! You can mix all the ingredients together in a bowl so it's ready to pour straight into the wok.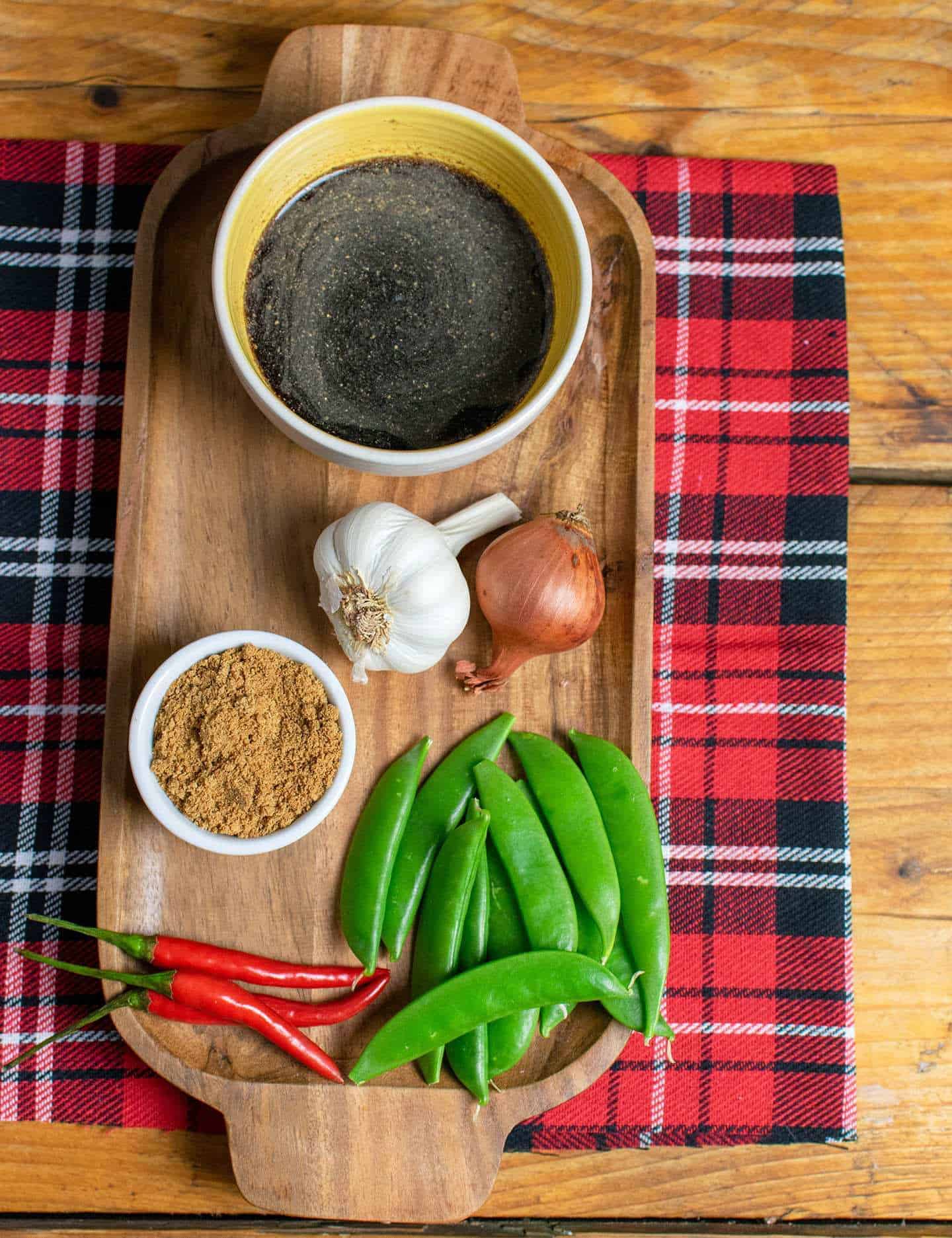 Our protein of choice is tofu, and you can read our tips on how to prepare your tofu for a stir fry in the next section.
Rich, Salty, Umami Stir Fry Sauce
To add to the rich, salty and umami sauce, the other key flavours come from garlic and chillies – two classic Thai ingredients. You can mince or finely chop them up, but if you have a pestle and mortar, we'd recommend giving them a good bashing! There's a reason why pestle and mortars are used so commonly in Asia. It helps to release and marry the flavours of the ingredients.
In terms of vegetables, we tend to think pretty flexibly when it comes to our recipe creation. If there's a particular vegetable you enjoy, or you're trying to keep things seasonal, create your own combination and rock it.
If you're looking for some inspiration, our picks for a Thai cashew stir fry with tofu are spring onions, red pepper, sugar snap peas and tenderstem broccoli. It's a colourful combination full of a range of vitamins and minerals. We love to include a large variety of vegetables in our dishes. That's why you don't often find a recipe on our site that doesn't include at least a couple of veggies!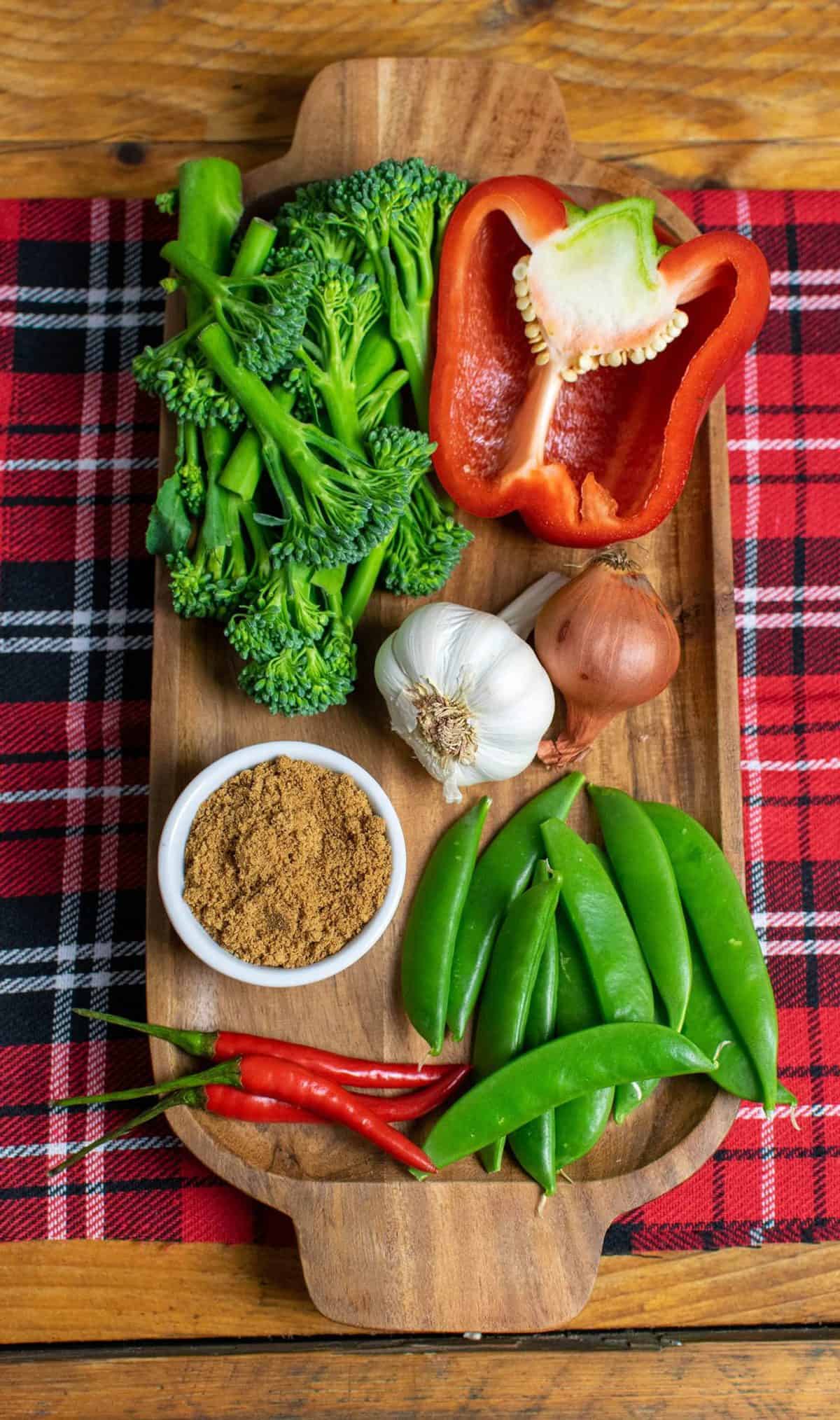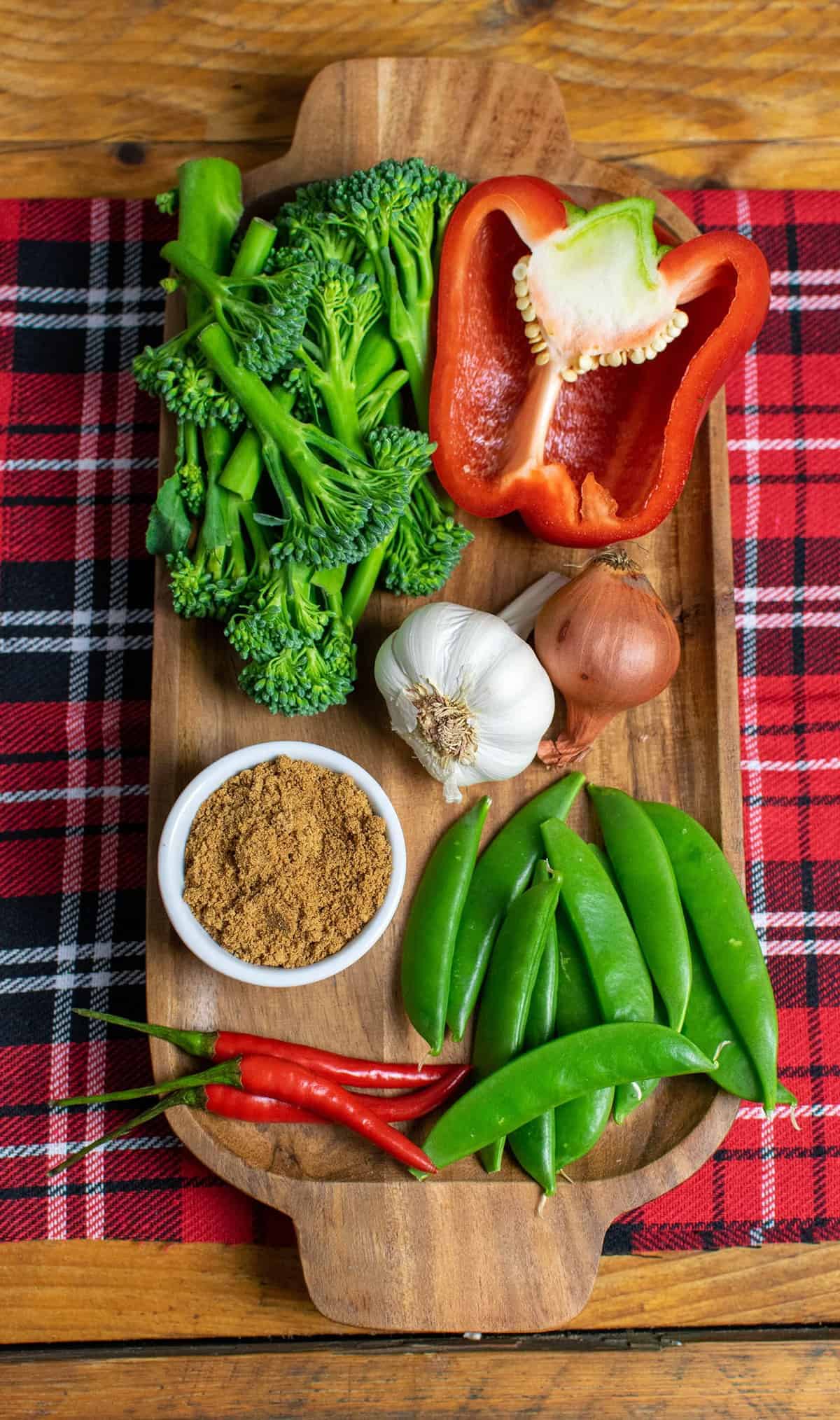 How to Prepare Tofu for this Thai Cashew Stir Fry
Tofu has a pretty bad reputation outside of the vegan community. It's seen as a bland and spongy protein alternative. Those people just haven't had good tofu though – it's all in the preparation!
Tofu is such a versatile ingredient. We use it for everything from scrambled 'eggs', to tofu 'bacon' and chicken-style nuggets. There are endless possibilities, with it being able to readily take on flavours and the texture is adaptable too. Have you tried the double-freeze method? Maybe we should write a blog post all about tofu soon!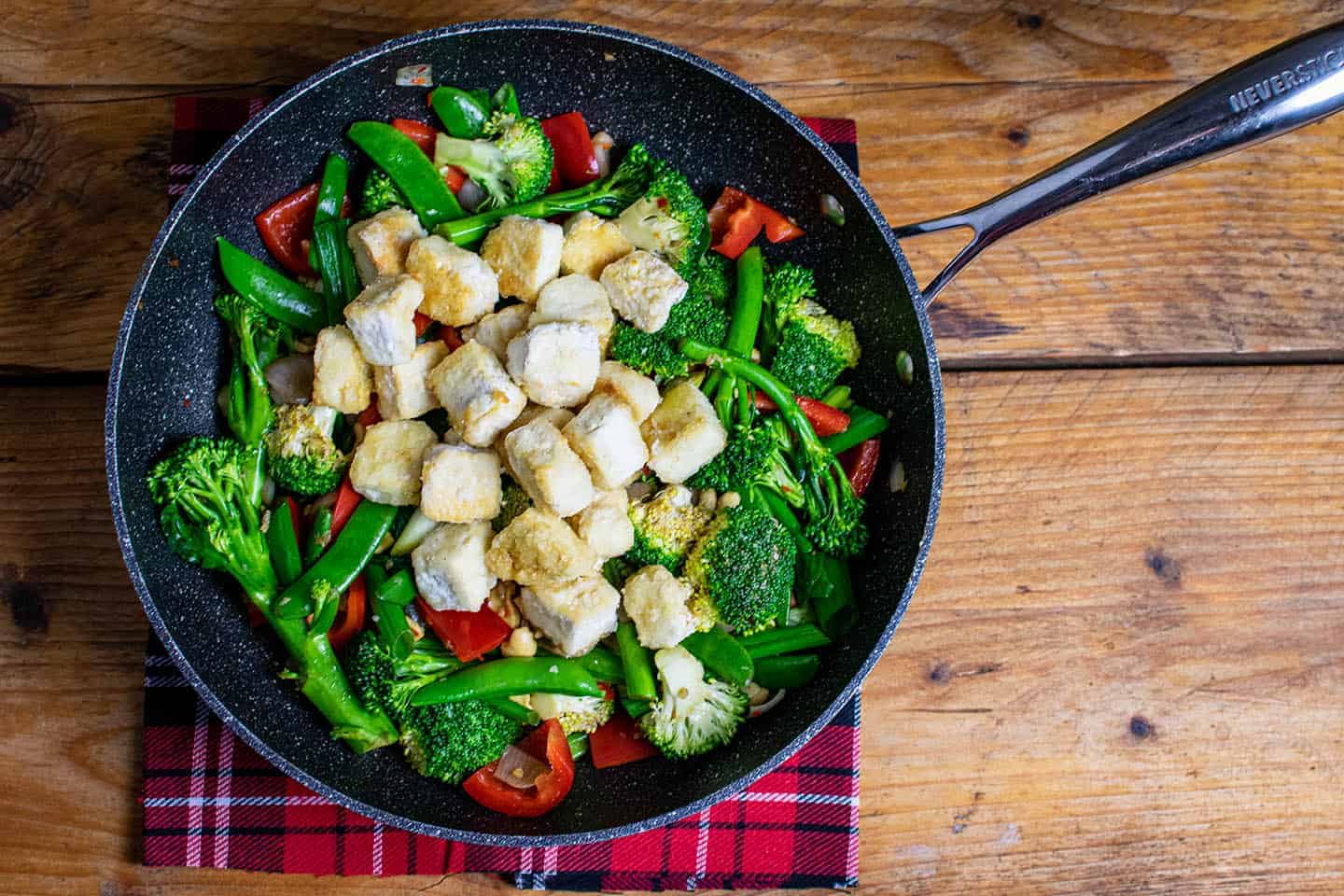 Press the tofu first!
Anyway, there's one particular way that we like to prepare our tofu for a stir fry. We take extra-firm tofu and press it – ideally overnight, or if not, at least for a couple of hours. Getting as much moisture out of it as possible really helps to get a firmer bite. We use a Tofuture tofu press and would definitely recommend it!
Once the tofu is pressed, we chop it into pieces roughly two inches in length. Toss the pieces in a couple of tablespoons or cornflour (also known as cornstarch). The cornflour will help to get a satisfying crunch on the outside! You can also get creative when you're coating tofu. I recently mixed in some vegan chicken stock powder and some curry powder with the cornflour for the tofu coating. It made the tofu in our vegan chinese curry extra delicious! It not only had a nice crunch, but gave the tofu a rich, savoury and slightly spicy edge!
Once coated, get a frying pan or wok nice and hot. Add a good splash of a neutral oil, like groundnut or rapeseed oil. Carefully add your coated tofu to the pan and fry for a couple of minutes on the first side. After that, flip over and cook for a couple of minutes on the other side. You're aiming for a golden brown colour, so turn the heat down if you think it needs it. And that's it, the tofu is ready to be added to the stir fry!
Love Thai food? Us too, we have loads of other recipes to try. Here's our guide to cooking Vegan Thai Food, which contains more recipes from Thailand.
Did you make this recipe? Leave a review and a rating below, or tag us in your photos on Instagram! Alternatively, bookmark it in your browser or save to Pinterest for later.

If you love our content, please consider supporting it by buying us a coffee.
📖 Recipe
Vegan Thai Cashew Stir Fry
Our Thai cashew stir fry with tofu is a vegan spin on the classic "cashew chicken" or "gai pad med mamuang himaphan". A protein packed, 20 minute stir fry with a kick!
Print
Pin
Rate
Ingredients
For the sauce:
2

tbsp

light soy sauce

1

tbsp

dark soy sauce

1

tbsp

Vegan Oyster Sauce

6

tbsp

water

1

tsp

sugar

½

tsp

white pepper

ground

Pinch

of salt
For the stir fry:
400

g

extra firm tofu

– cut into cubes

2

tbsp

cornflour

3

shallots

– cut into chunks

1

cup

cashews

4

cloves

garlic

– finely chopped

4

bird eye chillies

– finely chopped

2

red peppers

– cut into chunks

150

g

tenderstem broccoli

150

g

sugar snap peas

6

spring onions

- cut into 1 inch chunks

2

tbsp

oil

1

tsp

oil
Instructions
To start off, coat the tofu in cornflour – just chuck it all in a bowl and give it a good mix up until all the pieces of tofu are nicely coated.

400 g extra firm tofu,

2 tbsp cornflour

Add the oil to a wok and bring it up to a medium-high heat. Then add the cubes of tofu and fry for a few minutes on each side – you want to get a nice golden brown colour. Once done, take the tofu out of the wok and put it to one side for later.

In a bowl, mix together all of the ingredients for the sauce and put that to one side for later as well.

2 tbsp light soy sauce,

1 tbsp dark soy sauce,

1 tbsp Vegan Oyster Sauce,

6 tbsp water,

1 tsp sugar,

½ tsp white pepper,

Pinch of salt

Add 1 tsp oil to the wok and get it back up to a medium-high heat.

Fry the shallots and cashews and cook for a couple of minutes until the onions have softened and the cashews have started to brown. Be careful not to burn them, you just want to catch them as they start to brown.

3 shallots,

1 cup cashews

Now get the chilli and garlic in and cook for a minute.

4 bird eye chillies,

4 cloves garlic

Chuck all the veg in there and stir for a few minutes more. Stir Fry until everything is nice and hot but still fresh and crunchy.

2 red peppers,

150 g tenderstem broccoli,

150 g sugar snap peas,

6 spring onions

Pour the sauce in and mix everything up whilst on the heat so it's all coated nicely. Serve immediately with rice.
Notes
If you don't want the meal to be too spicy, use fewer bid eye chillies. Alternatively, swap bid eye chillies for a standard red chilli.
If you don't have vegan Oyster sauce this you can double up the amount of dark soy sauce and add 1 tsp vegan Worcestershire sauce.
Nutrition
Calories:
401
kcal
|
Carbohydrates:
31
g
|
Protein:
19
g
|
Fat:
24
g
|
Saturated Fat:
3
g
|
Polyunsaturated Fat:
6
g
|
Monounsaturated Fat:
13
g
|
Trans Fat:
1
g
|
Sodium:
966
mg
|
Potassium:
733
mg
|
Fiber:
5
g
|
Sugar:
11
g
|
Vitamin A:
3148
IU
|
Vitamin C:
146
mg
|
Calcium:
121
mg
|
Iron:
6
mg
If you love this recipe, pin it on Pinterest!