These gooey vegan Christmas brownies are the best fusion Christmas treat ever! And if you're ever asked whether to have another brownie or another mince pie, well now you can have both.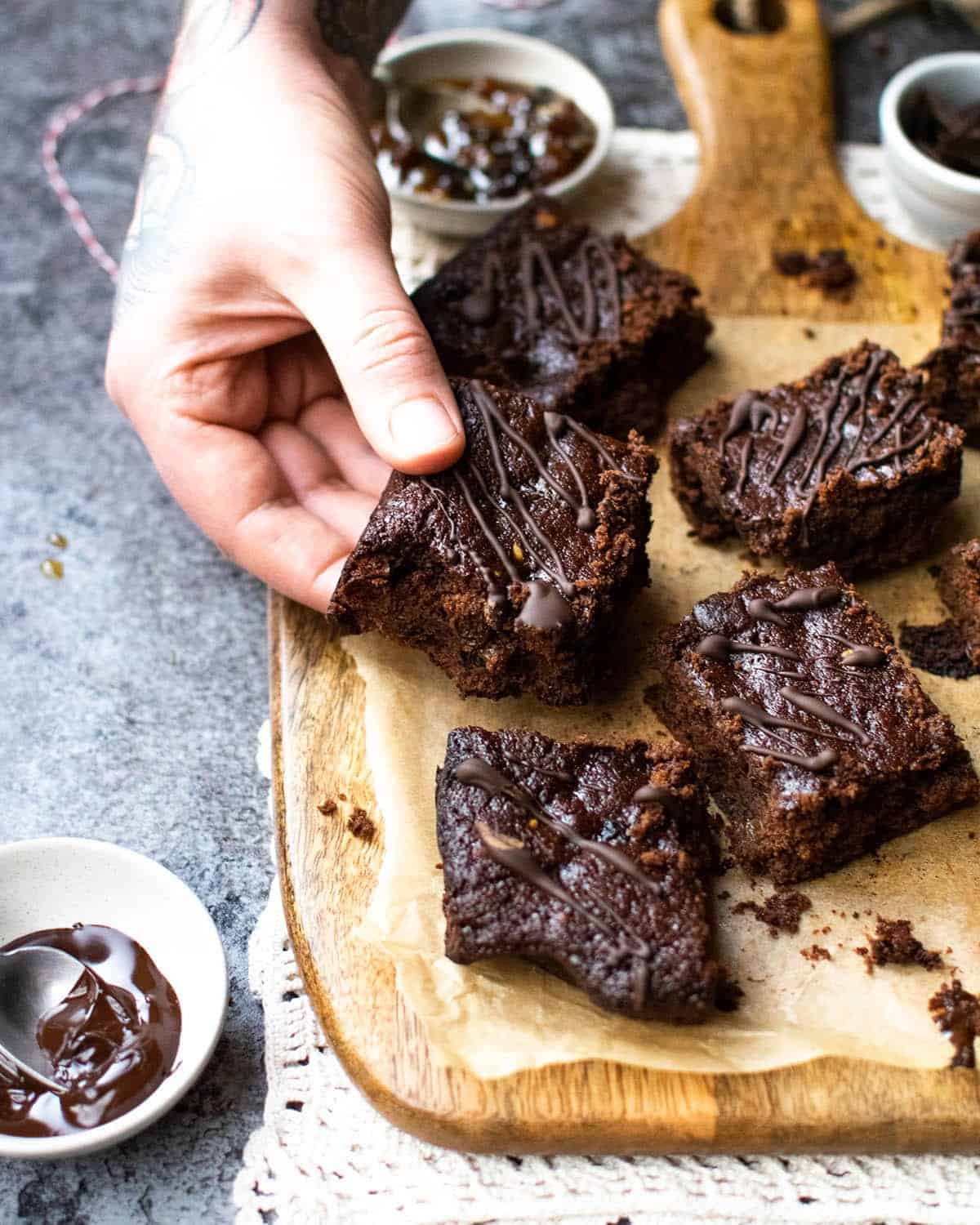 Jump to:
🌟 Why this recipe works
Based on an old recipe – we've made these chocolatey festive treats every year since we had the genius idea of combining these two amazing sweet treats, and they always go down an absolute storm. It's actually based on another brownie recipe from our website, so we know it's tried and true. If you fancy knocking up a batch of vegan brownies, you can check out our vegan fudge brownie recipe and try those too.
Super simple – and you only need ten ingredients. Start by melting your chocolate and vegan butter together, and then mix with the dry ingredients. Add some chocolate chunks to your brownie batter before popping it in the oven for 30-35 minutes. Then it's just a case of letting them cool for 20 minutes before tucking in.
Only 10 ingredients – if you follow the recipe exactly, you won't go wrong! And with just ten simple ingredients, it's got to be easy, right?
Cooling time – the cooling time is essential! If you don't allow it to cool (and set) they will be really gooey and impossible to eat (well, without a spoon and without making a big mess). Let them cool so that the outside sets but the middle stays gooey.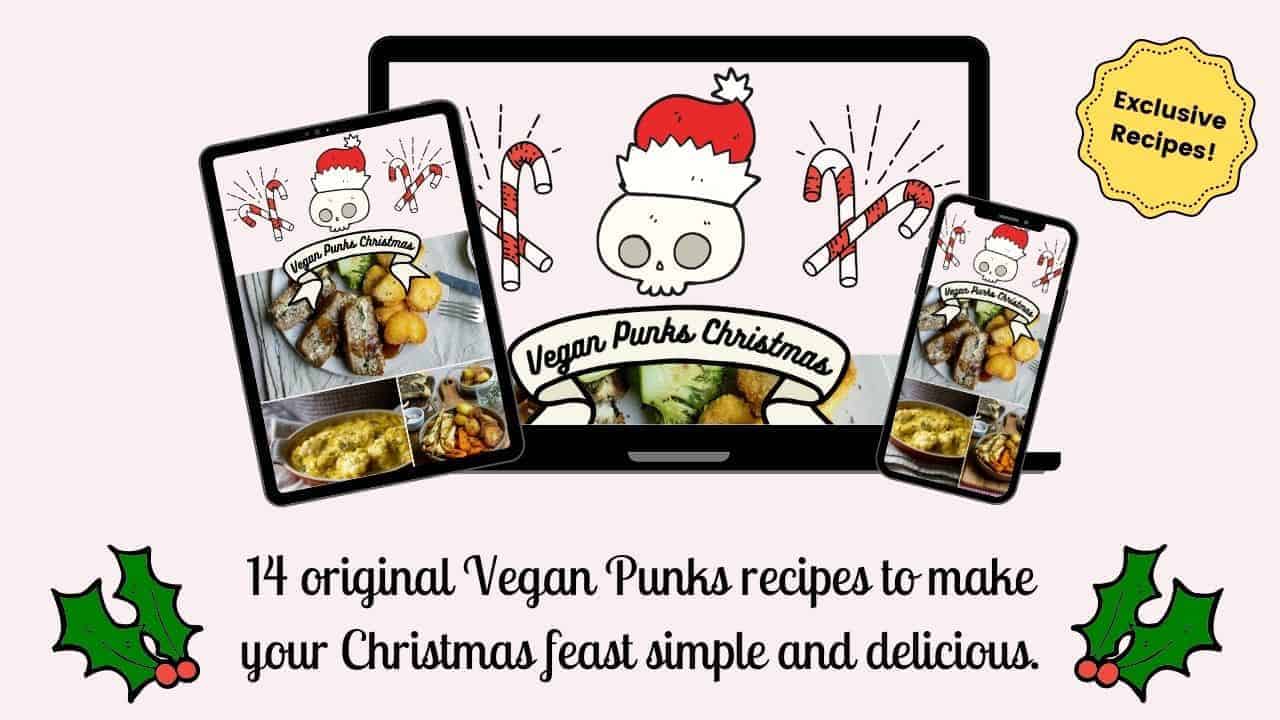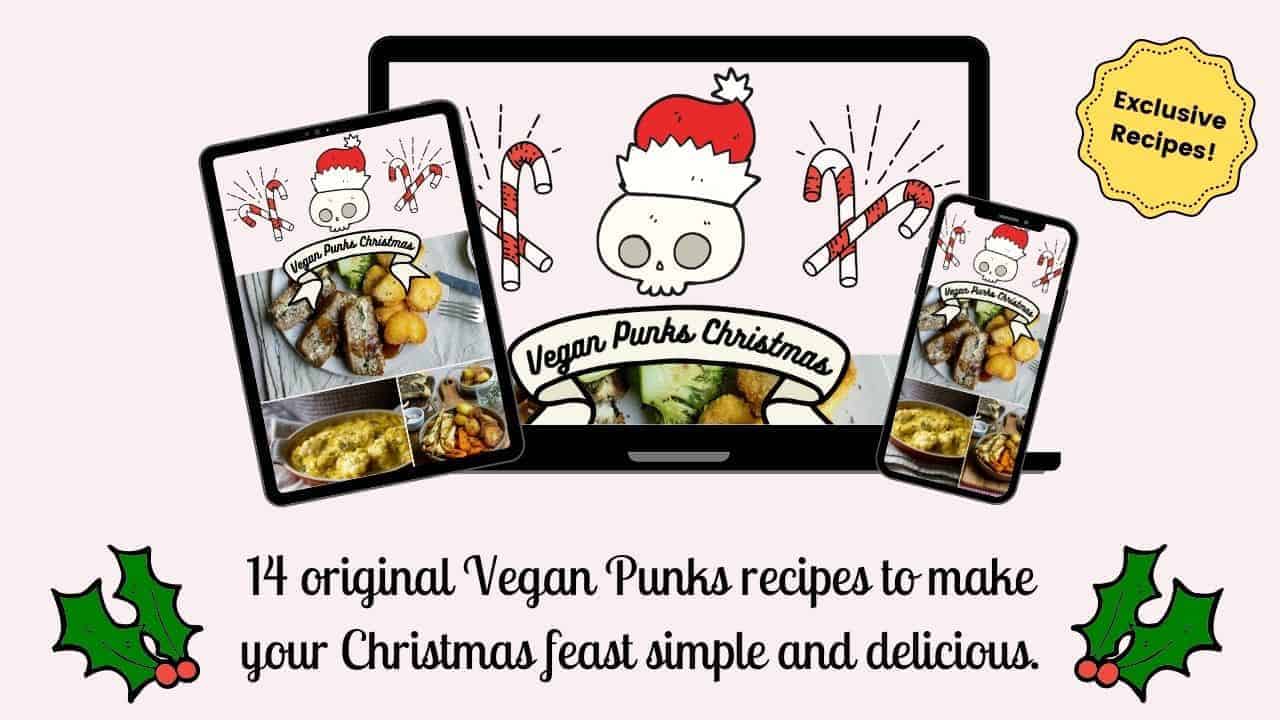 🍽 Equipment and product recommendations
There are a few items that will really help when making these vegan Christmas brownies. A brownie tray, which gives you the perfect sized brownie every time, a proper mixing bowl as well as cup and spoon measures, which are essential for baking. If the quantities are not measured out properly, there won't be much chance of the brownies coming out well.
📋 Ingredient Notes
To make these gooey and indulgent vegan Christmas brownies you will only need 10 ingredients:
Ground flaxseed. Flaxseeds are quite often used as an egg replacer in vegan baking because mixing them with water gives them a gel-like consistency that is great for binding ingredients. You can find them in most larger supermarkets.
Dark vegan chocolate – make sure it's vegan - sometimes milk powder is added, even to dark chocolate. The chocolate we use is 74% cocoa.
Vegan butter – we generally use Vitalite, if you're in the US, we recommend Earth Balance (we used this on a trip there).
Coconut sugar – we're using coconut sugar because it has a more caramel taste than other types of sugar. It's generally available in bigger supermarkets, but if you can't find any then you can use brown sugar instead.
Mincemeat – despite the 'meaty' sounding name, there's generally always a vegan jar at the supermarket. Just check that animal-derived suet isn't included in the ingredients list.
Check out the recipe card at the end of this article for full measures and instructions.
🔪 Instructions
You can knock up these vegan Christmas brownies in around half an hour, plus another half an hour to let them cool and set. These instructions are an overview of the recipe to go with the process shots. Head to the bottom of the page for the full ingredients list, instructions and recipe notes.
1. First, take your ground flaxseed and combine it with water. Set it aside. It should take on a gel-like consistency, which is what makes flaxseed effective as an egg replacer. Preheat your oven to gas mark 5/190°C and line an 8" baking tray with parchment paper. This will ensure that your brownies cook evenly, and prevent them from sticking to the tray.
2. Chop two-thirds of the chocolate into small pieces. Melt the chocolate in the microwave, ensuring that you only put it in for short bursts at a time, to avoid burning it.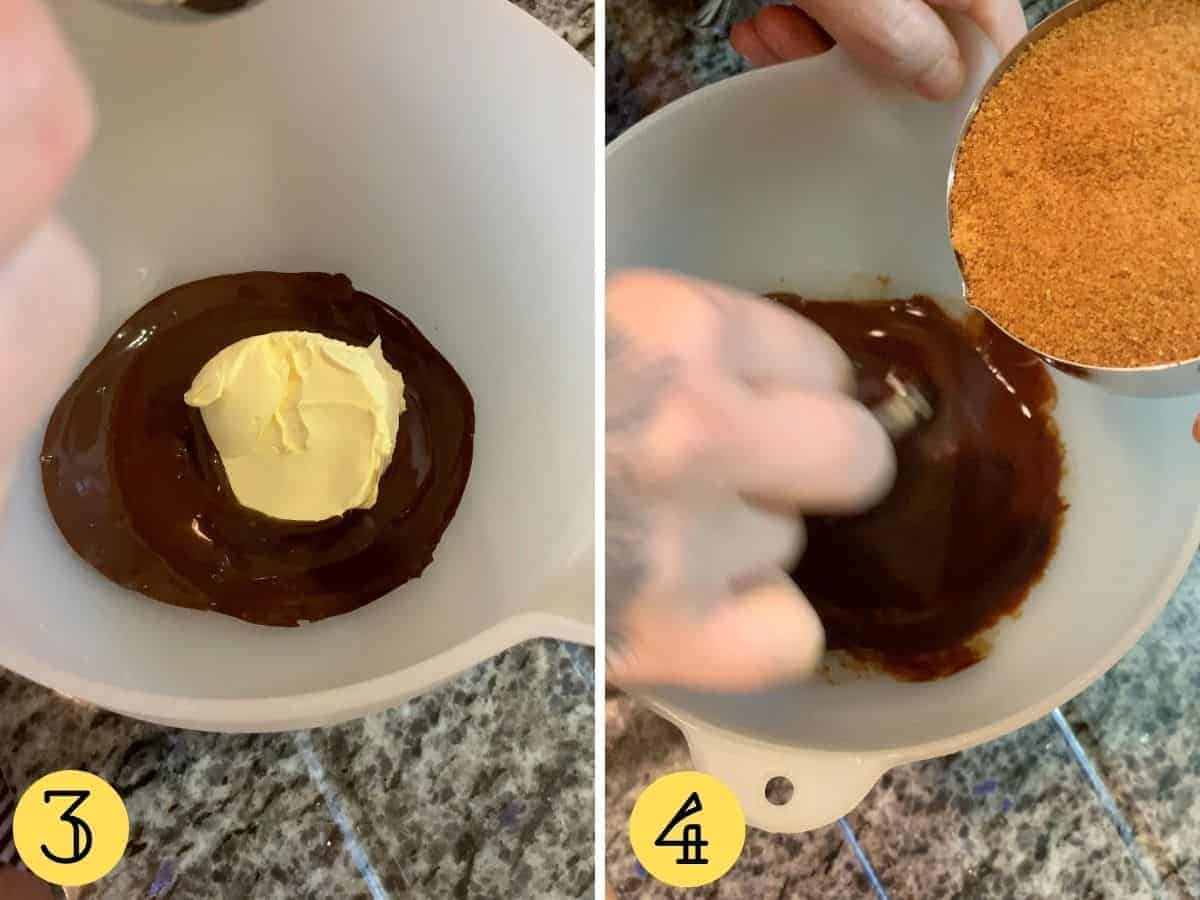 3. Stir the butter through the chocolate until it melts.
4. Next, add the sugar and stir into the chocolate and butter mix.
5. Sift the flour, cocoa powder, baking powder and salt into a bowl.
6. Next pour the chocolate mix on top, and combine.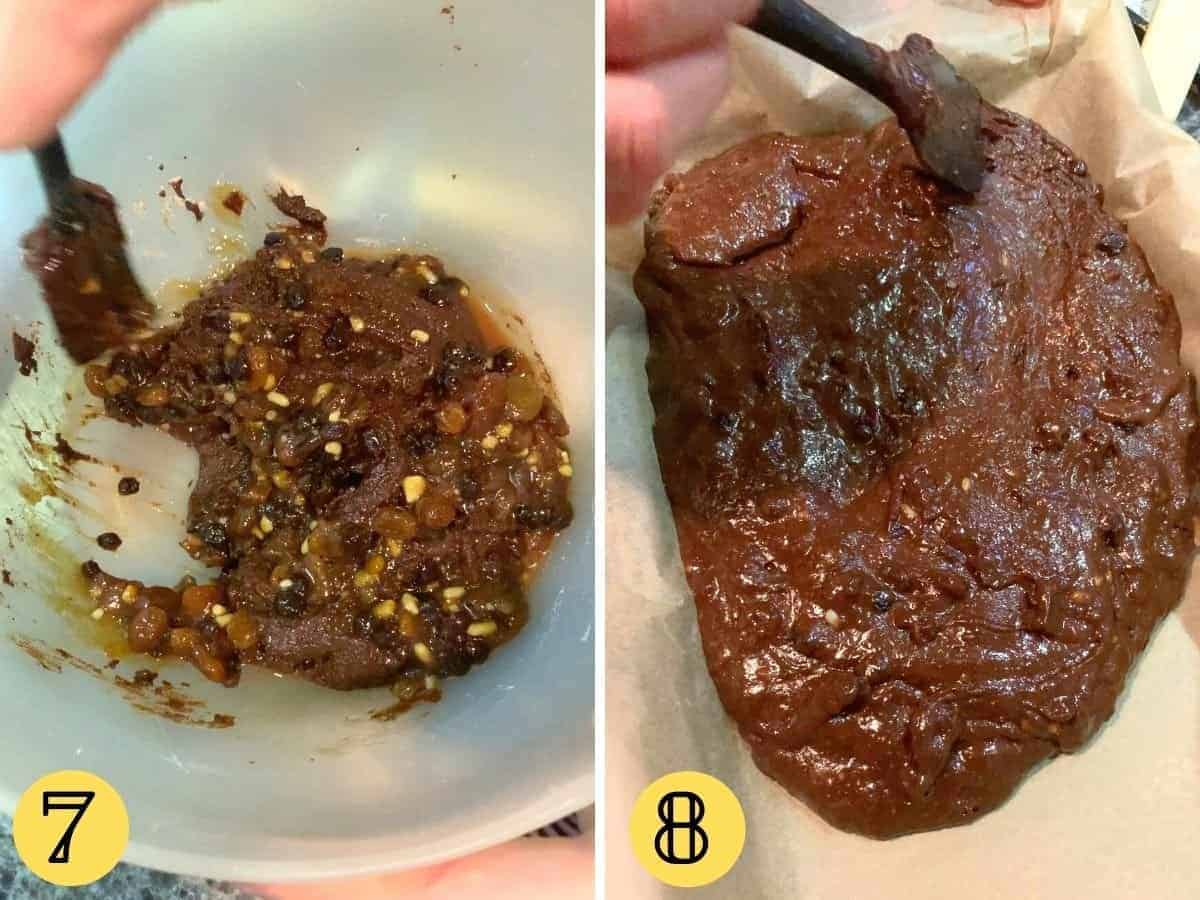 7. Fold in the mincemeat, vanilla, and flax egg and keep folding until it's combined.
8. Pour the mixture into your baking tray, and be careful to keep it flat so the mixture stays evenly spread. Bake for 15-20 minutes.
9. Remove from the oven and leave to cool for around 30 minutes. This will ensure that your brownies set properly, while still remaining lovely and gooey on the inside. Melt the remaining chocolate and drizzle it over the top of the brownies.
10. Serve them up with a lovely dollop of vegan ice cream, some vegan custard (we love the oatly one) or just eat them on their own. You can see full measurements and instructions on the recipe card at the end of this article.
💭 FAQs
Can these brownies be frozen?
Yes absolutely! Vegan Christmas Brownies freeze well and keep in the freezer for up to three months. Just be sure to thaw them thoroughly before eating.
Is the setting time important?
Yes. When these vegan Christmas brownies first come out of the oven they will still be extremely gooey and impossible to eat! The cooling time allows them to set and take on a firmer texture, while remaining gooey in the middle.
Can I make them ahead of time?
You can. They'll keep in an airtight container for around 10 days in a cool spot. Don't keep them in the fridge as they will dry out.
Is mincemeat vegan?
Mincemeat got its name because in the early middle ages (when mince pies were first served) that's exactly what it was. Back then the pies would be filled with a mixture of minced meat, chopped up fruit and a liquid to preserve it.

Thankfully the meat was later removed and 'mincemeat' became the mixture of dried fruits and spices that we're used to today.

Traditionally mincemeat is made with animal-derived suet, but a lot of the mincemeat you would buy in supermarkets now is marked vegan. We know that, in the UK, Tesco definitely does a vegan mincemeat for under £1, because we buy it every year.

If you want to fill your home with the scent of Christmas, you can even make the vegan mincemeat for these vegan Christmas brownies yourself.
🥧 More Holiday Desserts
🎄 Related Christmas Recipes
Did you make this recipe? Leave a review and a rating below, or tag us in your photos on Instagram! Alternatively, bookmark it in your browser or save to Pinterest for later.

If you love our content, please consider supporting it by buying us a coffee.
📖 Recipe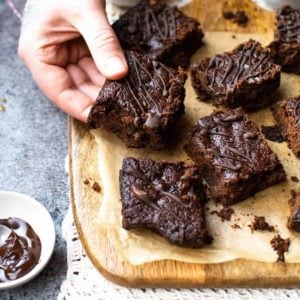 Vegan Christmas Brownies
These Mince Pie Christmas brownies are a fantastic holiday treat. Perfect for the run up to Christmas or even on the big day itself. Just make sure to let them stand before tucking in!
Save
Saved!
Print
Pin
Rate
Ingredients
2

tablespoon

ground flaxseed

6

tbsps

water

140

g

dark chocolate

- make sure it's vegan!

½

cup

vegan butter

1

cup

coconut sugar

or brown sugar

¾

cup

plain flour

¼

cup

cocoa powder

1

teaspoon

baking powder

300

g

mincemeat

1

tsp

salt

2

tsp

vanilla extract
Instructions
Mix the ground flaxseed with the water and set aside, it will go gel-like to become a flax egg.

2 tablespoon ground flaxseed,

6 tbsps water

Preheat the oven to gas mark 5 / 190°c and line an 8-inch baking sheet with parchment paper.

Chop 100g of the chocolate into small pieces and melt in the microwave, then stir through the butter until it melts.

140 g dark chocolate,

½ cup vegan butter

Add the sugar to the chocolate and butter mix.

Sift in the the flour, cocoa powder, baking powder, and then add the mincemeat, salt, vanilla and flax egg. Fold the mixture until it's combined.

2 tablespoon ground flaxseed,

6 tbsps water,

¾ cup plain flour,

¼ cup cocoa powder,

1 teaspoon baking powder

Pour the mixture into a baking sheet lined with grease proof paper.

Bake for 15-20 minutes, and leave to cool once out of the oven for around 30 minutes. This is to ensure it sets, yet it will remain a little gooey!

Once cool, melt the remaining chocolate and drizzle over the brownies.
Notes
The setting time is really important. It may be tempting to skip this step, but don't! The brownies need this time to set – but don't worry, they'll still be gooey in the middle.
You can use brown sugar instead of coconut sugar.
We used dark chocolate that is 74% cocoa.
Can be frozen for up to 3 months. Make sure to defrost thoroughly for most enjoyment.
Don't refrigerate, otherwise they will dry out. Keep them in an airtight container in a cool, dry place but not the fridge.
Don't forget to check the nutritional information to make sure the jarred mince meat is vegan.
Nutrition
Calories:
284
kcal
|
Carbohydrates:
43
g
|
Protein:
3
g
|
Fat:
12
g
|
Saturated Fat:
5
g
|
Polyunsaturated Fat:
2
g
|
Monounsaturated Fat:
4
g
|
Trans Fat:
1
g
|
Cholesterol:
1
mg
|
Sodium:
425
mg
|
Potassium:
132
mg
|
Fiber:
3
g
|
Sugar:
29
g
|
Vitamin A:
364
IU
|
Vitamin C:
1
mg
|
Calcium:
35
mg
|
Iron:
2
mg