Our vegan Yorkshire puddings have gone through years of iterations before we achieved a golden, crispy crown and the elusive 'well' ready to fill with gravy!
I always want Yorkshire puddings with a roast dinner, so it was a labour of love to try to create a decent vegan version. They're tricky to get right, with so many factors at play to get them to rise nicely, but completely worth persevering for.
How to make vegan Yorkshire puddings
Everything from the oven temperature to the ingredient ratios, and whether you preheat the oil to how quickly you can work, play a part in creating the perfect vegan Yorkshire pudding.
There's a reason why so many vegan Yorkshire pudding recipes lead to you making something that looks more like a muffin than a Yorkshire pudding – it's really damn difficult to get right! People struggle to make a good Yorkie using the traditional ingredients, so us vegans are just making it harder for ourselves.
And here's the catch to our recipe: there's no guarantee you're going to get dream Yorkshires out of the oven first time. You've got to practice in your own home, with your ingredients, your equipment and your oven. But, fear not, this is the best starting point – just look at the photos, it is possible!
There are a few ingredients that we utilise in this recipe, which aren't necessarily traditional, but replace non-vegan ingredients or just improve the recipe:
Chickpea flour (also known as gram or garbanzo flour) creates a slightly lighter batter, as well as providing a golden colour.
Ground turmeric helps to create that slightly yellow batter that you expect from egg yolks.
Aquafaba is the egg replacement (which I talk about further on in the recipe).
Apple cider vinegar helps the batter rise and activates the baking powder.
Crucial steps and pro tips
Here's the absolutely crucial information that'll help you get started on becoming a vegan Yorkshire pudding master:
Pre-heat that oven – we're not talking a couple of minutes of warming up. Turn it on when you start the recipe and let it come fully up to temperature while you get the batter mix ready. It should be on gas mark 7 / 200c / 425f.
We know oil isn't healthy, but there's no way to get that "well" (or dip, or hole – whatever you call that bit in the middle) without it. You need a good few millimetres of oil in each well of the muffin tin. The oil should pool in the batter and weigh down the centre of your vegan Yorkshire puddings, leaving the sides to rise and crisp up.
Don't use a Yorkshire pudding or popover tin – they're just not the right shape. You're better off using a standard muffin or cupcake tin, which also helps the shape of the Yorkies.
Preheat the oil. It needs to be smoking hot before you use it, so pour it into the muffin tin and get it into the pre-heated oven.
Rest the batter. Transfer from your mixing bowl into a jug so that it's easier to pour later. Rest it for a minimum of 15 minutes, but several hours is ideal and you could even leave it overnight. If you leave it overnight, be sure to cover it and keep it in the fridge, then bring up to room temperature before using.
Make sure your batter is room temperature, or even a little bit warm before pouring. The oil needs to stay as hot as possible to start cooking the batter straight away.
Work fast (but be careful). The faster you can pour the batter into the tin and get it back in the oven, the better your chances of success. The amount of batter to pour into each well of your tin is going to come with practice. Once you've made them a couple of times you should be able to tell by eye how much to pour, and have them ready to go into the oven within a minute. You just need to make sure not to overfill the wells of the tin, because then the oil will bubble over the sides. That'll leave you without enough oil to weigh down the middle of your Yorkshires. I know from experience!
Don't try to get them out of the tin straight away – we know it's tempting to rip one straight out and dunk it in gravy to toast your victory, but hold off. If you give them 15 minutes (or longer) to sit on the side, the middle of the pudding will continue to cook (and set) and they'll be easier to get out of the tin.
Time for a little pep talk! It sounds like there's a lot to think about, but don't be put off – you've got this.
Are Yorkshire puddings vegan?
Not traditionally, but as with most things, it's possible to create a vegan version with a little bit of know-how. And, in this case, a painful amount of recipe development!
Typically, Yorkshire pudding batter is made with milk and eggs. You'll learn in this recipe that you don't need milk (not even non-dairy milk). And eggs are completely unnecessary when you have the magic of aquafaba on your side (more on that below).
What even is a Yorkshire pudding?
If you're British, you probably already know this one, so skip ahead!
Yorkshire puddings are a classic British side dish, originating from (you guessed it) Yorkshire. The foundation of them is basically a pancake batter, but it's cooked in tins with a fat. Originally animal fat was used, but it's more common to use vegetable oil these days.
They're most often eaten as part of a roast dinner, which is how we always have them. Honestly, no matter how good a roast dinner is, if there's no Yorkshires it feels like it's missing something for me.
Surprisingly, they're also sometimes eaten as a dessert with jam or other sweet fillings, or as a starter filled with thick gravy. This was apparently the original way to serve them, to fill people up on cheap ingredients before the main course. We haven't actually tried them sweet, but I am intrigued, so we may have to give it a go!
Another classic British dish that utilises Yorkshire pudding batter is the oddly-named "toad in the hole". It's basically a giant vegan Yorkshire pudding with plant-based sausages inside it.
We've seen some more creative uses of the batter over the years. Giant Yorkshires filled with a roast dinner, and even wraps made with the batter, then filled with roast dinner ingredients and dipped in gravy! So, there's a bit of inspiration for you if you're feeling creative.
Wait, how can you make Yorkshire puddings without milk or eggs?
You know it! If you've made it this far (thanks!), you'll have already read that you don't need to use milk or eggs.
Milk isn't even always used in traditional Yorkshire puddings, with a lot of recipes calling for water. So, you don't even need to worry about which non-dairy milk is the best to use. We can confirm: water is just fine. So that's that checked off – this is a dairy free Yorkshire pudding recipe after all!
Eggs? No, thanks – leave them with the chickens! If you're a bit of a wizz in the kitchen or you're in one (or some) of the many vegan groups on Facebook, you'll have probably heard about aquafaba. It's an incredible ingredient and is the perfect egg replacement for making delicious, eggless Yorkshire puddings.
Side note: you can also make them gluten free! Just replace the plain flour with the same amount of chickpea flour and you're good to go – you may even find them a bit lighter and fluffier. That makes this recipe good to go for eggless, dairy free and gluten free Yorkshire puddings!
What is aquafaba?
Stick with us here, because aquafaba doesn't sound like the most appealing ingredient…
Aquafaba is the water that beans have been cooked in, if you buy canned chickpeas, it's the water that's in the can. You know, that kind of weird smelling liquid that you probably pour down the drain when you open a tin of chickpeas? Don't worry though, it doesn't affect the flavour when you use it in cooking. Once you've tried out our vegan Yorkshire pudding recipe, you might look back at all of the aquafaba you've ever poured down the sink and wonder what could've been!
It's not just Yorkshire puddings you could've been making though. Ever fancied making vegan meringues? Marshmallows? Chocolate mousse? Fudge? Ice cream? Buttercream? Yep, that's right, you can make all of those things using the magic of aquafaba.
It acts a lot like egg whites, so you can whip it up to create that airy structure. This is the exact reason why we use it in our vegan Yorkshire pudding recipe – it helps the batter rise.
Pro tip: aquafaba isn't just found in tins of chickpeas, though most references to it mention chickpeas. We've successfully made this recipe using aquafaba from tins of butter beans, so if you're making our famous vegan fish pie, keep that aquafaba! You'll probably want to avoid using the aquafaba from darker beans, like kidney or black beans, unless you want to end up with funny coloured food though.
A great way to get your hands on a lot of aquafaba, as well as a lot of beans, is to buy dried ones and cook them yourself. Remember: aquafaba is the water that beans are cooked in – that includes the water you cook them in at home! Buying them dried (and in bulk) is the cheapest way to buy beans, and uses less packaging too.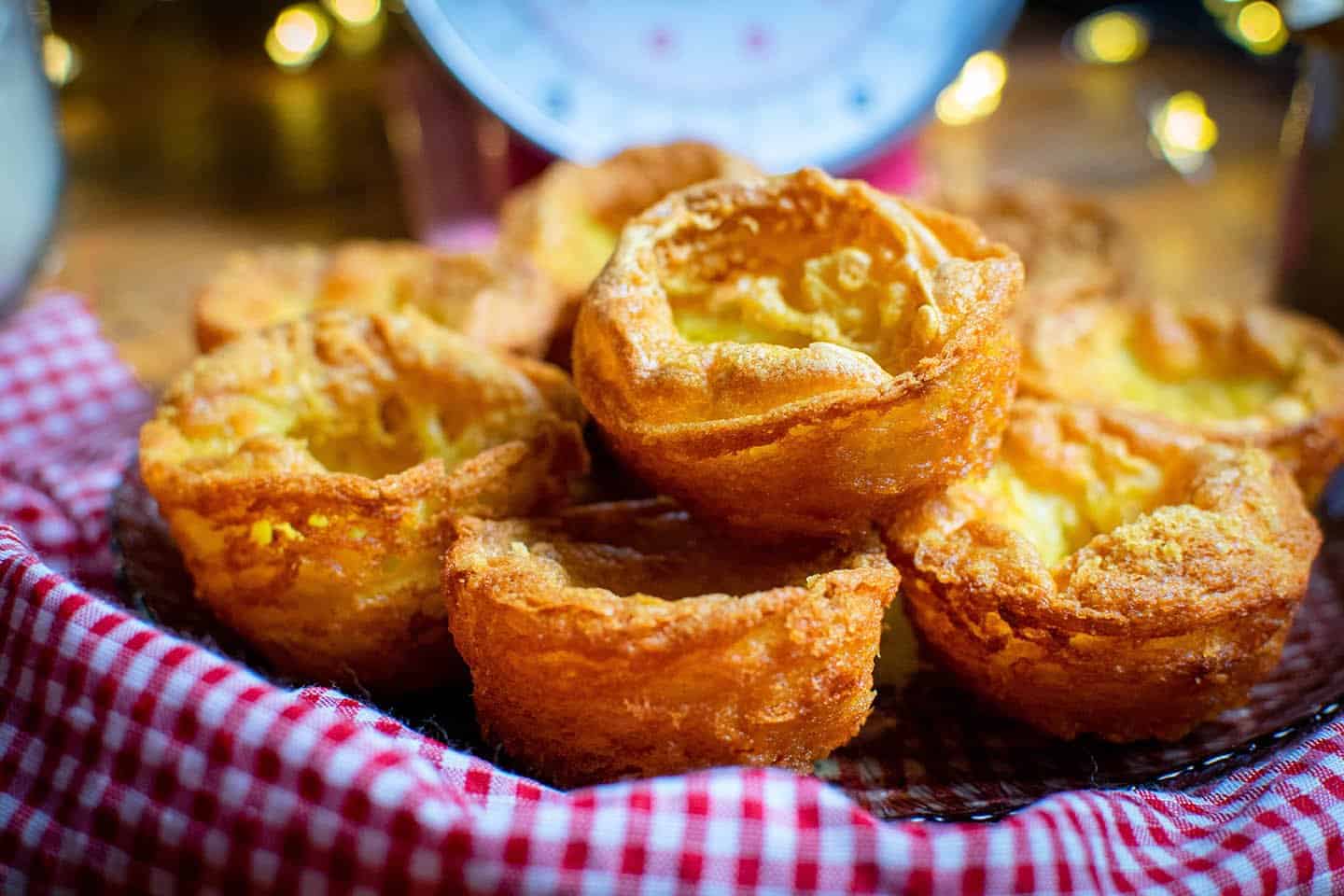 What equipment you'll need
Kitchen scales
A set of kitchen scales is essential for baking! Digital scales are more accurate, but mechanical scales will do the job too.
Spoon measurers
When we write measurements in teaspoons and tablespoons, we're not talking about grabbing a random spoon out of your drawer. A set of cup and spoon measurers are a great investment.
Sieve
We find that sieving ingredients like flour and baking powder usually leads to a better bake. Not just for our vegan Yorkshire puddings either, I'm talking all baking. Any fine mesh sieve will do the job!
Hand whisk or mixer
A fork just isn't going to do the same job! We use a KitchenAid hand mixer which was a great investment as it's a really good bit of kit. Any whisk or mixer will do though, even a basic silicone whisk.
Muffin tin
As I mentioned earlier, you need to use a metal muffin tin to get the best results with this recipe. Yorkshire pudding or popover tins just won't achieve that perfect Yorkie.
If you've made it this far – thanks for reading through! Hopefully you feel well prepared to make your own Yorkshire puddings now? Because here's the recipe...
Print
Vegan Yorkshire Puddings
---
Author:

Dan Saunders

Prep Time:

30

Cook Time:

30

Total Time:

1 hour

Yield:

16

1

x

Diet:

Vegan
Description
Our vegan Yorkshire puddings have gone through years of iterations before we achieved a golden, crispy crown and the elusive 'well' ready to fill with gravy!
---
100g

plain flour

100g

chickpea flour (a.k.a. gram or garbanzo flour)

3 tsp

baking powder

0.5 tsp

salt

0.5 tsp

ground turmeric

10 tbsp

aquafaba

450

ml water

1 tsp

apple cider vinegar
Vegetable or sunflower oil
---
Instructions
If you're planning to only rest the batter for the minimum 15 minutes, you should preheat your oven to gas mark 7 / 220c / 425f now. If you're going to rest it for several hours or even overnight, move straight to step 2 – you can heat your oven when you're ready to bake.
Sieve the dry ingredients into a mixing bowl and give them a good stir.
In a large measuring jug, combine the aquafaba, water and apple cider vinegar.
Pour the liquid ingredients into the dry ingredients and whisk well with a hand or electric whisk.
Transfer the combined mixture back to the measuring jug and rest for at least 15 minutes.
While the batter rests, add the oil to the wells of the muffin tin. Look to have around 3mm of oil per well – for our muffin tin, that's 1.5 tbsp of oil.
Put the muffin tin in the oven until the oil is smoking hot – this may take around 10 minutes, but keep an eye on it.
Once you have smoking hot oil, you're going to need to work quickly (but safely) to pour the batter mix into the tin. The key is to keep the oil as hot as possible, and get the tin back into the oven as soon as you can.
Remove the tin from the oven and, well by well, pour the batter mix from your measuring jug into the tin. Don't overfill it – you should leave a gap of around 5mm from the top, otherwise your oil is likely to spill out. If you have any leftover batter, just save it for another batch of Yorkshires or make some pancakes!
As soon as possible, get the filled tin back into the oven. Leave the Yorkshire puddings to bake for 15 minutes.
After 15 minutes, turn the oven temperature down to gas mark 5 / 190c / 375f and leave in the oven for another 15 minutes.
Take the tin out of the oven and leave to rest on the side for a further 15-30 minutes. The centre of your Yorkshires may be a bit gooey, but resting will allow them to firm up!
Once rested, use a spoon to carefully remove them from your tin.
Serve with a roast dinner. You can re-heat them in the oven or let the gravy heat them up on your plate!
Equipment
Notes
For gluten free Yorkshire puddings, just drop the plain flour and double the chickpea flour.
Turmeric is optional, but it helps to create the yellow colour that Yorkshires typically have.
Aquafaba is the water that beans are cooked in (found in tins of chickpeas) – you can read more about this further up in the recipe.
Resting the batter for 15 minutes will be fine, but if you have the time you can rest for a few hours or even overnight. If resting overnight, simply cover and put in the fridge, then bring back up to room temperature before using.
You can, optionally, put your tin on top of a hob/burner and turn it on a medium-high heat to keep the oil hot while pouring the batter into the tin.
They freeze really well and can be heated in the oven straight from frozen for 10-15 minutes. So there's nothing stopping you from making a big batch and heating up for an easy Sunday roast!
Category:

Sides

Method:

Oven-bake

Cuisine:

British
Keywords: vegan Yorkshire puddings, dairy free Yorkshire puddings, eggless Yorkshire puddings, gluten free Yorkshire puddings
If you love this recipe, pin it!