This article contains affiliate links. If you make a purchase from the link, we will receive a small commission at no additional cost to you. For full information, please see our disclaimer.
We've been on a mission to create the perfect vegan mushroom wellington ever since we tried one at a work Christmas party! We became completely hooked. After a lot of practice, we've definitely cracked it. Mushroom wellington is a great alternative to the staple roast dinner classic beef wellington. It's so satisfying that even friends and family who aren't vegan will love it.
We love having this recipe in our arsenal for cold winter evenings, Sunday lunches and festive celebrations. That's because not only is it delicious, but you can easily make it ahead of time to save on kitchen stress! Plus it's super simple to make, and it only needs eight ingredients. It's perfect if you're busy or just don't feel like spending too much time on food prep.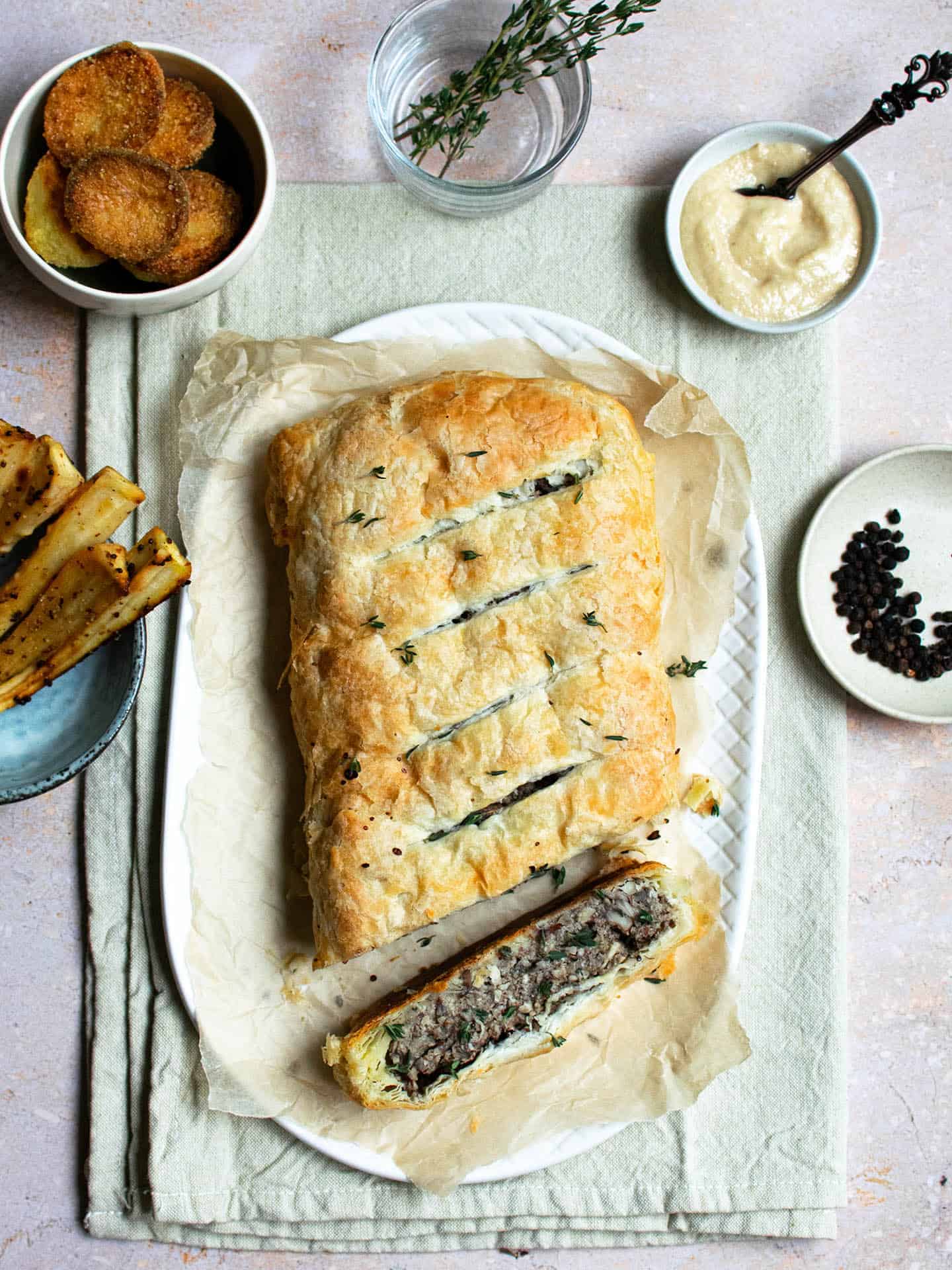 How To Make Vegan Mushroom Wellington
When making our vegan mushroom wellington, the first thing you need to do is preheat your oven so it's nice and hot. This step is really important because it ensures that the wellington cooks evenly throughout, and the pastry goes nice and crispy and golden brown.
We've put together this nifty video to show you how we make this dish, so hopefully this is helpful. The full written recipe can be found in the recipe card below!
While your oven is heating, roughly chop an onion. It doesn't matter how small you chop it as you'll be putting it in the blender shortly.
Heat up a dash of oil in a saucepan, and then fry the onion until it is soft and slightly translucent. Heating the oil first will prevent your onion from sticking to the pan, and it also means that the onion will cook properly.
Next add garlic and mushrooms to the onions and fry them until the mushrooms are cooked and have released a lot of liquid.
Take the mix out of the pan (carefully) and drain it in a sieve to remove the moisture and ensure that your mixture isn't too soggy. If you don't do this the moisture will get into the pastry and ruin your wellington, so don't skip this step!
Cooking the Wellington
Chuck your mix into a blender, along with some thyme, brazil nuts and breadcrumbs and then blitz it up. Don't blend it for too long, you're aiming for everything to be chopped and mixed together, but not for it to go smooth. This mix will be the filling for your wellington so you want it to retain some texture. Leave the mixture is cool.
Lay out your pastry on a flat, floured surface and spoon the mix into the middle, making sure you leave a gap around the outer edges.
Fold the edges over and lightly press them together so that the mixture is sealed inside the pastry. Brush the top of the pastry with a little vegan milk (unsweetened, we use Oat milk), and score with a knife.
At this point your wellington is ready to go in the oven. If you're making it in advance, this is when you can put it in the fridge ready to cook later.
Put it in the oven for around thirty minutes, or until the pastry is golden brown, and then you're done! It's a good idea to check your wellington periodically while it's cooking to make sure that it's cooking evenly - you might need to turn the tray around half way through depending on how the heat is distributed in your oven.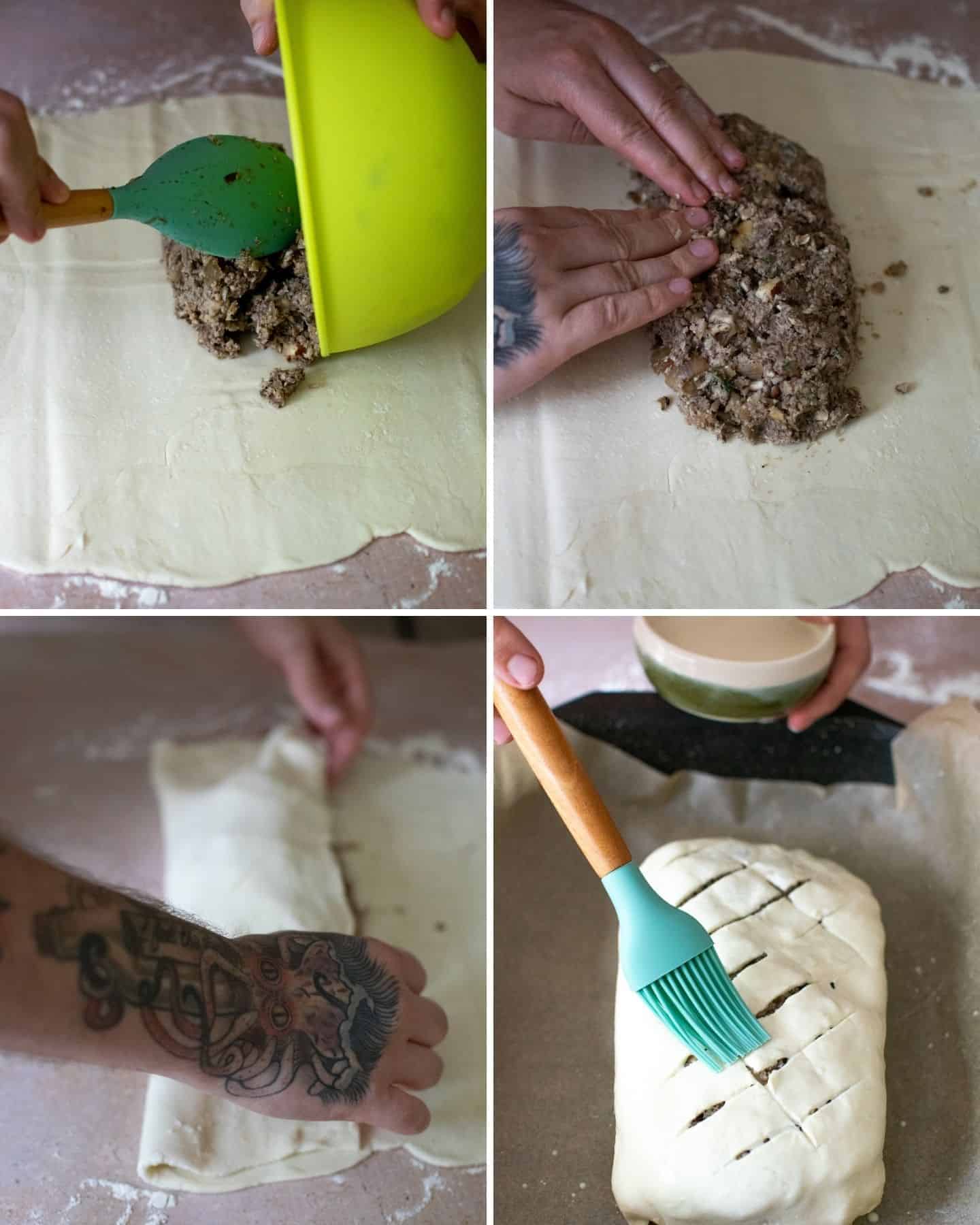 What To Serve With Mushroom Wellington
This vegan mushroom wellington is the perfect centrepiece for any hearty winter meal. It's delicious served up with a generous helping of vegetables.
It's especially great for a roast dinner with all the trimmings! Try serving it with crispy roast potatoes, our yummy vegan Yorkshire puddings and a side of roasted veg.
Perfect For Christmas
We've served this up for Christmas dinner in the past – it went down an absolute treat with vegans, vegetarians and meat eaters alike. Vegan mushroom wellington is so satisfying because the mushrooms provide a filling that has a perfect 'bite,' and are kind of 'meaty'. Mushrooms and nuts are also high in protein, meaning that you stay fuller for longer.
If you're catering for people with particular dietary requirements then this recipe is easily adapted. For a gluten free diet, swap out the pastry and breadcrumbs for gluten free alternatives.
You can also make it without the brazil nuts by switching them out for cashews, almonds or walnuts. If you want to leave out nuts all together, then try subbing in chestnuts. Despite the name, they're not actually a nut. Chestnuts are the edible portion of a plant root and therefore could be suitable for someone with a nut allergy. Just check with the person beforehand though!
It's also suitable for home freezing, so you can make this ahead of time and give yourself one less thing to worry about on Christmas day! It cooks in the oven from frozen very well.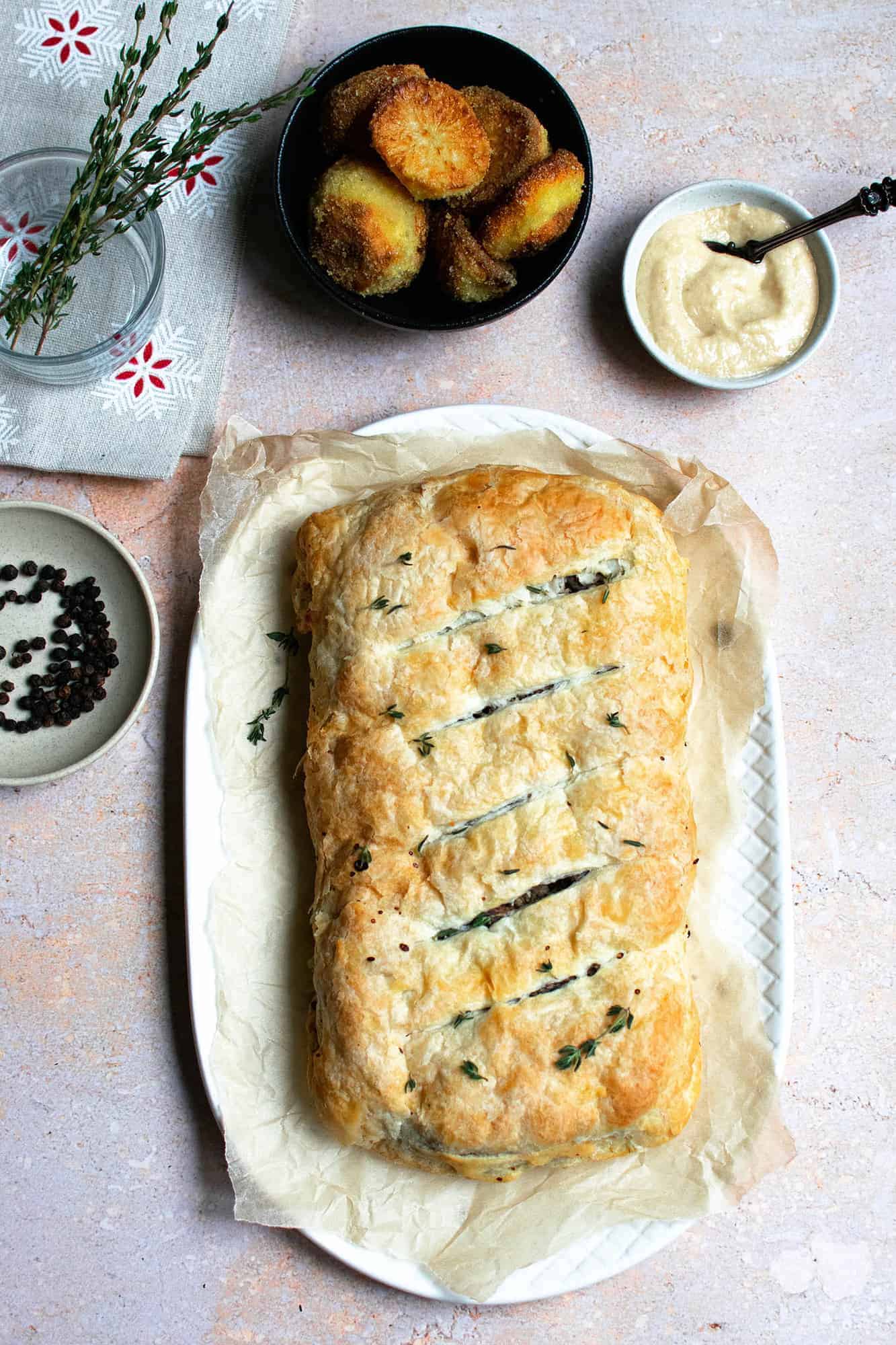 FAQs
Is your vegan mushroom wellington suitable for home freezing?
Yes. Once the wellington has been cooked you can keep it in the freezer for up to three months. It can then be reheated from frozen in around 30-40 minutes at gas mark 6/200 degrees centigrade, but we'd recommend turning it half way.
Don't mushrooms go leathery when they are frozen?
Usually they do, but because these mushrooms have been blended and mixed they can be frozen without negatively impacting the texture.
Can it be prepared in advance?
Yes. If you're making it in advance on the same day as you will be cooking it, you can keep the wellington in the fridge until you're ready to pop it in the oven. If you're making it any further in advance than that then you can freeze it until you're ready to cook it.
Can you make it gluten free?
Absolutely! Just sub out the pastry and breadcrumbs for gluten free alternatives and you'll have a delicious gluten free, vegan, mushroom wellington.
What Equipment Will You Need?
You don't need any specialist equipment to make our vegan mushroom wellington. Just items that are found in most kitchens:
Rolling pin. This will make rolling out the puff pastry much easier. You'll get a more even result than if you try to bodge it without one too! In our opinion a classic wooden rolling pin with handles is the best option. That's because it's nicer to work with, and a good quality one, like this (below), will last for years.
Blender. Using a blender, like this Ninja 2 in 1 blender, means that making the filling is really quick and easy. It's a great item to have in your kitchen, so you can also make soups, smoothies and nut roasts!
Measuring spoons. We like to use measuring spoons rather than scales where possible. It's much easier to compare ratios by eye rather than having to work out small gram for gram comparisons. It also means that you can easily follow recipes from American sites and books. This opens up a whole new world of deliciousness for you! We love this set because they're great quality and go down to as little as an eighth of a teaspoon!
A Sieve. This might be the most important piece of equipment for this recipe! You need a good quality sieve, like this Fine Mesh Sieve, to strain the excess liquid from the mushrooms. We'd recommend a stainless steel sieve with a handle that's also shaped correctly so that it can balance inside a pan. This way you can use it to strain by hand and also into a pan.
Print
Vegan Mushroom Wellington
---
Author:

Prep Time:

20

Cook Time:

30

Total Time:

50 minutes

Yield:

8

1

x

Diet:

Vegan
Description
Vegan Mushroom Wellington is one of the best ways to level up a roast dinner. It's delicately flavoured with thyme, and only calls for 8 ingredients!
---
250g

chestnut mushrooms - sliced

250g

portabello/portabellini mushrooms - sliced

4

cloves garlic - sliced

1

white onion - roughly chopped

100g

brazil nuts - roughly chopped

1 cup

breadcrumbs

1 tbsp

thyme - chopped

1

pack of puff pastry (

320g

– shop bought, we use Jus Roll as it's accidentally vegan)
---
Instructions
Preheat the oven to gas mark 5/190c.
In a saucepan heat up a dash of oil and fry the onion until soft.
Add the garlic and mushrooms, then fry until the mushrooms are cooked and release a load of water.
Drain really well in a sieve to make sure the mix isn't too wet. Leave to cool.
In a blender, put the brazil nuts, breadcrumbs, rosemary and mushroom mix and roughly blitz. It should still be a bit chunky and not completely smooth.
Lay the pastry out and put the filling in a line along the middle, leaving a gap at the edges.
Fold the edges over to seal it up, then brush the pastry edges with a little (unsweetened) vegan milk, and score the top with a knife
Bash it in the oven for around 30 minutes, or until the pastry is golden-brown, check it every now and again during this time, and turn halfway.
Equipment
Notes
You can switch out the brazil nuts for almonds, cashews or walnuts. We've even made them with a mixture before!
Make this dish nut free by replacing brazil nuts with chestnuts or a selection of seeds, like pumpkin and sunflower.
For a gluten free option, use gluten free pastry.
Category:

Dinner

Method:

Pan-fry, Oven-bake

Cuisine:

British
Keywords: Vegan Mushroom Wellington