This cashew nut roast is nothing like the nut roasts you get as the veggie option in most pubs. It's made with cashews which gives it an amazing flavour, and the gooey cheese layer is out of this world!
Nut roasts are a veggie staple because they are filling and jam packed with protein. This is why we took it upon ourselves to create one that was jam packed with flavour, too. This one is so tasty we've even had it for Christmas dinner! It also works really well as part of a roast dinner at any time of the year.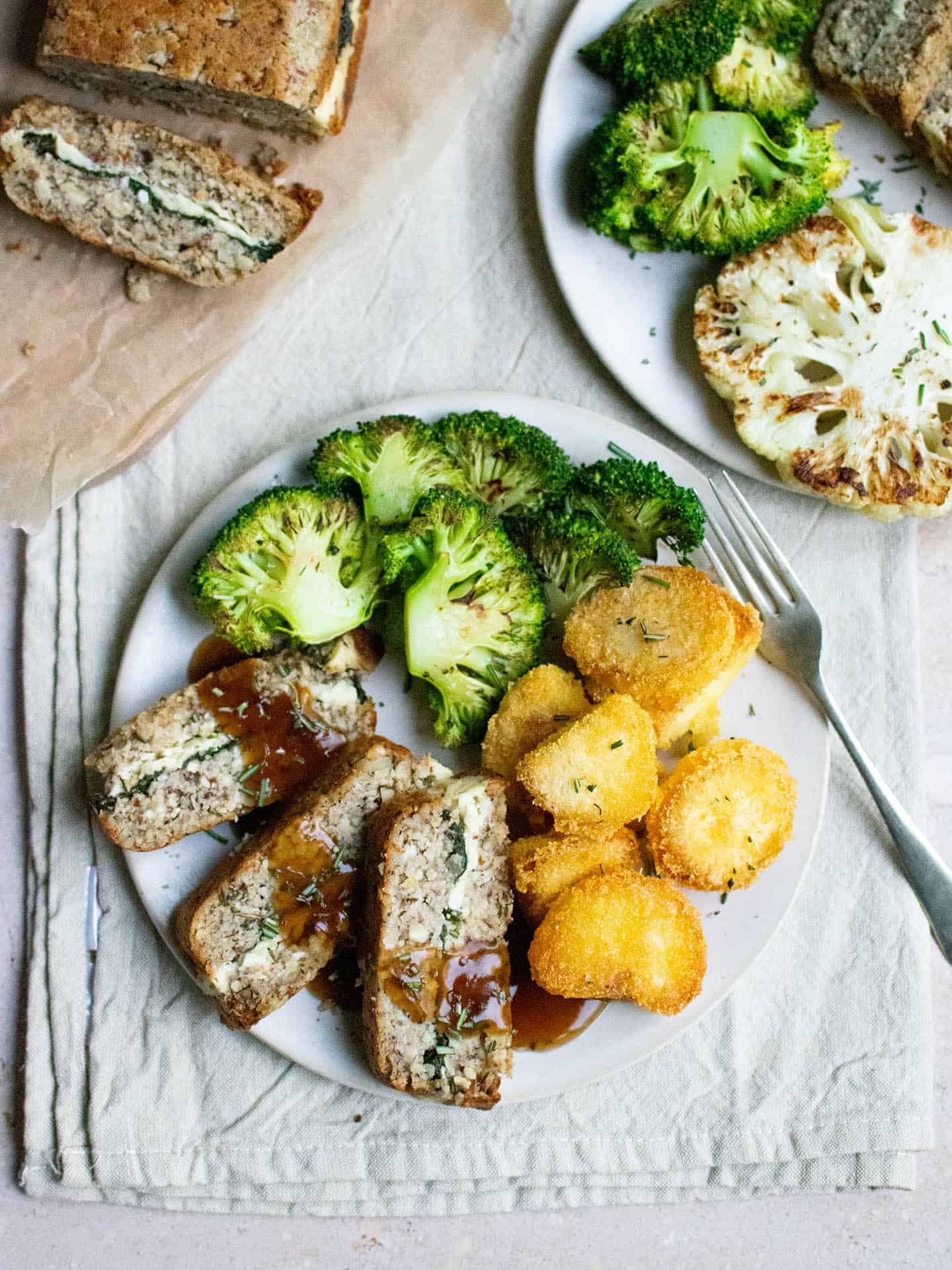 Jump to: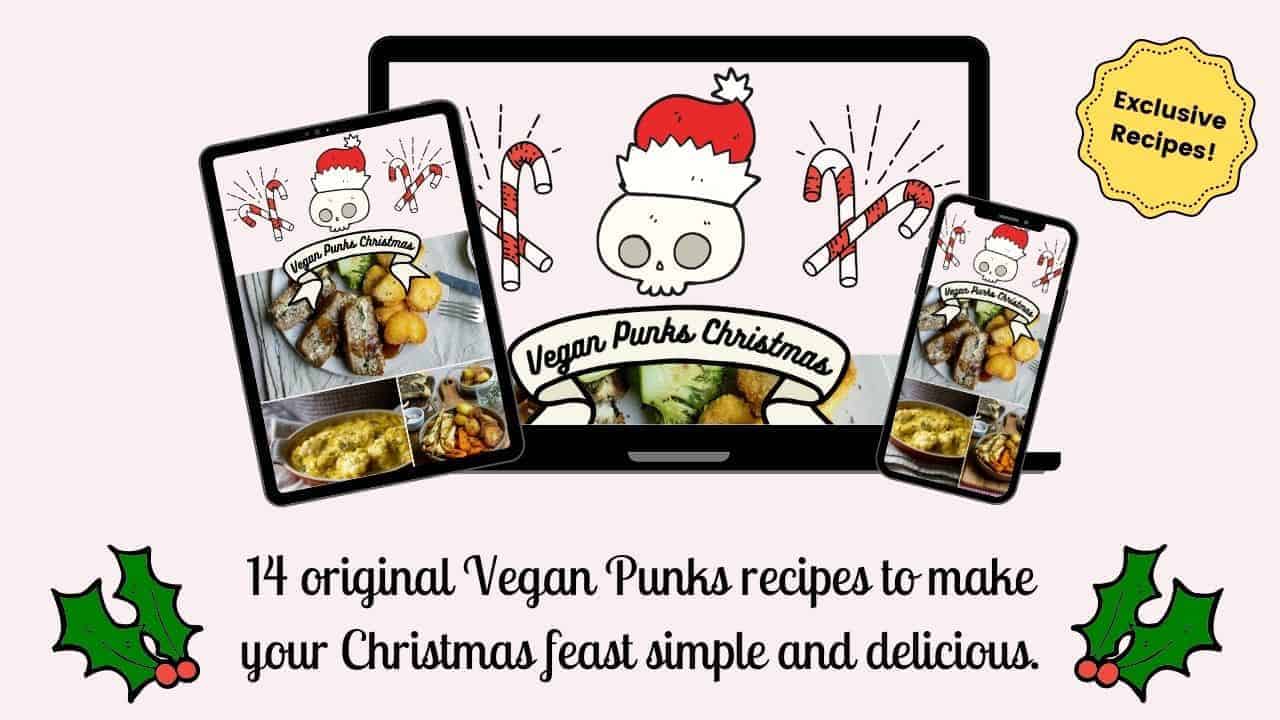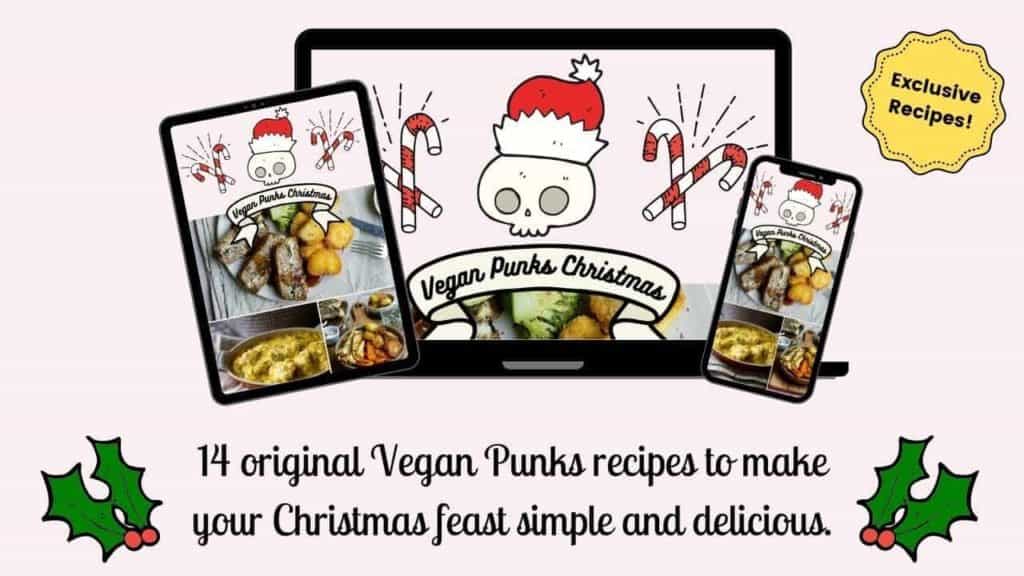 Are you looking for the perfect vegan Christmas recipes? Then look no further! Our Christmas E-book is here and it contains all the recipes you need for a delicious festive feast. Find out more.
Ingredients
Unsurprisingly, cashews are the main ingredient in this cashew nut roast. It's the combination of cashews and a really great vegan cheese that make this dish the parcel of deliciousness that it is! You will need:
Cashews. If you can, try and find fair trade cashews. There are a lot of cashew farmers who really aren't treated very well. Buying fair trade ensures that you are supporting the companies who buy from farmers who are working safely, and paying their workers a fair wage.
Almonds. These compliment the cashews really well, and provide an extra depth of flavour. Again, try and find fairtrade if possible. It is possible to get UK grown almonds, although we have yet to see them in a supermarket.
Fresh breadcrumbs. Just whizz up or grate some bread to get these - it's a great way to use up the dried up end pieces of a loaf of bread. We like to use wholemeal as it's more nutritious, and has a richer flavour.
Olive oil.
Veg stock. Most veg stock cubes are vegan, but it's worth having a read through the ingredients to check for sneaky milk powder (why??)
Spinach.
Cheddar style vegan cheese. We'll talk more below about which brands we like.
Fresh rosemary.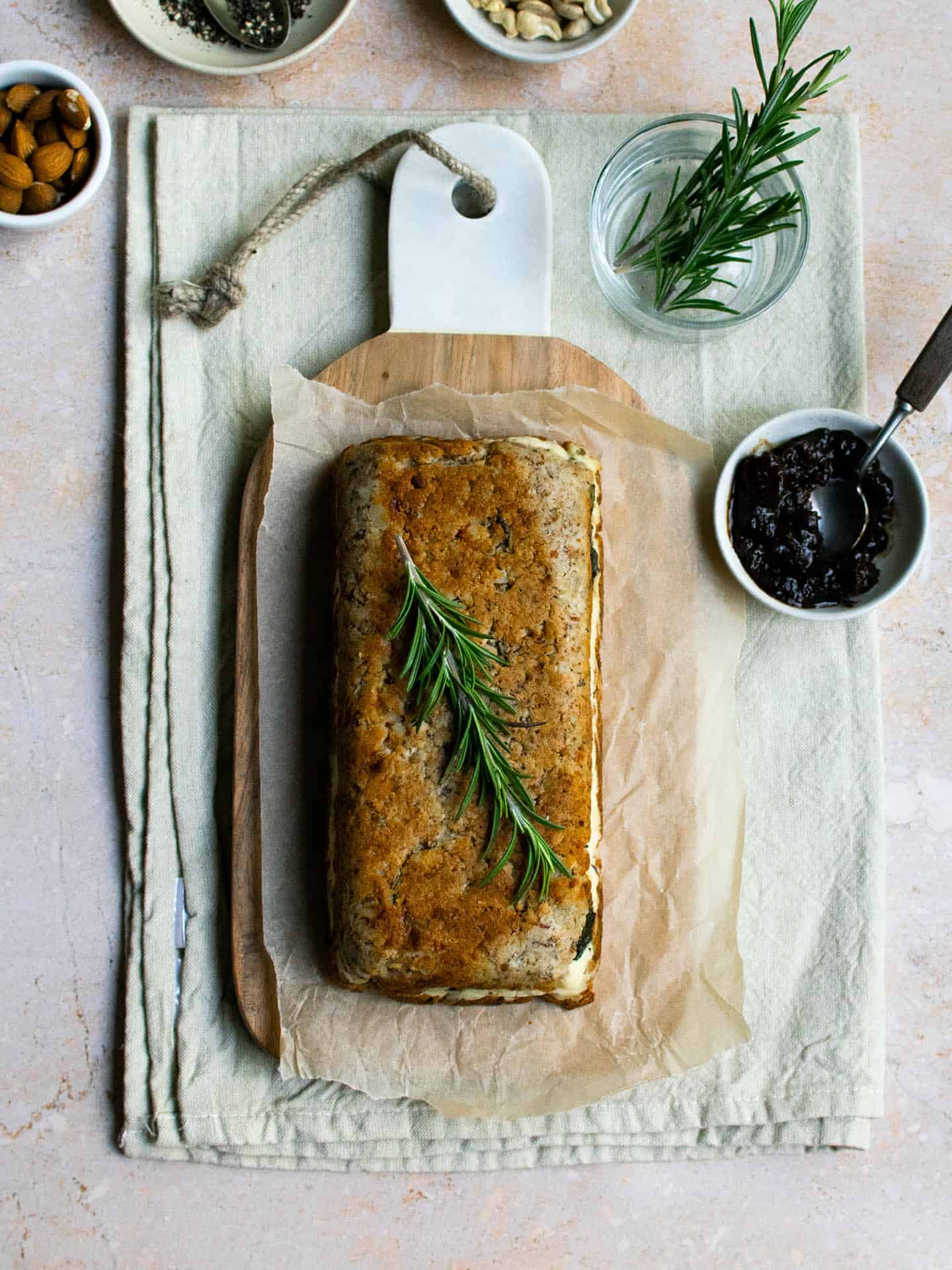 How To Make Cashew Nut Roast
If you're like us you'll start by eating some of the cashews… quality assurance is important! Then you'll want to whack your oven on to pre-heat to gas mark 5/190°C.
Put the olive oil in a pan to heat up. Once it's warm, add the onions and saute them until they are soft. Warming the oil is important as it means your onions will cook properly.
Next take your breadcrumbs, rosemary, nuts and seasoning and chuck them in a blender.
Blitz until the ingredients are roughly chopped. You want to maintain some texture, so don't blitz for too long.
Add the stock and the onions to the blender and then blitz again.
The mixture shouldn't be too wet, but you should find that it sticks together easily if you press it between your fingers. Obviously turn the blender off before you try this!
Get your spinach and put it in a large non-stick pan over a medium heat to wilt. We don't use any oil or water for this. Just pop your spinach in the pan with the lid on, and stir every 30 seconds. You can do this in batches if your pan isn't quite big enough for all of the spinach.
If the spinach releases any liquid then allow it to evaporate, or drain it off. We haven't needed to do this every time we made the nut roast though.
Line a loaf tin with parchment paper, and then put in half the nut mixture.
Grate the cheese, and then layer it on top of the mixture along with the spinach.
Pour the rest of the nut mixture on top.
Pop your cashew nut roast in the oven to bake for 40 minutes. You'll know it's done when it's golden brown, by this point the middle should be lovely and gooey too.
Serve up with veggies and lots of gravy, and enjoy!
Check out the recipe card at the end of this article for detailed measurements and timings.
What To Serve With Nut Roast
We really like this cashew nut roast as part of a yummy roast dinner. We've made it our mission to create lots of different dishes that work really well as part of a roast, and these are some of our favourites.
Roasted cauliflower is delicious anyway. Smother it in a creamy, cheesy sauce and you've got something really special. Ever since we cracked the recipe, we've had vegan cauliflower cheese with pretty much every roast we've made. It also works really well in a bun with a vegan burger if you're looking to eat something a little bit filthy.
Potatoes really are the greatest aren't they? Boil 'em, mash 'em, fry 'em - however you cook them they are absolutely gorgeous, and filling too! You only need three ingredients to make roast potatoes that are crispy on the outside, fluffy on the inside, and so tasty that you'll struggle not to eat a whole plateful.
It was a happy day in the Vegan Punks household when we finally cracked our recipe for vegan Yorkshire puddings! It was quite a tricky one to perfect, as we wanted to make sure they were just like the ones we had loved so much growing up. We did it though, and now we can eat them whenever we like (which is a lot).
Maple Roasted Carrots And Parsnips
We really like this simple maple roasted carrots and parsnips recipe. It's easy to make, and adds a lovely splash of colour and hint of sweetness to your roast.
If you're looking for more Vegan Christmas Dinner Inspiration, check out our guide 79 Ultimate Christmas Dishes. It's full of loads of ideas to help you to cater for even the fussiest of eaters!
Vegan Christmas Nut Loaf
We've served this cashew nut roast up for Christmas Dinner before, and everybody loved it! It's perfect for Christmas because it goes really well with that strange concoction that only comes out at Christmas time, cranberry sauce. It's also yummy smothered in gravy, and served up with roasties… we're getting hungry now!
Another thing that we love about it is the fact that you can freeze it in advance. This gives you one less thing to worry about on Christmas morning when you're navigating family time.
What Vegan Cheese Is Best For This Recipe?
Our favourite vegan cheese, which you will see us recommending for pretty much any cheese related recipe, is Koko cheddar style. We like it because it melts really well and it has a lovely mellow flavour. Some of the vegan cheeses out there are a little too cheesy to cook with sometimes.
Koko isn't as widely available as some other brands, so if you can't find it then give Violife cheddar a try. It's also a really solid option, and tastes great in a sandwich.
For a slightly smoky flavour you can try Applewood smoked. Everyone went nuts when this was released, and it's easy to see why!
Finally, another great option is Sheese (sometimes known by the manufacturer name, Bute Island). This is the cheese you'll find on a lot of vegan pizzas. Papa John's uses it for example. It's become a go to for a lot of people because it melts really well, and has a great taste.
Which cheese to use is quite a personal choice. If you have a favourite brand that we haven't listed here then feel free to give it a go, and let us know how you get on!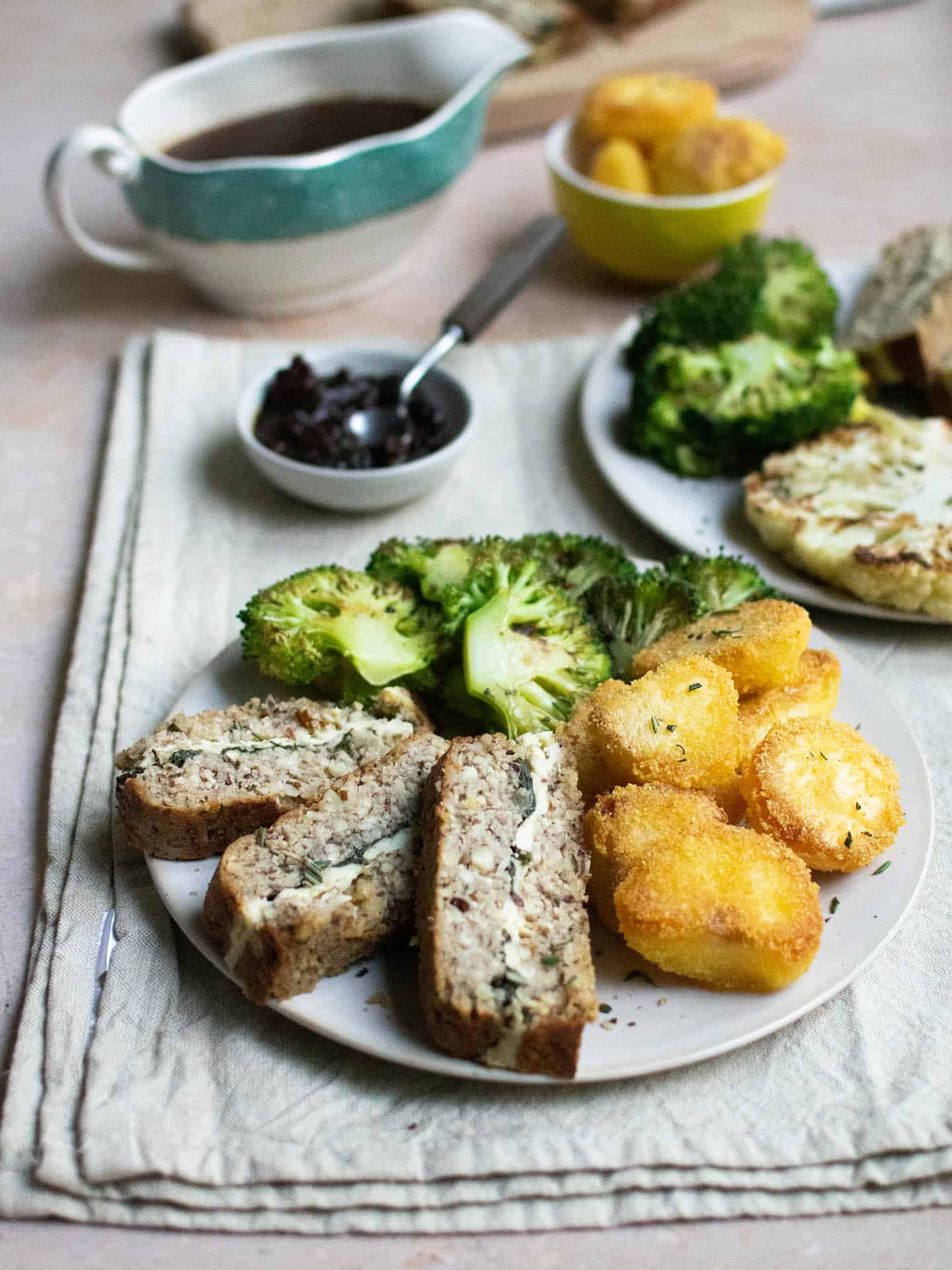 FAQs
Can you freeze nut roast?
Absolutely, it's one of our favourite things about this recipe! You can cook it directly from frozen, it will take around 40 minutes at gas mark 5/180°C.
Can I use different nuts?
Definitely! We love cashews and almonds in this recipe, but feel free to choose the nuts that you like the best (or that you happen to have lying around). Walnuts would definitely be another solid choice.
Can this be made gluten free?
Yes! Just switch out the breadcrumbs for a gluten free version. It's also worth ensuring that your stock is gluten free as some brands might stick a bit of wheat in there.

There's also a possibility that the stock has been processed in a factory where gluten is also processed. This cross contamination would make your stock unsuitable for celiacs, but this would be noted on the packaging.
Equipment
There are a few items that will help you to get the most out of this recipe. We've recommended them because they make the cooking process easier, and they help you to get the best results. Plus they are things that we find ourselves using on an almost daily basis, so you'll find them to be a worthwhile investment!
Blender
Having a good blender will make this recipe much easier, as chopping up loads of nuts by hand isn't a lot of fun! It's worth getting a blender anyway, we use ours all the time for making smoothies and sauces.
Loaf Tin
The loaf tin is an important part of this recipe because it gives your cashew nut roast it's shape. We'd recommend getting one that's non-stick so that any rogue mixture doesn't get stuck to the bottom. We got a lot of use out of our loaf tin during lockdown making banana bread.
Pro tip: don't use a silicon tray. We've made this mistake before. It allows the roast to spread out as it has a lot of give. This isn't ideal and will make it harder for the loaf to stay intact!
Non Stick Pan With A Lid
Finally, having a large non stick pan with a lid makes it much easier to wilt the spinach for this recipe. We use ours pretty much daily for simmering sauces and cooking veggies.
If you like this recipe, don't forget to bookmark it, save it on Pinterest and let us know if you like it in the comments!
📖 Recipe
Gooey Cheesy Layered Cashew Nut Roast
Forget all those bland nut roasts that were the only veggie option in the pub. Say hello to our cashew nut roast with a gooey, cheesy middle.
Save
Saved!
Print
Pin
Rate
Ingredients
1

onion

– diced

220

g

cashews

or mixed nuts – a 50/50 mix of cashews & almonds is also great.

100

g

breadcrumbs

1

tablespoon

fresh rosemary

150

ml

vegetable stock

200

g

spinach

75

g

vegan cheese

1

tablespoon

olive oil
Instructions
Pre-heat your oven to 190c / gas mark 5.

Add the oil to a saucepan and heat up over a medium heat.

Sautée the onion until soft.

Pop the nuts, breadcrumbs, rosemary and a pinch of salt & pepper into a blender and blitz until combined.

220 g cashews,

100 g breadcrumbs

Add the stock and onions, then blend again.

1 onion,

150 ml vegetable stock,

1 tablespoon fresh rosemary

Put the pan back on to a medium heat and add the spinach – add handful by handful if you struggle to fit it all in the pan at once. Stir until all the spinach has wilted down, put the lid on for 30 seconds at a time to help it wilt, then stir. Drain off any liquid.

Serve half the nut mix into a 1 lb loaf tin lined with greaseproof paper, and smooth it out with a spoon so it's level.

Spoon on the wilted spinach and spread it until it's evenly coating the nut mix.

Add the vegan cheese on top of the spinach, again, creating an even layer.

Serve the other half of the nut mix into the tin and smooth it out evenly.

Put the loaf tin into the oven to bake for 40 minutes, turning halfway through. Once done it will be a lovely golden colour on top, and the cheese will be gooey in the middle.

Leave to stand for 30 minutes to allow it to set, then serve.
Notes
Use gluten free breadcrumbs and stock to make this recipe gluten free
Nutrition
Calories:
347
kcal
|
Carbohydrates:
29
g
|
Protein:
11
g
|
Fat:
22
g
|
Saturated Fat:
4
g
|
Polyunsaturated Fat:
4
g
|
Monounsaturated Fat:
11
g
|
Sodium:
366
mg
|
Potassium:
490
mg
|
Fiber:
3
g
|
Sugar:
4
g
|
Vitamin A:
3136
IU
|
Vitamin C:
11
mg
|
Calcium:
91
mg
|
Iron:
4
mg