Christmas is my favourite time of year, not least because of all the amazing food there is to eat and make! Now, a vegan Christmas dinner is a true art, and something that we always put a lot of effort into. We know a lot of people start planning their Christmas food well ahead of time, so we wanted to help you all create the best vegan Christmas dinner ever!
We've tried and tested loads of vegan Christmas recipes over the years, and we're even now working on a vegan Christmas dinner e-book. It will be launching soon!
Jump to:
In this article, we've reached out to the best of the best in the food blogging community, to bring you the ultimate list of vegan Christmas recipes. We hope this list inspires you to try something different this year.
A Vegan Punks Christmas Recipe e-book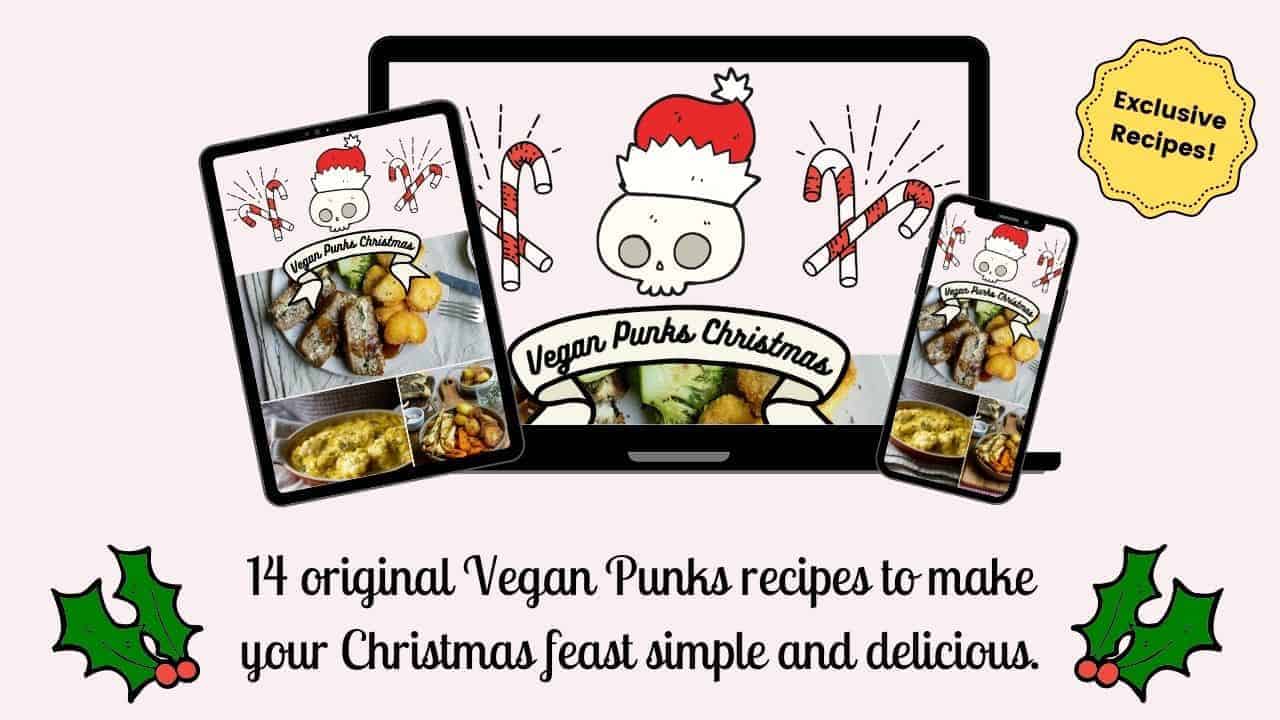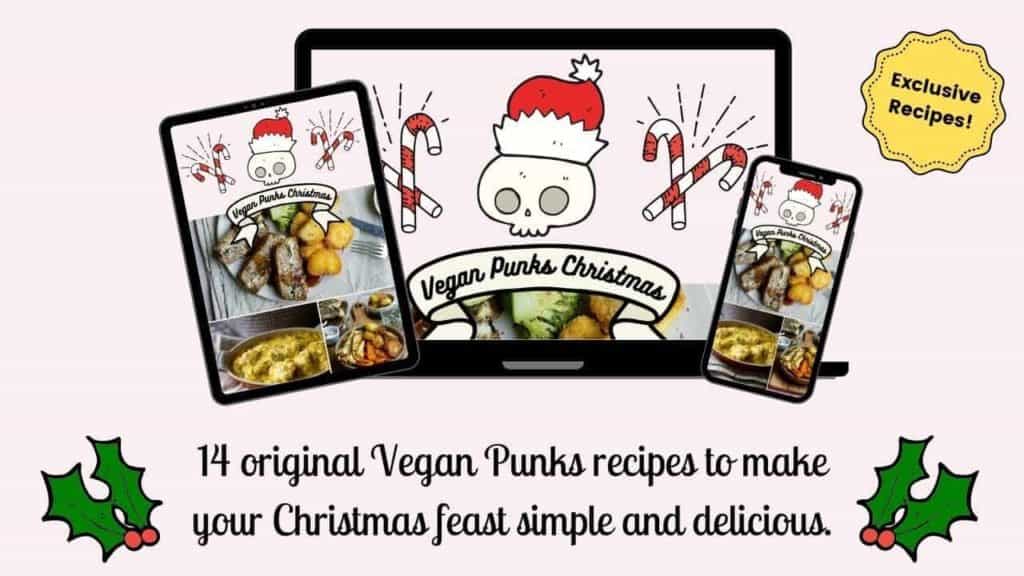 Our first ever e-cookbook, A Vegan Punks Christmas, is out now! It's a guide for the most delicious vegan Christmas dinner ever! We know that the Christmas dinner pressure is real. So get our ultimate guide to take the stress out of it. There's a never ending stream of recipes online, sometimes knowing which recipes to choose can be daunting!
Get our e-cookbook for a Christmas dinner to remember...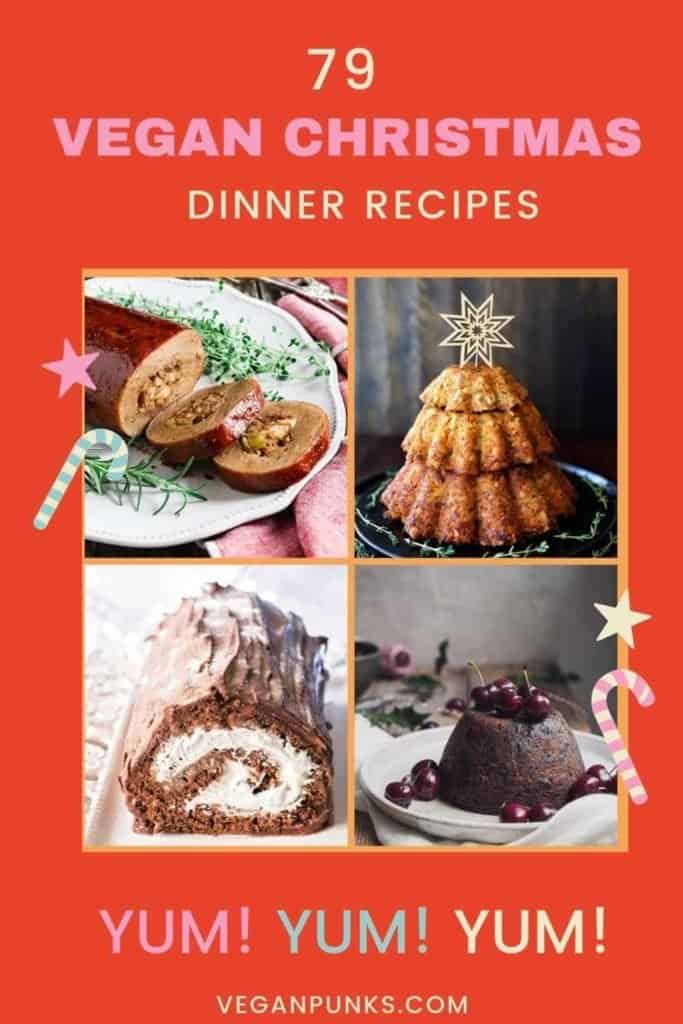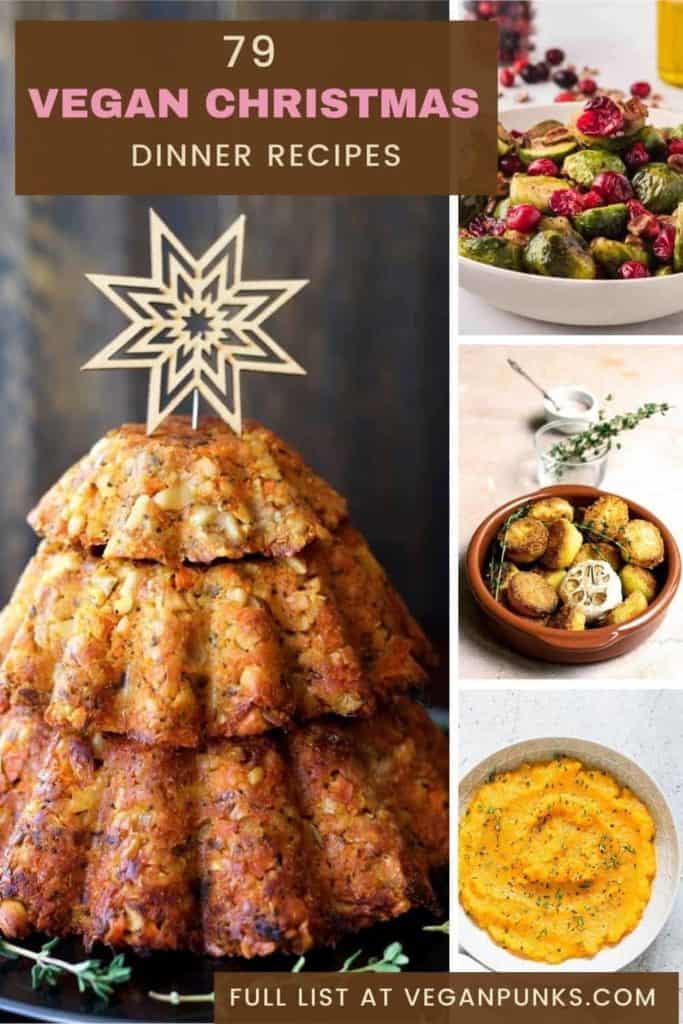 If you have vegan guests coming along for Christmas or a holiday meal, we hope this list serves as inspiration for what to cook them. We've included some of our recipes and a load from awesome bloggers around the world.
We've even noticed in recent years that a lot of people are moving away from a traditional vegan Christmas roast for Christmas Day. If that's you, we've got you covered.
Head to the 'alternative' Christmas dinner ideas section and we hope something there will take your fancy.
We've even known people to opt for a takeaway curry on Christmas Day! There's no judgement here – we think Christmas should be about doing what you enjoy with the people you love. If that's a Christmas curry, vegan KFC or awesome vegan fry up, we're down with that!
If we've missed any key recipes, just let us know in the comments below! We'd love to hear from you.
What is a Vegan Christmas Dinner?
First things first. In the UK, a Christmas dinner is usually made up of a main dish, traditionally this would be a turkey or sometimes another meat. Because we're vegan we opt for a nut roast, seitan roast or a stuffed mushroom or squash.
It then has to have roast potatoes, Yorkshire puddings, stuffing and a number of different side vegetables. It's often a very big meal! All of this absolutely must be covered with lashings of gravy. Whether it's homemade or not, it's not Christmas dinner without it!
Let's not forget the sauces too – bread sauce, cranberry sauce, mint and even horseradish can be served on a festive occasion. Of course, the sauces you use depend on what your main consists of! So just be sure to think about which flavours go best with which type of sauce before coating your seitan roast in mint sauce!
We always have mashed swede, cauliflower cheese (vegan of course) and vegan piggies in blankets. Dan's Mum is always the one that takes care of Christmas Day dinner, but we often help out by making sure there's enough Yorkshire puddings to go around!
What time is Christmas dinner usually served?
Christmas dinner is usually eaten around lunchtime in the UK. In our house, we like to have a special Christmas breakfast around 11am with the family, so we don't usually eat Christmas dinner until around 4pm. We always go out for a Christmas walk in between meals and presents, to make sure we make the most of the fresh Christmas air.
After dinner, we play games and watch a movie – if we can stay awake!
In the next part of this article, we've pulled together the ultimate list for making the best plant-based Christmas dinner ever. Let us know your favourite recipes in the comments below!
Vegan Christmas Recipes – Main Dishes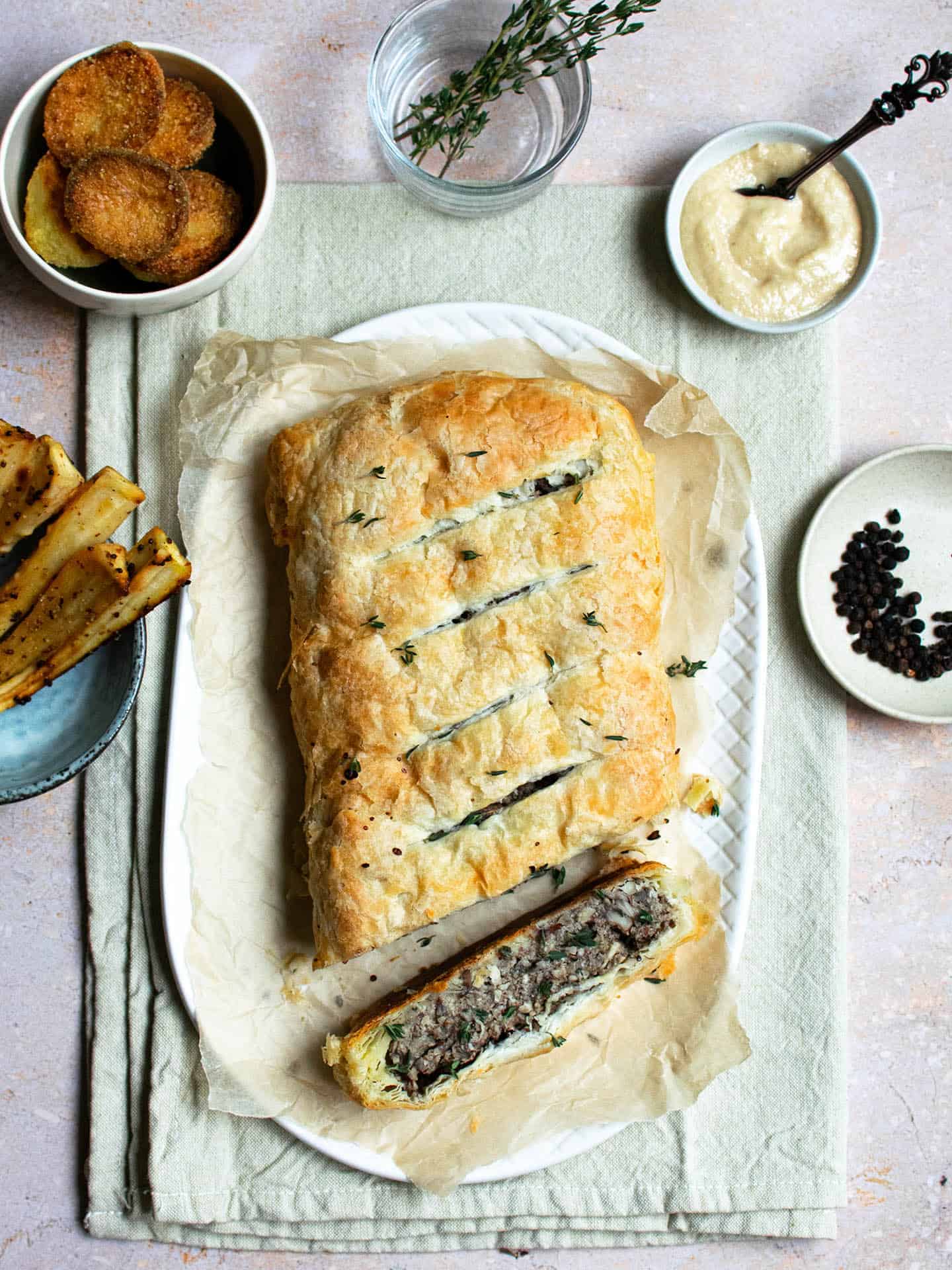 We had to start with our ultimate Vegan Mushroom Wellington – it needs just 8 ingredients and 50 minutes to make! It can even be made in advance and frozen, then cooked from frozen for Christmas Day. It's totally delicious and we'd 100% recommend giving it a go!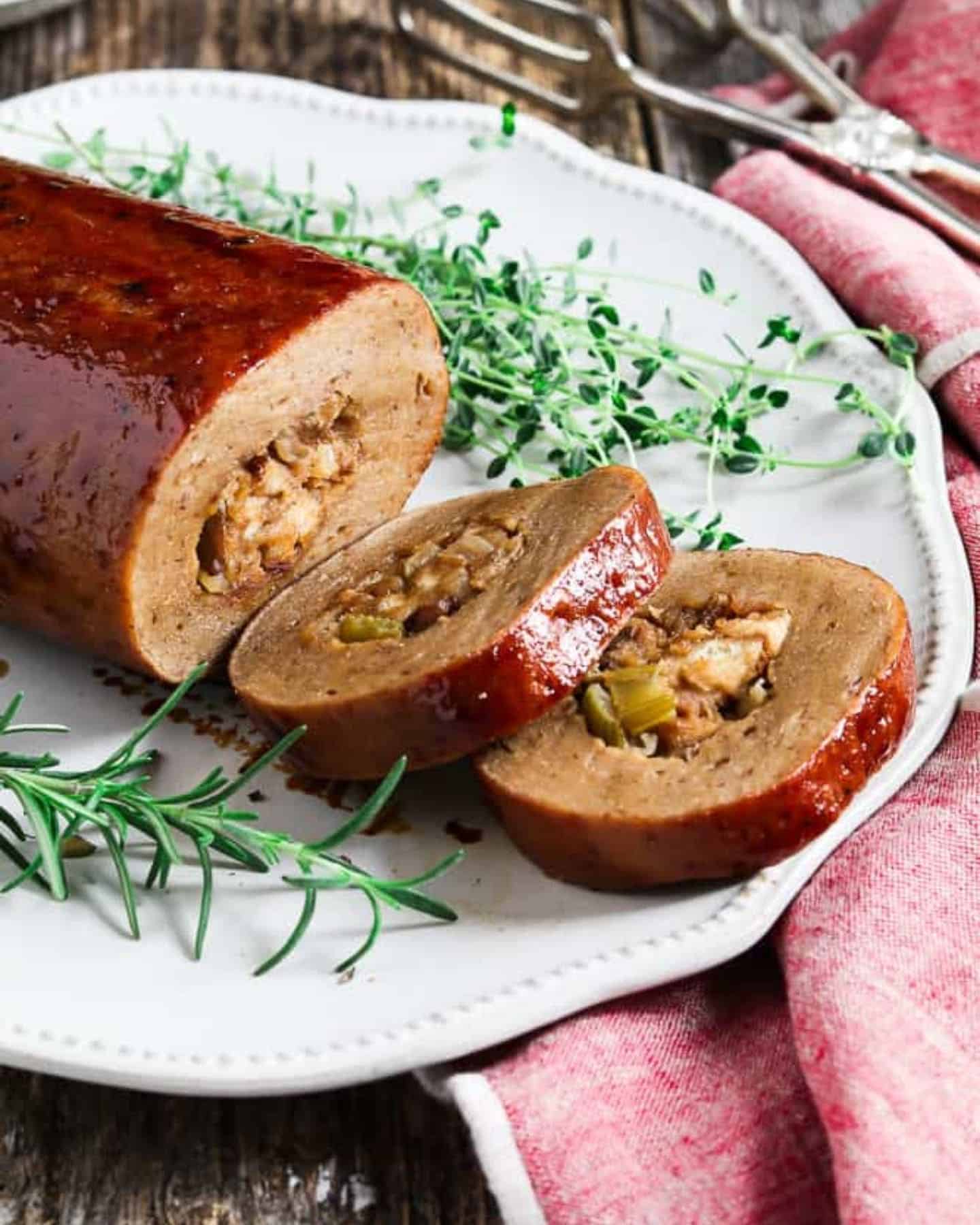 Make your festive dinner complete with this Vegan Holiday Roast. It's filled with savoury stuffing and finished with a mouth-watering glaze. By Vegan Huggs, an amazing vegan blogger who really knows her stuff!
This firm, savoury, satisfying Lentil Mushroom Loaf is a perfect main dish for Thanksgiving, Christmas or festive occasion. With its classic sweet and smoky flavor, it is sure to please the whole family.
A truly great nut roast! Simple to make and delicious to eat. Lentils & brazil nuts are enhanced by a layer of sage and onion stuffing. Then there's the rich wine gravy.
This loaf is a little bit different as it's made with cauliflower and lentils, rather than the usual nuts and breadcrumbs. We especially like the ketchup glaze – so simple yet effective!
This is a gluten free vegan meatloaf! Perfect for any guests that might be sensitive to gluten, and super tasty too.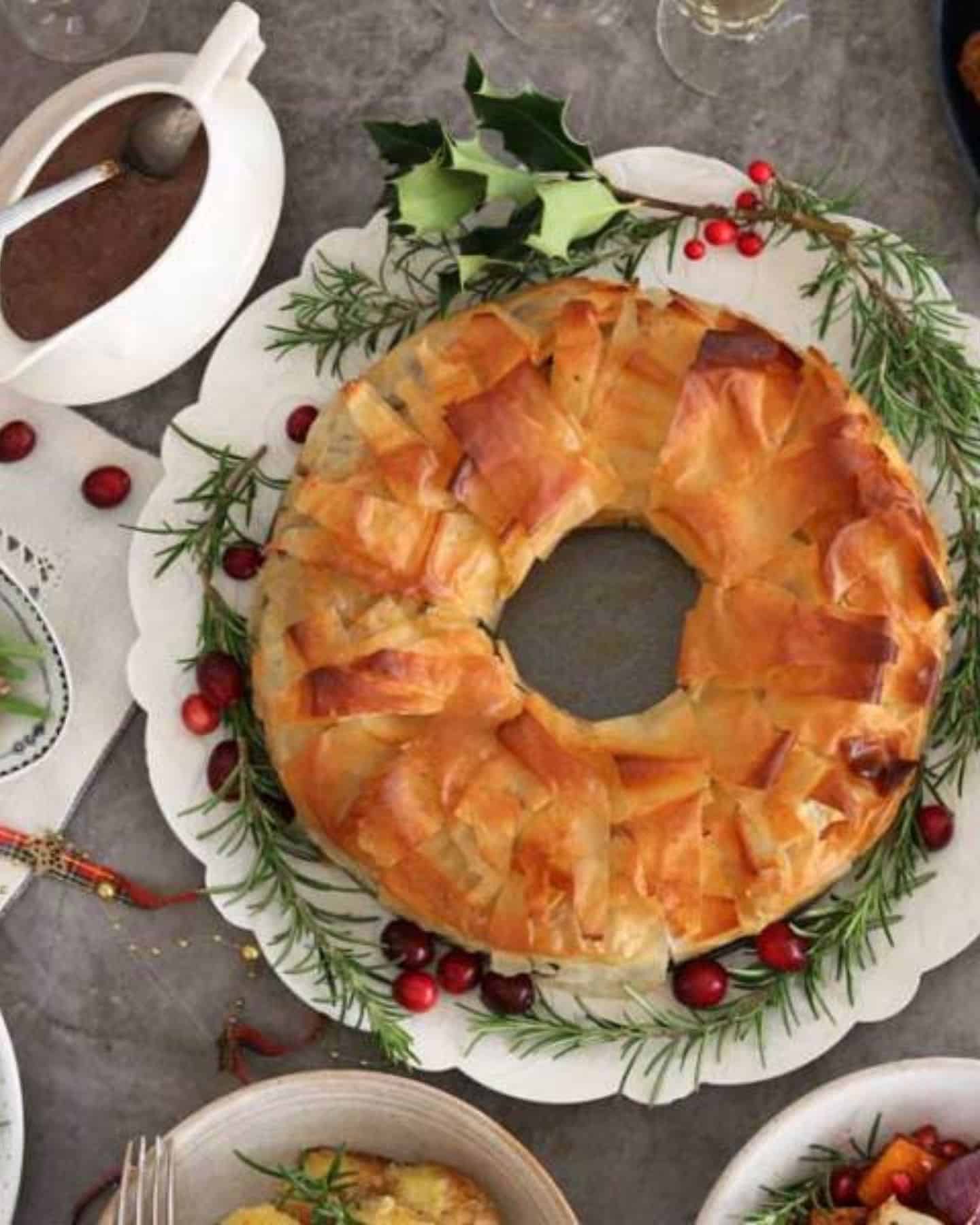 This Christmas filo wreath isn't just delicious, it's beautifully presented too! Perfect for any vegan Christmas dinner, and you get a healthy load of veggies in as well.
Butternut squash is a very festive vegetable, and this butternut roast served with cranberries, lentils and festive herbs is just lush.
This Christmas-y plait is stuffed with butternut squash, sundried tomato pate, roasted vegetables and vegan Parmesan. Another recipe that looks as good as it tastes!
This vegan nut roast uses walnuts, chia seeds and dried cranberries to create a fantastic nut roast! It's a classic dish, but when done well – it's a real winner.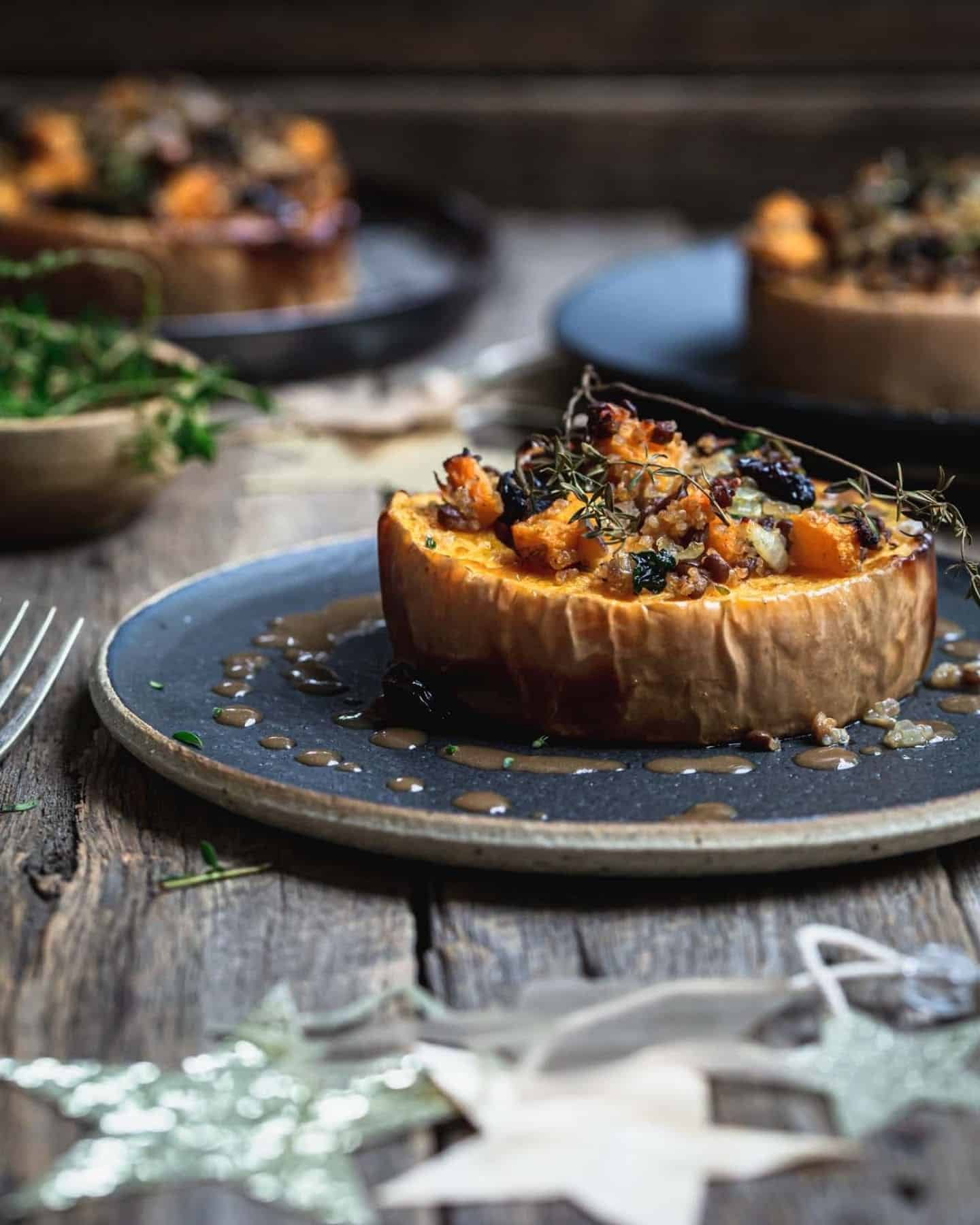 A festive stuffed squash always goes down well. It offers a lighter option for the best dinner of the year. Using quinoa, dried cherries, chestnuts and delicious festive herbs, it's a great option for a vegan Christmas roast!
Another vegan meatloaf, the American classic. It's perfect for Christmas, Thanksgiving and any roast dinner in between.
Seitan can be hard to get right, but with practice it's a great option for your vegan Christmas dinner! We'd recommend this delicious stuffed seitan roast.
This loaf is made with chickpeas which isn't as common as a nut or lentil loaf. As it's gluten free, you can make sure guests with gluten allergies are catered for too.
Another chickpea meatloaf, but this time with a deliciously smokey maple glaze. Dan loves a maple glaze so this is right up his street.
Vegan meatloaf is great for Christmas. This one uses mushrooms, breadcrumbs, flax and lentils to create a hearty loaf. Served with a tomato sauce. Delicious!
This vegan Turkey replaces a traditional Christmas main with a vegan version! Using seitan, your vegan Christmas roast is sure to impress your dinner guests. Also great for vegan turkey sandwiches on Boxing Day!
Brazil nuts are great in a nut roast and are super festive. That's why we use them in our mushroom wellington. This nut roast can be made with sourdough breadcrumbs for a lovely twist on the usual!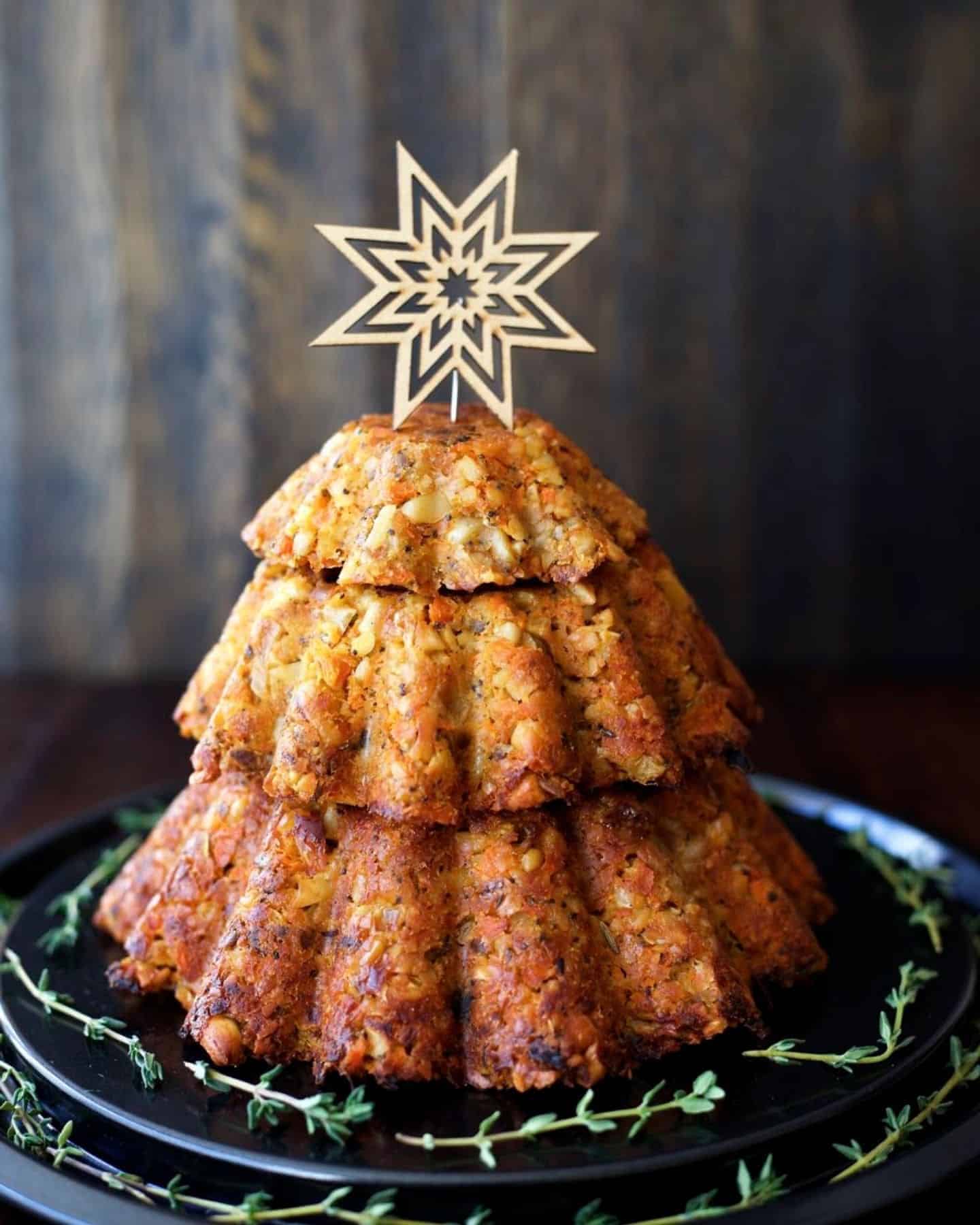 This cashew nut roast could be the most beautiful dish in this article! Presented in the shape of a Christmas tree, this main dish will wow your guests. Amazing work by the team at Thinly Spread!
Ham seitan! Doesn't this just sound incredible? A lot of people opt for a roast that's not turkey, or sometimes will have an additional one – this is what my family did when I was young. Now, the Christmas tradition can be made vegan with this vegan ham seitan with maple pineapple glaze!
If you're not into seitan roasts or nut loafs, try a lentil puff pastry pocket! It's super easy to make, especially if you buy pre-made pastry. We always recommend Jus Roll as it's accidentally vegan and a great product.
Christmas Vegetable Dishes
It wouldn't be Christmas without brussels sprouts! Whether you love them or hate them, you know they'll be served on Christmas Day. Try them with cranberries and pecans – so tasty!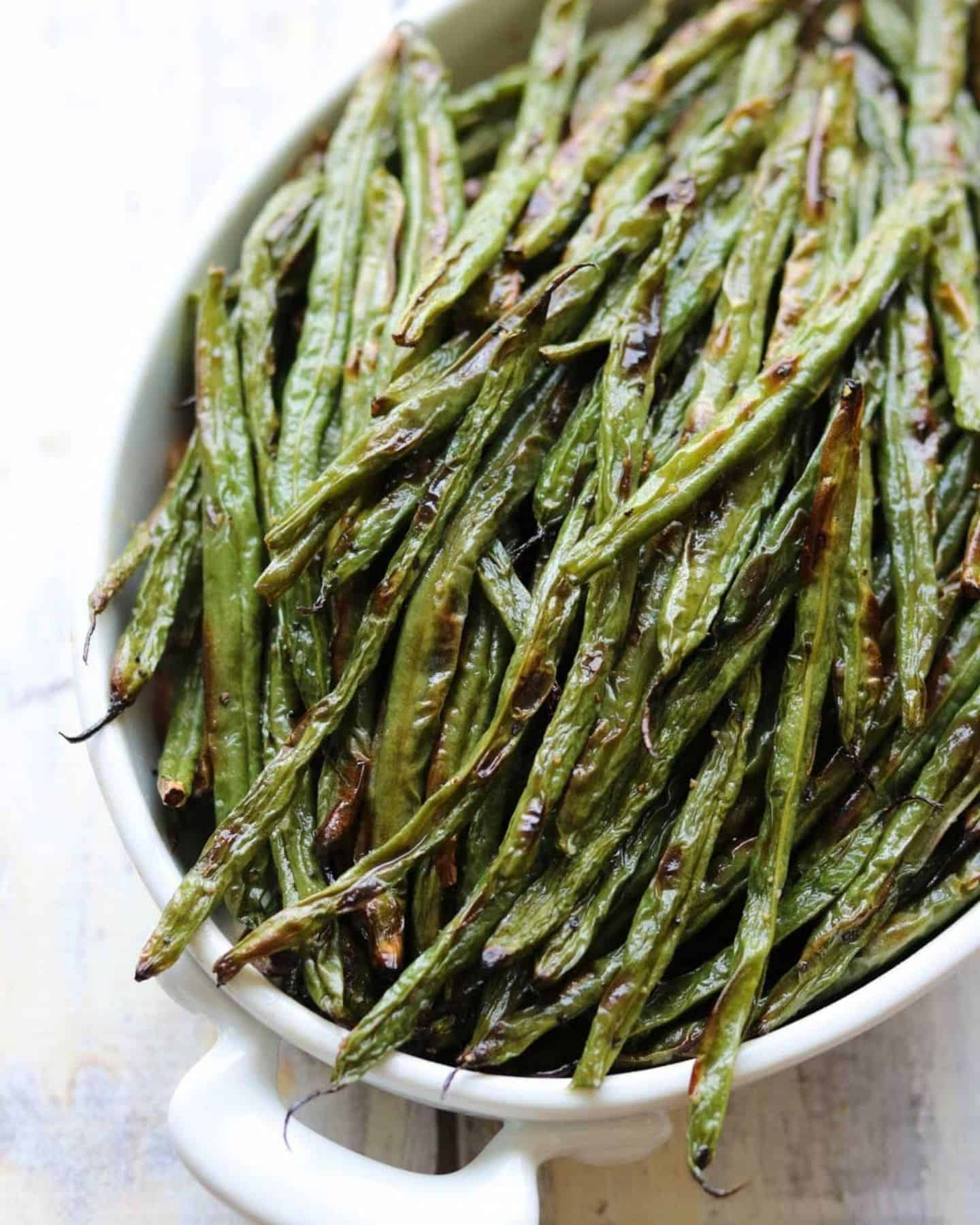 These Blistered Green Beans are the perfect accompaniment to a holiday meal! Although they're the ultimate in simplicity, they don't taste simple at all. You'll be surprised how complex and delicious they are, with deep, caramelized flavors thanks to the magic of oven-roasting!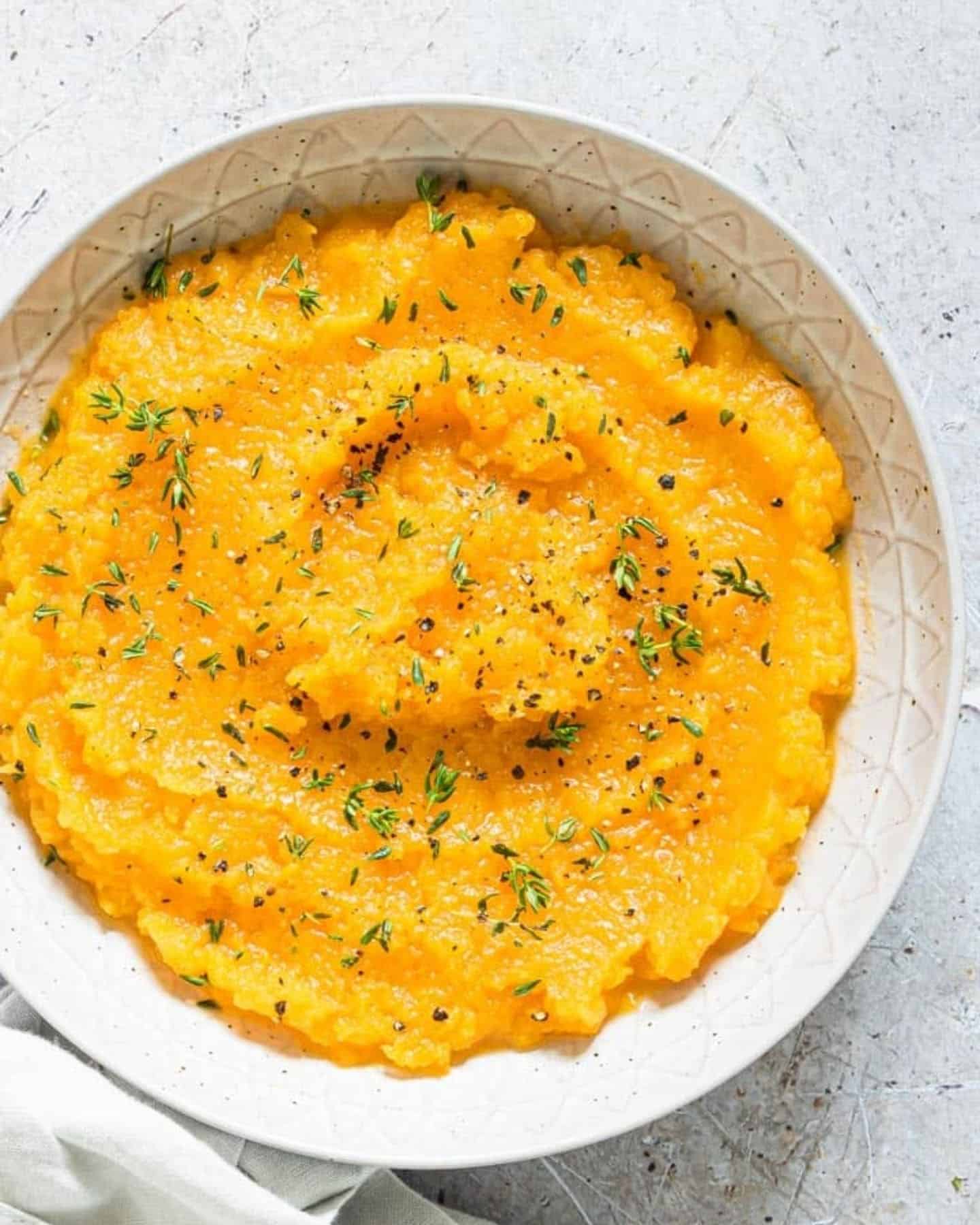 Crockpot Mashed Butternut Squash is the perfect cozy side dish to complement your weeknight dinners, fall gatherings, Thanksgiving and Christmas dinners, plus all of your other holiday meals. It is a family-friendly, colorful, vibrant, delicious and healthy mash that is easy to make in your slow cooker.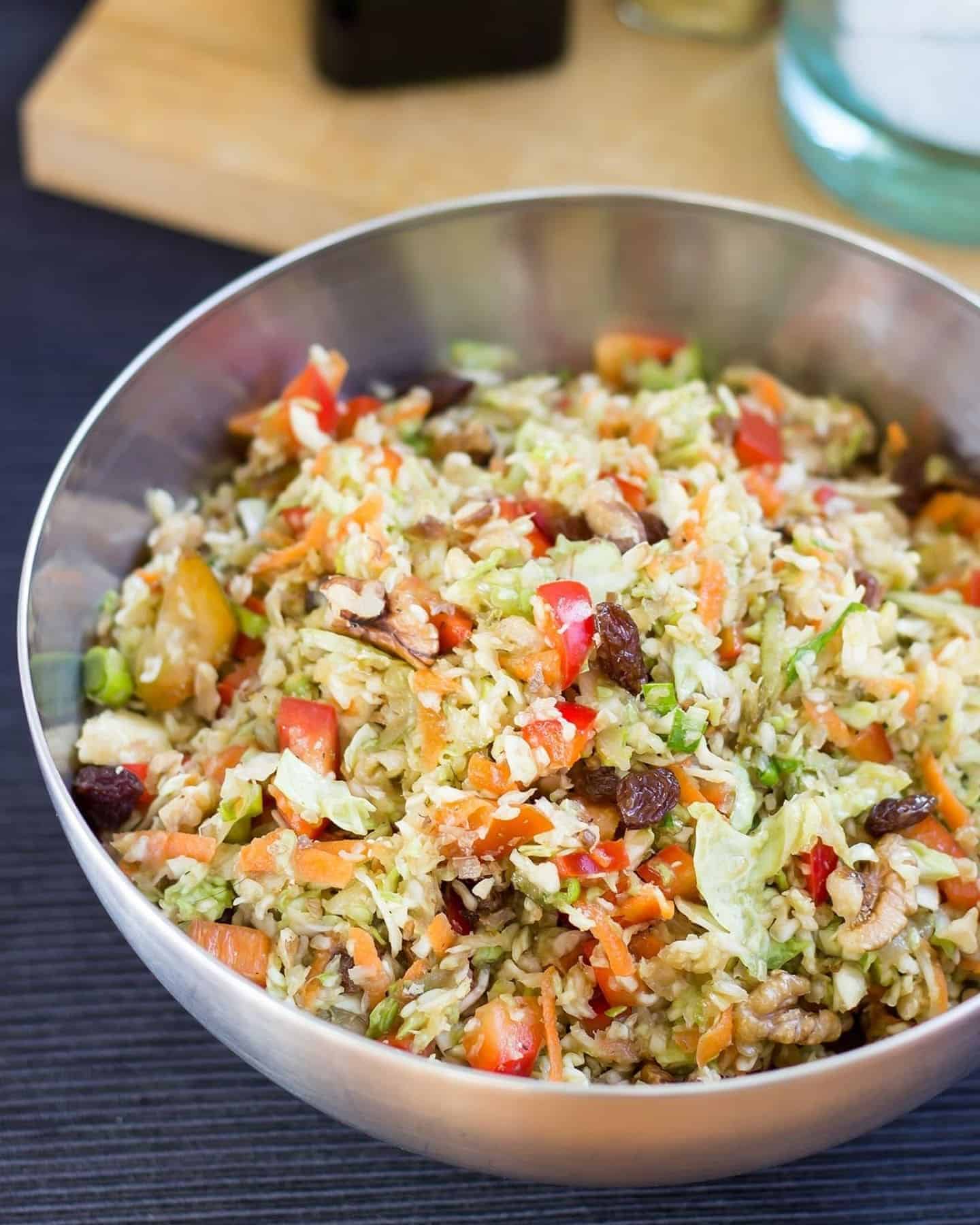 Colourful Christmas Slaw. The perfect mix of veggies and fruits in one bowl. Ready in 20 mins. Easy to make and brightens up any Christmas table!
This chanterelle recipe is easy as well as delicious, chanterelle wild mushroom with potatoes is a perfect dish to serve as a side or as a main vegan meal.
Cabbage is a great side veg for a Christmas dinner! This red braised cabbage will hit the spot and is super healthy too.
Try these healthy vegan artichokes this year for your vegan Thanksgiving. They are unique and totally mouthwatering.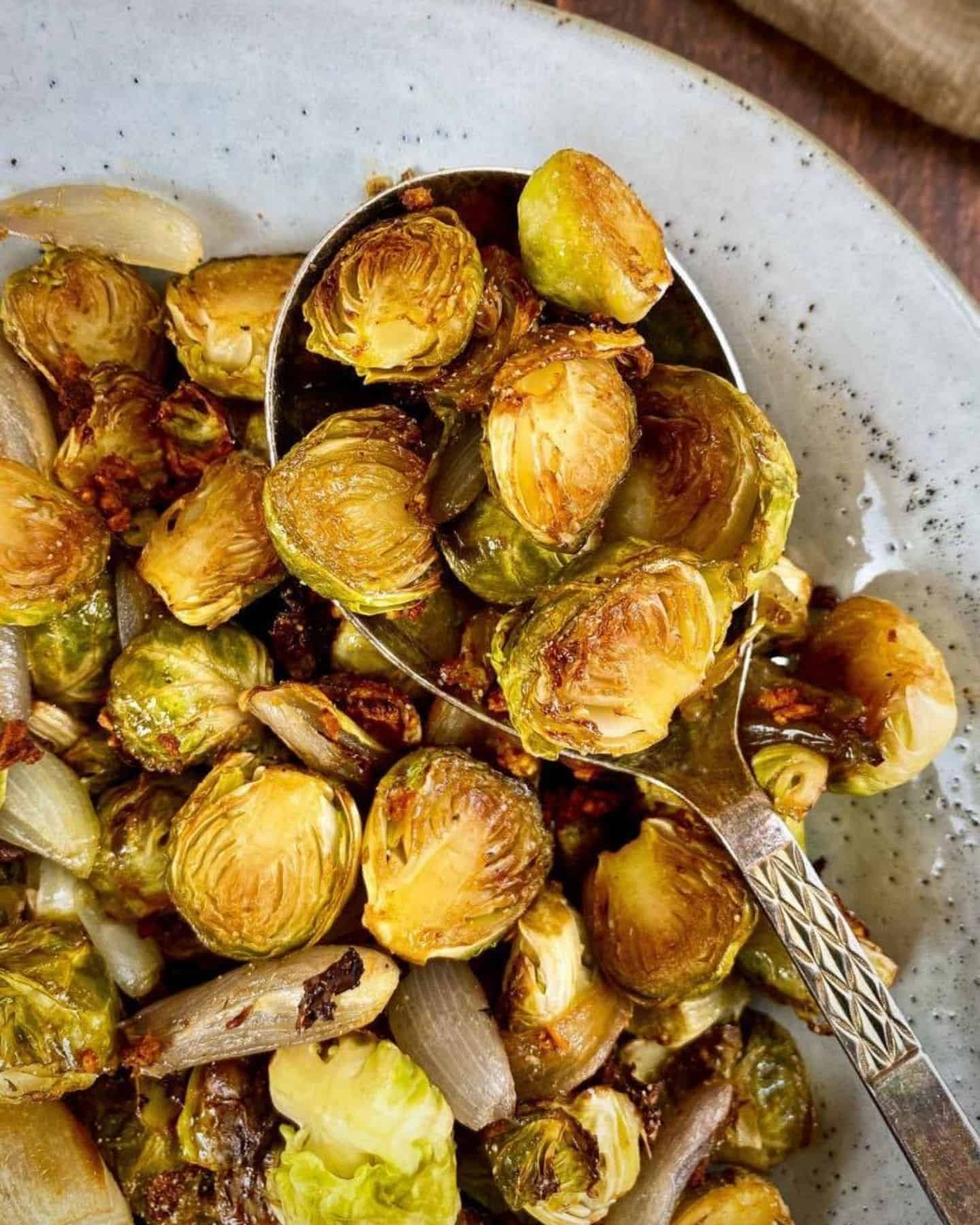 Sprouts aren't just for Christmas as they're in season from around September to February. Try these with balsamic glaze, maple syrup and dijon mustard to take them up a notch!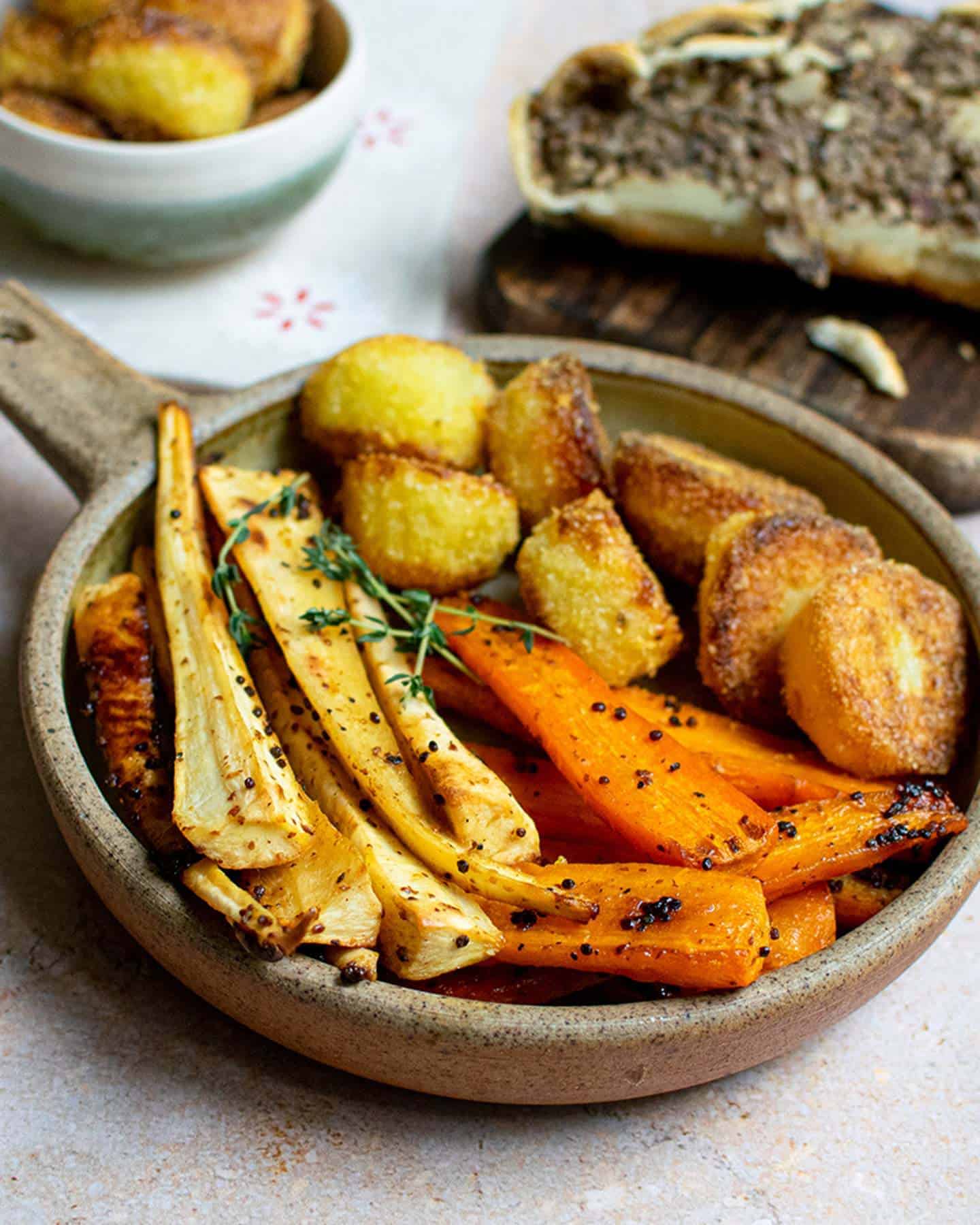 Maple glazed carrots are a great alternative to honey mustard roasted carrots, and are just as delicious!
Pair your brussels sprouts with butternut squash and an inventive avocado and roasted garlic dressing to impress the family. This is a unique spin on the classic sprouts, and one that could sway the most ardent brussels sprouts hater!
Christmas Potatoes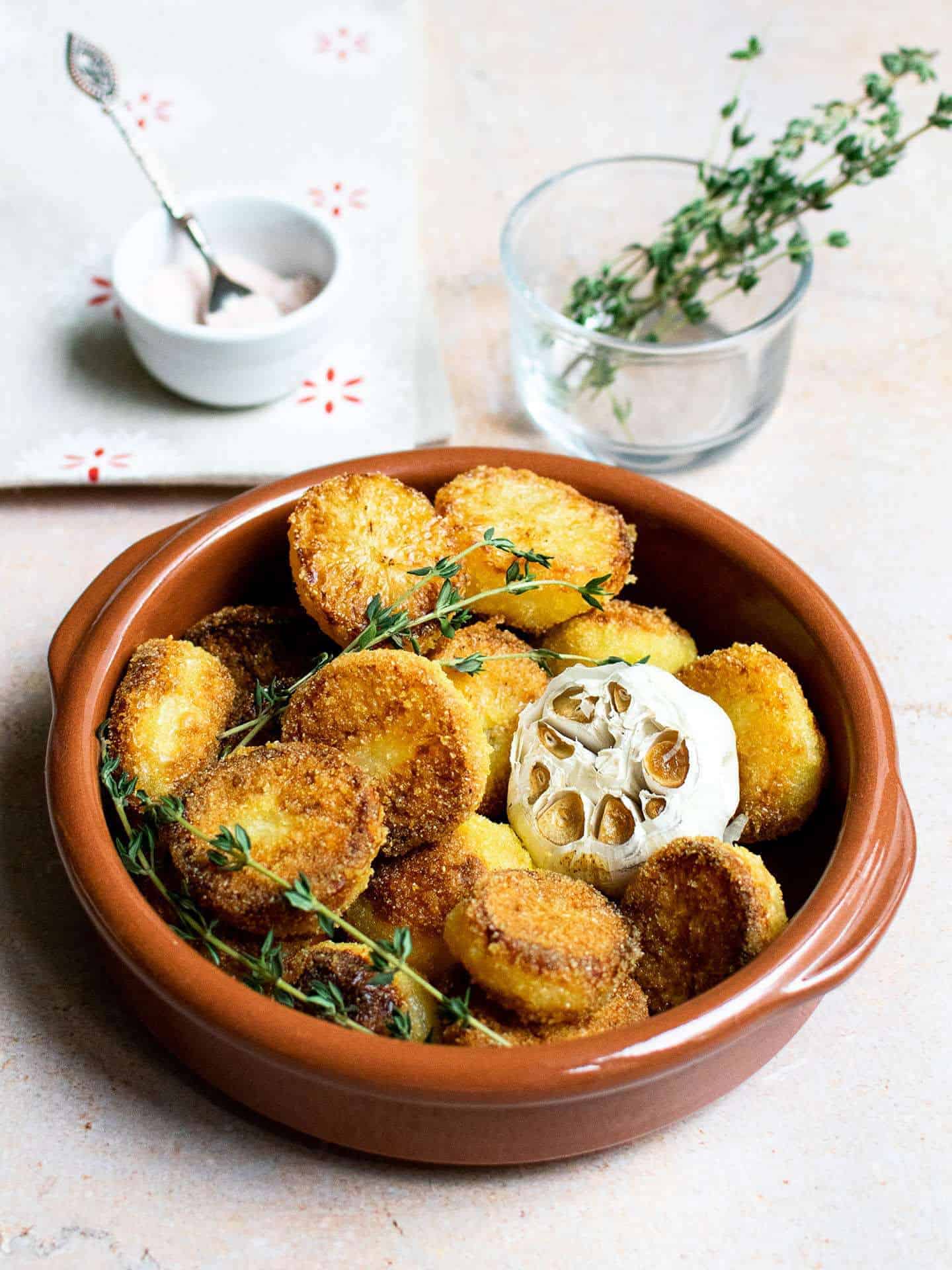 Our classic vegan roast potatoes! Just four ingredients are needed and 40 minutes in the oven. Coat them in polenta for a crispy-on-the-outside, fluffy-on-the-inside perfect roast potato experience!
These healthy mashed sweet potatoes are a great side dish for vegan Thanksgiving. It's simple, delicious, and healthy.
This amazing recipe for homemade vegan mashed potatoes is made with cashew cream for the ultimate creamy texture. With roasted garlic and crispy shallots, even your non-vegan friends won't miss the dairy.
These super-easy Rosemary Roasted Potatoes have just a few ingredients you can keep on hand in the pantry. They're a perfect partner for practically any main dish, and a snap to throw together!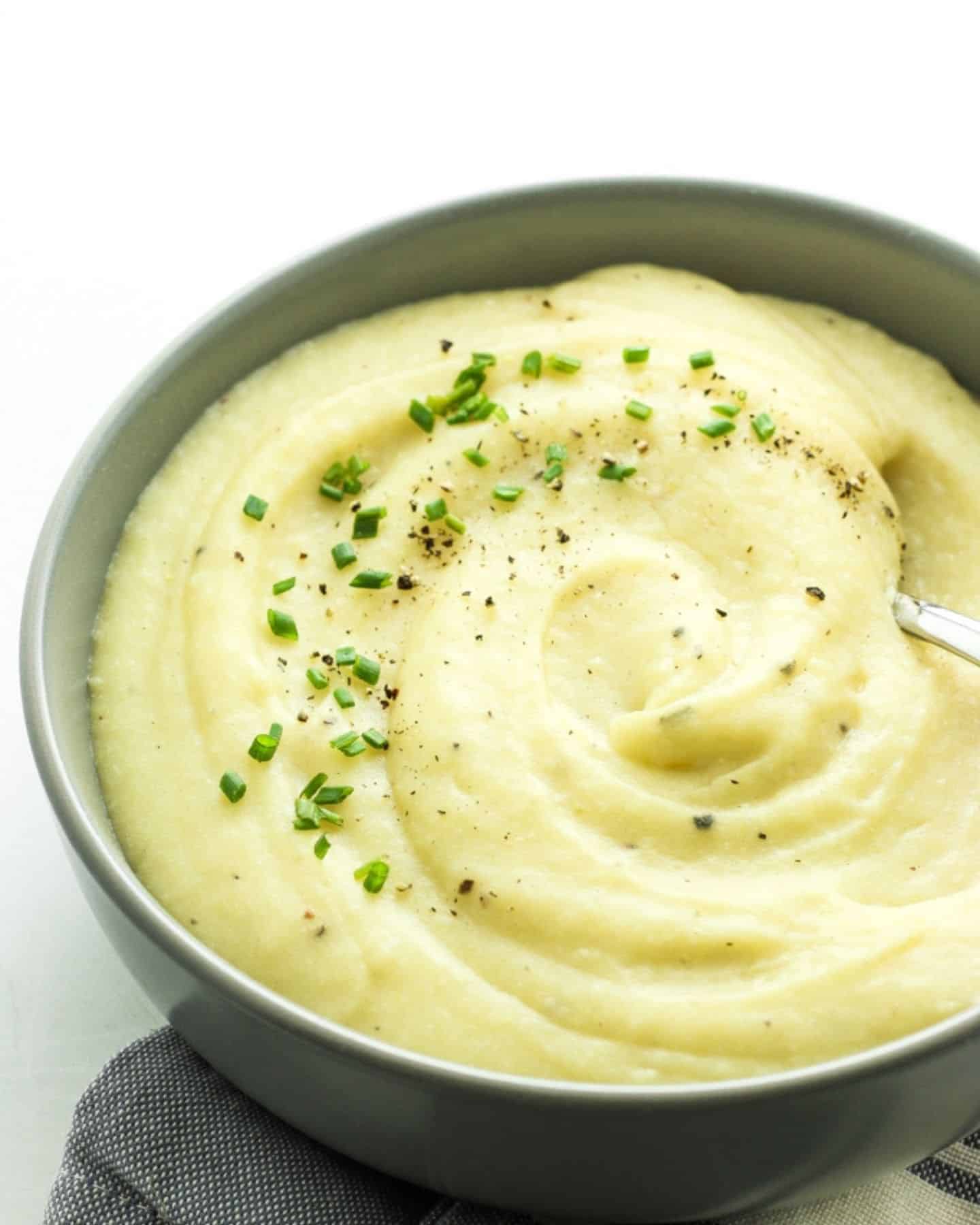 This cauliflower mashed potato recipe takes a traditional favorite to the next level. This dish is creamy, silky, and flavourful – and super easy to make! No one will ever know you snuck cauliflower into the potatoes.
Your whole family will love this super cozy and easy to prepare Slow Cooker Mashed Sweet Potatoes! It is a great comfort food side dish for everyday family dinners, gatherings, Thanksgiving, Christmas and even breakfast.
Roasted baby potatoes with herbs is a perfect side dish for any occasion. It is a true crowd pleaser recipe.
Caramelized onion mashed potatoes takes a standard dish to the next level. We love the sound of this unique dish and think it would be amazing on a Christmas dinner!
If you're feeling like something a little bit different, choose sweet potatoes instead of roasties, and cook them hasselback style!
Vegan Christmas Roast Side Dishes
We've said it before, and we'll say it again. These vegan Yorkshire puddings are the best out there! We worked for years to crack this recipe until finally we landed on the perfect recipe. Vegan Yorkies are hard to crack, but once you've tried them, we're sure you'll make these again and again.
Simple and creamy, this easy vegan gravy recipe comes together in about 5 minutes and is rich and full – the perfect complement to mashed potatoes for your vegan Christmas dinner!
Stuffing is a classic on Christmas dinner, and often something that sets a usual Sunday dinner apart from a Christmas one.
This butternut squash and brussels sprouts pairing, also adds apple and turns it into a stuffing. Genius flavour pairing, festive and easy to make to boot!
Cranberry sauce is a classic Christmas condiment. Try making it from scratch with this great recipe!
Sage and onion stuffing is a British classic, and perfect for the vegan Christmas dinner table. It's a lot easier to make than you'd realise too! Vegan stuffing balls are a great Christmas dinner recipe.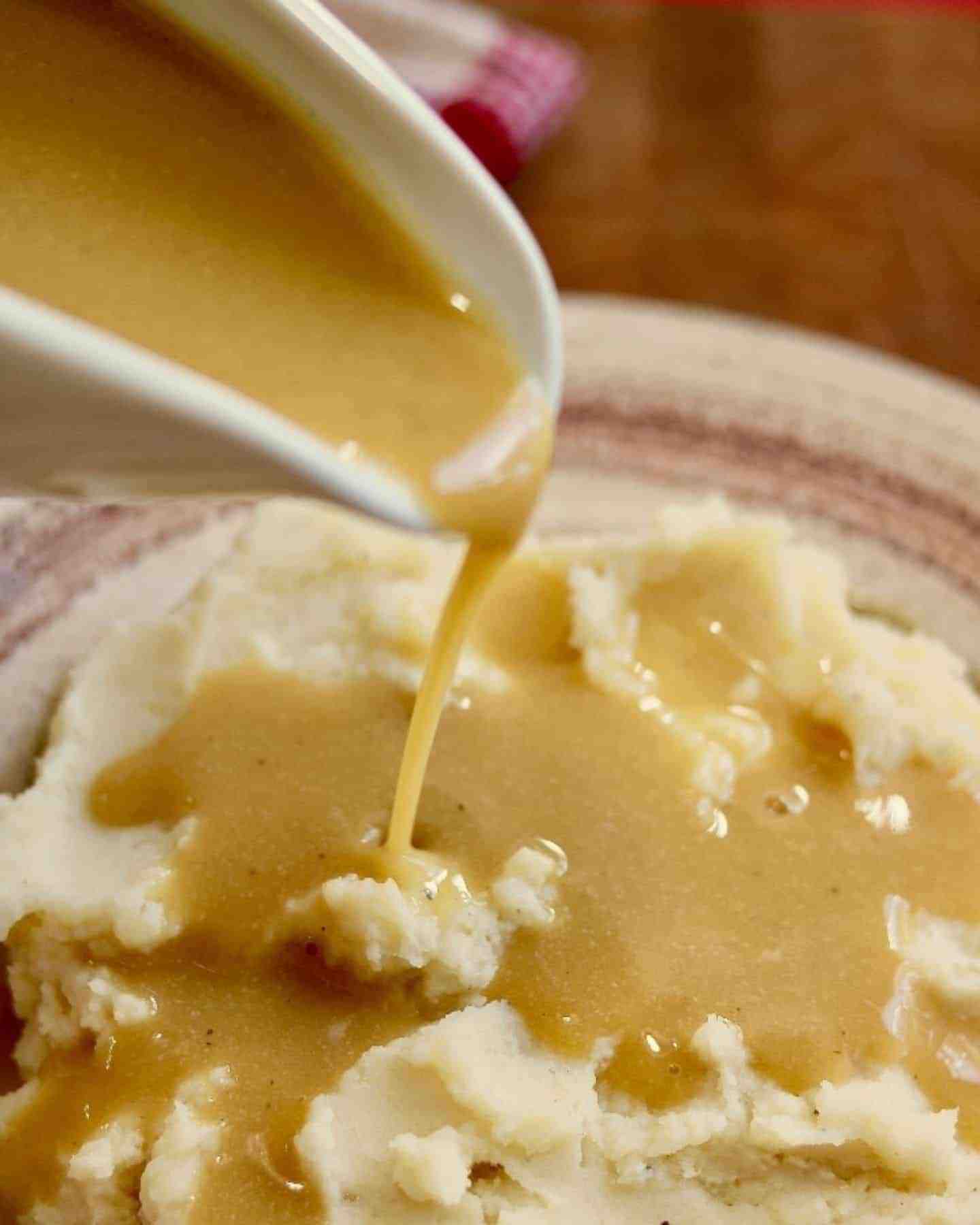 Step away from the Bisto and try making your own easy vegan gravy! The secret to this recipe is a hearty vegan chicken style stock base, and it only takes 10 minutes to make.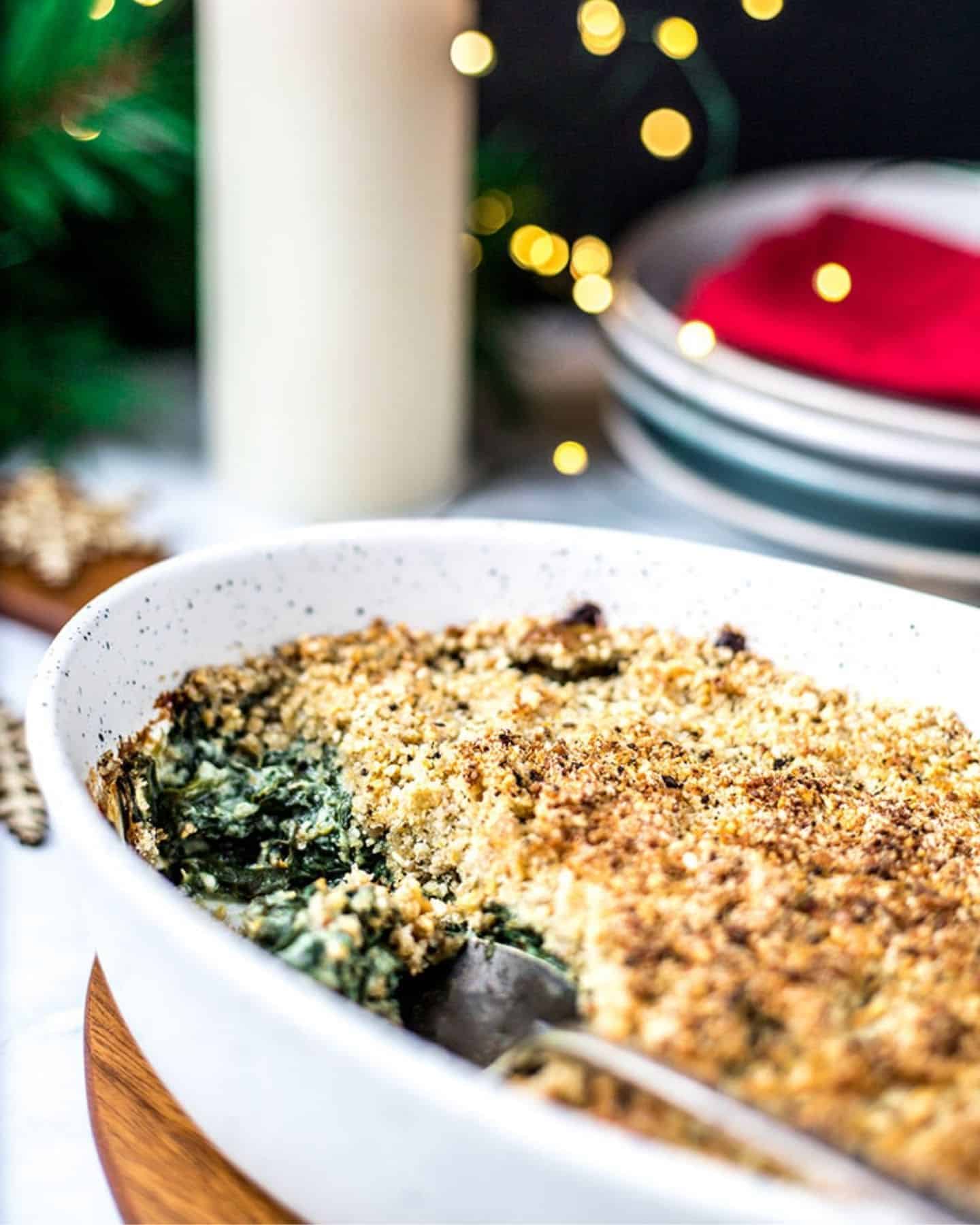 A great way to serve spinach is in a creamy gratin! This is great as part of a vegan Christmas roast. It takes quite a plain veggie and turns it into something incredible. Beautiful photos too!
This vegan Cranberry Sauce tastes amazing, and takes just a few minutes to make. You will never buy canned sauce again, once you try delicious Instant Pot Cranberry Sauce.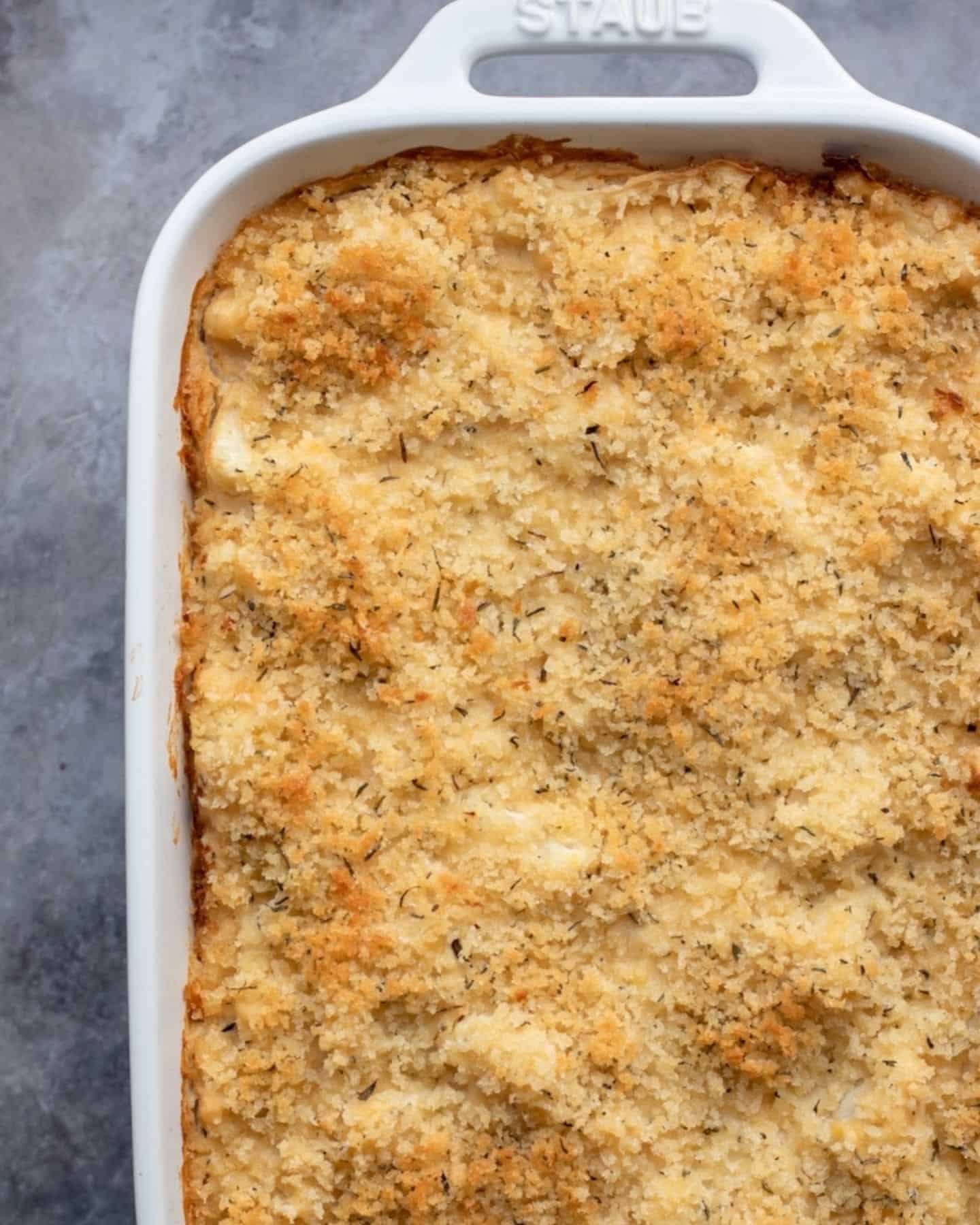 All of Rebel Recipes work is golden, including these amazing Miso Roast Parsnips. We'd recommend anything Niki does. She's a wonderful blogger and my photography mentor!
Cauliflower is one of my favourite vegetables. Turning it into a creamy gratin is a great idea! It uses cauliflower two ways – blended in the sauce and featured in the sauce too. So comforting and delicious, especially with the panko crumb.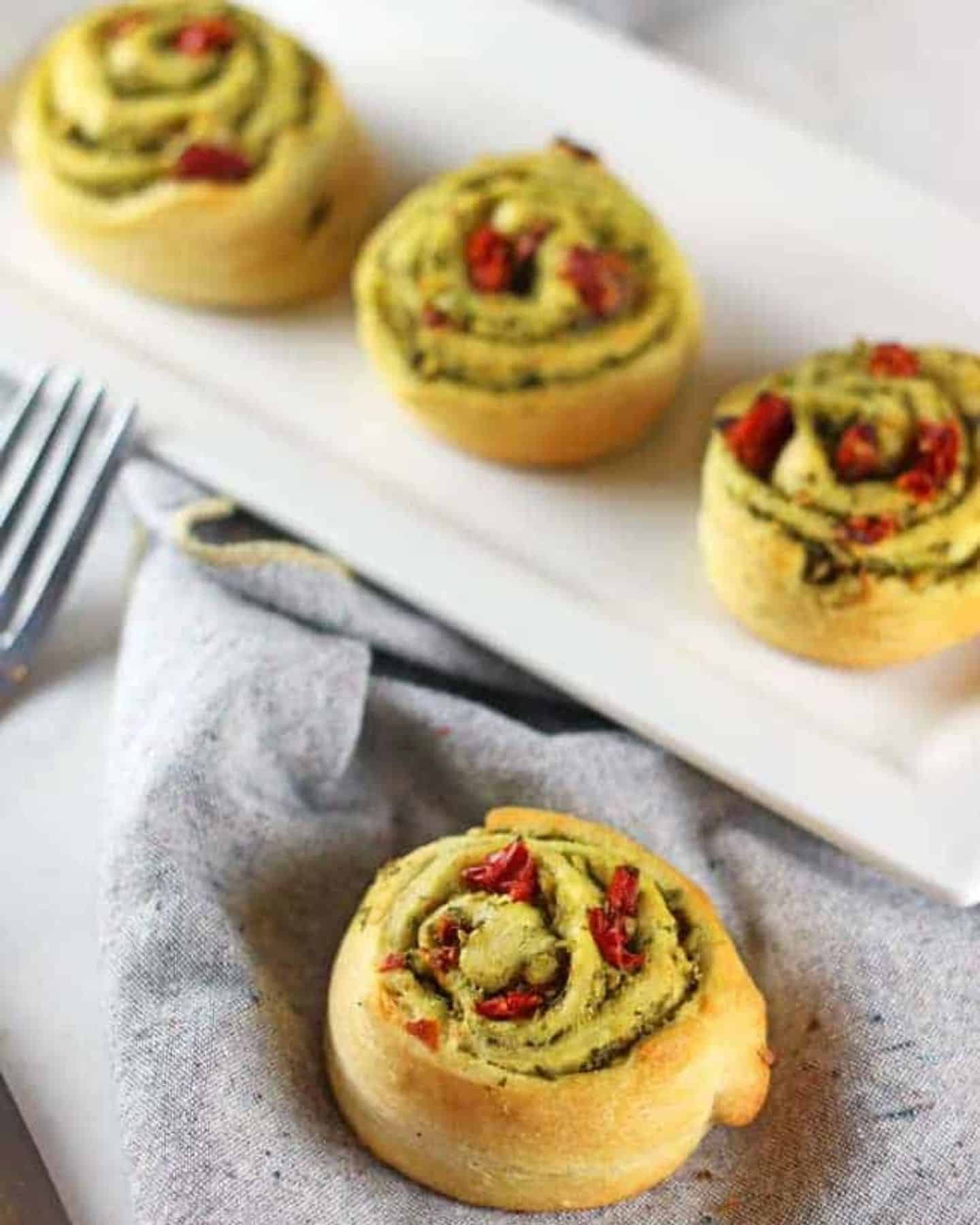 Whether it's served as part of the vegan Christmas table or as a snack during the festive period, we're here for these festive pinwheels.
Vegan pigs in blankets are a staple Christmas side dish. This recipe is a levelled up version where each one contains a hidden sage leaf and a maple mustard glaze!
Vegan Christmas Desserts
Vegan mini Christmas puddings are delicious bite-sized mouthfuls made with Christmas pudding, chocolate and maple syrup. And there's no baking involved!
Whether it's served as part of the vegan Christmas table or as a snack during the festive period, we're here for these festive pinwheels.
A moist vegan courgette and lime cake! A perfect way to use up courgettes from your garden and is topped with the most heavenly vegan cream cheese frosting.
This vegan Sweet Potato Pie is a fabulous dessert for any holiday table. It is simple to make and satisfying.
This Cranberry Pie has the perfect balance of sweet and tart flavors. Cranberry Pie requires very few ingredients. You can use either fresh or frozen cranberries in this recipe.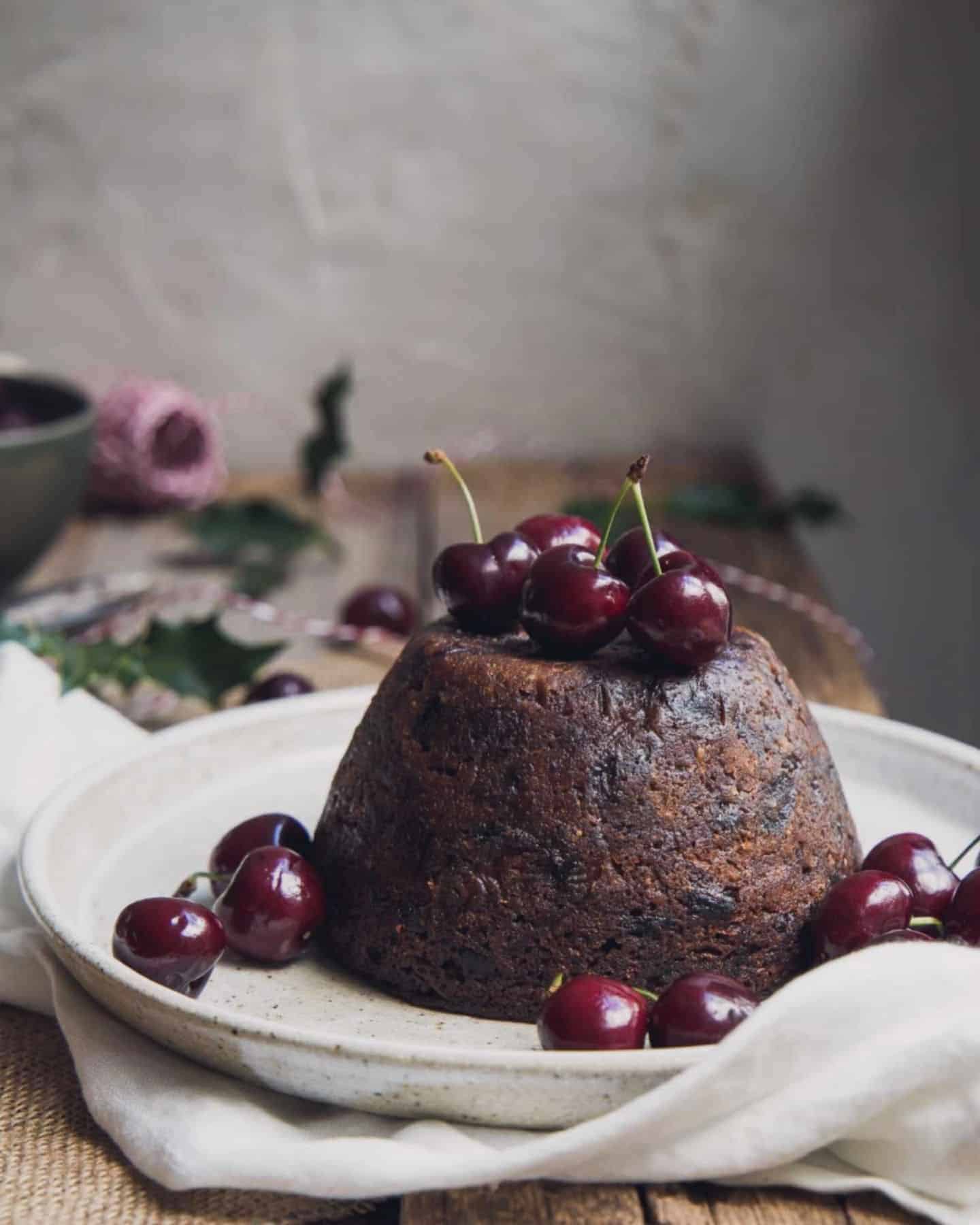 Traditional Christmas puddings splits opinion. If you're in the 'love' camp, we'd recommend this vegan Christmas pudding recipe. Great served with a plant-based brandy butter! This vegan Christmas recipe is a must-try.
My sister-in-law and her fiancé always make a vegan Christmas cake, so it wouldn't be Christmas for us without one! Try this Irish Christmas cake that features whiskey.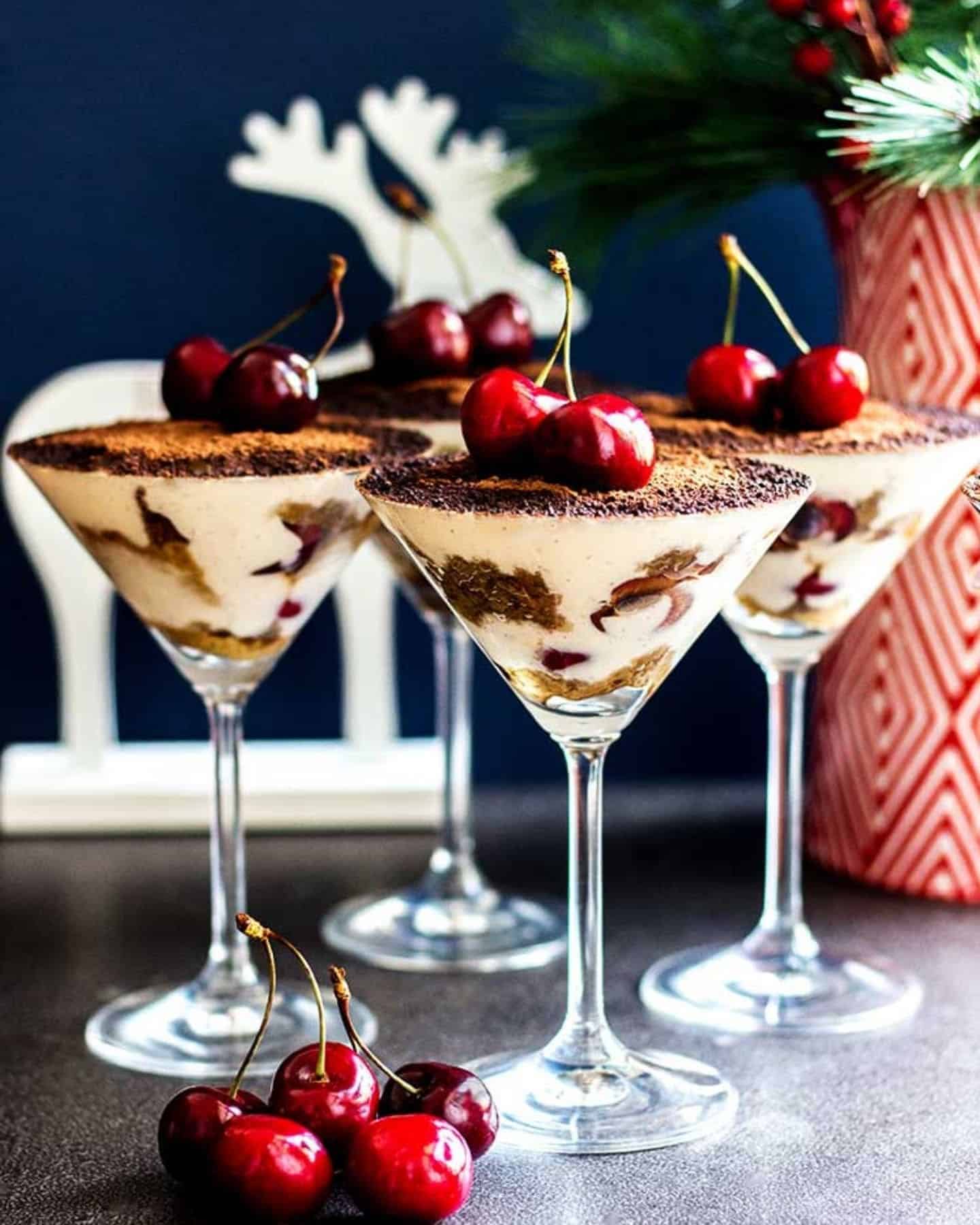 I always think of German Christmas markets and beer when I hear the word 'Kirsch'. Try them in this irresistible festive Tiramisu.
A traditional festive Italian no-bake treat gets a new spin with a delightful Vegan version. Thanks to a few simple ingredients, the decadence of this Vegan Chocolate Salami will surprise your holiday guests.
Yule log is the most quintessential festive dessert in my opinion. This vegan version looks irresistible and indulgent.
Alternative Vegan Christmas Recipes from around the world
If you're not feeling a traditional vegan Christmas dinner, then how about trying something a little bit different? We asked the amazing food blogging community what's traditional in their home countries at Christmas. Here's our top picks.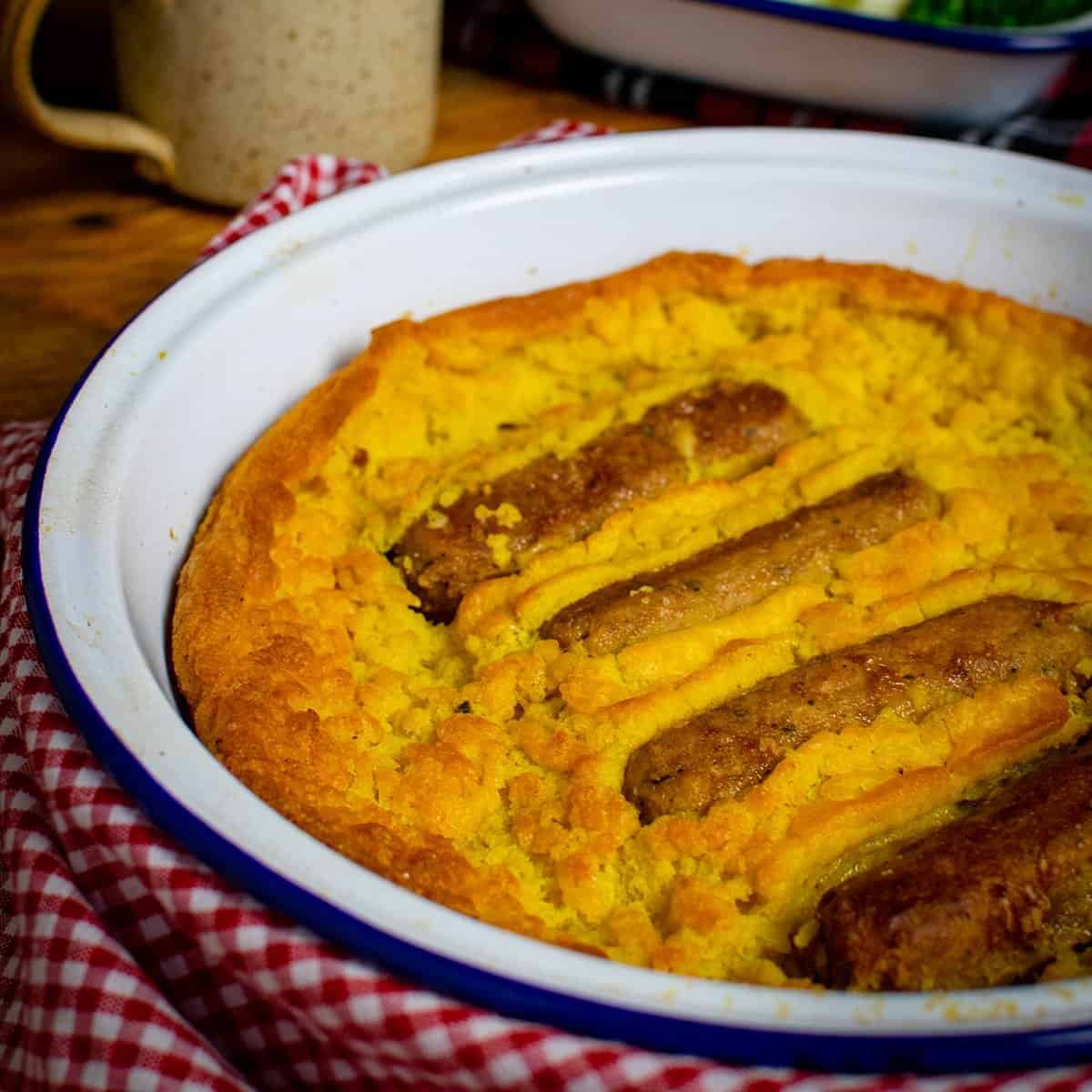 Our vegan Toad in the Hole is a British classic. You get the feeling of a roast dinner without needing to put all the hard work in! Serve with any one of the Christmas vegetable dishes from above, smother in gravy and enjoy. A great alternative to a classic vegan Christmas dinner!
Tamales are a traditional Christmas food in many cultures! Here is the recipe and instructions for making amazing vegan tamales either in your instant pot or stovetop steamer. Two vegan tamale filling options that are both flavourful and delicious!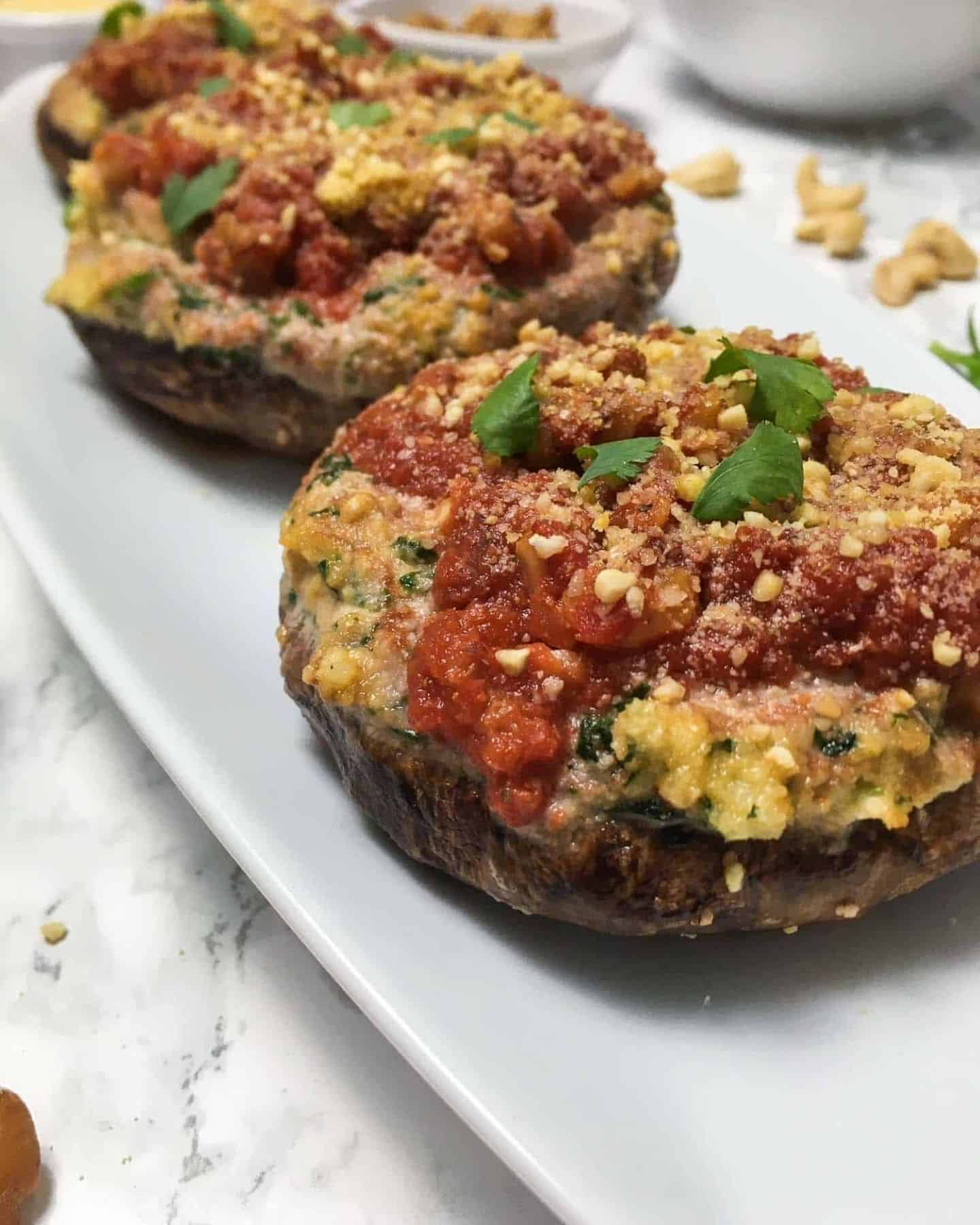 The team at This Healthy Kitchen say that in Italy they always have a lasagne on Christmas Day. This take on it serves lasagne in portobello mushrooms! Sounds yummy.
This Butternut Squash Pibil is a Yucatan, Mexico favourite, bringing all the flavors of Mexico to any holiday table.
A plant-based tagine is perfect for your holiday guests and full of nutritious vegetables, dried fruit and Moroccan spices. It makes a beautiful presentation and can be served over your choice of grain.
A lightened up, gluten-free, vegan, and top 8 allergy-free recipe for 'Pastel de Elote' Sweet Mexican Corn Cake! This traditional dessert is moist, dense, with a bread pudding like texture. Baked in a bundt pan, with fresh corn, and topped with a light glaze, this treat will be gone in a flash!
Veeg, the blogger behind this recipe, says that no matter what else is on the vegan Christmas dinner table, there must also be an inviting dish of Mexican seasoned rice in their house! This recipe for Enchilada Lentil Rice has become their mainstay! It's filled with savoury enchilada flavour, and pairs well with everything it sits beside, especially a stack of homemade tortillas, with is another mainstay of their holiday feasts.
Christmas KFC has become a very popular tradition in Japan. The Edgy Veg created vegan KFC recipes to veganize popular KFC meals. This is a must-try, even if you don't have it on Christmas Day!
The team at the blog, Natural Goodness, say that they make tamal de elote dulce in their home country, Mexico, every Christmas (it is a dessert tamal).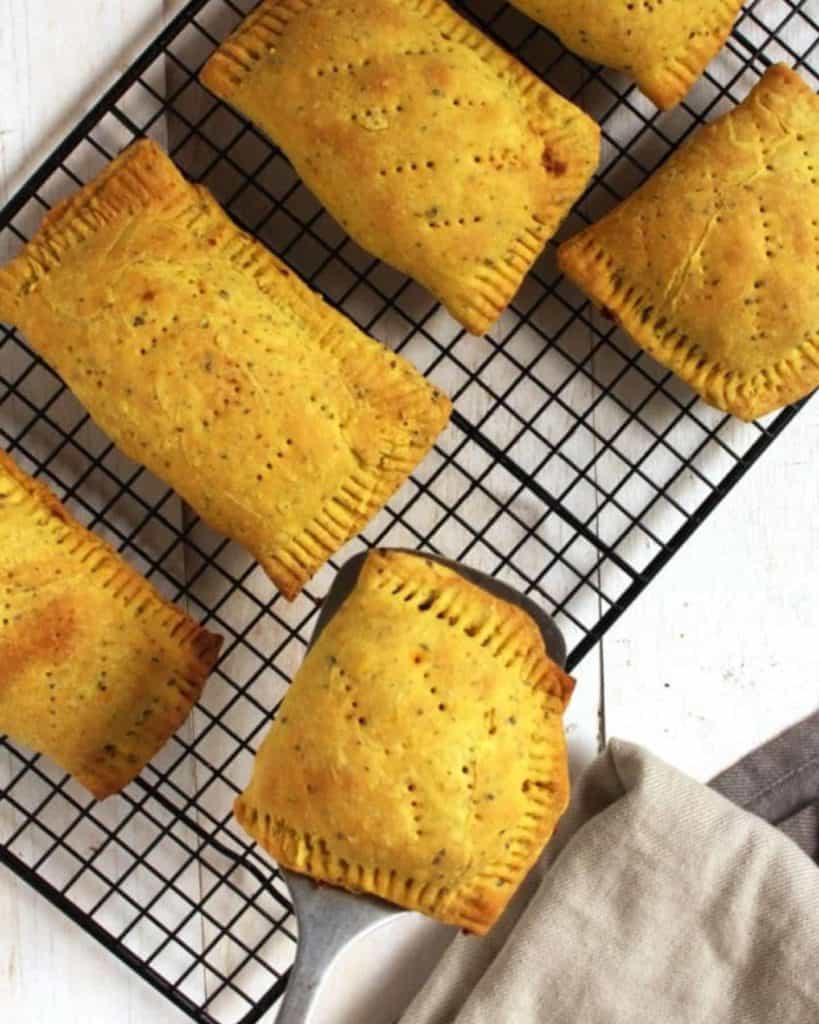 This Jamaican pattie is a dish that could be served during the holiday season. It's a very big-occasion friendly recipe and therefore perfect to share as a snack!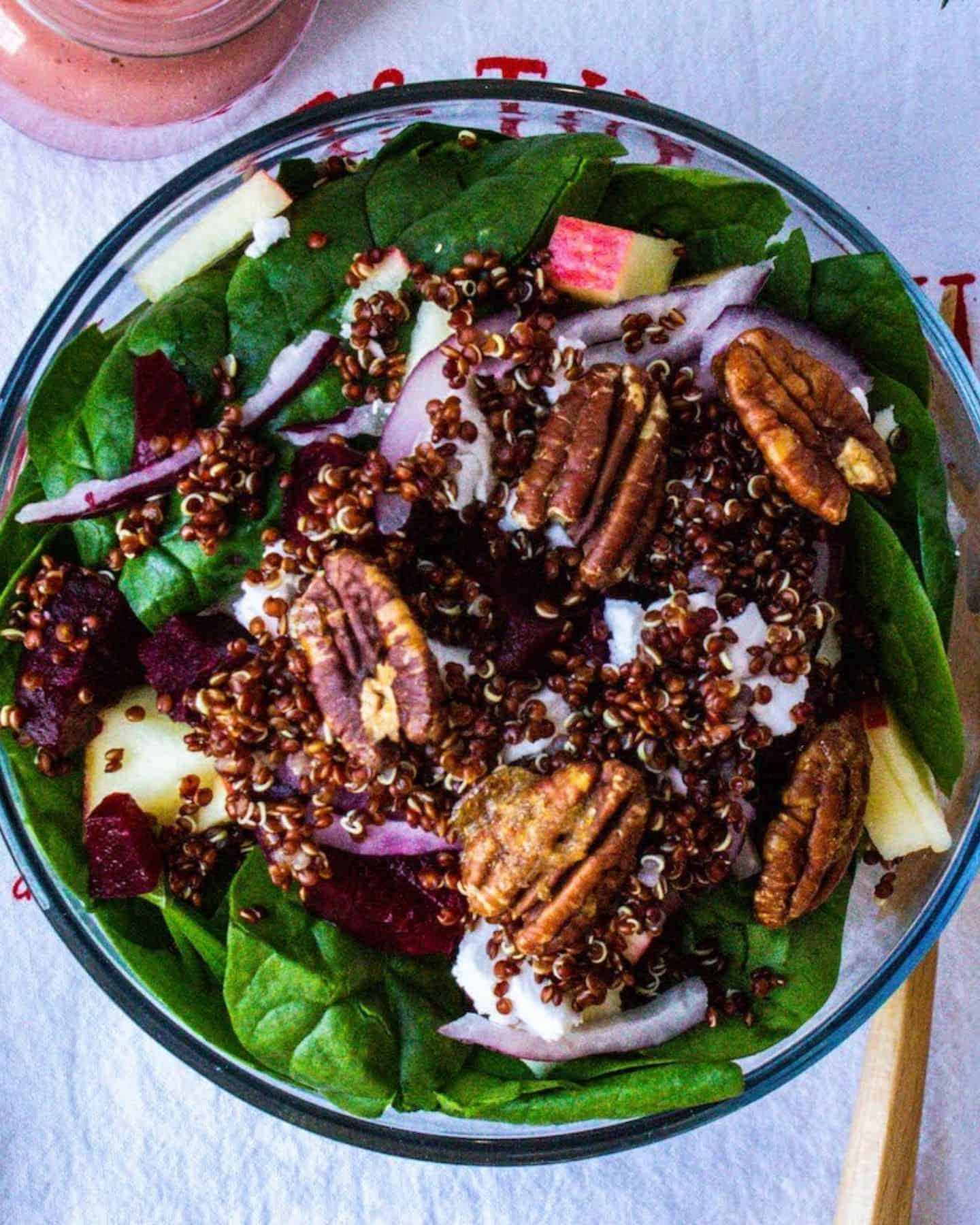 If you're looking for a lighter option, try a holiday salad! With roasted beets, candied pecans and quinoa, you'll be getting all the flavours without the heaviness. Also great for the week between Christmas and new year, or as a side dish to the main event.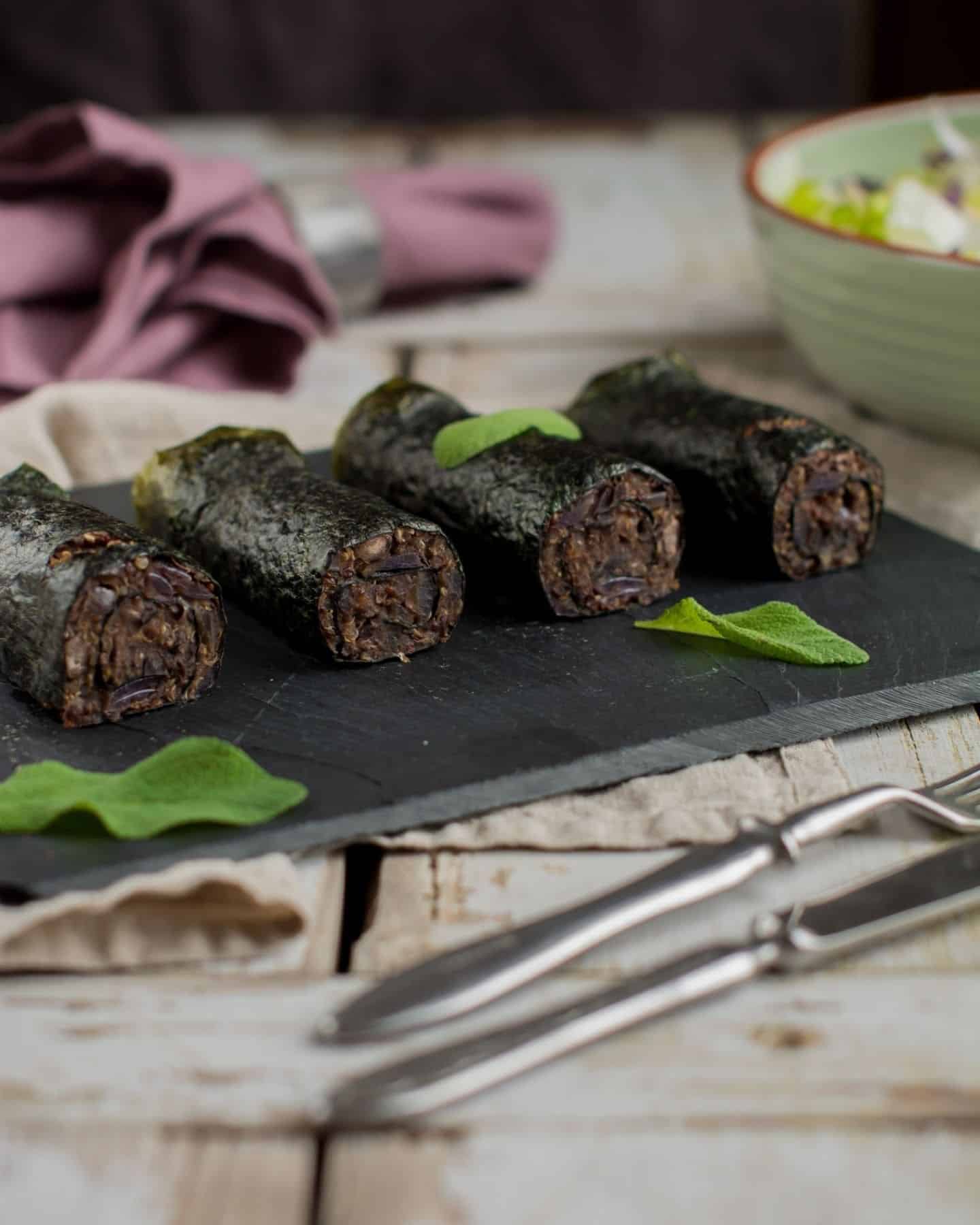 In Estonia, blood-barley sausages in pig intestines (yeah 🙈) are a must-have on the Christmas table. Here's a vegan version that doesn't require any animal parts – Nori Rolls with Quinoa Bean Filling.
This vegan cottage pie boasts a richly flavourful mince and veg filling with a deliciously smooth gravy, all topped with creamy, peppery mash. It's so good! Perfect for if you want something similar to a roast dinner without the effort. It's covered in gravy and topped with mashed potato, what's not to love?
These vegan loaded sweet potatoes are the perfect addition to your holiday meal. They're sweet and savoury and packed with nutrition!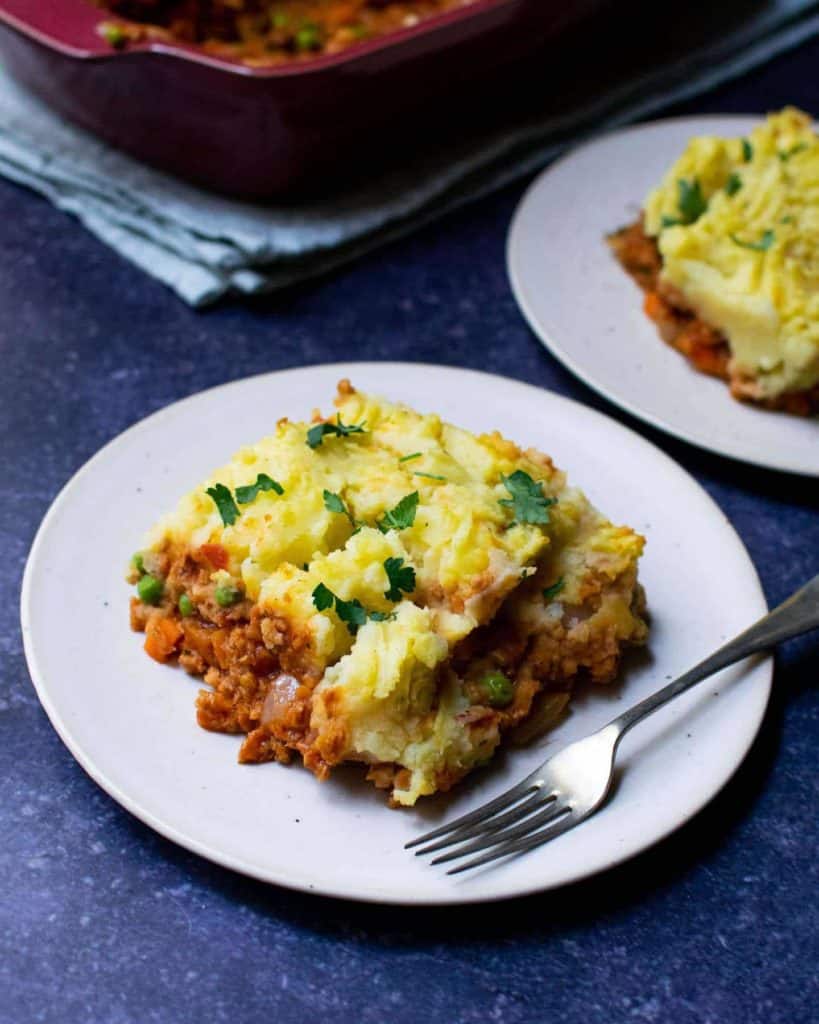 This is a delicious vegan version of shepherd's pie that uses textured vegetable protein (TVP) to replace the mince. You'll get the gravy goodness, delicious creamy mashed potatoes and it's gluten free and simple to make too!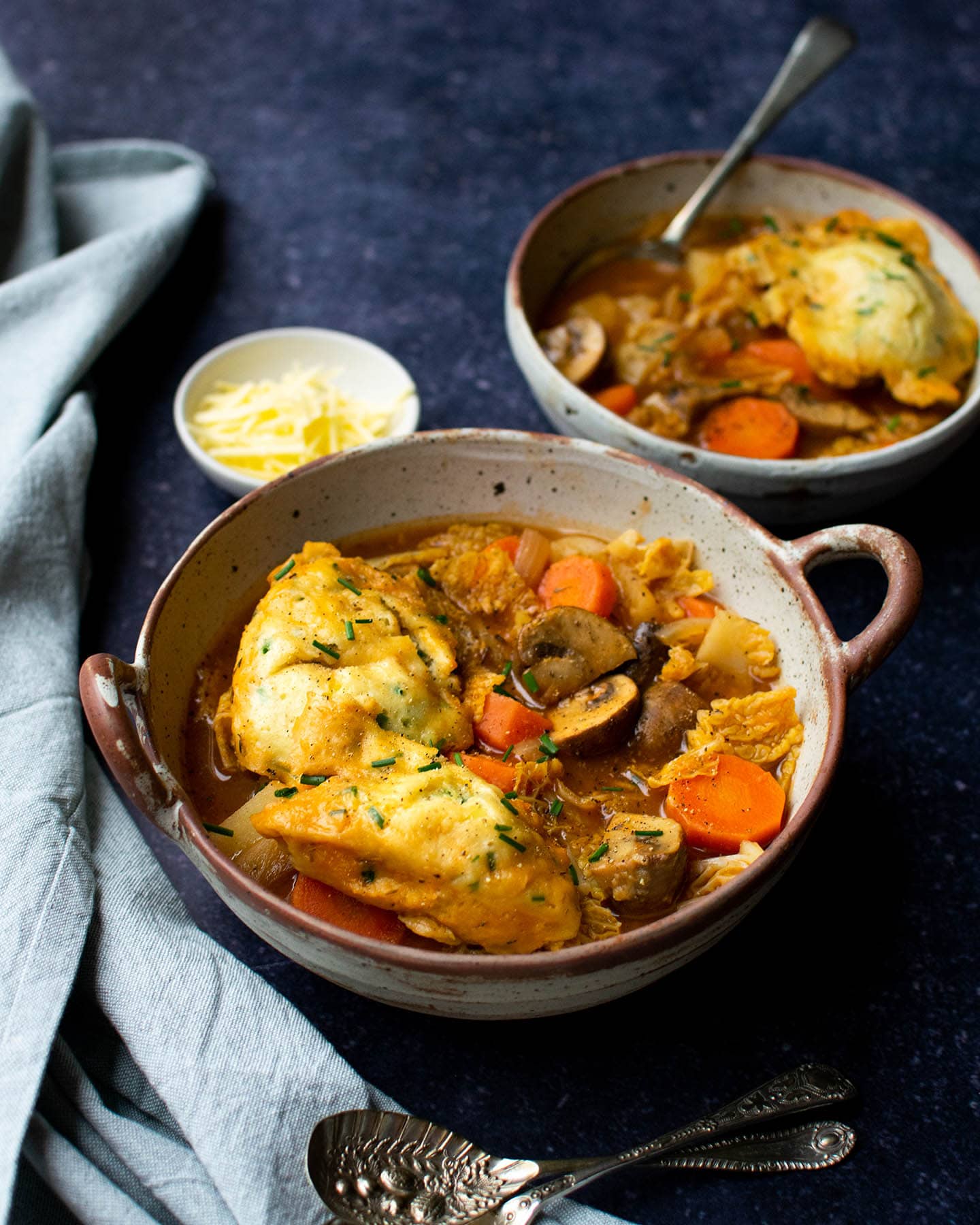 A hearty vegan stew is a fantastic option if you don't want to go to the effort of making a full vegan Christmas roast! Plus, fluffy, pillowy soft dumplings sweeten the deal.
Why not go for a whole roasted cauliflower, as it's still a roast after all! Just plaster on the spices and bake in the oven. Easy!
Something completely different for vegan Christmas Dinner...
If you fancy a Christmas curry with all the trimmings, then we have a lot for you to choose from! Try our Cauliflower Madras, Mushroom Bhaji, Brinjal Bhaji and Fluffy Vegan Naan for a truly delicious Christmas curry feast. You could even make a vegan seitan turkey to put in the curry! Why not?
To sum up, there we have it – over 79 vegan Christmas dinner recipes to get you inspired for Christmas cooking! Let us know what you're going to be trying in the comments, or if we've missed out your favourite holiday dish.
Don't forget to save this article on Pinterest for later, bookmark it or share on social media! All shares and saves are greatly appreciated and so helpful for bloggers. Thank you for reading!