Perhaps the weirdest sounding British dish, but a much loved one and, as it turns out, very easy to veganise! Here's our delicious vegan toad in the hole recipe…
There's something extremely comforting about sausages cooked with batter and swimming in gravy. It's a feel-good meal that is perfect for those wintery nights in or just getting cosy at home.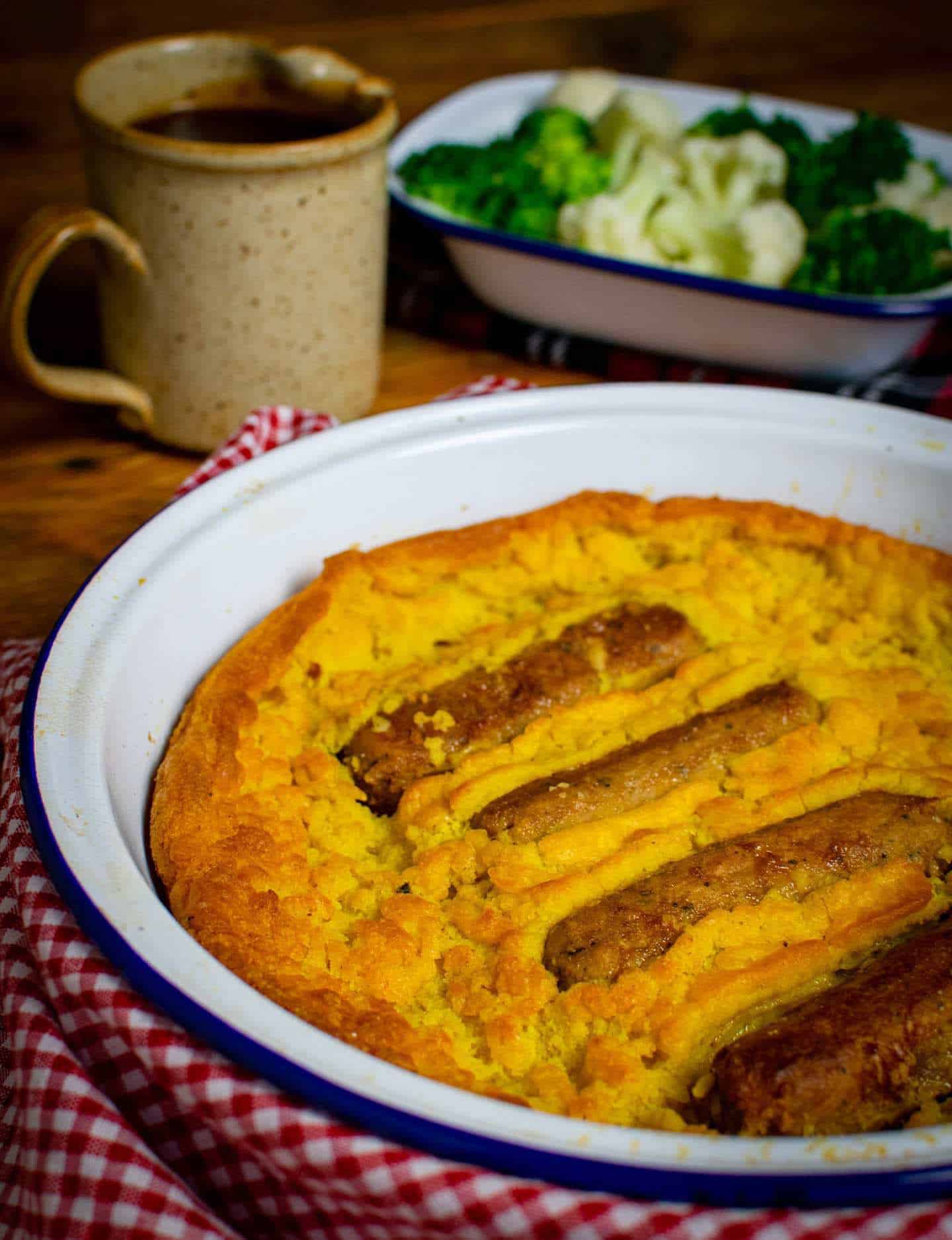 How to make vegan toad in the hole
Toad in the hole is a little more forgiving than our vegan Yorkshire puddings. Cooking the batter in such a large dish, it's not going to be able to achieve the same rise at the edges or a pronounced dip in the middle. Getting the ratios of your batter mix right is still important though. We made a video tutorial to help:
A lot of the method is shared with our vegan Yorkshire pudding recipe. After all, vegan toad in the hole is just a giant Yorkshire pudding with sausages in it. The main things to remember are:
Have a nice hot oven – pre-heat it and start at gas mark 7 / 200c / 425f.
Pre-heating the oil – it's important to get the batter cooking as soon as possible. The oil should be smoking hot.
Rest your batter – 15 minutes will do. It's also important that it's room temperature, not cold.
Use a metal or ceramic baking dish – they'll get the hottest. You can make 1 large toad in the hole, 2 medium ones or even 4 individual ones.
Work carefully and quickly – you need to get the sausages and batter into the oil, and the dish back in the oven very quickly. The oil needs to stay hot so the batter can start cooking straight away.
Give it a rest – this firms it up. Once done, take out of the oven and leave it to settle for 15-30 minutes. Steaming hot gravy may warm it up, or you can chuck it back in the oven for a few minutes before serving.
If you're using frozen sausages, defrost or par-cook them before using. The last thing you want after putting all that effort into your batter is for cold sausages to cool it down when it should be cooking!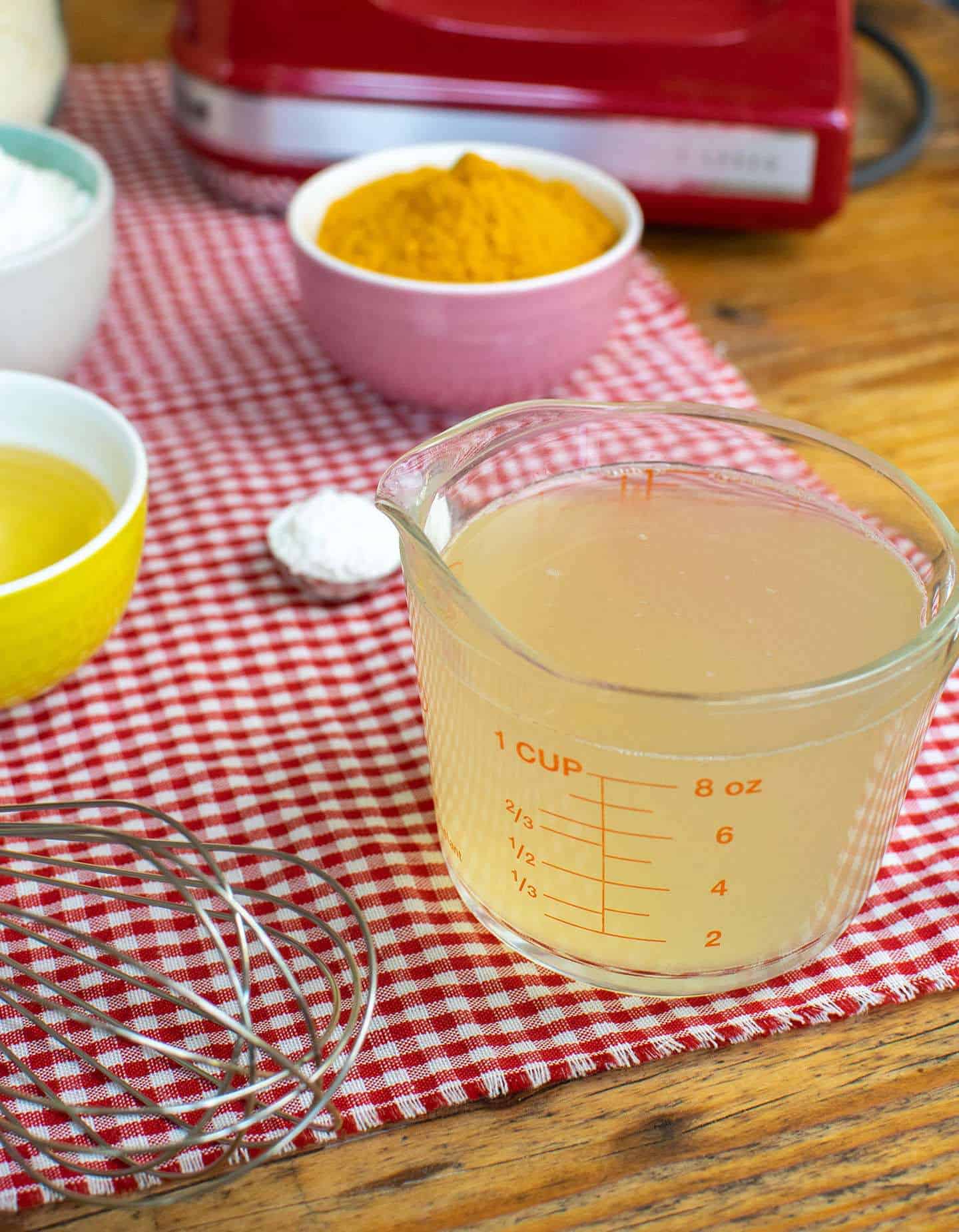 The ingredients
The batter is similar to a pancake batter and consists of:
Flour – both plain flour and chickpea flour (a.k.a. gram or garbanzo flour). You can also drop the plain flour and double up on the chickpea flour to make gluten free toad in the hole. Chickpea flour is really light and also adds a yellow hue to the batter.
Water – you don't need to use milk to make a vegan toad in the hole batter, not even a non-dairy milk! You'll find a lot of Yorkshire pudding and toad in the hole recipes – vegan or otherwise – actually use water as the main liquid.
Baking powder – it acts as a leavening agent to help the batter rise.
Apple cider vinegar – helps to activate the baking powder.
Ground turmeric – adds a golden yellow colour to the batter.
Aquafaba – the miracle ingredient. Typically used as an alternative to egg whites and helps the batter to rise.
Is toad in the hole vegan?
Not traditionally! You'll typically find eggs and meat-based sausages included, plus some recipes will include milk.
Making a vegan toad in the hole isn't difficult though, as you'll find out when you give this recipe a try! Start by replacing the sausages with your favourite plant-based sausages. If they're frozen, make sure to defrost or par-cook them first.
For the batter, it's as simple as using water instead of milk. Then you can replace the eggs, typically used in a batter like this, with aquafaba. If you're interested to learn more about how this miracle ingredient works, you can read in detail about aquafaba in our vegan Yorkshire pudding recipe.
Of course, our vegan toad in the hole recipe is completely meat and dairy free. You can very easily make it gluten free by only using chickpea flour too.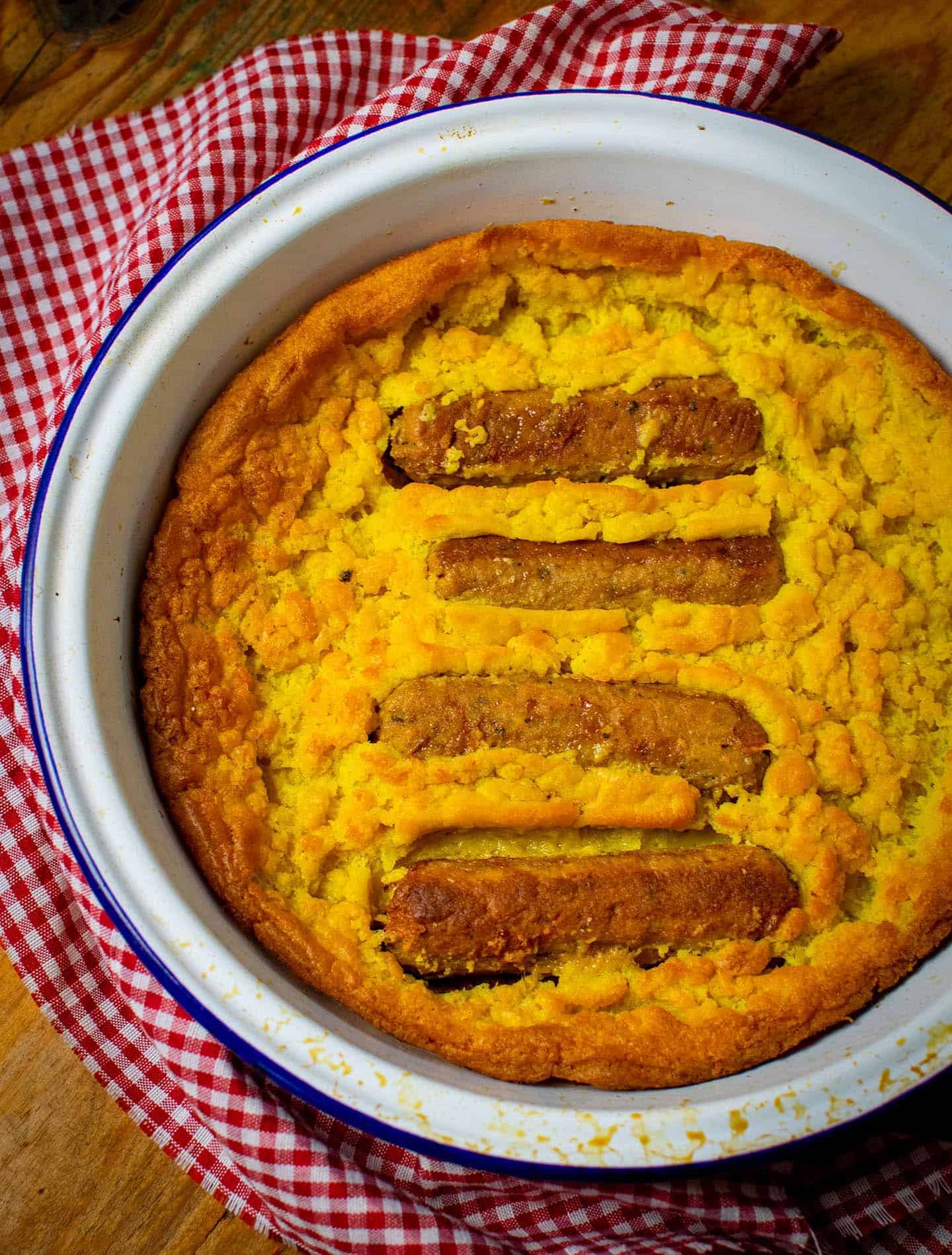 What is toad in the hole?!
There's the big question because, let's face it, "toad in the hole" doesn't sound particularly appetising! But we promise you, our vegan toad in the hole recipe will leave you satisfied.
This isn't a very well known dish outside of Britain. I've also met a good handful of British people who hadn't heard of it, so I thought I'd provide a bit of context to the weirdly named dish.
The simple version is this: toad in the hole is sausages in Yorkshire pudding batter (if you're not sure what Yorkshire puddings are, check out our vegan Yorkshire pudding recipe). It's a dish that's typically served up with a side of vegetables and a good glug of gravy.
Onion gravy is the traditional choice, but we're not precious about that and think it's equally delicious with some quick and easy Bisto.
We tend to think of it a bit like a quick roast dinner! Whip up a batter, cook it with the sausages, simmer up some vegetables and it's done.
Originally, cheap meats like sausages, or even leftover cuts of meat were used. It was a cheap and filling meal for workers.
Nobody has been able to establish the origins of the name of the dish. One of the most popular ideas is that it relates to the way that toads hunt their prey, burying themselves in burrows, with just their heads visible.
Either way, there's no evidence to suggest that this dish was ever made using toads!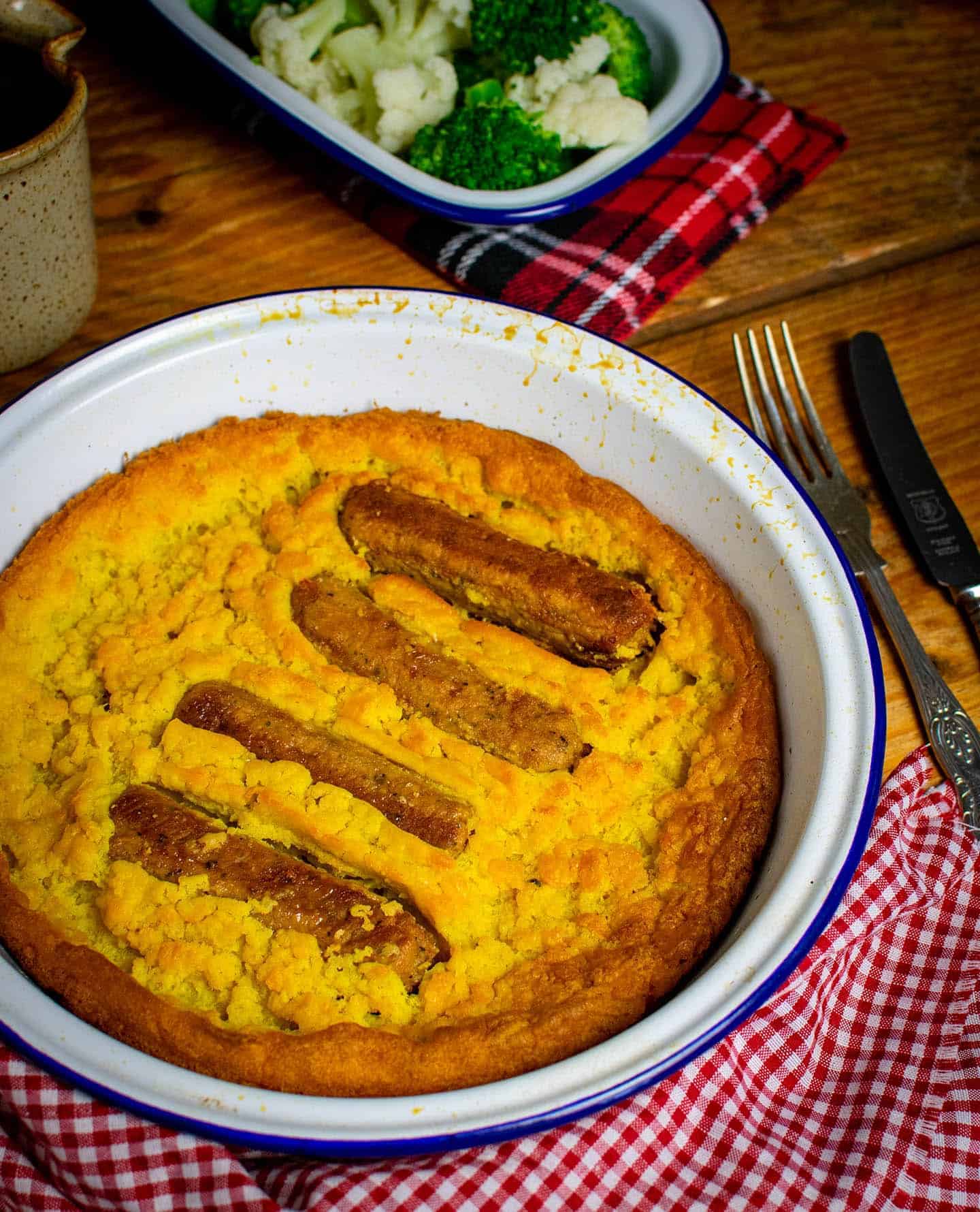 What's the best vegan sausage to use?
Something that's more like a traditional British banger or Lincolnshire style sausage, in my opinion, are the best to use. But really, use whatever kind of sausage you enjoy – you can get creative and try different flavours and styles out!
The plant-based sausages we love in the UK are:
Linda McCartney – the OG. They recently released a new recipe version of the original sausages and, honestly, they're really dry. We used to really like them too. The good news is that the newer Lincolnshire style ones are delicious and juicy.
Richmond – incredible vegan sausages. They taste extremely realistic and even have a skin that you can crisp up. Bad news if you're not into your realistic meat alternatives, but good news if you are.
Sainsbury's 'Plant Pioneers' range – they're all awesome. My picks for a vegan toad in the hole would be the Cumberland or caramelised onion shroomdogs.
We tried Beyond sausages recently and they were below average at best. They're so expensive that we didn't try them for a long time and I wouldn't buy them again if they were half the price. Sorry Beyond! I still like your burgers though.
Did you make this recipe? Leave a review and a rating below, or tag us in your photos on Instagram! Alternatively, bookmark it in your browser or save to Pinterest for later.

If you love our content, please consider supporting it by buying us a coffee.
📖 Recipe
Vegan Toad in the Hole
A bizarrely named but delicious British classic! Plant-based sausages cooked in Yorkshire pudding batter is a real comforting treat. Perfect served with a healthy side of vegetables and a good glug of gravy.
Save
Saved!
Print
Pin
Rate
Ingredients
8

vegan sausages

100

g

chickpea flour

a.k.a. gram or garbanzo flour

100

g

plain flour

0.5

teaspoon

ground turmeric

3

teaspoon

baking powder

0.5

teaspoon

salt

450

ml

water

10

tablespoon

aquafaba

1

teaspoon

apple cider vinegar

Vegetable oil

or sunflower oil
Instructions
Preheat your oven to gas mark 7 / 220c / 425f now.

If you have frozen sausages, defrost or par-cook them now.

Sieve the dry ingredients into a mixing bowl and give them a good stir.

100 g chickpea flour,

100 g plain flour,

0.5 teaspoon ground turmeric,

3 teaspoon baking powder,

0.5 teaspoon salt

In a large measuring jug, combine the aquafaba, water and apple cider vinegar.

450 ml water,

10 tablespoon aquafaba,

1 teaspoon apple cider vinegar

Pour the liquid ingredients into the dry ingredients and whisk well with a hand or electric whisk.

Transfer the combined mixture back to the measuring jug and rest for at least 15 minutes.

While the batter rests, add the oil to the baking dish(es). You need enough oil to have a thin layer covering the bottom of the dish. NB: use two 18cm round pie dishes or 1 large rectangular oven dish.

Put the baking dish(es) in the oven until the oil is smoking hot – this may take around 10 minutes, but keep an eye on it.

Once you have smoking hot oil, work quickly (but safely) to add everything to the dish. The key is to keep the oil as hot as possible, and get the dish back into the oven as soon as you can.

Remove the dish from the oven and start by carefully placing the sausages in it. Then pour the batter in and get the dish back into the oven as soon as possible.

Cook for 15 minutes, then reduce the oven temperature to gas mark 5 / 190c / 375f and cook for another 15 minutes.

Take the dish out of the oven and leave to rest on the side for a further 15-30 minutes. This will help the toad in the hole firm up.

Before serving you can heat it back up for a few minutes, or if you've not rested it for long just heat it back up with a good helping of steaming hot gravy.

Cut your vegan toad in the hole into 4 portions, carefully serve up and enjoy!
Notes
You can make 1 large toad in the hole, 2 medium ones or even 4 individual ones! The baking time should be roughly the same.
For a gluten free toad in the hole, drop the plain flour and double the chickpea flour.
Nutrition
Calories:
290
kcal
|
Carbohydrates:
43
g
|
Protein:
22
g
|
Fat:
3
g
|
Saturated Fat:
1
g
|
Polyunsaturated Fat:
1
g
|
Monounsaturated Fat:
1
g
|
Sodium:
1491
mg
|
Potassium:
246
mg
|
Fiber:
5
g
|
Sugar:
7
g
|
Vitamin A:
10
IU
|
Vitamin C:
1
mg
|
Calcium:
195
mg
|
Iron:
7
mg
If you love this recipe, pin it on Pinterest!