Going vegan can be a big change, but with the right mindset and approach, it can be a rewarding and sustainable lifestyle choice. Veganism is a way of living that seeks to exclude the use of animals for food, clothing, or any other purpose. But it can also be a challenge. That's why we've put together this list of veganuary tips (that can also be used all year around!) to show how to go vegan.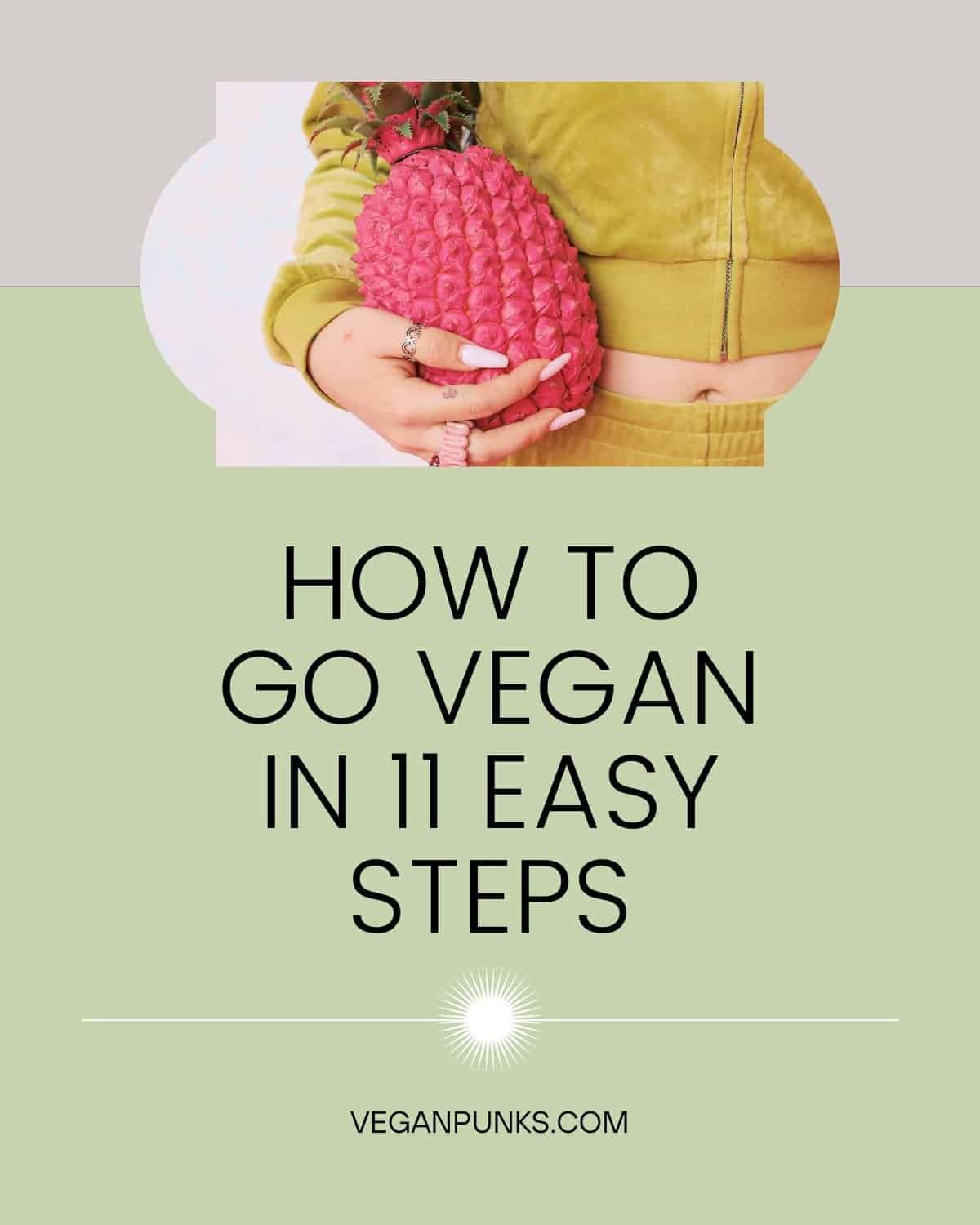 Jump to:
First of all, veganism does not have to be difficult. And I would encourage you to shed any preconceived ideas of what a vegan person looks and acts like. There are so many different people following a vegan lifestyle these days, there's no one size fits all stereotype. From builders to doctors, lawyers to artists, any one that you walk by in the street could be a vegan!
With proper planning, anyone can go vegan with ease. In this guide, we will share Veganuary tips for how you can go vegan in January without worrying about making mistakes or getting bored with your food options.
And if you like what veganism stands for and want to make it a way of life, these Veganuary tips can be used throughout the year too!
What is veganism?
First of all, let's get this straight. Veganism is an ethical commitment to abstain from consuming or using animal products.
The vegan diet excludes all animal products, including eggs, dairy and honey. In addition to this, a vegan lifestyle also excludes buying or using animal by-products like leather, wool, and silk.
A plant-based lifestyle is similar to veganism. Someone who is plant-based also doesn't consume any animal products but they still may buy animal products in other areas. That can be things like leather shoes, clothes made from wool or even buying beauty products that aren't cruelty free.
What is Veganuary?
Veganuary is a vegan diet challenge that takes place in January each year. It's a way for people to try veganism for a month, and it's open to everyone, regardless of their diet or lifestyle.
It's a fun challenge that can be really eye-opening. And, it's a great way to try new recipes and styles of cooking!
The aim of the challenge is to foster awareness and promote vegan diets as an ethical, compassionate way of living. There are many benefits to adopting a plant-based lifestyle, including improved health outcomes and environmental sustainability.
If you're interested in trying veganism for yourself during the challenge, here are 11 Veganuary tips to make going vegan easy.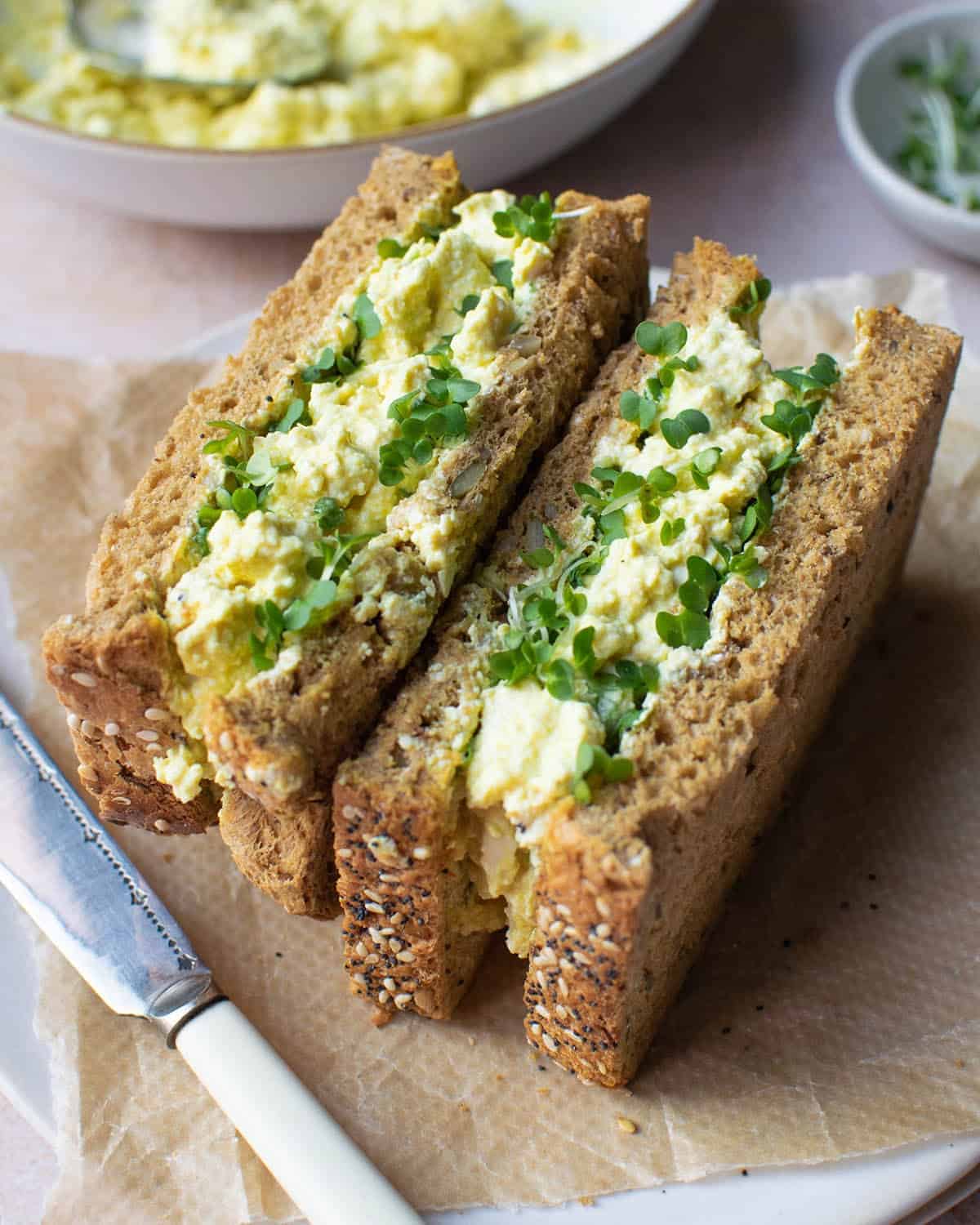 1. Start slow
Going vegan overnight can be overwhelming. Instead, try gradually reducing the amount of animal products you consume.
Start by incorporating more plant-based meals into your diet, and eventually cut out meat, dairy, and eggs altogether.
Easy vegan meals include vegan stew with dumplings, tofu 'egg' mayo sandwiches and even spaghetti bolognese. A slow approach means it's OK if you slip up, it doesn't have to be black and white – there is no such thing as a perfect vegan!
It's a good idea to start by stocking your pantry with plant-based staples like tofu, rice, beans, legumes, nuts, and nutritional yeast. This way, when you're cooking, you'll always have the pantry ingredients needed for a quick vegan meal readily available. And then you'll only need to plan the fresh items that you need each week!
Learning about vegan nutrition can also be useful when switching to a vegan diet. This way, you'll be able to make informed decisions when it comes to food choices.
2. Learn to cook
Cooking your own meals is a great way to ensure that you're getting enough nutrient-rich, plant-based foods. Take the time to learn how to cook a variety of vegan meals, so you won't get bored with your diet. In addition, these Veganuary tips will also help when cooking:
- Get familiar with vegan-friendly ingredients and recipes. Our blog is a great resource, but we also recommend Romy London, Lucy and Lentils and Vegan Larder.
- Invest in kitchen tools that make cooking vegan food easier. Having a blender on hand is always useful for soups and smoothies!
- Create a meal plan for the week, and a shopping list to help you stay on track.
- Try to enjoy the process of cooking, even if it takes longer than usual at first.
- If possible, cook meals from scratch instead of relying on packaged foods.
3. Plan ahead
Planning your meals in advance can help you stay on track and avoid reaching for non-vegan options when you're feeling lazy or pressed for time. Make a grocery list of ingredients you'll need for the week, and make sure you have plenty of snacks on hand.
A balanced vegan diet consists of fruits, vegetables, legumes, whole grains, and healthy fats. It can provide a healthy diet for most people. Additionally, you can try incorporating plant-based protein options into your diet, which often contain many other nutrients too!
4. Find substitutes for your favourite foods
There are many alternative products available in the market now that can replace animal products in your meals. For example, you can use plant-based milk, meat alternatives, and egg substitutes in your cooking. Experiment with different products to find what you like. We recommend:
Milk for coffee: Oatly Barista or Califia Farms Oat Milk Barista
For cereal and porridge: Almond milk for porridge
Vegan cheese: Violife or Cathedral City for vegan cheese alternatives
Artisanal vegan cheese: I'm Nut OK, Honestly Tasty and Palace Culture
Vegan meat alternatives

Sausages: Richmond or Linda McCartney's
Vegan Chicken: This or The No Meat Company
Deli Slices: Squeaky Bean or Quorn
Burgers: Beyond or Moving Mountains

And many more!
- Whole foods options are also great if you don't want processed meat alternatives too. Plant foods like jackfruit, banana blossom and even homemade seitan are great options that aren't processed.
- Look for plant-based recipes to replace your favourite meals, such as vegan shepherd's pie, tikka masala and vegan korma. There are lots of classics on our website...
- Explore vegan restaurants and supermarkets in your area. There will probably be more available than you think! Most places offer vegan options these days.
- Make sure you have vegan snacks accessible for when hunger strikes. Things like granola bars, fruit and vegan yoghurt to name just a few items.
By making these few simple changes, it's easy to try plant foods as part of a vegan diet that offers great variety and great-tasting options.
5. Don't be too hard on yourself
Everyone makes mistakes, and it's okay if you slip up and eat something non-vegan. The most important thing is that you're making an effort and trying your best. When first starting out on your vegan journey you can expect to be shocked by how often milk powder is included in the most unusual food items!
Instead, focus on the journey and learning from the experience. This will help you become more comfortable with vegan food and lifestyle and help to build a solid foundation for the future.
If you slip up, reach out to the vegan community for support and advice. If you're feeling stuck or unsure, don't hesitate to reach out to other vegan individuals for support and advice.
These communities can provide valuable guidance and insight into the vegan lifestyle, which can make it much easier to navigate and enjoy plant-based eating. Take advantage of vegan resources such as cookbooks, blogs (like this one!), and videos (like on our Instagram page!).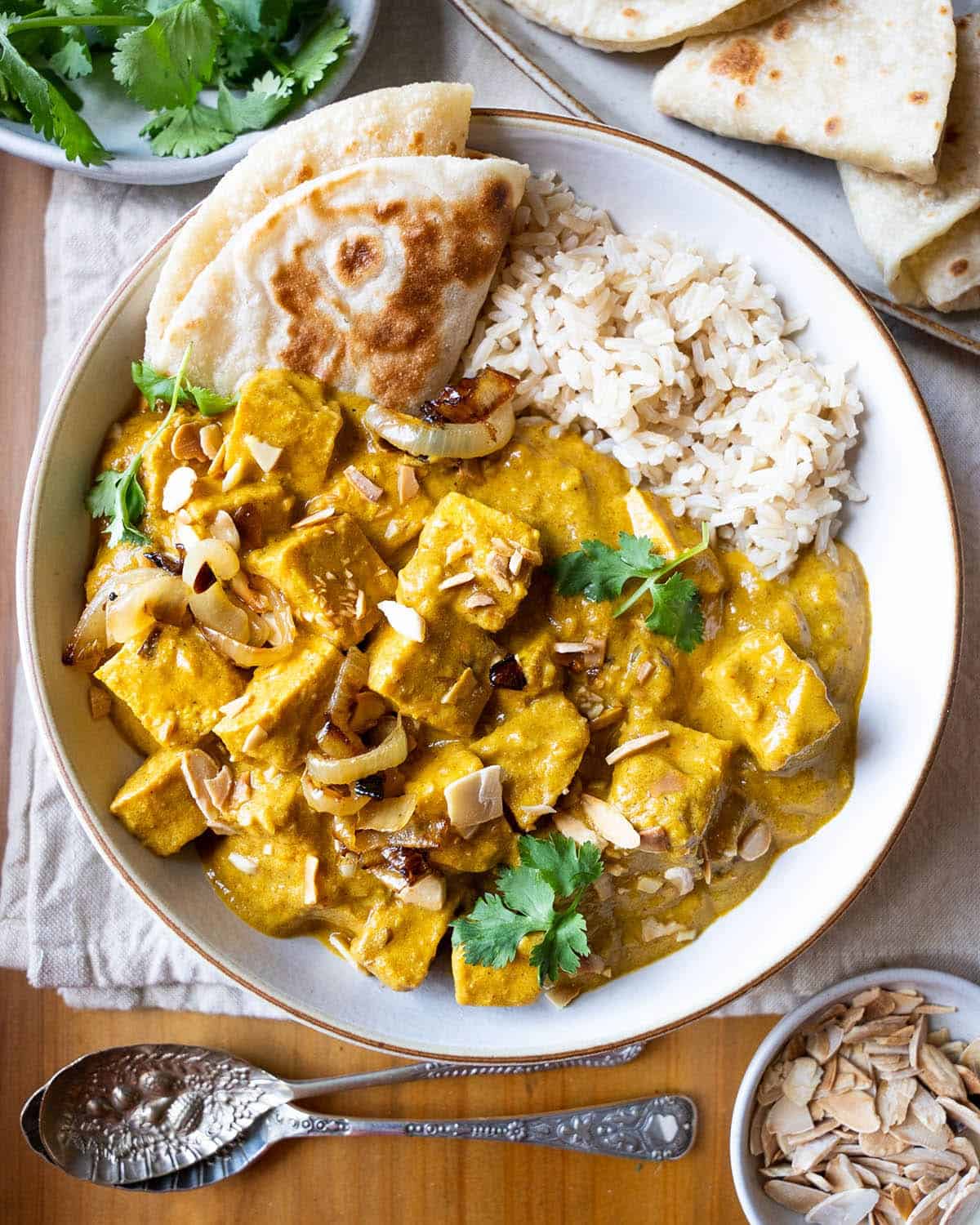 6. Make your favourites
Start by finding vegan alternatives to your favourite foods. You can try vegan versions of your go-to meals, such as burgers, chicken, and ice cream.
If you're new to vegan food, try experimenting with plant-based proteins like tofu, tempeh, and seitan. These foods are easy to cook and can be used in many different recipes such as this lentil bolognese, tofu stir fry, tempeh nasi goreng and seitan curry. That way, any craving you might have can be satisfied with a vegan option!
7. Be open minded
Going vegan doesn't mean you have to give up all your favourite foods. Be open to trying new foods and new ways of cooking, and you might be surprised at how delicious plant-based meals can be.
Try to experiment with different ingredients and flavours. Try vegan versions of your favourite foods and recipes, such as vegan chicken nuggets or burgers. You can even look at it as as a fun activity. It's fun to experiment with new ingredients and spices to create unique dishes! Maybe like this gochujang tofu or this miso baked aubergine.
If you feel like it, you can even get creative and make your own unique dishes.
8. Vegan books & cookbooks
There are loads of vegan cookbooks out there that feature recipes that are easy-to-prepare. Our favourites include Rebel Recipes, Dirty Vegan, Bosh! and Ms Cupcake for all the best vegan cake recipes (that actually work!).
A good vegan cookbook should contain easy step-by-step instructions, beautiful imagery and maybe even meal planning tips. Take time to research which cookbook is best for you, as this will help you create delicious and healthy meals with plant-based foods. Check out this list of best vegan cookbooks for beginners for inspiration.
When browsing vegan cookbooks, you can also look for books that include advice on vegan shopping and dining out. This will ensure you have the knowledge and resources needed to make vegan eating easy and enjoyable wherever you are!
Lastly, invest in cookbooks with high-quality photographs of the dishes they feature. This will help guide your choice of recipe to make, and give you a good idea of what the meal should look like once it is ready!
9. Learn about nutrition and food labels
It's important to ensure that you're getting all the nutrients you need when you switch to a vegan diet. Make sure you're getting enough protein, iron, calcium, and other essential nutrients like vitamin B12 and omegas. Learn about plant-based sources of these nutrients, such as lentils, tofu, and fortified plant-based milk, as well as supplements. The Vegan Society have a lot of nutrition resources that are written and verified by their in-house vegan dietician.
It's also important to understand key vegan food labels and certification logos. Look out for the vegan trademark logo as this is a standard measure that is used around the world. If it's certified by the Vegan Society, then it is safe for a vegan diet and saves reading through all the ingredients on the package!
Often, nutritional labels will include allergens like dairy and eggs in bold on food packaging. This is an easy way to check if something is vegan without spending too long reading the small print.
However, honey, flavourings and even some vitamins may not be vegan and they won't be highlighted in bold. Learning about these nuances will come in time. Read nutrition labels carefully at first to make sure the item is indeed vegan. After a while, this will become second nature and will be a lot easier as you get used to different products.
Lastly, check out this Vegan Cheat Sheet. A free (and huge) resource of almost anything you can think of to do with veganism!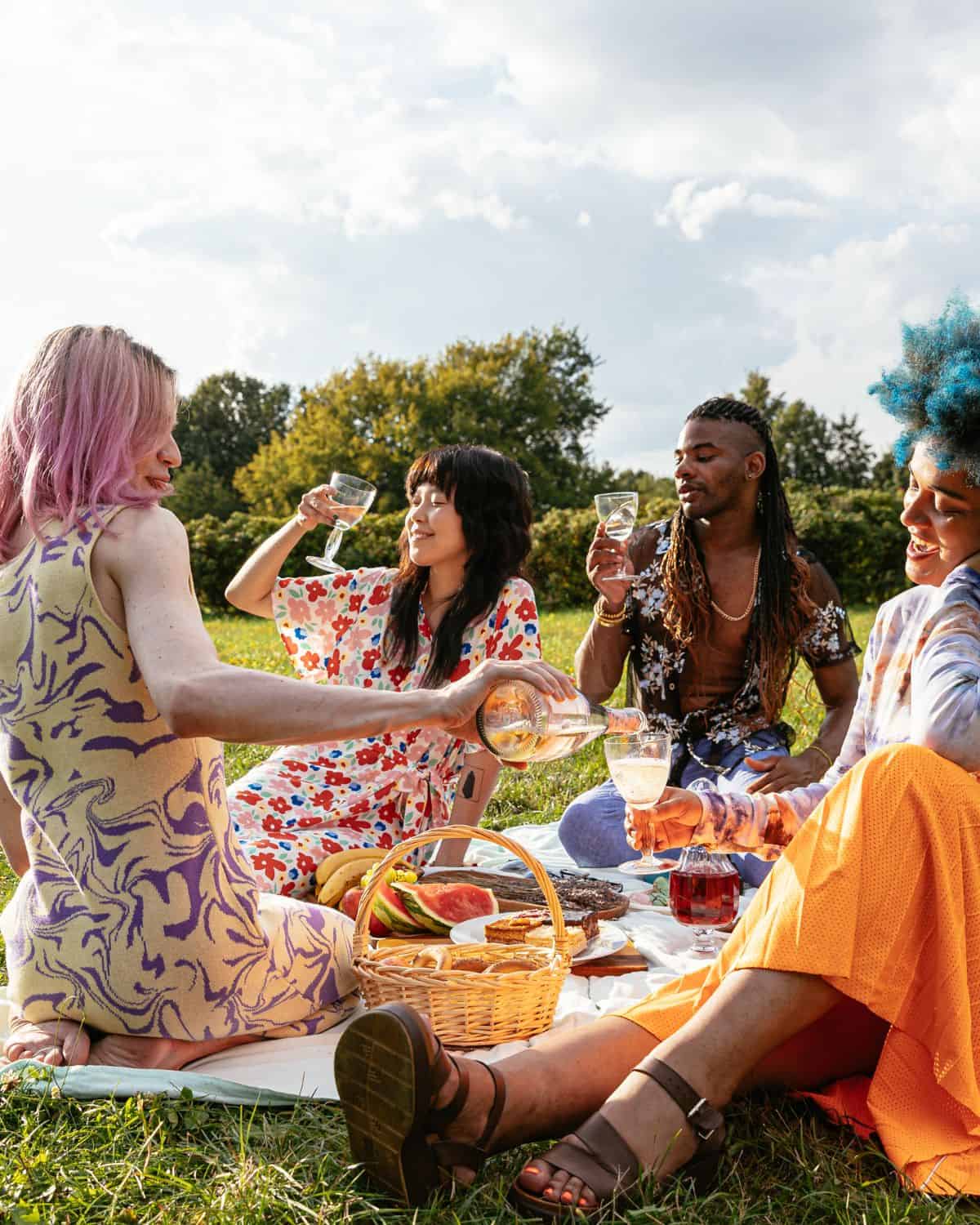 10. Find a support system
Going vegan can be challenging at first, especially if you're surrounded by people who don't understand or support your decision. Find a community of like-minded individuals, whether it's online or in person, to help you stay motivated and on track.
Try joining vegan Facebook groups to connect with like-minded people and get advice from experienced vegans. This will help you learn more about a vegan lifestyle and you may even make some new friends. We recommend Rate My Vegan Food and Vegan Food UK on Facebook.
Follow vegan content creators and influencers on social media for inspiration and motivation. This can provide motivation to stick to the diet even when it gets difficult.
Not only will you learn about vegan lifestyle, but also be reminded of why vegan food is great and how everyone benefits from eating it. We share daily vegan food videos on our Instagram, and also recommend The Korean Vegan, Sauce Stache and Greg's Vegan Gourmet.
Visit vegan-friendly restaurants or look up local vegan events in your area, there are often meet-ups arranged on Facebook groups for local vegans. It's always great to meet people in real life who have a similar outlook to you.
11. Be prepared to answer questions
People will likely have questions about your decision to go vegan, and it's important to be able to articulate your reasons clearly. Whether it's for health, environmental, or ethical reasons (or a combination!), be prepared to talk about why you've made this choice. Check out these vegan conversation tips.
Start by reading books, watching documentaries, and seeking out resources that can teach you more about veganism. This can help you to find your 'why', which will be key to helping you to remain vegan as well as make it easier to talk about in general conversations.
Vegan Boot Camp is a free resource that helps with going vegan in all areas, as well as offering a vibrant community of people interested in veganism.
Have fun!
Remember that going vegan is a journey, and it's important to enjoy the process. Try new recipes, explore new restaurants and enjoy the benefits of a plant-based lifestyle.
FAQs
What are some tips for transitioning to a vegan lifestyle?
Start slow – begin by adding more plant-based foods to your diet and reducing your consumption of animal products. Try vegan alternatives such as tofu, tempeh, seitan, and dairy-free milk and cheese. Find vegan versions of your favourite recipes online that replicate your favourite meals, to ease yourself into it.
What is the 7 Day vegan Challenge?
The 7 day vegan challenge is a fun way to try veganism for the first time. Much like Veganuary, it's a fun way of trying to be vegan, without any pressure. A great way of dipping your toe in the vegan waters and seeing how it feels!
How does it feel being vegan?
A lot of people report having lots more energy, feeling clear-headed, sleeping better and even notice improvements in their skin! This is quite common. Feelings can change from person to person, and will depend on the type of vegan diet an individual is following. Consuming a wide variety of fruits and vegetables will most likely feel differently to a more limited diet that consists of only bread, potatoes and meat replacements. We recommend following a balanced diet (everything in moderation!) but we're not dieticians, and what works for one person may not work the next person. So speaking with a registered dietician would be a good idea if you're looking for professional advice.
Can I get enough protein on a vegan diet?
Yes! There is plenty of protein in vegan foods. Beans, legumes, tofu, tempeh, pulses, grains, seeds, nuts, and even vegetables and meat alternatives. There are also loads of vegan protein powders out there too. With a little bit of thought and planning, it's easy to get enough protein on a vegan diet.
Is there a difference between eating vegan and eating vegetarian?
Yes. Eating vegan means no animal products – that includes meat, dairy, eggs, honey and anything else that might be derived from animals. Being vegetarian means not eating any animal flesh, but vegetarians do eat dairy, eggs and honey.
Summary
Like many movements, veganism has seen its fair share of controversy. Due to its moral underpinnings, veganism has been criticised as being restrictive and difficult.
Critics have also accused vegans of pushing their diet on non-vegans or judging them for not following it (no judgement here though, and we don't subscribe to this idea of veganism). However, we hope this article has shown it doesn't have to be that way.
We hope these 11 Veganuary tips have given you a better understanding of veganism and how to get started on your vegan journey. If you're thinking of going vegan, we hope this helps you make the decision.
Remember, it's not about being perfect but doing your best. There are vegan-friendly options everywhere nowadays - just plan ahead and find substitutes for dairy products, meat, and eggs in your favourite recipes. Happy vegan-ing!