Hands up if you love roast dinners! Well, if you put your hands up like we did, you're in luck. As we're vegan roast dinner super fans, we cook them up all the time. So, prepare yourself for a drool worthy list of vegan Sunday roast inspiration.
There's a lot to get through, so you may find you have Sunday dinners planned for the rest of the year after reading this article!
Jump to:
What is a Vegan Roast Dinner?
Let's begin with definitions. A vegan roast dinner is one of the greatest dinners ever! It's a British classic, and a reason for families to get together on Sundays.
Usually people (families and/friends) will gather for a Sunday roast. It will consist of a main (usually meat based), roast potatoes, vegetables and other delicious side dishes like Yorkshire puddings, stuffing and 'pigs in blankets'. It's often a large dinner. And why not? Who doesn't deserve a delicious treat on a Sunday, after the working week?
Basically, if you can throw it in the oven and roast it, it can go on your Sunday roast!
As this is a plant based blog, we'll show you lots of different options to replace the meat in a roast dinner. Things like nut roasts, vegan wellingtons and fake 'meat' joints made from seitan, tofu or tempeh are all great options.
For the potatoes, these are super easy to veganise. Of course, potatoes are a vegetable and so are naturally vegan. It's how they're cooked that often makes them non-vegan. Instead of using duck fat we opt for olive oil to roast our potatoes, but there's a lot of tasty options to choose from. We'll go through them below.
The other veggies in a vegan roast dinner are also often roasted. Carrots and parsnips are roasted in a delicious glaze or dressing. Often using honey, but an easy swap is to use maple syrup instead, then it becomes plant-based!
We'll take you through our favourite vegan roast dinner menu now…
How to make the best roast dinner
This is our favourite menu for the best vegan roast dinner. This is actually what we make as a go-to vegan Sunday roast at the VP HQ. We also add vegan gravy, as any roast dinner would be incomplete without it. Psst! If you don't fancy making your own, Bisto original (and the low salt version) is accidentally vegan!
Our vegan Cheesy Cashew Nut Roast is a winning centrepiece.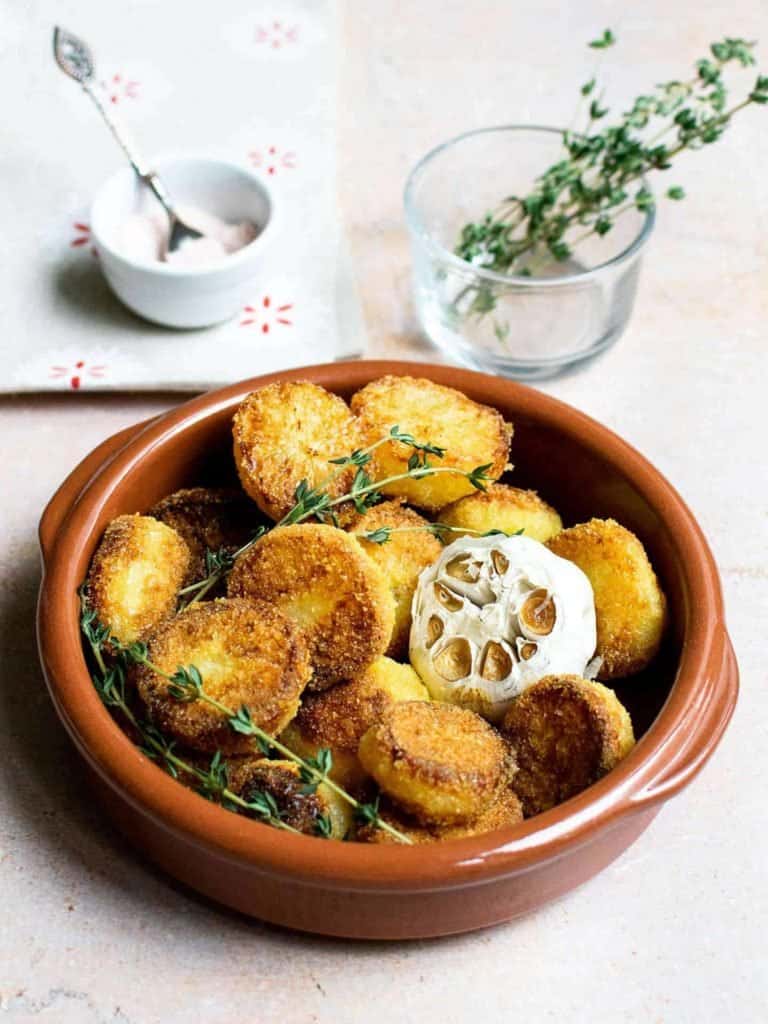 Vegan Roast Potatoes have never been this easy to make or delicious!
Vegan Yorkshire Puddings made easy. Perfectly crispy on the top, yet a little doughy on the bottom!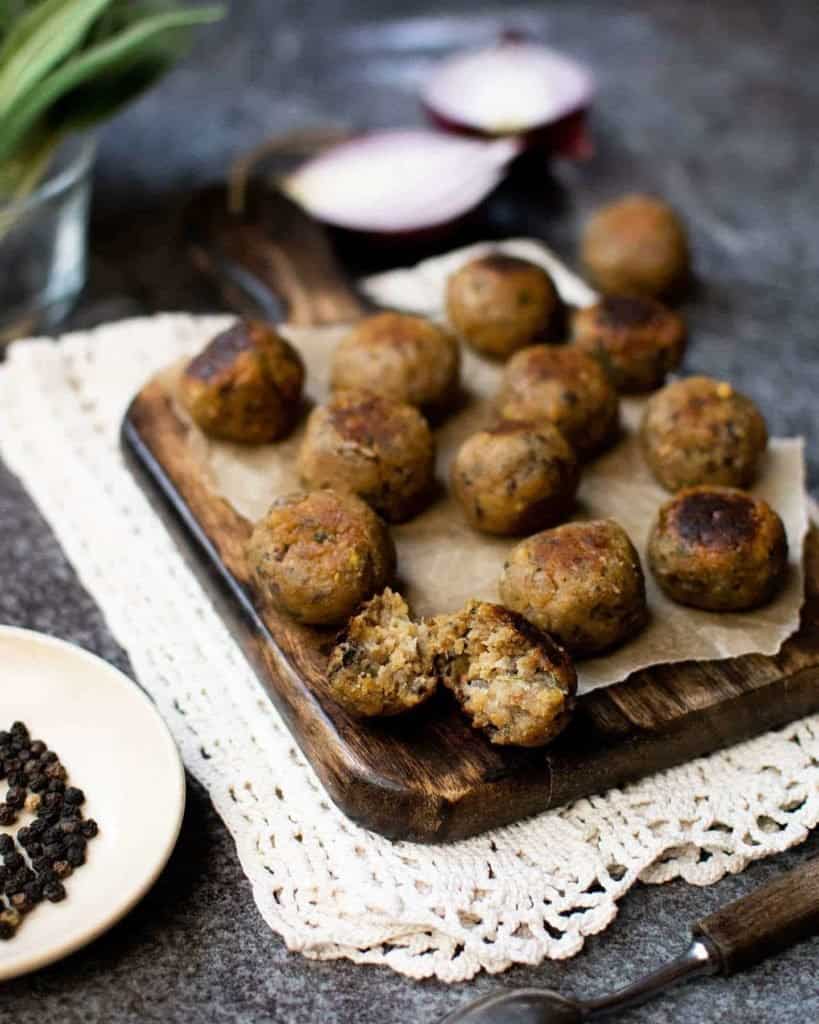 This is the best Sage and Onion Stuffing recipe ever!
A Vegan Cauliflower Cheese that's perfectly creamy and cheesy, yet totally vegan!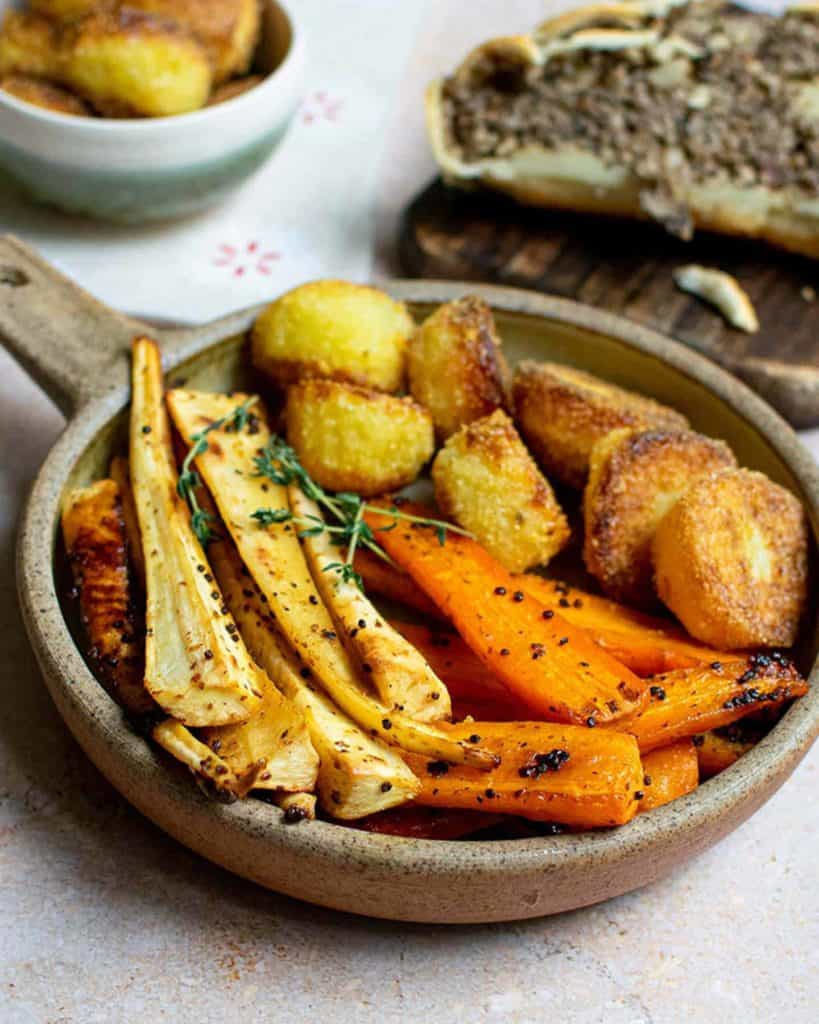 A deliciously Sticky Maple Roasted Carrots and Parsnips recipe.
Swede, or Rutabaga, can be often overlooked but we love it mashed! Try our buttery swede mash recipe.
Bruseels Sprouts, love or hate them, this miso and maple roasted version is perfect.
Buttery leeks and cabbage in just 25 minutes!
Mains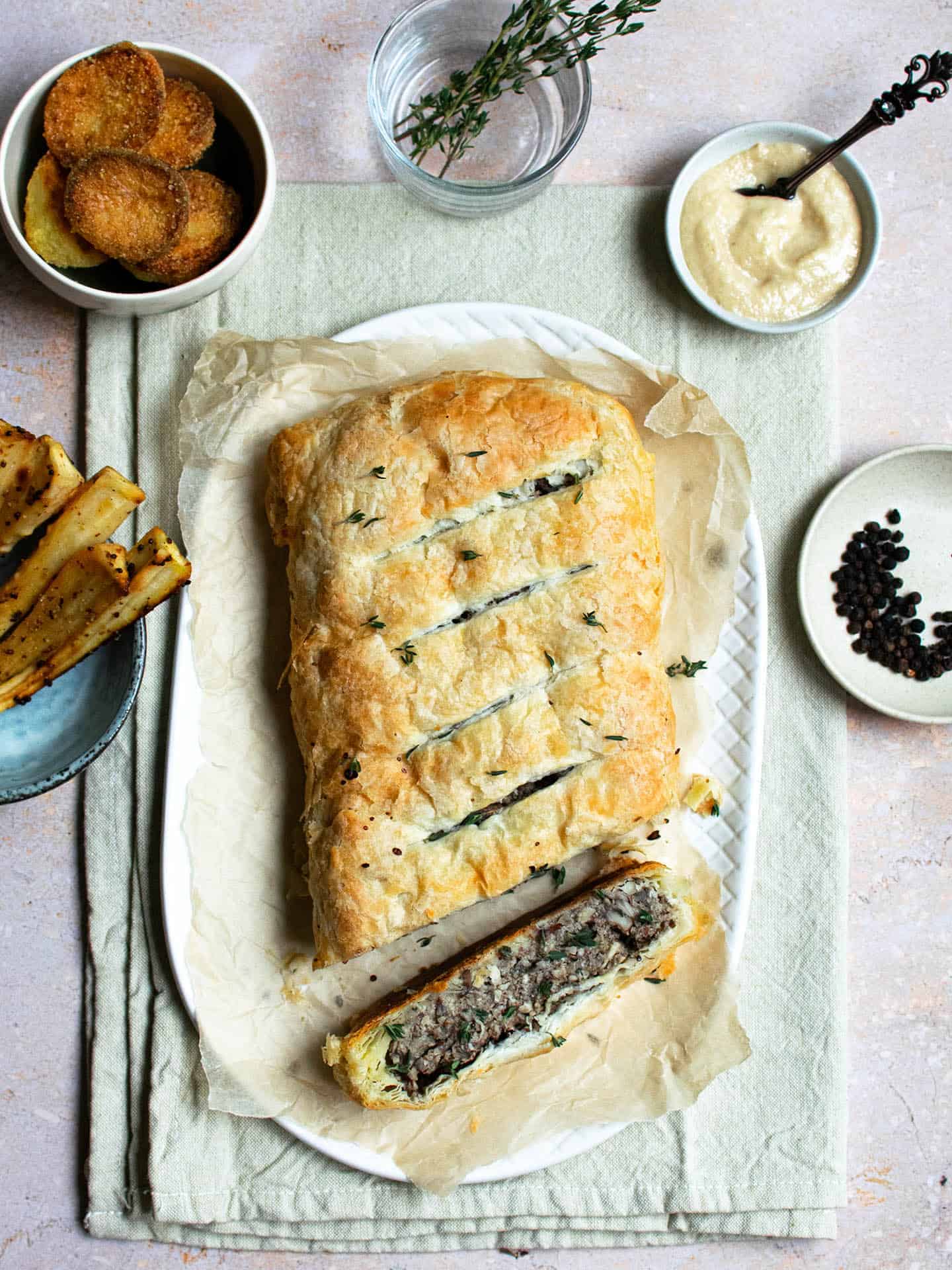 Vegan Mushroom Wellington is one of our favourite recipes for a vegan Sunday roast. It's also a fan favourite. Lots of our readers make it on Christmas Day. It's super easy to make and crazy delicious. Plus, it's ready in under an hour!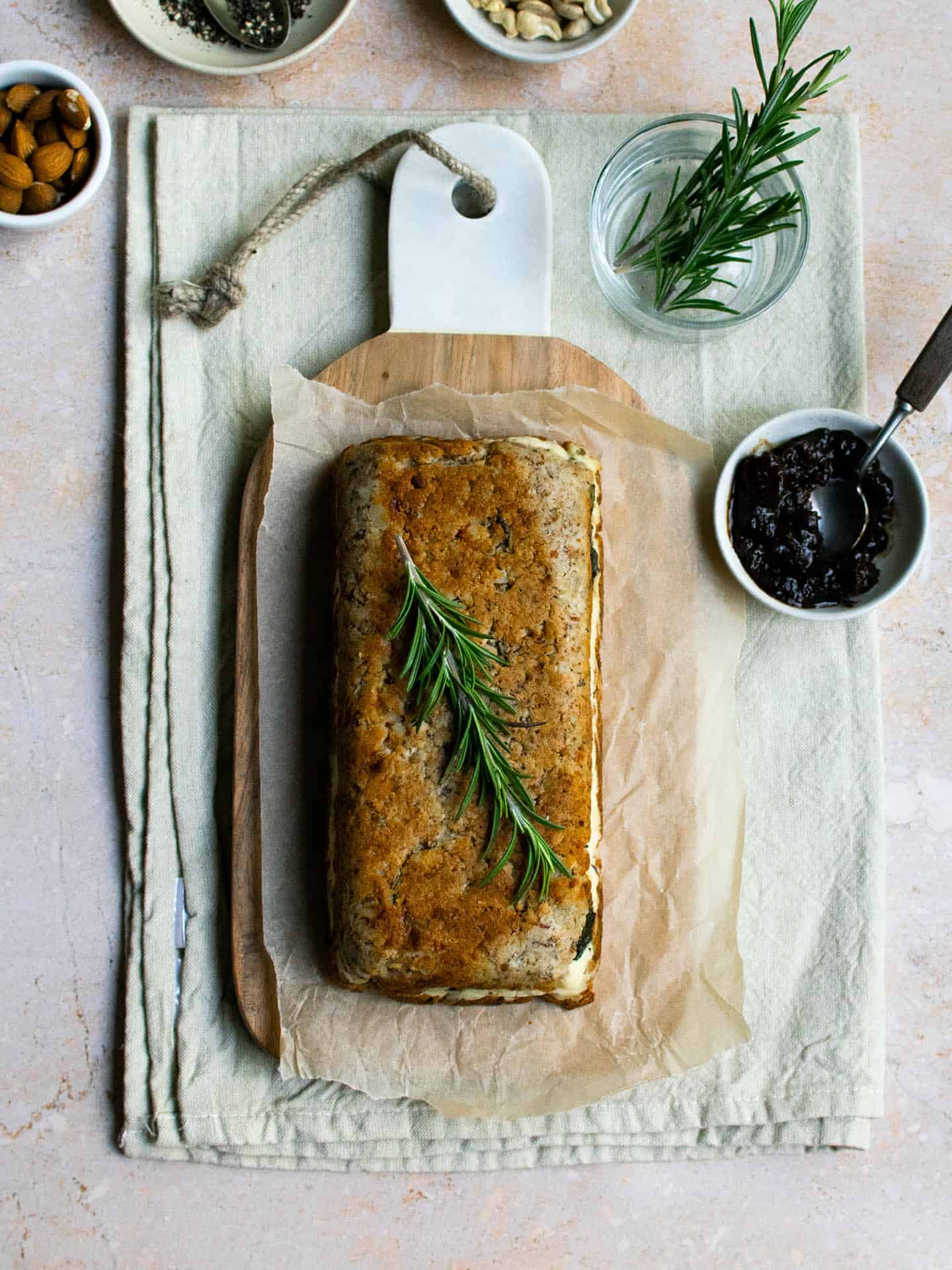 This isn't any old nut roast! We wouldn't do you dirty like that. This vegan nut roast has a cheesy layer in the middle, and this makes it the best ever nut roast in the history of nut roasts. To cut to the chase, we think you should try it!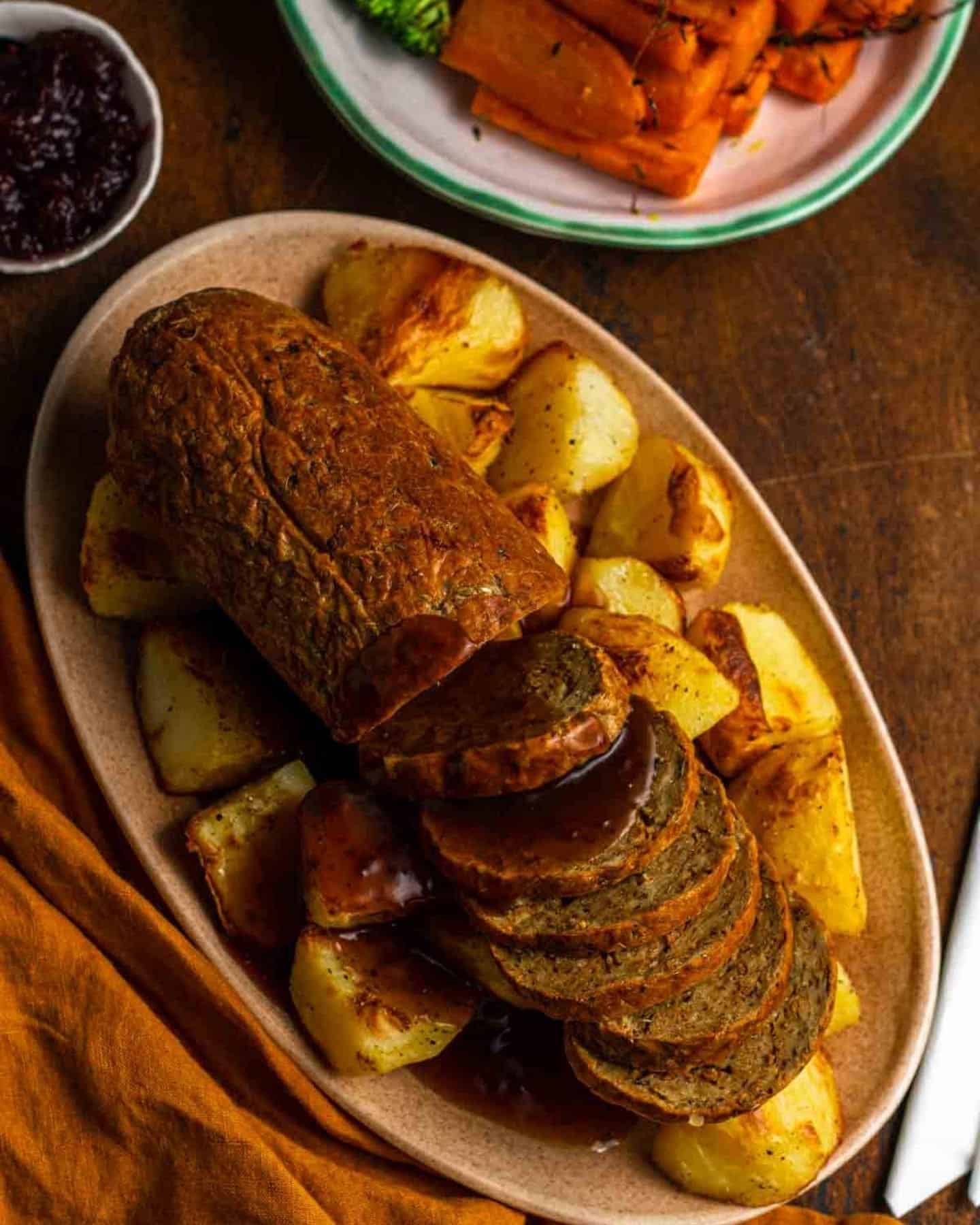 Super savoury with just enough chew, this umami-rich, seitan roast is a mad tasty Sunday roast centrepiece.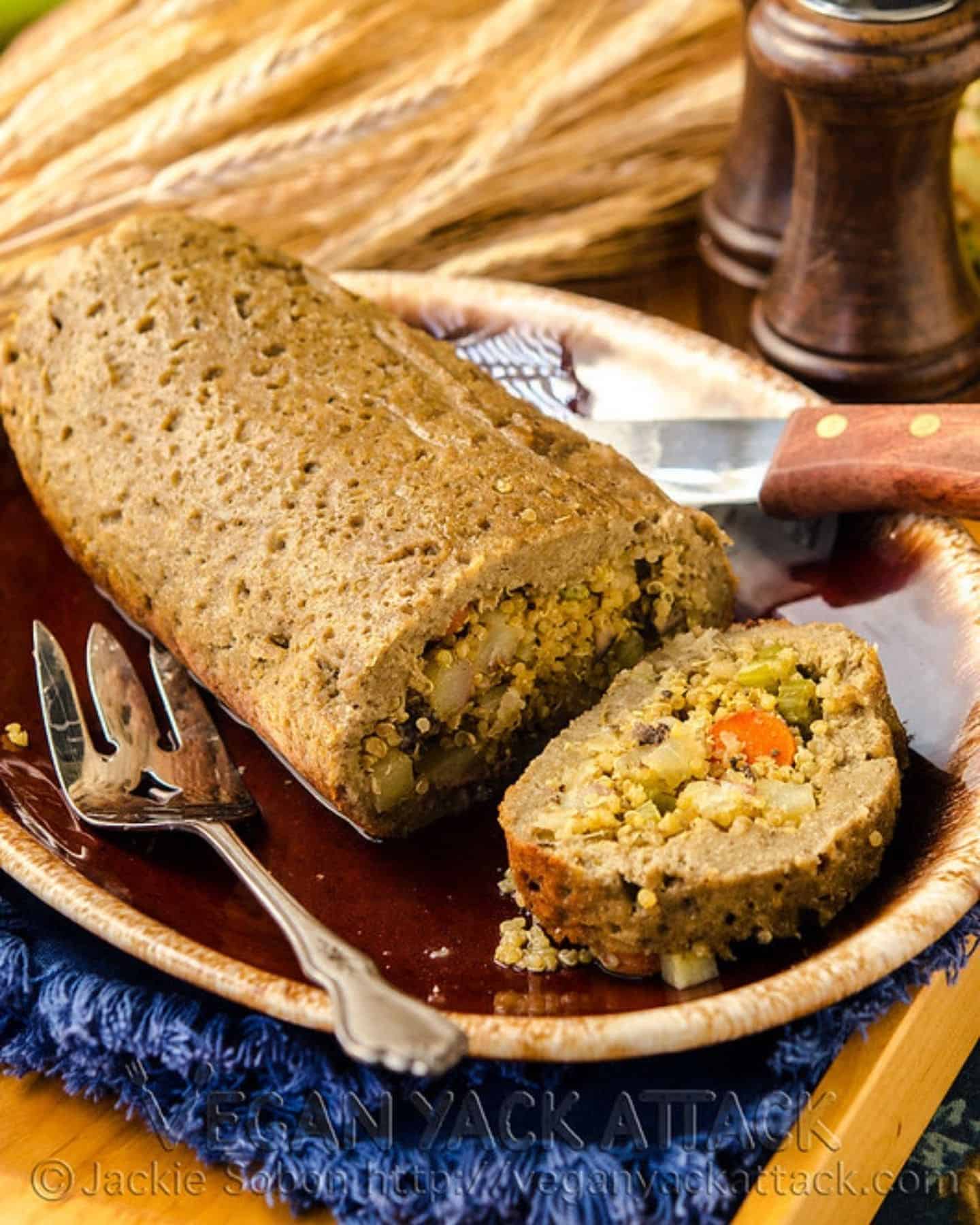 This is a beautiful stuffed seitan roast that's fit to be the centerpiece of any vegan roast dinner! And the quinoa stuffing is a healthier twist on a classic.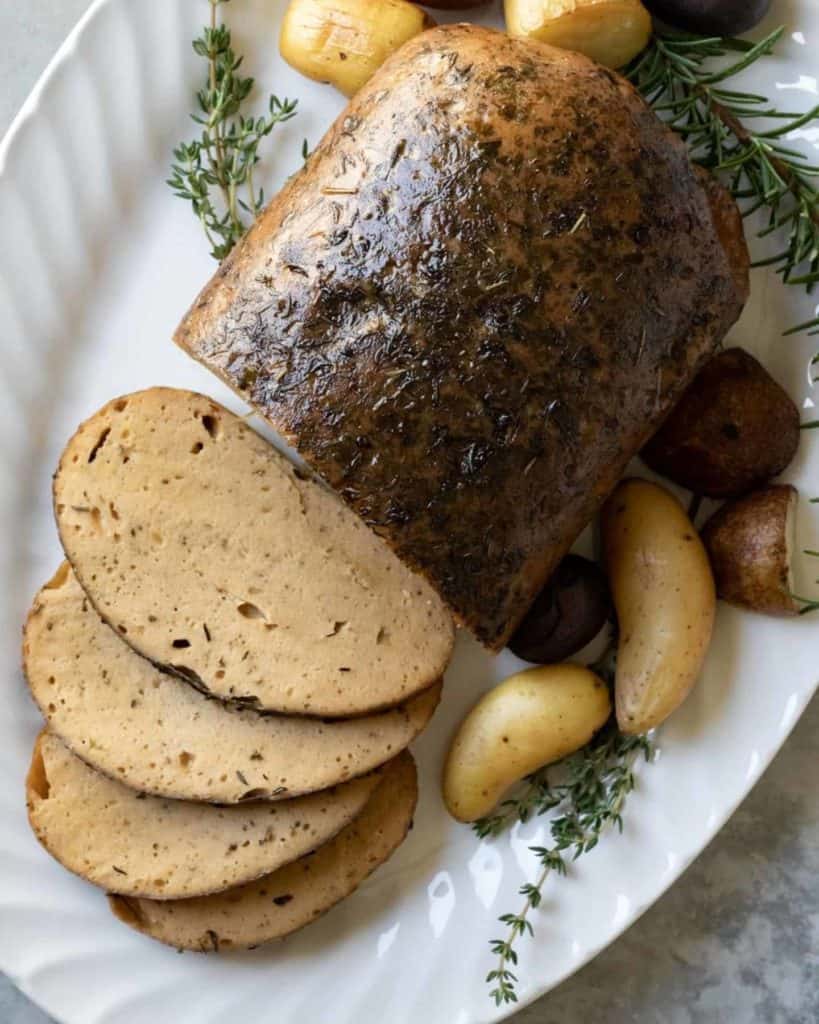 Complete with herb-rubbed skin, this seitan turkey-style roast is moist and tender, and it even shreds! Leftovers taste amazing in sandwiches and other dishes.
This is a simple gluten-free vegan lentil loaf recipe that requires only well-known ingredients. It's hearty, holds together well and is full of flavour.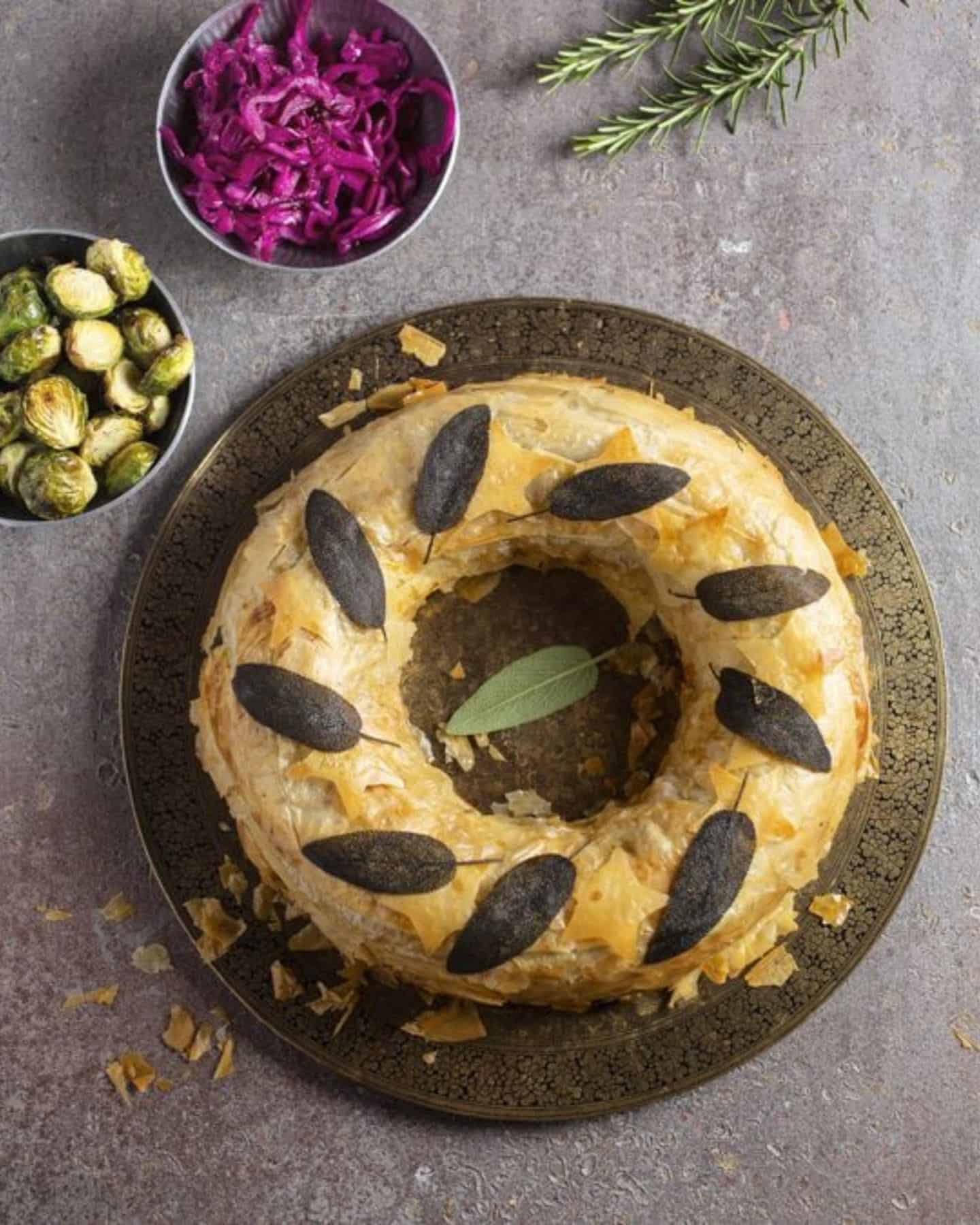 Although in the shape of a wreath, this dish can be made all year around! It's totally vegan and delicious, and made by one of our good friends, esteemed plant-based chef, Erin Baker from The Natural Cookery School.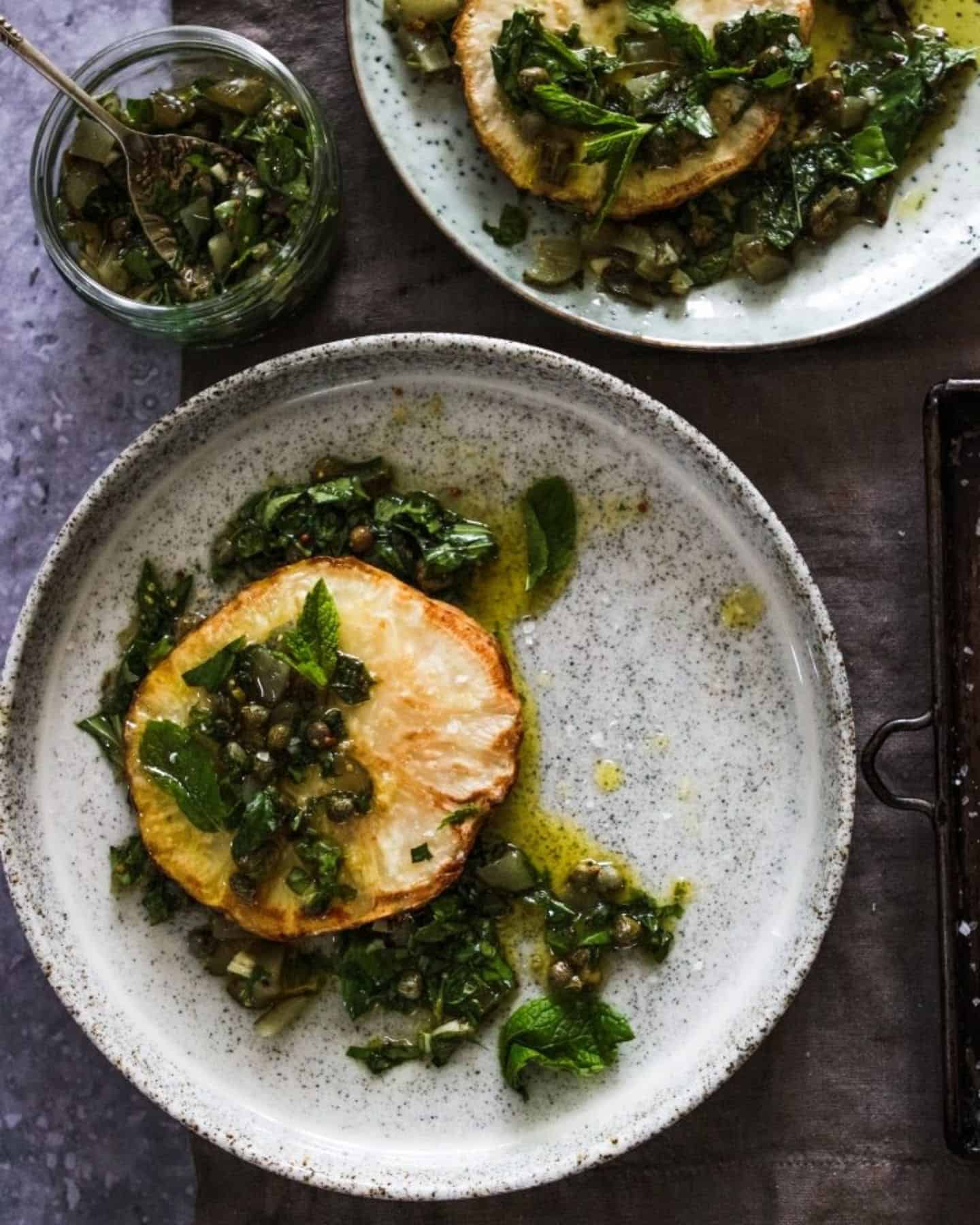 Celeriac is often overlooked, but one of our favourite bloggers, Niki Webster from Rebel Recipes has turned it into a fantastic centrepiece for a roast dinner. Although, I must admit, celeriac is not one of my favourite recipes, Niki is most likely to be able to turn it into something truly incredible!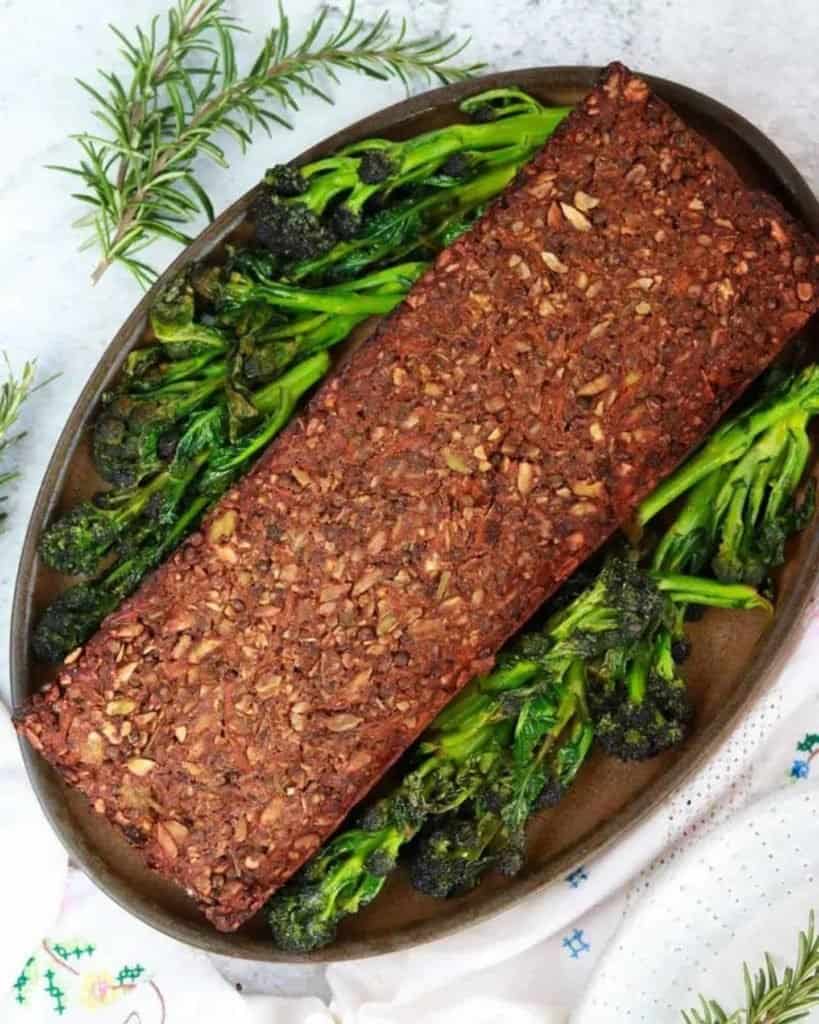 This nutless roast is a main dish idea without - you guessed it - nuts! Great for anyone with allergies and perfect for a roast that caters for everyone.
Potatoes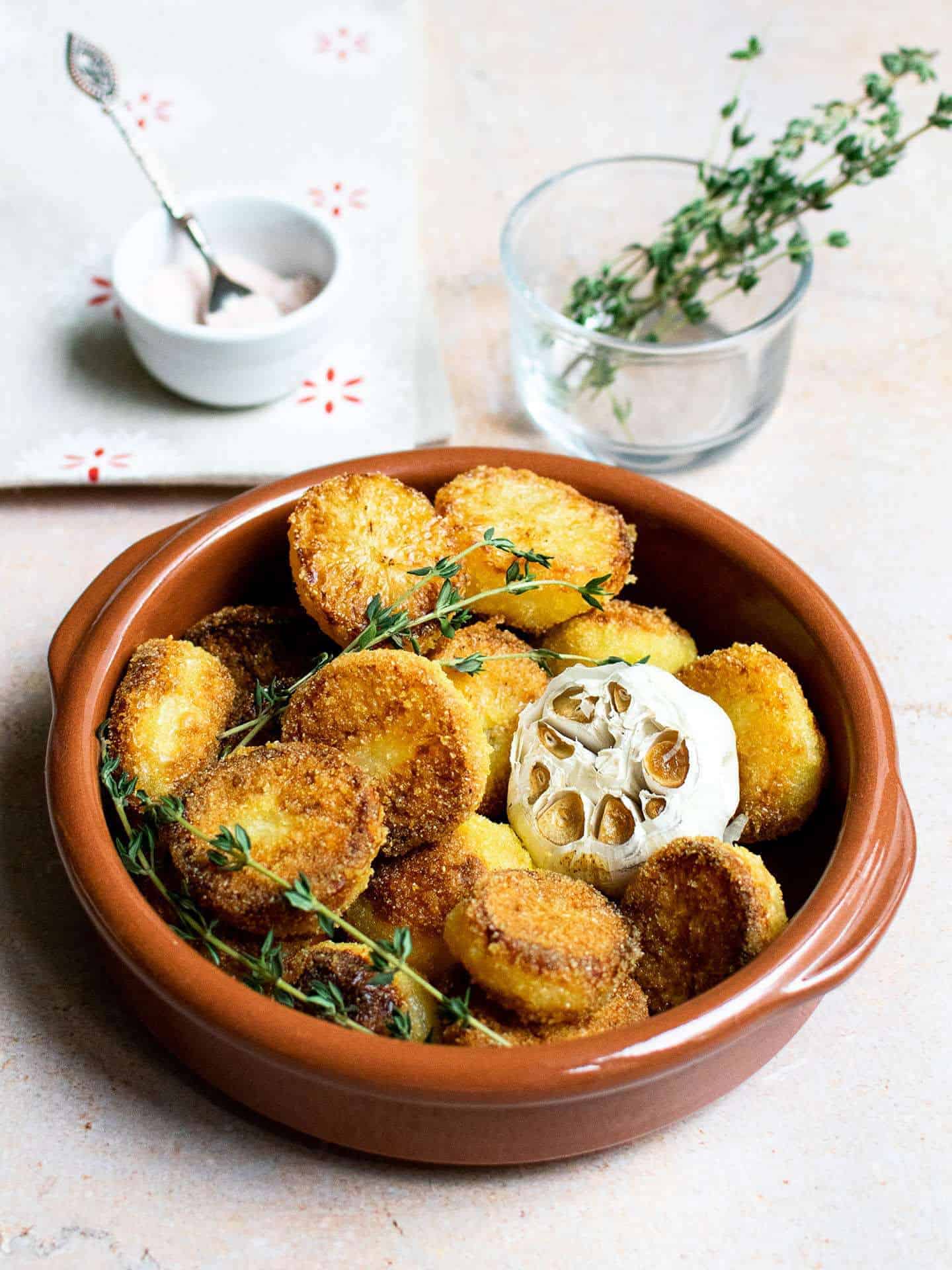 Our vegan roast potatoes are the greatest way to make them! With a crunchy polenta coating and a perfectly fluffy inside, you're bound to be impressed. They only take 50 minutes to make!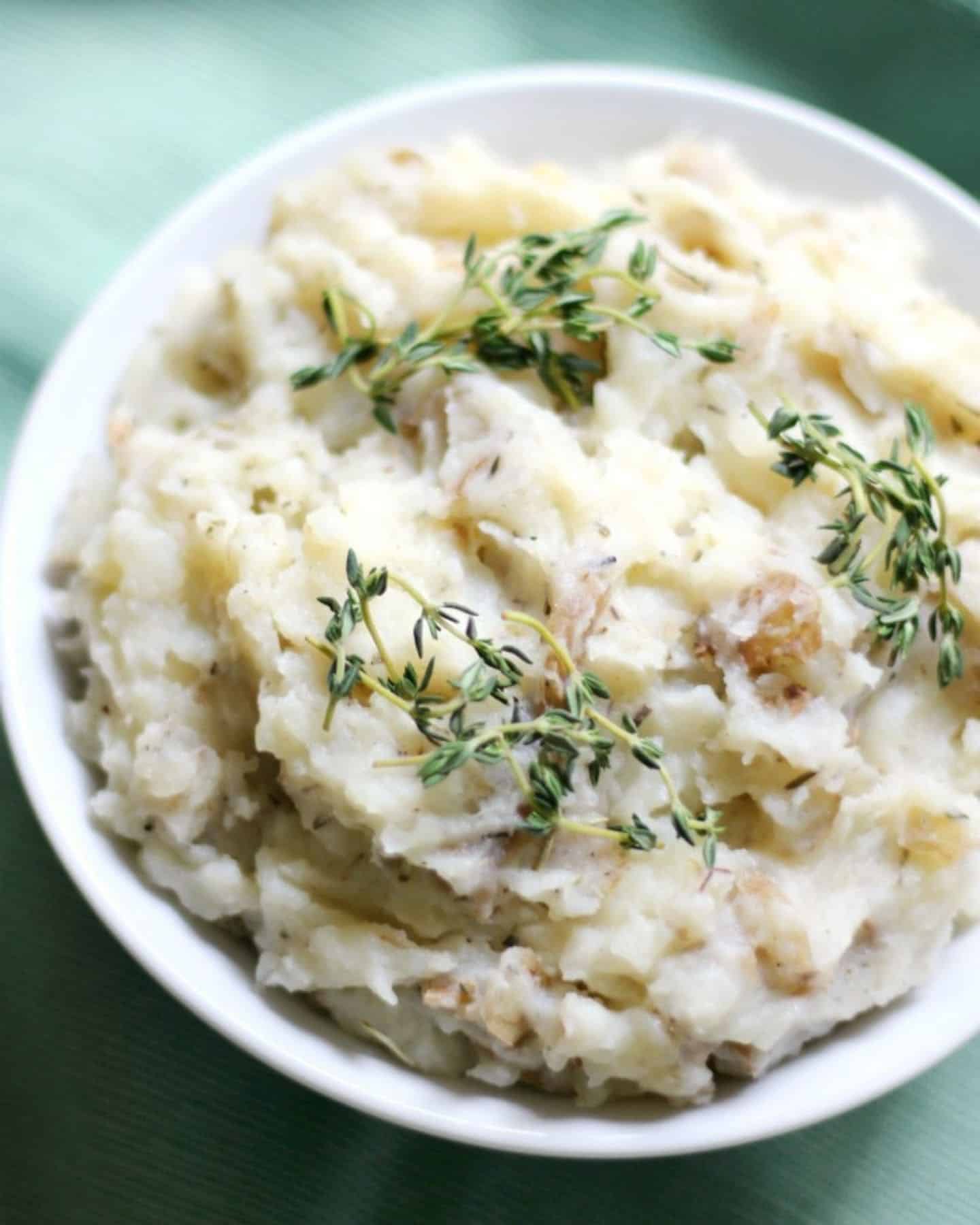 An easy and delicious dinner side dish recipe for Rustic Rosemary Thyme Mashed Potatoes! They're gluten-free, vegan, paleo, and top-8 allergy-free; perfect for a vegan roast dinner or as a simple healthy take on some good ole' comfort food!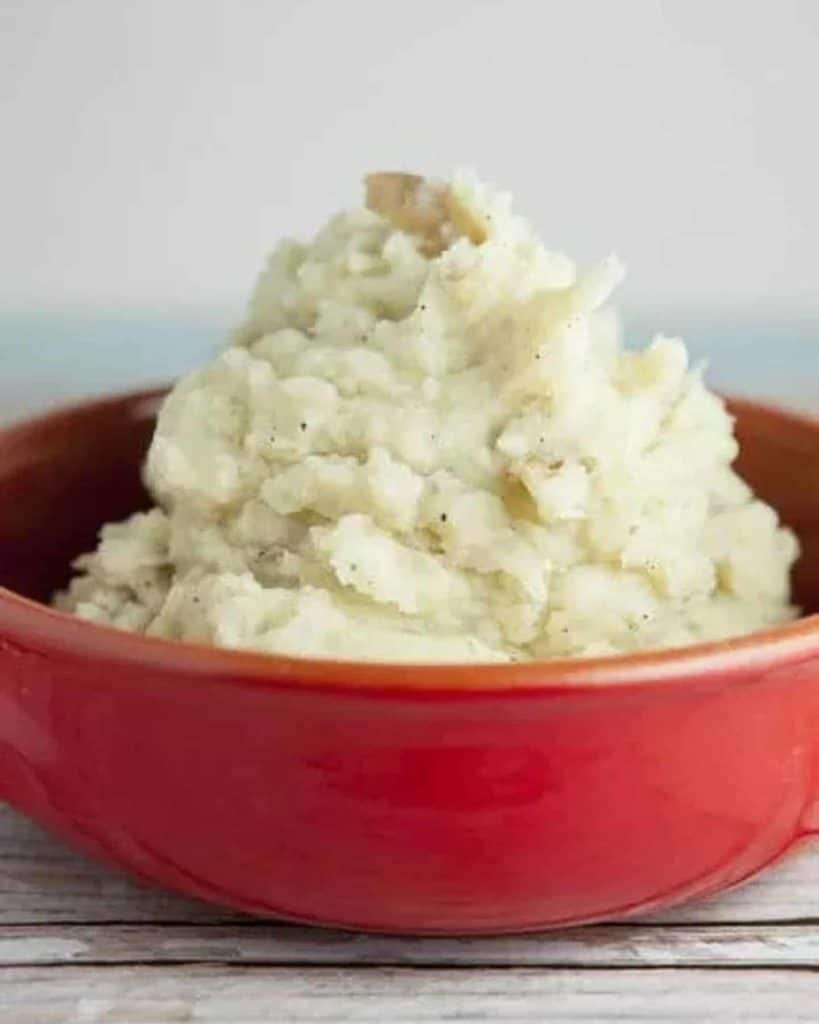 These creamy garlic dairy-free mashed potatoes are great! Enjoy this easy to make vegan mashed potatoes recipe that uses broth and olive oil instead of milk and butter.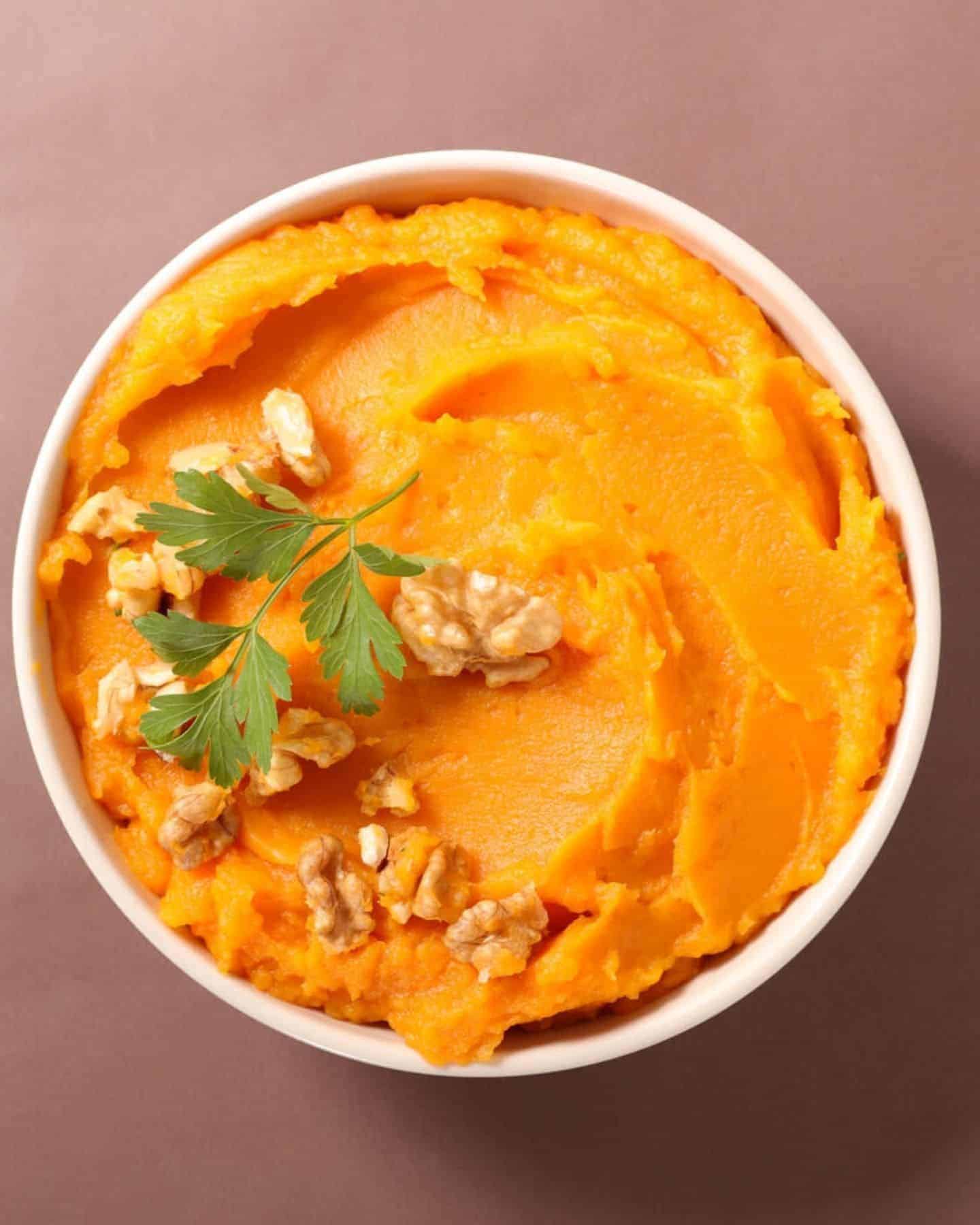 Let's not forget about sweet potatoes! Mashed sweet potatoes are the perfect side for any vegan roast dinner. And a great alternative to mash made with white potatoes! They're simple to make, pretty healthy, and super delicious.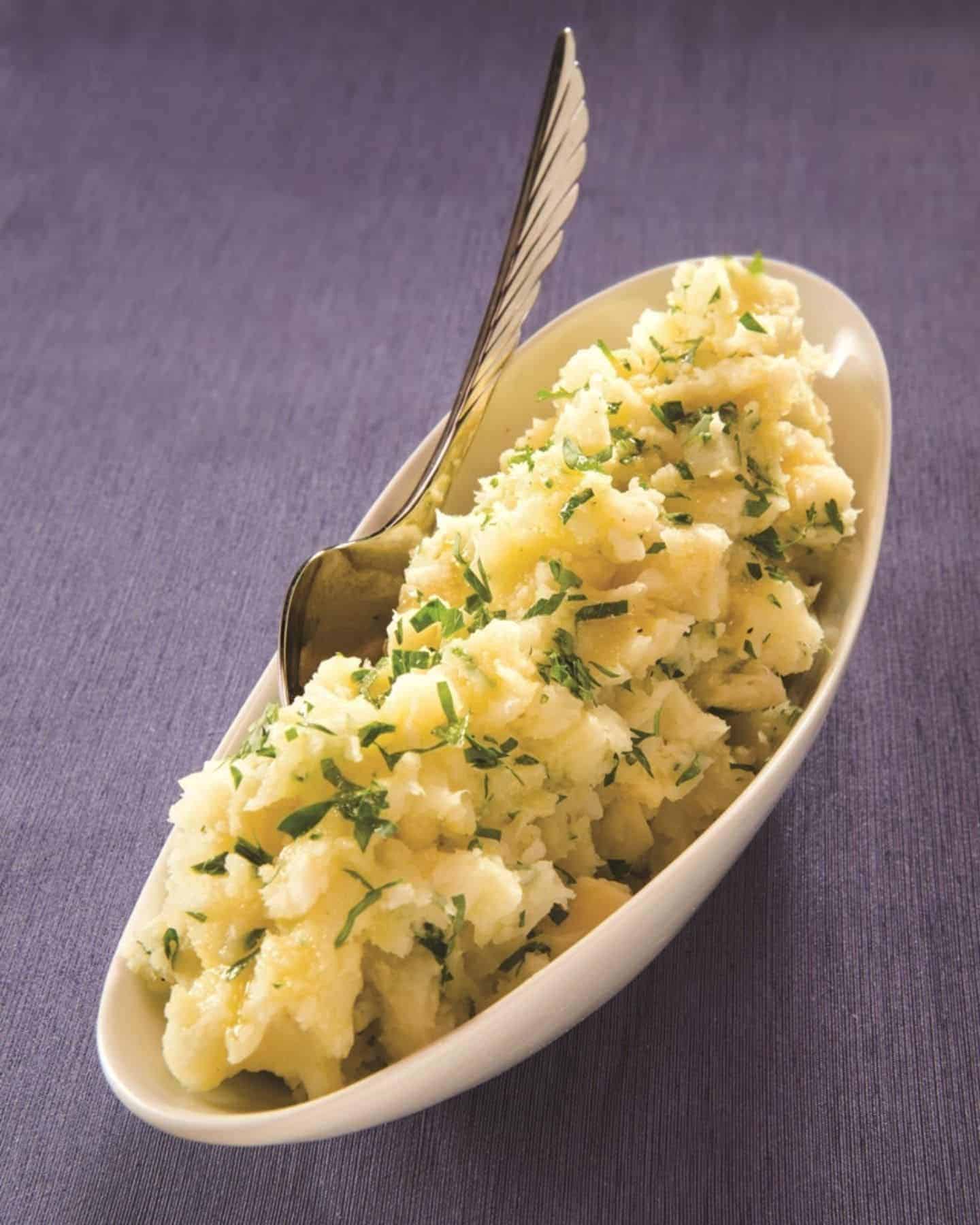 Move beyond plain old mashed potatoes with these smashed potatoes with parsnips. The recipe includes a garlic-infused olive oil for extra flavour.
These scalloped potatoes are pure comfort food. They're slightly crispy on top with luscious, saucy layers below. These will surely take your vegan roast dinner to the next level!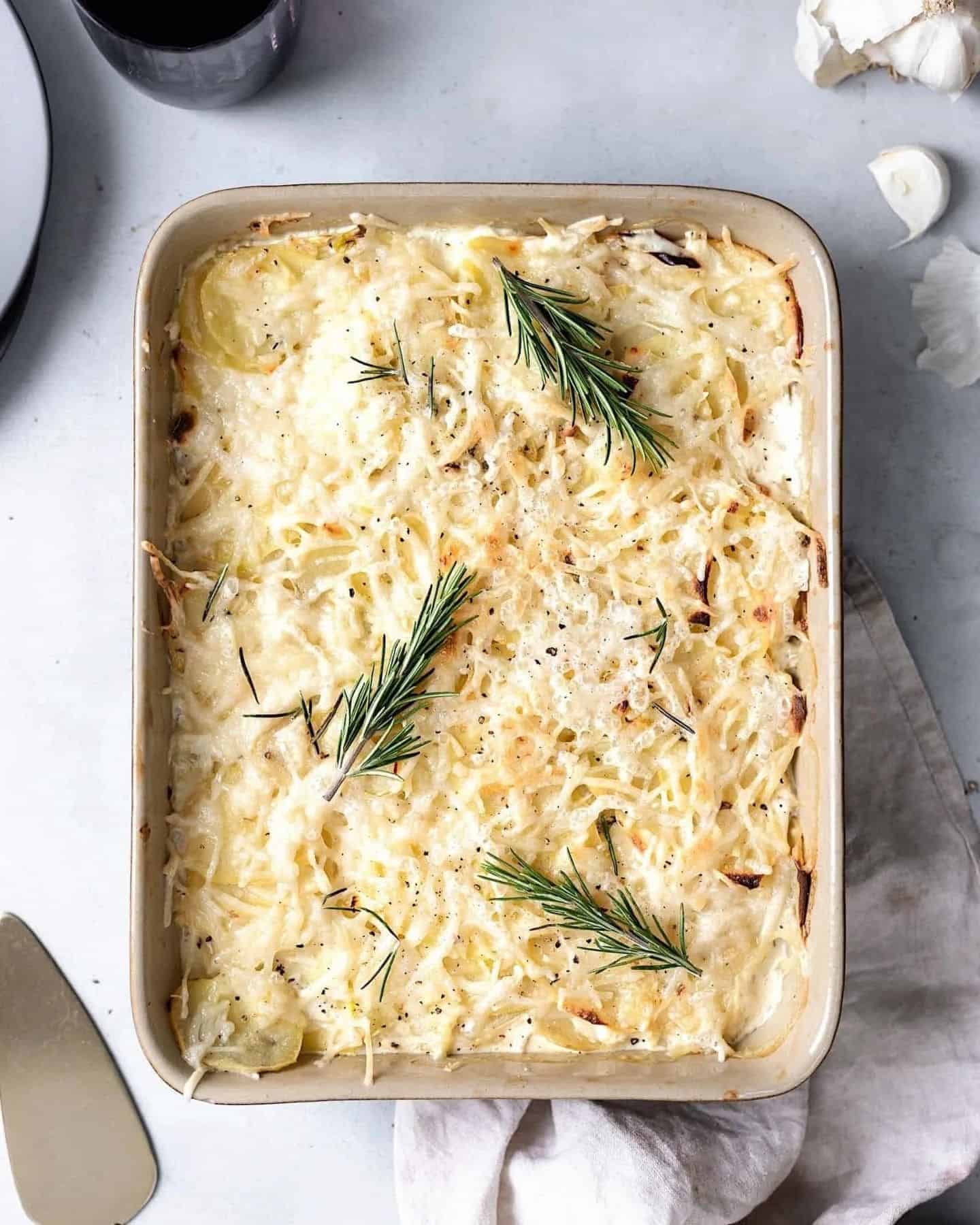 This creamy leek and potato dauphinoise is the perfect side dish for a vegan Sunday roast!
Parmentier Potatoes are a classic French recipe that consists of cubed potatoes roasted in garlic and herbs. These gold, crunchy cubes are seriously more-ish! A great alternative to roast potatoes, but just as delicious.
Extra Special Sides
It wouldn't be a Sunday roast without vegan Yorkshire puddings! We tested and tested this recipe until it was perfect, as we were desperate to recreate the Yorkies that we know and love. Give them a go, but don't forget to read all of our pro tips to make sure they're successful!
This sage and onion stuffing recipe needs just four ingredients, and it's way better than the packet stuff! We love Paxo as much as the next person, but homemade is so much better.
A vegan roast dinner would be incomplete without gravy! Whip up this rich vegan mushroom gravy in minutes. It calls for easy to find ingredients and contains no oil or butter, not that you can tell! Creamy and full of flavour, this is a great gravy for everything from mashed potatoes to Yorkshire puddings.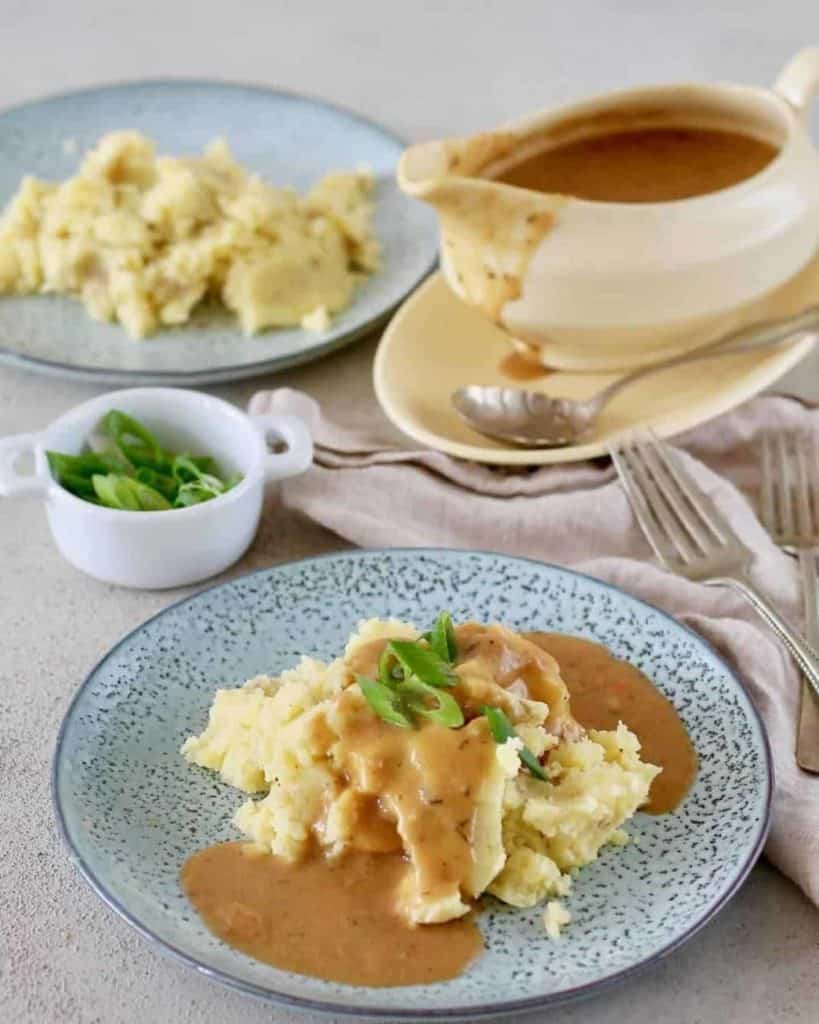 Another gravy option is this fantastic Vegan Gravy. Made with nutritional yeast and marmite for a ton of flavour, this vegan brown gravy is perfect with mashed potatoes, poutine, or as part of your vegan roast dinner. It's made from scratch and is super simple!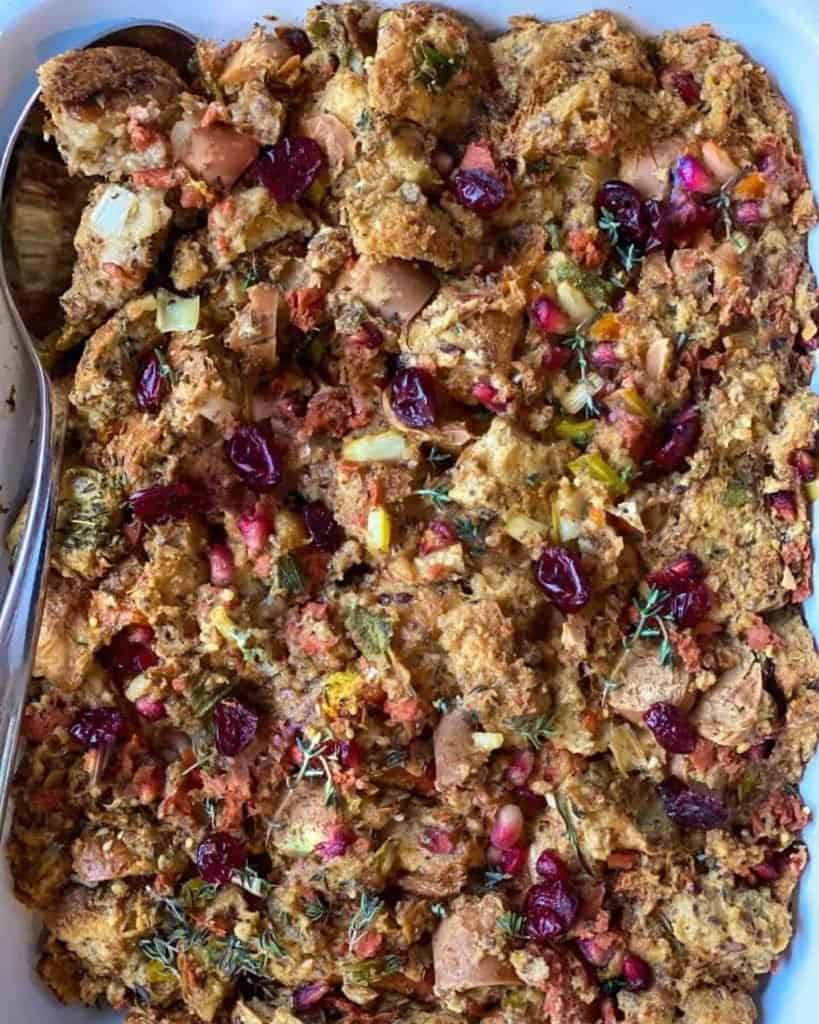 Try this scrumptious Vegan Sausage Stuffing recipe, it's the perfect side dish for a Sunday roast. Made with beyond meat sausage, it's the ultimate side with flavours of cranberries, sage, rosemary and thyme.
A delicious vegan stuffing with all the comfort and familiarity of traditional stuffing, but packed with protein and flavour too. Bake in a tray, or shape into balls. Whether you're vegetarian, vegan or carnivorous, you'll love this chestnut and tempeh stuffing.
Vegetable Side Dishes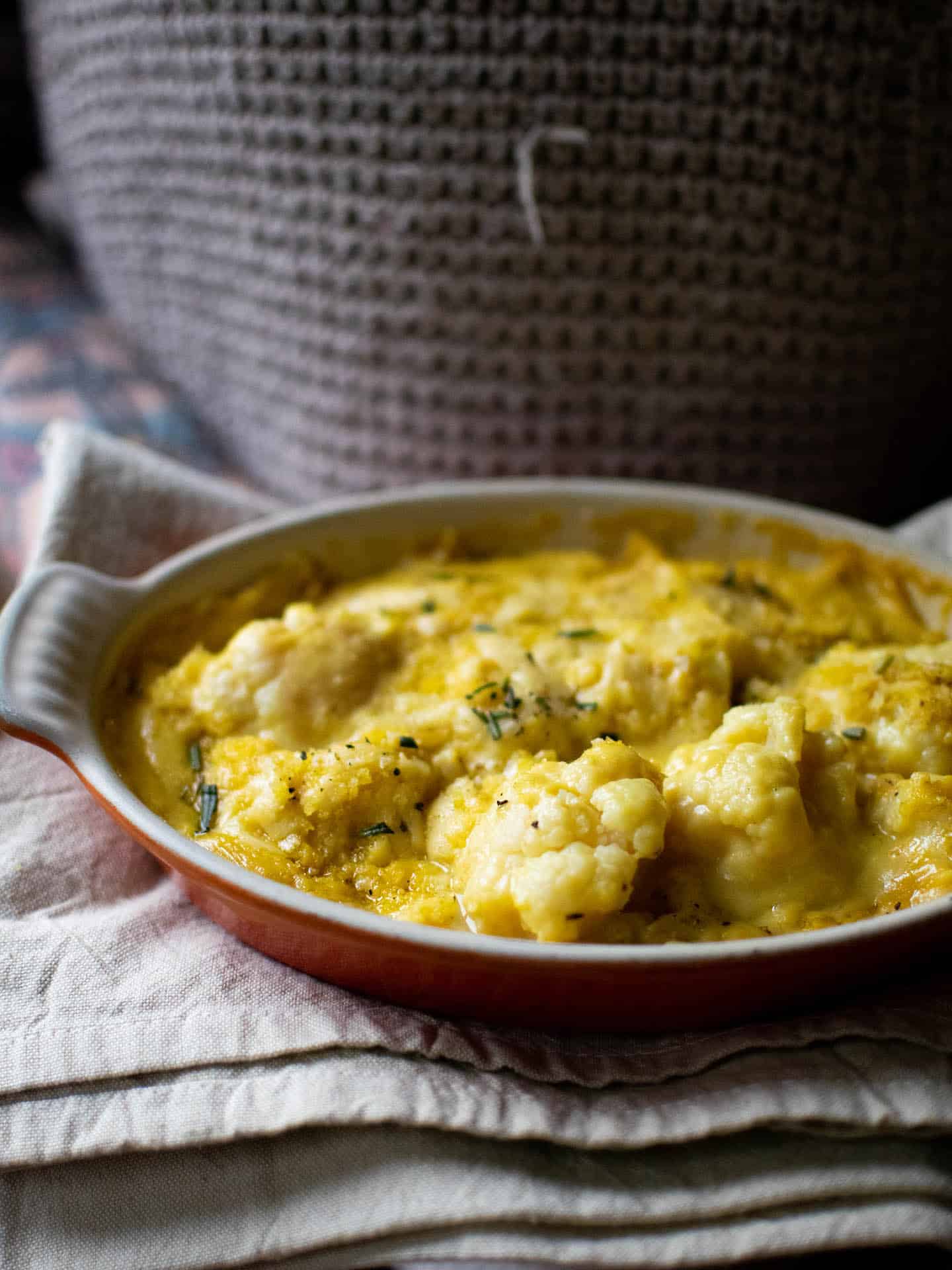 Our vegan Cauliflower cheese is beautifully creamy and cheesy, but is totally plant-based. You only need 9 ingredients and 25 minutes to make it! This dish really takes a vegan roast dinner from average to next level! Crazy delicious.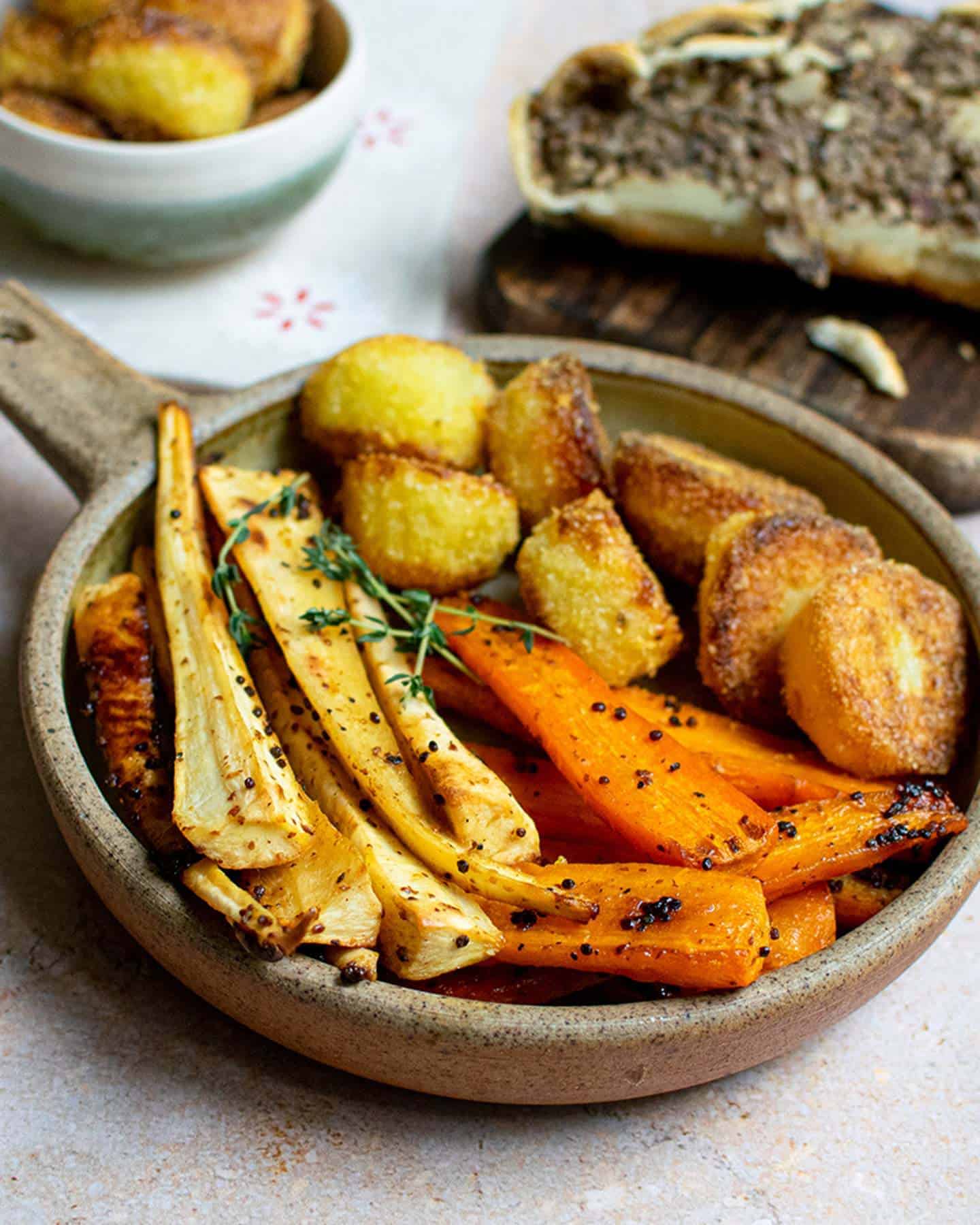 Roasted carrots and parsnips - it wouldn't be a vegan Sunday roast without them! Maple syrup is a great alternative to honey when it comes to roasting vegetables. The wholegrain mustard adds a scrumptious flavour that pairs well with lots of gravy.
Swede, also known as Rutabaga, turnip or neeps (depending on where you're from), is made with just two ingredients (plus salt and pepper) and is totally indulgent. Just vegan butter and swede! A perfect addition to your roast dinner, and also great at Christmas.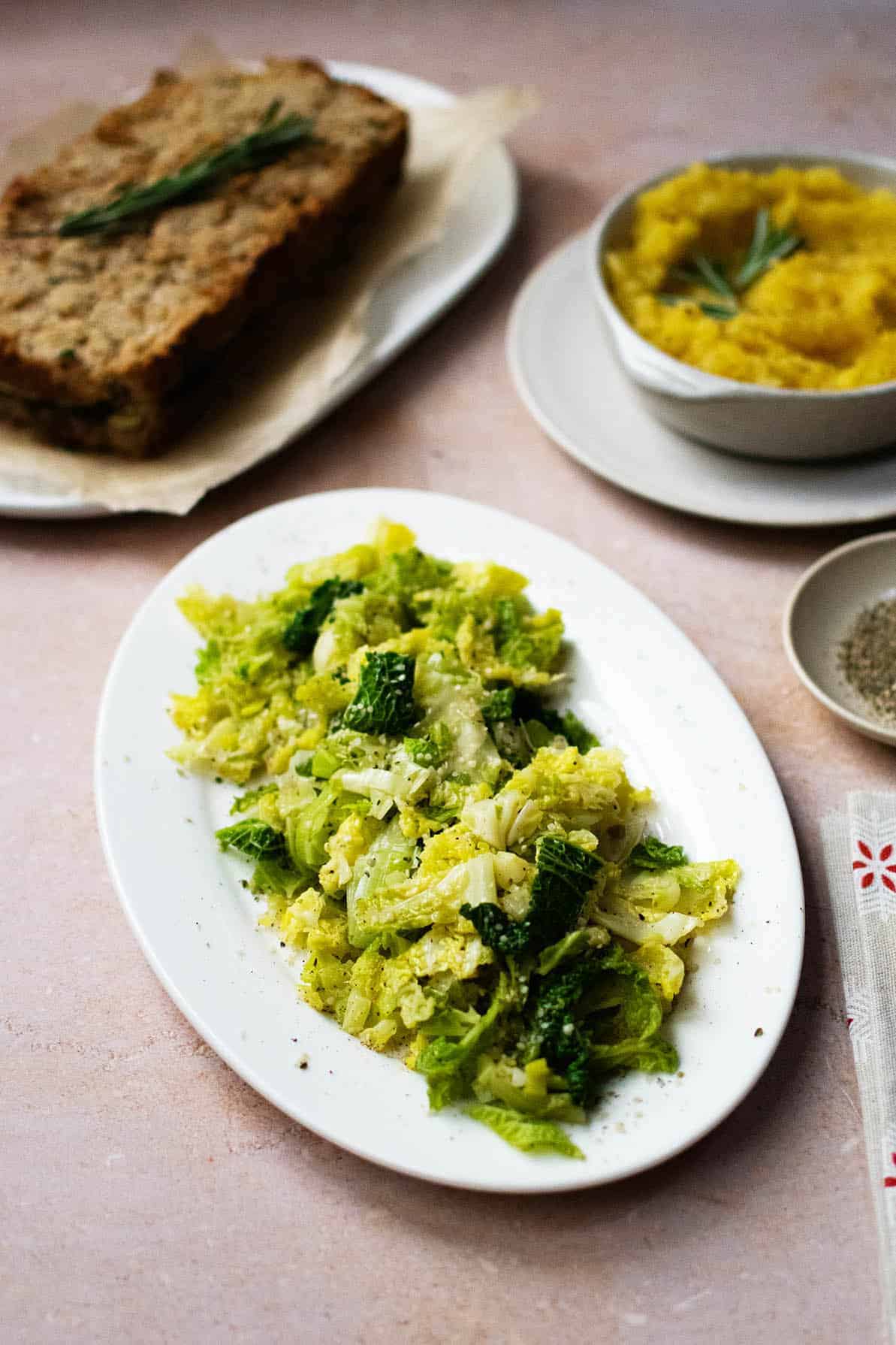 Another simple side dish that needs just three ingredients! It's ridiculously easy to make (just sauté the veg and wait for them to wilt down!) and makes a vegan Sunday roast extra special.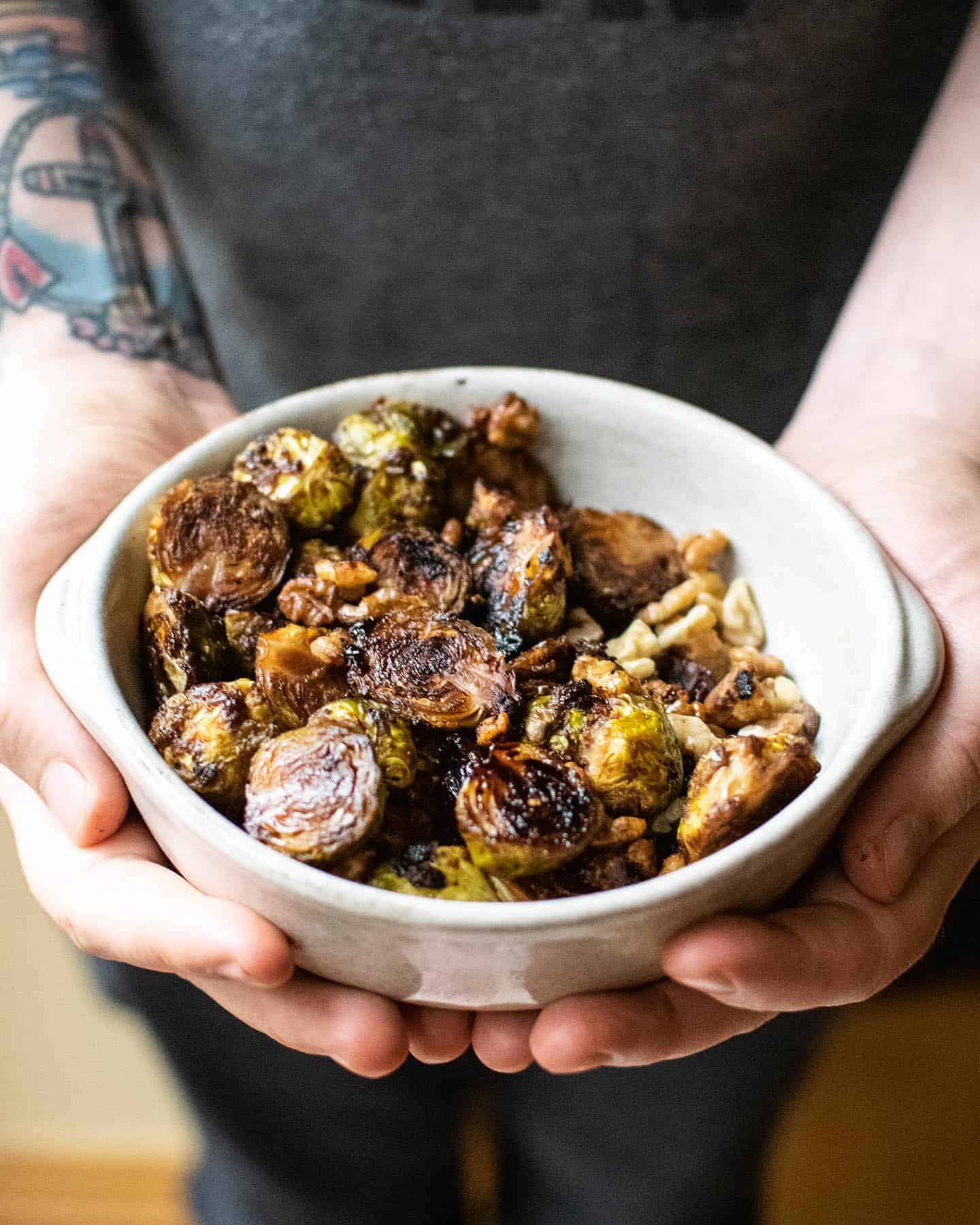 The love or hate vegetable! We hope that even the people who really don't like Brussels Sprouts would try them like this! Miso Roasted Brussels Sprouts adds a umami rich flavour to the vegetable, and makes them crazy delicious.
These Roasted Carrots are easy to make, and they are Paleo, Whole30 compliant, gluten-free, and vegan. The taste is amazing as-is or you can top them with crushed pistachios.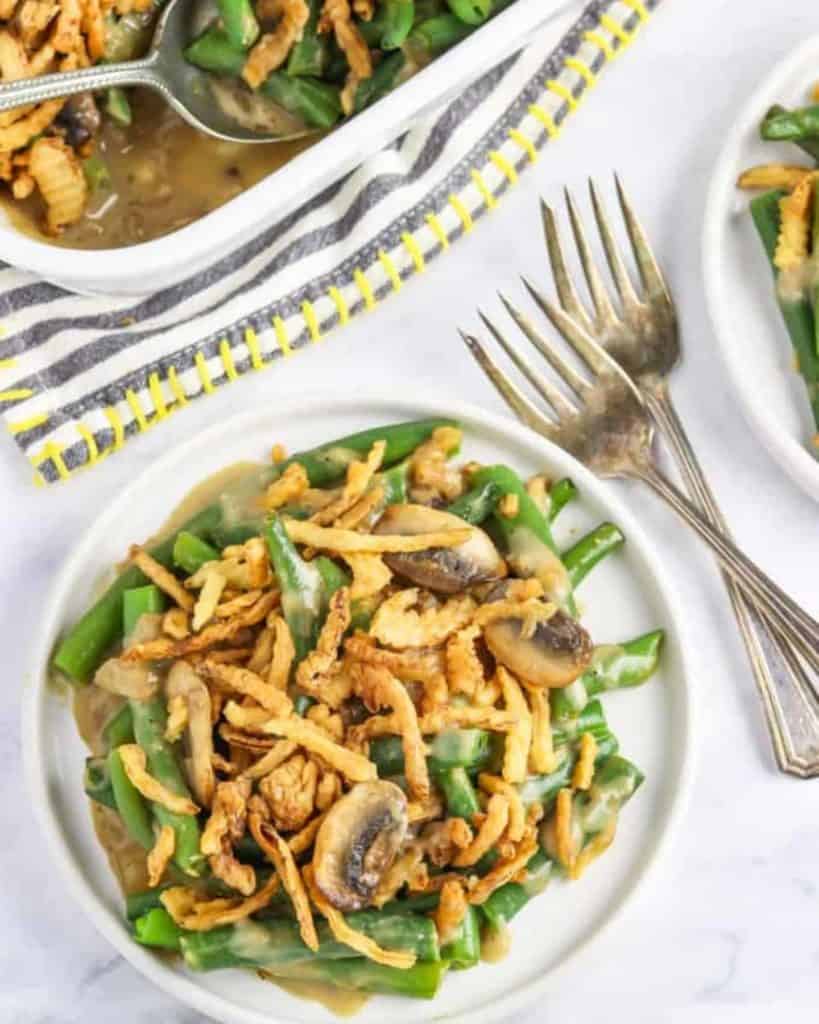 This Vegan Green Bean Casserole is a must for your dinner table! The tender veggies are wrapped in a savory mushroom sauce, topped with crispy fried onions, then baked until hot and bubbly. We bet you'll be going back for seconds! It's easy to make and can be made ahead of time, too.
These 3-Ingredient Cabbage Steaks are a perfect side dish for any meal. It really makes the cabbage a super special part of the roast. They're quick and easy, and don't require any special ingredients to make them delicious!
These oven roasted vegetables with maple & cinnamon are a great alternative to typical savory roasted veggies. They have a hint of sweetness, and they get all crispy and caramelized in the oven.
One of the easiest side dishes around, these oven roasted root vegetables are seasoned with just garlic and herbs.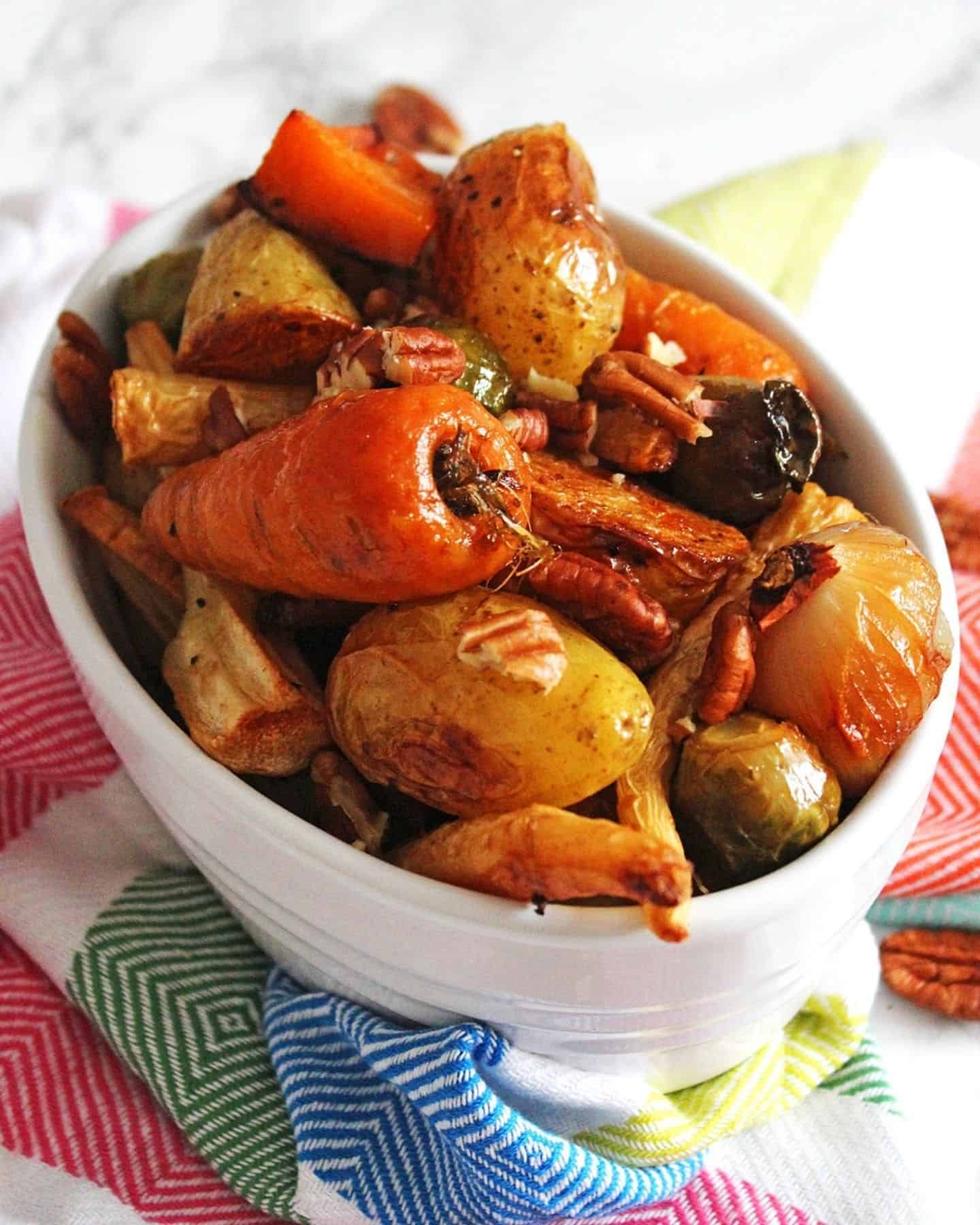 These maple glazed veg with pecan crunch are a fantastic alternative to classic honey roasted veggies!
So, there we have it. 35 vegan roast dinner recipes, so there's no excuse to not make a vegan version now! Whether it's Veganuary or not, we'd encourage you to give these recipes a try.
Bookmark it so you don't lose the list, or save on Pinterest using the images below.
Have we missed your favourite vegan roast dinner recipe? Comment below to let us know!