Every Brit loves a good Sunday roast and fortunately there's loads of delicious vegan roast dinner recipes out there for us plant-based eaters! Whether you're looking for a show-stopping vegan centrepiece, the ultimate roast potato or the elusive vegan Yorkshire pudding - this is the list you're looking for.
In fact, you'll probably have enough vegan Sunday roast recipes here to keep you going through the year, including your Christmas dinner!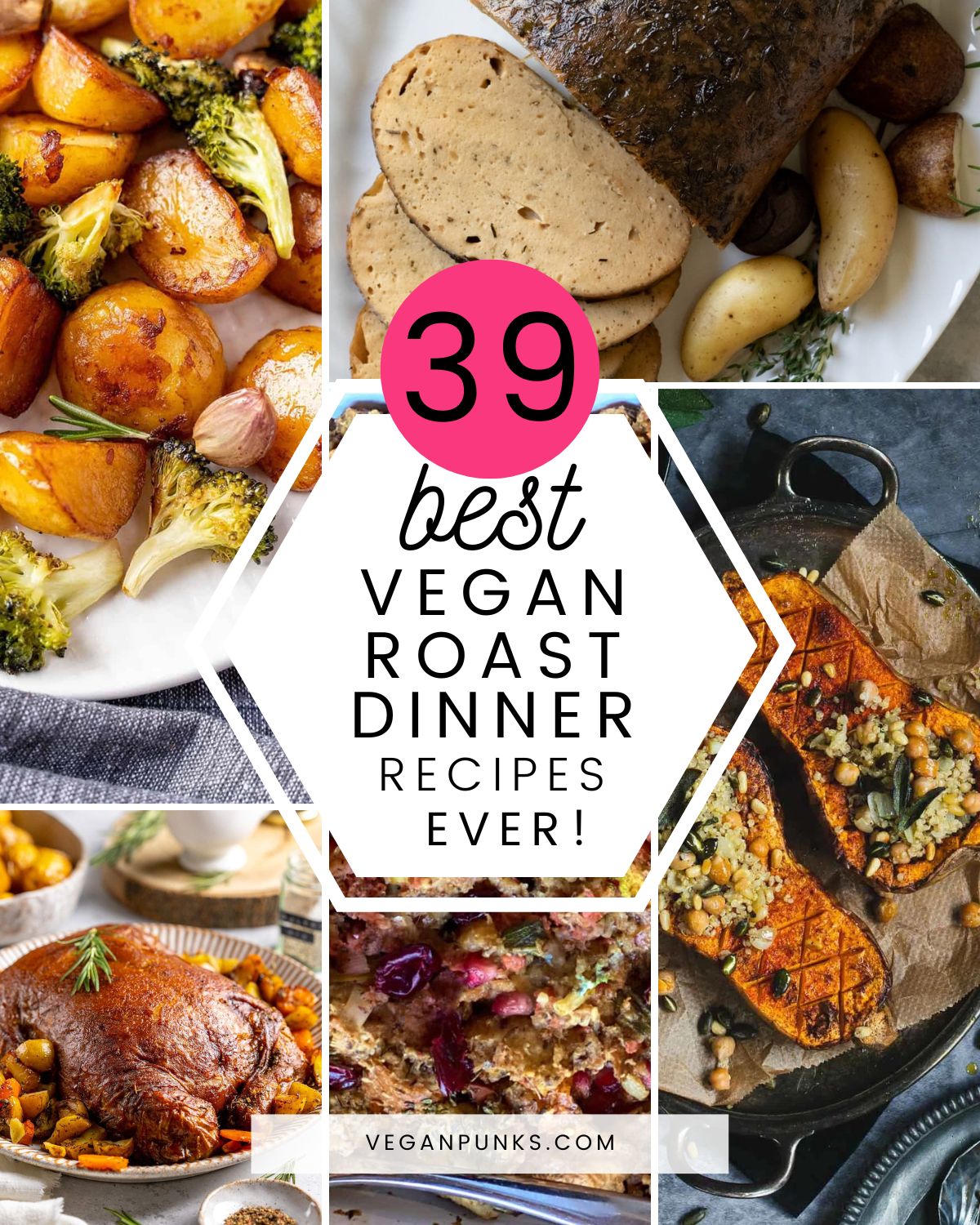 Jump to:
🤔 What is a Vegan Roast Dinner?
Let's begin with definitions.
A roast dinner is an essential part of British culture. It's a meal where families get together, often served on a Sunday, which is where it gets its other name - the Sunday lunch.
A traditional Sunday roast usually consists of roasted meat, mashed or roasted potatoes, and sides like cauliflower cheese, Yorkshire puddings, stuffing and boiled, steamed or roasted veg.
So, how do you make a vegan Sunday lunch? It's pretty easy really, just leave out the animal products! Instead of roast meat, choose a vegan centrepiece like seitan, nut roast or one of the many plant-based meat alternatives that you'll find in the supermarkets now.
Cook your roast potatoes in oil rather than animal fat. Switch the honey roasted veg for maple and use a dairy-free cheese to make cauliflower cheese. With all the plant-based alternatives in the shops now it's never been easier to make a vegan Sunday roast! It's not all boiled veg and whole roast cauliflower anymore.
You might be wondering, how is that different to Christmas dinner? Well, it's not that different. Usually a British Christmas dinner follows the same format but people will go to town and put in more effort than on the average Sunday. More sides like (vegan) pigs in blankets and maybe even another main. We often have a faux meat joint and a nut roast, along with a (probably) excessive number of sides dishes.
So, without further ado, let's get into the vegan roast recipes.
🍽 Mains
🥔 Potatoes
👩‍🍳 Extra Special Sides
🥕 Vegetable Side Dishes
🍴 Gravy
💭 FAQs
💭 Summary
So, there we have it. 35 vegan roast recipes, so there's no excuse to not make a vegan version now! Whether it's Veganuary or not, we'd encourage you to give these recipes a try.
Bookmark it so you don't lose the list, or save on Pinterest using the images below.
Have we missed your favourite vegan roast dinner recipe? Comment below to let us know!