For those of you who think that sprouts are gross, we're here to prove you wrong with our vegan roasted Brussels sprouts! They are little parcels of deliciousness, which only got a bad name when people decided to boil them to death. Why would anyone think that was a good idea?
This special take on sprouts will make your roast dinner or Christmas dinner plate even better. We use a sticky miso and maple glaze, then add walnuts for a tasty crunch. Walnuts taste amazing toasted and finish this dish off perfectly.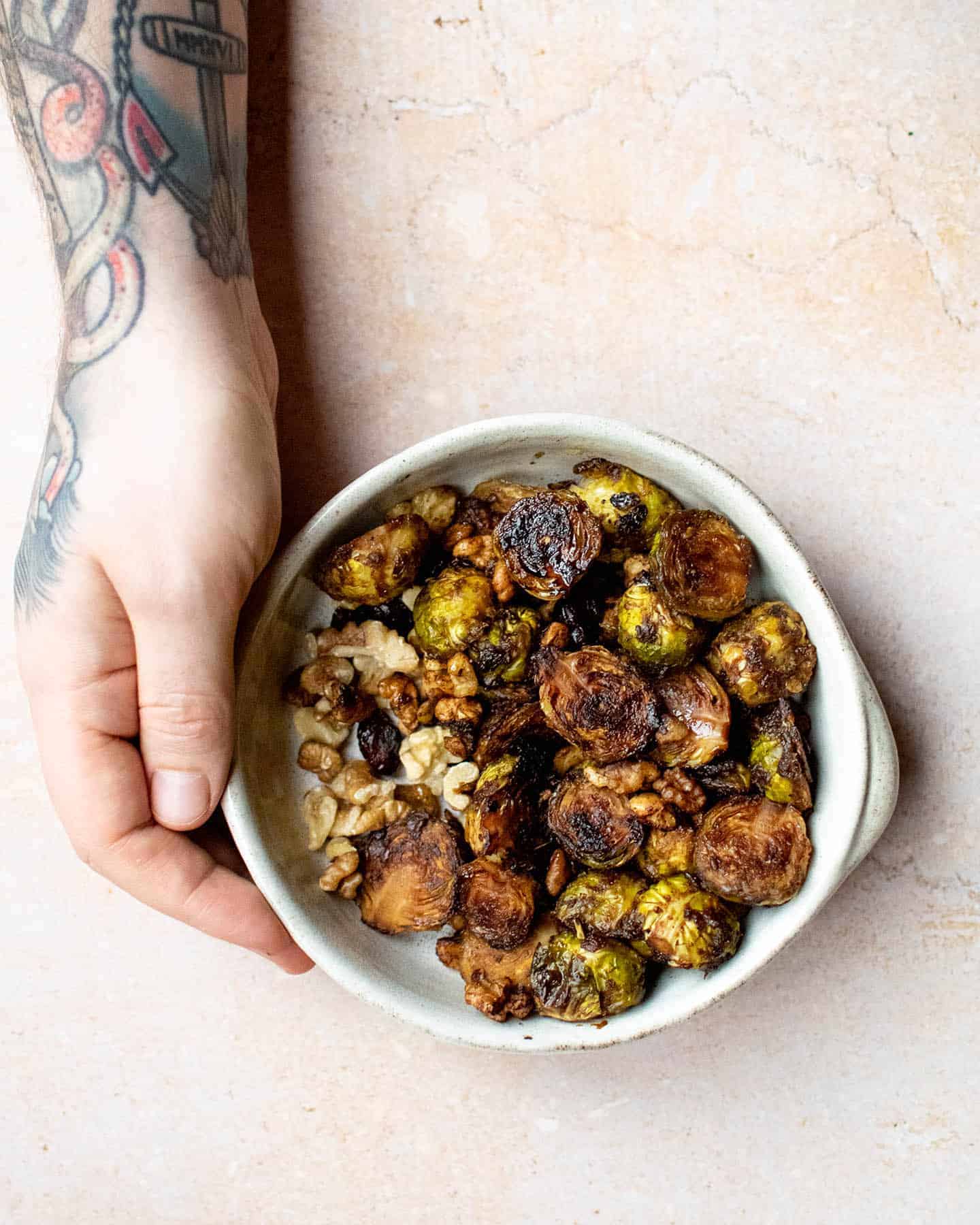 You might not be shocked to learn that our vegan roasted Brussels sprouts have a bit of an Asian twist! As you know, here at Vegan Punks we cook a lot of Asian-inspired food and Christmas food is no different.
These sprouts take only 20 minutes to get ready, and they have just 6 ingredients so they're nice and simple, as well as tasting awesome.
How to prepare Brussels sprouts
We absolutely love a sprout plant, they just look so cool! They are a bit of a pain to deal with though, which is one of the reasons we usually buy our sprouts from the supermarket where they will have been removed from the plant in advance.
When you've got your bag of sprouts, there's just a few things you do to get them ready for roasting:
Get a nice sharp knife and trim the stalk end slightly. This is because it's generally a bit tough. Remove any of the outer leaves that detach after trimming. They are often a bit tough and sometimes hold dirt.
Give your sprouts a quick rinse under cold water to remove any sediment. They're normally pretty clean, but it's worth doing as nobody wants a mouthful of gritty veg!
If you're going to be roasting your sprouts (which you will be for this recipe), cut them in half down the core. The flat edge will turn a glorious brown during roasting!
Alternatively you can buy prepared sprouts, and all you'll need to do is cut them in half.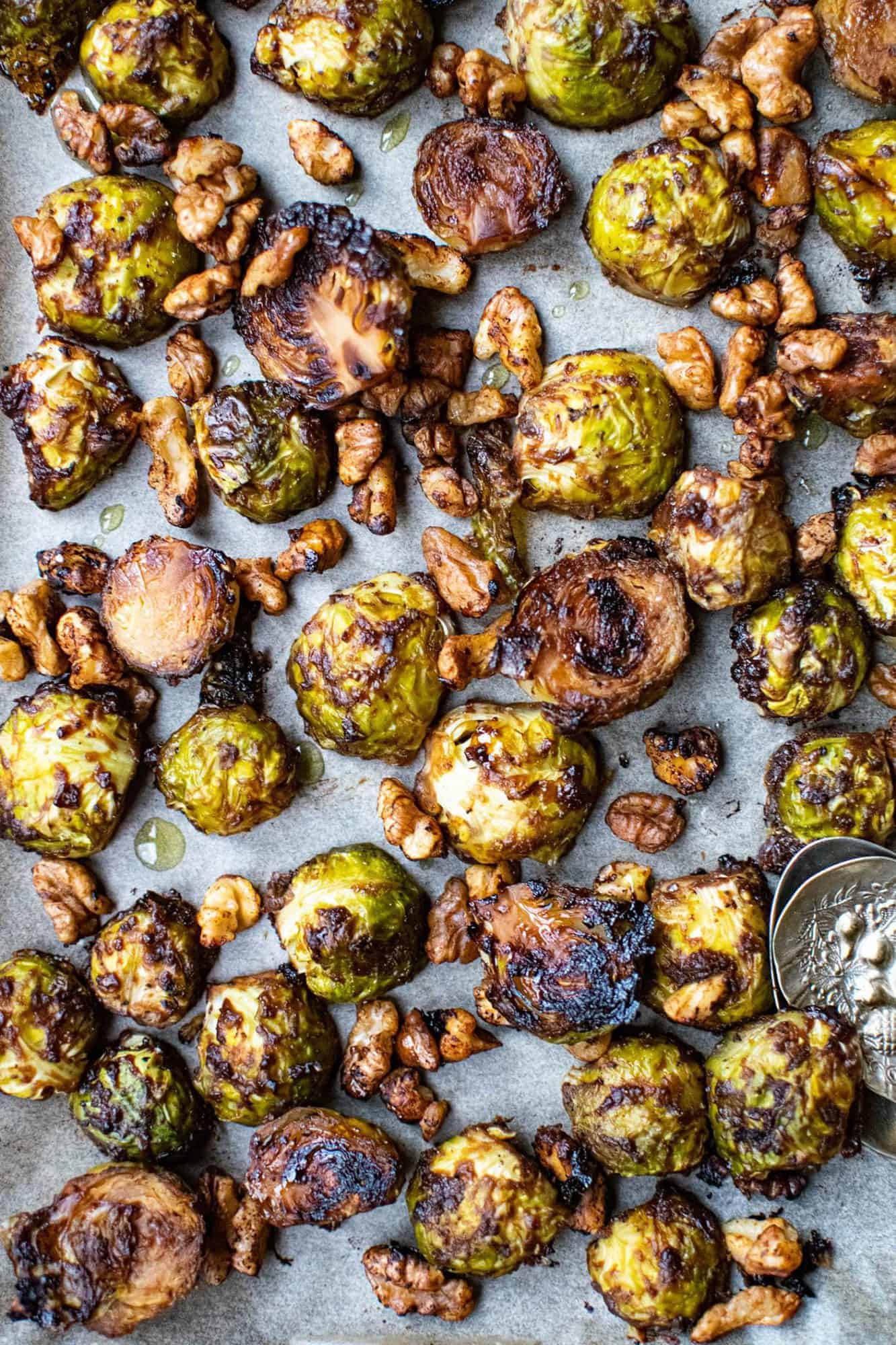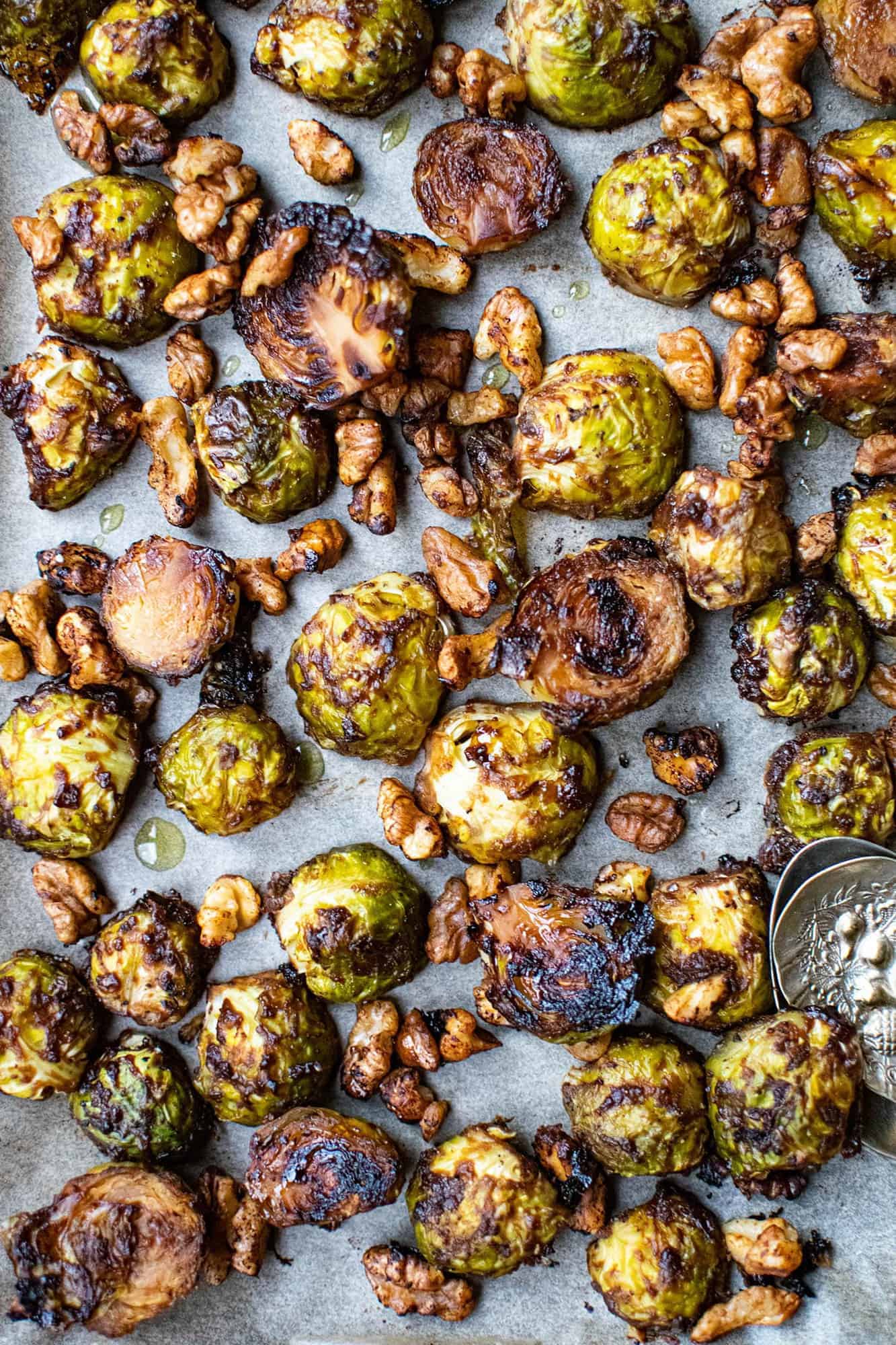 Vegan roasted Brussels sprouts ingredients
If you want to make these banging roasted Brussels sprouts, you will need:
Brussels sprouts. That was quite obviously really, wasn't it.
Miso paste. We really like to use white miso paste for this recipe because it has a much more delicate flavour than red or brown miso paste, but you could definitely try the others and see what you think.
Maple syrup. This adds a delicious sweetness to your sprouts.
Rice wine vinegar. This is a staple for a lot of Asian-inspired recipes, and has a nice mild and very slightly sweet flavour. If you're looking for a rice wine vinegar substitute, then white wine vinegar or apple cider vinegar will work. White wine vinegar has a harsher flavour so you might want to use a little less. Apple cider vinegar has a sweeter, fruiter taste to it.
Oil. We like to use olive or rapeseed oil for roasting veg. The main difference between the two is that rapeseed oil has a much higher smoking point, so it's great for really high temperature cooking.
Walnuts. Just plain old walnuts – don't get roasted ones, we'll do that ourselves.
How to cook sprouts
Making these vegan roasted Brussels sprouts is nice and easy which is great news! You'll want to start by preheating your oven, and while it's warming up you can start getting everything ready.
The first step is to prep your sprouts. Use a sharp knife to trim the stalk end and cut them in half. Be sure to remove any loose leaves.
Now it's time to make the glaze! Chuck your miso, maple syrup, oil and rice wine vinegar into a small bowl and mix them together.
Pop your sprouts into a larger bowl, or a mixing bowl, and season them with salt and pepper.
Pour over your glaze, and then give everything a good mix until your sprouts are evenly coated.
Grab a baking sheet and line it with parchment paper. If you have a non-stick pan you probably won't need the paper, but it does make washing up easier later!
Lay the sprouts on the tray flat side down and then put them in the oven for ten minutes.
At this point they should be starting to brown, and they should look truly sumptuous.
Sprinkle the walnut pieces over the top, and then return the sprouts to the oven for another five minutes.
And there you have it! The perfect vegan Brussels sprouts recipe. Check out the recipe card at the bottom of this page for measurements.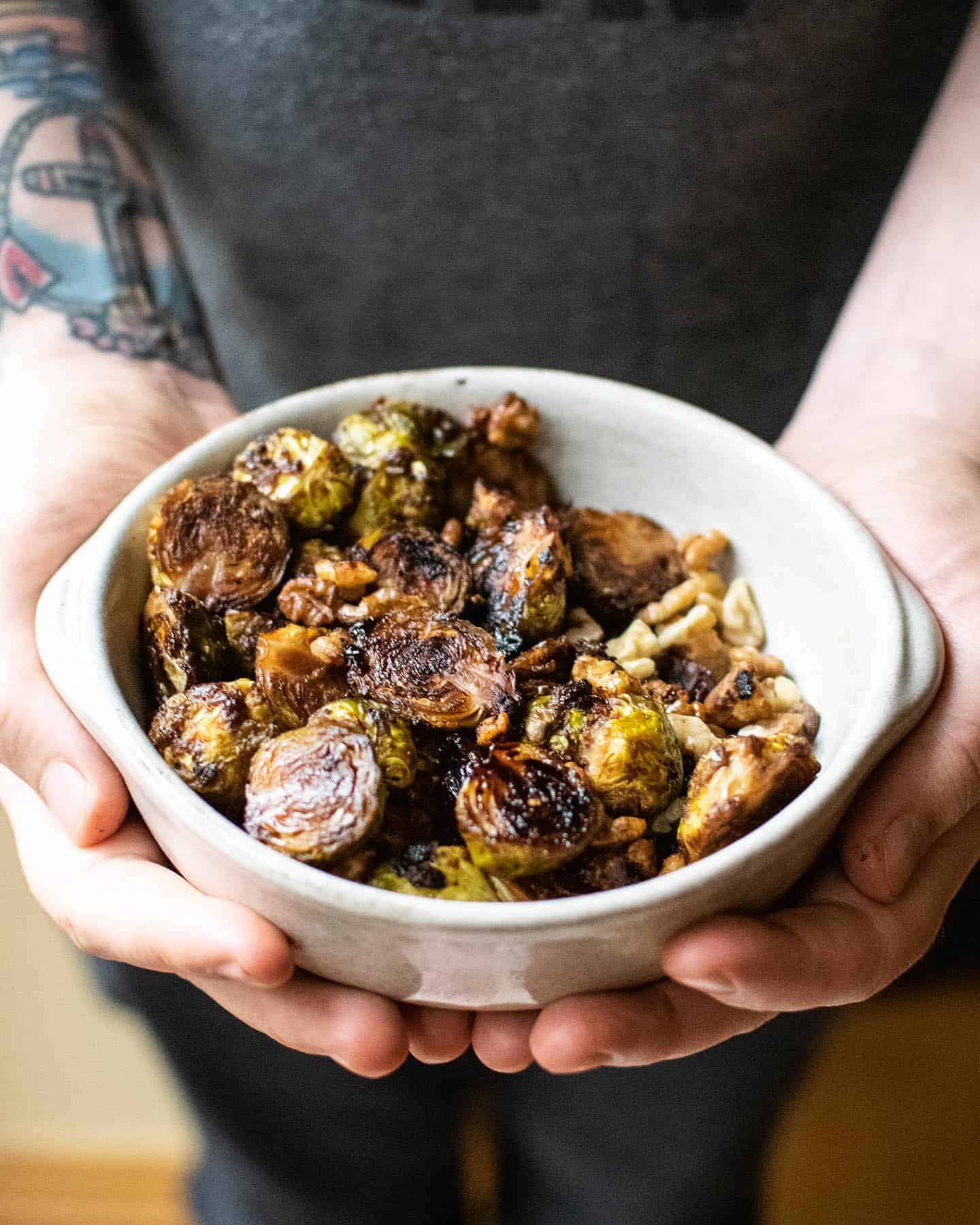 What to serve with roasted Brussels sprouts
These roasted Brussels sprouts are beautiful as part of a roast dinner on a chilly winter's night, or of course as part of your Christmas dinner!
This is what we had for our festive feast this year:
Cashew nut roast
We love this cashew nut roast recipe! The cashews make it extra special, they have lovely creamy flavour that makes it feel like a really indulgent dish. Then we add an awesome gooey cheese layer in the middle to make it even more delicious.
Carrots and parsnips
There's something about roasting them that always makes vegetables taste so good! Try these sticky maple roasted carrots and parsnips to add a touch of sweetness to your plate, they're epic with gravy.
Yorkshire puddings
I mean obviously we're having yorkshire puddings, they're one of the greatest things ever created. Did you know they were called yorkshire puddings to distinguish them all of the other batter puddings that were made in different parts of England, that weren't as light and crispy as the Yorkshire variety? Well now you do!
Roast potatoes
I think if it was possible, we might have roast potatoes with every meal. They are so crunchy and fluffy and delicious, it's pretty hard to beat!
If you'd like more vegan Christmas dinner inspiration, then check out our guide 79 Ultimate Christmas Dishes. You can also see more of our recipes, including exclusives that we haven't published anywhere else, in our e-book A Vegan Punks Christmas.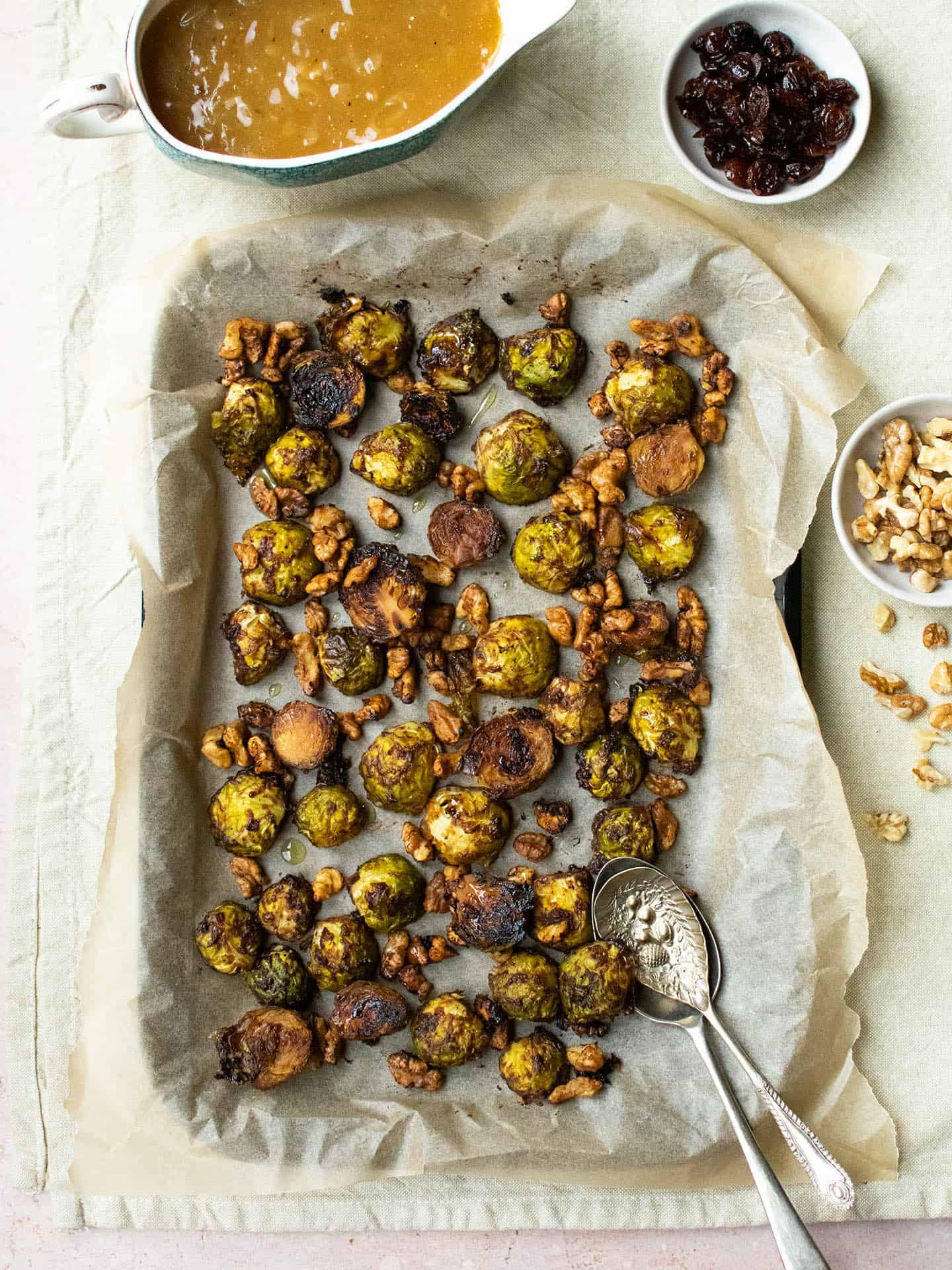 FAQs
Can this dish be frozen?
It can! You can reheat the sprouts directly from frozen in 15-20 minutes. However, they do taste better fresh and they're so quick to prepare that you're probably better off making them on the day that you want to eat them.
How should I prepare Brussels sprouts?
It's super easy! All you need to do is trim the stalk end off and discard any loose leaves. Then give them a quick rinse in cold water to remove any dirt or sediment.
How long should I cook Brussels sprouts for?
This depends on your cooking method. In our opinion roasting them is the way to get the tastiest sprouts and that takes around 15-20 minutes.

If you're boiling them it's important that you don't boil them for too long - generally the cook time will be under six minutes. Also, remember how you were taught to cross the bottom? Don't do that. It will make them go soggy.
Equipment
Even the best chefs find their jobs much easier if they have the right equipment! Here are three things that we think will make cooking up these lovely roasted Brussels sprouts even more of a doddle (and it was already quite a lot of a doddle to start with!).
Cup and spoon measurers
We love our cup and spoon measurers. Being able to use a cup or spoon measure means that it's much easier to see ratio. For example, if you wanted equal parts water to a dry ingredient this is much more easily done with a cup measure than it is messing about with scales and measuring jugs! Plus, it means you don't need to convert anything when you're using an American recipe.
Mixing bowl
A good sized mixing bowl makes it a much easier job to evenly coat your sprouts in the miso maple mixture. Plus you'll find that it comes in handy anytime you need to bake anything, too.
Non-stick roasting pan
This is an absolute staple for any kitchen, especially in the colder months when you're roasting more things! Non stick means that not only will your food cook properly without getting all burnt on the bottom, your job washing up will be a lot easier too.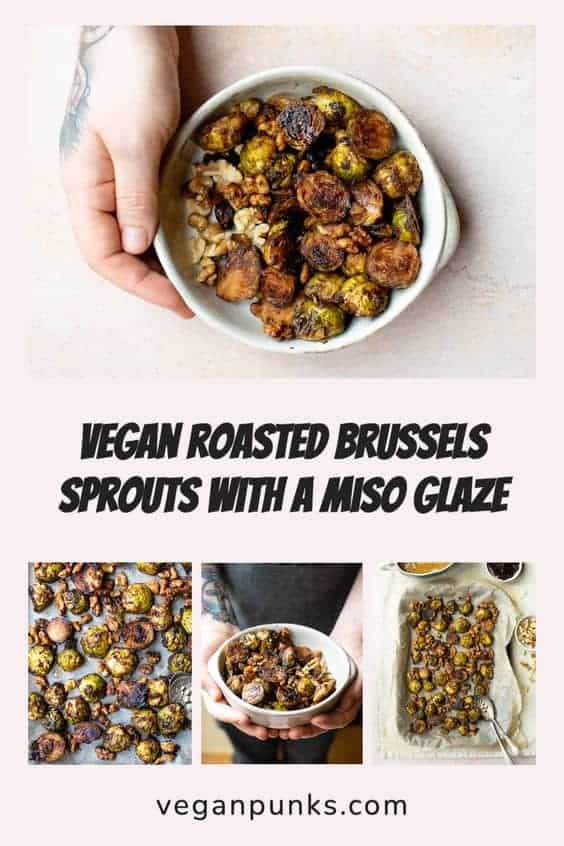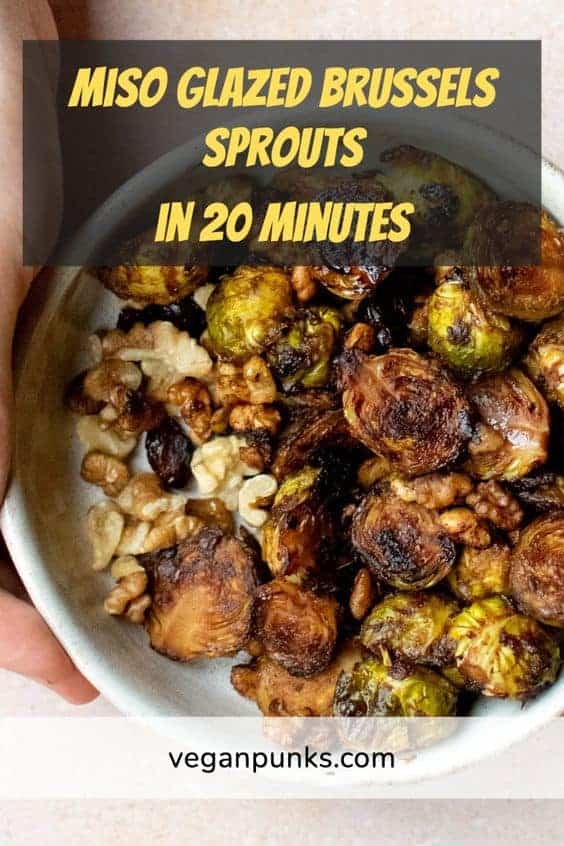 📖 Recipe
Vegan Roasted Brussels Sprouts With A Miso Glaze
We love sprouts, especially when they're roasted. We use a miso glaze for our vegan roasted Brussels sprouts to give them a big umami hit – plus some walnuts for a bonus crunch.
Save
Saved!
Print
Pin
Rate
Ingredients
400

g

Brussels sprouts

– trimmed and cut in half lengthways

2

tablespoon

white miso paste

1

tablespoon

maple syrup

1

tablespoon

rice wine vinegar

1

tablespoon

olive oil

or rapeseed oil

50

g

walnuts

– roughly chopped
Instructions
Pre-heat the oven to 200°c / gas mark 6.

Mix the miso paste, maple syrup, rice wine vinegar and oil in a small bowl to make the glaze.

2 tablespoon white miso paste,

1 tablespoon maple syrup,

1 tablespoon rice wine vinegar,

1 tablespoon olive oil

Put the sprouts into a large mixing bowl and pour on the glaze. Mix well until evenly coated.

Lay onto a lined baking sheet, flat side down – to make sure the flat side browns nicely! Season generously with salt and pepper.

Bake for 10 minutes, then sprinkle the walnut pieces all over.

Return to the oven for another 5 minutes.
Notes
You can use brown or red miso paste, if that's what you have. We find white miso gives a more delicate flavour for this recipe, but we have made it with brown rice miso and still loved it.
Nutrition
Calories:
125
kcal
|
Carbohydrates:
11
g
|
Protein:
4
g
|
Fat:
8
g
|
Saturated Fat:
1
g
|
Polyunsaturated Fat:
4
g
|
Monounsaturated Fat:
3
g
|
Sodium:
228
mg
|
Potassium:
316
mg
|
Fiber:
3
g
|
Sugar:
4
g
|
Vitamin A:
509
IU
|
Vitamin C:
57
mg
|
Calcium:
43
mg
|
Iron:
1
mg