Our TVP shepherd's pie is a vegan take on the classic British dish.
Sometimes people like to use lentils or another meat replacement to make vegan shepherd's pie. However, we really love using TVP (textured vegetable protein).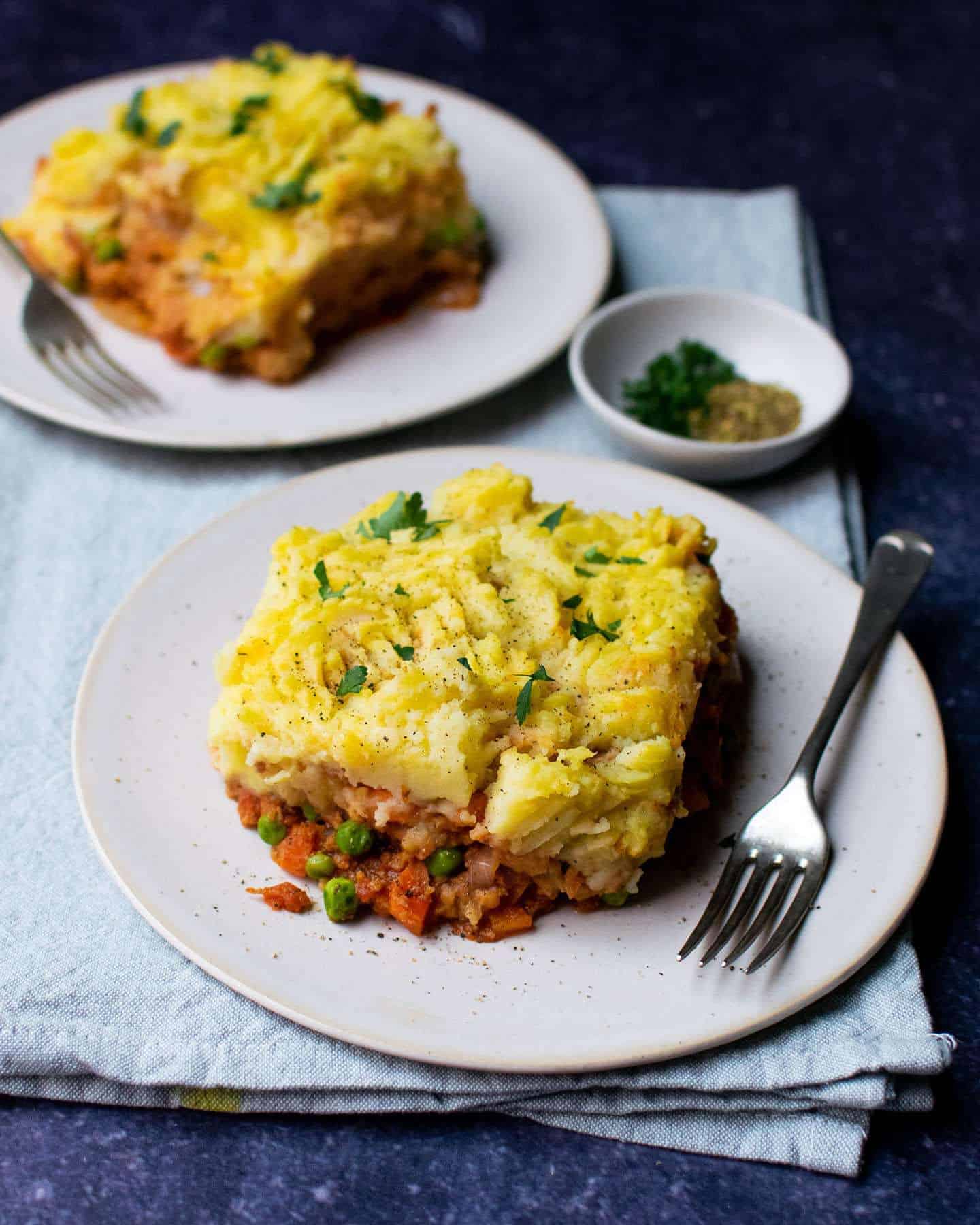 Jump to:
It's got a great texture and is really filling which means it's perfect for this recipe. Plus, it doesn't take ages to cook like lentils.
Shepherd's pie was originally created as a way of using up leftover roasted meat, and back in the day, the sides and bottom of the tray were sometimes lined with potato, as well as the top.
We're definitely on board with this top-level potato game from way back when!
Today, the dish is a firm favourite because it's so hearty and comforting. It's definitely one of our go-to meals on a chilly Sunday.
Thanks to the secret ingredient (which we'll tell you about shortly!), our shepherd's pie has a similar yummy umami flavour to the original.
📋 Ingredients
This vegan shepherd's pie recipe is made using TVP, which you can buy online or in most health food stores. You will need:
Carrots - diced
Garlic - peeled and finely chopped
Onions - peeled and chopped
Potatoes - washed and chopped into medium sized chunks
Dried thyme
Tomato puree
Tinned chopped tomatoes
Vegan gravy - we really like the Bisto reduced salt version
Veggie stock
TVP mince
Petit pois - frozen is fine
Vegan butter - we use Vitalite or Flora
Unsweetened non-dairy milk (we use oat milk)
Vegetable oil - or any other flavourless oil
For detailed quantities and instructions, please see the recipe card at the end of this article.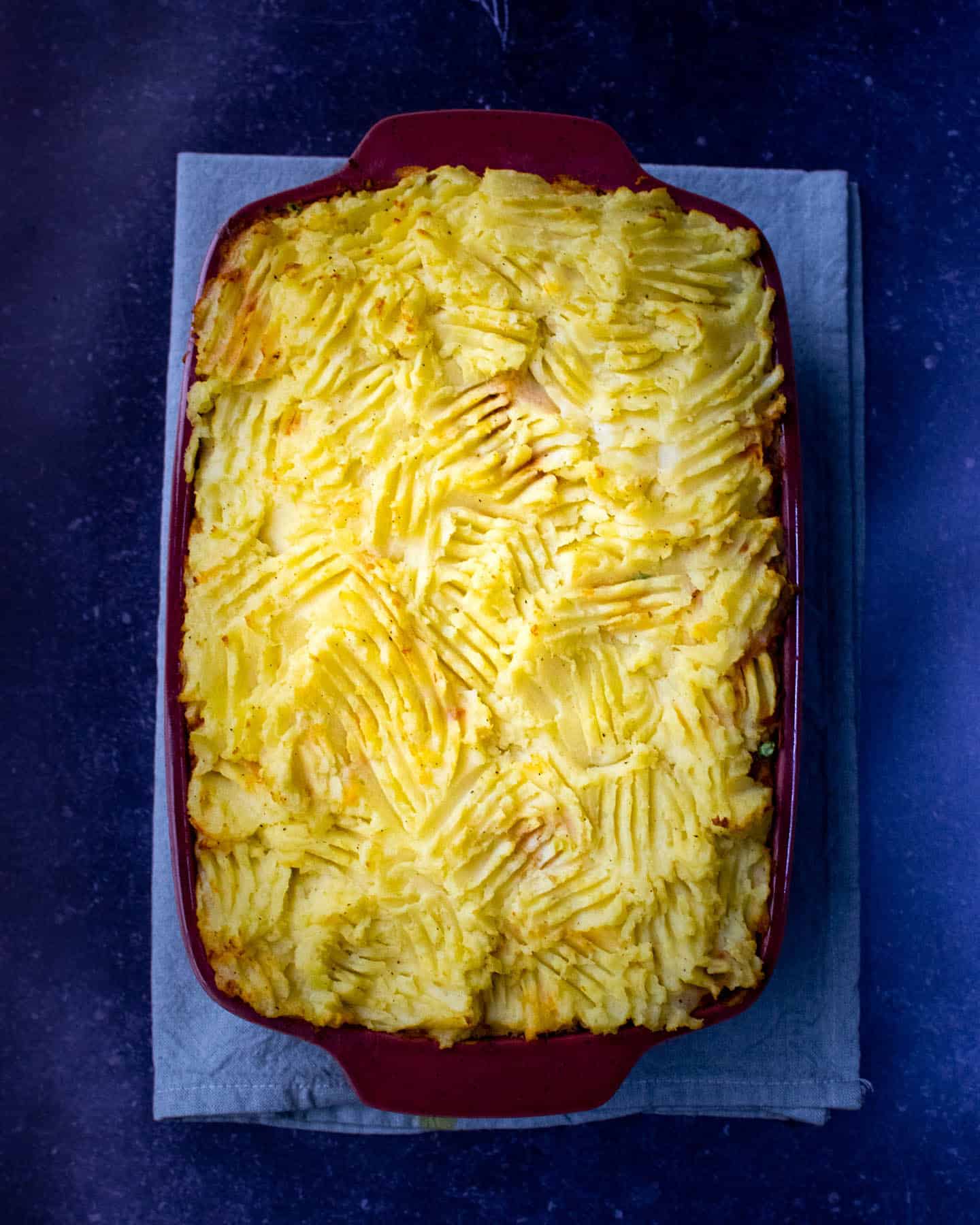 🔪 Instructions
Making TVP shepherd's pie is a great activity for a lazy Sunday afternoon. Although it takes a little while, the cooking process is quite slow and relaxed. Some might call this 'staged cooking'. This is when you take your time, doing each part as and when it fits into your day.
First, bring a pan of water to the boil and cook your potatoes until they are soft. This usually takes about 15 minutes. You'll be able to tell when they're ready because you will easily be able to pierce them with a fork.
Once the potatoes are soft, mash them using either a potato ricer or a potato masher. Add the vegan milk and butter, and a good helping of salt and pepper too.
Preheat your oven to gas mark 6.
While the potatoes are cooking, saute the onions in a large pan until they are translucent.
Chuck in your garlic and continue to saute until fragrant. Be sure to keep the onion and garlic moving around so that they don't burn!
Add your carrots, thyme and tomato puree to the pan. Keep stirring for a few moments while they begin to cook, until you can really smell the thyme and tomato.
Pour in the tomatoes, veggie stock and and the TVP mince and sprinkle in your gravy granules. Season well and give everything a good stir.
Simmer everything for 15 minutes, and then five minutes before the end chuck your petit pois in.
Take a large, non-stick roasting dish and transfer your mixture into it.
Evenly distribute your mashed potato over the top. Then cook for 20 minutes, or until your potato is golden brown.
If you have the willpower then let it stand for a few minutes once it comes out of the oven. This will give the TVP mixture a chance to thicken. If you can manage this you are stronger than we are!
Serve up alongside a helping with veg and extra gravy, if you like.
For detailed measurements and full instructions please see the recipe card at the end of this article.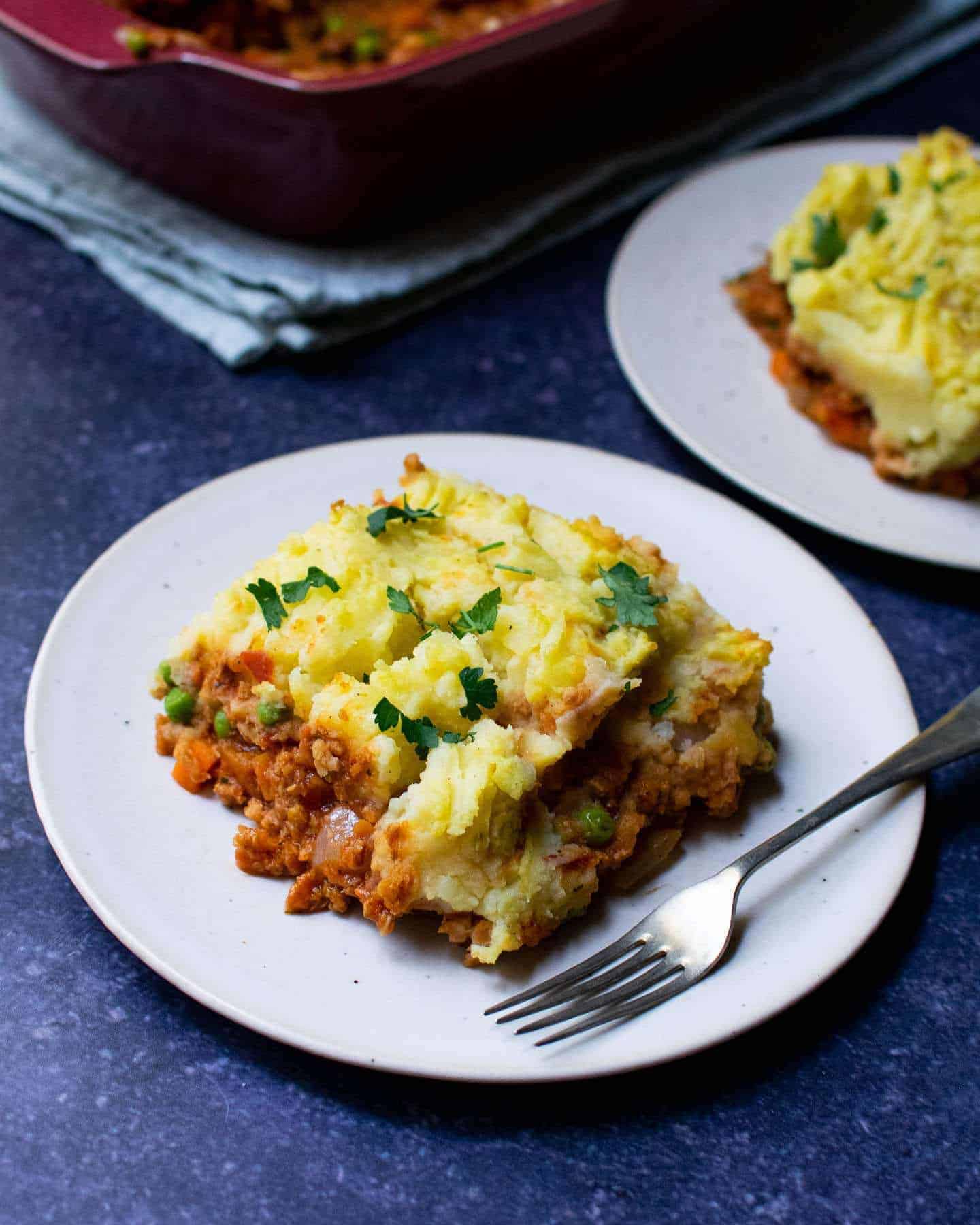 👨‍🍳 Expert tips
The secret ingredient to this TVP shepherd's pie is… (drum roll please) Bisto gravy granules!
Bisto 'beef' gravy (in the red pot) is vegan and is a great way to add extra umami flavour.
If you don't have Bisto, you can use your favourite vegan gravy granules or a tablespoon of miso paste instead.
🤔 What is textured vegetable protein?
Textured vegetable protein is a highly versatile meat substitute.
It can be used in a variety of different dishes including this TVP shepherd's pie, but also works well in chillis, stews, burgers or burritos. Using it in any type of dish that would need a mince meat or vegan chicken replacement works too.
It's dried and usually comes in either chunks or flakes. As it's dried, you can keep it in your cupboard for a long time. Therefore it's a great item to keep in the cupboard so you always have a good protein source on hand. Perfect for when you fancy a quick chilli or TVP shepherd's pie!
It's also incredibly lightweight, so doesn't take up lots of cupboard room, unlike vegan mince that's kept in the freezer. As the TVP swells up as it rehydrates, one pack actually goes much further than you might think!
What is TVP made from?
TVP is most often made from soy protein, but it can also be made from cottonseed, wheat, sunflower seeds or oats. It's made through a process called extrusion, which basically means forcing material through a small opening to form a shape.
When it's dry, TVP has a protein level of around 50%. This drops to around 16% when it rehydrates during the cooking process. This is still a great source of protein.
💭 FAQs
What if I don't have or don't like TVP?
If you don't fancy using TVP, you can make a delicious vegan shepherd's pie by switching it out for lentils or meat free mince (which you can usually find in the freezer section of the supermarket). If you use lentils, then add 15 minutes onto the simmering time in the pan to allow them to cook through properly.
Can it be frozen?
Yes, it freezes really well. This recipe makes eight portions, so if you're feeding a family of four you could even divide it up into portions and put it in the freezer for a rainy day!
Can I use different vegetables?
We used carrots and peas in our TVP shepherd's pie (or petit pois which we think taste nicer than peas!) because it's traditional, but you could rock the boat by using sweetcorn, green beans or even a mix of all four. You could even try switching out the potato for sweet potato, if you like. Or try a 50/50 split of sweet potatoes and white potatoes?!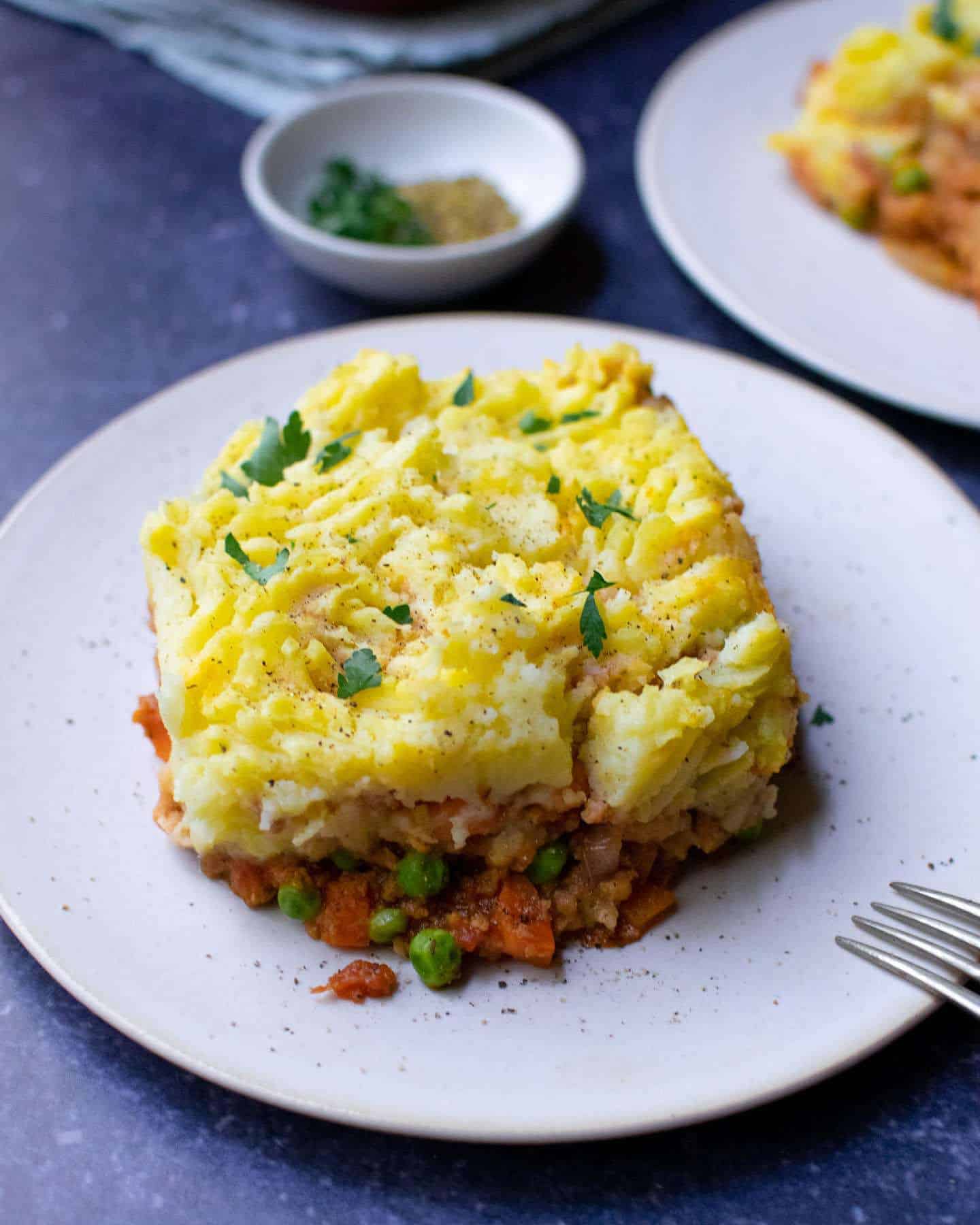 🥕 What to serve with vegan shepherd's pie
This TVP shepherd's pie is a complete meal in itself. But it goes really well with a delicious helping of veg on the side. Check out these extra special veg dishes if you're after some inspiration:
Vegan roasted brussels sprouts
Once you realise that they absolutely shouldn't be boiled to death, sprouts really come into their own! They've actually become one of our all-time favourite veggies! Check out these tasty vegan roasted brussels sprouts, which are made extra special with a miso and maple syrup glaze.
Buttery leeks and cabbage
Our ultimate leeks and cabbage recipe is a lighter take on the more traditional creamed leeks and cabbage. It's super simple with just three ingredients, and only takes 25 minutes to prepare! So it would be easy to knock up while your TVP shepherd's pie is cooking.
Maple roasted carrots and parsnips
Maple roasted carrots and parsnips go really well with vegan shepherds pie. That's because their sweetness contrasts beautifully with the umami flavour. They also have a nice crunch to them, which goes well with the softer texture of the shepherds pie.
Alternatively, you could just steam some of your favourite veg!
Other comfort food classics to try:
If you'd like even more classic British comfort foods, then head to our ultimate guide to make the perfect roast dinner.
Did you make this recipe? Leave a review and a rating below, or tag us in your photos on Instagram! Alternatively, bookmark it in your browser or save to Pinterest for later.

If you love our content, please consider supporting it by buying us a coffee.
📖 Recipe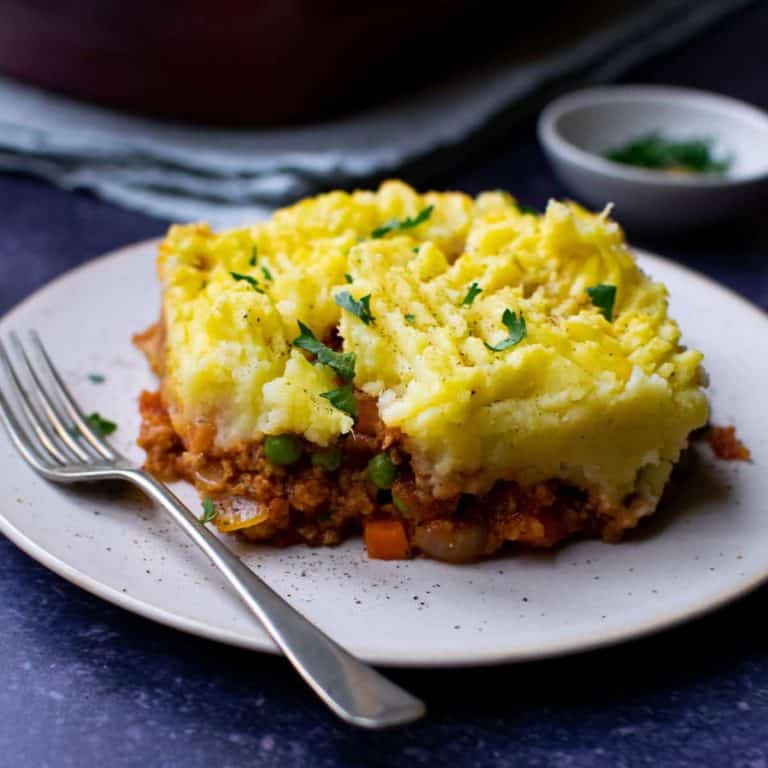 TVP Shepherd's Pie
Shepherd's Pie is a comfort food classic - but made vegan using TVP mince! Topped with buttery, creamy mashed potatoes, we just know this will be a winner in households around the world.
Save
Saved!
Print
Pin
Rate
Ingredients
1.4

kg

potatoes

- chopped into medium chunks

4

tablespoon

vegan butter

we use Vitalite or Flora

A good splash of unsweetened non-dairy milk

no more than 100ml

4

cloves

garlic

- finely chopped

2

onions

- chopped

500

g

carrots

- diced

2

cups

TVP mince

Textured Vegetable Protein

1.5

tablespoon

dried thyme

1

tablespoon

tomato purée

800

g

chopped tomatoes

2 x 400g tins

4

teaspoon

vegan gravy

we used Bisto reduced salt version

500

ml

veggie stock

350

g

petit pois

1

teaspoon

vegetable oil
Instructions
Bring a pan of water to the boil and cook the potatoes until soft – for around 15 minutes. When they're soft, mash with a potato ricer or potato masher along with the vegan butter, milk and a good helping of salt and pepper.

1.4 kg potatoes,

4 tablespoon vegan butter,

A good splash of unsweetened non-dairy milk

Preheat the oven to gas mark 6.

While the potatoes cook, sauté the onions until translucent in a large pan along with the oil.

2 onions,

1 teaspoon vegetable oil

Chuck in the garlic and continue to sauté until fragrant, being careful not to burn it!

Add in the carrots, thyme and tomato purée. Let it cook for a few minutes, whilst stirring, until it all starts to smell super tasty and herby.

500 g carrots,

1.5 tablespoon dried thyme,

1 tablespoon tomato purée

Pour in the tomatoes, veggie stock, gravy granules and TVP. Sprinkle with salt and black pepper, then simmer for 15 minutes.

800 g chopped tomatoes,

500 ml veggie stock

Stir the petit pois through after the 15 minutes is up.

4 teaspoon vegan gravy,

350 g petit pois,

2 cups TVP mince

In a non stick roasting dish (the one we used measures 6.5cm height, 39.5cm length and 26cm width) transfer the TVP Shepherd's pie mix and spread out in the dish, it will be quite a thick layer.

Evenly distribute the mashed potato on top of the mix, then bake for 20 minutes.

If you can, let it stand for a few minutes once it's done as the longer it stands the thicker it will become. Serve up with a side of veg and an extra splash of gravy.
Notes
You could try mixing up the topping by using a 50/50 split of sweet potatoes and white potatoes!
If you fancy a different mix of veg, try green beans and sweetcorn.
This meal freezes well. We recommend portioning it out into individual containers so it's easy to thaw just the right amount of portions when it comes to eating them at a later date.
Nutrition
Calories:
350
kcal
|
Carbohydrates:
58
g
|
Protein:
19
g
|
Fat:
6
g
|
Saturated Fat:
1
g
|
Polyunsaturated Fat:
2
g
|
Monounsaturated Fat:
2
g
|
Trans Fat:
1
g
|
Cholesterol:
1
mg
|
Sodium:
478
mg
|
Potassium:
1295
mg
|
Fiber:
13
g
|
Sugar:
14
g
|
Vitamin A:
11203
IU
|
Vitamin C:
68
mg
|
Calcium:
182
mg
|
Iron:
7
mg