The great thing about vegan hasselback potatoes is that they are basically two types of potato in one! They combine the delicious fluffy texture of jacket potatoes on the inside, with the crispiness of thinly sliced sauteed potatoes on the outside.
Smothered in tasty, herby, vegan butter you'll have a real crowd pleaser on your hands.
Jump to:
🥔 What are hasselback potatoes?
Hasselback potatoes are a type of baked potato. The potato is cut halfway through into thin slices before it is baked. Because the slices on top are thin they go lovely and crispy, while the bottom part of the potato retains the fluffiness that is characteristic of a jacket potato.
They got their name from the Swedish restaurant where they were first served in 1953.
Traditionally they are made with lots of butter, but we've made these vegan hasselback potatoes by using a dairy free alternative.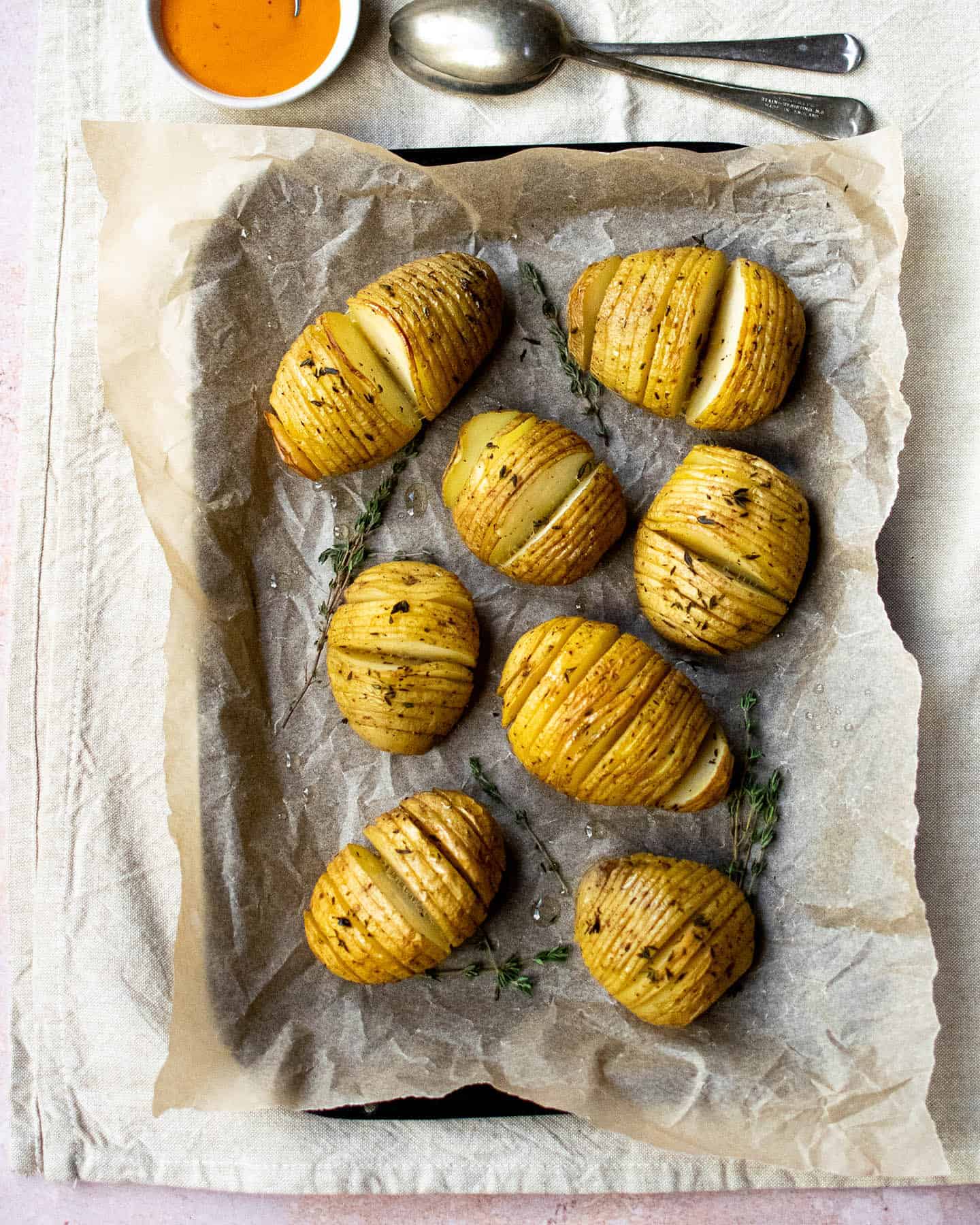 👩‍🍳 How to cut hasselback potatoes
How you cut the potato is the key to giving these vegan hasselback potatoes the texture that you want. Each slice should be about ⅛" wide, and they should stop around ¼ of the way from the bottom of the potato.
Pro tip:
This is actually quite hard to do… unless you use our top secret pro tip. Are you ready? Position your potato between two chopsticks or a couple of wooden spoons while you're cutting them. That way, you can't accidentally cut too far down and slice bits of potato off because the spoons or chopsticks will stop you.
📋 Ingredients
You only need three ingredients to make our super delicious vegan hasselback potatoes. You will need:
Potatoes. You should scrub these clean but leave the skins on. If you can, try to get potatoes that are all (roughly) the same size, as this means they will take a similar amount of time to cook.
Vegan butter. Any vegan butter will work so you can use whichever one you use normally. We usually like to use Vitalite or Flora's vegan offerings. For our American readers, Earth Balance is the best, in our opinion.
Fresh thyme. You can get this from the supermarket of course, but thyme is actually really easy to grow if you have green fingers!
For detailed measurements please see the recipe card at the bottom of this article.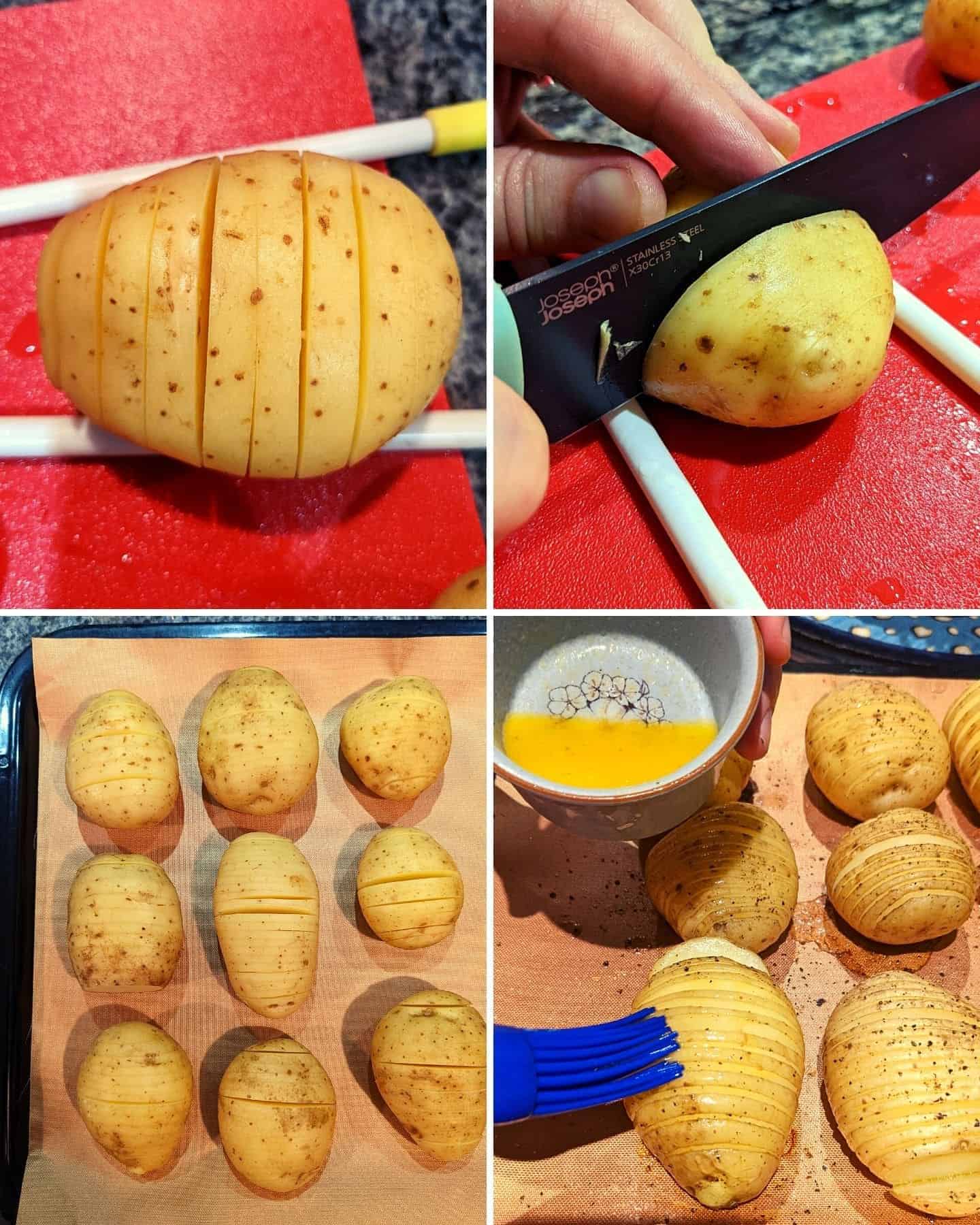 🔪 Instructions
Following this easy hasselback potatoes recipe will mean that you have your potatoes ready in around half an hour. And most of that time is the time the potatoes spend in the oven!
Preheat your oven to 200°C/Gas Mark 6.
Carefully slice the potatoes. Place the potato between two wooden spoons or two chopsticks, and make slices in the top ¾ of the potato that are around ⅛" wide. Resting the potato between the chopsticks/spoons means that you can't accidentally slice too far and end up chopping through the potato!
Melt half of the butter. You can either do this in a pan over a gentle heat, or in the microwave.
Use a pastry brush to coat your potatoes with the melted butter.
Generously season the potatoes with salt and pepper.
Pop your potatoes on either a non stick baking sheet, or a baking tray that has been lined with parchment paper, and put them in the oven for 20 minutes.
After twenty minutes take your potatoes out of the oven, and melt the other half of the butter.
Brush the butter over the potatoes, and sprinkle them with thyme.
Pop the potatoes back in the oven for another 10 minutes.
Take the potatoes out of the oven and check that they have gone lovely and crisp. If you aren't quite happy they can go in for another 10 minutes (timings will vary slightly depending on the size of potato you are using).
And there you have it, herby vegan hasselback potatoes! For more detailed measurements and instructions, be sure to check out the recipe card at the end of this article.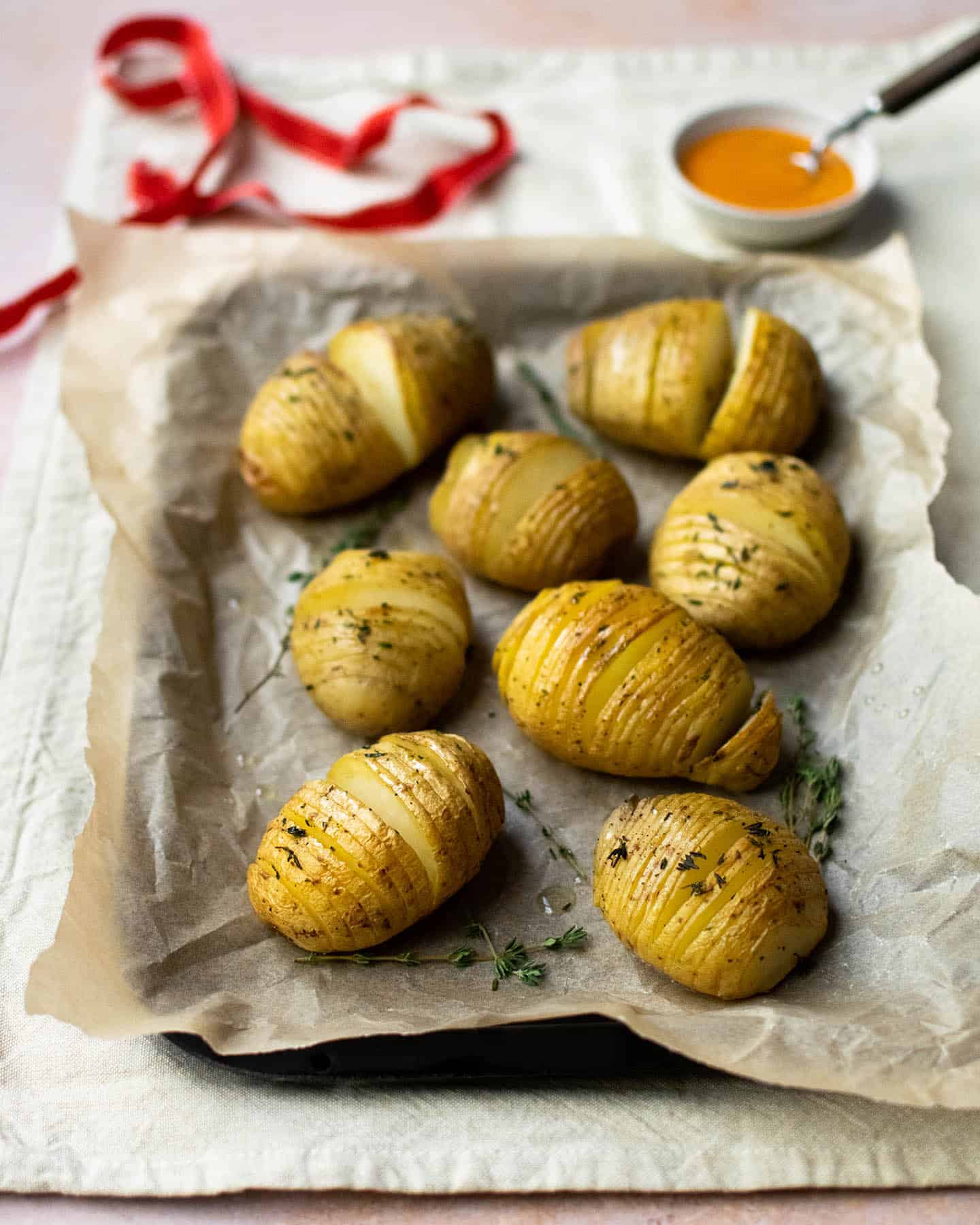 🥕 What to serve with hasselback potatoes
These vegan hasselback potatoes are great as party food, or as easy food for an epic night of gaming. They are really something special when they are part of a roast dinner. You might like to try them alongside:
Nut roast
We love this cashew nut roast so much that we had it for Christmas dinner! It's much more exciting than any nut roast you've had in the past because it has a yummy, gooey, cheese layer in the middle. This, combined with the creaminess of the cashews makes it super satisfying.
Parsnips and carrots
Tasty veg is what makes a roast dinner really special in our opinion. These maple roasted carrots and parsnips add a lovely crunchy sweetness to your plate that really can't be beaten.
Cauliflower cheese
Before we went vegan, cauliflower cheese was something that we really looked forward to as part of a roast dinner. So after we ditched dairy, we had to make it our mission to create the perfect vegan cauliflower cheese. After trying countless different vegan milks and cheeses, we've finally landed on a combination so winning that even non vegans love it.
In addition, these potatoes will go really well served with a Vegan Sausage Casserole.
If you'd like some more inspiration for your vegan roast dinner, check out our Ultimate Guide to making a Vegan Roast Dinner. We've included 34 top recipes in that article, and even share our go-to roast dinner recipes!

If you're looking for Christmas vegan recipes, then check out our vegan Christmas dinner guide. It's got over 79 different recipes from us, and our favourite vegan creators. Enjoy!
💭 FAQs
What type of potatoes should I use?
We think that new potatoes, maris pipers and russet potatoes all make lovely vegan hasselback potatoes. The key is to select potatoes that are all a similar size so that they cook evenly.

You could also make them with sweet potatoes!
Can I use different herbs?
Of course! The great thing about cooking from scratch is that you can make it exactly how you like it. 

This recipe uses thyme, but you could try making your vegan hasselback potatoes with rosemary, sage or parsley instead. We don't think that coriander would work, unless you went for a mixture of herbs and spices too, because it can be quite overpowering.
Can I make them ahead of time?
You can! Vegan hasselback potatoes will keep for 3 days in the fridge, provided they are stored in an airtight container.
Can I freeze these vegan hasselback potatoes?
Yes! You can follow the recipe as normal, wait for them to cool and then freeze them. Or alternatively you can cook them for five minutes less, before cooling and freezing them. This will ensure that they aren't overcooked when you reheat them.

Either way to reheat them, chuck them in the oven at gas mark 6/200°C for around 30 minutes, until they are piping hot.
🍽 Equipment
There are a few bits of equipment that will make this recipe much easier for you, and will benefit your kitchen life as a whole.
Sharp knife
We can't emphasise enough how important it is to have a good quality, sharp knife when you're cooking. You will find it much easier to make precise cuts and get even slices with a sharp knife. Not only that, but cooking with a sharp knife is actually much safer.
Blunt knives can slide off of whatever it is you are chopping and slice your hand if you aren't careful, whereas a sharp knife is much easier to control.
Chopsticks
We love using chopsticks to eat noodle dishes like our vegan pad thai! And they are great to have around for this recipe, as they will help you to get the slices just right.
Large roasting tray
It's surprising the difference having a decent roasting tray can make. Good roasting trays distribute heat much more evenly than poorer quality ones. This means that you'll find that your food cooks more evenly, and that it doesn't stick to the bottom which is always nice!
📖 Recipe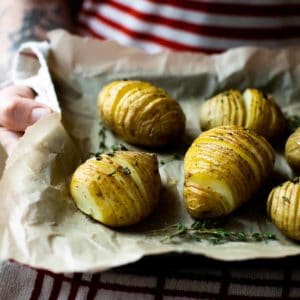 Herby Vegan Hasselback Potatoes
Herby vegan hasselback potatoes are potatoes are a great alternative to roast potatoes on a roast dinner, and even perfect for sharing on game nights. Enjoy!
Print
Pin
Rate
Ingredients
1.8

kg

potatoes

~ 12 medium potatoes, scrubbed clean.

2

tbsp

vegan butter

1

tbsp

fresh thyme

– chopped
Instructions
Pre-heat the oven to gas mark 6/200°c.

Slice the potatoes, carefully. Each slice should be about ⅛" wide – leaving about ¼" from the bottom of the potatoes so they stay connected. To do this, lay the potato between two chopsticks, (like in the images above) then slice the potato until the knife gets to the chopsticks. Repeat until all potatoes are sliced. It will probably get easier as you progress through the potatoes!

Pop half of the vegan butter in a pan and gently melt. Alternatively, microwave it for 60 seconds, until melted. Then, grab a pastry brush and coat the potatoes with the melted butter. Season generously with salt and pepper.

Bake in the oven for 20 minutes on a grease-proof lined baking sheet / tray. Alternatively use a non-stick baking tray.

After the initial 20 minutes, remove from the oven, then melt the rest of the vegan butter and brush onto the potatoes again. Sprinkle the chopped thyme over the potatoes and then bake for another 10 minutes.
Nutrition
Calories:
259
kcal
|
Carbohydrates:
53
g
|
Protein:
6
g
|
Fat:
3
g
|
Saturated Fat:
1
g
|
Polyunsaturated Fat:
1
g
|
Monounsaturated Fat:
1
g
|
Trans Fat:
1
g
|
Sodium:
48
mg
|
Potassium:
1271
mg
|
Fiber:
7
g
|
Sugar:
2
g
|
Vitamin A:
240
IU
|
Vitamin C:
61
mg
|
Calcium:
41
mg
|
Iron:
3
mg