Vegan potato hash is the perfect dinner for those nights where you just can't be bothered to cook properly! It's super quick to make (just 30 minutes) and needs just 8 ingredients. And it feels really comforting, even though it's packed full of veg and actually pretty healthy (ish)!
Give it a go if you fancy a one pot meal with minimal effort and minimal washing up. It's also a great way to use up leftover veggies if you've had a roast, or even for leftover roast dinner or Christmas dinner.
Jump to:
♻️ This is a zero waste recipe
We love making this vegan hash as a way to use up leftover veggies and stop them from going to waste.
You don't have to stick to the ingredients we've suggested, you can substitute for whatever you happen to have in the fridge. Some really good swaps include:
Switch out the leeks for onion.
Use cauliflower, carrots or mushrooms in place of the broccoli and sprouts.
Sweet potato or butternut squash instead of potato.
When we're making vegan potato hash we always leave the skins on the potatoes, because the skins are the best bit! Plus, you'll be doing your bit to prevent waste by not throwing them away.
If you don't want to include the skins in your meal that's cool, just be sure to bake them to make delicious homemade crisps.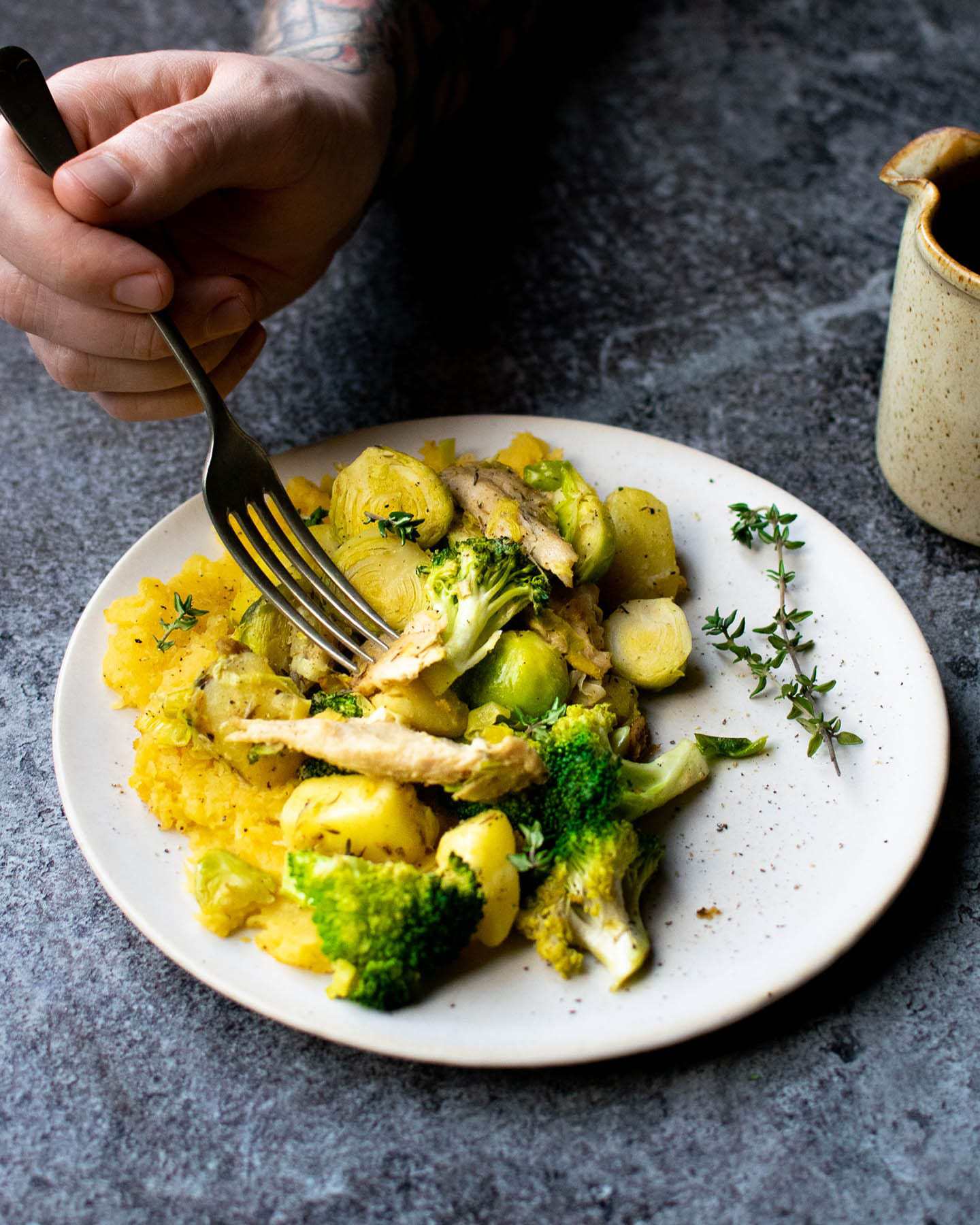 🥕 What to serve with it
This vegan hash is yummy on it's own, but you can also pair it with other things to make it into an even more substantial meal.
Try serving your vegan potato hash sitting on top of a bed of delicious, creamy swede mash. This recipe is really simple, you can make it in 25 minutes and it only has two ingredients - what's not to love?
For that great roast dinner feeling, try serving your vegan hash up with a side of yummy sage and onion stuffing balls. The combination of stuffing and vegetables is the best! Our stuffing balls are also really simple to make, and you can make them gluten free by substituting breadcrumbs for a gluten free alternative.
Gravy
Anything with potato in it needs some gravy doesn't it? We really like this vegan gravy recipe because it has a lovely rich flavour from using marmite and nutritional yeast. Serve up your vegan potato hash with a generous helping of gravy for a really hearty dinner experience.
📋Ingredients
Feel free to switch out any of these ingredients when making your vegan hash, so that you can use up whatever you have lying around. Our suggested ingredients are:
Oil (for frying).
Potatoes. You can either use fresh potatoes or leftover roasties if you have it. Chop them quite small.
Vegan chicken. Alternatively you can use sausages, seitan roast or whatever other meat replacement you happen to have on hand.
Broccoli.
Sprouts.
Dijon mustard. You can sub this out for vegan horseradish sauce if you prefer.
Dried thyme. Fresh thyme also works really well if you have it.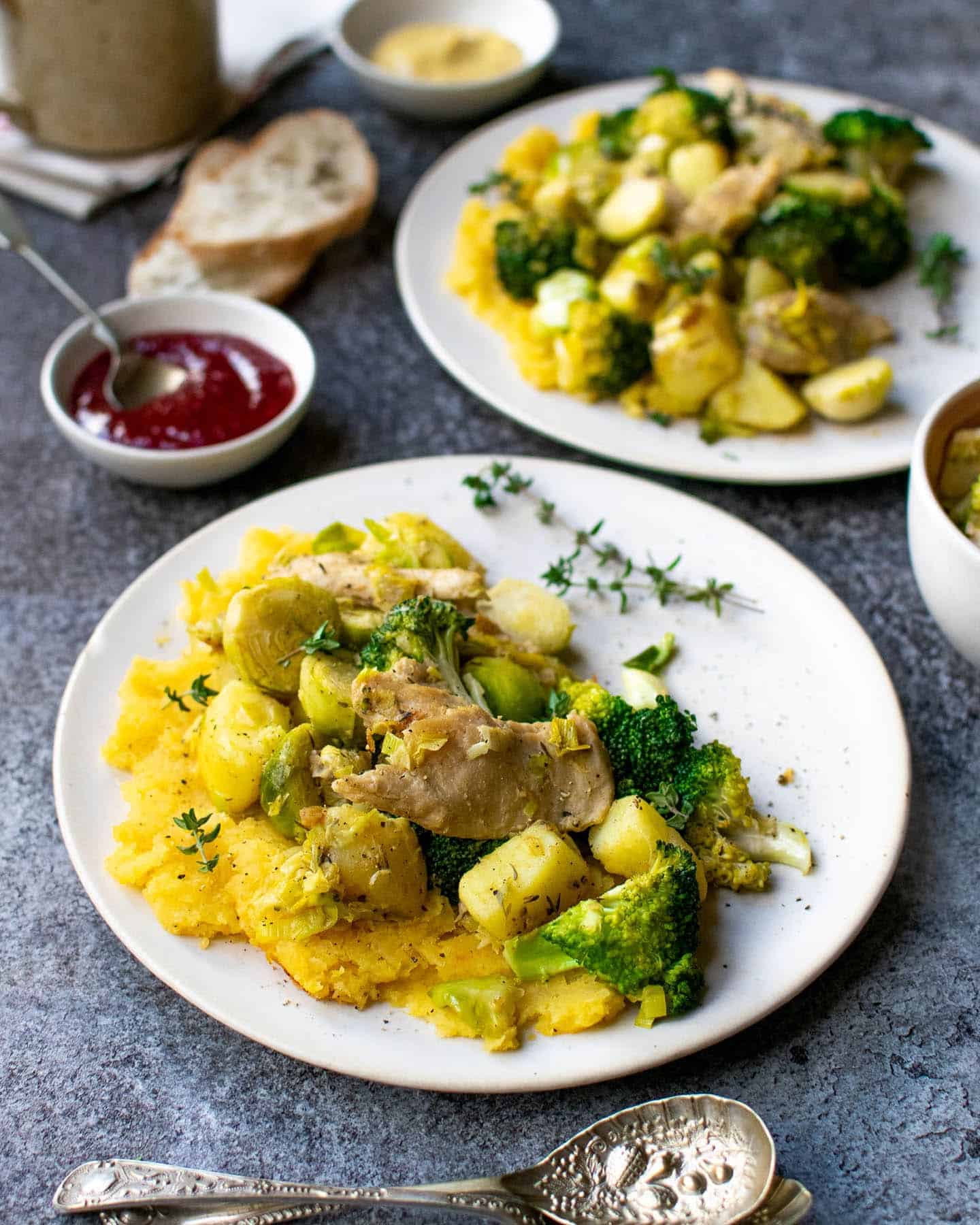 🔪 Instructions
When making vegan potato hash, make sure you give your potatoes enough time to cook through, as they will take longer than everything else.
First chop your potatoes up in small pieces. This will ensure that they cook quickly - you don't want to end up with crunchy, half cooked potatoes!
Chop up the rest of your veg into bite sized pieces.
Add a splash of oil to a wok or saute pan and allow it to warm up.
Pop your potatoes into the pan, and cook them on high for 10 minutes.
Add in the leeks and thyme, and cook for another few minutes.
Chuck in your vegan chicken (or other vegan meat substitute), broccoli and sprouts. Cook for 10 minutes more.
Put in the dijon mustard, and stir it through so that everything gets nicely coated.
Season with salt and pepper.
And that's it! Serve up this awesome vegan potato hash with lashings of vegan gravy and whatever side dishes you fancy, and enjoy. You could even have extra dijon mustard for serving, or a bit of English mustard, like me. Dan thinks this is weird, but I like it!
Please see the recipe card at the end of this article for detailed measurements and instructions.
Side note: did you know that this Bisto gravy is accidentally vegan?
💭 FAQs
What if I don't want to use a meat replacement?
We have made this meal plenty of times without meal replacements. You could try whole food meat replacements (that are made from vegetables rather than 'fake meat') like Fry's or GoodLife, so that you don't have processed food included in the meal. These items may need to be baked then added to the pan at the end.
Can I change the vegetables used?
Yes! Basically, if you would serve it with a roast dinner, it can go in this vegan potato hash. Altogether, you'll need about 600-700g of vegetables. Try a mix of: carrots, cabbage, cauliflower, broccoli, sprouts, green beans, peas or parsnips.
Can this meal be frozen?
Yes, it can be frozen for 3 months. However, if the meat replacement is frozen before adding it to the pan, check the instruction on the packet, as it may not be able to be frozen again.
👨‍🍳 Other recipes you might like
If you like this vegan hash recipe and you're looking for other warming and comforting dishes to see you through the winter months, we've got you covered!
Our vegan stew and dumplings is a simple one pot meal that will leave you lovely and full. We use mushrooms, potatoes, cabbage and carrots but like this vegan potato hash recipe you can switch out the ingredients and use whatever you have lying around. It also freezes really well, so you can always have it on hand as a kind of healthy ready meal.
We have cashew nut roast every Christmas, and it's something really special. The cashews give it a lovely rich texture, and the layer of spinach and cheese in the middle makes it really gooey and tasty. Try it as the centrepiece of your next roast dinner, we promise you won't be disappointed.
The lovely fresh flavours of our vegan take on creamed leeks and cabbage add an extra dimension to any roast dinner. And it's a great way of getting some extra veg on your plate, too! If you have leftovers, you can always chuck them into your next vegan hash and they'll go really well.
These vegan roasted brussel sprouts aren't your standard sprouts! We've made a delicious glaze for them out of miso and maple syrup, which means that they have a hint of sweetness and a really deep flavour.
If you're looking for even more winter comfort food inspiration, then check out our ultimate guide to vegan Christmas dinner recipes and our 35+ best vegan roast dinner recipes.
🍽 Equipment
Sauté pan with lid
If you invest in a really good wok or sauté pan, you'll honestly wonder how you ever did without it! A good pan will distribute the heat evenly and ensure that all of your food heats up at the same rate. Not only this, but it will mean that you actually have the room to stir your vegan hash as it cooks.
Chopping knife
We can't say often enough how important it is that you get hold of a really good chopping knife. A good sharp knife will mean that you won't have to work as hard when you're chopping veg, especially really tough fibrous veg like butternut squash. Plus it will actually mean that you are less likely to cut yourself, because the knife will go straight through the veg rather than potentially sliding off and catching your fingers.
Bamboo chopping board
We think that bamboo chopping boards are the best! Not only are they much more sustainable than other materials, they are also super strong and long lasting. Plus there is some evidence to suggest that they have antibacterial properties, which is great news in the kitchen.
Save this recipe for later by bookmarking (above) or pinning on Pinterest!
And if you love our content, consider supporting it by buying us a coffee. You can support us as a one off or on a monthly basis.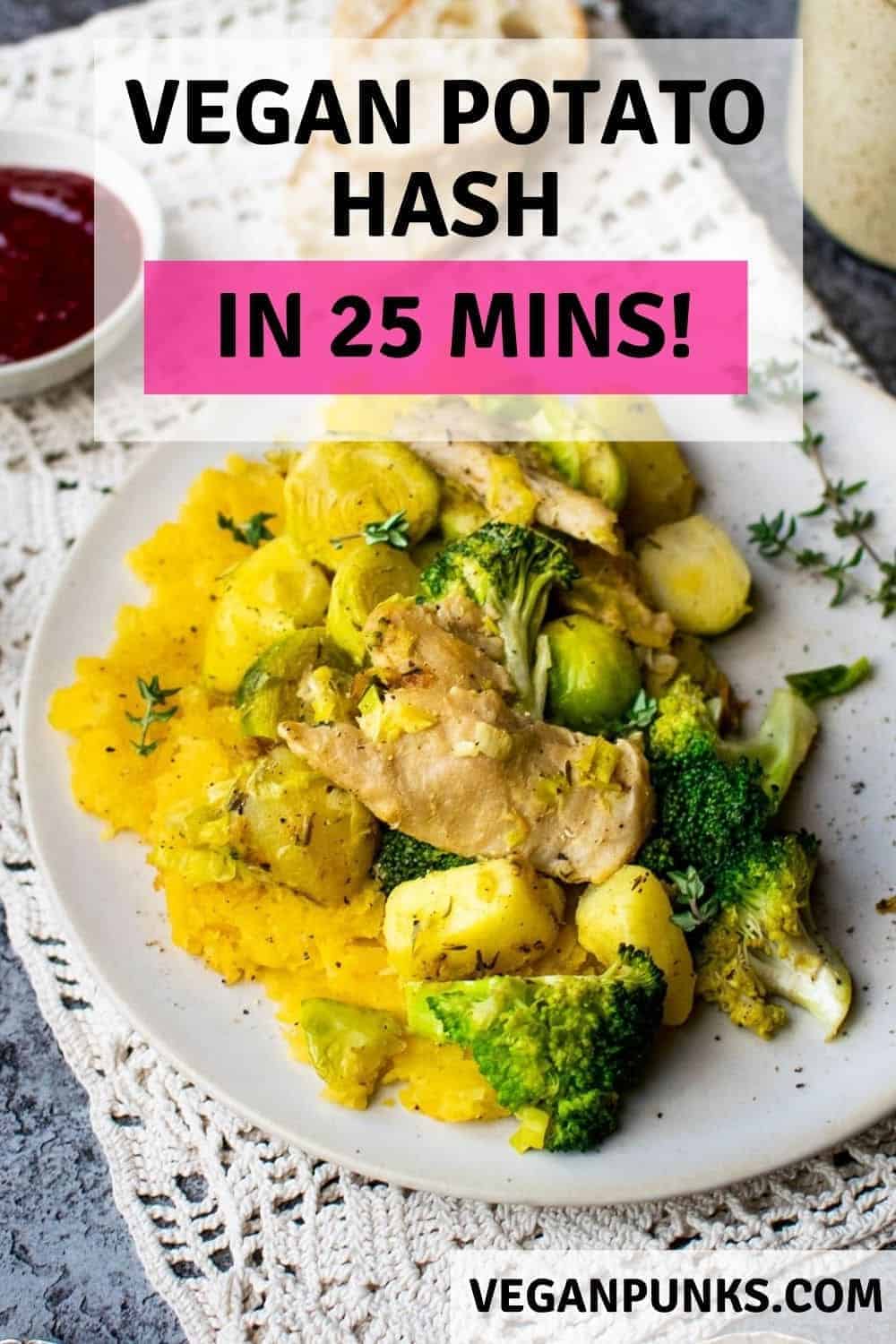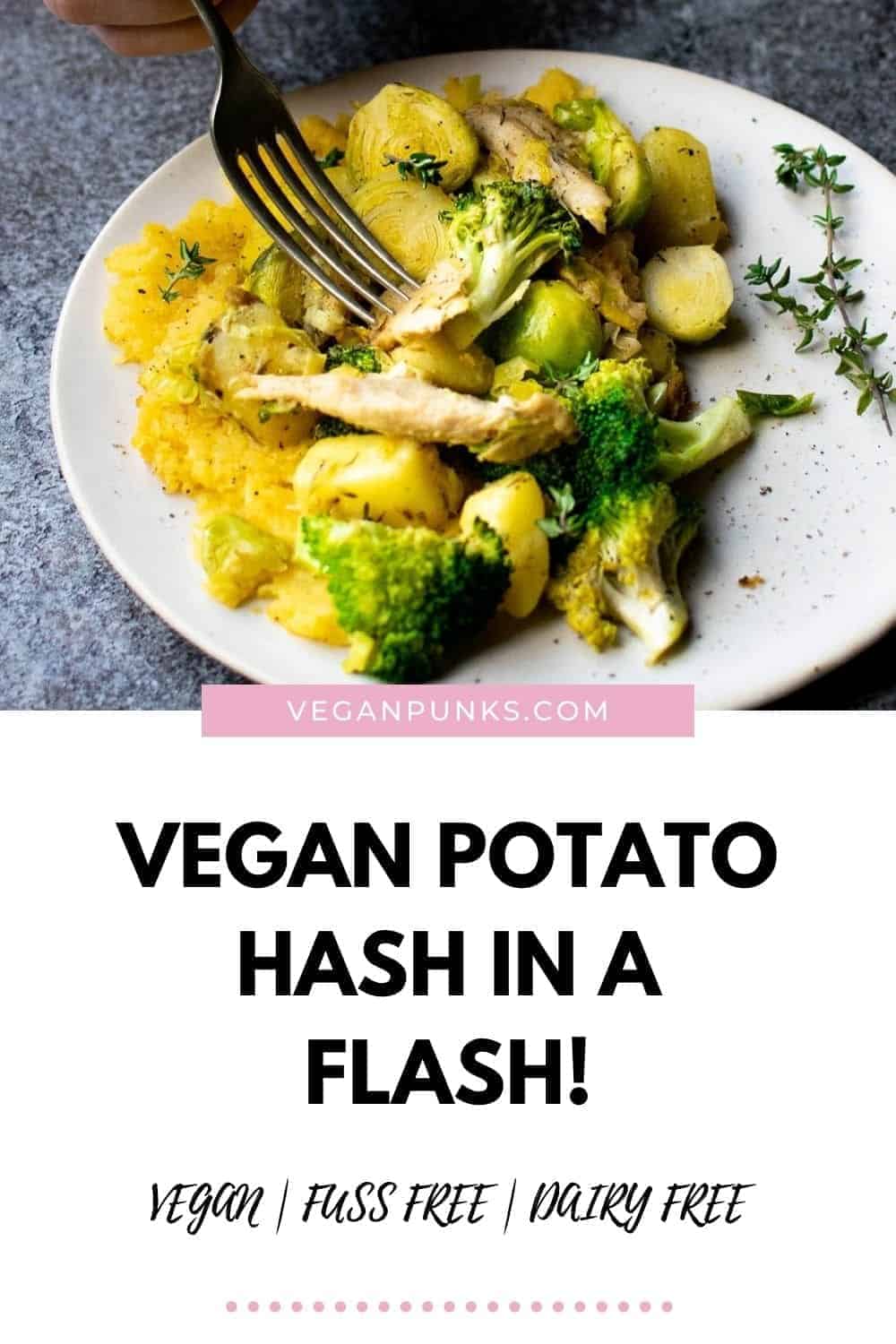 Print
📖 Recipe
Vegan Potato Hash In 30 Minutes
---
Author:

Jess Saunders

Prep Time:

5

Cook Time:

25

Total Time:

30 minutes

Yield:

4

1

x

Diet:

Vegan
Description
This vegan potato hash recipe will have dinner on the table in a flash! Just 30 minutes and 8 ingredients needed.
---
A splash of oil

500g

potatoes (either fresh or leftover roast potatoes!)

1

leek - sliced finely

200g

vegan chicken, (you can alternatively use sausages, seitan roast or another meat replacement)

200g

broccoli - chopped into bite-size florets

200g

sprouts - cut in half

2.5 tbsp

Dijon mustard (or vegan horseradish sauce)

1.5 tsp

dried thyme (you can also use fresh)
Garnish:
Fresh thyme (optional)
More Dijon Mustard
---
Instructions
Chop the potatoes into small pieces, this is so they cook quickly. You don't want to end up with crunchy potatoes!
Add a splash of oil to a wok or sauté pan.
Pop in the potatoes and cook on high for 10 minutes - stirring continuously, so as not to burn.
Add the leeks and thyme and cook for another few minutes
Next, add the vegan chicken, broccoli and sprouts. Cook for another 10 minutes, whilst stirring a lot.
Put the dijon mustard in and stir through until everything is well coated. Season with salt and black pepper.
Serve with vegan gravy and enjoy!
Notes
You can switch up the vegetables! Using 600-700g altogether, try a mix of: green beans, parsnips, cauliflower, baby corn, carrots and peas.
This is a perfect recipe for using up Christmas leftovers. Whether you've got too many sprouts in the fridge or leftover roast potatoes, they are ideal for this, and the herby goodness just tastes like Christmas.
Category:

Dinner

Method:

Stove-top

Cuisine:

British
Keywords: vegan potato hash, vegan hash