Aubergine (or eggplant), is an amazing vegetable to cook with! So if you're looking for the best aubergine recipes (or eggplant recipes) on the web, then you've come to the right place. Let's first look at how aubergine can be cooked and then the best recipes to make using these techniques.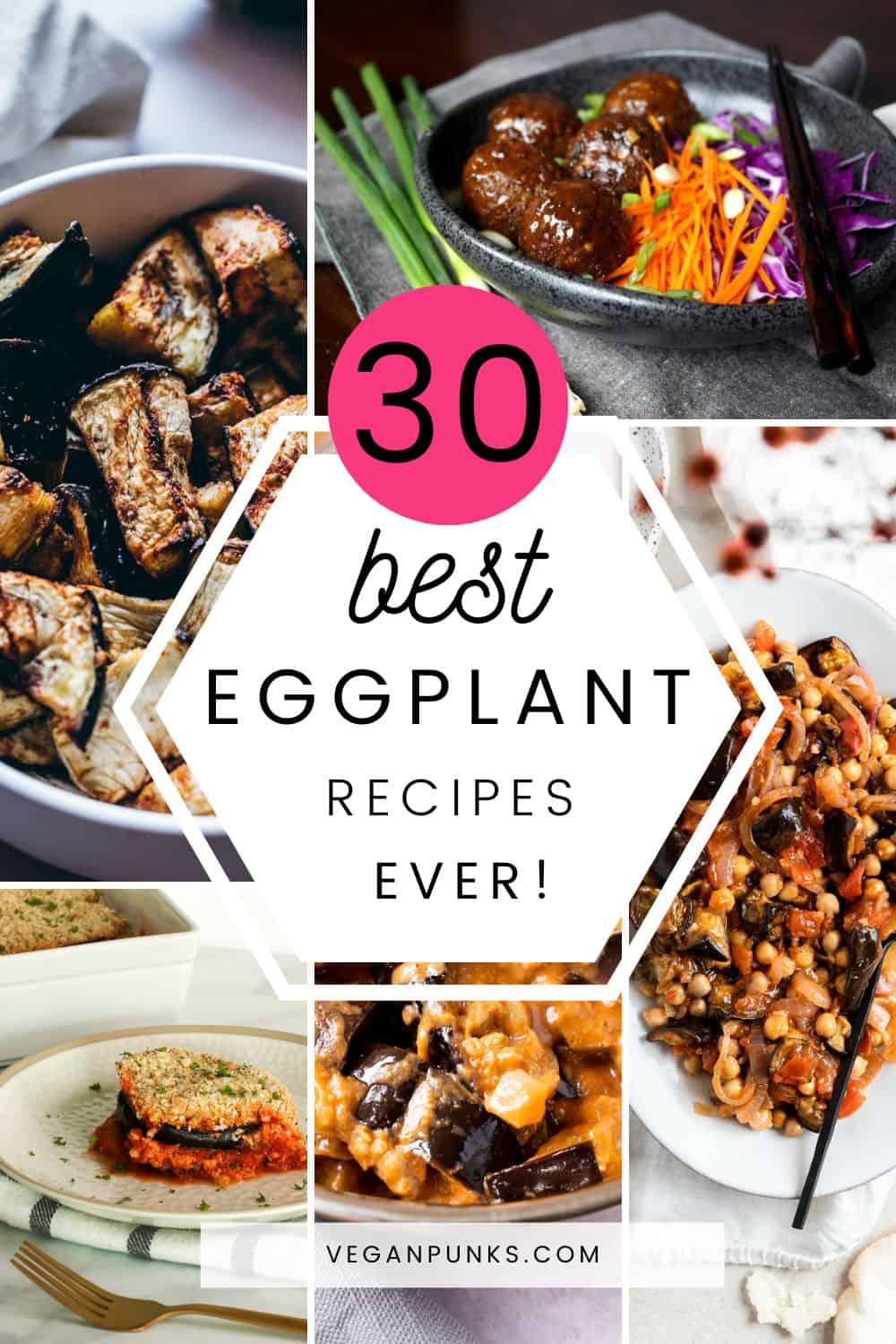 Jump to:
Everything about aubergine
Aubergine is a versatile vegetable that is often used in Mediterranean, Italian, Indian and Japanese cooking, amongst many other cuisines too.
Eggplant has a glossy, thick, deep purple skin that is glamorous yet elegant. And although the eggplant emoji now means something completely different in modern pop culture, it is still one of the best veggies to cook with. And a key ingredient for veggie and vegan dishes!
Although aubergine can mostly be bought all year around at the supermarket, it's in season from July to September.
Eggplant is mild, earthy and with a little sweetness. Sometimes aubergine can be a little bitter but as long as it's cooked until tender, it doesn't tend to be bitter.
It is similar in texture to a zucchini once cooked, and tends to go very creamy once baked. The skin stays a little tougher but generally the fleshy parts of the eggplant are very tender, that's why it's so great when made into an eggplant dip!
In addition, the humble aubergine has many names. Obviously there's eggplant, which is what most of you probably call this lovely vegetable, but there's also brinjal, begun and bharta which are all names for aubergine from regions in India. You'll probably come across all of these below! Starting with our delicious brinjal bhaji.
How to prepare & cook aubergine
There are many different preparation and cooking techniques to be used with aubergine. That includes peeling (or not), soaking, salting, stuffing, grilling, frying, roasting and even mashing. Aubergine recipes use a variety of these techniques.
Aubergines can be thinly sliced, chopped into chunks or simply cut in half. They can even be roasted whole! That is actually a beautiful way of cooking baby aubergines.
You may find a lot of aubergine recipes online that recommend salting aubergine slices before cooking them. This is actually an out-dated preparation technique for preparing eggplant, and is actually no longer necessary. This salting method was used to reduce the bitterness of the aubergine.
However, over the years, growers have bred the bitter taste out of modern aubergines and they are no longer as bitter as they once were. Right, let's move onto the all important aubergine recipes...
Easy & simple aubergine recipes
Easy eggplant recipes are where it's at! Aubergine recipes are often so delicious it's hard to pick just one. So here are our favorites...
Healthy aubergine recipes
Here you'll find a selection of eggplant recipes that we think are pretty healthy!
Quick aubergine recipes
Aubergine Dips
FAQs
So there we have it – the best aubergine recipes on the internet! Whether you call it aubergine or eggplant recipes, they're all the same thing, and so tasty!
But if we have missed any of your favourite aubergine recipes, let us know in the comments and we'll try them out.