Silken tofu scramble is delicious, healthy and rich in protein. Plus, you can make it in 15 minutes using only 4 ingredients! And, it's one of our favourite breakfast options. Read on to find out how to make tofu scramble with silken tofu.

We've created this recipe to be a direct replacement for scrambled eggs, it's absolutely delicious on toast.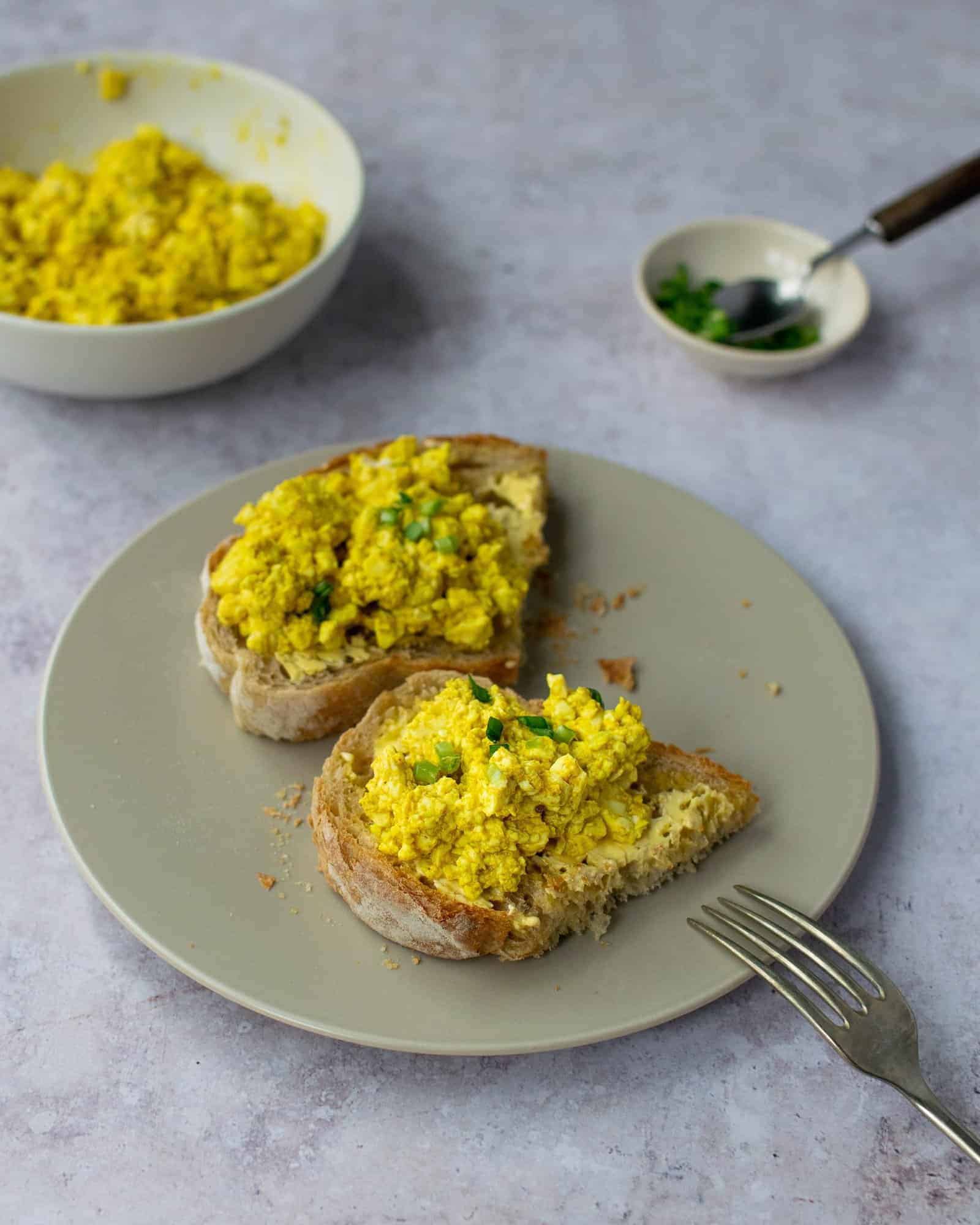 Jump to:
You'll notice that we haven't added any vegetables, onions or garlic as that's not how scrambled eggs are generally served. We have included a variation for that, though. We'd also recommend trying our curry tofu scramble for a fun twist!
Why this recipe works
This recipe uses silken tofu rather than firm tofu. This is because scramble made with silken tofu is a lot more like scrambled eggs than a scramble made with firm tofu. We've tried making scramble with both, and if you want it like scrambled eggs, it has to be silken.
We use 'firm' silken tofu in this recipe, but extra firm silken tofu would work as well. Don't get this confused with firm or extra firm standard tofu! We definitely advise against using soft silken tofu as it will turn into a sloppy mess.
This soft tofu scramble is super easy to make. It only has 4 ingredients, and one of those is tofu! Perfect, if you're looking for a recipe where barely anything can go wrong.
The secret ingredient for our silken tofu scramble is... kala namak! Kala namak is a type of rock salt that is widely used in South Asia. Its distinctive sulphurous taste and smell make it the perfect seasoning because it helps the tofu to taste like egg. The texture of silken tofu and the taste of the kala namak combine perfectly to replicate scrambled eggs.
Making tofu scramble with silken tofu is really simple. All you need is a frying pan (or a saute pan), and a spoon!
🍽 Equipment needed
Silken tofu scramble is a perfect breakfast food because it's so simple to make. Plus, you won't have to root around finding specialist equipment. All you will need is a sauté pan (or a frying pan), a spatula, and a set of measuring spoons.
📋 Ingredient notes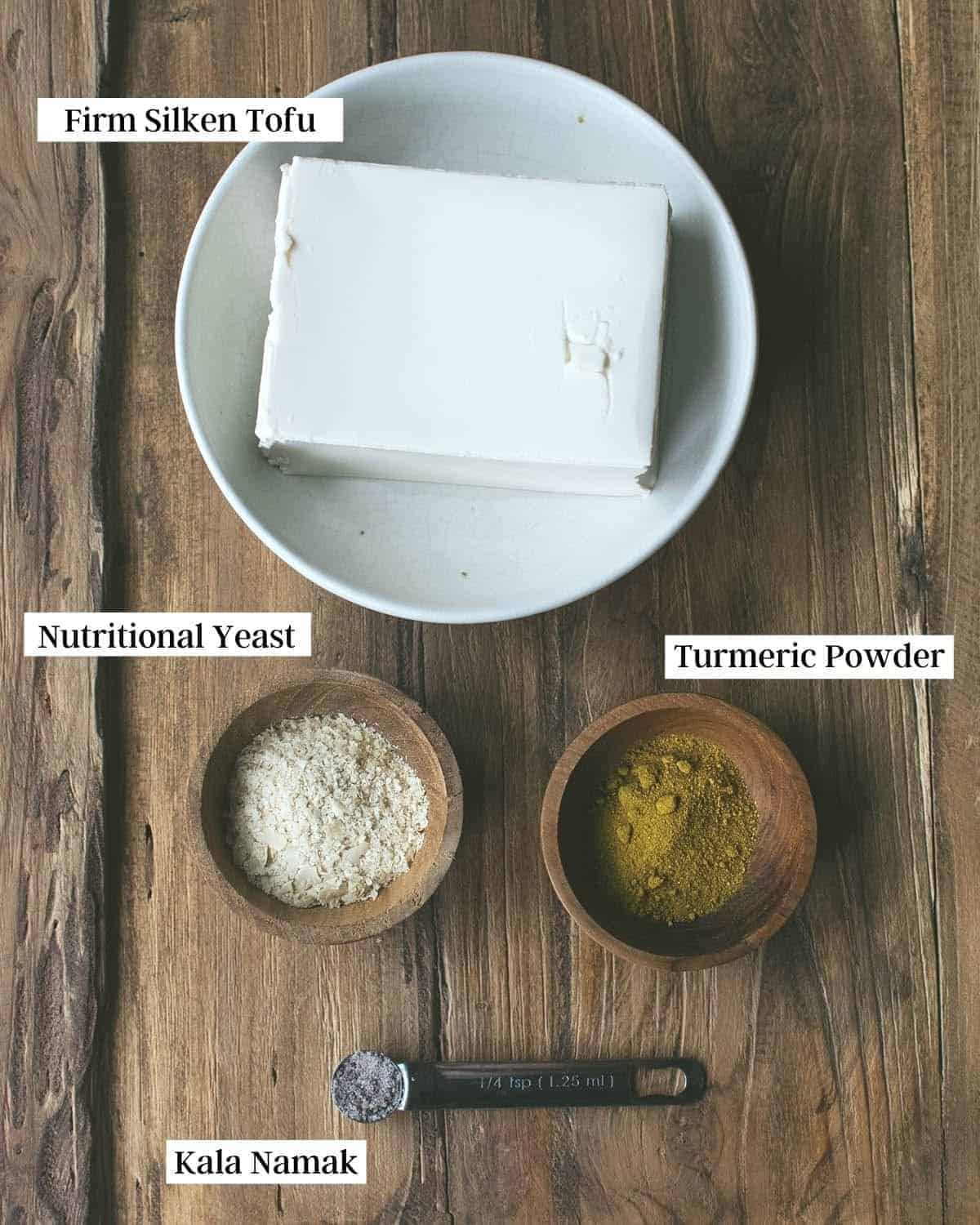 Silken tofu - make sure that you use silken tofu. Firm or extra firm silken tofu will give you the right texture, the one most similar to scrambled eggs. Soft silken tofu will create a scrambled that's too wet. Firm or extra-firm regular tofu is too solid to replicate scrambled eggs. These are more likely to create a dry scramble.
Kala namak - this is a must for tofu scramble seasoning! Kala namak is characterised by its sulphurous taste and smell, which makes it perfect for replicating scrambled eggs. It's sometimes also called 'Himalayan black salt', or just 'black salt'.
Nutritional yeast - a staple in every vegan's cupboard! Nutritional yeast is used to deepen the flavour of your silken tofu scramble, giving it an earthy, nutty dimension. We like nutritional yeast fortified with B12 to get some extra goodness in!
Turmeric powder - this is what gives your tofu scramble its yellow colouring. There are also reportedly a lot of health benefits to eating turmeric. Do your own research on that, but it sounds good!
🔪 Step-by-step instructions
This section is an overview of the method. If you'd like detailed instructions, please go to the recipe card at the end of this article.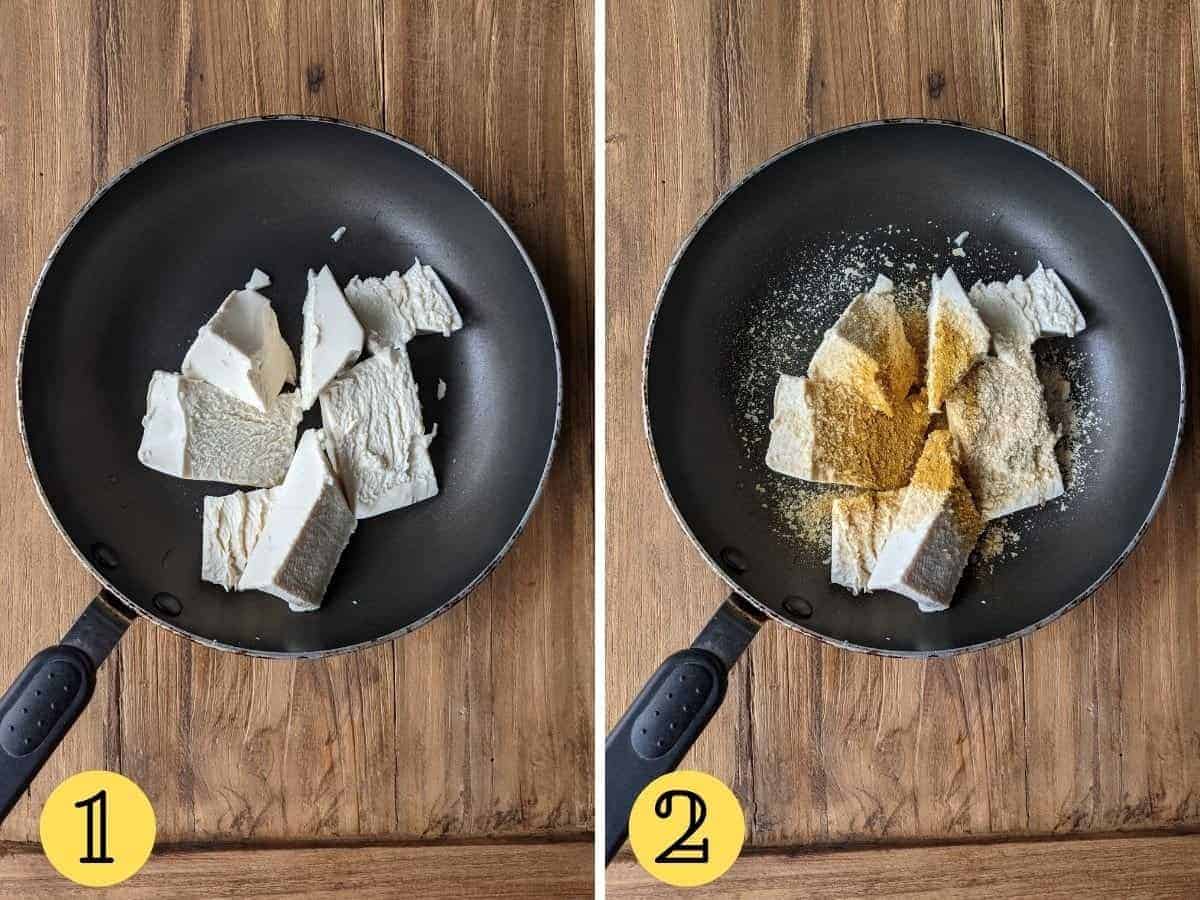 1. Pop all of your ingredients into the saute (or frying) pan, and place over a medium heat.
2. Using a wooden spoon, give everything a good stir to combine the ingredients. Aim to break up the tofu until it's a similar consistency as scrambled egg (as pictured below).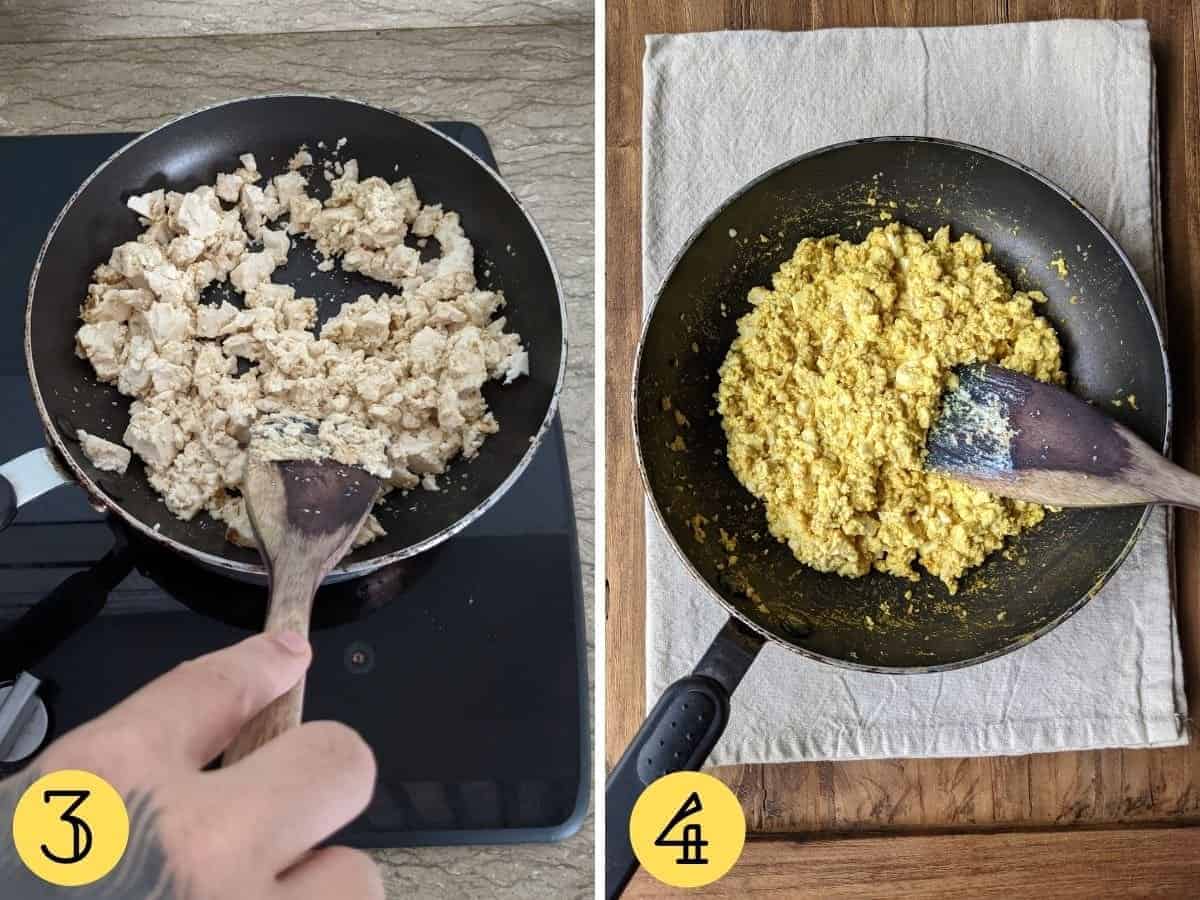 3. You only need to heat it until the tofu has warmed through. Don't heat it for too long otherwise, the tofu will start to break down and lose the texture.
4. That's it! Try it on a slice of hot buttered toast.
👩‍🍳 Expert tips
Variations - this recipe is delicious as it is, but if you want to switch it up you could turn it into a tofu scramble with veggies. Try adding onion, garlic and some finely diced red pepper (or capsicum). Or, you could try it with mushrooms or carrots. We also sometimes like to add a red chilli to our scramble to make it a little bit spicy.
Tofu preparation - you don't need to chop the tofu. Silken tofu is nice and soft, so you can break it up with your hands directly into the pan. Or, if you don't fancy getting your hands dirty, you could use a spatula or spoon.
Tofu alternatives - if you don't like tofu, or fancy trying something else, try making this recipe with ackee instead. Ackee is a fruit commonly used in Carribean cooking, that looks almost exactly like scrambled eggs when it's cooked.
Making ahead - silken tofu scramble is really at its best straight out of the pan. We definitely don't recommend it for freezing. It will keep in the fridge for a couple of days, but it's best fresh.
Kala namak - don't skip it! It smells pretty eggy because it's sulphurous, which can be off putting! Trust us though, it tastes great and it's the key to this recipe being a great scrambled egg replacement.
Serving - serve it up on your favourite fresh sourdough loaf with salt and cracked black pepper. It also works really well on a vegan full English breakfast.
💭 FAQs
Can you scramble silken tofu?
Yes, absolutely! This recipe shows you how to scramble silken tofu, and flavour it so that it's just like scrambled eggs. We've chosen silken tofu because the consistency is so close to scrambled eggs.
Which tofu is best for scramble?
We recommend using firm silken tofu to make tofu scramble. Firm silken tofu has the right texture so you get a scramble that's close to the consistency of scrambled egg. Soft silken tofu doesn't have enough texture, and loses its form too much to make a good tofu scramble. Firm and extra-firm tofu are too solid, and too dry.
Can this be made ahead of time?
Yes, it will keep well in the fridge for two days. However, it does taste much better fresh out of the pan.
Can you freeze it?
We wouldn't recommend it. Silken tofu scramble is much better fresh, and it's so quick to make there's no benefit to freezing it.
🍛 What to serve it with
This recipe is so versatile it can be served by itself on toast, as part of a vegan full English breakfast or in a breakfast burrito. Also great alongside homemade vegan baked beans, garlic mushrooms, smokey tempeh 'bacon', breakfast potatoes and corn fritters or even, as part of a vegan huevos rancheros.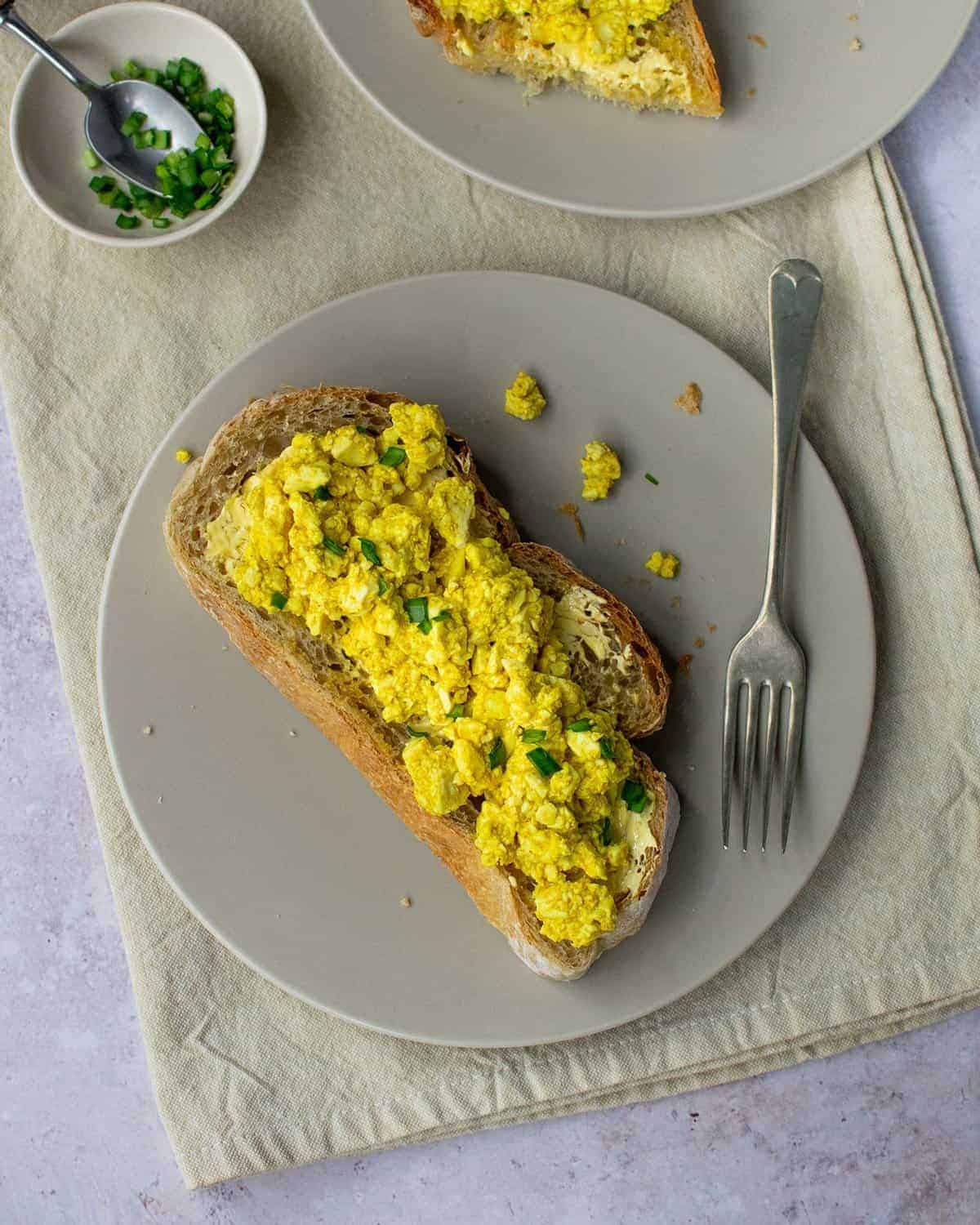 More creative tofu recipes
If you ever find yourself wondering what you can do with that block of tofu you bought, check out these ideas:
Did you make this recipe? Leave a review and a rating below, or tag us in your photos on Instagram! Alternatively, bookmark it in your browser or save to Pinterest for later.

If you love our content, please consider supporting it by buying us a coffee.
📖 Recipe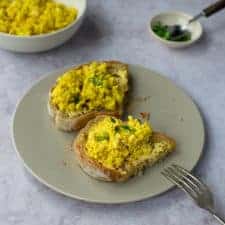 Best Silken Tofu Scramble In Minutes
Silken tofu scramble is a great breakfast option as it's delicious, healthy and rich in protein. Plus, you can make it in 15 minutes with only 4 ingredients!
Save
Saved!
Print
Pin
Rate
Ingredients
300

g

silken tofu

1

tablespoon

nutritional yeast

½

teaspoon

turmeric powder

¼

teaspoon

kala namak
Instructions
In a small frying pan or saucepan, break up the tofu with a spoon or spatula and then add all of the ingredients. Heat it over a medium heat.

300 g silken tofu,

1 tablespoon nutritional yeast,

½ teaspoon turmeric powder,

¼ teaspoon kala namak

Vigorously stir everything to help further break up the tofu, and keep going until you get a nice scrambled egg consistency.

It should only take a couple of minutes to heat through - try not to over do the stirring as that will risk the tofu breaking down and losing its texture.

Serve up on buttered toast or as part of a big breakfast.
Notes
This scramble keeps in the fridge for two days but is best eaten fresh.
We don't recommend freezing as it doesn't retain its texture well after freezing.
It's really important to use firm silken scramble, not soft silken tofu. Soft silken tofu is too wet.
To replicate the 'eggy' flavour it's really important to use kala namak. There's isn't a suitable alternative for this.
A note on the serving size – this recipe serves two as a main (e.g. on toast), but will serve four as part of a big full English breakfast or in a burrito.
Nutrition
Calories:
98
kcal
|
Carbohydrates:
6
g
|
Protein:
9
g
|
Fat:
4
g
|
Saturated Fat:
1
g
|
Polyunsaturated Fat:
2
g
|
Monounsaturated Fat:
1
g
|
Sodium:
8
mg
|
Potassium:
358
mg
|
Fiber:
1
g
|
Sugar:
2
g
|
Vitamin C:
1
mg
|
Calcium:
47
mg
|
Iron:
2
mg