If you're looking for a breakfast that's packed with flavour, give this curried tofu scramble a try. Just like our classic tofu scramble, curry tofu scramble is a great source of protein. It sets you up well for the day because it keeps you nice and full. This version includes a delicious twist by adding in curry spices to keep things interesting.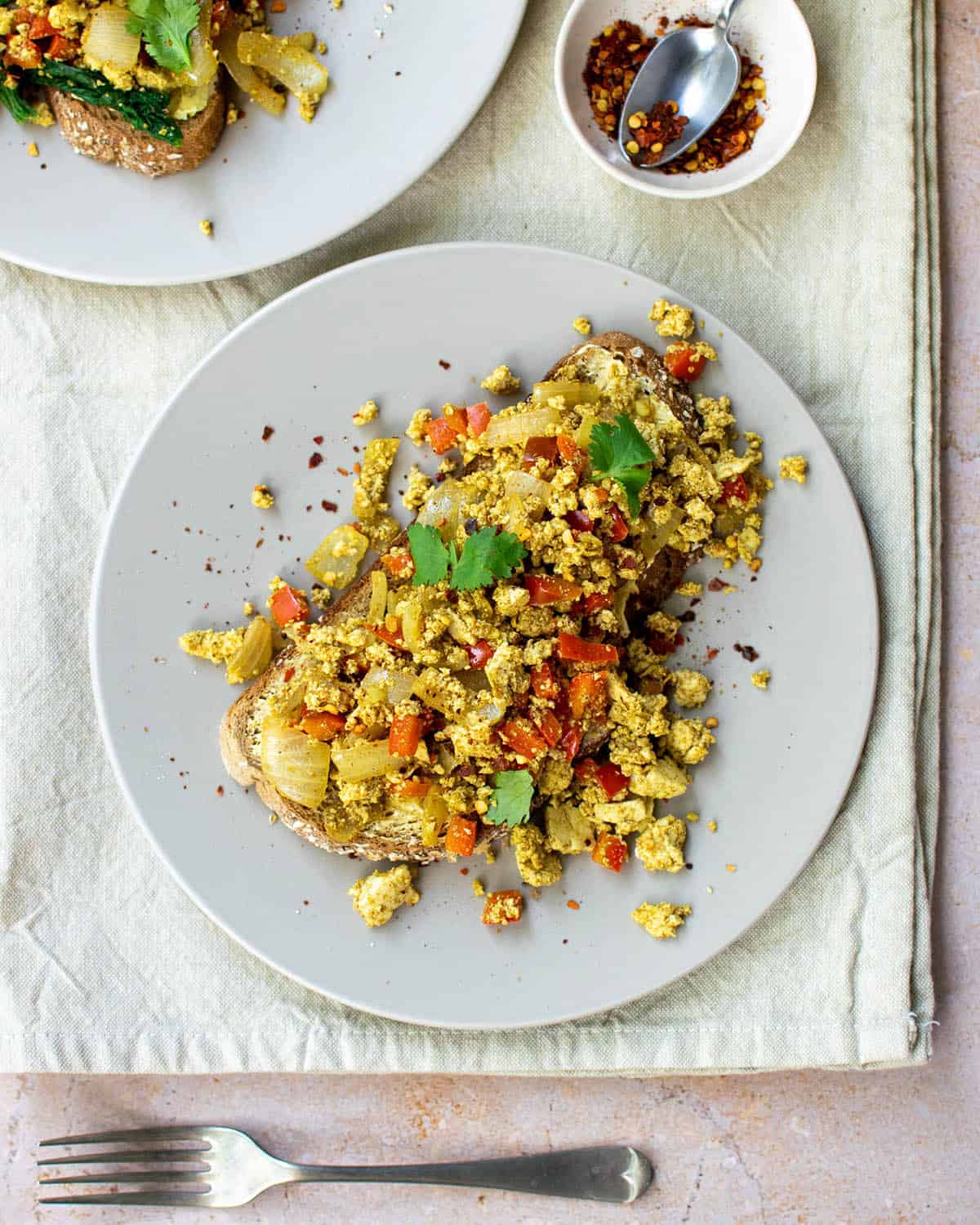 Jump to:
You'll only need a few ingredients to make this tasty breakfast. We use tofu (of course!), spices and the classic curry base – garlic and onions. The end result is a breakfast that's packed with flavour, to start the day off right.
Why this recipe works
The main thing we love about curry tofu scramble is how quick it is to make! You can see what happens when tofu scramble meets curry in under 15 minutes.
Curried tofu scramble is also really easy. It's become our go-to weekend breakfast because it feels like a treat, but without being complicated.
It's super versatile! Try adding spinach (or any green leaves), your favourite veggies or mix up the peppers by using a different colour.
It has a lovely curry flavour, but curry tofu scramble isn't at all spicy (unless you decide to add chilli). This makes it a big hit with people of all ages!
All you will need is one pan and about 15 minutes. Barely any washing up, and barely anything to go wrong!
🍽 Equipment needed
Living in Bali we've had a pretty basic kitchen, but we've still had no trouble making curry tofu scramble. Which is where we made and photographed this recipe!
All you'll need is a sauté pan (or a frying pan), spoon measurers, a sharp knife and a garlic press. Sharp knives make it much easier (and safer) to chop the onion! You don't technically need the garlic press as you can chop it instead, but crushed garlic does release more flavour.
📋 Ingredient notes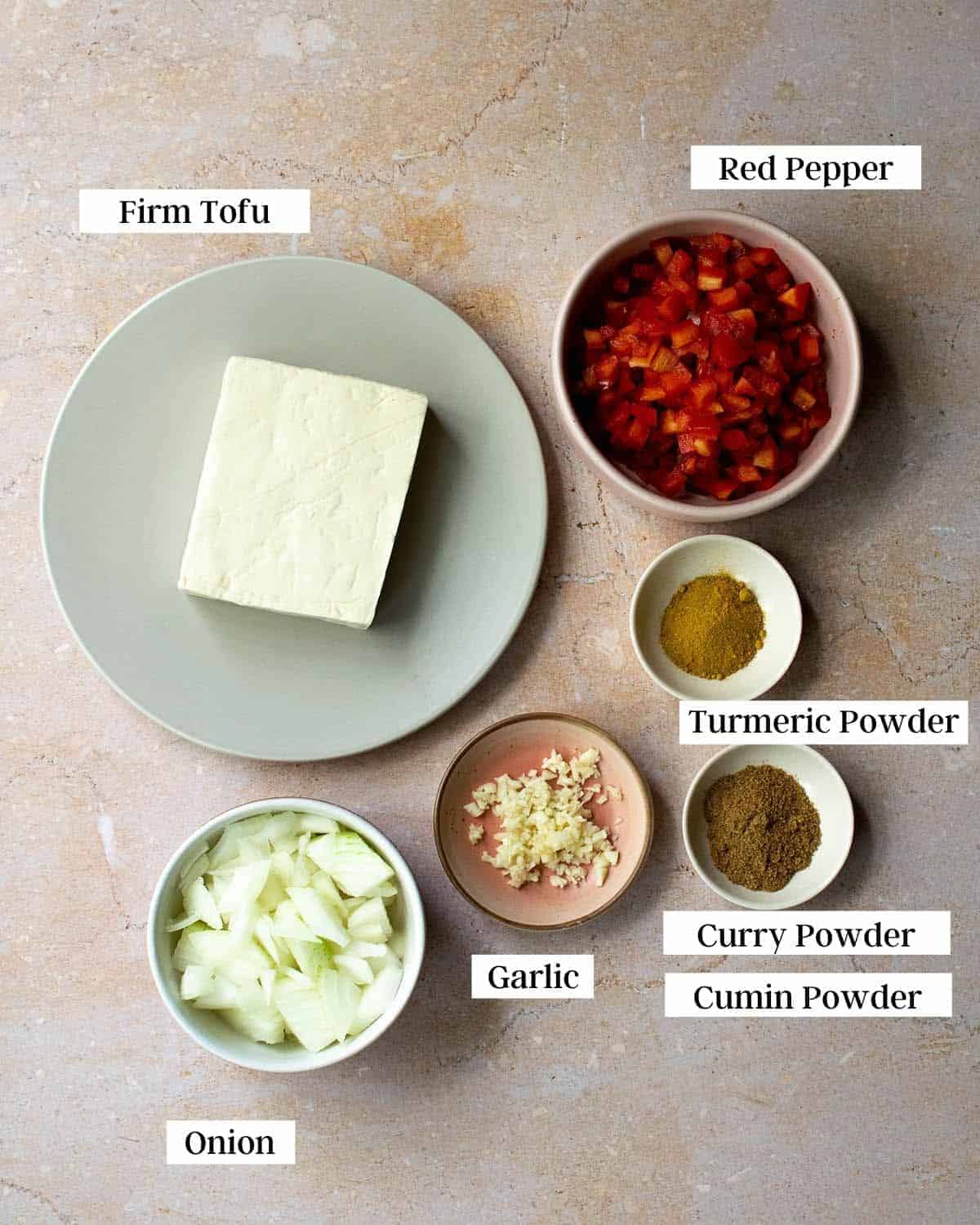 Here are some notes on the ingredients for this recipe but the full list can be found in the recipe card below.
Tofu - as you might expect, the tofu is a key part of curry tofu scramble. Make sure that you use either firm or extra firm tofu. If you're using firm tofu, press it to remove the extra liquid before cooking. Make sure you get standard rather than silken tofu. Silken tofu will give you a similar consistency to scrambled eggs, and we're aiming for a dryer scramble here. Firm tofu is also great made into vegan chicken nuggets.
Spice mix - all you'll need is curry powder, cumin and turmeric powder. The turmeric is used mostly for colour, the delicious flavour comes mostly from the curry powder and the cumin.
Half an onion - we've found that using a whole onion is too overpowering, so just use half in your curried tofu scramble. Keep the other half for later to use in a curry, stew or stir fry. It's important to cover the remaining half an onion if you're keeping it in the fridge as they are good at absorbing bacteria! We usually keep ours in an airtight container.
🔪 Step-by-step instructions
These instructions are an overview of the recipe to go with the step-by-step photos instructions. For full recipe list and instructions, head to the recipe card at the bottom of the page.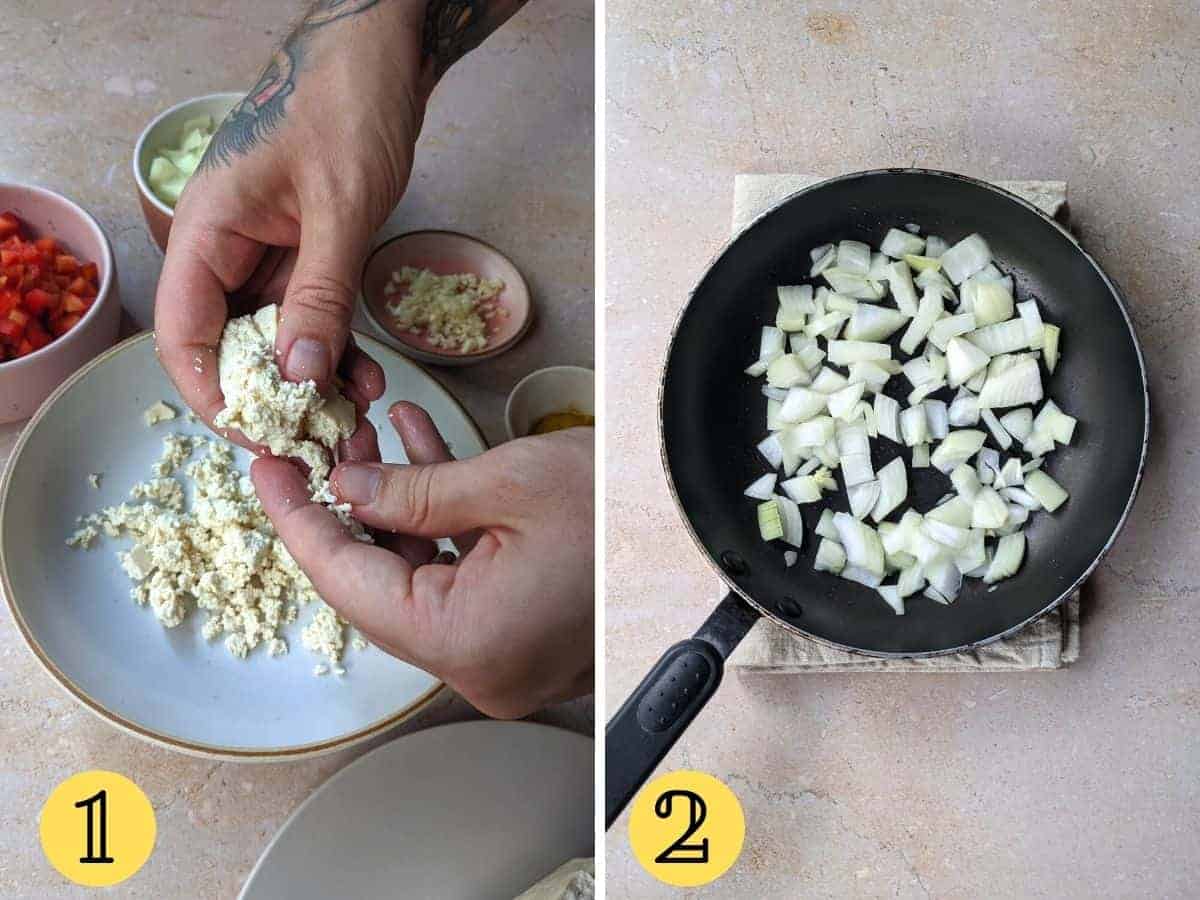 1. Begin by crumbling the tofu into a bowl with your hands.
2. Next, fry the chopped onion. Use just a splash of oil, and heat it to a medium temperature in a sauté pan. Once the oil is up to temperature, add the onion and fry for a couple of minutes.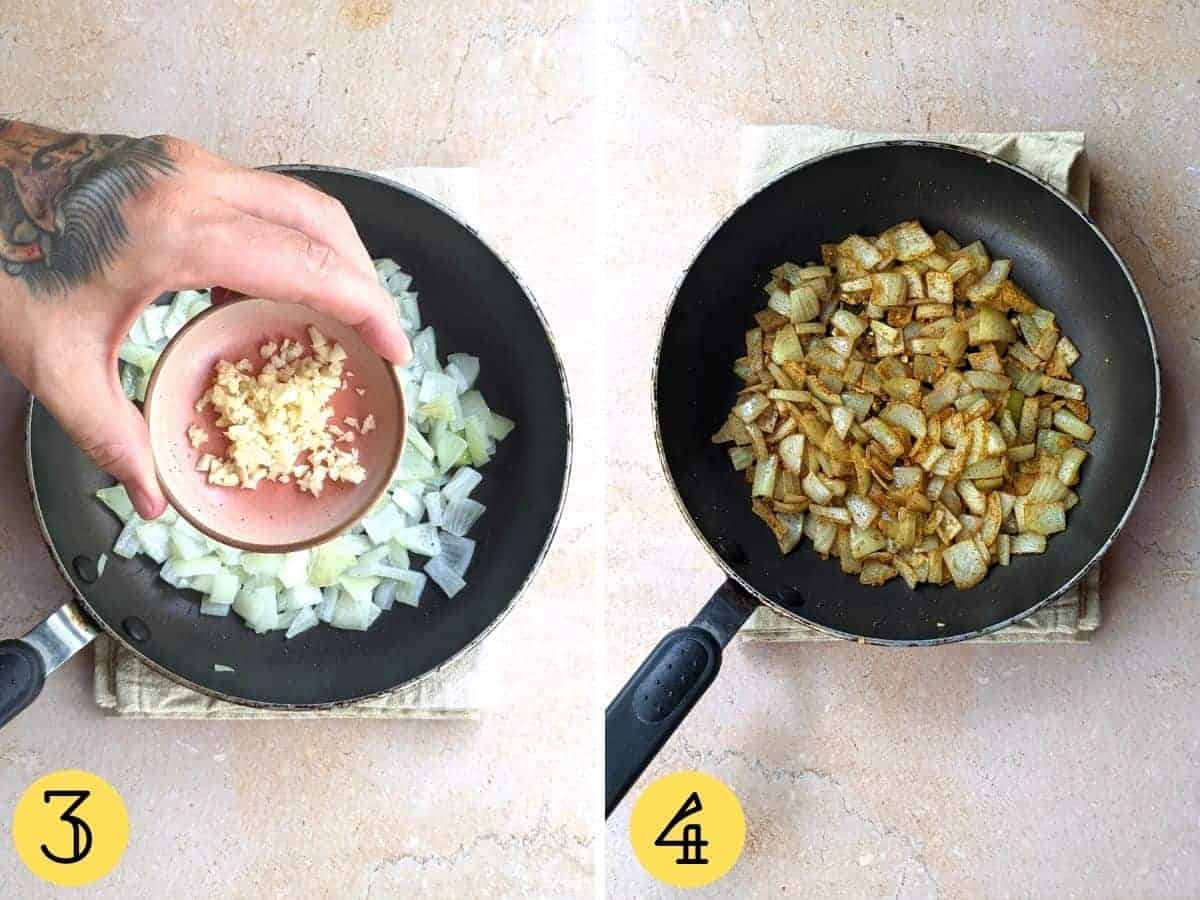 3. Add the crushed or finely chopped garlic to the pan. Be careful not to burn it, garlic catches easily and will spoil the flavour if burnt.
4. After about a minute, add the spice mix (curry powder, cumin and turmeric) and stir well.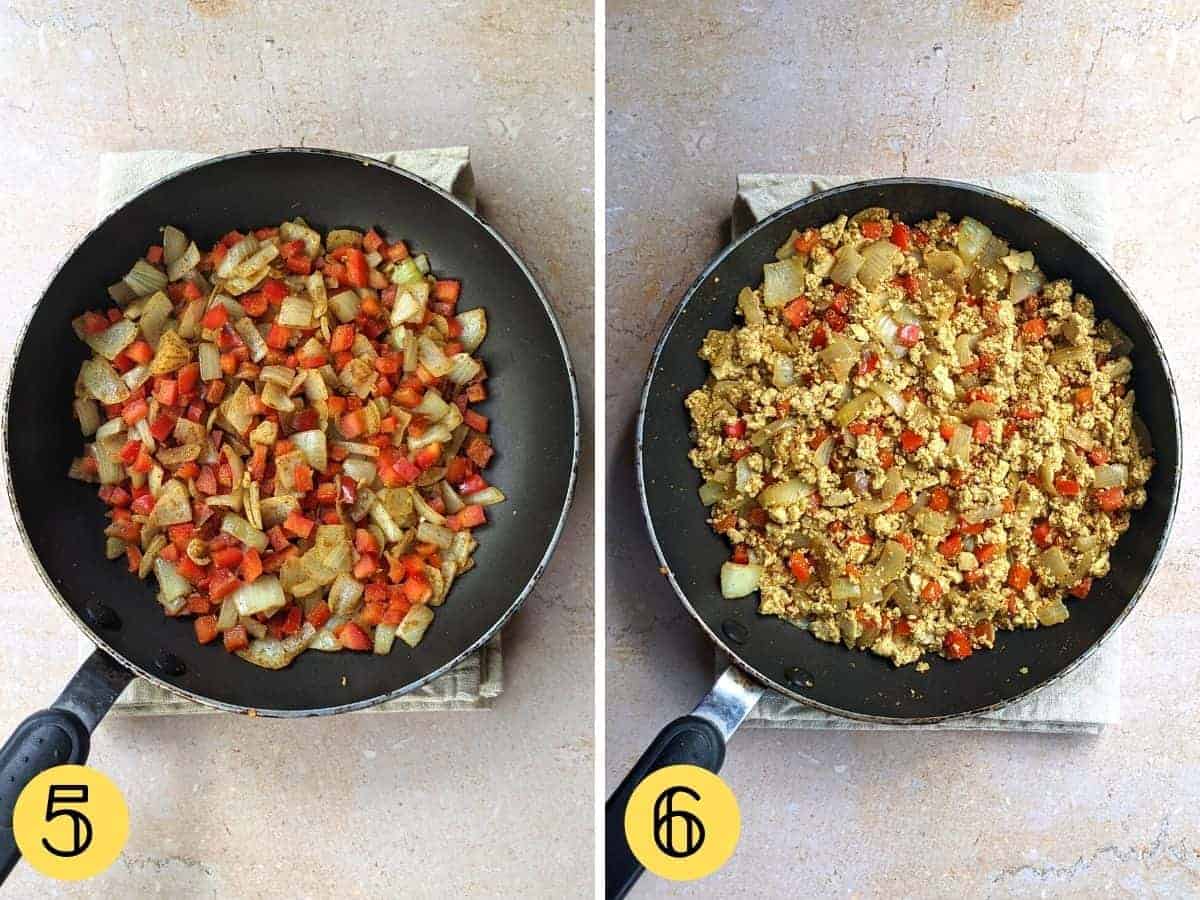 5. Add the chopped pepper and stir well.
6. Turn down the heat, and then put the crumbled tofu into the pan. Give everything a really good stir so that the tofu is covered in the spice mix. Turn the heat back up and keep stirring until everything is piping hot. Season with salt and pepper to taste - and it's ready!
👩‍🍳 Expert tips
Variations - try using different colour peppers, you'll be surprised at how it can change your finished curried tofu scramble! Green peppers are slightly more bitter, and red ones are the most mature so have a sweeter flavour. You can also try adding spring onion, carrot, spinach or mushrooms - whatever you like really. If you want your curry tofu scramble to have a kick to it then chuck some chilli flakes in there too.
Tofu - Tofu is soft enough so that you don't actually need to chop it up. Try crumbling it up with your hands to give it a nice texture. You can use a spatula or a spoon to crumble it up as well, but we think hands work the best.
Ackee - if you want to try something new, you could try swapping out the tofu for Ackee. Ackee is a fruit that's used in Caribbean cooking, and it's absolutely delicious. It has the perfect texture for making a scramble, too.
Eat it straight away - curry tofu scramble is definitely best eaten fresh, as soon as it's cooked. It will keep in the fridge for a couple of days, but the texture will suffer a bit. We don't recommend freezing it.
Bread - like any tofu scramble, curry tofu scramble is great served up on a slice of your favourite bread, we love sourdough. If you fancy a bit of a twist, try it on a roti or a naan bread or roti. It's so good!
💭 FAQs
Can you freeze this tofu scramble?
We don't think so. Tofu usually freezes well, but the flavour and texture of curried tofu scramble aren't likely to hold up after freezing.
Can this be made ahead of time?
Yes. It keeps well in the fridge for up to 2 days, but it's better fresh. The textures and flavours are at their best straight from the pan. It's so quick and easy to make there's no benefit in making it ahead.
Is this curried tofu scramble spicy?
No. It's flavoured with a lovely rich curry powder, garlic and onion, which aren't spicy. If you'd like it with a kick, try adding some chilli flakes or fresh red chilli.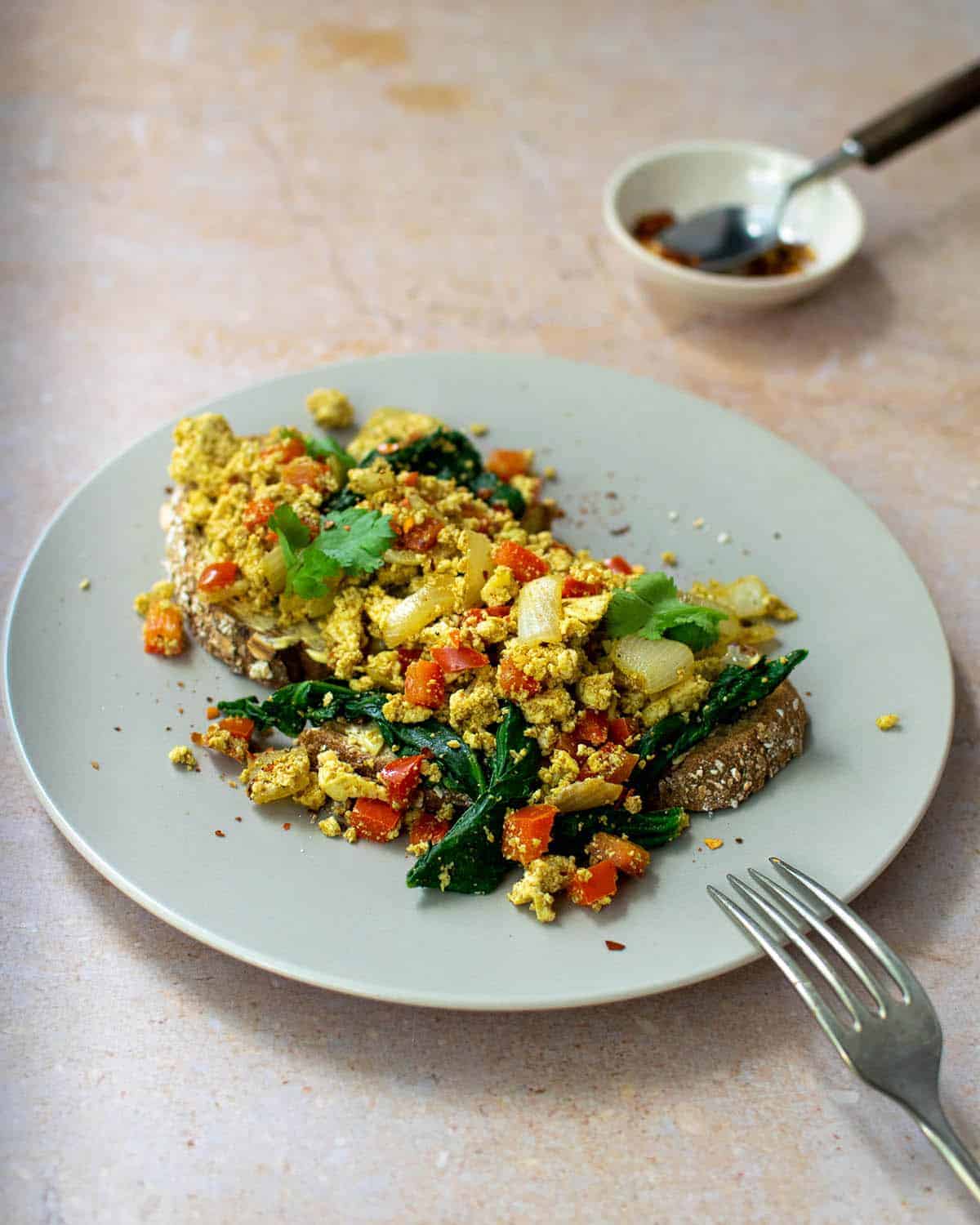 More creative tofu recipes
If trying our curry tofu scramble has you wondering what else you can do with tofu, give these a try!
Did you make this recipe? Leave a review and a rating below, or tag us in your photos on Instagram! Alternatively, bookmark it in your browser or save to Pinterest for later.

If you love our content, please consider supporting it by buying us a coffee.
📖 Recipe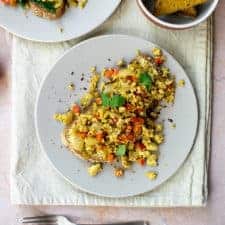 Easy Curried Tofu Scramble
Curried tofu scramble is a delicious twist on a vegan staple. Perfect for a protein packed breakfast, served on sourdough, naan bread or even in a burrito. Add alternative vegetables such as spinach or make it spicy with extra chilli flakes!
Save
Saved!
Print
Pin
Rate
Ingredients
60

g

onion

(roughly half an onion) - chopped

3

cloves

garlic

– crushed

1

red pepper

– chopped into small cubes

2

tablespoon

curry powder

¼

teaspoon

cumin powder

1

teaspoon

turmeric powder

400

g

firm tofu

crumbled
Instructions
Pop a splash of oil in a frying pan and heat over a medium temperature. Add the chopped onion and fry for a couple of minutes.

Next add the garlic to the pan and stir well. Careful not to burn it, as garlic burns very easily.

Sprink in all of the spices after about one minute, and add the chopped red pepper too. Stir well.

Turn the heat down to low and put the crumbled tofu into the pan. Give everything a really good stir so that the tofu is well covered in the spices, it should be quite yellow now. Turn the heat back up until piping hot.

Season with salt and pepper to taste. Serve with toast (it's best with sourdough), roti, English muffins, in a burrito or with a vegan full English.
Notes
Keeps well for two days in the fridge but best eaten fresh.
We don't recommend freezing as the texture won't keep well.
We recommend adding spinach (as seen in the pics) or try using different colour peppers. You can also try adding spring onion, carrot, spinach or mushrooms.
Try adding chilli flakes or a chopped fresh chilli for a spicy version.
Nutrition
Calories:
115
kcal
|
Carbohydrates:
8
g
|
Protein:
10
g
|
Fat:
5
g
|
Saturated Fat:
1
g
|
Polyunsaturated Fat:
3
g
|
Monounsaturated Fat:
1
g
|
Sodium:
8
mg
|
Potassium:
155
mg
|
Fiber:
3
g
|
Sugar:
2
g
|
Vitamin A:
963
IU
|
Vitamin C:
40
mg
|
Calcium:
151
mg
|
Iron:
3
mg