Are you looking for some maple syrup substitutes? Then you've come to the right place. Here we'll discuss the 7 best maple syrup substitutes (plus not-so-good substitutes) and tips on how to use them in your favorite recipes. So, whether you're out of maple syrup, need a cost-effective alternative or want to try a different option, you'll find a perfect maple syrup alternative here.
Jump to:
🤔 What is maple syrup?
Maple syrup is a natural sweetener that has been used for centuries. It was first introduced to the world by the Indigenous people of North America.
Real maple syrup comes from the sap of the maple tree and is collected between late winter and early spring when the trees are coming out of winter dormancy. To collect the sap, holes are made into the trunk of a maple tree. The collected sap is boiled to remove the excessive water. This makes a concentrated syrup, known as pure maple syrup, and is sold all over the world and is said to have many health benefits.
Since maple syrup is served with pancakes, it's easy to confuse it with pancake syrup. But, pancake syrup is different to pure maple syrup. Unlike maple syrup, pancake syrup is processed and not naturally made from tree sap. It's actually made from high fructose corn syrup, and has added artificial maple flavoring. It's more of an imitation maple syrup.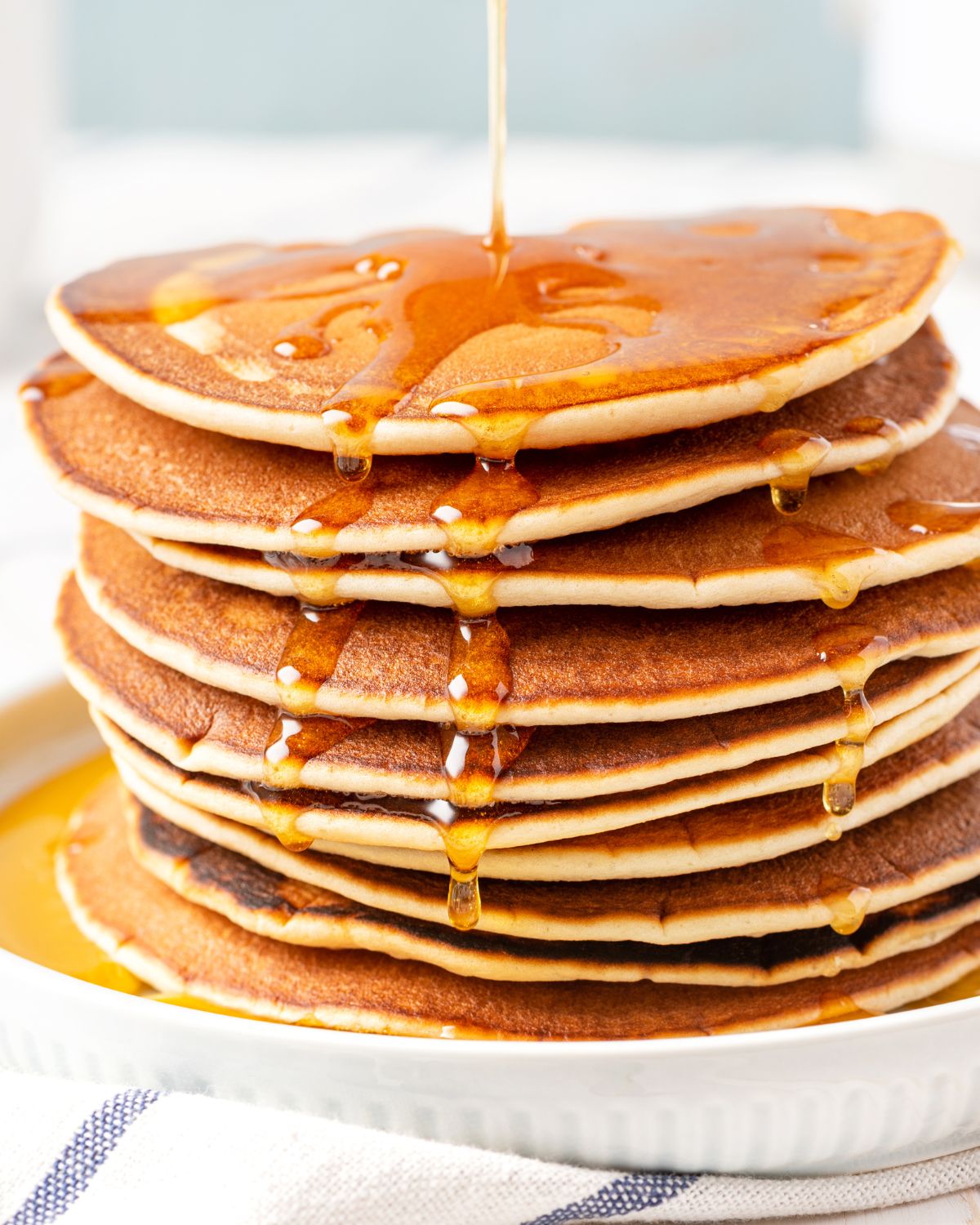 The unique flavor profile of maple sets it apart from other sweeteners. So, it isn't just used as a pancake topping (like these amazing fluffy vegan pancakes), waffles or french toast, but it can also add a unique and complex flavor to beverages and lots of other different recipes.
It's a great natural sweetener to use in baking recipes, salad dressings, marinades, smoothies and even cocktails (etc.). Examples include maple roasted carrots and parsnips, vegan baked oats, granola bars or even in the dressing for a Mexican style salad.
🍁 The best maple syrup substitutes
The following list is of suitable maple syrup substitutes, that will work well for most recipes.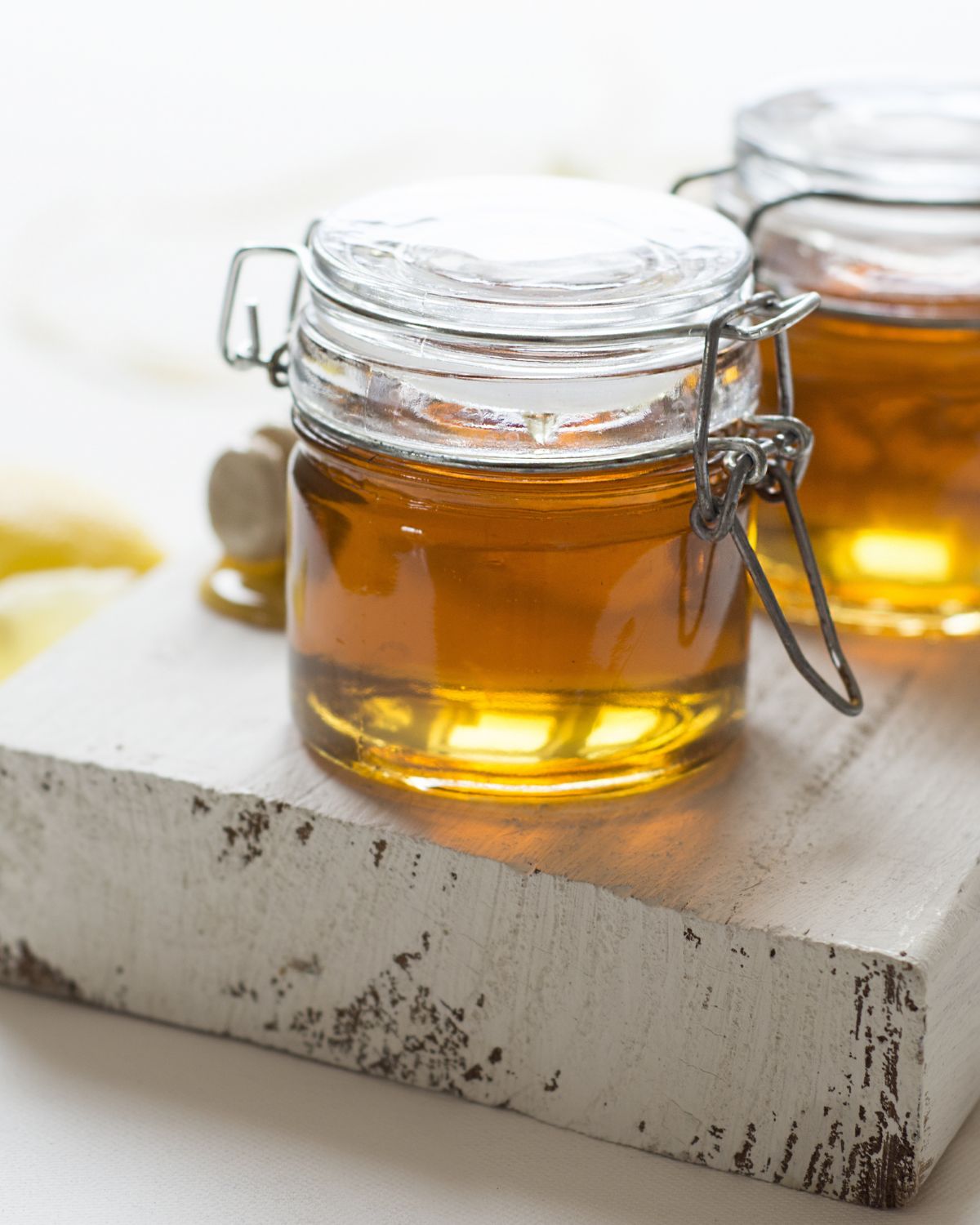 Coconut nectar
Coconut nectar is a golden, sweet syrup made from coconut blossom sap. It's probably the best pure maple syrup substitution you could make. The process of thickening the sap to make the nectar adds a slightly caramelized flavor and results in a smooth texture.
When used as a maple syrup alternative in recipes, it will add a slightly different flavor, but overall tastes quite similar. There will be a slight bitterness or coconut flavor, but it still works well as a sweetener.
In addition, coconut nectar is unrefined and offers its own natural flavor, so it has that in common with maple too, which makes it a great maple syrup replacement.
It's not quite as sweet as pure maple syrup, but still, using it in a 1:1 ratio will work well. Coconut nectar is probably the best maple syrup substitute that can be bought in a grocery store.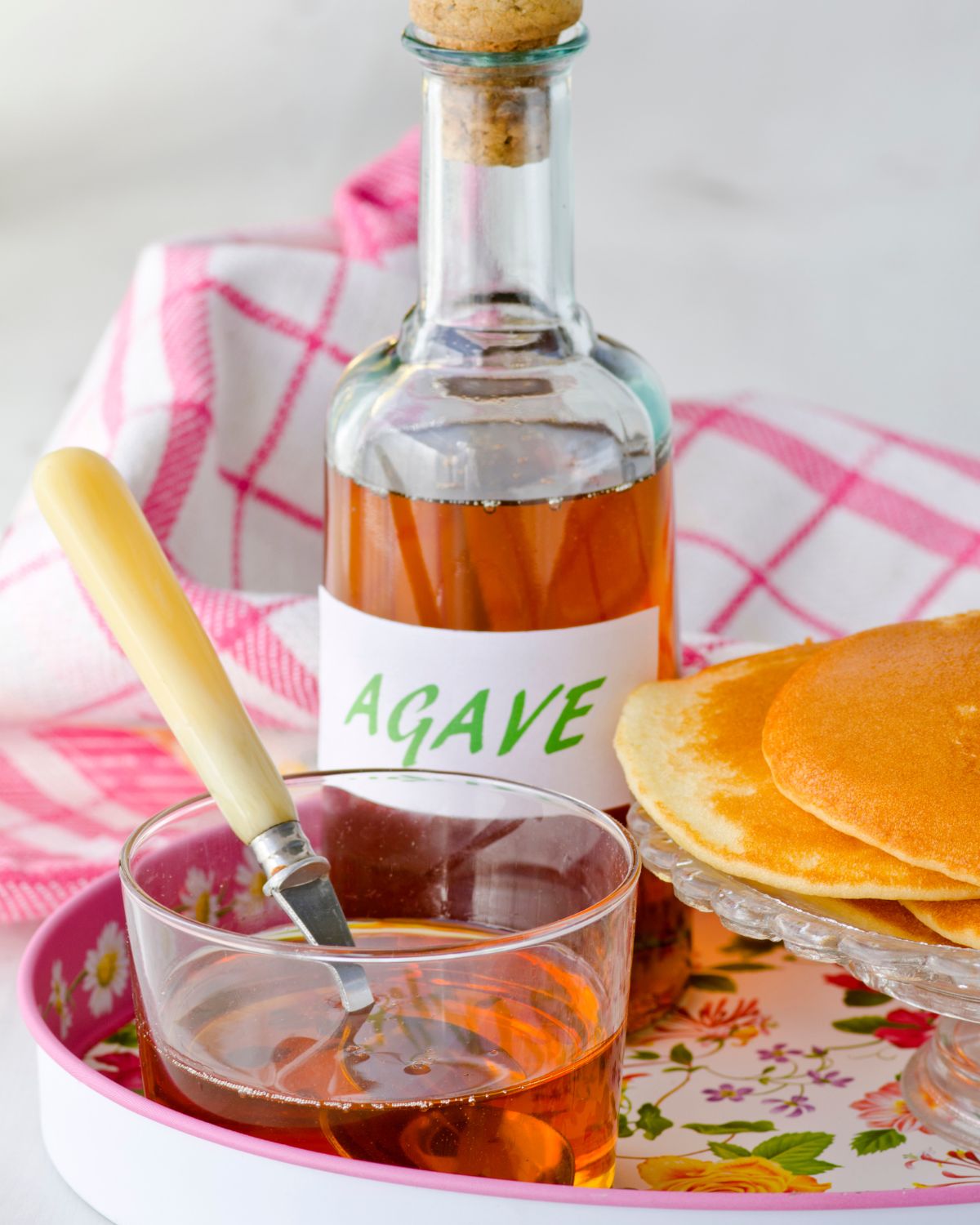 Agave nectar (agave syrup)
Agave nectar is a translucent and slightly amber-colored liquid that is produced from the sap of the agave plant. It has a mildly sweet flavor and a thin syrupy texture, and is also unrefined. Its taste is quite neutral, so it won't taste exactly like maple syrup. It also has a likeness to honey. It's similar to both honey and maple syrup, but not exactly the same. However, you won't have a bitter aftertaste when you use agave syrup in your recipes unlike some other options.
In addition, agave nectar is higher in fructose (easily digestible sugar) than maple, so it can spike blood sugar levels. It's worth bearing this in mind if you're considering using it as a substitute for maple syrup. All that aside, it is a great pure maple syrup substitute, and will work well in most recipes.
To replace maple syrup with agave nectar, follow the 1:1 ratio.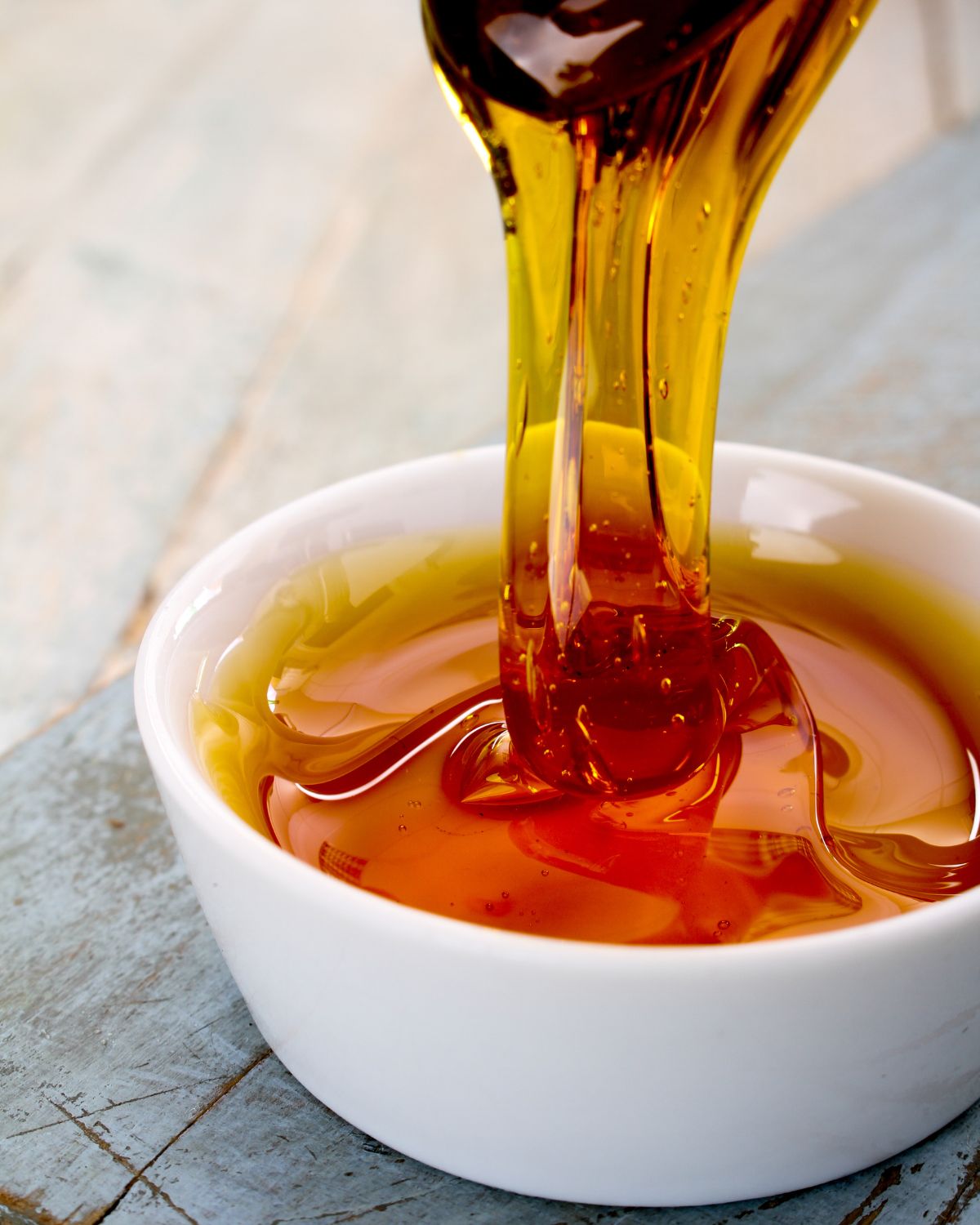 Golden syrup
Like agave nectar, golden syrup is also an amber-colored syrup but has a thicker consistency. It's made from sugar cane and the production process gives it a caramelized flavor and a sticky texture.
Golden syrup is a slightly sweeter maple syrup substitute, so you can use less of it. Generally, a 1:0.75 ratio will work for most recipes.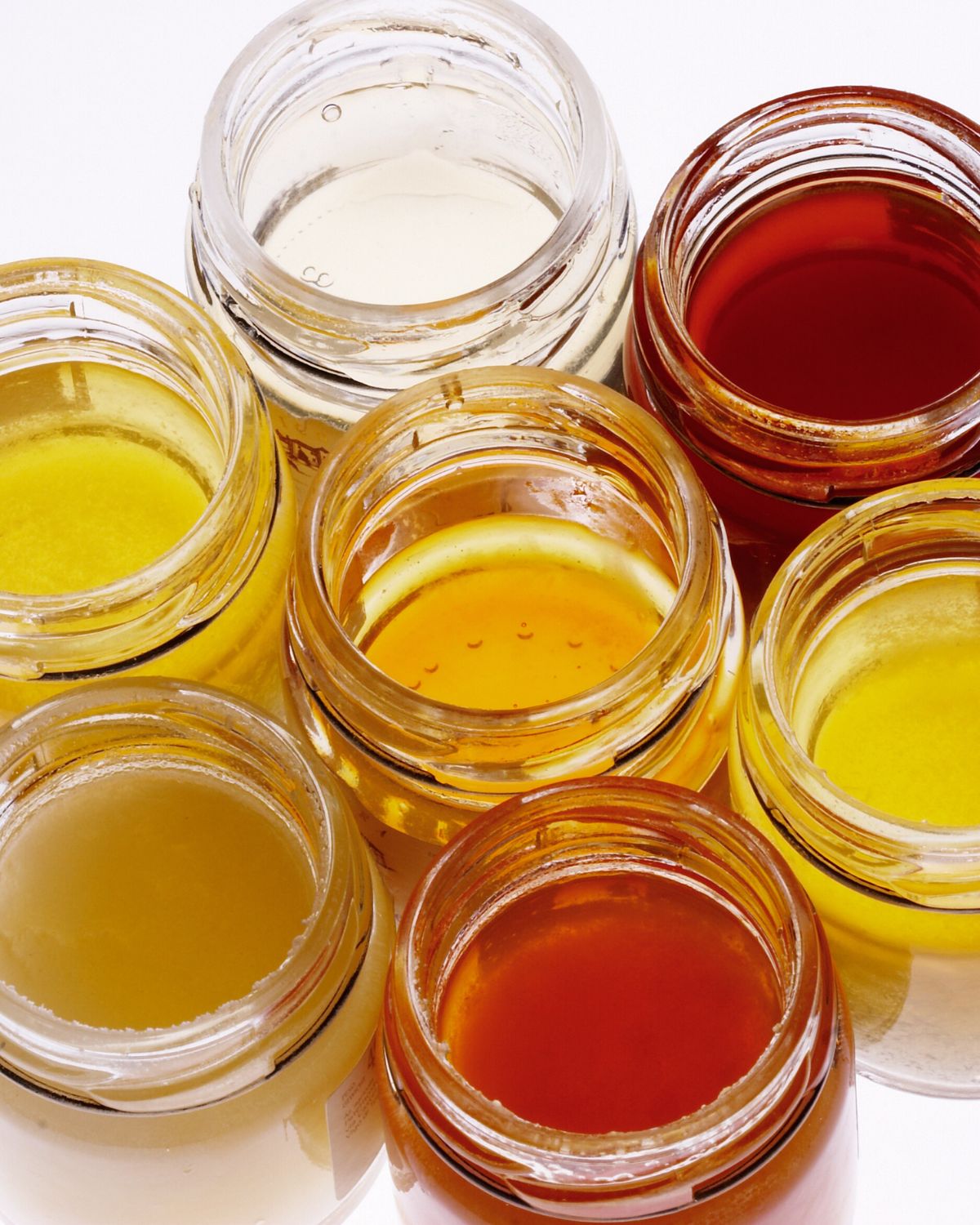 Vegan honey
As the name says, vegan honey is a plant-based alternative to traditional honey. Vegans generally avoid using traditional honey because it comes from bees. It is great as a maple syrup substitute.
However, vegan honey is not derived from bees. It comes from natural plant-based sweeteners, such as agave nectar, fruit, such as apples, or even plants like dandelions. Check out this vegan honey made from dandelions on our Instagram.
Generally, to make a vegan honey substitute, the main ingredient will be steeped with water and then simmered with sugar until a thick syrup-like consistency is reached. If you eat honey, then you can substitute honey but vegan honey is better.
Vegan honey has a sweet, honey-like flavor and a smooth, syrupy texture. It can be used in a 1:1 ratio as a substitute, but it's important to note that the recipe's flavor may be slightly different.
For example, if you're using vegan honey as a maple syrup substitute and the recipe calls for a strong maple flavor, youwon't end up with an intense maple flavor.
You can get vegan honey online or from health food shops.
Brown rice syrup
Brown rice syrup is a gluten-free and vegan maple syrup substitute option. It also has a higher glycemic index than maple syrup. It's made from cooked brown rice - the starches in the brown rice are broken into simple sugars using enzymes. This results in producing a mild, nutty-flavored consistency that is slightly thicker than maple syrup.
We don't like it for a recipe that calls for a prominent maple syrup flavor, because its nutty flavor can't do justice as an alternative.
To use it as a substitute for maple syrup, we recommend using 1 cup of brown rice syrup for ¾ cup of maple syrup (1:0.75 ratio). As maple syrup is sweeter than brown rice syrup, you'll need to use more of it.
Light molasses
It's a dark and viscous syrup that is made by boiling sugar cane or sugar beets. The rich, caramel flavor makes it a great maple syrup substitute.
However, it has a hint of bitterness and is not as sweet as maple syrup. Although a 1:1 ratio (so 1 cup of molasses for every cup of maple) will work while using light molasses as a maple syrup alternative, you may need to taste it and then add a little bit of brown sugar or white sugar as well. That's because maple syrup is sweeter than light molasses, so if you want a prominent sweet flavor, you may need to sweeten it with a bit of brown sugar to get the right balance.
Date syrup
Date syrup is a natural sweetener made from dates. The caramel-like flavor and thick syrup-like consistency make it a great maple syrup substitute.
In most recipes, you can use it as a 1:1 substitute for maple syrup. However, if your date syrup is thicker than maple syrup (it's possible as the consistency of date syrup can vary), then you need to adjust the amount of liquid in the recipe, or simply add more syrup.
🌱 Sugar-free substitute for maple syrup in baking
If you're looking for a sugar-free substitute for maple syrup, then look no further. Here are our top picks of sugar-free and low-sugar substitutes for maple syrup in baking:
Sugar-free
Low sugar
Low sugar alternatives to maple syrup are usually syrups that have been developed using little to no sugar. These are often considered to be keto-friendly syrups or designed for diabetic diets. Examples include:
🥄 Low-calorie substitute for maple syrup
It's possible to enjoy the sweet maple syrup flavor whilst sticking to a lower calorie diet. Check out these low-calorie substitutes for maple syrup:
Stevia
Monk fruit + water
Sugar Free Syrups (as above)
🤨 Other alternatives (that we don't recommend)
We don't recommend the following alternatives because we tried them and were not satisfied with the results.
Dark molasses
Although you can use dark molasses in small amounts as a maple syrup substitute in most recipes, its bitter flavor may overpower the other flavors. You can pair it with a little white sugar or brown sugar for a better option of replacing maple syrup.
Simple syrup
It's too runny and doesn't provide the consistency you get with maple syrup, plus it takes a while to make. It's harder to get the required consistency with simple syrup, but a thickener could be used as well. If you only need a sweet maple syrup substitute, then simple syrup will work well. But if you need a thicker consistency then it's not recommended.
In addition, maple is more flavorful, and simple syrup just tastes like sugar.
Light corn syrup
Corn syrup has a thinner texture than maple, so it's difficult to get the desired thick consistency with corn syrup (or dark corn syrup). In addition, the neutral flavor of corn syrup is another downside. Maple syrup has a rich flavor that corn syrup can't replicate in most recipes. We don't like using it as an alternative because it significantly impacts both the taste and texture of the recipe.
Sugar
It's not very flavorful, so it isn't the best substitute for maple syrup. Of course, there are different types of sugar, including white sugar, brown sugar, and powdered sugar. White sugar is the least flavorful, while brown sugar is the most flavorful.
If you're going to use sugar as a substitute for maple syrup, we recommend using a brown sugar syrup. Light brown sugar or dark brown sugar will do the trick. It will add a richer flavor to the finished recipe.
Maple Extract
While maple extract has the same flavor as maple syrup, it's not necessarily a great substitute. That's because it's not a syrup, it's an extract like vanilla extract. Therefore, if you have this and would like to use it as an alternative, then we recommend pairing it with a sweetener (from the list above) or white sugar, brown sugar or coconut sugar.
💭 FAQs
What is a good substitute for maple syrup?
The best substitutes are coconut nectar, agave nectar and vegan honey. They're the best alternatives for maple syrup. To find more alternatives, check out the article above.
What tastes the closest to maple syrup?
The taste of light molasses is closest to maple. You might have to use more of it in some recipes, but the final taste will be very similar.
Which brand of maple syrup is the best?
Costco's Kirkland Signature organic maple syrup is known as the best supplier on the market in the US, followed by Trader Joe's maple syrup. For our UK readers, we also recommend Kirkland's maple syrup (available from Amazon), Clark's, which is available at Sainsbury's and Aldi's Pure Canadian Maple Syrup, for a more cost efficient option.
👩‍🍳 Recipes to try (using maple)
🌟 Summary
So, now you have a list of the greatest maple syrup substitutes. We'd say that the best maple syrup substitute is either coconut nectar or agave nectar. The rest of our recommendations include light molasses, vegan honey, golden syrup, date syrup and brown rice syrup. If you don't want to experiment with the flavor and texture of your recipe, then avoid using dark molasses, simple syrup and corn syrup. White or brown sugar, or even coconut sugar can be used in a pinch, but it won't add the right texture - if that is needed.
Have you ever tried any of these maple syrup alternatives? If yes, let us know your favorites in the comments below!