We always get sushi cravings! Shop bought vegan sushi never quite lives up to the version that you get in really good Japanese restaurants so we thought we'd try our hand at making our very own vegan sushi recipe. It turned out really well!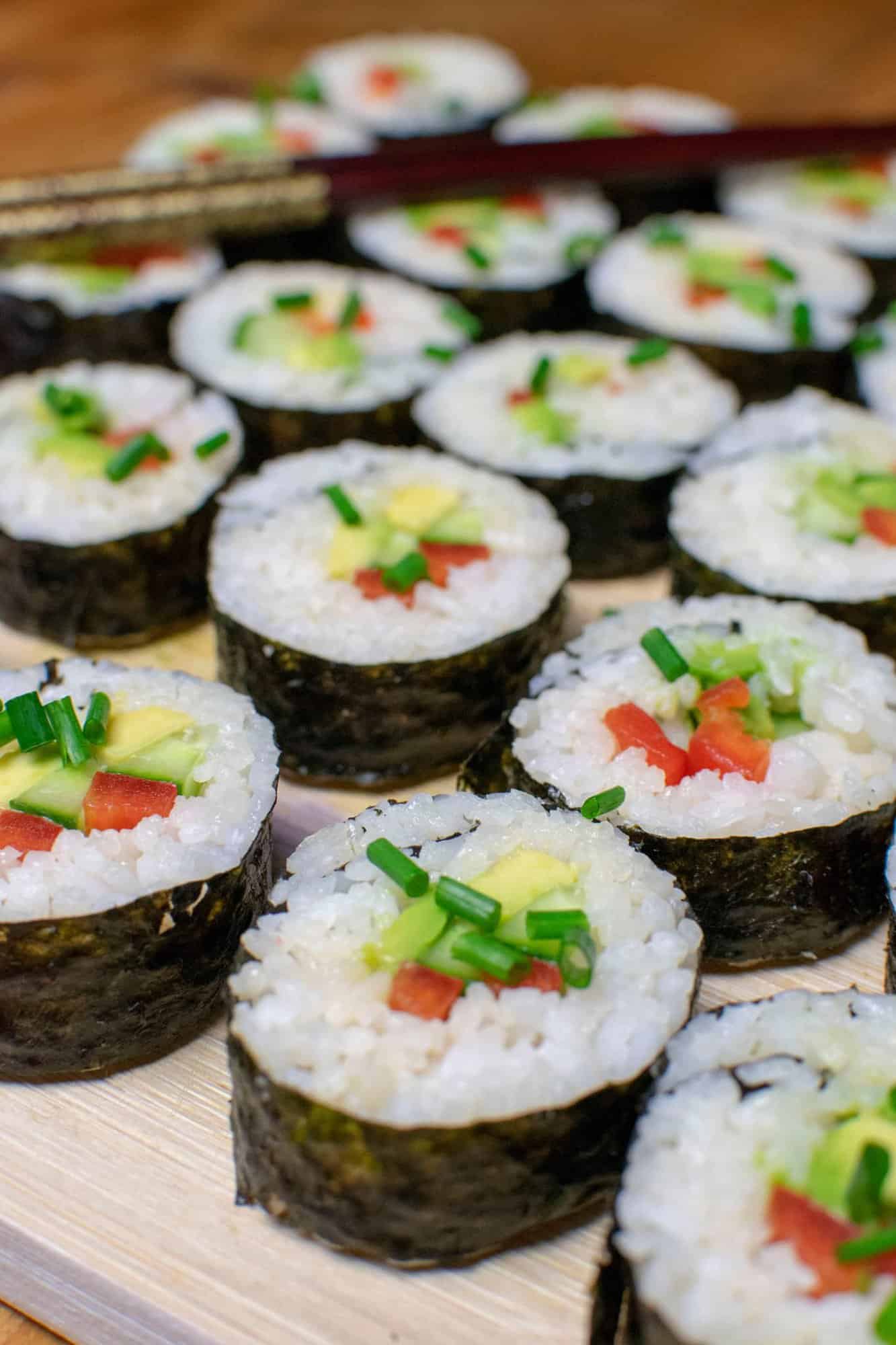 I'm not going to lie – we watched numerous YouTube tutorials on how to roll these delicious Japanese rolls, and after a few tries Dan really mastered the art! I'm still trying... I'm not awful but no where near as good as Dan.
The trick to rolling them up is to make sure you keep the roll really tight. Oh, and don't over stuff them with the filling. If you've ever rolled a cigarette you'll probably get on just fine!
Once you really master this skill you might not even need a rolling mat – Dan rolled these in the photos without a mat. That's next level shiz.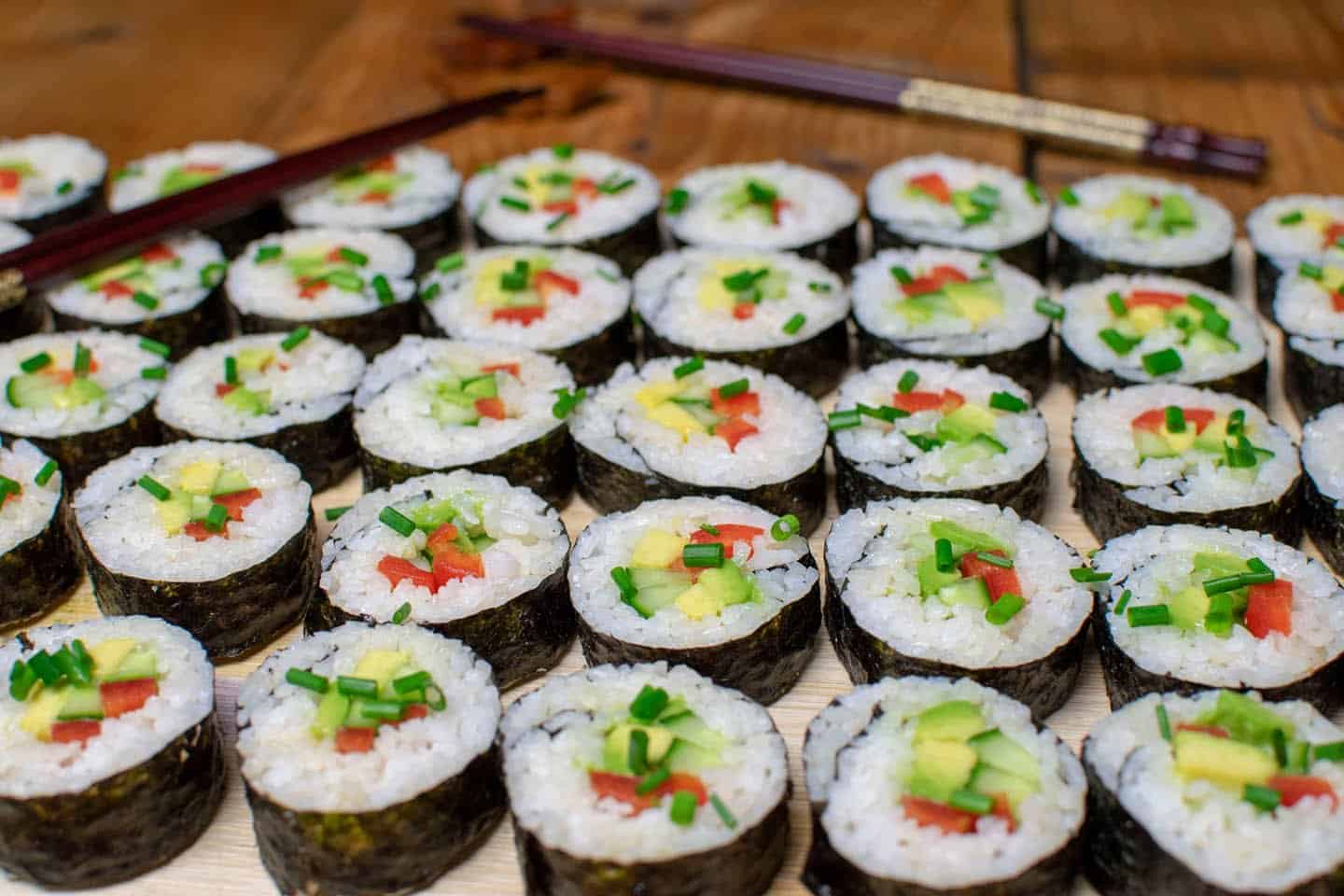 We hope you enjoy our first even vegan sushi recipe – I know we did. The only risk is that it may make your sushi cravings worse. We keep making them over and over again! If you do have a go, let us know what you think in the comments.
📖 Recipe
Vegan Sushi
Sushi can be filled with a multitude of different items – not just fish! This recipe uses a mix of avocado, red pepper and cucumber. It makes for a delicious and refreshing lunch.
Save
Saved!
Print
Pin
Rate
Ingredients
300

g

sushi rice

2

cups

of boiling hot water

3

tablespoon

rice vinegar

1

tablespoon

coconut sugar

4

nori sheets

½

teaspoon

salt

we use Himalayan pink salt

1

avocado

– sliced thinly

½

cucumber

– deseeded and sliced thinly

1

red peppers

– sliced thinly
For serving:
Wasabi paste

Soy sauce

Chives

– chopped
Instructions
Rinse the rice in a sieve thoroughly – taking note of our top tip above.

Boil the kettle up and put the rice, along with the hot water, in a non-stick pan (that has a lid) and cook over a medium-low heat.

300 g sushi rice,

2 cups of boiling hot water

The water should be gently bubbling away in the pan with the sushi rice. Put the lid on and cook for around 20 minutes.

After 20 minutes the water should have cooked off. Let the sushi rice sit in the pan for 10 minutes more.

Remove the rice from the pan and transfer into a tray, or something where you can spread it out and let the air get to it. The sushi rice needs to cool down before it's seasoned.

While the rice cools, mix the rice vinegar, salt and coconut sugar in a small bowl and stir well.

3 tablespoon rice vinegar,

½ teaspoon salt,

1 tablespoon coconut sugar

Assuming all of your vegetables are chopped, it's time to assemble your sushi rolling space!

Lay your rolling mat (if using) out on a clean, dry surface and lay the nori sheets on top.

Once the rice is cool, pour the liquid over it evenly and stir it up gently with a wooden spoon. Be careful not to damage the grains by stirring too forcefully – straight line motions will work better than circular motions.

Now it's time to start assembling your vegan sushi. Take roughly a quarter of the rice and spread it onto the nori, right to the edges apart from on the side that's opposite you. Leave about an inch – this is to secure the sushi roll once it's ready.

Pile a quarter of the vegetables onto the side that's nearest to you, stack each vegetable on top of the next, so it should be about 2 pepper slices wide with the avocado and cucumber on top.

1 avocado,

1 red peppers,

½ cucumber

Make sure you have a bowl of cold water handy, this will be used to seal the sushi roll.

Carefully take the edge of the mat that's closest to you and roll until it has it has done one full roll. Make sure you're holding the sushi tightly together at the same time. It takes a bit of multi tasking!

Continue to tightly roll until you reach the part of the nori that you didn't put rice on.

Wet the plain edge with water from your bowl and seal the roll up.

Repeat until you have 4 perfect (or almost perfect sushi rolls!)

Time to cut your vegan sushi. Make sure your knife is really sharp and you're near a tap.

At first chop off the end – if you're anything like us that bit will be a write off.

Cautiously, but firmly, begin to chop the sushi into roughly inch wide pieces, making sure to wet the knife between every slice (or every other). You need to make sure there's no bits of stray rice or vegetable on the knife as it will mean you won't get a clean cut through the roll.

Serve with wasabi, soy sauce and chives.

Wasabi paste,

Soy sauce,

Chives
Notes
Rinse the sushi rice thoroughly before you cook it. You'll notice the water that drains through the sushi rice will be cloudy at first. Keep on rinsing until it's clear and then keep on for a few minutes more. This removes the starch, so your sushi rice doesn't turn into a sloppy mess!
You'll need a really sharp knife to cut the sushi. This will help massively, as cutting the rolls will be difficult otherwise.
Once the rice is cooked it will stick to your hands very easily so try not to touch it too much!
Nutrition
Calories:
48
kcal
|
Carbohydrates:
9
g
|
Protein:
1
g
|
Fat:
1
g
|
Saturated Fat:
1
g
|
Polyunsaturated Fat:
1
g
|
Monounsaturated Fat:
1
g
|
Sodium:
39
mg
|
Potassium:
53
mg
|
Fiber:
1
g
|
Sugar:
1
g
|
Vitamin A:
145
IU
|
Vitamin C:
6
mg
|
Calcium:
3
mg
|
Iron:
1
mg