This is a sponsored blog post, but all opinions are our own! We don't recommend or review products we don't genuinely believe in or enjoy.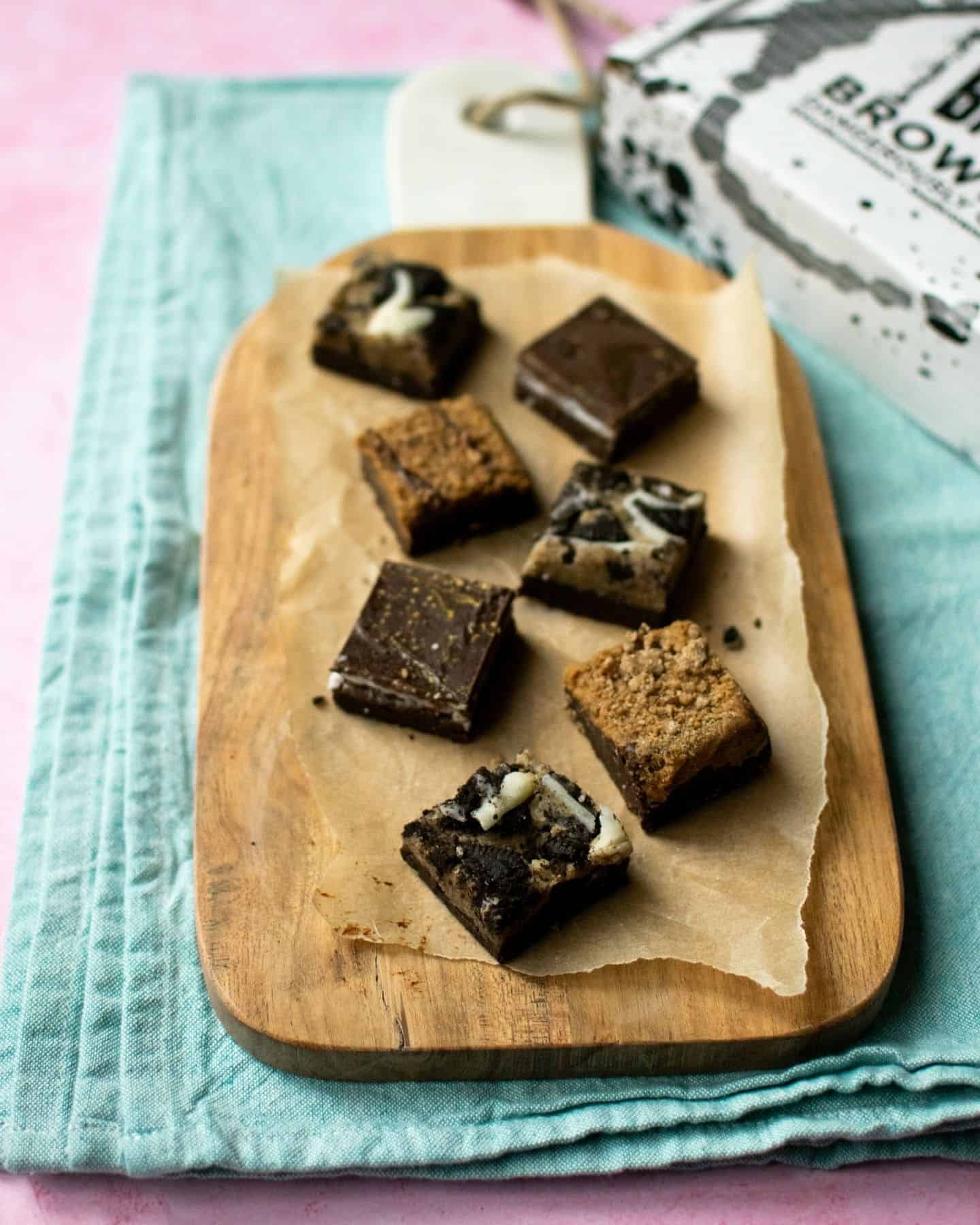 Bad Brownie are a company with a bit of an attitude – something we love, here at Vegan Punks! From the language they use, to their branding, they bring something different to the table. Describing their vegan brownies as "dangerously good", we were intrigued and excited to get our hands on a box! So, here's our Bad Brownie review.
The good news for us was that we didn't even need to leave the house to get some Bad Brownie action – they deliver all over the UK. The perfect indulgent surprise delivered through your letterbox is a great idea. We're thinking they might make the perfect bonus Christmas gifts for friends and family this year. They're even offering Christmas delivery slots.
So, who are Bad Brownie?
Promising the fudgiest, gooiest, tastiest and most decadent brownies around, Bad Brownie are a London-based company. Born out of a shared love of hot chocolate in a company kitchen. What started out as a side project quickly became a full-time passion project. That's a story we can identify with and something we're trying to replicate!
In 2015, founders Paz and Morag were invited to be on the TV show, Dragons' Den. After impressing retail expert Touker Suleyman, they secured some investment to grow. We're thankful for that, because following continued success they now offer a delicious range of vegan brownies!
The vegan Bad Brownie review
Here's the short version of our Bad Brownie review: they are decadent, indulgent, gooey, extra sticky, gloriously chocolatey and all kinds of other good words!
We were sent a 12 bite box, which contains 3 different flavours. It's designed for 3-4 people and contains 4 small-ish brownies of each flavour. Here's what we thought:
Oreo Cookie Dough
These stood out to me as soon as we opened the box! Oreos are popular for a reason and Bad Brownie have utilised them in the perfect way.
A crunchy cookie dough and oreo layer sitting on top of a gooey, dark chocolate brownie. It sounds like it could be too sickly – maybe it would have been if it hadn't been so masterfully prepared. The result is actually incredibly well balanced. It's not too sweet, but the sweetness of the Oreos combined with the dark chocolate brownie is excellent.
The first thing we noticed was just how gooey the brownie is. It is gooey – if you like that in a brownie, you're in luck. Traditionally, vegan baking had a bit of a bad rep at producing dry, crumbly cakes, cookies and brownies. We're pleased to say those days are long gone.
After Eight
I was always a fan of After Eight mints. They remind me of Christmas as my parents always bought them around this time of year. Needless to say, I was particularly excited about these ones. Jess, a little bit less so, not being the biggest mint-chocolate fan. All the more for me though!
I wasn't disappointed when I took my first bite. Bad Brownie have really nailed the After Eight flavour here! Again, they start with a dark chocolate brownie. But this time it's a chocolate ganache top (with gold sprinkles!), with lovely mint fondant sandwiched in between.
If mint chocolate is your thing, I can't recommend getting some of these enough. If you were going to sit there and eat a handful of After Eight mints, why not just go all out and make it a brownie?!
Biscoff
The flavour of the moment! It seems that everyone is using Biscoff in their treats at the moment. That's not a complaint though, we love it! Whether we're dipping some slices of apple into Biscoff spread or tucking into some classic Biscoff biscuits, there's no complaints from us.
It works just as perfectly on these brownies as we could've hoped. That caramelised taste you expect from Biscoff goes really well with the dark chocolate brownie. It's another combo that could go too far, but it doesn't! We didn't find it too sweet and I wouldn't hesitate to just order a whole box of these.
The thing that stood out to us was just how gooey Bad Brownie have managed to make their vegan brownies. It comes through in all the varieties – it's almost like a chocolate truffle base. They all felt super decadent and luxurious. Just the treat that we needed after a hectic few weeks of work, selling our house and everything else that we've had going on!
With the bigger boxes featuring flavours like salted caramel, chocolate orange and choc chip, we might have to put another order in! Thankfully, they last up to 10 days at room temperature, or can be frozen for up to 3 months.
Now, I might just have to go chuck the kettle on and have that last after eight brownie with a nice cuppa…
Thanks for reading our Bad Brownie review! Head to the Bad Brownie website to see what all the fuss is about.
If you just can't wait until yours arrive in the post, check out our vegan fudge brownies in the meantime.