We're often contacted by aspiring food bloggers to ask for advice on how to get started, what the best blogging resources are, how we do x, y or z. So, we thought we'd compile all of our food blogging tips in a list.
Here it is – everything that we've personally used and loved (we won't recommend anything that we haven't found useful).
If you're looking to start your own food blog, we hope these food blogging tips help!
Equally, if you're looking to start any kind of blog, most of the content here isn't just food-specific so you're in luck too.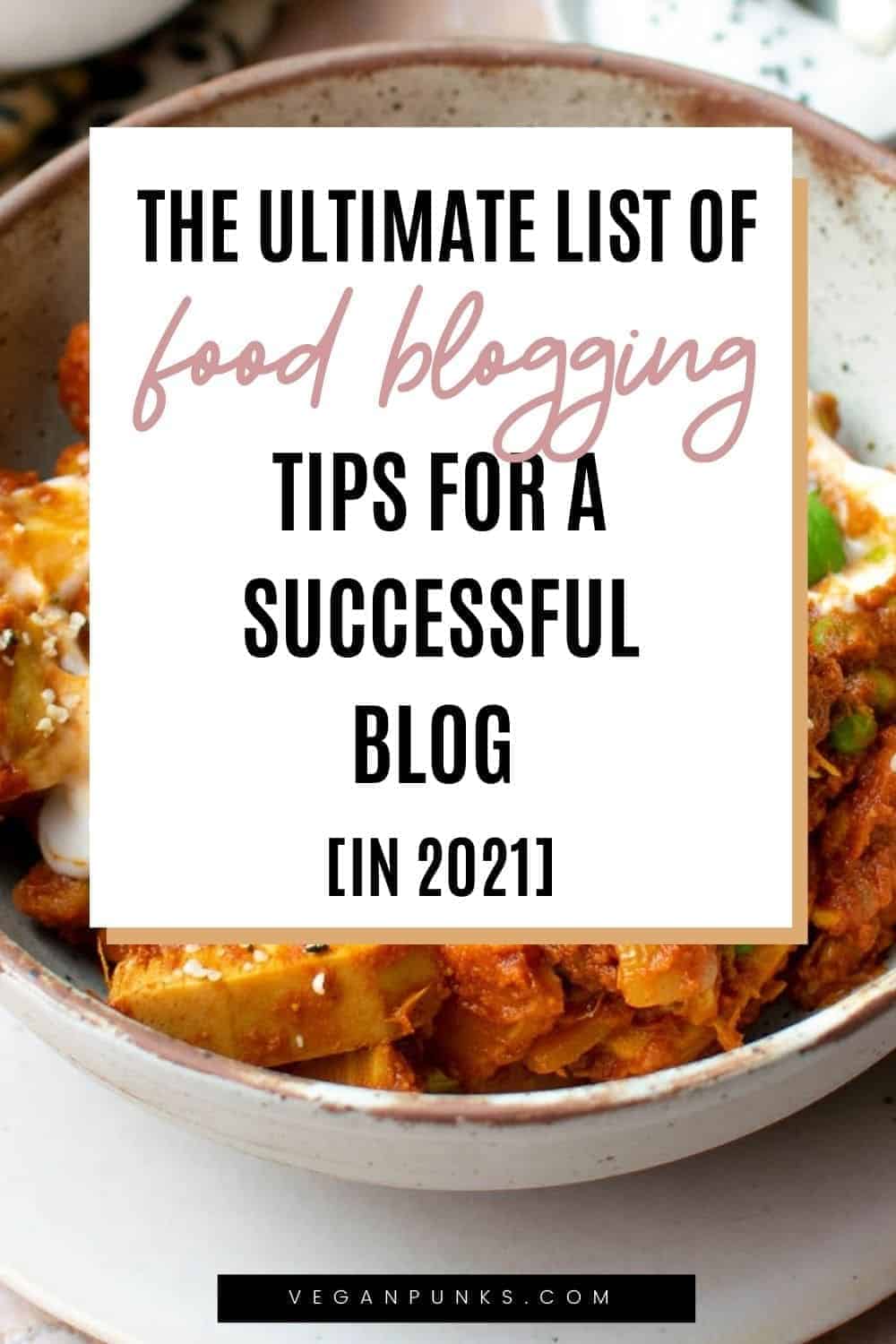 If you're left with any questions or want some advice, send us an email or drop us a message on Instagram – we'll help if we can.
Jump to:
Courses & training
If you've never created a website, driven traffic to it or written SEO articles before, then this is one of our top food blogging tips, if not the top one.
It's a good idea to have some training if you want to make a real success of your blog, and profit from your passion.
OK, so this is quite a big investment, but we're putting it at the top of our list for good reason. Anna & Tom (the hugely successful bloggers behind Adventure In You) really know their stuff and will help you go from clueless hobby blogger (see: us right up until 2019) to being in the fast lane to a profitable blog and time freedom.
You get access to a big library of video lessons where Anna & Tom will walk you through everything from getting a basic WordPress site up and running, through to the complexities of search engine optimisation (which won't seem so complex once you've done the lessons) and even setting up an automated email series.
There's also a Facebook group where you not only get to talk to other people going through the same process as you, but can get advice directly from the Blogging Fast Lane team.
We've seen huge results since we joined the Blogging Fast Lane. We took all the new knowledge we gained, relaunched our website and started optimising our old content, as well as launching new optimised content. Within the first month we'd over tripled our website traffic!
Watch their webinar to find out more.
Domains & hosting
Hosts
Hosting is a fairly boring but essential part of running a website – you need somewhere for your website to live!
Depending on how far into your blogging journey you are, or how much you're prepared to invest in making it work, WPengine may or may not be for you.
Hosting for your website will vary wildly in cost and in quality. WPengine fall into the more expensive but much better quality camp.
We've had nothing but great experiences with them, whether that's the fact that we've not had any downtime since joining them, or when we've needed support their team are fast and knowledgeable.
As an added bonus, they own Genesis Framework, which is included in all their hosting plans – I talk more about that further on in this article.
Check out WPengine.
WordPress themes
We've been through a couple of different themes on Vegan Punks and several others on different websites that we run or have worked on.
Unless you're a web developer, the best thing you can do is invest in a premium WordPress theme. This means it will look how you want without needing to do any coding whatsoever.
Look for something that has the functionality you need and the design is at least close to what you're hoping to achieve. When I say "premium" we're talking about perhaps $60 for the theme and a year of support, typically. This is excellent value.
That being said, if you're creating a food blog, there's only one choice for us...
Five WordPress themes designed specifically for food bloggers, with a plugin that helps you to make your food blog successful, and on-going support for a reasonable yearly fee!
It makes sense that one of our food blogging tips would be to choose a website that's optimised for the niche right?!
Honestly, these guys are so knowledgeable that we can't recommend The Feast Plugin enough. Used by thousands of food bloggers around the world – this isn't a theme that some developer will get bored of in a year or two when they create something new, this is their business.
There's a steady stream of updates coming out that are designed to keep your site up-to-date with modern best practices, both in regards to web design and SEO. Their support pages and blog are great reading too.
They even have a Facebook group that you can join if you end up buying Feast. It's a great resource where the founders of Feast are very active. You can also learn from other bloggers – seasoned pros and newbies, this group has them all.
Check out Feast Design Co.
WordPress plugins
This isn't a plugin or a theme – it's a framework. Most people use WordPress as the foundations of their site, then build their site on top of that using a theme.
With the Genesis Framework, WordPress becomes the ground you're building on, with Genesis taking over as the foundation.
It's a secure and SEO optimised foundation for websites, which is why it's so popular amongst WordPress developers (one of the founders of WordPress even recommends it).
If you're starting a food blog and you're going to use a theme by Feast Design Co., you'll need Genesis Framework, as that's what they've built on.
The team at WP Tasty make really good WordPress plugins. I'll run through each of them and why they're good, but I can say that each of them is worth the money. I only wish we'd found them sooner.
This is probably one of our top food blogging tips! You've probably seen this plugin being used on all kinds of food blogs without realising it.
Go check out any of our recipes – that recipe "card" at the bottom that has a little image, the ingredients, instructions etc. is being served up by Tasty Recipes.
Head to our Vegan Chinese Curry to see a live example.
It's not just there to look pretty though! I'll try not to get too technical here, but bear with me. As well as presenting your recipe in a pretty way to your readers, the recipe card also presents your recipe in a way that Google understands!
The thing that Google likes so much about it is that the data is stored in a format called JSON-LD.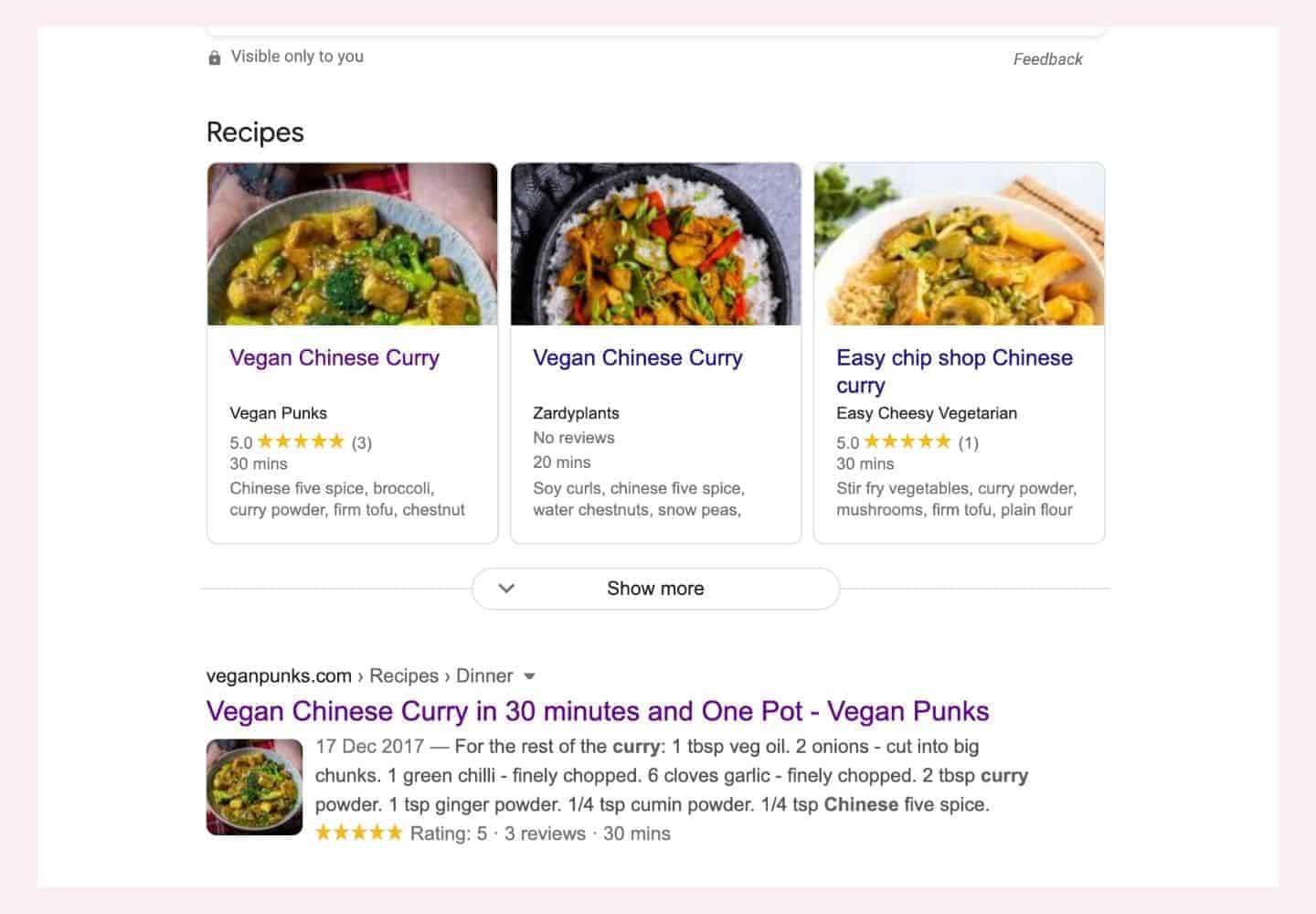 I'm not going to go into any more detail than that, but what you need to know is that the recipe card formatting explains to Google exactly what you've written.
It tells Google that the content is a recipe, then in turn, tells it about the ingredients, the instructions, how long it takes to cook and so on.
If you're lucky, Google will then show some of this in its search results, meaning people are more likely to click on your recipe (as above)!
Oh, and it may also get displayed in the Google Discover section of mobile devices. It also allows it to be read out by Google Home devices using the guided recipe data.
Check out Tasty Recipes.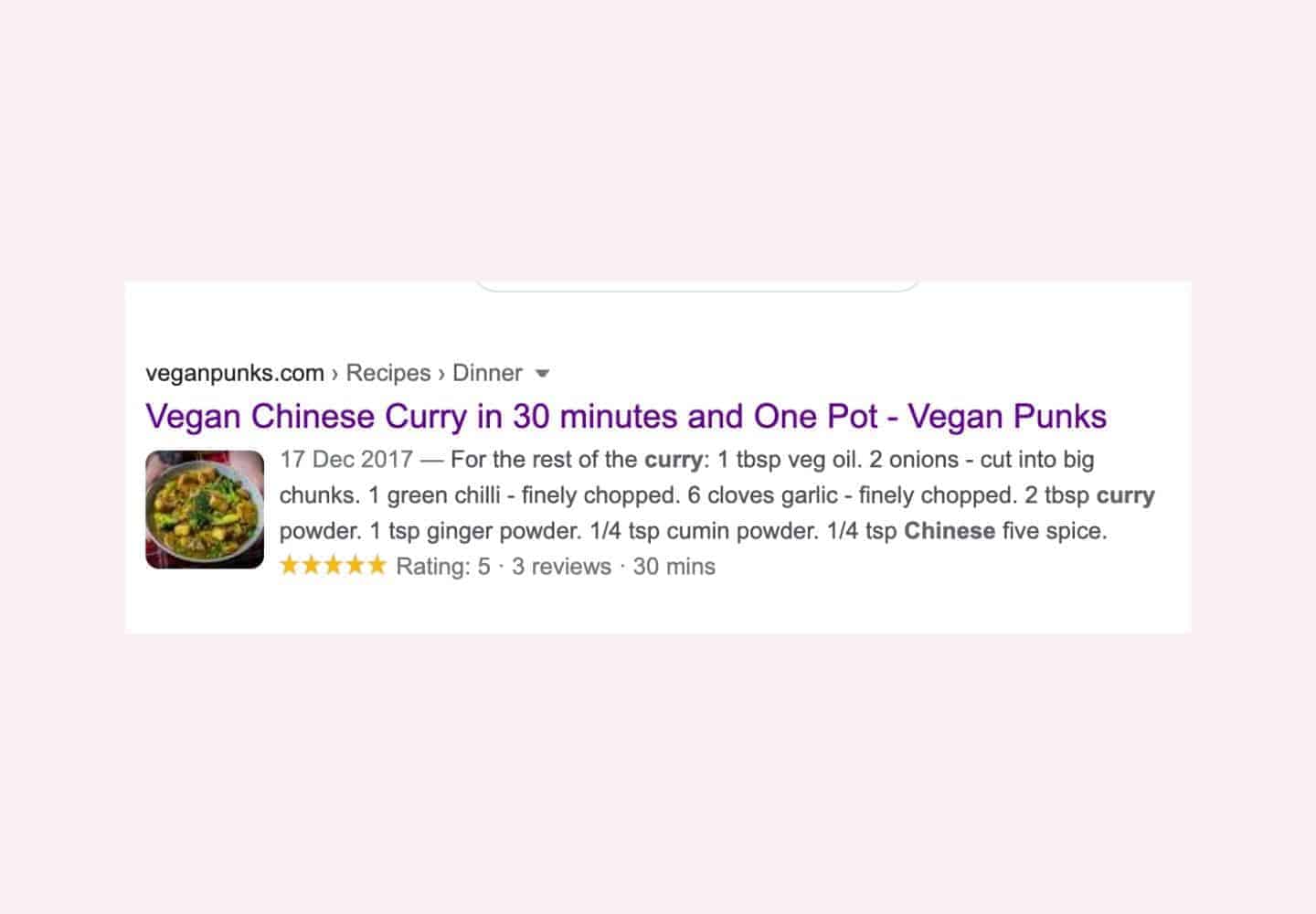 Running a blog is a lot of hard work, so eventually people want to start earning money from it. Now, earning money from a blog is easier said than done, there are no quick wins here.
Tasty Links can certainly help you. One of the main sources of income for a lot of bloggers is affiliates.
Affiliate marketing means recommending products or services to your readers, then if they buy what you're recommending, the product or service provider will give you a cut of the profit.
The way that Tasty Links helps is that you can use it to automatically generate links behind specific words or phrases.
I can really easily give you an example of this. See the way that Tasty Links has a link behind it every time it's mentioned throughout this section of my article? I didn't put the links there manually.
It was done simply by adding one link to my Tasty Links plugin, and it took care of adding them everywhere on our site that these exact words appear.
This is a great plugin for all kinds of bloggers, not just food ones.
Check out Tasty Links.
Despite what I previously thought about Pinterest just being a place for people to go plan out their next haircut, or collect design ideas for their new kitchen – it's a huge tool for bloggers. Huge.
Check out the Tailwind section further down in this article for more on why Pinterest is so important.
But here's what we're going to talk about now: Pinterest loves beautiful images. You know when you search for something on there and there's all kinds of incredible photos of food, or holiday locations, with nice designs and words over the top? Those are the images that people click on.
You can go off, create and pin those images yourself manually. But at some point one of your readers is going to pin an image from one of your pages that you didn't intend to go on Pinterest, rather than one of your carefully created ones. Tasty Pins will stop that from happening.
We know, because we still find loads of our old images from years ago on Pinterest! It's great because people enjoyed the recipe enough to pin it, but the image isn't optimised for Pinterest and so is unlikely to be repinned again.
Effectively, Tasty Pins allows you to set which images people will be presented with when they try to pin your post. One of the great parts is that you don't even have to show those Pinterest perfect images on your blog post, if you don't want to. Tasty Pins will keep them hidden then show them to somebody that wants to pin your post, when they click the 'pin' button.
We recommend having at least one Pinterest image at the bottom of your page though, as a visual cue for readers to pin the article for later.
The Tasty plugins are developed by the food bloggers behind Pinch of Yum, so it's clear that they know their stuff.
Check out Tasty Pins.
Yoast
Our favourite SEO plugin. Don't expect it to magically get you to the first page of Google. Do expect it to give you helpful hints and tips, and flag potential issues on your articles. That is invaluable.
Yoast will point you in the right direction when it comes to optimising your content. Things like word count, use of links, making sure to use alt tags on images and even readability pointers.
They also have a good blog for reading up on all things SEO. We have the paid for version and would recommend it because you get a lot more for your money. Things like social media preview image selection, suggested internal links, automatic redirects and republishing functionality. It's a huge time saver!
SEO
If you're trying to get more traffic to your blog (or any website for that matter), you've surely come across search engine optimisation. A keyword research tool is essential for optimising your content for search engines. Without it, you're just guessing!
In short, you can type in a search term that you think people might be searching for, let's say "vegan Yorkshire puddings".
It will come back and tell you how many people are searching for that per month (on average), along with information on your competition (the current first 10 results in Google) and info about how difficult it will be to beat them.
KeySearch is by far the most cost-effective keyword research option that we've come across and, so far, has offered us everything we've needed, at a reasonable price.
If you choose not to use a keyword research tool, it will be hard to get traffic to your website.
Check out Keysearch.
Site speed & security
Cloudflare
Cloudflare is awesome. It does so many useful things, depending on what you want it to do and whether you're prepared to pay for it.
The free account is worthwhile, for sure. It provides a few things that will help you:
DDoS protection. A DDoS (distributed denial of service) attack is used by people to maliciously take down a website by flooding it with traffic. Hopefully this will never happen to you, but if it does and you're using Cloudflare, you'll be alright.
A global Content Delivery Network (CDN). This network means your website will load faster and provide a better experience for your users. They basically cache assets (e.g. files, images etc.) from your site on various servers all over the world. Then, when somebody visits your website, they serve them the data from the closest server to them, giving the using a faster experience.
Asynchronous loading of JavaScript. This means your website will prioritise loading text and images. These are features on a website that will immediately impact a visitor landing on your website, and won't allow JavaScript to delay the page loading.
The pro plan offers even more stuff that will help keep your website safe and speed it up. I'm not going to list it all out here (or go to too much effort explaining stuff), but my two favourite benefits are:
Lazy loading of images. This means only the images visible on the page will load, then as a visitor scrolls your site, the rest of the images will load as they appear on screen. This basically just speeds up your site load time.
Compression of images and delivering of images in WebP format (this is the image format that Google prefers). Both of these things improve image load time and therefore your site load time. And, faster websites perform better on Google, because readers don't like to wait for pages to load!
This is going to team up nicely with Cloudflare to make even greater improvements to your site speed.
They actually offer a lot of things in common, like caching, deferral of JavaScript and lazy loading. WP Rocket just happens to do some of these things better than Cloudflare. The great thing is that they know people will use both and they have an option to connect WP Rocket up to your Cloudflare account so they know about each other.
If you're on a budget and could only afford one, here's what I'd do: use the free version of Cloudflare for the CDN, pay for WP Rocket for the caching, lazy loading and file optimisation.
Check out WP Rocket.
Email management & automation
In our opinion, the best balance of functionality, usability and price in an email marketing tool.
Email marketing is really important. Whether you prefer to get your traffic from social media, paid advertising or organically through SEO (or all of those things) – you should have an email list too. This isn't just a food blogging tip. All bloggers should be thinking about their email newsletters!
You can set up and manage multiple contact lists, create beautiful emails using a drag n' drop editor and, our favourite function, set up email automations.
What's an email automation?
You know when you go to somebody's website and a pop-up says "Hey, sign up to our mailing list now and we'll send you our 20 most popular recipes", or something like that?
Then, for the next 5 days or so, you get daily emails? That's an email automation.
They probably wrote all those emails 2 years ago and they get fired out by a tool like ActiveCampaign. Meaning they encourage the same people back to their website time and time again, automatically. What a great tool!
Check out Active Campaign.
A really great pop-up management platform! One of the most important weapons in a marketers arsenal (if you're running a blog, that's you!), is an email list.
Social media and search engine algorithms can change without notice, leaving you with a dip in traffic and conversions, but one thing never changes – the ability to email your subscribers.
One method is better than all others at collecting email addresses: pop-ups. It gets your newsletter signup form right in front of people's faces so they can't miss it. Even better if you offer them a free gift (a.k.a. a lead magnet), like a download or ebook.
When you first came to our website, you probably saw ours! Did you download the e-book?
Optinmonster enables you to design versatile pop-up forms, then sends the email addresses and contact information into whatever contact list you want (in our case, we're managing our contact lists in ActiveCampaign). They work together seamlessly too.
Check out Optinmonster.
Social media
The ultimate tool for building a huge Pinterest presence. And the only official scheduler partner of Pinterest.
At a basic level, it lets you schedule pins and provides you with recommendations on the best times to post them out. But their offering goes much beyond that with a couple of crazy features: Tailwind Tribes and SmartLoop.
Tribes lets you team up with other bloggers and content creators. You join groups of people in similar niches to you, then share each other's content to further the reach of it.
SmartLoop will create an infinite loop of content that you can share regularly.
Have a particular piece of content that is relevant all year? Stick it in a loop.
Have some Christmas content that you want to get out there every year in the Winter season? Stick it in a seasonal loop.
However, you might want to refresh the content regularly, and not use loops as your core strategy. Pinterest prioritises fresh and original content, so don't neglect that.
Tailwind also offers free training on their Facebook – be sure to follow their page so that you stay in the loop with all of Pinterest's latest developments.
Check out Tailwind.
Later
Our favourite scheduling and automation tool for Instagram. There are a lot out there, with each having its own pros and cons.
Scheduling tools are essential if you're going to efficiently and consistently run your social media pages.
Writing social media posts every day is really inefficient. We'd recommend utilising a content calendar to plan ahead (we often plan up to a month of posts) and then prepare the photos, write the copy and schedule them in at least one week in advance.
Later is the best one we've used for Instagram specifically, with it having all kinds of nice features. The highlight of which is probably linkin.bio (it's now included with free accounts too).
Canva
The perfect design tool for a non-designer. Neither of us are graphic designers or have any skills in that area, but Canva makes it really easy to knock up some professional looking imagery for social media and websites.
All those beautiful infographics, images with layered text, and beautifully prepared Pinterest images on our site were made using Canva.
The free version is really good and isn't a bad place to start, but the Pro version has definitely helped us in a number of ways. From having access to a bigger library of images and assets, to being able to organise our designs into folders and share with them with collaborators.
There we have it! Our top food blogging tips for 2021. Follow this list, outline a key strategy and stick to it. Then you'll be on your way to running a profitable food blog in no time!