Our easy vegan stroganoff is perfect for a weekday pick me up after a stressful day. It's ready in just 30 minutes and although it's actually pretty light, it feels comforting and decadent.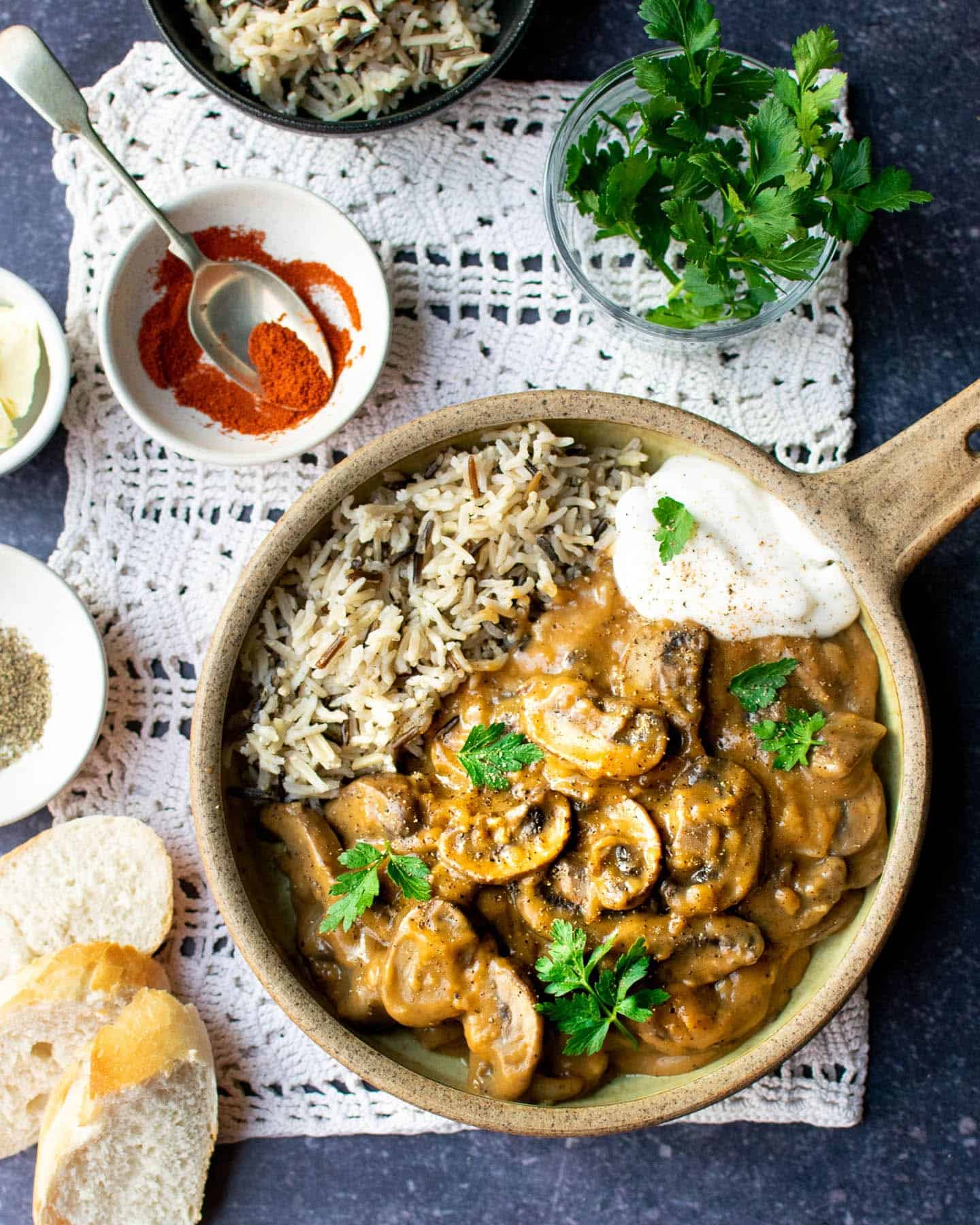 Jump to:
Those of you who have been following us for a while might notice that this is an update to an old classic recipe of ours. Although we loved the recipe, we didn't love the photography, so thought it was time for a revamp.
Head to the bottom of the page to see the first image we took of this recipe! That was before we knew anything about food photography!
Dan has great memories of his Dad making a traditional stroganoff for the family when he was a kid, using beef and soured cream. Veganizing his old recipe was one of the first recipes we tackled we did when we set up this blog. We were so excited to have a go at cooking with vegan crème fraîche for the first time!
🇷🇺 Where does stroganoff come from?
Although a lot of people think it comes from Germany, stroganoff is actually a Russian dish!
There are records of it existing in Russia in the mid 19th century, and there are stories of it being created by a French chef who was working in Russia at the time. Although it's also possible that it was a variation on a dish that already existed. It was named after the influential Stroganov family.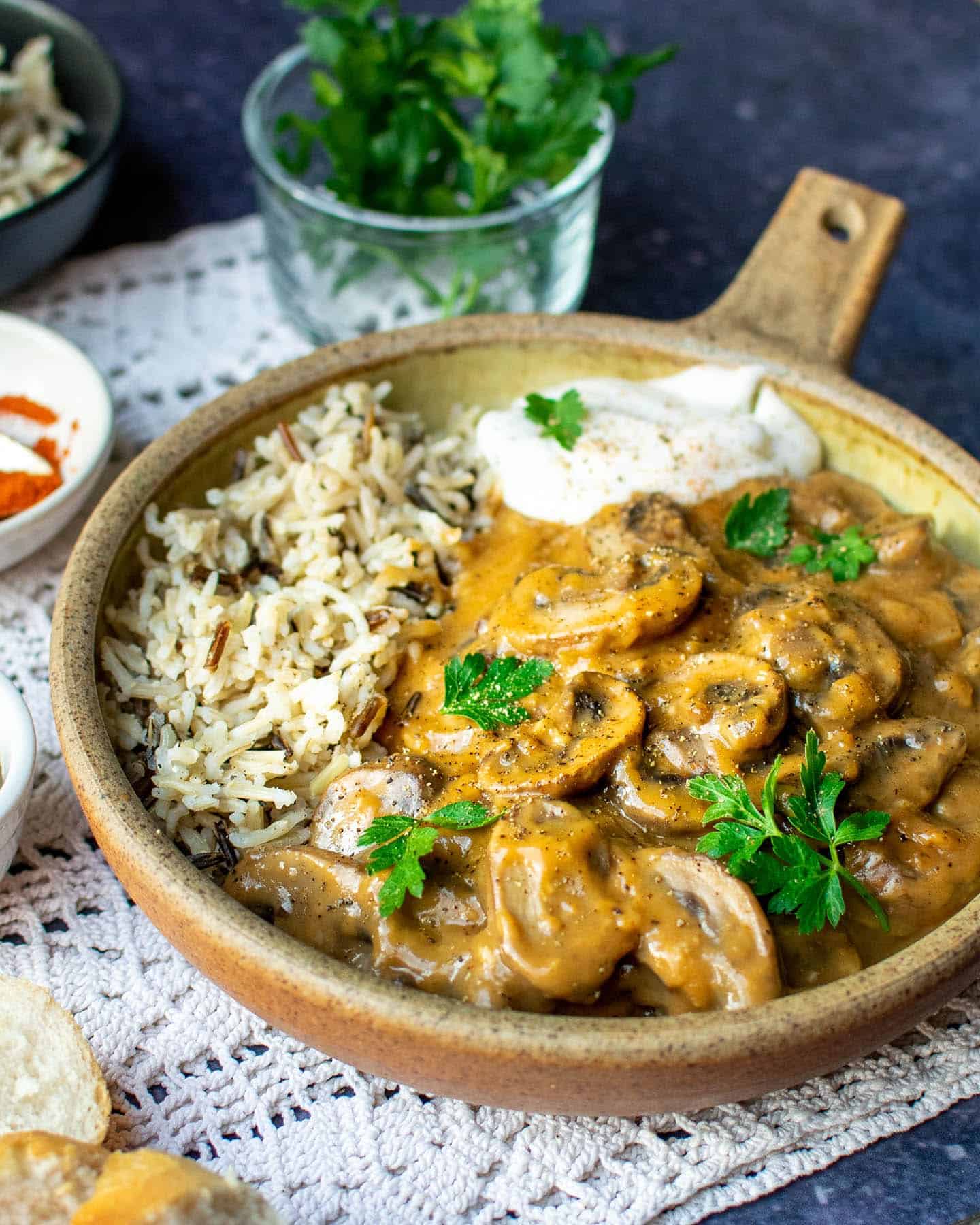 🍄 How to make it
The key to making a really tasty vegan mushroom stroganoff is cooking the mushrooms with onion and garlic for long enough that they start to release liquid before adding the rest of the ingredients, as this adds an extra rich flavour.
Once you have your tasty mushrooms, the rest of the flavour is made up of stock, paprika and of course, vegan crème fraîche.
This recipe only has eleven ingredients, and they're all readily available in supermarkets (at least in the UK!).
📋 Ingredient Notes
If you want to make our vegan stroganoff, you will need just 11 ingredients:
Vegan butter - any kind is fine, we usually use Vitalite.
2 onions - peeled and finely chopped.
5 cloves of garlic - peeled and finely chopped.
400g of portobello mushrooms - sliced.
400g of chestnut mushrooms - sliced.
250 ml vegetable stock.
1 tbsp of cornflour mixed with 2 tbsp of water.
2 tsp vegan Worcestershire sauce.
2 tsp paprika.
200g vegan crème fraîche.
1 tbsp chopped parsley - finely chopped.
Plus you'll need some salt and black pepper to garnish. For detailed instructions please see the recipe card at the bottom of the article.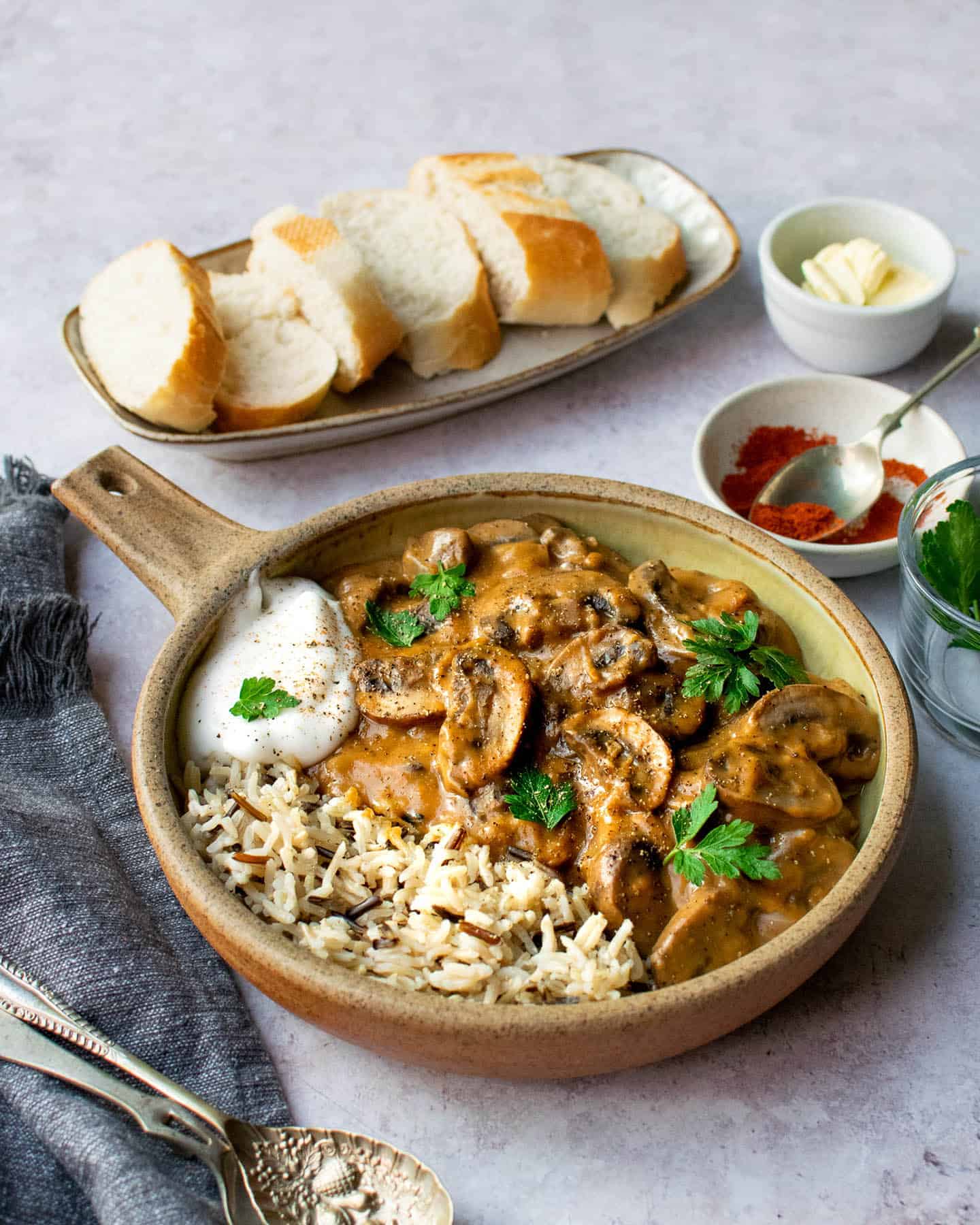 🔪 Step-by-step Instructions
Vegan stroganoff always looks impressive when you serve it up, but it's lovely and simple to make.
Start by melting your butter in a saucepan over a medium heat.
Once the butter has melted, add your onions to the pan and fry them until they have gone soft.
Add the garlic to the pan and cook for another minute.
Chuck all of the mushrooms in the pan and cook them down until they have released some water and reduced in size a little. This should take around five minutes.
Add the paprika and give it all a good stir so that the mushrooms are coated in it.
Add the stock and bring it up to the boil, and then quickly bring down to a simmer.
Once the pan is simmering, stir in the crème fraîche.
Now add the vegan Worcestershire sauce.
Pour your cornflour paste into the pan.
Simmer everything for 15-20 minutes until the sauce cooks down a bit and you're left with a rich and creamy sauce. You're looking for something with the consistency of thin cream.
Season with salt and black pepper, and top with parsley and more vegan crème fraîche.
Serve up your vegan stroganoff with rice or mashed potato, and enjoy! For equipment and product recommendations please see the end of this article.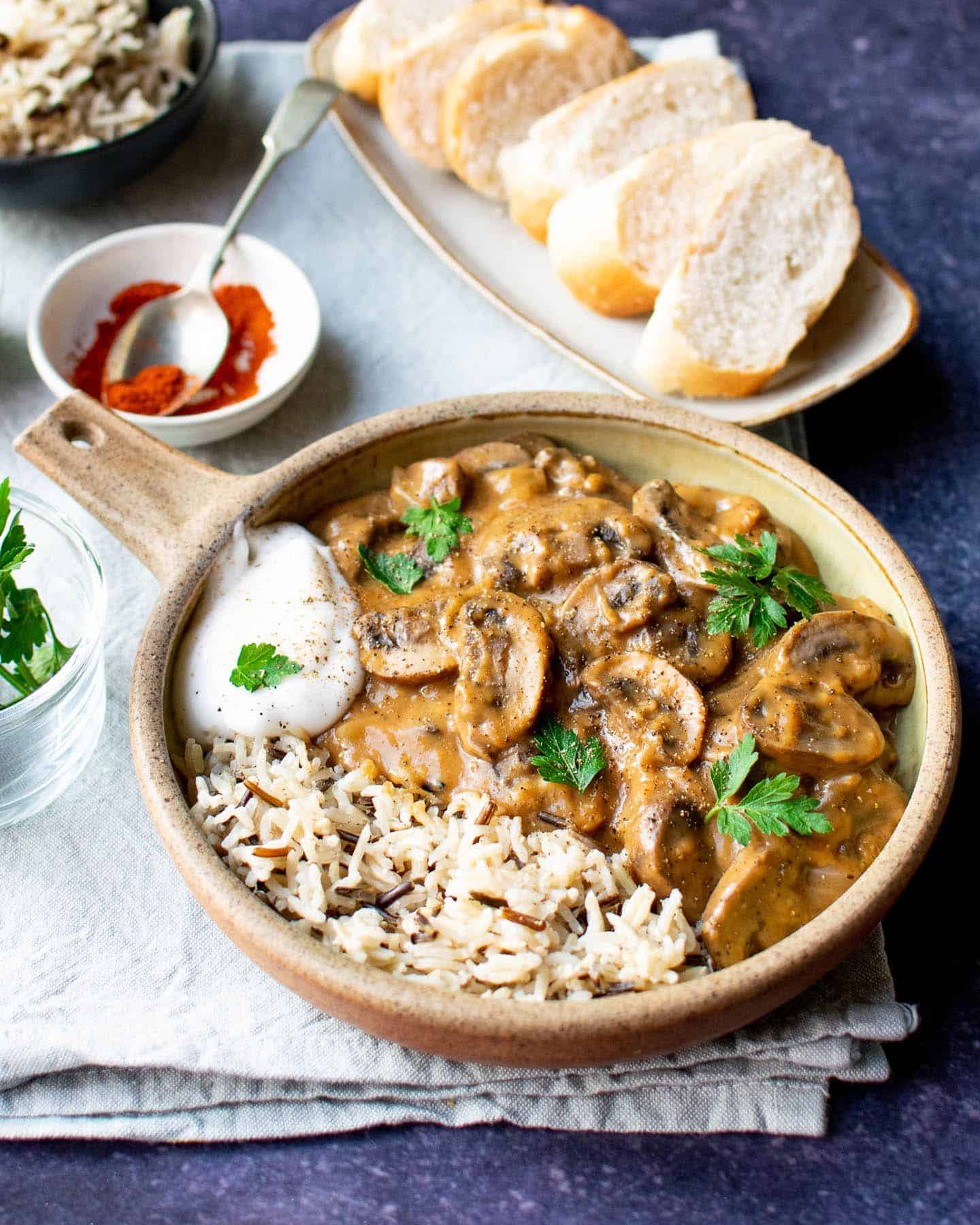 👨‍🍳 Expert Tip
The secret to this vegan stroganoff is a good vegan alternative to soured cream. We like to use the vegan crème fraîche by Oatly, in our opinion it's the best one for the job!
We haven't come across vegan soured cream yet, which is why we picked the crème fraîche. Luckily, we also think the crème fraîche is lighter and offers a better flavour, as it's not as tart as sour cream (from memory).
💭 FAQs
Can I freeze this?
You can freeze it but mushrooms don't retain their texture very well when they've been frozen, so we wouldn't recommend it. It does keep well in the fridge for up to three days, though.
What can I use instead of vegan crème fraîche?
You can use any vegan sour cream replacement, or you could make some cashew cream with a little added lemon juice to make it sour. To do this take 1 cup of cashews and soak them in boiling water (just enough to cover them) for 30 minutes, then blend until smooth and add 1 teaspoon of lemon juice.
Can I use different vegetables in place of mushrooms?
This dish takes a lot of its flavour and texture from the mushrooms, so if you don't want to use mushrooms you would need to use something else that's just as flavourful and has a good texture. You could mix it up by trying shop-bought vegan beef alternatives, or even seitan.

We wouldn't recommend substituting the mushrooms for a different vegetable altogether, but you could try replacing half of the mushrooms with broccoli if you like for a change in texture.
More recipes for you
If you enjoy our vegan mushroom stroganoff, then give some of our other mushroom recipes a try: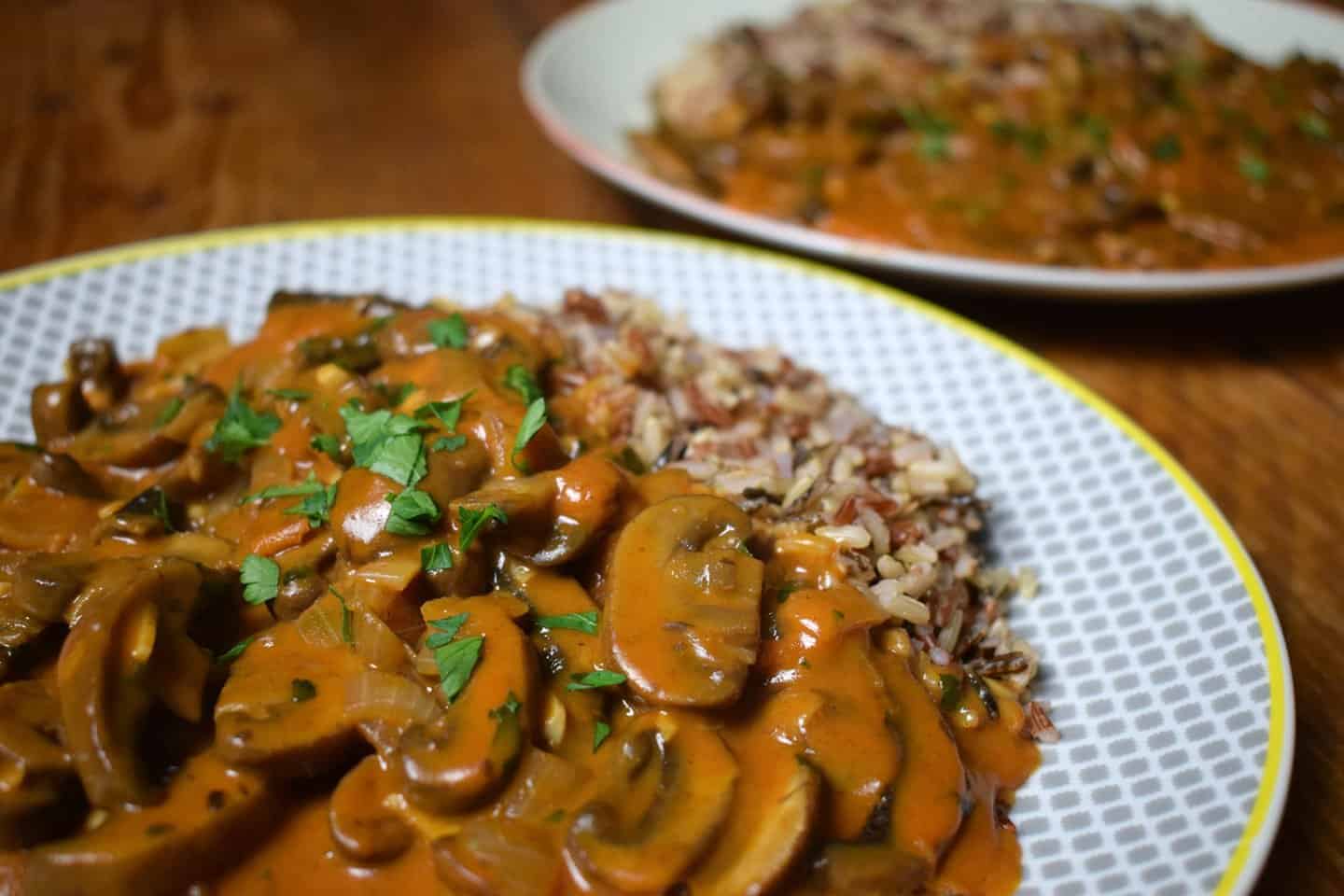 The picture above is from when we first started this blog. Back when we knew nothing about food photography, how to write recipe articles or anything else to do with blogging! Luckily, the recipe was always totally delicious. Sometimes it's good to see how far we've come.
Did you make this recipe? Leave a review and a rating below, or tag us in your photos on Instagram! Alternatively, bookmark it in your browser or save to Pinterest for later.

If you love our content, please consider supporting it by buying us a coffee.
📖 Recipe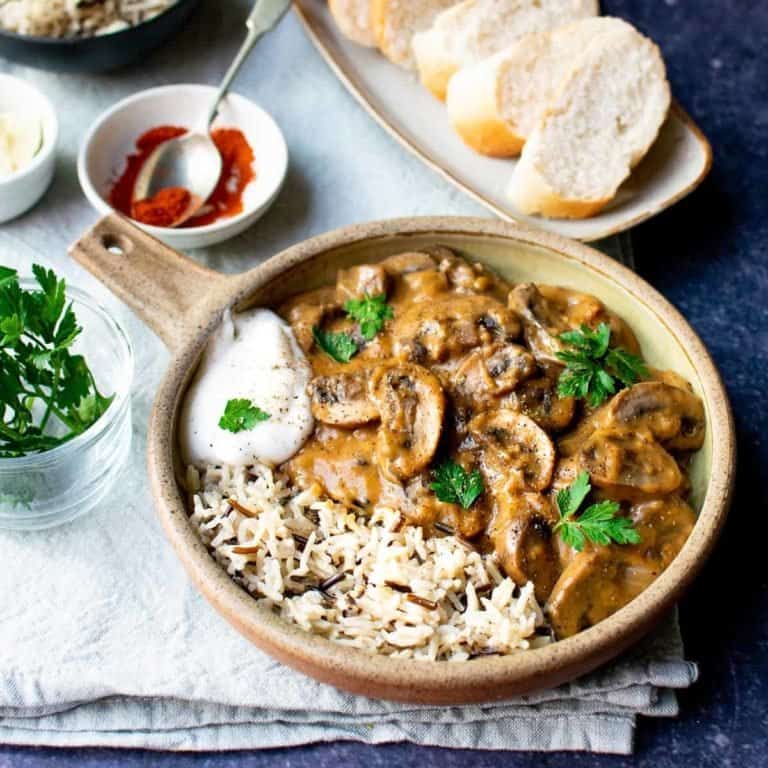 Vegan Mushroom Stroganoff
This vegan stroganoff is easy to make, happens to also be gluten free and is super filling and delicious! It includes a silky smooth sauce, and the mushrooms are meaty and umami rich.
Print
Pin
Rate
Ingredients
2

tbsp

vegan butter

2

onions

- finely chopped

5

cloves

garlic

- finely chopped

400

g

portobello mushrooms

- sliced

400

g

chestnut mushrooms

- sliced

250

ml

vegetable stock

2

tbsp

cornflour

mixed with 3 tbsp cold water

2

tsp

vegan Worcestershire sauce

2

tsp

paprika

200

g

vegan créme fraîche

we use Oatly

1

tbsp

fresh parsley

- chopped

Salt

- to taste

Black pepper

- to taste
Instructions
Melt the butter in a saucepan over a medium heat.

Fry the onion until soft.

Add the garlic and cook for 1 minute – careful not to burn it! Garlic burns very quickly.

Chuck the mushrooms in and cook until they release a little water and have reduced in size - roughly 5 minutes.

400 g portobello mushrooms,

400 g chestnut mushrooms

Sprinkle the paprika over the ingredients and stir well.

Pour the stock into the saucepan and bring to a boil, then quickly reduce to a simmer.

Next spoon in the crème fraîche and stir well, whilst watching it melt into the sauce.

200 g vegan créme fraîche

Pop in the Worcestershire sauce.

2 tsp vegan Worcestershire sauce

Make sure the sauce is still simmering, then add the cornflour mix, it will thicken up beautifully.

Simmer for 15-20 minutes until the sauce cooks down a bit and you're left with a rich, creamy sauce, the consistency of a thin cream.

Season with salt and pepper (to taste), top with fresh chopped parsley and serve with rice or mashed potato.

Salt,

Black pepper,

1 tbsp fresh parsley
Notes
If you can't find vegan crème fraîche, you can use a vegan sour cream alternative or make cashew cream. To make cashew cream, soak 1 cup of cashews in boiling water (just enough to cover them) for 30 minutes. Blend and add 1 teaspoon of lemon juice, to add a subtle sour flavour.
Nutrition
Calories:
277
kcal
|
Carbohydrates:
34
g
|
Protein:
7
g
|
Fat:
14
g
|
Saturated Fat:
5
g
|
Polyunsaturated Fat:
6
g
|
Monounsaturated Fat:
2
g
|
Trans Fat:
1
g
|
Sodium:
562
mg
|
Potassium:
944
mg
|
Fiber:
3
g
|
Sugar:
11
g
|
Vitamin A:
433
IU
|
Vitamin C:
10
mg
|
Calcium:
45
mg
|
Iron:
1
mg