No gochujang? Don't worry, we'll run you through the best gochujang substitutes, including a very quick and simple homemade gochujang substitute. Plus, we'll tell you which alternatives not to use, because there are some options that don't work!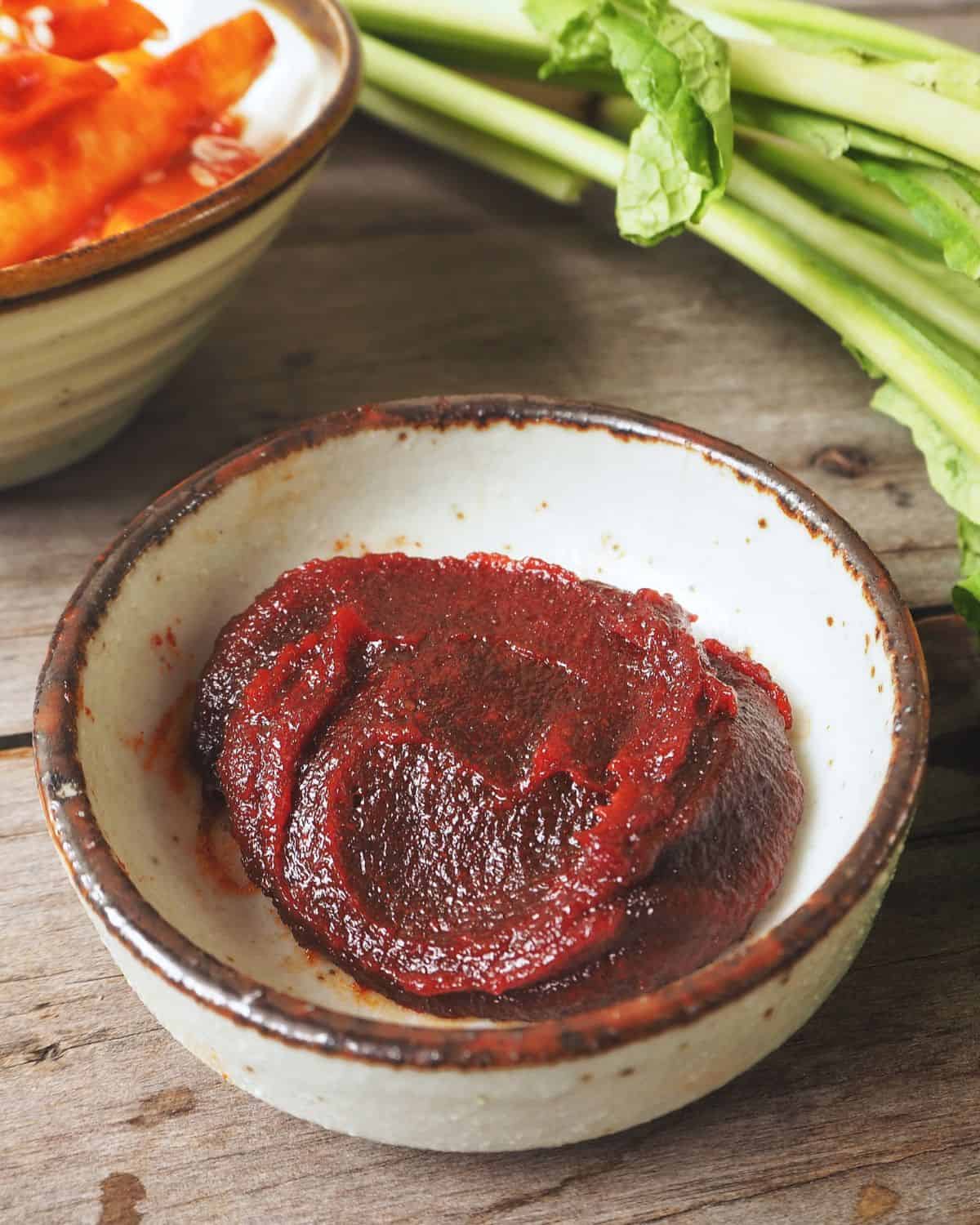 Jump to:
🤔 What is gochujang?
Before we dive into the best substitutes for gochujang, let's take a closer look at what this Korean condiment is and where it comes from.
Gochujang is a type of Korean chili paste with a unique flavor. It has a distinctive umami-rich, sweet and spicy flavor. The sweetness is thanks to it being a fermented chili paste and that fermentation also means it has a little of that funky, fermented flavor too.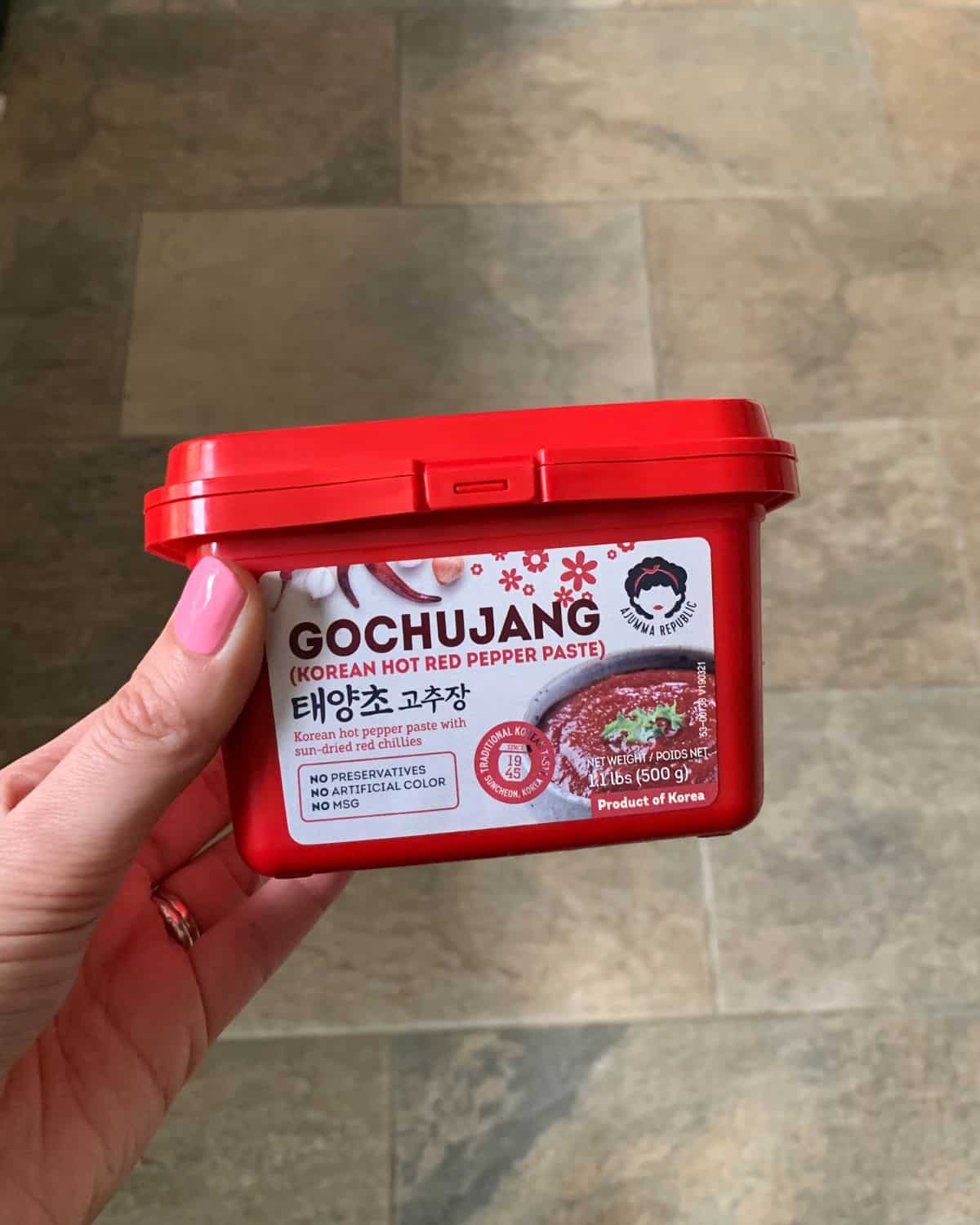 It's made from fermented soybeans (meju), Korean red pepper flakes (gochugaru), glutinous rice powder, barley malt powder (yeotgireum) and salt.
Traditional gochujang has been a staple in Korean cuisine for centuries, and is used to add robust flavor to everything from marinades, to dipping sauce, or to pump up the flavor in soups, stews and stir fries like this kimchi fried rice. We personally love it in this braised tofu recipe, featuring a gochujang sauce - it's one of our favourite Korean dishes.
While it's not readily available in all grocery stores, we have seen it popping up in some main stream supermarkets. So if you haven't got time to go to the Asian market, here are the best gochujang alternatives to use instead...
🌶 The best gochujang substitutes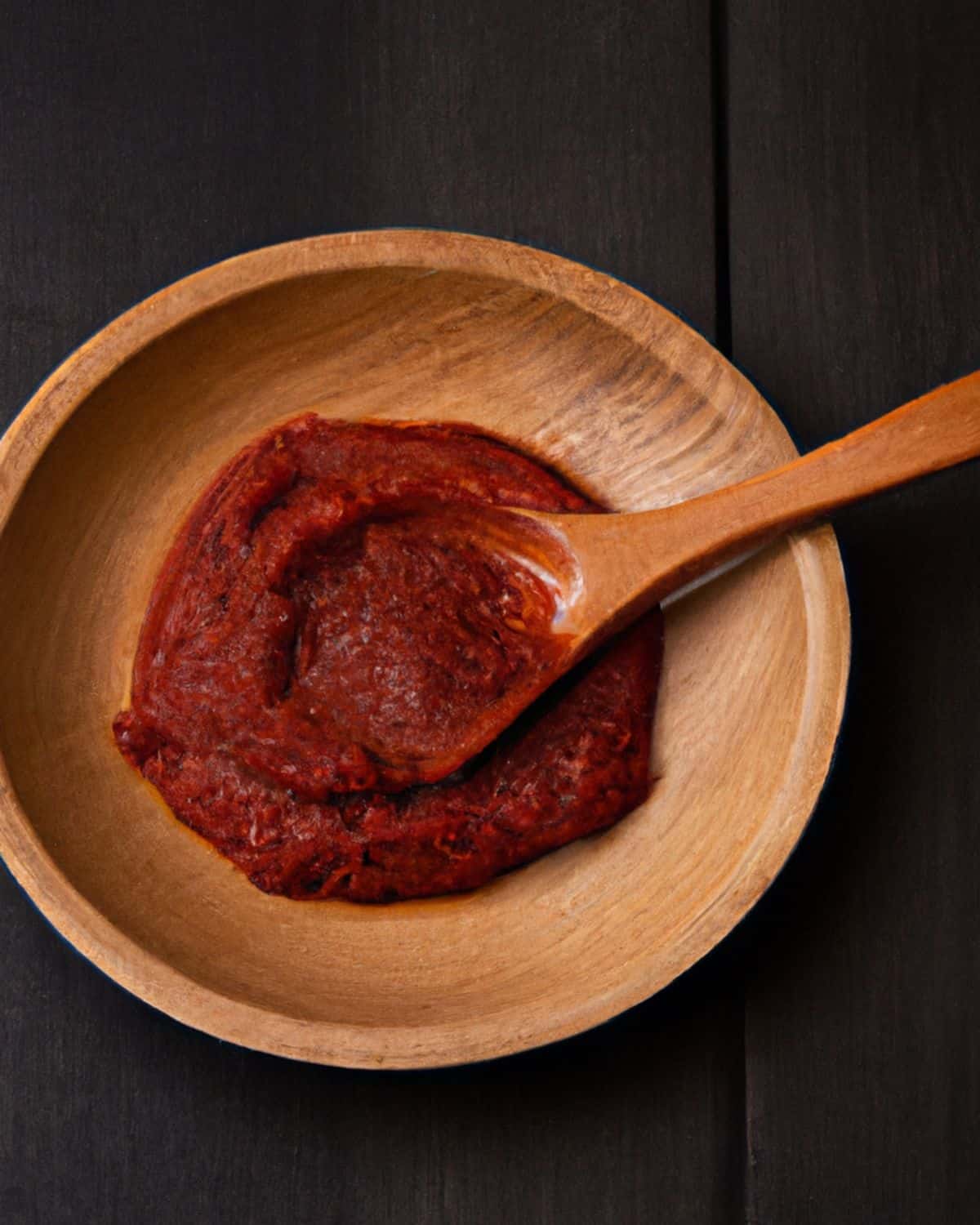 Homemade gochujang
You can make a DIY miso-based sauce that's not dissimilar to gochujang, it makes a good substitute. You can find the full recipe in the recipe card at the bottom of the page, but here's a quick rundown of the ingredients:
To make the best gochujang substitute, start with either miso paste or doenjang (Korean soybean paste). They're both made with fermented soy beans, so we've got the funky flavor covered - plus they're both a thick paste, which is great for getting the right consistency for the sauce.
Next up we need to add some more salt and umami flavor. Soy sauce is the best option for this - it doesn't matter if you use Korean, Chinese or Japanese soy sauce, they're close enough in consistency and taste. Alternatively, you could use tamari to make a gluten free gochujang substitute.
Oh, and if you're out of soy sauce too, check out our suggestions for the best light soy sauce substitutes and the best dark soy sauce substitutes.
Now to add some spice. We'd suggest gochugaru, which is Korean red pepper flakes, to add the most authentic flavor. It's almost like a Korean chili powder - it's ground more finely than regular chili flakes and is sweeter. Regular red pepper flakes will also do the job.
For the sweet taste, we like maple syrup. A little goes a long way and the homemade gochujang shouldn't be too sweet anyway. Other sugar syrups like agave nectar would work too. Alternatively, if brown sugar is the only sweeetener you've got, use that.
Optionally, a little rice vinegar or apple cider vinegar can be added. That's to add a little acidity, that this homemade spicy paste is otherwise lacking. Although, this is the least important addition, in our opinion. Just put it all in a bowl and mix it up.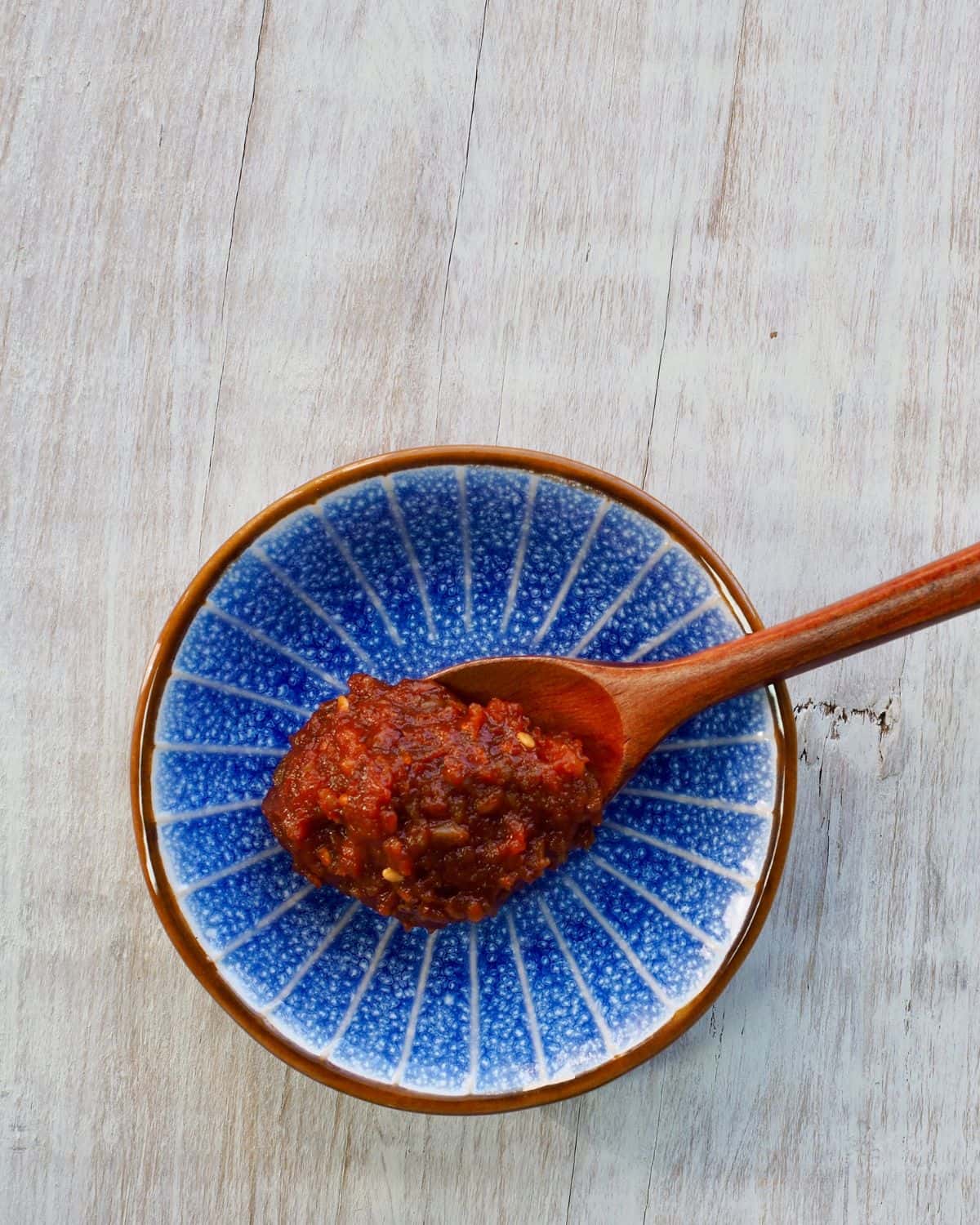 Ssamjang
Ssamjang is another type of Korean chili paste. It's actually made with gochujang and doenjang, along with a few other ingredients like garlic, onion, sesame oil and sometimes sugar.
Those similarities make ssamjang our favourite substitute for gochujang. It has the fermented soybeans, spice and umami hit. If it contains sugar, that's great - you could optionally add a dash of sugar or maple syrup if it doesn't.
Ssamjang is sometimes used as a dipping sauce, or more often wrapped in leaves with other ingredients - this is known as a 'ssam'. It's a bit less spicy than its korean chili paste cousin, gochujang, so you could also add a little extra Korean chili powder. It has a strong flavor and apart from the lack of heat, it's a great alternative.
1:1 – substitute 1 tablespoon of gochujang for 1 tablespoon of ssamjang.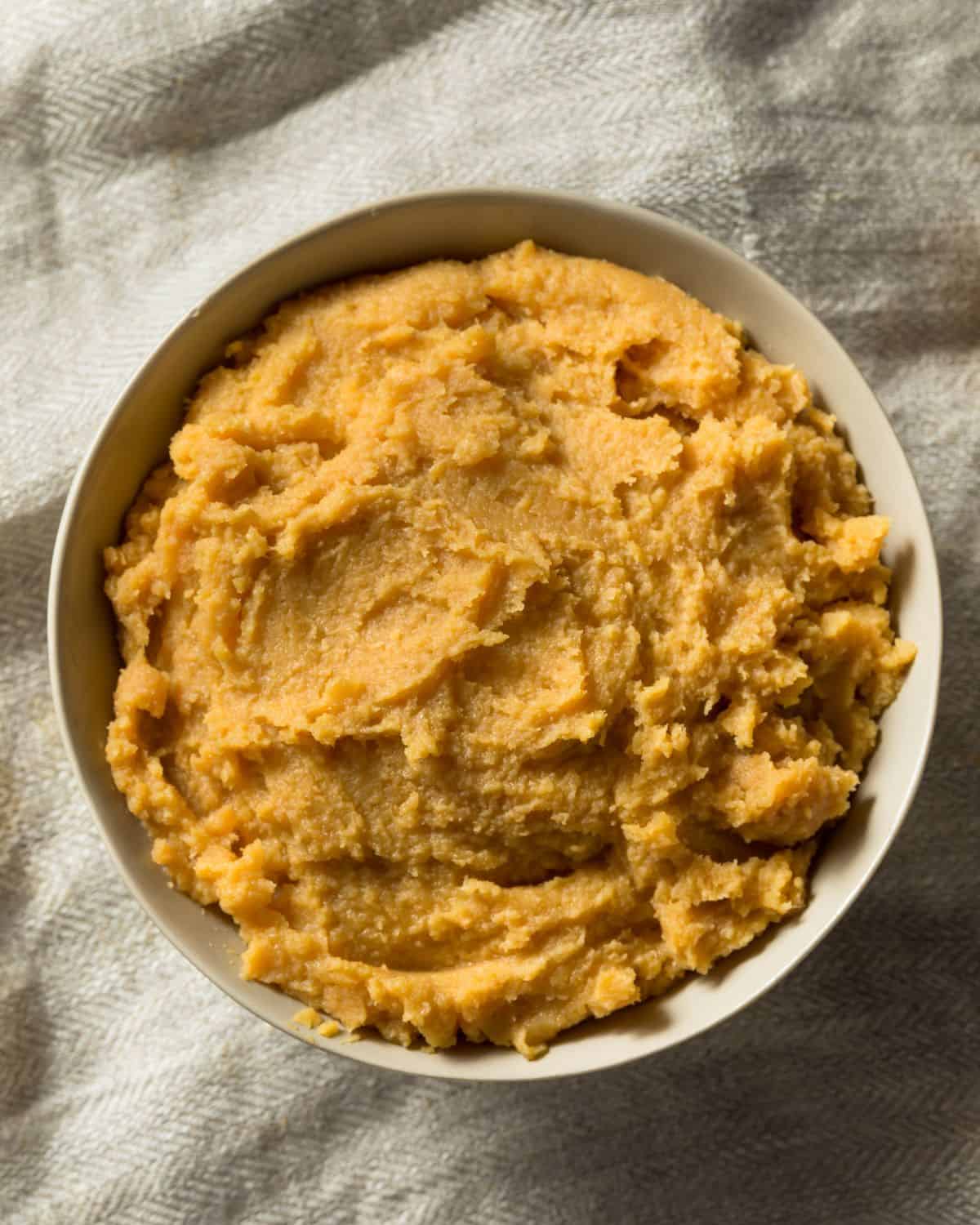 Miso or doenjang + gochugaru
Miso paste or doenjang, a similar Korean paste made from fermented soybeans, actually make pretty good gochujang substitutes too. They both have a pungent flavor so that's a good starting point for replacing the Korean fermented chili paste.
We'd suggest adding Korean or regular red pepper flakes (or hot pepper powder or cayenne pepper in a pinch) to add some spiciness to the miso paste - like a simplified version of the homemade gochujang from above. Find out more about miso paste.
1:1 – substitute 1 tablespoon of gochujang for 0.5 tablespoon of miso paste + 0.5 tablespoon of gochugaru or chili flakes.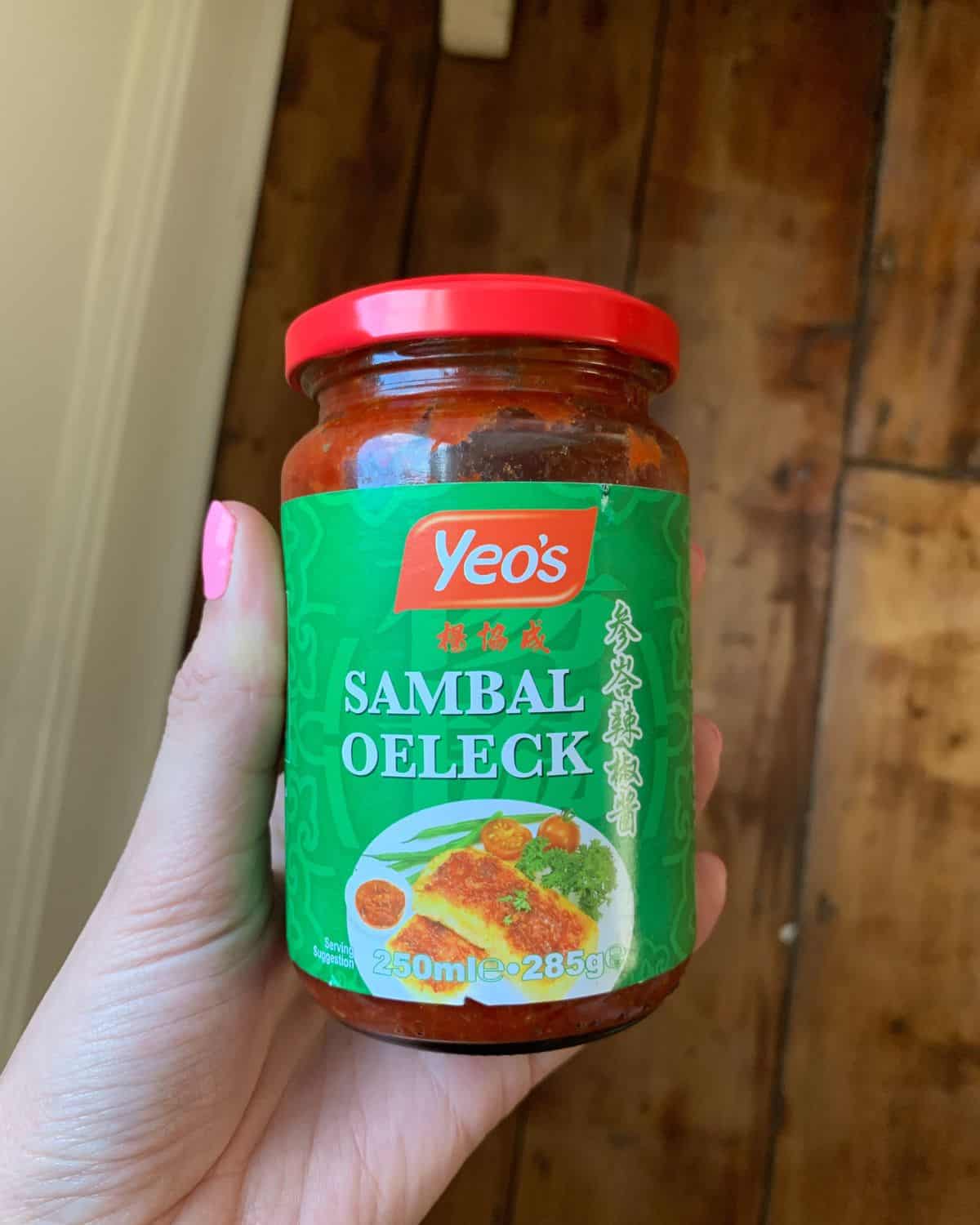 Sambal oelek
Sambal oelek is another type of chili paste, but this one is from Indonesia.
This is more of a classic chili paste that's made with raw chilies. It's not fermented and it's vinegary. It doesn't have anywhere near the complexity of gochujang in terms of flavor and it's also runnier.
It is, however, more common to find in the supermarkets. Just be sure to check the label as it can often be made with fish or shrimp, though the brand that we regularly buy (above) is vegan. Alternatively, this homemade sambal goreng is also a great option.
If you want to use sambal oelek as a gochujang substitute, you can either switch it 1:1 and accept that it won't add quite the depth of flavor to your dish. Or, you can try adding a little miso paste and maple syrup to take it to the next level. In that case, we'd suggest 0.5 tablespoon of sambal oelek + 0.25 tablespoon of miso paste + 0.25 tablespoon of maple syrup.
1:1 – substitute 1 tablespoon of gochujang for 1 tablespoon of sambal oelek (or see the note above to level it up).
🤨 What not to use
Harissa paste
On paper, harissa paste shares a lot in common with gochujang paste. It's thick, sweet, spicy and packed full of flavor.
The problem is, it's the wrong flavors. Harissa paste contains spices like cumin and caraway seeds, which just don't feature in Korean food.
If you really wanted to make a recipe using harissa paste as a gochujang substitute, you can switch it out 1:1, but don't expect the finished dish to taste like Korean cuisine.
Tomato paste
Tomato paste is often suggested as a good gochujang substitute, but we don't agree.
Sure, tomato paste has deep, rich flavour and, depending on the brand, it can be a pretty thick paste. So it looks on point. But it doesn't pack the same complexity in - it's not fermented, it's not spicy and it doesn't have the same rich umami flavor. And it certainly doesn't have a pungent flavor. That's lots of bad points for tomato paste in this scenario!
If you were desperate to make a recipe and tomato paste was all you had on hand, you could mix some with gochugaru or regular chili pepper flakes or cayenne powder (in a pinch). It would add a similar colour to the dish as well as some spice, but you'll be missing crucial flavors.
Thai chili paste
We're going to throw Thai chili paste into the bad alternatives section for a couple of reasons.
It's not really any more common than something like ssamjang, so if you're trying to find a substitute in the shops, we'd definitely recommend ssamjang over Thai chili paste. Plus, we don't even think it's as great as our homemade gochujang substitute.
But also it's just not that common to find vegan versions of Thai chili paste because shrimp paste is a key ingredient. Aside from that, it also adds a distinctive fishy flavour which isn't present in gochujang.
Sriracha sauce
I'm sure you've heard of sriracha - it's a super popular chili sauce that's made using Thai chili.
While we love sriracha chili sauce for many different uses, it's definitely not one of our go-to gochujang substitutes. It's quite a vinegary chili sauce with a strong garlic flavor, so that makes it a bad choice for us. It's actually a delicious sauce, but it's a no-go as a gochujang substitute.
However, if you enjoy spicy food (like us!), we definitely recommend keeping it in the fridge for tofu banh mi.
💭 FAQs
What can I substitute for gochujang paste?
We think the best gochujang substitute is to throw together a quick homemade version using miso paste and some other basic ingredients. But there are plenty of good shop-bought options too - like ssamjang and sambal olek.
What does gochujang taste like?
Gochujang is sweet, spicy, umami-rich and has a little of that funky, fermented flavor. It's a really powerful ingredient that's great in all kinds of Korean recipes. It's made from fermented soybeans (meju), Korean red pepper flakes (gochugaru), glutinous rice powder, barley malt powder (yeotgireum) and salt. It packs a punch. It's great in these gochujang noodles.
Is gochujang vegan?
Usually, yes, but it's always best to check the packet! It's usually accidentally plant-based as it's made from Korean red pepper flakes (gochugaru), glutinous rice powder, barley malt powder (yeotgireum), salt and fermented soybeans. Occasionally non-vegan ingredients like honey are used.
In conclusion, while gochujang is a unique and irreplaceable ingredient in Korean food, there are still plenty of gochujang substitutes you can use if you can't find it or you run out.
Each substitute has its own flavor profile and texture, so it's worth experimenting to find the one that works best for you and your dish. For best results, use miso paste with gochugaru, ssamjang or sambal olek. We don't recommend tomato paste, sriracha or Thai chili paste.
Whatever alternative you choose for your next Korean cooking adventure, we hope you enjoy it!
Did you make this recipe? Leave a review and a rating below, or tag us in your photos on Instagram! Alternatively, bookmark it in your browser or save to Pinterest for later.

If you love our content, please consider supporting it by buying us a coffee.
📖 Recipe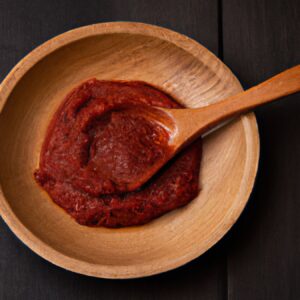 Homemade Gochujang Substitute
Here's a quick and effective homemade gochujang substitute that you can throw together in a couple of minutes with just a few ingredients.
Save
Saved!
Print
Pin
Rate
Ingredients
0.25

cup

gochugaru

or regular chili flakes

0.25

cup

doenjang

- or miso paste, white or yellow

0.25

cup

water

3

tablespoon

maple syrup

2

teaspoon

soy sauce

1

teaspoon

rice vinegar
Instructions
Add all the ingredients to a small blender.

0.25 cup gochugaru,

0.25 cup doenjang,

0.25 cup water,

3 tablespoon maple syrup,

2 teaspoon soy sauce,

1 teaspoon rice vinegar

Blitz until smooth - it should create a pretty thick mixture, similar to miso or tomato paste. If it's too thick during blending, add a little water, around 1 teaspoon at a time until loose enough.
Notes
Coconut aminos, liquid aminos tamari or low sodium soy sauce can be used instead of soy sauce.
Transfer into an airtight container and keep in the fridge for up to 1 month.
Nutrition
Calories:
30
kcal
|
Carbohydrates:
5
g
|
Protein:
1
g
|
Fat:
1
g
|
Saturated Fat:
0.1
g
|
Polyunsaturated Fat:
0.4
g
|
Monounsaturated Fat:
0.2
g
|
Sodium:
263
mg
|
Potassium:
91
mg
|
Fiber:
2
g
|
Sugar:
3
g
|
Vitamin A:
1100
IU
|
Vitamin C:
0.03
mg
|
Calcium:
19
mg
|
Iron:
1
mg