If you want to take your vegan Thai food cooking to the next level, there are some essential Thai cooking utensils that you could consider purchasing. A lot of this equipment is useful for other cuisines too! This article will explain exactly what we use and why...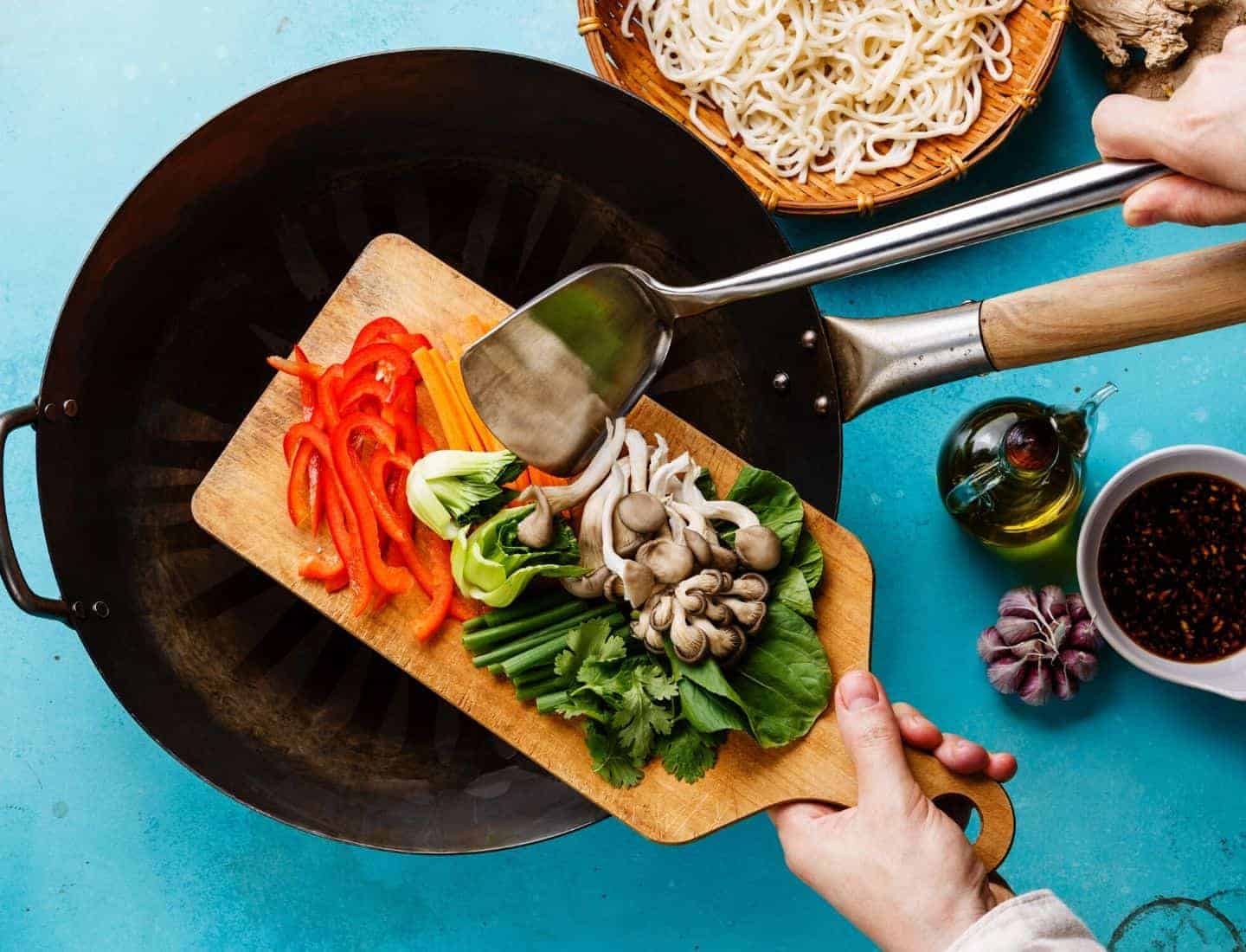 What utensils do I need for cooking Thai food?
When we first started cooking vegan Thai food we used whatever was already in our kitchen to perfect some of our favourite dishes. However, over the years we've found that using a few specific Thai cooking utensils has made them even better – and has made cooking even easier!
Having the right tools for the job means that you can get the best possible flavours and textures out of your ingredients. And it makes the cooking process much easier. But most importantly, much more fun – especially if you love a gadget as much as Dan!
Read on for the lowdown on our essential Thai cooking utensils! We explain why we like them and how you can choose the right equipment for your kitchen too…
A Wok is essential
If you were only going to invest in one essential Thai cooking utensil, the wok should be it.
Woks are used in almost all Thai recipes. Traditionally it would have been the only pan used for everything – from boiling to stir frying. They are designed to get to a much higher temperature than a frying pan, which means that your ingredients can be cooked quicker whilst still retaining texture.
Traditionally, woks have a rounded bottom and were used over a pit style hearth. The rounded bottom sat in the fire, allowing it to get to incredibly high temperatures - sometimes enough to deform the pan! Who knew this pan had such a rich history?
For example, our Rad Na (Noodles in Gravy) is a great recipe that's much easier to make with a wok. This is because it calls first for the veggies to be fried and then for liquid to be added to create the sauce. Using a wok means that the veggies better retain their texture, and the liquid is much less likely to be spilled everywhere!
Bearing all of this in mind, these are the two woks that we would recommend.
If you want to do things traditionally, then getting a carbon steel wok should be top of your wish list. Carbon steel woks are what is generally used throughout Asia. They're a lot bigger than the offerings from some of the more commonly known brands, however, they're not suitable for electric or induction hobs. You could also get a cast iron wok, but these are very heavy and a lot more expensive, so carbon steel is a lot more user-friendly.
Bear in mind, carbon steel woks also need seasoning. This is a process that begins with coating the whole wok (inside and out) in a thin layer of oil using a paper towel. That's followed by heating the wok over a hob until it changes colour, to a black or metallic colour. It's then washed and dried, using the heat from a stove-top to evaporate any remaining water. This process ensures the wok will be non-stick.
The Scoville is a great alternative and more affordable for all budgets. It comes with a really effective non-stick coating and holds a great temperature. It's more budget friendly than the Eaziglide and it also comes with a lifetime guarantee. Jess's Dad swears by this brand and he's a harsh critic!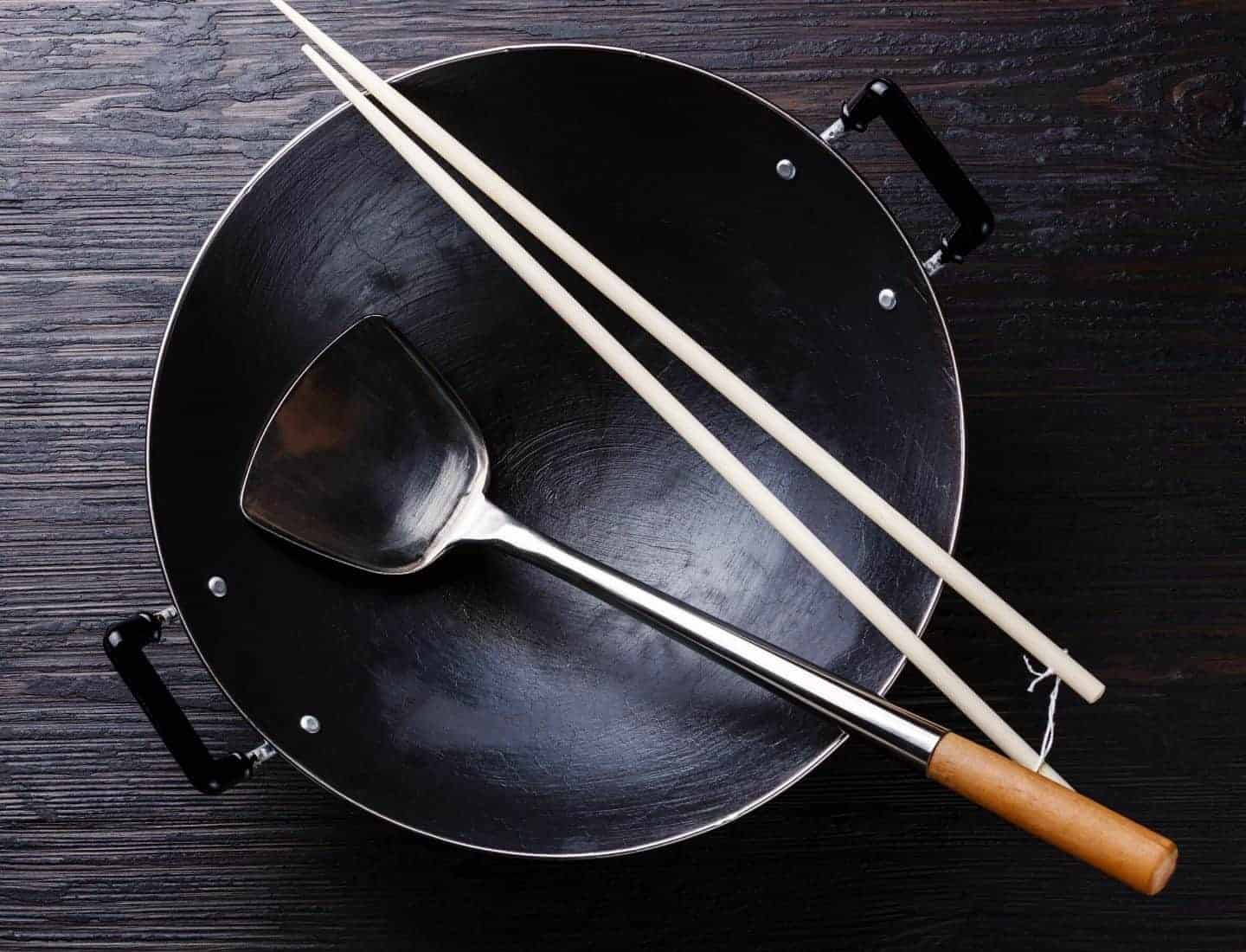 Wok Utensils
Once you have a wok, it's a good idea to get hold of long handled wok utensils to go with it. The longer handles will stop you from burning yourself on the sides of the pan. And, drawing from experience – having the right utensil for each job makes cooking so much easier.
So, what do you need? We would recommend getting hold of a big spoon or a shovel (like a spoon but with a flat edge) for stirring. It's worth having both a spoon and a shovel because spoons can break more delicate ingredients like rice noodles. It's also good to have a spatula for flipping, and a slotted spoon for getting fried veggies or tofu out of oil easily.
You can get wok utensils made from metal, wood or bamboo. Metal is the most durable material, but we personally would choose bamboo because it's much more sustainable. And it won't scratch your pan.
We recommend this set of bamboo utensils – it's got everything you need all in one pack!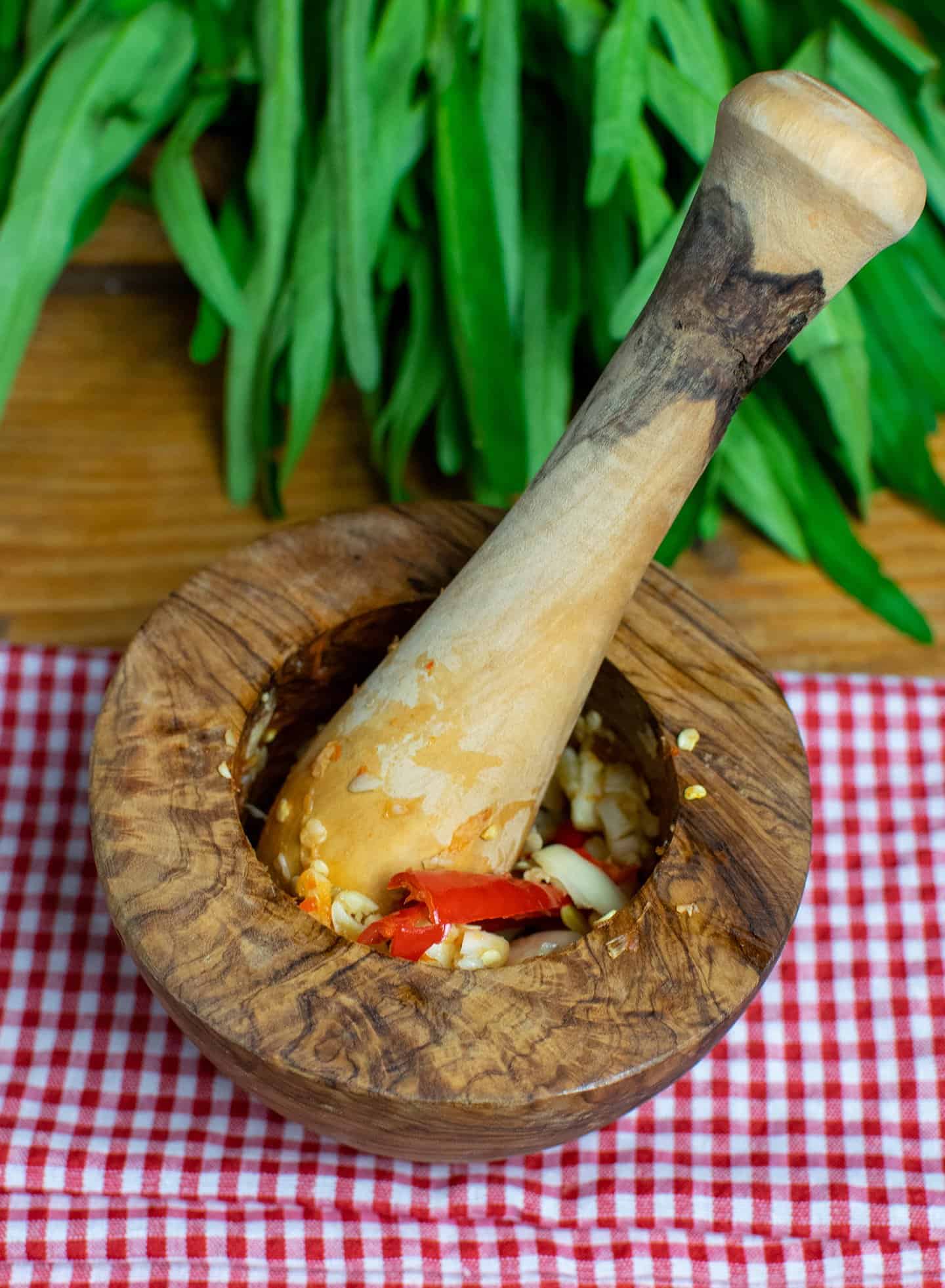 Pestle and Mortar
Of all of our essential Thai cooking utensils, we probably love the pestle and mortar the most!
It's great fun smashing up ingredients, especially after a stressful day. It's also perfect for making curry pastes. Curry pastes are traditionally made in a pestle & mortar and it'd how you will see street vendors preparing pastes in Thailand.
This is because a pestle and mortar is much better suited to a small quantity of ingredients than a blender is. Plus it's more effective at releasing flavours because it crushes rather than cuts. That means it's better when working with tough plant fibres like lemongrass or dried chillies.
Granite Pestle & Mortar
When you're choosing a pestle and mortar you'll find there are a variety of sizes and materials available.
Personally we like a large mortar (7-9 inches). It allows you to crush small quantities of ingredients – like for our red thai vegetable curry paste. It can also be used for recipes that need a larger bowl size like papaya salad (Som Tam).
The pestle and mortar we use is granite. We really like it because it's durable. It's also quite heavy which means that you won't accidentally flip it over with enthusiastic bashing.
This is the granite pestle and mortar that we've been using for the past couple of years, by H & S. We can't recommend it highly enough.
Earthenware Pestle & Mortar (Laos Style)
An earthenware pestle and mortar, sometimes called the Laos style pestle and mortar, is a great option if you're looking for something authentically Thai. This is what you will see the street vendors in Thailand using. It's not quite as robust as the granite option though. Often used for making larger dishes like Papaya Salad, rather than curry pastes.
If you want to go the traditional route then this pestle and mortar is the perfect choice – and very reasonably priced too.
Blenders and Spice Grinders
There are some Thai dishes that just work much better with a blender. For example our Thai Style Corn Fritters wouldn't really work without a blender. You'll get a much better texture and find that they cook more evenly with blended ingredients.
When choosing a blender you need to consider not only budget, but the kitchen space you have available. Some blenders take up loads of space and in a small kitchen this just isn't practical.
It's also important to think about what functions you actually need. It's great to have a blender with a thousand different functions, but if you aren't going to use them then you'll be wasting your money.
The Ninja Blender
The Blender we use is a Ninja. We've seen amazing results with it. We love that it's a three in one design – that means we can use it not only for cooking, but for smoothies as well (and a cheeky cocktail or two…). It is on the pricier side, but totally excellent value for money.
Russell Hobbs Blender
If you're looking for something a little more pocket friendly we'd recommend this Russel Hobbs model. It's cheaper than the Ninja (above) and great value for money – perfect for slicing, dicing and the rest of your Thai cooking needs.
Spice grinder
A spice grinder can be a life saver. Especially if you don't want to go to the extra effort of using the pestle and mortar! Plus, it will save you loads of time!
They're smaller than a blender, so much better suited to the small quantities of ingredients. We really like this spice grinder by Cuisinart because it has a much stronger motor than other grinders and it works by pressing down on the lid, saving energy.
Perfect for grinding spices, coffee beans and nuts.
Juice Squeezer
Lots of Thai dishes call for lime juice, and it can be really difficult to get all of the juice out of a lime by hand. You can often end up with a lot of half squeezed and wasted limes, which sucks!
This lemon squeezer by H&S actually turns the lemon inside out, making sure that every last bit of juice is extracted. Plus there's less chance of splashing yourself in the eye with citrus juice than if you do it by hand, which is always a bonus.
Chopsticks
If you want to feel authentically Thai as you enjoy the delicious meal you've just cooked, then a pair of chopsticks is essential. Plus they can also be used as a poking device, and who knows when you might need one of those (remember when they thought ugly naked guy was dead in Friends? Chopsticks saved the day!)
Just don't put them directly into hot oil like we did… they're not suitable for that!
We'd recommend getting reusable chopsticks rather than throw away ones (obviously). It's also a good idea to be cautious if you're buying coloured chopsticks, as sometimes the paint used to decorate them is actually toxic.
EcoSlurps Chopsticks
We really like these chopsticks by EcoSlurps. They are made from a by-product of the wheat production process and they're really durable. The colours used on them are food safe (we checked!) and for every set that's sold the company will plant a tree.
Rice Cooker
Rice cookers are great because they virtually guarantee that your rice will come out perfectly every time. They also keep your rice warm once cooked, so if you're like us and always go up for seconds, a rice cooker will have you covered. Additionally, you can set a timer, so you can leave the rice to take care of itself while you concentrate on cooking the rest of the meal.
When choosing a rice cooker, the size is the most important thing to consider. You should buy a rice cooker based on the amount of rice you usually cook. This is because operating the cooker half full can actually damage it.
So, if you usually cook for two people then you should buy a rice cooker for that size. Please bear in mind that if you have guests over for dinner, you will need to cook a bigger quantity of rice in two batches.
It's also worth considering what types of rice you will be cooking, and whether you will cook other grains too. This is because not all rice cookers will be able to cook all grains.
Yum Asia Rice Cooker
We really like this cooker by Yum Asia. It caters for all types of rice, and has settings for porridge and cakes too.
Microwave Rice Cooker
If you're looking to spend a little less or are short on kitchen space, we've seen really great results from microwave rice cookers, which Dan's Mum swears by.
This microwave rice cooker by Joseph Joseph gives excellent results.
Knives
A good set of knives is one of the most essential Thai cooking utensils. It is much easier, safer and more enjoyable to prepare food with a good set of knives.
When choosing your knives, you need to think about what you will be using them for.
For our recipes we use a small paring knife (about 7-8cm long) for chopping small vegetables, and a larger knife for cutting bigger, tougher veggies like butternut squash.
A finely serrated knife is also great for chopping softer veg like tomatoes (we know, we know… it's a fruit) without squishing them.
Generally knives are made of stainless steel. Stainless steel knives are great but they do blunt easily so will need to be sharpened regularly. Carbon steel knives are higher quality and will remain sharper for longer because of the higher carbon content, but they also come with a higher price tag.
Vintage Style Knives
If you're looking for stainless steel knives then we recommend this set of five Vntage Style Knives by Tailors Eye Witness. It has everything you need in one set and we love the vintage design.
Carbon Steel Knives
If you're looking for carbon steel knives then this set is awesome, it includes paring, chef's and santoku (we LOVE these) knives.
Serrated Knife
If you combine the set above with this serrated knife you'll have everything you need!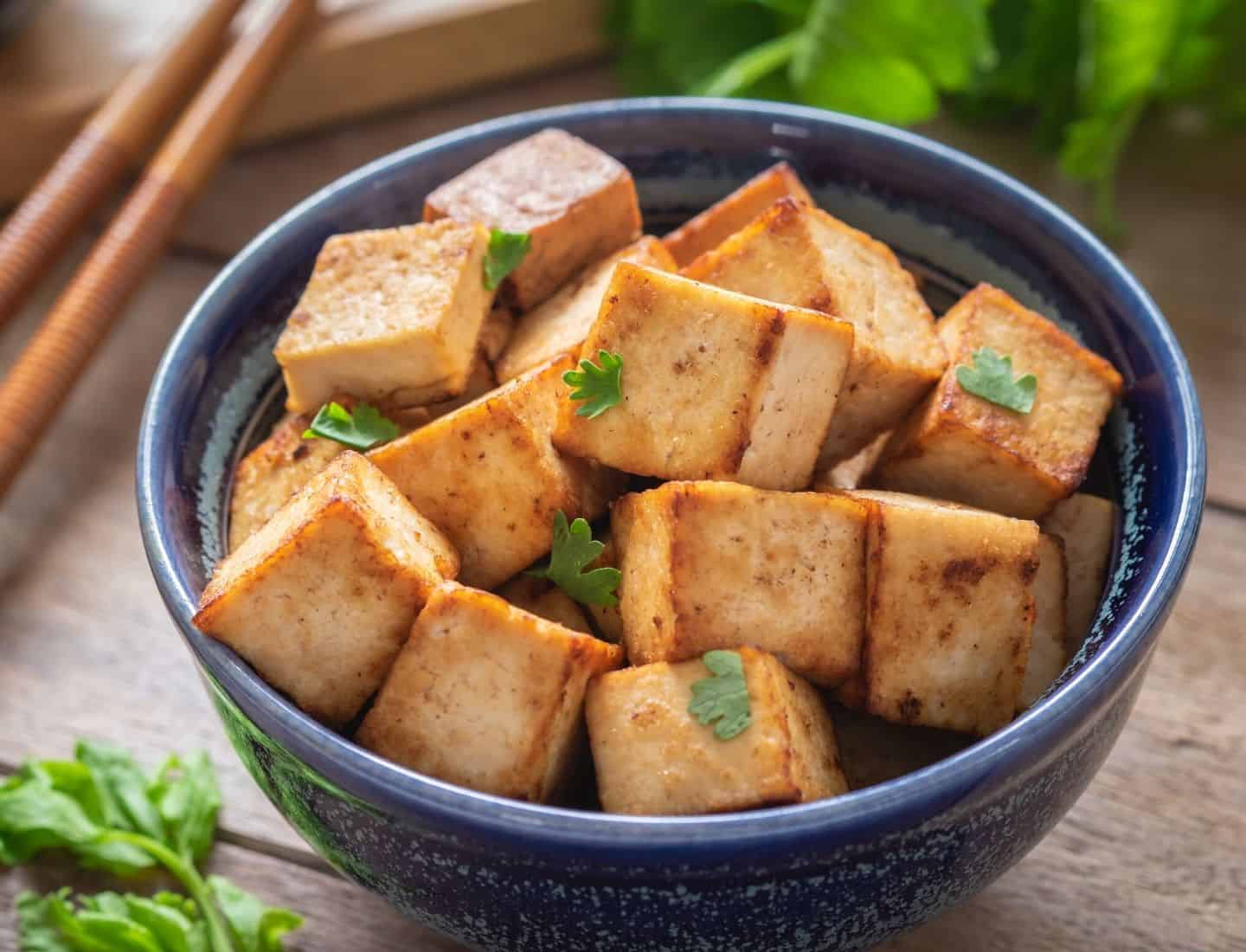 Tofu Press
We think that a tofu press is an essential Thai cooking utensil, especially for cooking vegan thai food, of course! We use tofu a lot and it's important to get the best out of it.
A tofu press will remove more liquid from your tofu than other methods. This means that it will better absorb flavours and it will go crispier when you cook it. Plus it means that you can cut down on the paper towels that are often wasted when pressing it manually.
Tofuture Tofu Press
The Tofuture Tofu Press is actually the first tofu press we bought, and we got it at VegFest in Bristol. It changed our cooking lives, and we still have it! It's a little bit more expensive than other items on the market. However, we think it is the best one, is well worth the money and it's super durable.
Tofood Tofu Press
A slightly less expensive option is this Tofood box style press. It's amazing because you can chuck the tofu in and leave it pressing for as long as you like. You don't even have to check on it. The water is collected in the bottom of the press so there's no mess to worry about either. This is a cheaper option, and a good one at that, but in our opinion nothing lives up to the Tofuture tofu press.
Steamers
Bamboo Steamer
We love a bamboo steamer for making sticky rice, a staple in Thailand. You can use them for steaming dumplings or veggies as part of a quick and healthy dinner too. Bamboo is the perfect material for a steamer because it's absorbent, so it allows your veggies to cook without going soggy. We also really like a bamboo steamer for serving food – it looks great on the table.
We'd recommend a 20cm steamer for two people. We'd also recommend choosing a steamer that has tiers. This allows you to steam ingredients that have different cooking times simultaneously. This bamboo steamer ticks all of the boxes, and is very cost efficient!
Stainless Steel Steamer
Choosing a stainless steel steamer is a more robust option. Although not as traditional as bamboo, it may last longer and is inevitably easier to clean. The tiers can be removed or added as you need them, allowing you to cook foods that have varying cooking times all at once. This is the stainless steel steamer we recommend, and it's great value too!
Once you've got everything you need for your kitchen, have a read through our Ultimate Guide to Cooking Vegan Thai Food. Put that kitchen equipment to good use!
Top Tip: if you love this recipe, check out our e-cookbook Vegan Thai Food Made Easy. It's packed with 21 original Vegan Punks recipes featuring curries, curry pastes, stir fries and even the most popular Thai dessert, as well as 3 BONUS recipes!
Pin this article for later, to remind you of all the best cooking gadgets to help make life easier in the kitchen!