In this article, we will discuss how to cook jackfruit! Including preparing, shredding and freezing jackfruit too. We also include tips on how to cut fresh jackfruit and how to use tinned jackfruit in recipes.
Jump to:
What is Jackfruit?
Jackfruit is a tropical fruit that is native to South and Southeast Asia. It is known for its large size, unique texture, and sweet flavour. It is a great source of nutrients such as vitamin C, potassium, and dietary fibre. Learn more about the health benefits and nutrition of jackfruit.
Young jackfruit is a great option for vegan meals as it replicates meat so well, like in this Jackfruit Curry or this Jackfruit Chilli. Ripe jackfruit is better for dessert recipes, as once ripened it's sweet and tastes like mango or pineapple.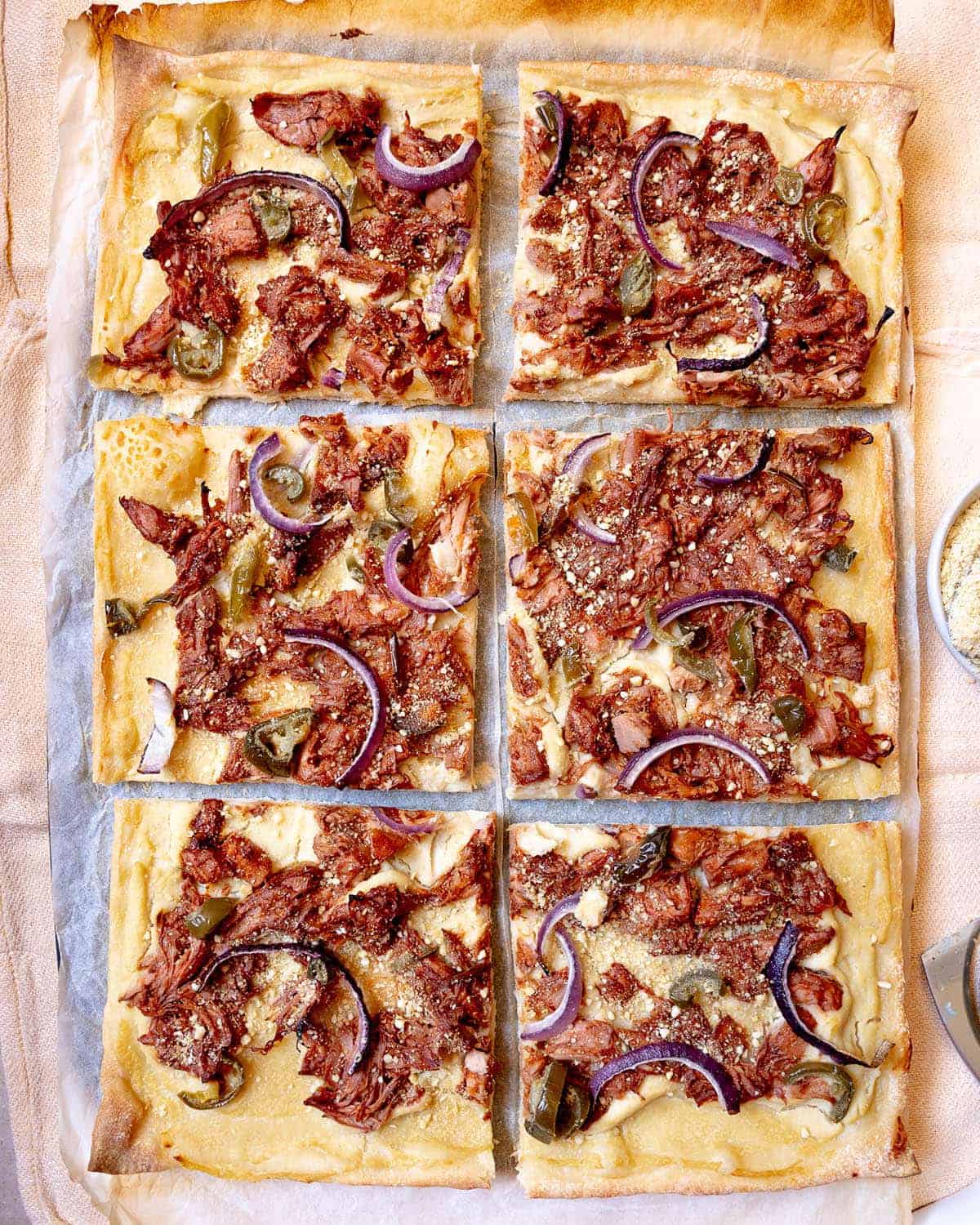 How to Cut and Prepare Jackfruit for Cooking
First, let's talk about preparing fresh unripe jackfruit.
When you first purchase a fresh unripe jackfruit (AKA green jackfruit), you will notice that it is covered in a thick, spiky skin. To remove the skin, you will need a sharp knife and a cutting board.
You may to wear gloves or cover your non-dominant hand in oil, as well as the knife blade, so that you don't end up with sticky sap everywhere. That's because the inside of a jackfruit is covered with latex sticky sap. Just remember to be very careful with the knife and if you have a latex allergy.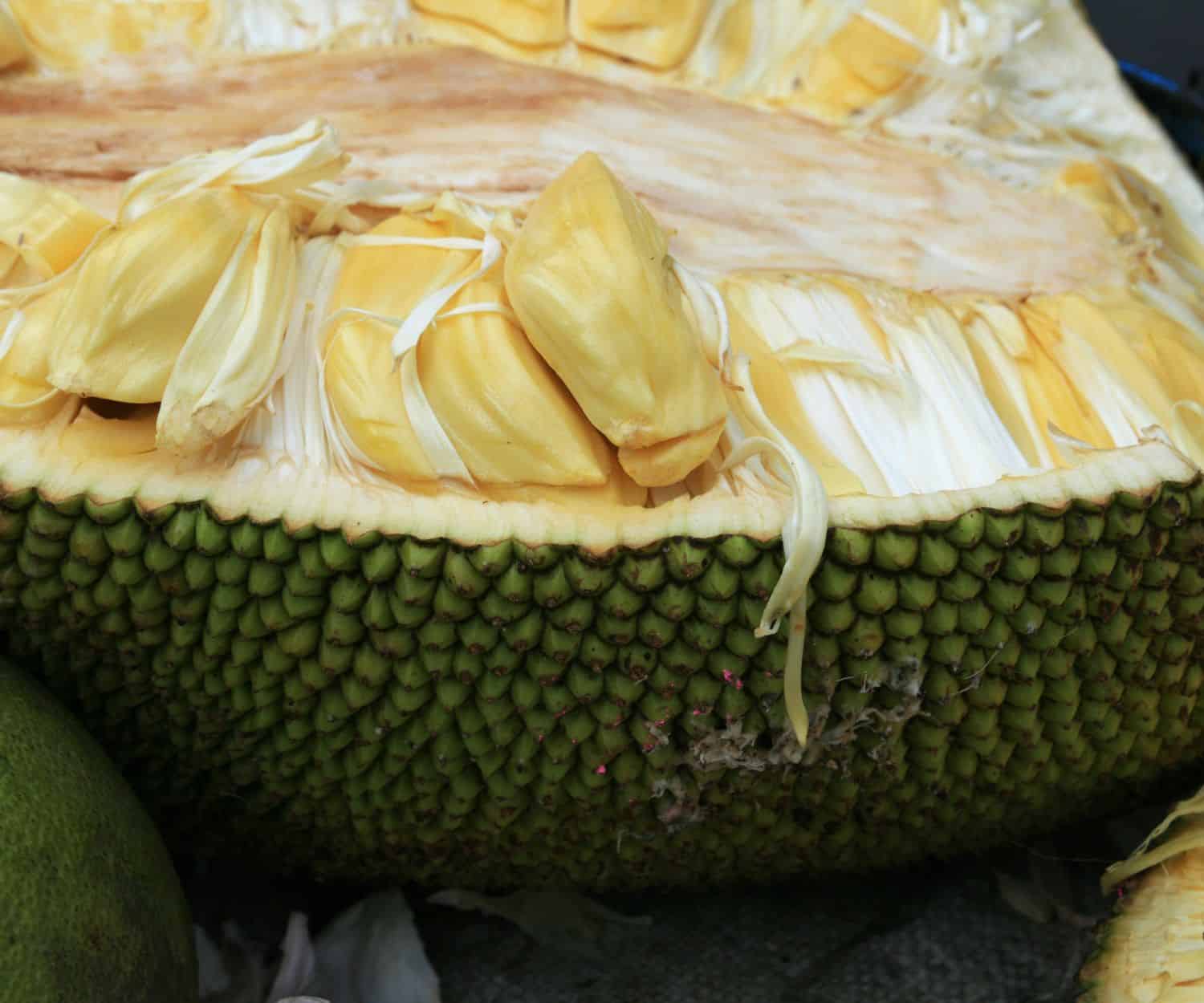 Prepare a clean work surface with ample space for a large jackfruit. As there is a lot of latex sap within a jackfruit, you could lay down plastic sheeting to make it easier to clear up afterwards.
First, cut off the top and bottom of the jackfruit.
Cut down the length of the jackfruit with a sharp knife. Then cut it in half again, so you've got quarters.
Remove the core from the middle of each piece with the sharp knife.
Once cut, you'll see that the jackfruit is divided into a number of compartments, each containing a bulb of fruit and a seed. Use your hands to gently pull the seed out of each fleshy fruit pod. Be careful, as the fruit can be quite sticky. Once you have removed all the fruit, discard the seeds (or save them to roast later). Rinse and repeat until all of the pods have come away from the skin.
Remove any remaining fibrous pulp from each fruit pod. It's now ready for cooking!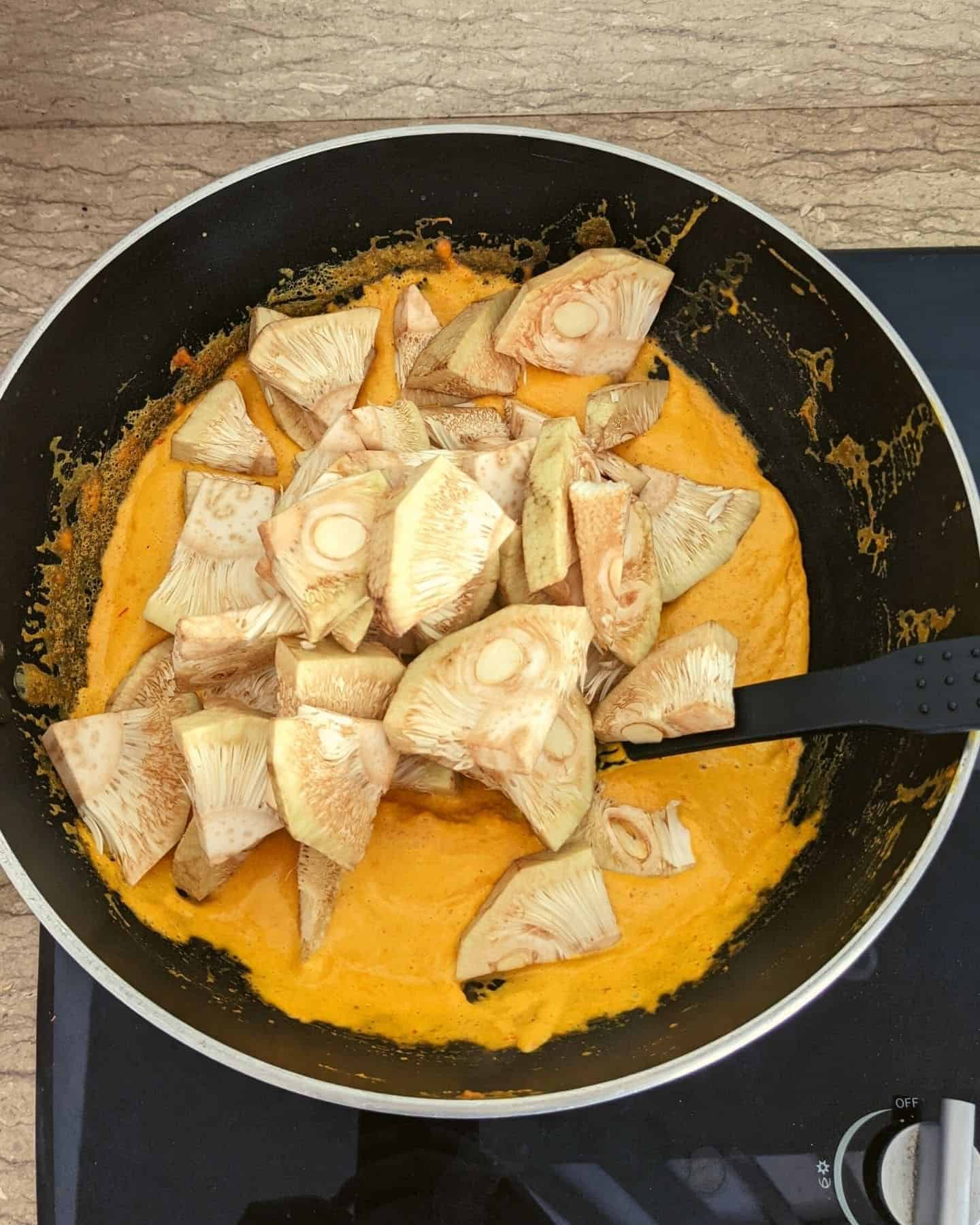 How to Cook Jackfruit
Once you have prepared the fresh jackfruit, you can use it in a variety of recipes. However, before cooking with it in a recipe, you may like to boil the fresh unripe jackfruit for around 45 minutes to ensure it becomes tender in the final dish. If the recipe has a long cook time, like this jackfruit rendang, you can skip this step.
One popular way to cook young jackfruit is to use it as a meat substitute.
For example, you can use it in place of pulled pork in a BBQ sandwich or as a topping for a pizza. Jackfruit can also be used in curries, stews, and soups.
It is important to note that jackfruit can be quite tough and may require longer cooking times to become tender. Take a look at this list of 31+ jackfruit recipes for even more inspiration for how to cook jackfruit.
How to Bake Jackfruit
It's easy to bake jackfruit. Pop it onto an oven tray with seasonings, herbs and/or spices, and olive oil (or oil spray).
Then bake on 200C for around 30 to 45 minutes. You can pull it apart before placing it in the tray or you can bake it in whole chunks. You can add other vegetables or other sources of protein like tofu or chickpeas too.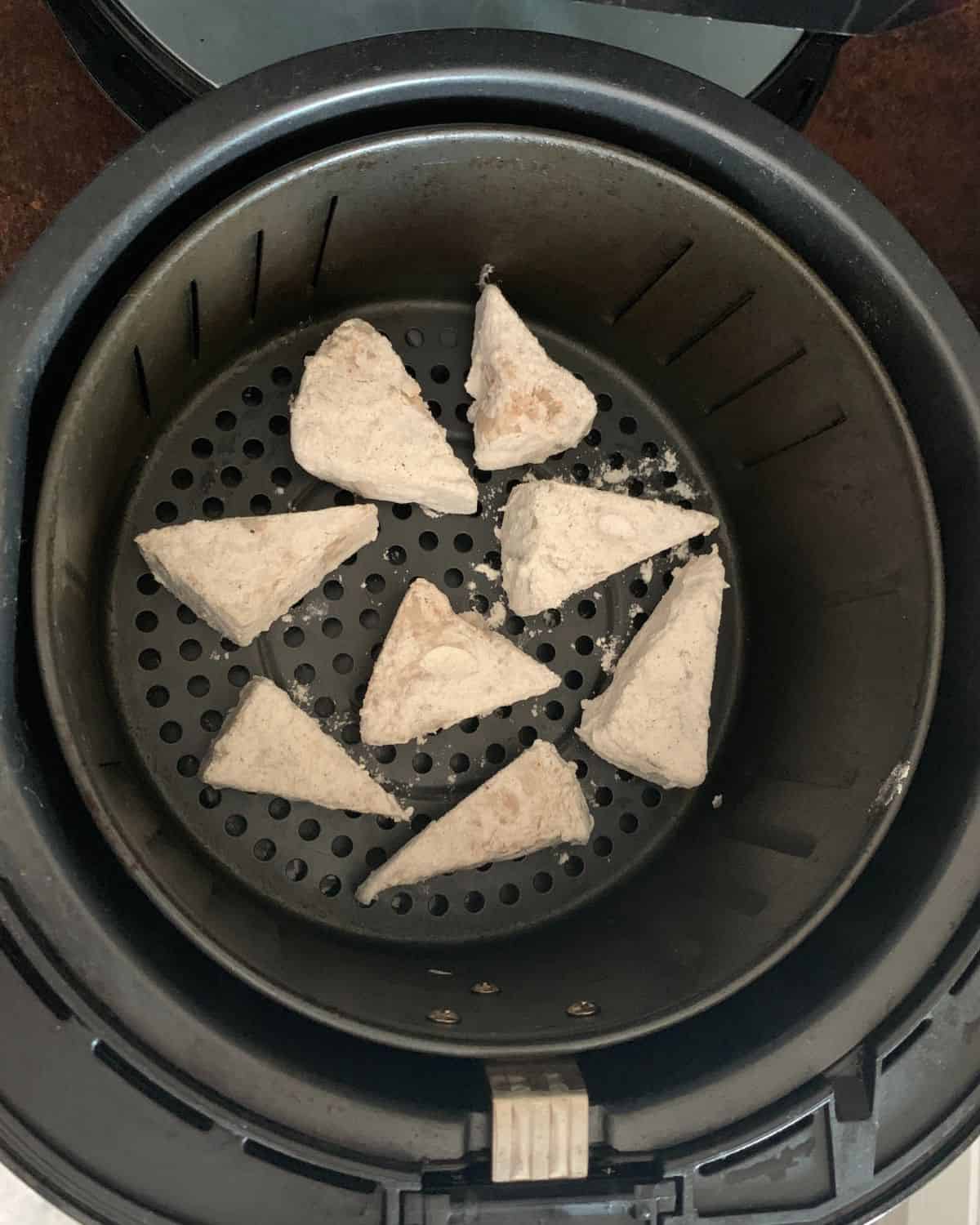 How to Air Fry Jackfruit
Air Frying jackfruit is a great way to make vegan wings! Essentially, all you have to do is take the jackfruit chunks out of the can (or direct out of the fruit itself), coat it in batter and air fry at 200c for 20 minutes. Just like in our jackfruit wings recipe (which is totally delicious too).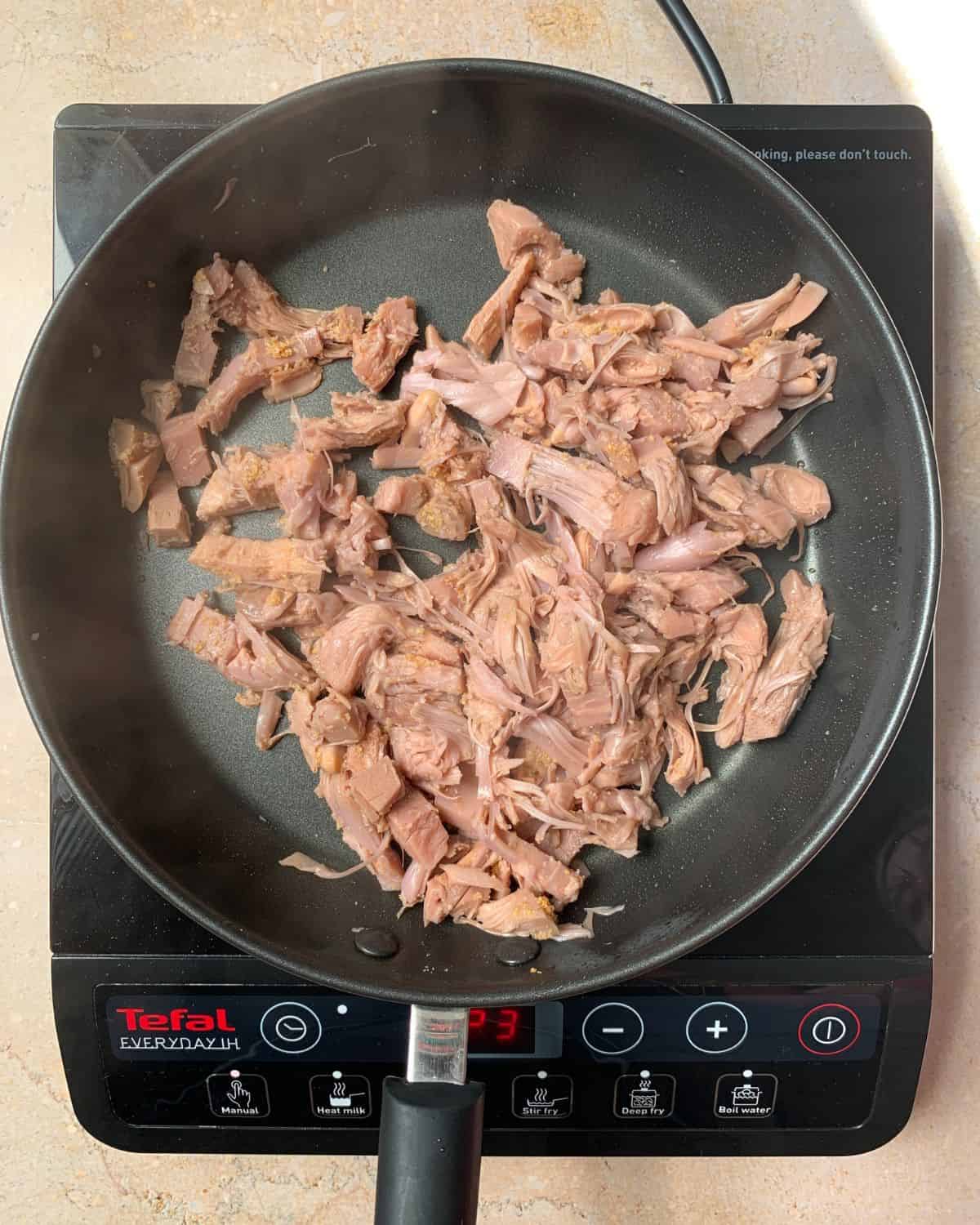 How to Pan Fry Jackfruit
Pan frying or stir frying jackfruit is a great method of cooking it. It's very quick to pan fry jackfruit. However, you will need to break it apart with two forks or chop it into smaller pieces before cooking. You can also use pre-boiled jackfruit that has been prepared earlier (as discussed above).
Simply, drizzle a splash of oil into a frying pan or wok, then add garlic and onions. Pop in the jackfruit and any other veggies and stir fry for around 5 minutes. Pour in sauces like light soy sauce, dark soy sauce and maybe even chilli sauce. We recommend following this Chinese Jackfruit recipe if you'd like to stir fry the jackfruit.
How to Slow Cook Jackfruit
Jackfruit should be added in chunks (straight from the tin or out of the fresh fruit) and then popped into the slow cooker. It should be cooked in a sauce for around 2-3 hours on high. It can then be shredded with two forks and cooked for another 1-2 hours on high. Subject to the recipe - this is a rough guide.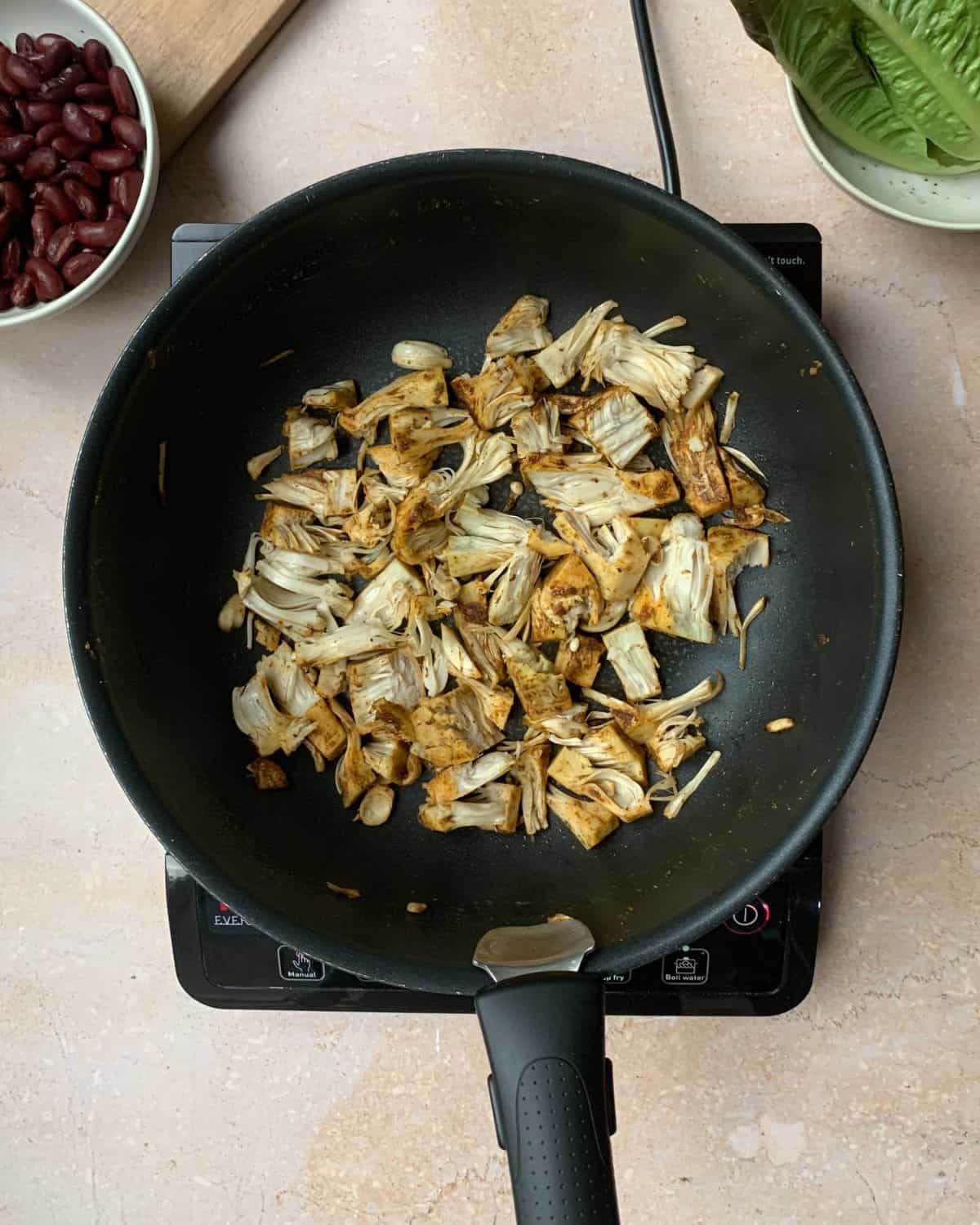 How to Shred Jackfruit
Boiling jackfruit means it will become tender. If cooked for long enough, around 45 minutes - 1.5 hours (for fresh unripe jackfruit), it will naturally start to shred, like pulled pork.
However, to give it a helping hand you can either pull it apart with your hands, chop it or mash it with a potato masher. If using a potato masher, this will only work after the jackfruit has been boiled and is tender. If the jackfruit pieces are fresh out of the large fruit, or out of a tin, it will be too tough for the masher. That's why it needs to be simmered first.
Alternatively, if you're using jackfruit out of a can, it may be fine to sauté it in a pan and then pull it apart with two forks. Like in this Jerk Jackfruit Wrap. It just depends how soft it is when it comes out of the can.
How to Freeze Jackfruit
Once you've learnt how to cook jackfruit, you can eat it straight away or freeze some (or all) for later! If you've boiled it up and it's ready to be frozen for use in cooking in the future, it can either be placed in zip-lock freezer bags or in a plastic container and then put in the freezer. Jackfruit will keep for up to 6 months in the freezer.
Before cooking, it's best to defrost the frozen jackfruit. Take it out of the freezer to defrost for a couple of hours at room temperature. Alternatively, put it in the fridge overnight to thaw out completely, then add it to whatever recipe you're making.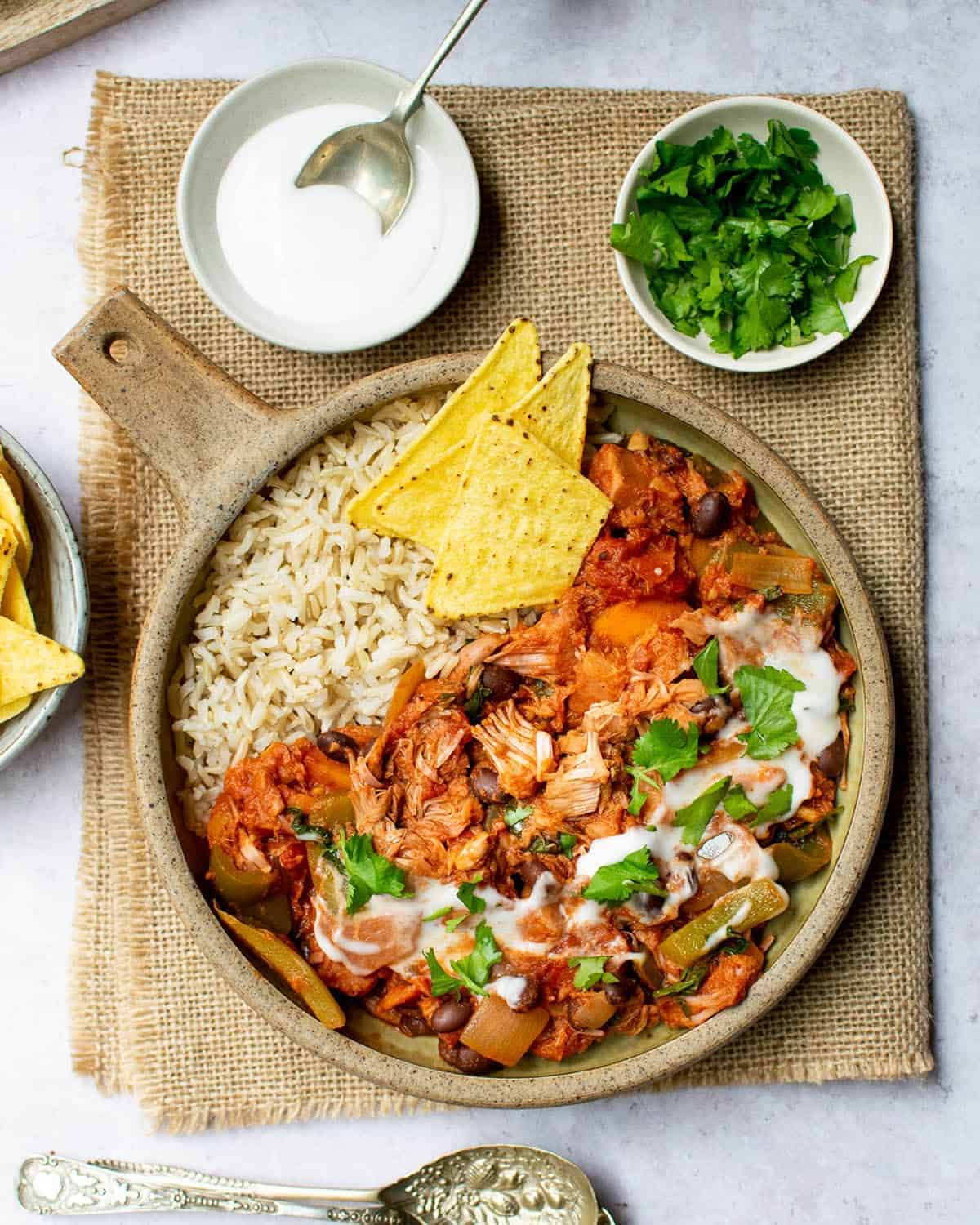 How to Use Canned Jackfruit
Canned jackfruit can be bought in most supermarkets, as an alternative to getting it fresh (which also isn't available in many countries).
While canned jackfruit isn't already cooked, it is ready to use in recipes straight away. It's likely to be softer than fresh unripe jackfruit flesh. That's because it has been stored in liquid in a can.
It is also a great option if you don't have access to fresh jackfruit. When using canned jackfruit, be sure to drain and rinse it well before using it in your recipe.
Canned jackfruit can be used in the same way as fresh jackfruit. It's great in curries, stews, and soups, as well as sandwiches, salads, and even as a pizza topping.
Leftover canned jackfruit should be kept in the fridge and will most likely last for up to 3 days.
FAQs
How do you cook jackfruit into meat?
The key is to cook it low and slow! The longer it cooks, the more tender it becomes and therefore the more like meat the final outcome will be.
Is canned jackfruit raw or cooked?
Jackfruit from a can isn't cooked but it's not really raw either. But it's more 'raw' than cooked. Jackfruit from a can has been sitting in brine or water for some time to preserve it. As most jackfruit is grown in South or South East Asia it makes sense that it needs to be preserved so that it's still fresh when it gets to its destination, which could be anywhere in the world. Therefore, some canned jackfruit will likely be softer than others. Try this jackfruit coronation chicken for a recipe that doesn't require cooking.
What part of jackfruit do you cook?
When learning how to cook jackfruit, it's the pale fleshy pods that are cooked, rather than the seeds or anything else. If using ripe jackfruit it's still the fleshy pods, but it will be sweet and yellow instead. Jackfruit seeds can also be roasted and eaten.
Jackfruit recipes to try
Once you know how to cook jackfruit, the possibilities are endless! Don't forget to check out our in-depth guide to jackfruit that will deliver even more knowledge about this amazing ingredient. And here is where to buy jackfruit too.