Do you know what makes peanut butter even better? Swirling it through a delicious, spicy Peanut Butter Curry.
The rich, creamy, nutty taste of the peanut butter compliments the fragrant spices in this curry really well. We absolutely love it!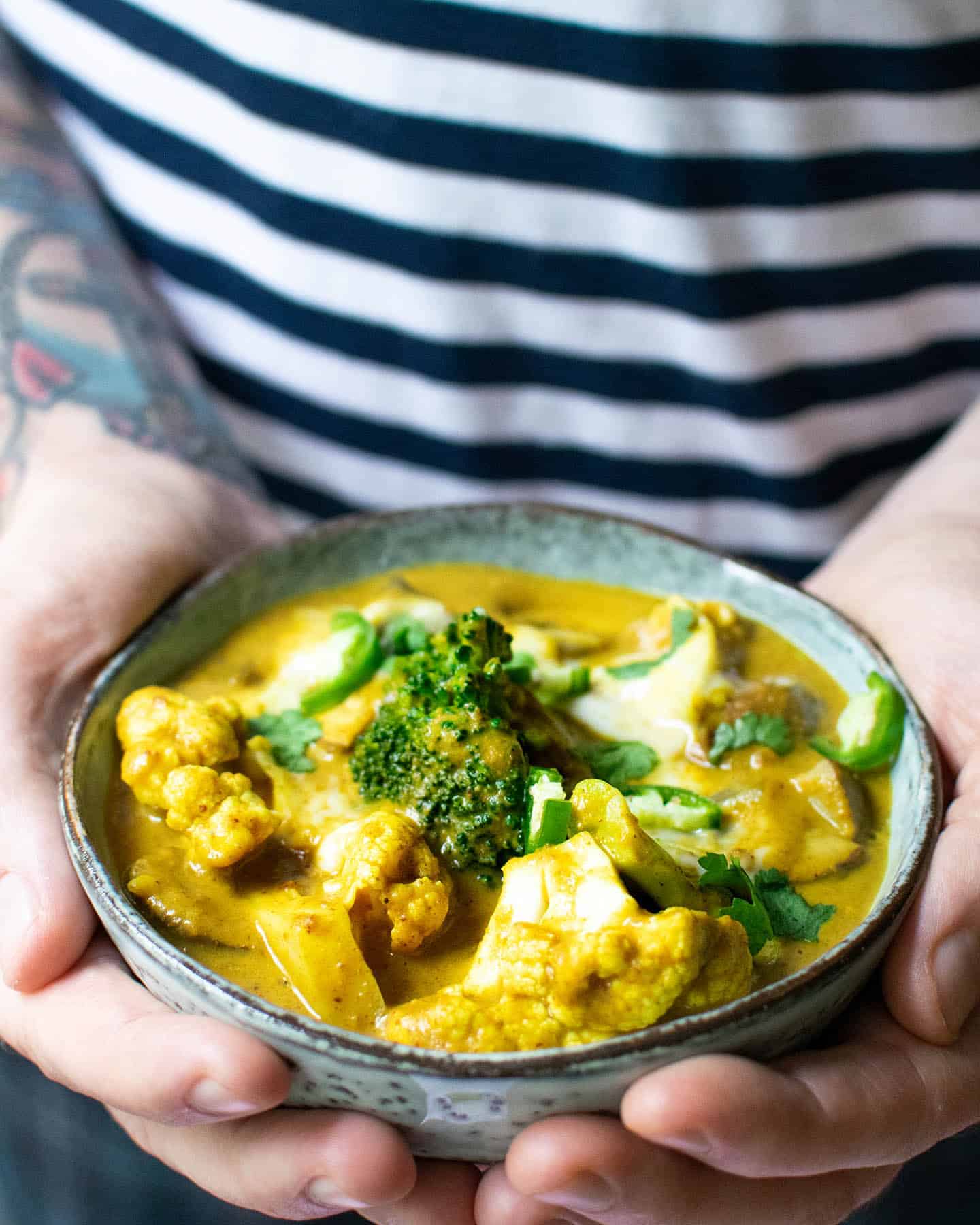 Jump to:
Can you cook with peanut butter?
Peanut butter is amazing to cook with! It's really tasty in this Indian style curry, and it also goes well in Thai curries. We especially like some peanut butter in a Thai green curry, yum! Would you try that?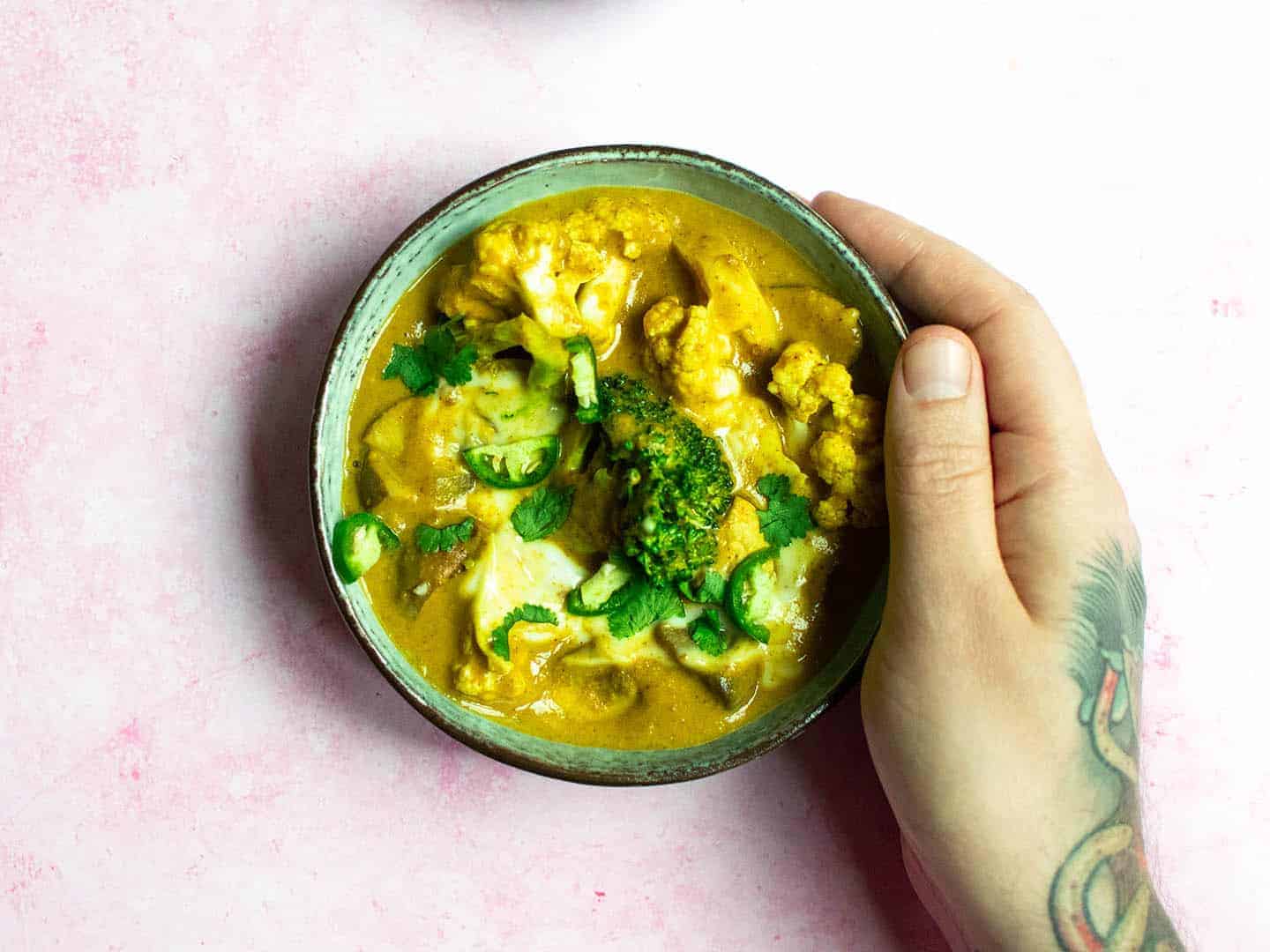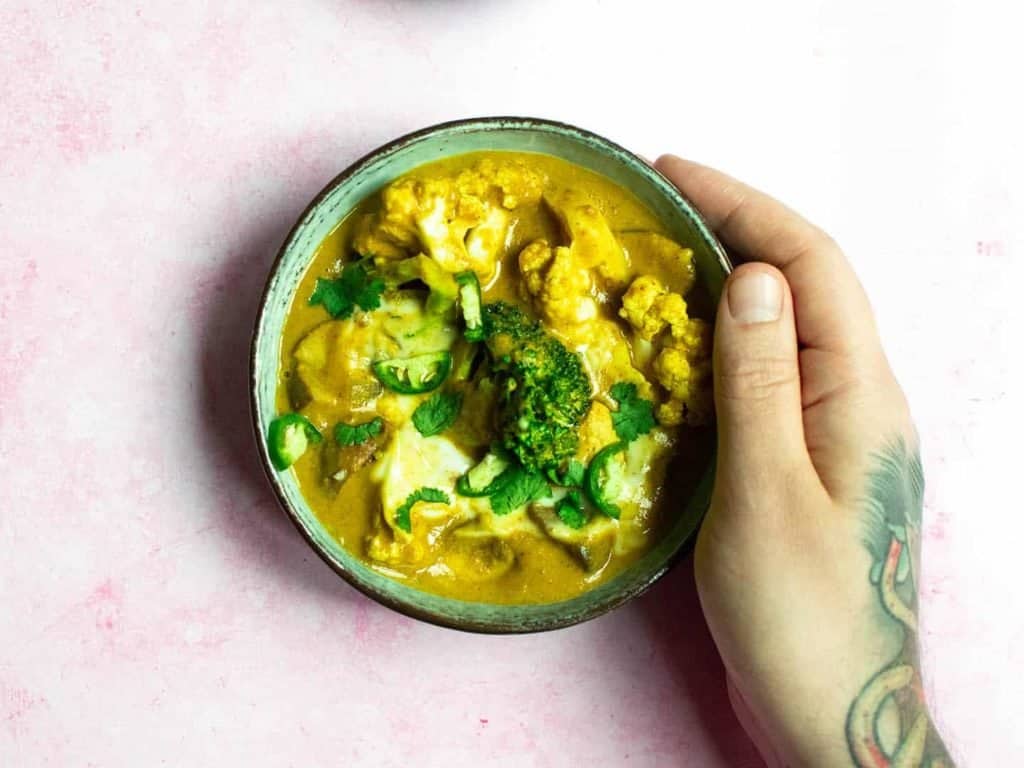 📋 Ingredients
Despite how creamy it is, this Peanut Butter Curry is vegan! It's a great way to get some extra veg into you, as it's absolutely packed full. You will need:
Chopped onion. Red or white is fine, red is slightly sweeter and white has a stronger flavour.
Crushed garlic. If you're like us you might sneak in an extra clove or two…
Broccoli. Try to use as much of the stem as possible to avoid waste - if you slice it up quite finely it will cook really well.
Cauliflower. Don't throw the leaves away! Roast them up with some olive oil, salt and pepper and you'll have a tasty snack or side.
Mushrooms.
Chilli powder (obviously).
Madras curry powder. (Find the best alternatives to madras powder if you don't have it in the cupboard).
Turmeric powder.
Peanut butter. If possible try to buy a brand where the only ingredient is peanuts. All you need to do to make peanut butter is blend up peanuts, but some brands will put a lot of sweeteners and palm oil in as well. It's best to avoid these if you can.
Juice of half a lime
Salt.
Coconut milk.
For detailed quantities please see the recipe card at the end of this article.
🔪 Instructions
The great thing about this vegan Peanut Butter Curry is that you can have it ready in less than half an hour. Excellent news for those busy days!
Start by heating a little oil in your wok. Once it's up to temperature add your onion, and fry until it's soft.
Once the onion has softened and gone slightly translucent, add the garlic and the spices. Fry them until they are fragrant.
Next, add the mushrooms. Fry them along with the spices for a few minutes so that they pick up some of the flavours.
Once your mushrooms have started to brown slightly, pour in the coconut milk and some water.
Give everything a good stir and bring it up to a simmer.
Stir in the peanut butter. Ensuring that you keep stirring it regularly, allow the curry to simmer for 5 minutes. You should notice it thicken up once the peanut butter has gone in.
Stir in the cauliflower and broccoli, and continue to simmer for another 5-8 minutes.
Once the broccoli and cauliflower are cooked, add the tamarind and salt.
Start scoffing! For detailed instructions please see the recipe card at the end of this article.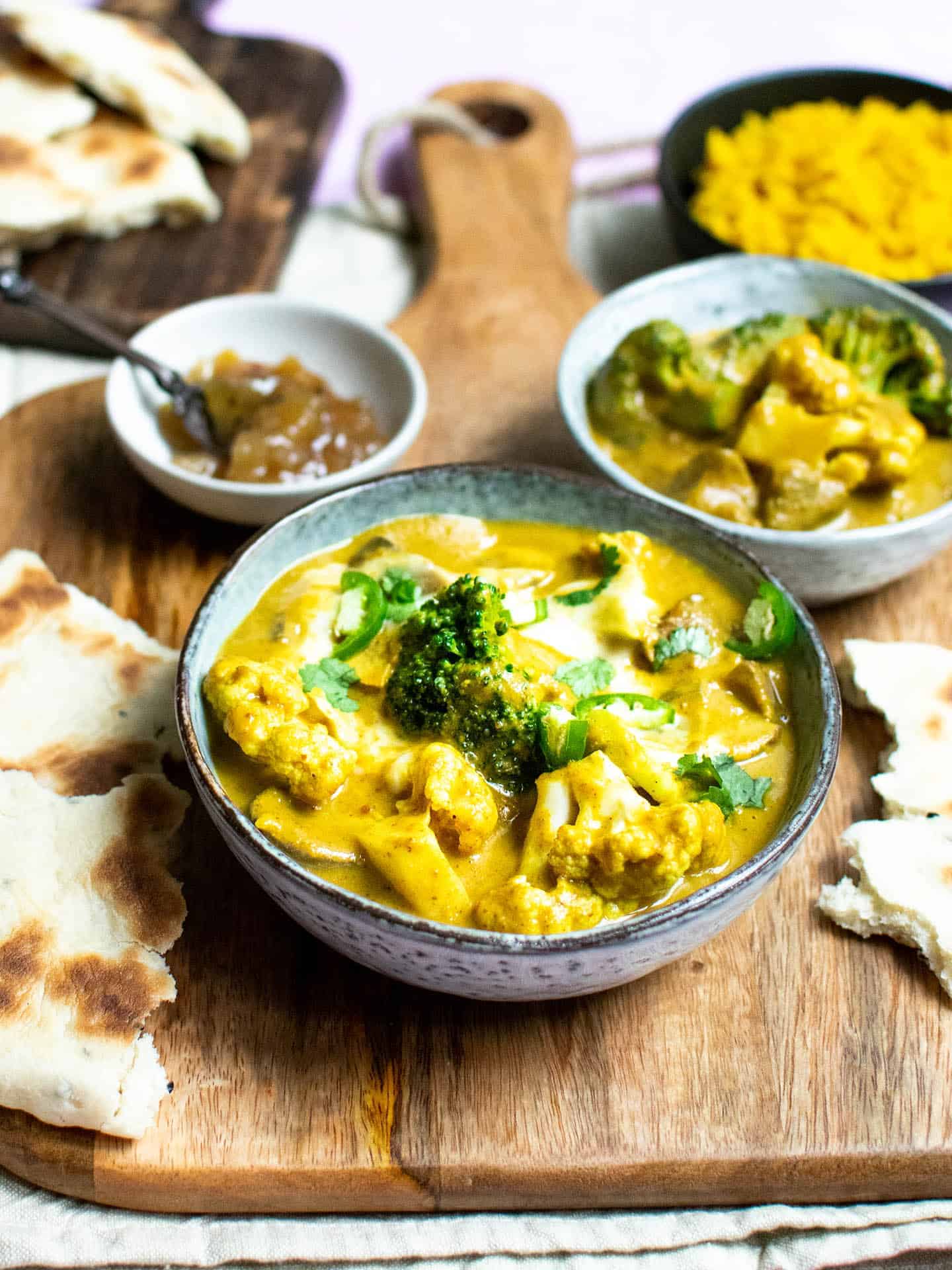 🥜 What to serve with this curry
This vegan Peanut Butter Curry is so hearty that you could easily eat it all by itself and be very happy! However, if you want to make it even better then we can definitely recommend a few great dishes to have with it.
Naan Bread
Is it even curry night without Naan? The slightly annoying thing is that a lot of the Naans you can buy in the supermarket have yoghurt in them, and so aren't vegan. More and more vegan brands are appearing though, so it's worth checking from time to time, but why not make your own Vegan Naan Bread? It's surprisingly simple, and it tastes so good.
Mushroom Bhaji
You can knock up our awesome Mushroom Bhaji recipe in under fifteen minutes, and trust us, you won't regret it! Something about curry night calls for as many sides as possible, right?
Aubergine Bhaji
The combination of creamy roasted aubergines and Indian spices is always a winner! Try this Aubergine Bhaji (also known as Brinjal Bhaji or sometimes Begun Bhaji) piled high on top of a hunk of Naan. You'll thank us.
Pilau Rice
Do you ever find that the rice you get from a takeaway is so much better than the rice you make at home? We found that too… so in true Vegan Punks style we figured out how to make delicious Pilau Rice that tastes like it's come from a takeaway.
💭 FAQs
Is Peanut Butter Curry spicy?
This Peanut Butter Curry isn't too spicy, but you can adjust it to your taste by leaving out the chilli powder or using a bit less. Try using less than you think to start with and then add a little bit more at a time. You can always add more but you can't take it back out again!
Should you use smooth or crunchy peanut butter?
Either one works! We really like using crunchy because it adds a little bit of extra texture, but we've used smooth as well, and it was really tasty.
Can this vegan Peanut Butter Curry Be Frozen?
Yep! Divide it up into portions before freezing and you'll have a really convenient healthy ready meal. It should last in the freezer for up to three months. Just be sure to defrost it thoroughly before cooking it, and be warned that the mushrooms can sometimes go a little bit leathery from the freezing process.
Do you use low fat or full fat coconut milk?
We tend to use low fat but this is just a personal preference. We sometimes use full fat as it's a bit thicker, and gives a slightly different consistency. Either one is fine to use, it's all about balance!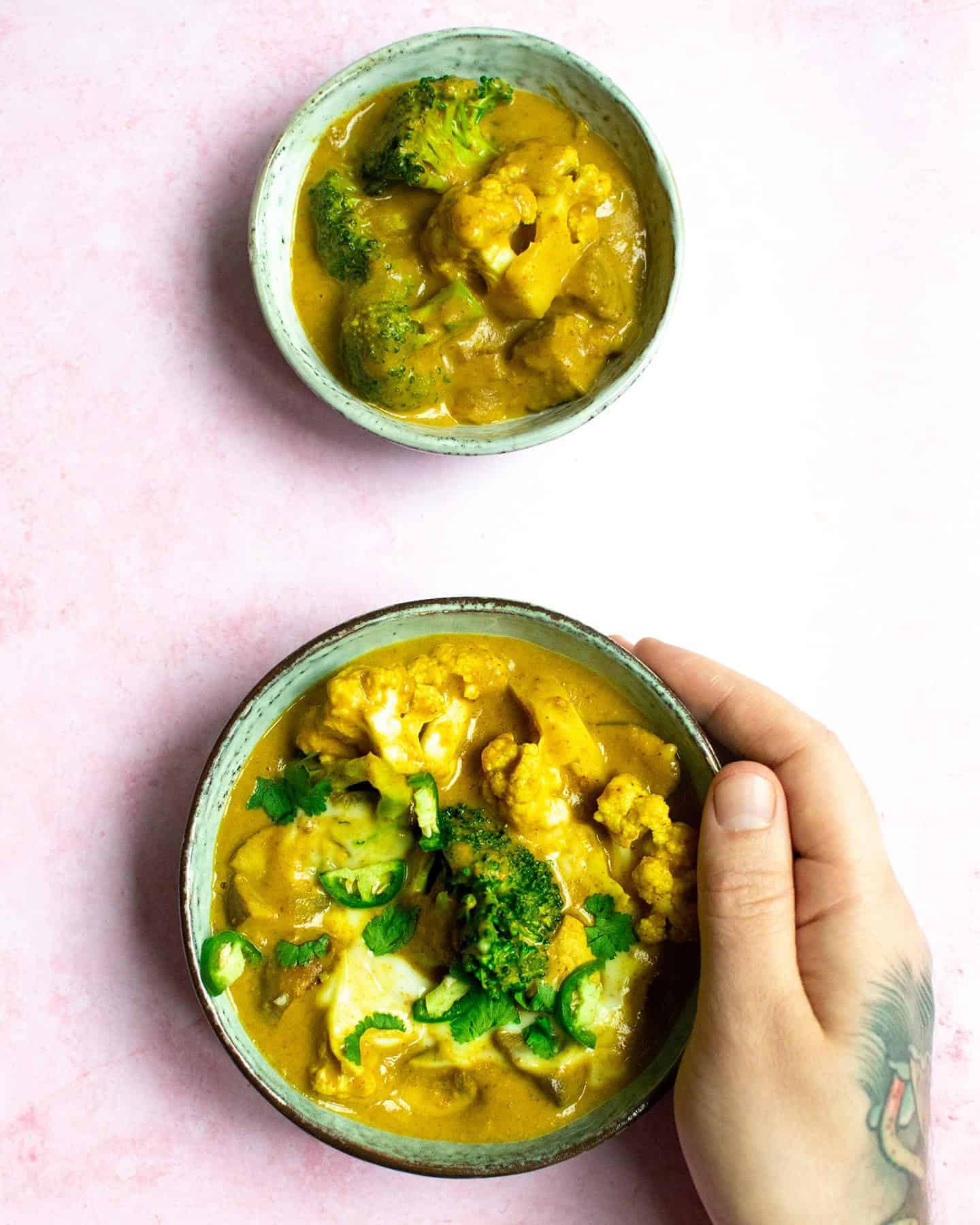 Other things you can make with peanut butter
We love to cook with peanut butter because it's really versatile. It's great in spicy dishes like this Peanut Butter Curry, and we also like to use it to make this quick and easy peanut butter stir fry. You can also try this peanut butter noodle soup if you're looking for something hearty and warming on a cold winter evening.
Peanut butter is a staple for our favourite savoury dishes, but it also adds a lot to sweet recipes too. Our no bake peanut butter energy balls are great, and these peanut butter cookies are really delicious! You can also try bashing some into your porridge in the morning to set you up for the day.
Every vegan should have peanut butter in their cupboard because it's absolutely full of protein. Protein is really important for building and repairing your muscles, so if you're exercising regularly you should make sure that you are getting enough protein. We're not dieticians, we do what feels right for our bodies combined with research. We'd recommend doing the same, or contacting a nutritionist if you're worried!
📖 Recipe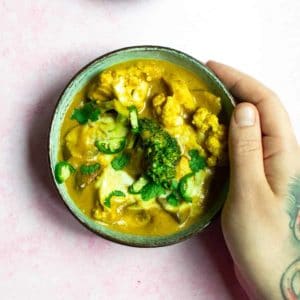 Delicious Peanut Butter Curry in 30 minutes
Peanut butter curry is a perfect week night dinner! It's simple to make (ready in 30 minutes) and is so versatile, you can choose your fave veggies to add to it.
Save
Saved!
Print
Pin
Rate
Ingredients
1

onion

- chopped

4

cloves

garlic

- crushed

150

g

broccoli

- chopped

200

g

cauliflower

- chopped

250

g

mushrooms

- chopped into chunks

½

teaspoon

chilli powder

2

tablespoon

madras curry powder

1

teaspoon

turmeric powder

6

tablespoon

peanut butter

1

tablespoon

lime juice

(roughly half a lime)

¾

teaspoon

salt

400

ml

coconut milk

250

ml

vegetable stock

1

teaspoon

oil
Instructions
Fry the onion until soft in a wok and a little oil, on a medium-high heat.

Add the garlic and spices, fry until fragrant – around one minute.

4 cloves garlic,

½ teaspoon chilli powder,

2 tablespoon madras curry powder,

1 teaspoon turmeric powder

Now add the mushrooms for a few minutes, and stir well, making sure they get a good coating of the spices.

Pour in the coconut milk and vegetable stock. Give it a good stir and bring it up to a simmer.

400 ml coconut milk,

250 ml vegetable stock

Add the peanut butter, stir and leave it to simmer for 5 minutes. Stir regularly. It should thicken up after the peanut butter goes in.

6 tablespoon peanut butter

Stir in the cauliflower and broccoli, and continue to simmer for 5-8 minutes.

200 g cauliflower,

150 g broccoli

Add the juice of half a lime and salt. Serve and enjoy with rice and naan!
Notes
You can use tamarind paste instead of lime juice if you have it.
You can use your favourite vegetables if you don't have those listed in the ingredients list. Potatoes, carrots and courgettes all work well!
Nutrition
Calories:
377
kcal
|
Carbohydrates:
22
g
|
Protein:
12
g
|
Fat:
29
g
|
Saturated Fat:
16
g
|
Polyunsaturated Fat:
4
g
|
Monounsaturated Fat:
7
g
|
Trans Fat:
1
g
|
Sodium:
802
mg
|
Potassium:
743
mg
|
Fiber:
6
g
|
Sugar:
7
g
|
Vitamin A:
340
IU
|
Vitamin C:
63
mg
|
Calcium:
69
mg
|
Iron:
2
mg