There's nothing more annoying than looking forward to cooking something tasty all day and then coming home to find that you're missing a key ingredient! Keeping these essential Thai ingredients on hand will ensure that you're well prepared to make any of our vegan Thai recipes.
They're also a great base if you would like to experiment and create recipes of your own.
Read on to find out more about these vital ingredients including the answers to commonly asked questions like 'is soy sauce vegan?' and 'what is the difference between red and green curry paste?'. We've also included information on substitutions you can use, and recommendations on where to get each item.
Soy sauce is a key Thai ingredient
Soy sauce is a staple in Thai cooking. It's used as a seasoning and can take a dish from being OK, to outstanding. Keep light and dark soy sauce in your pantry, as Thai cooking uses both across many recipes.
We always buy soy sauce in bulk because we use it a lot, and it's cheaper than buying small bottles from the supermarket.
Check out the soy sauce we buy. Please note, on this listing (in the link) it says the big bottle is dark soy sauce, but it isn't. It's light soy sauce! We don't tend to buy dark soy sauce in as big a quantity because we don't use it as frequently.
Is soy sauce vegan?
Soy sauce is made by brewing soybeans, wheat, salt and water so yes – it is completely vegan! However it isn't gluten free. You can use tamari as a gluten free alternative.

Substitutions for soy sauce: Don't have soy sauce? Use salt or tamari. Tamari is also gluten free, as mentioned above. If you use salt, you won't get the umami flavour that soy sauce brings to the table, but it will still be tasty.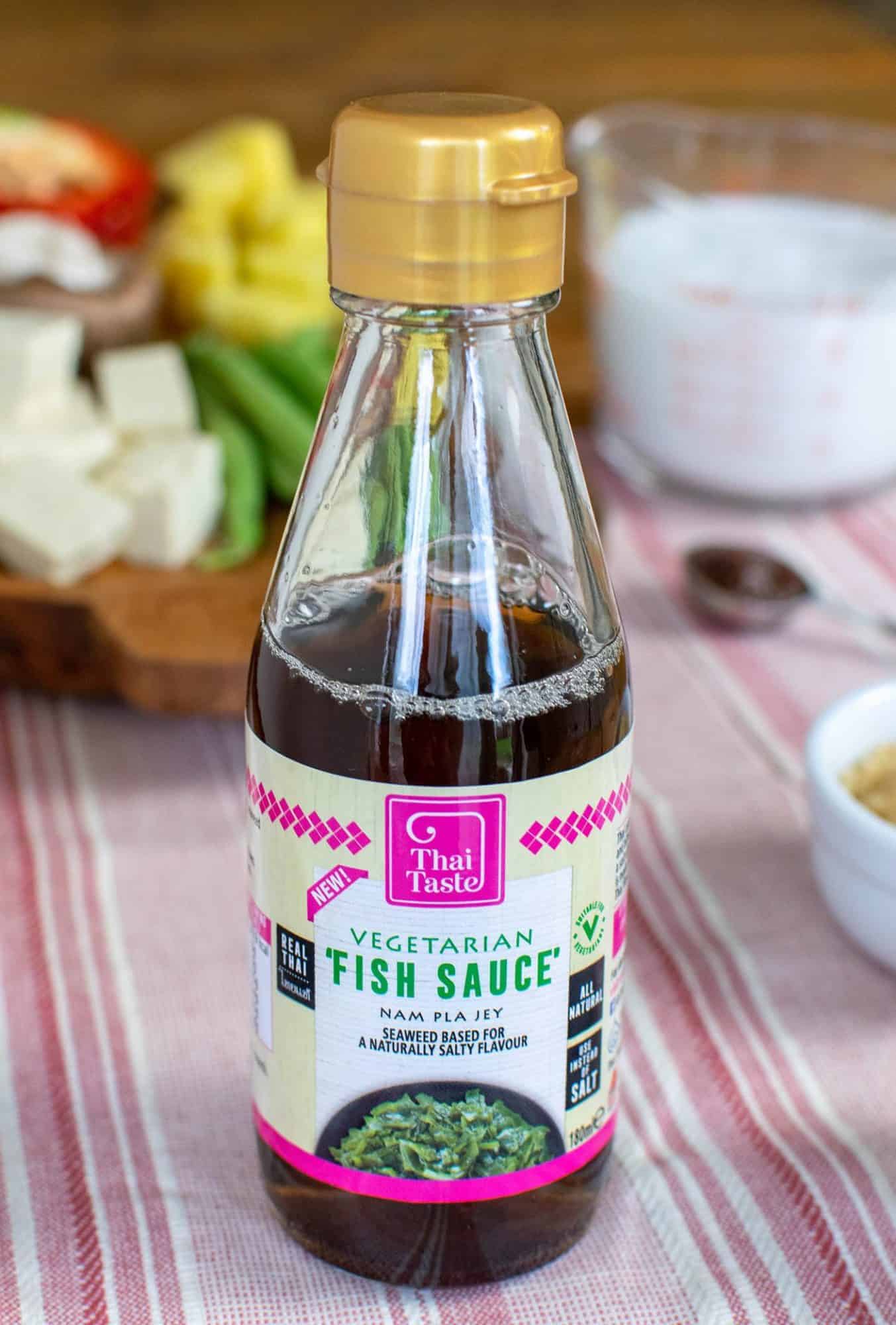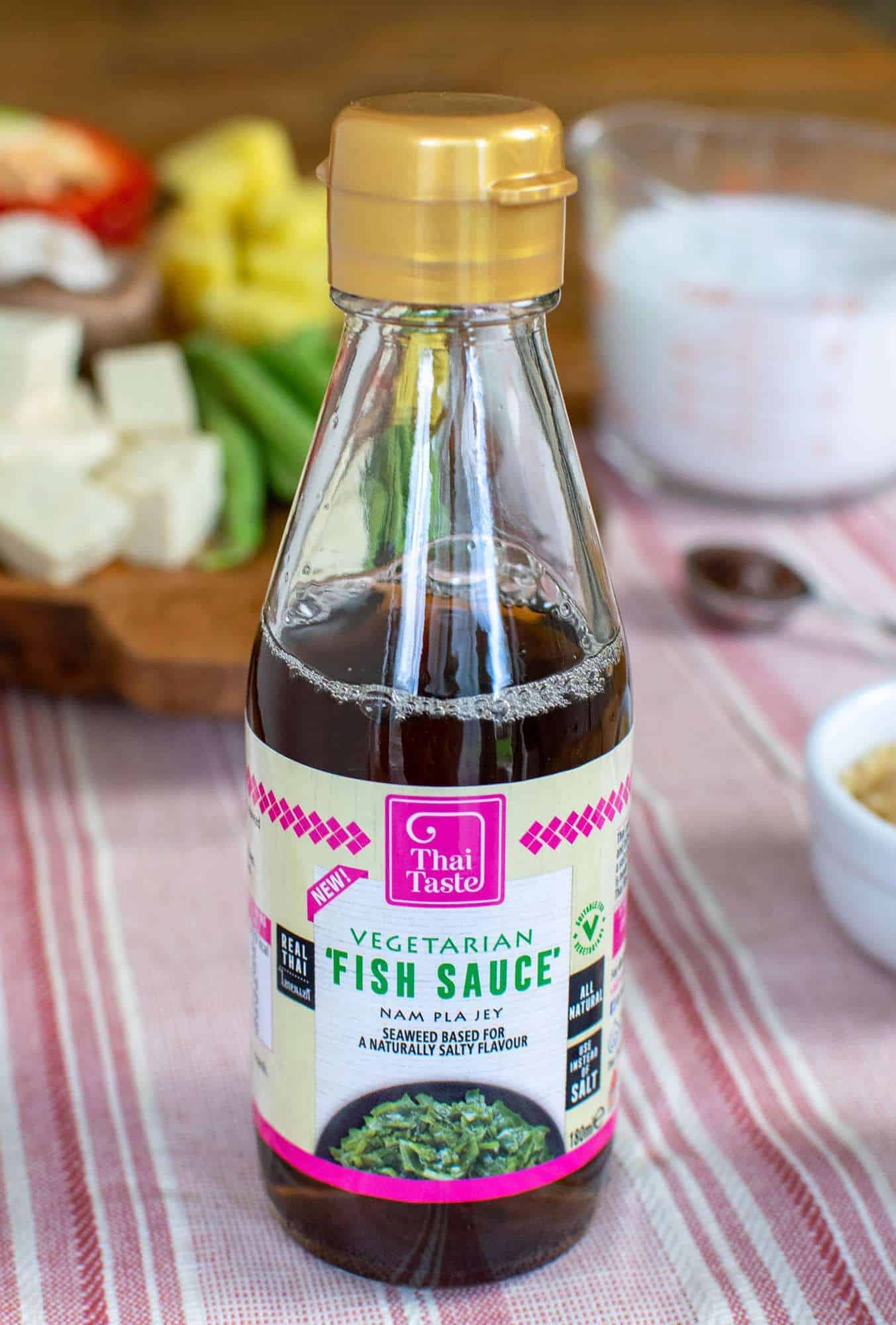 Vegan Fish sauce
Vegan Fish sauce may not be something that you already have in the cupboard, but we recommend trying it out! It is one of our top recommended Thai ingredients.
Lots of Thai recipes (like our tofu yellow curry) would traditionally use fish sauce, so the fact that vegan fish sauce is now available is incredible! Most vegan fish sauces utilise seaweed to create the 'fish' like flavour, although rest assured once in a dish it doesn't add a fishy flavour.
Substitutions for fish sauce: light soy sauce. This will add the umami flavour of vegan fish sauce, but may not be perfect.
Recommendation on where to get this product:
Check out The Vegan Kind Supermarket. They offer all kinds of niche vegan products like this vegan fish sauce. It also offers vegan chocolate, cheese, meats – all sorts of amazing vegan stuff that you can think of!
The Vegan Kind even offer subscription boxes that we look forward to receiving each month!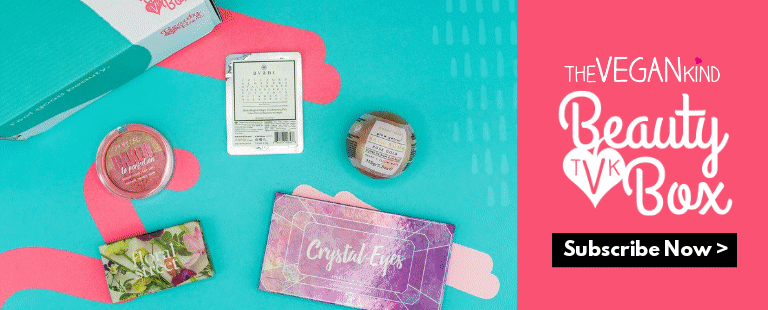 Vegan Oyster Sauce
The best vegan alternative to oyster sauce is, you guessed it, vegan oyster sauce. We use it in our vegan Thai cashew stir fry to provide a rich flavour. Our favourite vegan Oyster sauce is by Mama Sita. We've only found it in Asian supermarkets.
Substitutions for oyster sauce: vegetarian stir fry sauce or mushroom sauce. Both are thick, gloopy and rich. For a DIY option use half a tablespoon of dark soy sauce and half a teaspoon of vegan Worcestershire sauce in place of one tablespoon of oyster sauce.
Fermented Soybean Paste
Fermented soybean paste, also known as yellow bean sauce, is a rich, salty sauce that is common in Thai cooking. It's made from fermented soybeans and adds saltiness and depth of flavour to dishes. It usually has whole soybeans still in it too, which is a key differentiator between this paste and miso paste.
It's one of the key Thai ingredients that's not very well known and can be hard to find! However, you can find it in Asian supermarkets or online.
Substitutions for fermented soybean paste: white miso paste.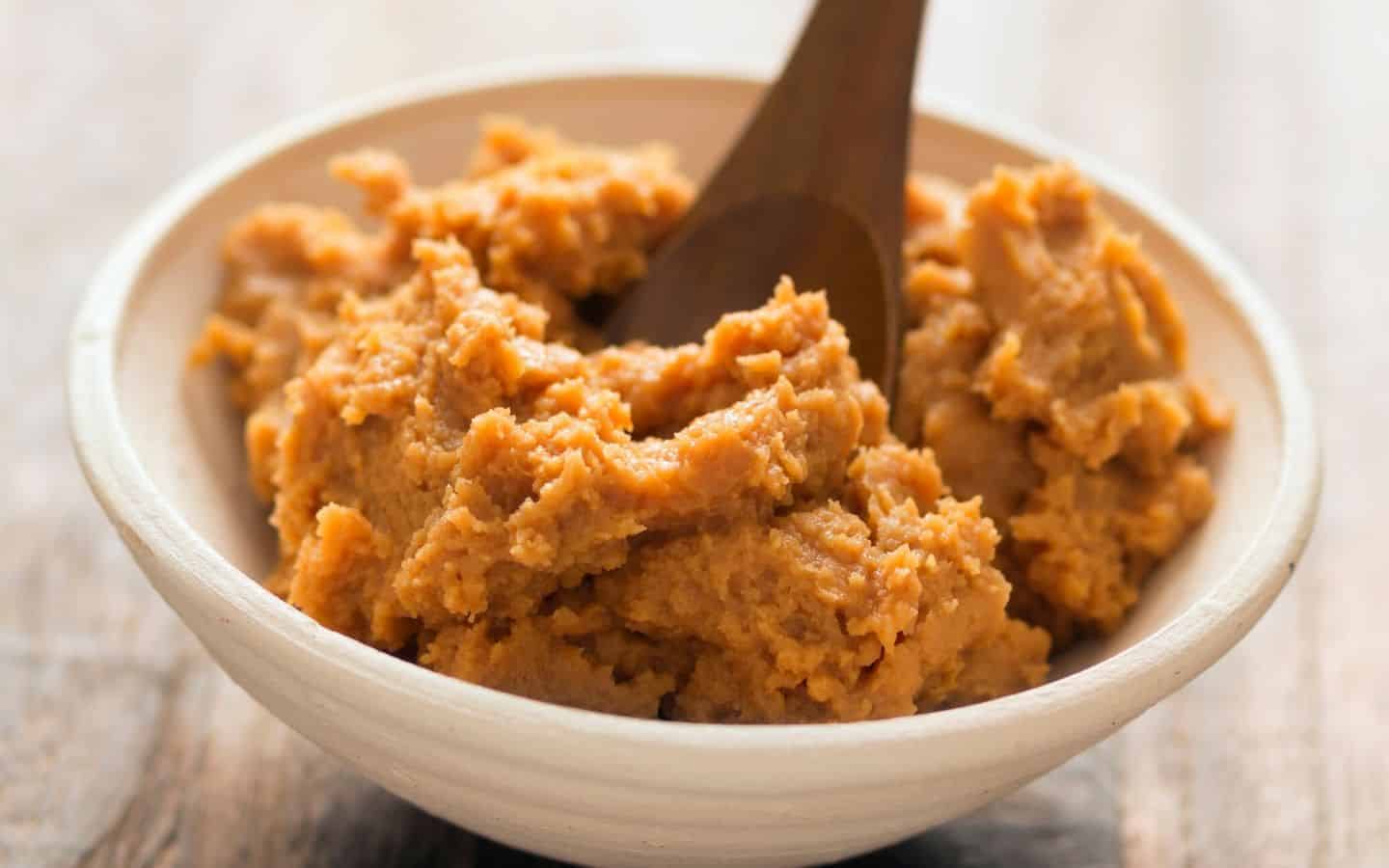 Miso Paste
Miso paste is made from fermented soybeans. It's a common replacement for shrimp paste in vegan Thai cooking as it adds the pungent, rich and salty flavour.
We'd recommend white miso paste for Thai curry pastes as it's the lightest in flavour, but red and dark miso paste can be used too.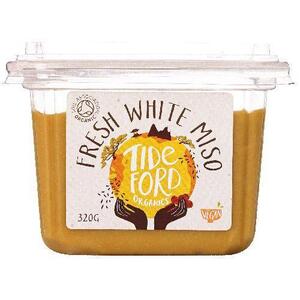 Substitutions for miso paste: You can use soy sauce as a substitute for miso as it will deliver a similar, salty umami flavour. Please be aware that the texture is different and soy sauce is saltier than miso, so you may need to alter the quantity.
Chillies (Fresh & Dried)
Fresh Thai chillies bring the heat to Thai cooking, so is one of the most key Thai ingredients! They're incredibly spicy so use them sparingly – depending on your taste! Fun fact, they are sometimes called 'Thai chocolates' in Thailand.
We use 'normal' chillies, which are like the green large Thai chillies depicted above (we also use red chillies like this), Bird Eye chillies which are very, very hot chillies, and dried red chillies.
Dried red chillies add a flavour that can't be achieved with fresh chillies alone. They add depth of flavour and an earthy taste. Buy dried chillies in a big bag that will keep in your cupboard for months or even years. As they're dried, they're already preserved.
Substitutions: use dried chilli flakes or large fresh chillies.
Where to buy these chillies: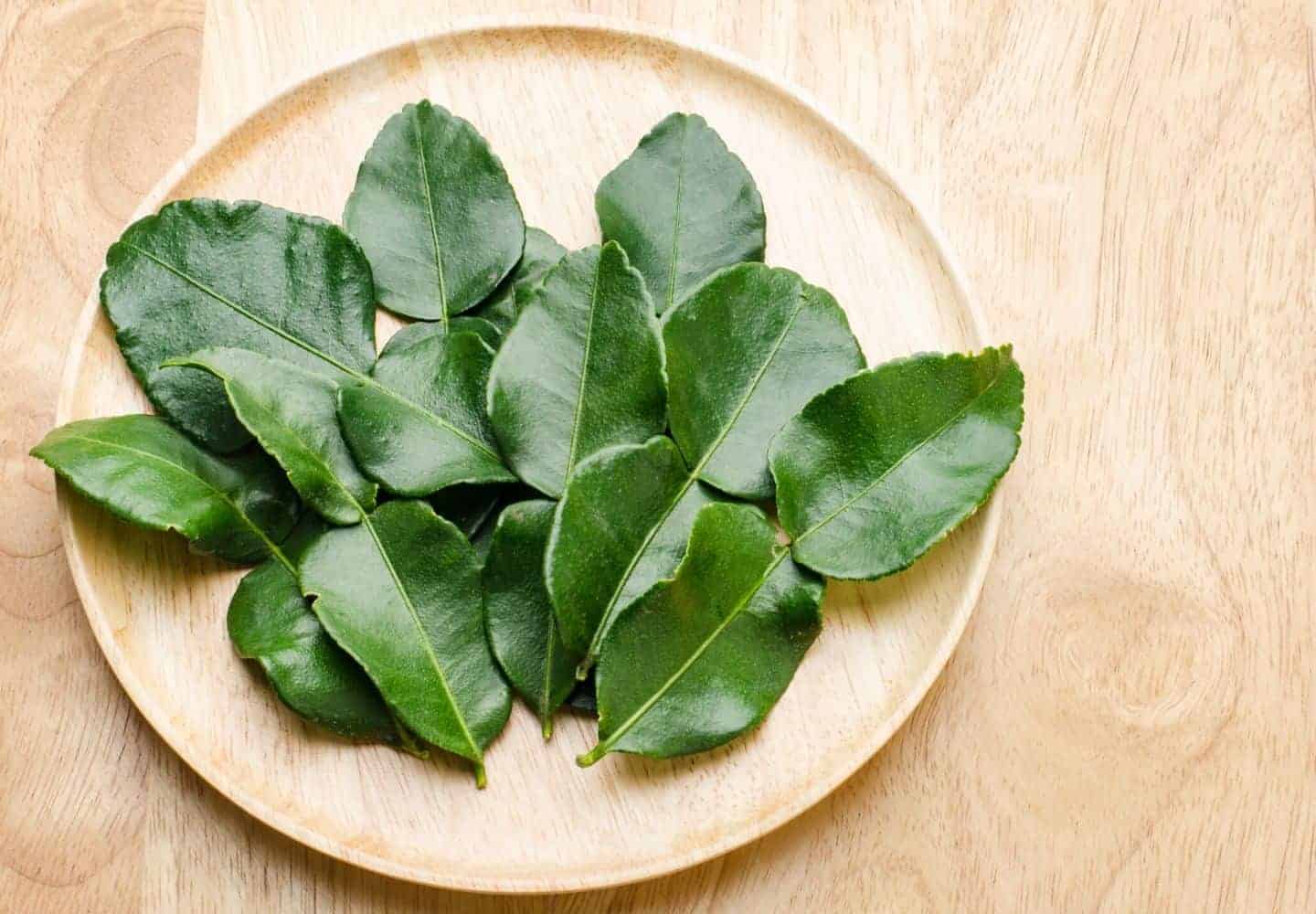 Kaffir Lime Leaves
Fragrant kaffir lime leaves are synonymous with the 'Thai' taste. Try making a green curry paste without one and you'll notice the difference!

Substitutions: It's not easy to substitute kaffir lime leaves but you can buy them dried in the supermarket. Sometimes the peel of a lime can be used, but this isn't something we'd recommend.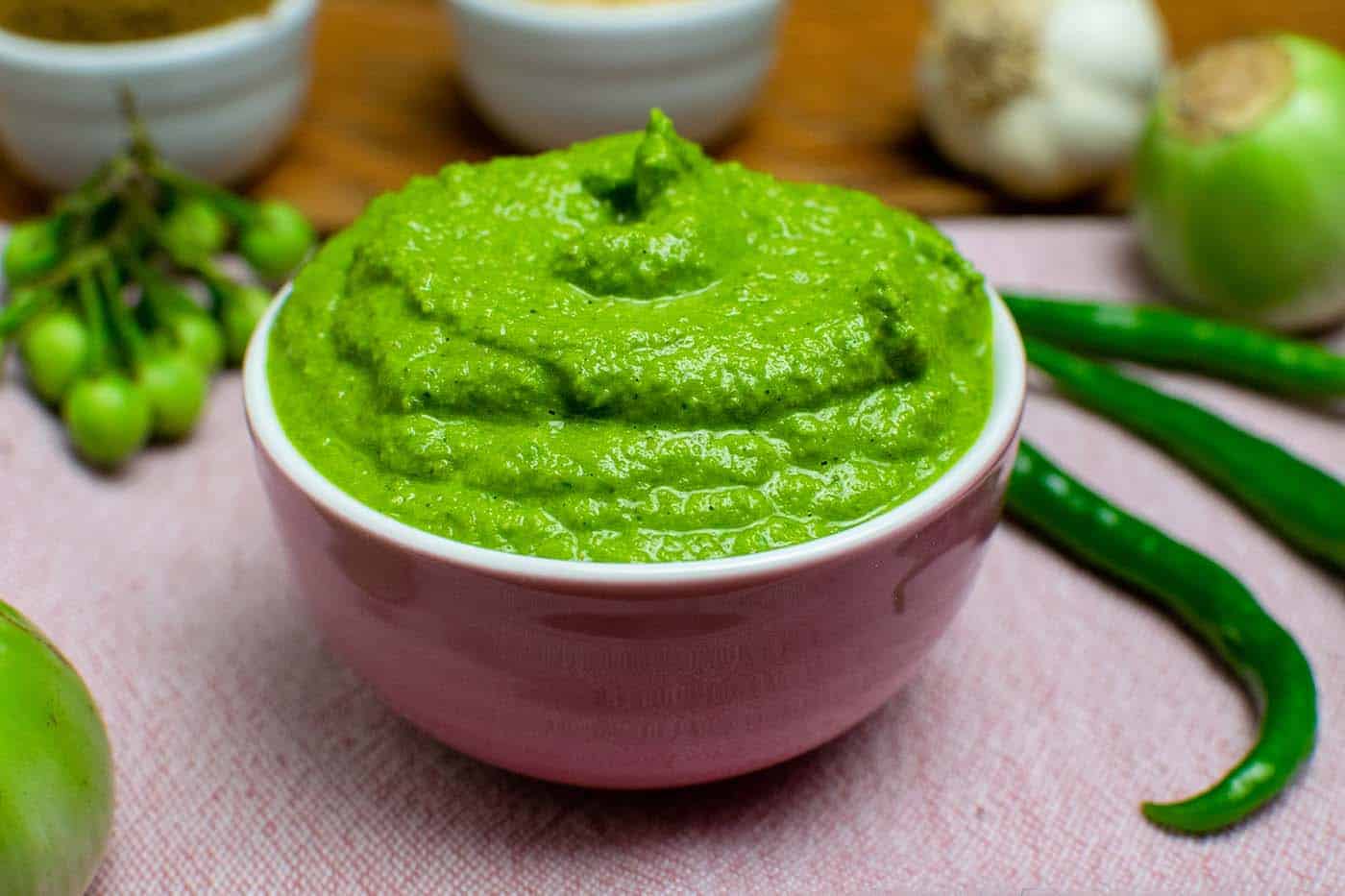 Thai Curry Pastes
When buying curry pastes make sure they are vegan, as they are often made with shrimp paste. The brand Thai Taste is a safe bet for vegan curry pastes.
Substitutions: You can't substitute a curry paste, but if you can't find a ready made one then you could try making your own, like this Thai red curry paste (in our Thai Red Curry blog).
These are the curry pastes that we recommend these Thai curry pastes by Thai Taste:
Red curry paste
Green curry paste
Yellow curry paste
What is the difference between red and green curry paste?
Surprisingly, green curry paste is usually spicier than red curry paste. The main difference is that red curry paste uses red chillies as a base and has a slightly sweeter flavour, whereas green curry paste uses green chillies to make a spicier paste.
Substitutions: You can't substitute a curry paste, but if you can't find a ready made one then you could try making your own. Try this one in our Thai red curry blog.
Thai Basil
Thai basil is native to Southeast Asia and provides a spicier flavour than common basil. It is often described as having a flavour that is both sweet and anise or liquorice like.
Substitutions for Thai basil: Thai basil can be found (in the UK) in most supermarkets such as Waitrose or Ocado. If you're struggling to find it you can try standard basil, plus a few sprigs of mint to get close to the flavour. However, it won't be quite the same. But you could try growing your own!
If you can't find fresh holy basil, then try it from a jar.
Thai Holy Basil
This type of basil can have a slight numbing effect on the tongue, and it has black pepper and clove flavours. Thai basil and Thai Holy basil are sometimes confused, but they are different.
Holy basil is much hotter than Thai basil, in fact it is so intensely spicy that it is often known as hot basil. It's quite difficult to find in supermarkets. It's usually found in Asian supermarkets. Top tip: if they don't have it in the fresh produce section, check the freezer.
Substitution for Thai Holy basil: As with Thai basil you can substitute standard basil and mint, plus extra chilli for heat. However, the flavour won't be as authentic.
Coconut milk
Coconut milk is another of the quintessential Thai ingredients. It is added to both sweet and savoury Thai dishes to give a rich creamy flavour. It can also dampen down spice levels if you accidentally overdo it on the chilli!
In this section, we're referring to coconut milk out of a can, not a carton, like oat milk. It is quite high in saturated fat, so if you're worried about this you can use a reduced fat version.
Reduced fat coconut milk is more watery than the full fat version and is less creamy, so bear this in mind. We often use light coconut milk as there's a lot of saturated fat in full fat coconut milk. However, we also believe that everything in small quantities is fine.

Substitutions for coconut milk: we recently made a Thai red curry using Hemp milk – this worked really well. It's a little more watery, but as Thai red curry is quite soup-like, this was fine. If you substitute another plant milk, choose one that is not sweetened and made from a 'bland' raw ingredient like oats or cashews.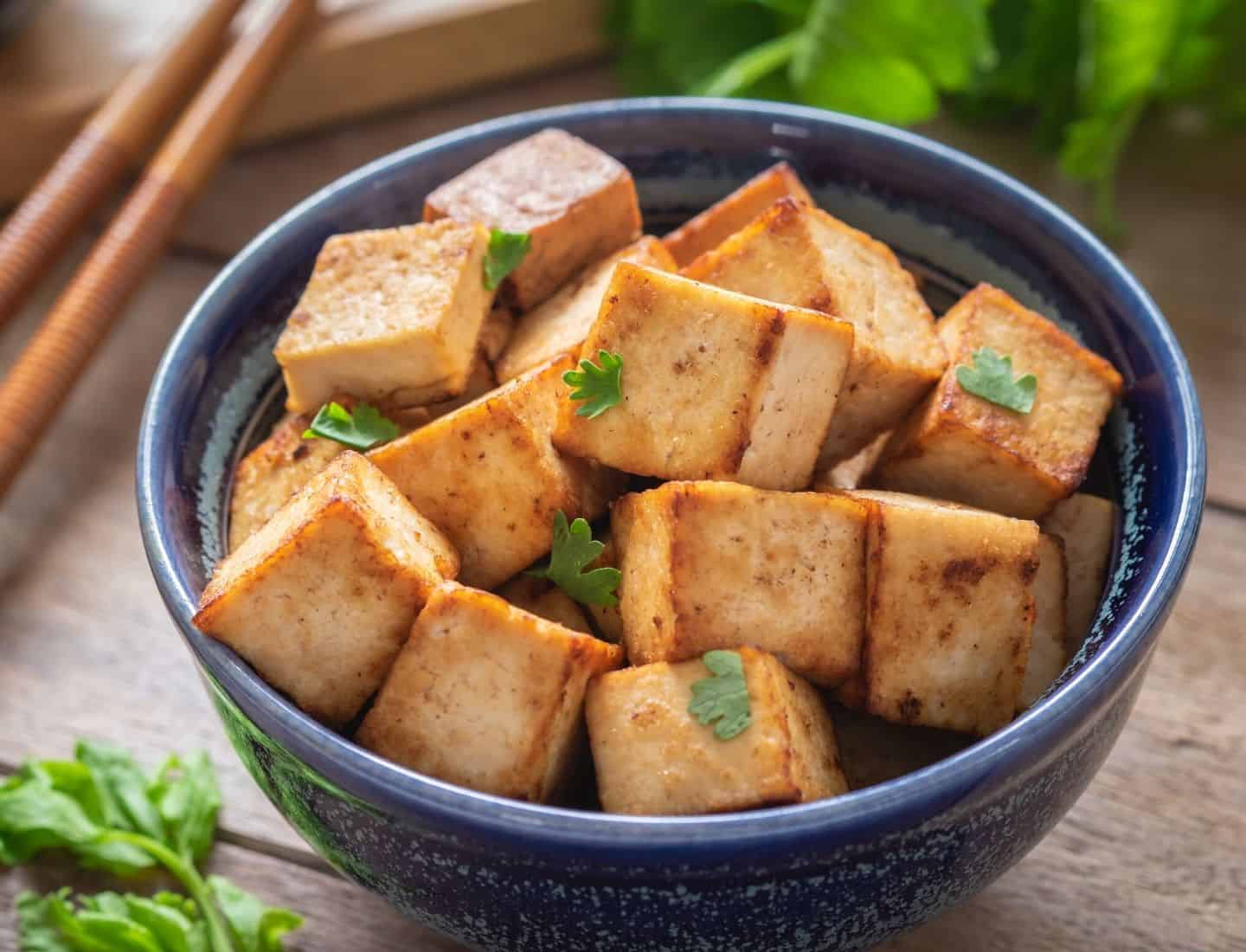 Tofu
Tofu is a great source of protein in vegan Thai food, and it's a staple Thai ingredient, as well as being used in a lot of South East Asian cooking. It's made by coagulating soy milk and pressing the resulting curd, which is much tastier than it sounds! For optimal results, press your tofu before cooking with it. We recommend using a tofu press to do this.
Our favourite tofu products include extra firm tofu by Tofoo or Clearspot and firm tofu by Cauldron.

Substitutions for tofu: Depending on the meal, you could try a meat substitute instead of tofu, chunks of mushroom or seitan.
Thai eggplants
Pea Eggplant
Pea eggplant is a key ingredient in traditional Thai green curry recipes. They look a lot like peas, hence the name, and they have a slightly more bitter flavour than larger eggplants.
Substitutions for pea eggplant: Small chunks of regular eggplant will replicate aspects of the flavour and texture, but the bitter taste that pea eggplant gives will be missing.
Green Thai Eggplant
Thai eggplants are a member of the nightshade family, and often used in green and red curries, they also come in different colour carieties: green, purple and yellow.
These eggplants (or aubergines as we say in the UK) are related to purple eggplants, which are more readily available than Thai eggplants.
Toasted rice
Toasted rice is used to add a nutty flavour to Thai dishes, but is probably one of the lesser known Thai ingredients. You can make it by dry frying rice (ideally sticky rice) for roughly 10 minutes and then crushing it with a pestle and mortar.
Substitutions for toasted rice: For a more distinct nutty flavour you can use crushed nuts instead.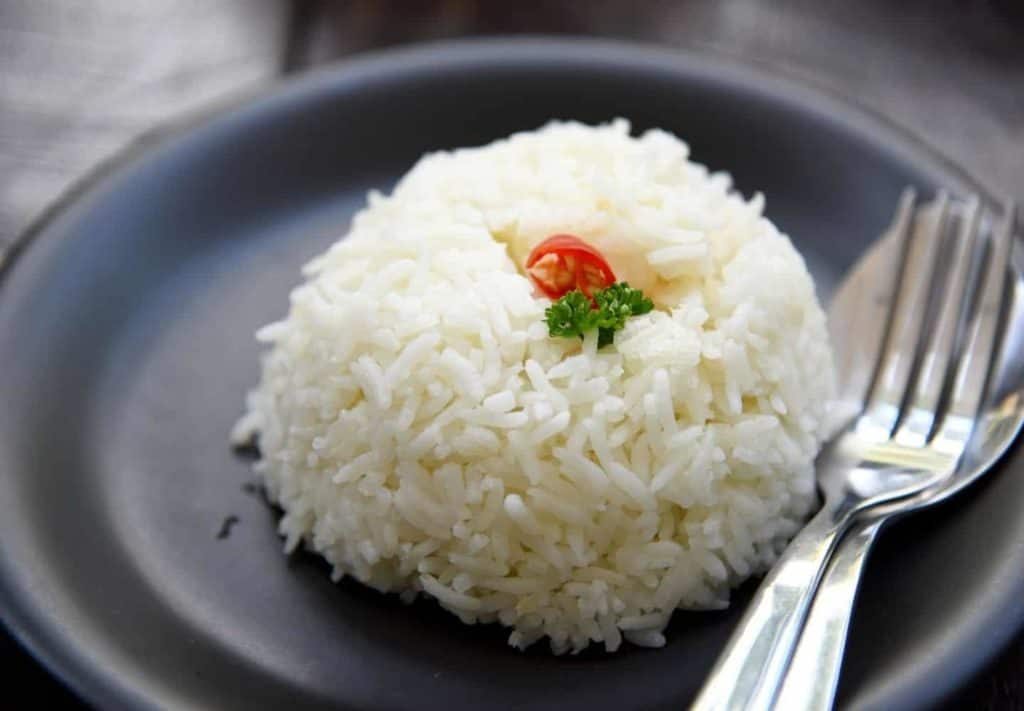 Jasmine rice
With a distinctive, delicate buttery scent, and a thick glutinous texture, jasmine rice is the traditional accompaniment for many Thai dishes.
Jasmine rice isn't the cheapest rice on the market, but if you like it, buy it in bulk online. We find this is a great way to save money and it lasts for ages!
Rice noodles
Noodles, of course, are a staple in Thai cooking. Rice noodles are made from rice flour and water, making them both vegan and gluten free. Rice noodles are used in Thai noodle based meals like Pad Thai and other stir fries to add texture and make the meal more filling.
Substitutions for rice noodles: you can choose the type of rice noodles to use based on personal preference. Some people prefer thin vermicelli noodles but others prefer thick udon noodles. Flat rice noodles would be the traditional type of noodles used in dishes like Pad Thai and Pad See Ew.
We love the brand Mama noodles. They offer great quality noodles at a fab price. We always buy ingredients like this in bulk to save money, and they won't go off because they're a dried cupboard staple.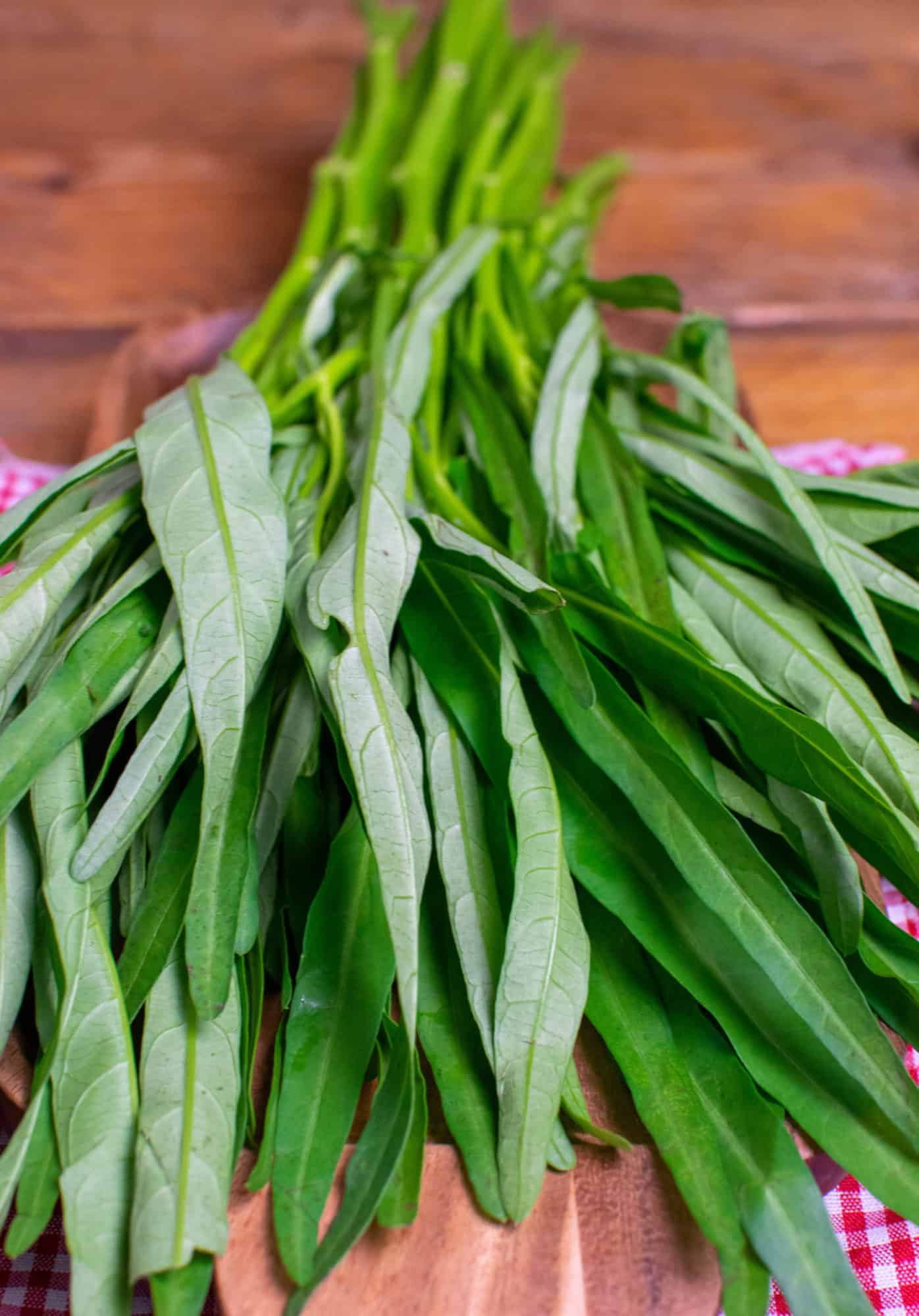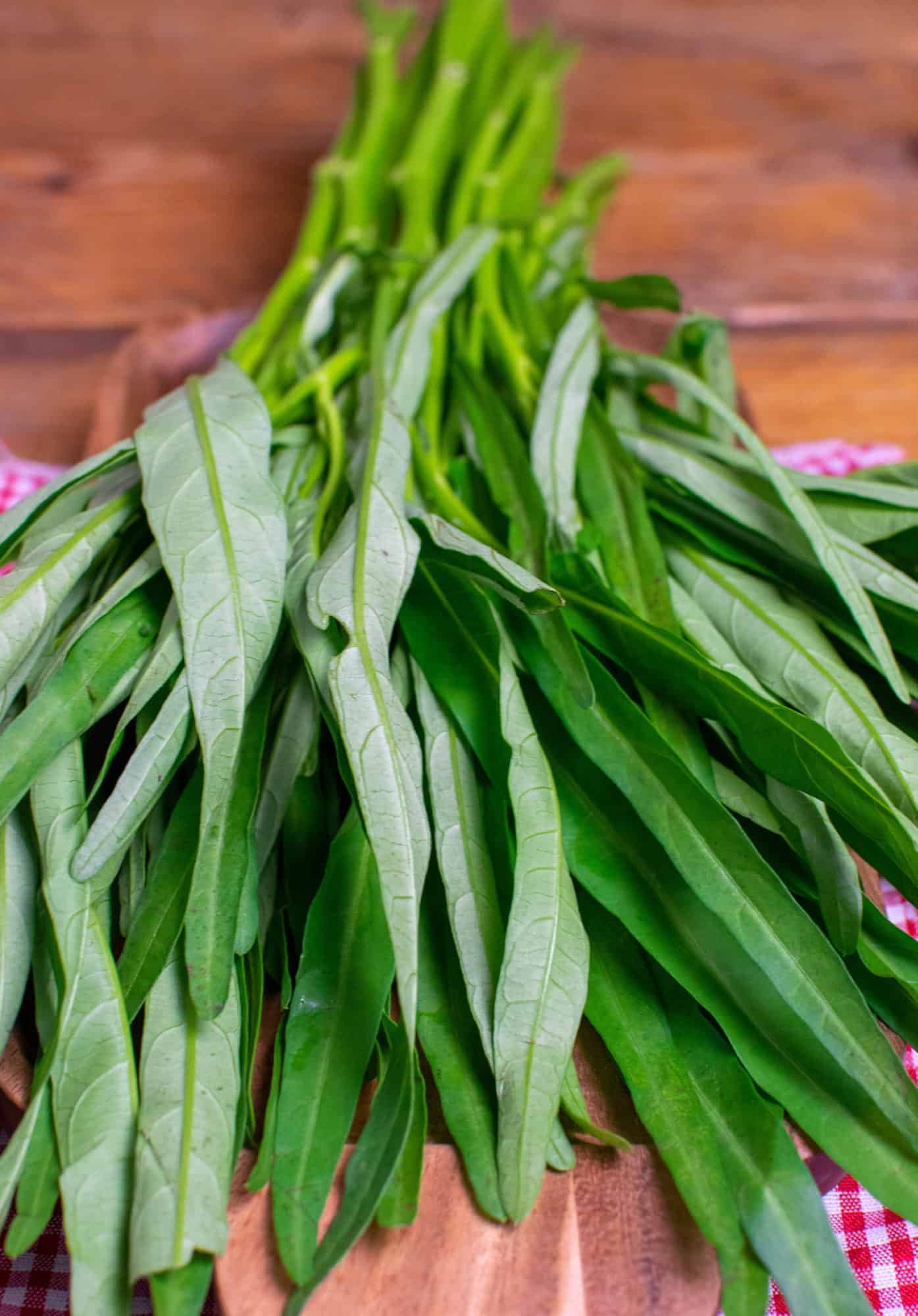 Morning glory
Morning glory has a few aliases, it is also known as water spinach, Chinese spinach and river spinach. It's one of those Thai ingredients, that once you find it, we bet you'll keep going back for more!
In Thailand it's called Pak Boong. Like spinach, it cooks very quickly, and reduces in size dramatically. Try it in our morning glory stir fry. Not to be confused with another type of Morning Glory…

Substitutions for morning glory: tenderstem broccoli and spinach can be substituted for morning glory. The flavour will differ but your dish will still be delicious!
The best place to buy Morning Glory is an Asian Supermarket. It's the only place we've had success buying it fresh in the UK. If we find an online supplier that's reliable, we'll update this article!
Top Tip: if you love this recipe, check out our e-cookbook Vegan Thai Food Made Easy. It's packed with 21 original Vegan Punks recipes featuring curries, curry pastes, stir fries and even the most popular Thai dessert, as well as 3 BONUS recipes!
We hope you've loved finding out about Thai flavours in this blog. Check out our ultimate guide to cooking the best vegan Thai food to find out even more!
Pin this article for later!